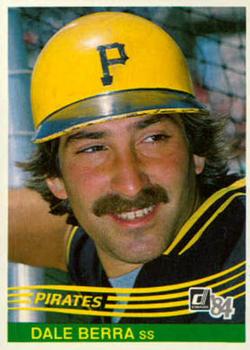 ---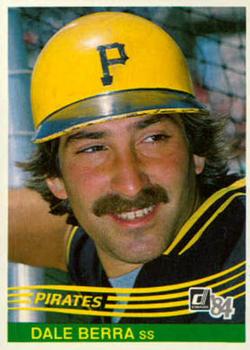 On October 8, 1956, a pregnant Carmen Berra sat in the Yankee Stadium stands for the fifth game of the World Series. When public-address announcer Bob Sheppard introduced pinch-hitter Dale Mitchell of the Brooklyn Dodgers, she thought how Dale might be a name for her unborn child, especially since it could be used for either a boy or a girl. When Dale Mitchell struck out to finish the only perfect game in World Series history, she exclaimed to those around her, "Dale is going to be my baby's name!"1
On December 13, 1956, Carmen and Yogi Berra became the proud parents of Dale Anthony Berra.
Dale grew up in Montclair, New Jersey, with a legendary surname. He admitted that sometimes he took being the son of a Yankee legend for granted. He was always around baseball his whole childhood, never realizing that his experiences might be a dream for others his age. When he was a teenager, his father was a New York Mets coach and then their manager, which meant Dale spent a lot of time in Shea Stadium. At times he was the team's batboy.
Athletics and the Berra family were synonymous. Dale's older brother, Larry, was a catcher in the low minors in 1971 and 1972; his other brother, Tim, played a season as a wide receiver/kick returner for the 1974 Baltimore Colts.2
Yogi supported him, never pushed him toward an athletic career. Berra remembered asking his father to play catch with him. Yogi's typical response would be, "That's what you have brothers for."3
Dale Berra was a three-sport star at Montclair High School. He earned 11 varsity letters in football, hockey, and baseball. But he did not want a fuss made over his name: "I was just plain Dale."4  
Dale was a first-round draft pick by the Pittsburgh Pirates (20th overall) in 1975. He felt there was more pressure being a first-round pick than there was being Yogi's son.
Dale broke in with the Niagara Falls Pirates of the Class-A short season New York-Penn League in 1975. His manager was Glenn Ezell. Berra was the only nonpitcher on the roster to reach the major leagues. (Future major-league pitchers Bryan Clark and Al Holland were on the team.) He hit .257 with three home runs.
In 1976 Berra played for the Charleston (South Carolina) Patriots in the Class A Western Carolinas League. His manager, Mike Ryan, was a catcher for 11 years for the Boston Red Sox, Philadelphia Phillies, and the Pirates. Berra felt Ryan instilled a strong work ethic in his players; he expected them to play hurt.5 Berra played in all 139 games, batting .298 with 16 home runs, and in 1977 he moved up to the Columbus Clippers of the Triple-A International League, where he batted .290 with 18 home runs.
On August 21 of that season, in a game against the San Francisco Giants at Three Rivers Stadium, Pirates second baseman Rennie Stennett, running from first base on a groundball by Ed Ott, slid hard into second, and broke his leg, and was lost for the season. The Pirates immediately called up Berra from Columbus.6 "I felt I was ready," Berra said. "At the time, I was the best player they had at Triple A."7
Berra made his major-league debut the next night, playing third base against the San Diego Padres. To accommodate him, Phil Garner moved from third to second.8 Berra batted sixth and went hitless in three at-bats as the Padres' Bob Shirley beat Jim Rooker, 1-0.
Berra was adequate in the field but he batted just .175 during his short stay with Pirates. One of his seven hits was a game-winning single in the 11th inning against the Philadelphia Phillies on September 6. Berra was only 20 years old, and he felt that the experience was a lot of fun. Since it was a big jump from playing at Columbus, Berra returned there for more Triple-A seasoning in 1978. He was called back to the Pirates in late July. Before leaving for Pittsburgh, Berra was the top vote-getter for the International League's All-Star Game. He had been playing shortstop for the Clippers, and was batting .280 with 18 home runs and 63 RBIs when called up.
Big-league reality intruded. Berra was 0-for-24 upon his return to Pittsburgh and batted .207 in 56 games. He hit his first major-league home run off Tom Dixon of the Houston Astros in the fourth inning of a 7-6 victory on August 20. His fourth homer of the season was a three-run game winner off Gene Garber to beat the Atlanta Braves on September 3. On September 28 the Pirates were 3½ games behind the Phillies before hosting Philadelphia for the last four games of the regular season. They swept a twi-night doubleheader to cut their deficit to 1½ games but they lost the third game of the series, 10-8, and their postseason hopes were extinguished when a ninth-inning rally fell short. Pittsburgh won the final game of the season, 5-3, and Berra hit a home run in his last at-bat of the season. Berra finished his season in Pittsburgh with 6 home runs, 14 RBIs, and a .207 average in 56 games. The Pirates finished second in the National League East, 1½ games behind the Phillies.
The Pirates wanted Berra to learn how to play the outfield at Bayamon in Puerto Rico's winter league. He did not last long; he quit, returning home to Montclair. General manager Harding Peterson was not upset, saying, "We had to persuade him to go in the first place. He wasn't happy and he said he couldn't put his mind on baseball under those circumstances if he remained, it may have done more harm than good."9
Berra opened the 1979 season in Pittsburgh, but when the team traded for two-time NL batting champion Bill Madlock on June 28, Berra, hitting just .196 with one home run, was optioned to Triple A, this time the Portland Beavers of the Pacific Coast League. He spent July and August playing there batting .324 in 56 games.
When Pittsburgh shortstop Tim Foli needed a rest, Berra was brought back on August 26. The Pirates wanted him eligible for the possible postseason. He flew to Los Angeles where the Pirates were playing. "As soon as I got off the plane, there was a message for me to call (Peterson). He said that he was sorry, but he could not call me up until the end of the Triple-A season." The problem was red tape involving player recalls.10 When Berra's call-up was finally approved, he played in 10 of the remaining 30 games at shortstop to give Foli a breather. He hit a two-run homer in his first game back, in a 5-3 victory over the San Francisco Giants on September 1. The Pirates went on to win 20 of their final 30 games and capture the NL East division title by two games over the Montreal Expos.
Although Berra was ineligible for postseason play, he was invited to sit in Pittsburgh's dugout in the NLCS against the Cincinnati Reds, and the World Series against the Baltimore Orioles. However, Frank Cashen of the commissioner's office stepped in and rescinded his bench-seat invitation for the World Series, along with that of Joe Coleman. Cashen told them, "You might pass on information that could influence the outcome of a game."11 Berra's teammates voted him a full share of the team's World Series earnings and a ring.
Berra remained in Pittsburgh for the 1980 and '81 seasons as a utility infielder. The limited playing time thwarted his hitting consistency and effectiveness. In 1980 he played in 93 games, hitting six home runs, driving in 31 runs while batting .220. Then in the 1981 strike-shortened season, he played in 81 games and batted .241 with 2 home runs and 27 RBIs.
After Pittsburgh traded Foli to the California Angels for utilityman Brian Harper in December 1981, Berra was the Pirates' starting shortstop in 1982. He batted .263 with 61 RBIs and tied Atlanta's Rafael Ramirez for the most home runs by a National League shortstop (10). His partner in the middle of the infield was rookie Johnny Ray.
During the early stages of the season, fans started booing Berra for mistakes in the field. But his play steadied and he succeeded in turning the fans' boos into cheers. Berra attributed his turnaround to manager Chuck Tanner. He played eight years for Tanner and said Chuck was the best manager he ever played for, with his ability to instill confidence in his players. "Even if you struck out three times with the bases loaded or made an error to lose a game, he'd pat you on the back and say, 'Hey, there aren't many guys in the world who can make an error and lose a major-league baseball game. You're good enough to be in a position to do that.'"12 
Berra put up similar offensive numbers in 1983 — 10 home runs, 52 RBIs, and a .251 batting average. Pittsburgh ended up in second place in the NL East, six games behind the Phillies. But in 1984 Berra's offense took a slide and the fans began to demonstrate their disfavor, so forcefully that it essentially forced the Pirates to move him out of town. After the 1984 season, the team realized the need for a power-hitting outfielder and Berra's job was in jeopardy. 
On December 20, 1984, the Pirates traded Berra, pitcher Alfonso Pulido, and minor-league outfielder Jay Buhner to the New York Yankees for outfielder Steve Kemp, former Pittsburgh shortstop Tim Foli, and cash.13 Yogi and Dale became the second father-son manager-player combination in major-league baseball history after Connie and Earle Mack of the Philadelphia Athletics.
With the Yankees, Dale would compete with Mike Pagliarulo for the third-base job. "At the ballpark, he's just another player to me. If he can play, he plays. If he doesn't, he sits," Yogi said.14
Dale grasped the chance to show his father what he could do. That chance did not last long. Yogi was fired after the first 16 games, and replaced by Billy Martin. Dale played in only 10 games for his father. After Yogi was fired, Dale's performance dipped. He batted .229 and .231 with a total of three home runs during less than two seasons in New York.
Around this time the biggest blight to Dale Berra's career occurred. At the end of the 1985 season, he testified in federal court that he used cocaine from January 1979 into 1984. Berra was the fourth player to testify the he bought the drug from Curtis Strong, a 38-year-old caterer who was charged with 16 counts of cocaine distribution. The players who testified were granted immunity from prosecution.15
Looking back on his major-league career, especially 1983 and 1984, Berra said he should have improved progressively. Instead, he regressed. "I made some bad choices and bad judgments and it cost me my career!" he said.16
The Yankees released Berra, on July 27, 1986. He signed with the Houston Astros a week later. Yogi was an Astros coach at the time. Dale played for Houston's Triple-A team in Tucson for the remainder of 1986, and until mid-August 1987. He then appeared in 19 games with the Astros, batting .178, and was released on October 13, 1987. Berra took one more shot at the game, during the 1988 season with Rochester of the Triple-A International League, but batted just .181 in 69 games for the Baltimore Orioles' affiliate. Berra's 11-year career in the majors was over. His career statistics included 49 home runs, 278 RBIs, and a batting average of .236.
In 2016 Berra was living in Montclair with his wife, Jane, and their three daughters. He and his brothers, Larry and Tim, operate a family business called LTD (the first letter of their names). They handled Yogi's affairs until he died on September 22, 2015. "We've taken agents out of dad's life. We're the third party," Dale said before Yogi's death. "Anything that dad does is done through our company. We control his autograph shows, corporate appearances, and functions. It's all Yogi's stuff."
The brothers' company was also responsible for the Yogi Berra Museum, on the Montclair University campus, a celebration of Yogi's illustrious career.17 Yogi Berra Stadium is its neighbor, where the independent minor-league New Jersey Jackals play. Dale said he has been clean and sober for over 20 years.
Dale never felt he needed to measure up to his father's career; not to be as good as him was not an insult. But in describing them both, he came up with a "Yogi-ism" of his own: "Our similarities are different."18
Sources
In addition to the sources reflected in the Notes, the author also consulted:
Appel, Marty. Pinstripe Empire:The New York Yankees From Before the Babe to After the Boss (New York: Bloomsbury USA, 2012).
Skirboll, Aaron. The Pittsburgh Cocaine Seven: How a Ragtag Group of Fans Took the Fall for Major League Baseball (Chicago: Chicago Review Press, 2010).
Notes
1 Dale Berra, telephone interview, January 9, 2016.
2 The Sporting News, August 9, 1982.
3 Doug Kennedy, "Son of a Legend," Pittsburgh Sports Report, pittsburghsportsreport.com/2009-Issues/psr0905/09050116.html.
4 Ken Rodriguez, "Like Father, Like Some Sons: M's Griffey an Exception Rather Than Rule of Success," Knight Ridder News Service, July 4, 1990.
5 Dale Berra, telephone interview.
6 Stephen Mulligan, Were You There? Over 300 Wonderful, Weird, and Wacky Moments from Pittsburgh's Three Rivers Stadium (Pittsburgh: Rose Dog Books, 2013), 87.
7 "Son of a Legend."
8 The Sporting News, September 3, 1977.
9 Charley Feeney, "Decision on Pirate Infield Hinges on Stennett's Ankle," The Sporting News, December 30, 1978: 40.
10 Vic Debs, That Was Part of Baseball Then (Jefferson, North Carolina: McFarland, 2002), 52.
11 Dick Young, "Young Ideas," The Sporting News, October 27, 1979: 16.
12  Debs, 53.
13 Moss Klein, "Pirates Send Yogi's Son to the Yankees," Newark Star Ledger, January 7, 1985: 40.
14 Ibid.
15 Michael Goodwin,"Dale Berra Admits Cocaine Use," New York Times, September 10, 1985.
16 Dale Berra, telephone interview.
17 "Son of a Legend."
18 Sports Illustrated, August 9, 1982
Born
December 13, 1956 at Ridgewood, NJ (USA)
If you can help us improve this player's biography, contact us.
https://sabr.org/sites/default/files/BerraDale.jpg
600
800
admin
/wp-content/uploads/2020/02/sabr_logo.png
admin
2012-01-04 20:31:22
2021-04-12 11:11:23
Dale Berra