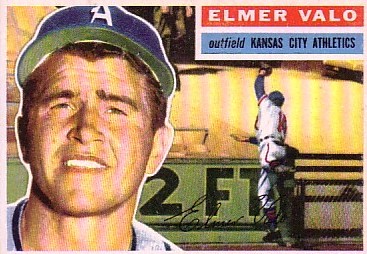 ---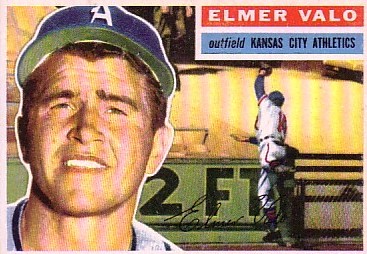 Elmer William Valo was born in Slovakia but lived the American dream during nearly sixty years in professional baseball. He insisted he was not a "natural athlete," saying, "Being a baseball player is not a glamorous job, it's hard work."1 In twenty years as a major league player, he reached base as often as Joe DiMaggio.2
As teammate Eddie Joost noted in Danny Peary's book, We Played the Game, Valo was a complete player who always put out 100 percent and was well liked. Though not a graceful outfielder, he used his sprinter's speed, superior leaping ability, and sheer determination to make up for any deficiencies. He served as a player representative and goodwill ambassador for the Philadelphia Athletics, and had a lifelong commitment to youth sports as a baseball instructor at clinics and a basketball referee. And he was a popular speaker to youth groups; his theme was always the value of sports and their relationship to freedom and the American way of life.3
Al Simmons reportedly said of him, "There is a guy who should never hit less than .340. He has the timing, the coordination and the strength. If he could only learn to relax a little, he'd be great."4
But, he couldn't. He replayed games in his mind, found fault with his play and blamed himself for his team's losses. He could cite a dozen reasons why it was his fault that the team lost.5 Though hard on himself, he was not without a sense of humor. He would tell players they had "made his team." When they asked, "What team?" he replied, "The all-ugly team."6 Another example in Peary's book tells how Valo successfully imitated teammate Vic Power's voice and almost got Power thrown out of a game.7
Elmer was born Imrich Valo in Rybník, in the newly formed country of Czechoslovakia, on March 5, 1921. He was the only child of Joseph and Katharine, nee Klincok. The 1920 census reports both Elmer's father's and grandfather's occupations as "farmer." Elmer's father served as a soldier in the Austro-Hungarian Army in World War I. For fun he reputedly raced the family's plow horse bareback around the village on Sundays.8
Elmer's grandfather, also named Imrich, immigrated to America, where he worked and saved his money. He returned to Austria-Hungary and purchased a large house on the main street in Rybnik9 where he lived out his days.10 He urged his son to take his own family to America.11
Imro (pronounced "EEM-ru"), as Elmer was called by his parents,12 was six when the family arrived in Palmerton, then a bustling company town nestled in a bend of the Lehigh River in northeastern Pennsylvania. Elmer's dad operated a furnace for the New Jersey Zinc Company. His mother worked part-time at a shirt factory.13 Many Eastern Europeans worked for the zinc company, the largest contingent being Slovaks.14 The influx of immigrants created occasional resentment from the locals, who sometimes called the Slovaks "greenhorns" or "Hungarians" or "hunkies" because they spoke Hungarian.15
The family set up house in "The Flats," company housing on the outskirts of town, which some referred to as the wrong side of the tracks.16 Former Allentown Morning Call sports editor John Kunda said, "Residents called it beka varos (frog land) because of its musty smell, and also the Hungarian expression for being in a tight spot: 'At the bottom of a coal mine under a frog's bottom.'" Residents called it still worse names on days when the wind blew the smokestacks' belchings, and the "perfume" from the nearby filter beds wafted upwards, especially on a sweltering summer day.17
Elmer grew to 5'10-1/2″ and 190 pounds. He played baseball for Stephen S. Palmer High School, hitting .500 in his sophomore year. When the school discontinued baseball to renovate their ball field, he competed in track and field events, becoming the Carbon County champion in the 100-yard dash. His second favorite sport was basketball; he was named to the honorable mention all-state team.18
Elmer traveled to nearby Lehighton to play on their American Legion junior baseball team. When he turned 16, director Edgar Paulsen promoted him to the semi-pro Lehighton Moose. When the Moose were to play Palmerton's team, Elmer did not want to play against his own town. He relented and delivered three hits, including the game winner, against the team that thought him "too young" to play for them.19
Paulsen wrote to the Philadelphia Athletics about Elmer, apparently without telling him, for he was absent when scouts showed up. How Elmer came to sign with the A's while he was a junior in high school was reported by John L. Faust in a 1983 article in the Lehighton Times News.
According to Faust, Elmer developed blisters on his feet in a touch football game and decided to caddy at a local golf course. Paulsen took off after Elmer, bought him a larger pair of spikes and drove him to the game. After a few more looks, Elmer was signed to an agreement to play after graduation in 1939. No money changed hands. He joined the Federalsburg, Maryland, team of the Class D Eastern Shore League. In his abbreviated season he hit .374 and helped the team win the championship.
It has been said that Valo had one at-bat as an 18-year-old for the Philadelphia A's in the last game of the 1939 season, which would have made him a four-decade player. Red Smith, a sports writer with the the Philadelphia Record at the time, later wrote that this at-bat was expunged from the official record, supposedly because Valo was not on the active roster and Connie Mack would have incurred a stiff fine. Smith related the story in 1975 as if Valo were jogging his (Smith's) memory about it. Smith had been the official scorer. When asked about the article years later, Valo politely refused to comment.20
As a result of his fine partial season, Valo was promoted to the 1940 Wilmington, Delaware, Blue Rocks team in the Class B Inter-State League. He won the batting title, hitting .364, and received a September call-up.21 He made his major league debut on September 22, 1940, at age 19. He played in six games and hit .348.
Back at Wilmington the next season Valo batted .324. Called up again in September, he hit .420 with a .580 slugging percentage in 16 games.22
Elmer married Anna Zelienka, whom he had known since childhood, on November 8, 1941. They would have four children: James, Anna, Joseph, and Mary Jane.
Despite his hot September, Mack stated, "Valo isn't quite ready to play regularly. He needs experience. He'll be a good ballplayer."23 With three outfielders injured, Mack tried three others in right field before giving Valo a shot. Finally in the lineup and batting leadoff, he struggled at the plate. He was dropped lower in the order and began producing hits. On July 20 he hiked his average to .272 and was batting second, when citizens of his hometown of Palmerton honored him. Elmer's friend and fellow athlete Ray Carazo, who lost an arm at Pearl Harbor, presented him with $75 in defense bonds, and an electric razor.24
Valo tailed off to wind up hitting just .251. He legged out 10 triples and stole 13 bases, but was caught 8 times. Still, he was considered an exciting, aggressive rookie and was featured on the cover of Baseball Magazine in April and the inaugural issue of Baseball Digest in August. But the A's finished last, 48 games out.
In 1943 both the team and Valo fared worse. Despite occasional bright spots, including a game-winning home run off Jim Bagby on June 5 and three stolen bases in a game in August, his career seemed in jeopardy. On June 19, the Washington Post's Shirley Povich referred to him as "a dismal flop with his own team last year."25
When Valo left for the Army in August, he was batting just .221. The team went on to lose 20 games in a row, tying the American League record for consecutive defeats. Philadelphia fan James A. Michener wrote of the plight of the Athletics' teams of that era and the grief of their followers: "Eighth place one year by 34 games, once by 49 and later by 55, by 60. The team was so inept that fans conducted contests to see who could invent the silliest sayings about it: 'One day Elmer Valo actually got to third base, and he asked the umpire, "Where do I go from here?"'26 After the season, manager Mack said Dick Siebert and Jo-Jo White were the only men on the team he considered major-leaguers. (Philadelphia Inquirer, November 4, 1943).
By the end of August Valo was playing baseball for the New Cumberland, Pennsylvania, Army Reception Center, touring the country playing other military teams for the purpose of selling War Bonds.27 He was sent to Officer Candidate School in the Medical Administration Corps at Camp Barkeley, Texas. He graduated as a second lieutenant and served until the spring of 1946.28
Valo rejoined the Athletics in April. He played sparingly and was batting .083 at the end of the month as the team got off to a horrible 2-10 start. By June he began to hit the ball hard, getting four hits in a 10-4 win over Cleveland to help break a nine-game losing streak. Two days later his game-winning double beat the Indians again, 3-2.29 The Sporting News reported that he had been working hard on his fielding. He began to gain a reputation as a courageous outfielder. In Baseball's Pivotal Era, author William Marshall tells how "Elmer robbed Ted Williams of a home run, crashing so hard into the fence he had to be carried off the field."30 Valo finished at .307, the first of three consecutive seasons batting .300 or better, but the A's 49-105 record was the same as 1943.
In 1947 the Athletics were the surprise team of the AL. By mid-June they were only seven games behind the Yankees. Valo missed three weeks after a beaning by Sid Hudson. On September 3, his first day back, he ran up the scoreboard in Shibe Park to make a brilliant catch of what seemed a certain extra-base hit by Mickey Vernon. The play preserved a 3-0, no-hit, no-walk game by Bill McCahan. Ferris Fain committed an error in the first inning of the otherwise perfect game. Valo was also the offensive hero with a two-run double.31 He batted .300 and the A's finished over .500 for the first time in 14 years.
"At $8,500 dollars per year, Elmer is one of the lowest salaried regulars in the majors," Art Morrow stated in The Sporting News. Though it was an increase over his 1947 salary, he held out briefly along with Bobby Shantz and did not sign until he talked with Mack personally.32
Valo took the baseball umpire's examination at Bill McGowan's Umpire School and passed, tying for the highest grade in the class. He said he hoped to be an umpire after his playing career.33 In the off-season he refereed high school basketball games and later refereed a few collegiate and professional (Eastern League) basketball games.34
The A's continued to surprise in 1948. The 35 days they spent in first place must have seemed like heaven to the perennial doormats' fans. Valo hit .305 and provided superb defense. On May 15th before a then-record Saturday crowd at Yankee Stadium of 69,416 he went high up against the right field wall to make two improbable catches and then a third, leaping over the wall in the eighth inning to rob Yogi Berra of a home run and falling back to the field unconscious. The New York Times reported, "He personally turned back three runs, possibly more," calling the catches "amazing, and pulse-throbbing." The story concluded, "Valo limped off the field amid an ear-splitting din."35 One writer called him "the American League's version of Pete Reiser," the Dodger outfielder who was known for his violent encounters with outfield walls.
But the effort proved costly. Hospitalized for bruises, he persuaded Mack to let him rejoin the team after missing four games. Philadelphia won eight straight, while Valo continued running into walls in St. Louis and Chicago until he was no longer able to hold a bat. It was discovered that he had suffered two broken ribs somewhere along the line, but had been taping them himself in order to play. His average dropped to .239 before he left the lineup on May 31 and didn't return for three weeks.36
On June 15 Carl Lundquist of United Press cited six outfielders he thought worthy of the AL All-Star team. He included Valo, hitting .283 at the time, with the comment: "fancy fielding."
On July 25 with the A's in a virtual first place tie with Boston, Valo, trying to rally his team from a 10-run deficit against Detroit, injured his ankle trying to steal third base.37 By August 22 he was leading the club with a .298 average and tied for the team lead with 10 steals. Of the 41 games Valo missed, the A's won just 16.38
Connie Mack said, "This team was the best team I have ever had in respect to effort." Road Secretary Benny McFarland chimed in, "when we hired these fellows we weren't hiring ballplayers, we were hiring hearts."39 The A's faltered in the last few weeks to finish fourth with an 84-70 record, their best showing since 1933.
Articles about Valo began to appear in sports, religious and boys' magazines. They told of his hard work and his dedication to baseball. Valo stated repeatedly that he did not consider himself a "natural athlete" but one who must constantly work hard to improve his skills. Likewise he read constantly to improve his English grammar. Roomate Pete Suder hid his magazines so he could read them before Elmer did.40
The next year the A's lost only three more games, but were never really in contention. On June 22, 1949, Philadelphia defeated the Indians, 8 to 2. Valo hit his second home run in as many nights, a grand slam, to go with two singles and two stolen bases. The A's moved into second place, four games behind New York. This was one of the last bright spots of the Philadelphia Athletics' franchise. Elmer's .283 average was the highest on the team.41
In 1950 despite a huge 50th anniversary celebration, the A's thudded to last place, 46 games out of first. Valo hustled and hit .280.
Trade rumors in 1951 had Valo and a pitcher going to the White Sox for slugger Gus Zernial. The A's got Zernial for two other players, but not Valo. Despite the urgings of new manager Jimmy Dykes, the A's were in last place on June 15. They then beat the White Sox, who had won 12 straight road games, in the eleventh inning of the opener of a doubleheader. Valo walked with two outs and scored on Zernial's double to left-center field. Valo would have been out by 15 feet, but he bowled over catcher Gus Niarhos and knocked him unconscious, dislodging the ball. A bench-clearing brawl followed, and Valo and Chicago pitcher Saul Rogovin were ejected for fighting. Valo was injured and was suspended as well.
On August 15 a party honored Valo on his tenth anniversary with the team. Two thousand fans came from upstate Pennsylvania and presented him with a watch. Inmates at the Eastern State Penitentiary made numerous hand-carved items and contributed model ships and airplanes for Elmer and his children. They also baked a 250-pound cake. Teammates contributed $300 in cash.42 The New World Catholic Paper wrote: "An Ideal Athlete? If he isn't the difference is for hairsplitters. Valo is a devout Catholic, doesn't drink or smoke, avoids profanity; he is pleasant, modest, unassuming, and on the field he's hustling every minute of every game." Somehow, from August 22 on, the team won 24 of 34 games to finish sixth.
For 1952, manager Jimmy Dykes moved Valo to center field. The experiment ended quickly after two collisions with walls resulted in an injury to his left hand.43 On May 1 Elmer was leading the league with a .410 average though the A's were only 3-8. General manager Art Ehlers assured Valo the A's didn't want to get rid of him; Ehlers thought the "psychological gambit" helped to ease the outfielder's mind and could be the reason for his success.44 On August 23 Valo crashed into another wall. This time the ball popped out of his glove. When he awakened in the clubhouse, he was told he dropped the ball. Good thing it was foul, he said. No, it was fair. "I must be slipping," Valo said.45 His average slipped to .281. The Athletics finished fourth.
Next spring there were the usual trade rumors and crashes into outfield walls. The crash occurred in West Palm Beach. Uncharacteristically, Valo hit well in spring training. But by April 28 he had appeared in only six games, three as a fielder. There was no report of an injury, so Allie Clark may have beaten him out for the job. On April 28 Valo collided with the concrete right-field wall in Cleveland and tore a thigh muscle. After 10 days off, he pinch-hit a few times though he couldn't run. In his first game back on June 14 he reinjured the same muscle.46 He returned again in August, but hit .224 in 107 trips to the plate for the year.
As 1954 rolled by, two things seemed certain: the A's would leave Philadelphia and Elmer Valo's career would soon end. The team got Vic Power and Bill Renna from the Yankees and put them in center and right field, respectively. For the first time in his career, Valo was a reserve player. Manager Eddie Joost benched Gus Zernial as the result of an argument and inserted Valo in the second game of a doubleheader June 14. Valo responded with two hits and four RBIs to beat the Tigers.47 But his average dropped to .214 as the Athletics fell 60 games out of first place.
The Athletics' move to Kansas City in 1955 was the first of three franchise shifts in Valo's career. Even after the change of scenery, most sportswriters picked the club for last place. Manager Lou Boudreau announced he would platoon Valo in left field with Gus Zernial.48 After two years spent mostly on the bench and the disabled list, the 34-year-old Valo rebounded to put up the best numbers of his career: a .364 average and .460 on-base percentage in 338 plate appearances. As a pinch hitter he batted .452 with 14 hits in 31 at bats. He received five votes in the AL Most Valuable Player balloting as the Athletics rose to sixth place.
But on May 15, 1956, the cutdown date, Boudreau needed to release an outfielder. He kept 40-year-old Enos Slaughter and released the 35-year-old Valo, who had just two hits in 11 tries.49 Brooklyn and the Phillies express interest and Valo signed with the Phillies a week later. In familiar surroundings, he started slowly, then began to hit consistently. When Jim Greengrass was hurt, Valo took over in right field and provided a spark to the listless Phillies.50 By July 10, he was batting .307, second only to Richie Ashburn and getting timely hits.
This was not lost on his fans in Kansas City, whose team is headed to a last place finish. The Kansas City Times announced the birth of the Valos' fourth child, Mary Jane, on June 20 and noted that Valo was the Phils' hottest hitter with seven hits in his last 15 at bats, including two homers. On August 8 the same paper ran an article headlined, "Valo Credited with Phil Surge." The Phillies had gone 39-33 since signing Valo and he was leading the club with a .321 average. He finished the season at a respectable .289.
The next spring Valo awoke on his thirty-sixth birthday to find out he had been traded to the Dodgers with four other players and cash for a promising young shortstop, Chico Fernandez. The Dodgers, coming off two straight NL pennants, announced that they planned to use Valo mainly as a pinch hitter.51
The day after the trade Red Smith devoted his syndicated column to Valo. He told how Valo as a rookie, "a big kid with a sweet smile," berated himself all the way home on a long train ride for a play that he felt cost his team the game. Even though he was told to forget it, that it was a tough play, and no error was charged, he would not allow himself to be consoled. "It's chances like that that make the difference between a major leaguer and something less," Valo said.
"An awful lot of line drives have been caught since then. And a lot have been dropped," Smith wrote. "Hundreds of kids have come up to the major leagues and played out their time and departed. None was ever more sincere than Elmer Valo, none ever tried harder, none was quicker to blame himself for a mistake, none more stubbornly unwilling to offer or accept an excuse for error."52
Smith called Valo "The Most Sincere Fella" and "Whipping Boy-Elect." He said he hoped the fans would boo Duke Snider instead of Valo because Snider would "give it back to them, whereas Valo would agree with them."53 Elmer batted .273 as the Dodgers finished third, 11 games behind the Milwaukee Braves.
He moved with the Dodgers from Brooklyn to Los Angeles. As the club fell to seventh place in its new home, Valo hit .248 as a part-timer. After the season, he was assigned to Montreal but asked for and received his release.54
After 17 years in the majors, Elmer received no interest from major league teams and signed with the Seattle Rainiers as a player-coach in 1959. He became a hustling fan favorite there and big league clubs took notice. Washington Post columnist Shirley Povich wrote, "Who else but Elmer Valo is leading the Pacific Coast League in hitting at .340?"55 In August, the Cleveland Indians, still in the pennant race, purchased Valo's contract. He hit .292 in 34 at bats, but the Indians finished third.
The Yankees signed him in the spring of 1960, but let him go after eight at-bats, and he joined the Washington Senators. At season's end he totaled 82 pinch-hit appearances and 18 pinch-hit walks. Both are still American League records.
Valo moved with the Senators to Minnesota in 1961, his third franchise shift. He appeared in 33 games as a Twin, and then was sold to the Phillies in time for their record 24-game losing streak. In October he announced his retirement from baseball.
He stayed in the game as a scout for the Mets in 1962 followed by two years as a Cleveland Indians' coach. The Sporting News reported that he and manager Birdie Tebbetts carried Spanish-English dictionaries in their back pockets. One report said teammates detected a Slavic flavor when Venezuelan outfielder Vic Davalillo spoke English.
In 1965 Valo managed the Indians' Class A Dubuque Packers. The Mississippi River flooded and their field was under six feet of water, delaying their home opener by 42 days. The players spent as much time filling sandbags as practicing baseball. If a player showed any promise he was promoted to a higher level. The Packers finished ninth in the ten-team league, but Valo came back for another season.56
The next year was as bad, and Valo admitted, "It just wasn't worth it."57 Six major leaguers came from those teams; the best known was Joe Rudi, who played third base for Valo.
From 1962 to 1976 Elmer attended the World Series and co-wrote a column under the guidance of longtime friend, John Kunda, sports editor of the Allentown Morning Call. Valo had encouraged Kunda to become a sportswriter after he sustained a serious knee injury playing high-school basketball.58
In the fall of 1966 Elmer began doing public relations work and special assignments for the Phillies. In 1970 he became the team's scout in eastern Pennsylvania. He traveled with the Phillies' staff to evaluate talent in Puerto Rico and the Dominican Republic and ran tryout camps and clinics. In 1980 he received a World Series ring in recognition of his service to the organization.59
He ceased working full time in 1982, but continued to serve as an instructor at the minor league spring training camp in Clearwater, Florida, supervising bunting drills, and even repairing a pitching machine.60
In 1995 Elmer was inducted into the Phillies' Wall of Fame and was immortalized with a commemorative bronze plaque on the same night as Mike Schmidt. Dwarfed by Schmidt, who appeared the classic athlete, it was difficult to picture the smallish man with the skinny legs, broad chest and silver hair barreling over a catcher and knocking him cold to win a game or leaping into the stands to rob Yogi Berra or Ted Williams of a home run. But he did.
Elmer died suddenly at his home in Palmerton, Pennsylvania, on July 19, 1998.
Phillies President David Montgomery said, "Every spring, he would set the tone by handling the batting cages for our young players with great enthusiasm. On the field, Elmer was aggressive and played the game hard. Off the field, he was a kind gentleman and an extremely nice person."61 The Tribune of Scranton said, "He will be remembered as a player who gave the game everything he had."
Fittingly, when Elmer passed away, it was requested that donations be made to Richie Ashburn Field, the Phillies' baseball program for inner-city youth at the time.62
Acknowledgments
Ashman, George, Lehigh Gap Historical Society, Palmerton, Pennsylvania
Gietschier, Steve, clipping files, The Sporting News
Macht, Norman
Muhlena, David, Librarian, National Czech and Slovak Museum, Cedar Rapids, Iowa.
Nelson, Rod, SABR scouting committee
O'Brien, Margaret
Wyne, Mike, clipping files, National Baseball Hall of Fame, Cooperstown, New York
Williams, Ann Mrs. and her sister, daughters of Elmer's high school coach, Bill Braucher
Sources
Books
Burian, Evan, Sports Legends of the Lehigh Valley, privately published, 1995.
Chance, Elbert, The Blue Rocks Past and Present: Wilmington's Baseball Team, 1940- 1999. Cedar Tree Books, 2000.
James, Bill, The New Bill James Historical Baseball Abstract, Free Press, 2002
Jordan, David M., The Athletics of Philadelphia: Connie Mack's White Elephants, 1901-1954, McFarland, 1999.
Marshall, William, Baseball's Pivotal Era 1945- 1951. The University Press of Kentucky 1999
Michener, James A., Sports in America. Random House.
Peary, Danny, ed., We Played the Game. Hyperion Press, Black Dog & Leventhal Publishers, 2002.
Newspapers and Magazines
Bostrom, Don, "Palmerton's Valo joins select team," Sports Plus section, Allentown Morning Call, September 23, 1990.
Dubuque Telegraph-Herald, Dubuque, Iowa; Allison Zordell, Researcher.
Faust, John L., "Elmer Valo," Times-News, Lehighton, Pennsylvania, spring supplement, 1983.
Kozak, Joseph J., "Baseball Talent, Clean Life Mark A's Elmer Valo," The New World Catholic Paper, Chicago, Illinois, August 31, 1951
Miller, Marjorie, "All-American," Christian Science Monitor, June 2, 1949.
Morrow, Art, "Valo, Champ Fence crasher at $8,500 per year," The Sporting News, August 15, 1948.
Morrow, Art, "Valiant Valo," The Sporting News; August 28, 1948.
Povich, Shirley, "This Morning with Shirley Povich," Washington Post, June 19, 1943.
Povich, Shirley, "This Morning," Washington Post, May 31, 1959.
Smith, Red, "The Big League Chance," Red Smith's Views of Sport, April 8, 1957 .
Smith, Red, "Bouncing Czech," Views of Sport, Red Smith, April 1, 1961.
Smith, Red, "What They Talk About", Sports of the Times, New York Times, October 15, 1975
"Palmerton Legend Dies," Times-News, Lehighton Pennsylvania, July 21, 1998.
Waldman, Frank, "Elmer's Tune," Christian Science Monitor, November 12, 1958.
Williams, Edgar, "Discretion Isn't the better Part of VALO," Baseball Digest, April 1953.
Interviews
Bednar, Rudy, Journalist, Palmerton, Pennsylvania, telephone interview, 2003.
Burian, Evan, Lehigh Valley sports historian, telephone interview, 2003.
Dosedlova, Mrs. Alicia, Town Registrar, Rybník nad Hronem, Slovak Republic.
Hawk, Ann Valo, and John C., telephone interview, June 2003.
Kunda, John, personal interview, 2003
Paulsen, Phillips H. (son of Edgar Paulsen), e-mail correspondence, 2003.
Psarsky, Joseph "Curly" (classmate of Elmer Valo), telephone interviews, February 2003 and May 2004.
Sabol, Mark, e-mail correspondence, 2003-2004.
Silberman, Max, historian, Philadelphia Athletics Historical Society, Hatboro, Pennsylvania, telephone interview, 2003.
Suder, Peter, telephone interview, January 2003.
Svaral, Karol, Tlmace, Slovak Republic, e-mail correspondence, 2004.
Valo, Anna (Mrs. Elmer), telephone interviews, 2003 and 2004.
Valo, James, telephone interview, 2003.
Other
"Medical Training in World War II. III. The Medical Administration Corps" Medical Department United States Army, http://historyamedd.army.mil/booksdocs/wwii/medtrain/default.htm#cont
Rybník description from The State Guide to Towns and Villages. Slovak Republic. Translated for me by Vladimir Linder
Statistics: www.baseball-reference.com
Notes
1 Dick Stedler, "Major Leaguer Started as Laborer," Open Road Magazine, page 12, September 1952.
2 Valo is tied with Joe DiMaggio for the 57th highest career on base percentage at .3983 as of August 17, 2007. Source: http://www.baseball-almanac.com/hitting/hiobp1.shtml
3 Edgar Williams, "Discretion Isn't the better Part of VALO," Baseball Digest, April 1953, p. 20.
4 Williams, "Discretion Isn't the better Part of VALO."
5 Williams, "Discretion Isn't the better Part of VALO."
6 Red Smith, "Bouncing Czech," New York Times, April 1, 1961.
7 Danny Peary, ed., We Played the Game, p. 268. 1994 Hyperion Press. Black Dog & Leventhal Publishers, 2002.
8 The family name was "Vallo" in Hungarian. When the family came to America, the Slovak spelling, Valo, was apparently restored. Elmer once said, "Our name was Vallo, I don't know what happened." The Slovak surname Valo is derived from the given name Valentin (Valentin/ Val'yo/ Valo). (Val'yo means friendly or kind Valentin). Sources: Mark Sabol, slovensko.com., find people forum, 2003; Art Morrow, "Valo Champ Fence Crasher at $8,500 a year," The Sporting News, August 18, 1948; Karol Svaral and Alicia Dosedlova (Rybník town registrar), e-mail correspondence, 2003- 2004.
9 Karol Svaral and Alicia Dosedlova (Rybník town registrar), e-mail correspondence, 2003- 2004.
10 Anna (Mrs. Elmer) Valo, telephone conversation, 2003.
11 Art Morrow, "Valo Champ Fence Crasher at $8,500 a year," The Sporting News, August 18, 1948.
12 Imro is the shortened form of Imrich. John Kunda, interview, May 13, 2003.
13 Anna (Mrs. Elmer) Valo, telephone conversation, 2003.
14 Joseph "Curly" Psarsky, telephone conversation, 2004.
15 Joseph "Curly" Psarsky, telephone conversation, 2004.
16 Rudy Bednar, telephone interview, 2003.
17 John Kunda, interview, May 13, 2003.
18 Art Morrow, "Valo Champ Fence Crasher at $8,500 a year," The Sporting News, August 18, 1948.
19 Don Bostrum, "Palmerton's Valo Joins Select Team" The Morning Call, Allentown, Pennsylvania, September 23, 1990.
20 Red Smith, "What They Talk About," New York Times, October 15, 1975; Max Silberman, Philadelphia Athletics Historical Society. Telephone interview, 2003.
21 Elbert Chance, The Blue Rocks Past and Present: Wilmington's Baseball Team 1940- 1999. Cedar Tree Books 2000.
22 http://www.baseball-almanac.com/yearly/debut.php?y=1940&l=AL. Valo was the third youngest player at the time.
23 Philadelphia Inquirer April 15, 1942.
24 Philadelphia Inquirer July 21, 1942.
25 Shirley Povich, "This Morning," Washington Post, June 19, 1943: 10.
26 James A. Michener, Sports in America, page 12. Random House Inc.
27 "Many Majors with Visiting Army Team Will Play Senators Here in War Bond Game," The Daily Times, Salisbury Maryland, September 1, 1943.
28 Art Morrow, "Valo Champ Fence Crasher at $8,500 a year," The Sporting News, August 18, 1948.
29 Philadelphia Inquirer.
30 William Marshall, Baseball's Pivotal Era 1945-1951, The University Press of Kentucky, page 94.
31 "Rookie Victor, 3-0, Facing 28 Senators," New York Times, September 4, 1947: 33.
32 Art Morrow, "Valo Champ Fence Crasher at $8,500 a year," The Sporting News, August 18, 1948.
33 Morrow, "Valo Champ Fence Crasher at $8,500 a year."
34 Morrow, "Valo Champ Fence Crasher at $8,500 a year."
35 "Saturday Record Crowd Sees Coleman End Yankees Five-Game Win Streak," New York Times, May 15, 1948.
36 Morrow, "Valo Champ Fence Crasher at $8,500 a year."
37 Morrow, "Valo Champ Fence Crasher at $8,500 a year."
38 Morrow, "Valo Champ Fence Crasher at $8,500 a year."
39 Philadelphia Inquirer, August 13, 1948.
40 Pete Suder, telephone conversation, 2003.
41 http://www.baseball-reference.com/teams/PHA/1949.shtml.
42 Frank Waldman, "Elmer's Tune," Christian Science Monitor, November 12, 1958.
43 Steve Snider, "Valo's daring adds strength to A's defensive play," United Press, May 4, 1952.
44 Philadelphia Inquirer, May 2, 1952.
45 Williams, "Discretion Isn't the better Part of VALO."
46 Philadelphia Inquirer, April 28, 1953; June 15, 1953.
47 Philadelphia Inquirer, June 15, 1954.
48 "A's Sign Four More", Kansas City Star, February 6, 1955.
49 Associated Press, July 10, 1956.
50 "Elmer Valo Is Father Fourth Time," Kansas City Times, June 20, 1956.
51 United Press, April 6, 1957.
52 Red Smith, "The Big League Chance," Red Smith's Views of Sport, April 8, 1957.
53 Smith, "The Big League Chance."
54 United Press, "Valo Released," October 15, 1958.
55 Shirley Povich, "This Morning," Washington Post, May 31, 1959.
56 Press clippings from the Dubuque Times Herald, 1965, 1966; Bill O'Neill, "Flood of 1965 left Packers without own home for 41 days," Dubuque Times Herald, Dubuque Iowa, April 15, 1975.
57 Norman L. Macht, "Baseball's First 'Cover Boy,'" Baseball Digest, September 1988, Vol. 47 No. 9, page 48.
58 Interview with John Kunda, April 17, 2003.
59 Rich Westcott, "Do You Remember? Elmer Valo," Phillies Report Magazine, April 7, 1987.
60 Lehighton Times News, Lehighton, Pennsylvania.
61 Obituary, "Palmerton Legend Dies," Lehighton Times-News, July 21, 1998.
62 Obituary, "Palmerton Legend Dies," Lehighton Times-News, July 21, 1998.
Born
March 5, 1921 at Rybnik, Plzensky (Slovakia)
Died
July 19, 1998 at Palmerton, PA (USA)
If you can help us improve this player's biography, contact us.
http://bioproj.sabr.org/bp_ftp/images/ValoElmer.jpg
600
800
admin
/wp-content/uploads/2020/02/sabr_logo.png
admin
2012-01-04 20:41:11
2023-08-14 11:59:29
Elmer Valo