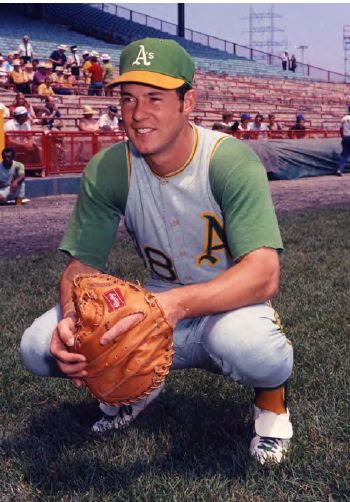 ---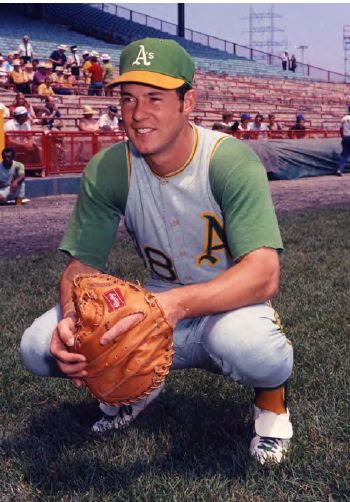 The Cincinnati Reds did not seem a bit concerned about their opponent from the junior circuit. The Big Red Machine were the bullies on the beach, waiting to kick sand in the face of their rival, the Oakland Athletics. Pete Rose viewed the coming 1972 World Series as anticlimactic. "The real World Series was between the Reds and Pirates," said Rose of the Reds' opposition in the NLCS.1 Cincinnati skipper Sparky Anderson chimed in, "If I said the American League was as good as the National League, I'd be lying."2
The Athletics franchise was appearing in the Series for the first time in 41 years. Slugger Reggie Jackson was sidelined with a hamstring injury, and the Reds were overwhelming favorites.
Catcher Gene Tenace was penciled into the seventh spot in the batting order in Game One at Cincinnati's Riverfront Stadium. Tenace, despite having got just one hit in the League Championship Series against Detroit, felt that he was seeing the ball very well. "The balls that I was hitting were right on the nose, but right at somebody," he recalled.3
Tenace may have been on to something with his analysis. After a walk to George Hendrick in the third inning, Tenace sent a Gary Nolan pitch into the left-field bleachers for a 2-0 Oakland lead. In the fifth inning he homered again off Nolan, giving the visitors a 3-2 advantage. That was the final score.
Tenace became the first major leaguer to homer in his first two at-bats in the World Series. "I never hit two home runs in one game before," he exclaimed. "The first one was on a fastball out over the plate. The second was on a hanging curve."4
He was not finished, as he added round-trippers in Games Four and Five. He had hit only five home runs in the regular season, and had four in the Series. The four home runs tied a major-league mark for home runs in a World Series. After number four, the scoreboard at the Oakland Coliseum delivered this message to Tenace, and the 49,000-plus fans: The mark equaled those of Babe Ruth, Duke Snider, Lou Gehrig, and Hank Bauer. "I don't belong with those guys," Tenace remembered thinking to himself.5
Cincinnati catcher Johnny Bench credited Tenace with taking advantage of mistakes. "Any time a batter hits a home run, he hits a pitcher's mistake — and I see a lot of that behind the plate," Bench said. "Tenace hit a curveball that hung and a couple of sliders that didn't slide. But Gene knew what to do when he got those mistakes, and that's what counts."6
Tenace, who batted .348 in the Series and knocked in nine runs, was named the Series' Most Valuable Player, an honor that earned him a sports car from Sport magazine. Tenace brushed off the honors, claiming that there were 25 heroes on the team, not just one. Always humble and reserved, he was happy to be a face in the crowd.
Fury Gene Tenace was born on October 10, 1946, in Russellton, Pennsylvania, the second of three children born to Fiore and Ethel Tenace. He had an older sister, Nadine, and a younger sister, Serena Kay, who was killed in an auto accident at the age of 21. His original name was Fiore Gino Tennaci. But his maternal grandfather, who had emigrated from Italy, wanted to Americanize the family name. It was also his grandfather who gave the youngster the nickname "Steamboat," because of his block-like build.
Gene's father dropped out of school at the age of 16 and joined the Merchant Marine. He enlisted in the Navy when World War II began and also served in the Korean War. After he was discharged, Tenace moved his family to Lucasville, Ohio, where he found work as a laborer, and then as a union truck driver.
Fiore Tenace put tremendous pressure on young Gene to become a ballplayer. Fiore had played semipro ball around the Ohio-Pennsylvania border area. Ethel Tenace recalled her husband berating the youngster in front of others. "'Didn't I always tell you to swing at a third strike? How come you didn't swing?' his father used to scream. Gene, he didn't say anything except, 'I don't know.' If Gene would ever attack back at his father he probably would've got a slap across the mouth. His father used to say, 'No kid who lives under my roof is goin' to sass me. If he's going to be a ballplayer, he'll do as I say.'"7
Because of this treatment, young Gene suffered from ulcers. He couldn't play baseball for a year, and was restricted to a special diet. When he recovered enough to return to the diamond, he asked his father not to come to his games because it made him too nervous.
Tenace eventually grew into a fine ballplayer at Valley Local High in Lucasville. He was a two-sport star, excelling in football and baseball, earning all-state honors while playing shortstop. He also played on an American Legion team that featured future major-league stars Al Oliver and Larry Hisle, both of nearby Portsmouth, Ohio. "We could put some runs on the board, but we just didn't have the pitching to get past the state playoffs," recalled Tenace.8
After graduating from high school in 1965, Tenace was drafted by the Kansas City Athletics in the 20th round of the June amateur draft. He puttered around the Athletics organization as a utility player. Once, while with Peninsula of the Carolina League, Tenace played all nine positions in one game as part of a promotion. "I pitched the first inning and got out of it, though I nearly got the third baseman killed," he remembered. "I caught the second inning, then moved around the horn each inning and ended up in right field. It was fun till I got to the outfield. There was no action there."9
In 1969 Tenace was promoted to Birmingham of the Double-A Southern League. Manager Gus Niarhos, known for his skill at developing young receivers, went to work on his newest pupil. "I'd call Tenace an adequate catcher now," said Niarhos near the beginning of the season. "His arm is good. The biggest thing is getting him to relax. When he does, and if he keeps hitting, he'll be up there. That could be next year — that's how much I think of his chances. Tenace wants to know. He asks, too. He's a good student."10 Tenace showed that his progress was ahead of the timetable Niarhos had set, when he was promoted to Oakland after backup catcher Jim Pagliaroni was sold to Seattle and Dave Duncan was called into military service. Tenace made his big-league debut on May 29, 1969. Tenace played in five games as a backup for Phil Roof. His first major-league hit was a single off Cleveland's Luis Tiant on May 30. His second was a solo home run off Detroit pitcher Earl Wilson on June 6.
The A's acquired catcher Larry Haney from Seattle on June 14, and returned Tenace to Birmingham. He had a solid year there, batting .319 with 20 homers, and 74 RBIs. Behind the plate, he fielded a respectable .988 with 46 assists in 80 games. He capped off his season when he was recalled to the varsity after the Southern League season. Tenace was dispatched to Iowa of the Triple-A American Association to begin the 1970 campaign. He flourished again, and was recalled to the Athletics for the last two months of the season. Gene saw more action, hitting .305 in 105 at-bats. (He did not come near .300 again in his career.)
In 1971 the Athletics' third season in the Bay Area after relocating from Kansas City, the team broke through to end Minnesota's hold on the American League's Western Division. Other than pitcher Vida Blue, the A's star players had all begun their careers in Kansas City. Now Charlie Finley's team was about to get a taste of the postseason.
Tenace was Dave Duncan's backup at catcher. Manager Dick Williams favored Duncan, who was a better defensive player, possessed a stronger arm, and had the intangibles such as success in handling the pitching staff. But Baltimore swept the A's in the League Championship Series, claiming the American League pennant for the third straight year.
If their quick exit from the playoffs taught the A's anything, it was that they needed to bolster their pitching staff. After the season the A's traded promising outfielder Rick Monday to the Chicago Cubs for pitcher Ken Holtzman. With Blue and Catfish Hunter, the Oakland rotation was suddenly a force. But their offense, outside of Reggie Jackson and Joe Rudi, was anemic at times. Their pitching staff was the cornerstone that Oakland rode to three straight world championships, beginning in 1972.
Dick Williams realized that his team needed an infusion of offense. Tenace provided a bit more than Duncan. "He wasn't doing it with the bat," Williams said of Duncan. "It began to affect his catching."11 Williams then went against his normal thinking of playing the better defensive player, and inserted Tenace in the lineup for the last two months of the season. Oakland was in a fight with the White Sox all season, outlasting them by 5½ games. The League Championship Series against the Tigers went the full five games, and Tenace knocked in outfielder George Hendrick with the go-ahead run in the fourth inning of Game Five. The 2-1 win was Blue Moon Odom's second victory of the series. Tenace's game-winning blow was his only hit in 17 at-bats, but a key one nonetheless.
The World Series was a tightly matched battle between Oakland and Cincinnati, with six of the seven games being decided by a single run. Oakland prevailed in seven games, starting a dynasty such as the Bay Area had never seen before.
An interesting story developed before Game Six, as the Series moved back to Cincinnati. A woman waited in line to purchase standing-room tickets. She overheard a man remark, "If Gene Tenace hits a home run today, he won't walk out of the ballpark."12 The woman alerted police, and Finley and Williams requested extra security. They decided not to tell Tenace of the threat until after the game. The man, who carried a loaded gun and a bottle of whiskey, was arrested during the game.
The next year Dave Duncan was a holdout as spring training commenced. Tenace took over the catcher duties. As late March approached, Duncan was still unsigned. Rather than deal with the contract issue, Finley traded Duncan and George Hendrick to Cleveland for catcher Ray Fosse and infielder Jack Heidemann. Fosse, an excellent fielder (Gold Gloves in 1970 and 1971) but lacking on offense, became the starting catcher. But the Athletics were anxious to keep Tenace and his bat in the lineup. They asked Mike Hegan, who was a defensive specialist at first base, to tutor Tenace on the finer points of becoming a first sacker. "All the time Mike was doing this," said Tenace, "he was pushing himself further and further away from the job. He knew it and I knew it, but he still kept helping me."13 Hegan was sold to the Yankees during the season.
Besides starting at first base, Tenace sometimes filled in for Fosse, who was often injured. He hit 24 home runs. In 1973, the first of four straight seasons in which he smacked at least 20 homers. Despite mediocre batting averages Tenace proved to be a valuable offensive commodity. In 1974 he batted only .211 but led the league in walks (110). He was the starting first baseman for the American League in the 1975 All-Star Game.
The Athletics were a strong team, dominating the American League's West Division. They dispatched Baltimore two years in a row in the ALCS, and topped the New York Mets in the 1973 World Series and the Los Angeles Dodgers in 1974 to win three straight world championships.
The major-league owners locked the players out of spring-training in 1976 until a new contract could be reached. The gates were finally opened in mid-March, and Finley sent out the obligatory contracts, cutting each player's salary by 20 percent. Sensing that free agency was imminent, Finley dealt Holtzman and Jackson to Baltimore a few days before the season began. Thus began the fire sale as the trade deadline approached in June. Finley offered all of his starters to all interested parties for the right price. The players were willing to play out the year, hoping to cash in at the end of the season when free agency was granted. Finley's attempts to sell or trade his stars were doused by Commissioner Bowie Kuhn.
The players were correct in their assumption that the moolah would be coming their way. Tenace, who made a salary of $40,800 in 1976, signed a six-year contract with San Diego for a total of $1.85 million. Rollie Fingers joined Tenace in the Padres' fold.
Despite owner Ray Kroc's attempt to bolster the Padres, they were not a competitive team. The Dodgers, Astros, and Reds fought it out at the top of the Western Division. Each team had its way with the weaker Padres. San Diego signed Tenace to be the starting catcher, even though his skills may have been better suited for first base. As it turned out, he split time between the two positions. His power numbers tailed off; he reached 20 home runs only once in his four years at San Diego. Kroc was dissatisfied with his free-agent acquisition. "Tenace kept saying if he played every day he'd improve. Well he's been in there every day and he hasn't done a damn thing," the owner said. "All he wants to do is walk. Well, we can't win games waiting for walks. He's being paid to hit and he can't hit. Nobody in either league wants him and we're paying a premium price."14 For his part, Tenace did not respond negatively to Kroc's criticism; he acknowledged that he was not playing well and said Kroc's tirade was intended to stir up the Padres.
On December 10, 1980, Tenace was part of an 11-player deal, going with Fingers, pitcher Bob Shirley, and catcher Bob Geren to St. Louis. The principal player among seven Cardinals going to San Diego was catcher Terry Kennedy. During the 1981 season Tenace went back and forth between first base and catcher, backing up Darrell Porter and Keith Hernandez.
In 1982 Tenace broke a bone in his right thumb in spring training. Later in the year, he broke a bone in his right hand diving into third base. Despite these setbacks, Tenace played a key role among the reserves, always encouraging them. "Gene Tenace keeps my head above water," said outfielder Tito Landrum. "If I start having a letdown, he comes over and kicks my rear end. Literally. He pulls no punches. He lets you know."15 Tenace preached to the bench players to always be ready because they never knew when they would be called upon to enter a game.
The Cardinals won the 1982 World Series, topping Milwaukee in seven games. Tenace, who had hit his 200th career home run during the season, went hitless in six at-bats with one walk in the Series.
Tenace became a free agent after the season and signed with Pittsburgh. He played sparingly (78 plate appearances) and quit as a player after the season. He retired with a .241 batting average, 201 home runs, and 674 RBIs. He had a respectable fielding percentage of .986 as a catcher, and .993 as a first baseman. Tenace served as a minor-league instructor for the Boston Red Sox and also coached in the majors, primarily with Toronto. He was the bench coach on Cito Gaston's staff that won back-to-back world championships in 1992 and 1993.
Tenace retired from baseball after the 2009 season. As of 2022, he and his wife, Linda, lived in Redmond, Oregon. They have two daughters.
The 1972 World Series was not all rosy for Gene Tenace. The Reds swiped 12 bases in the Series, taking advantage of Oakland pitchers' inability to hold baserunners. Tenace did not have the strongest of throwing arms, which did not aid the cause. Asked after the A's victory in Game Seven if he thought he might be elected the MVP of the Series, Tenace responded, "What the hell, even if I do, the Reds'll steal it from me."16
Last revised: March 9, 2022
Sources
In addition to the sources cited in the Notes, the author also consulted baseball-almanac.com, baseball-reference.com, retrosheet.org, sabr.org, and
Green, G. Michael, and Roger D. Launius, Charlie Finley (New York: Walker Publishing Company, 2010).
Notes
1 Bruce Markusen, A Baseball Dynasty: Charlie Finley's Swingin A's (Haworth, New Jersey: St. Johann Press, 2002), 143.
2 Markusen, 143.
3 Markusen, 144.
4 Markusen, 144.
5 Markusen, 158.
6 Bob Addie, "Addie's Atoms," The Sporting News, November 11, 1972: 14.
7 Ira Berkow, Beyond the Dream: Occasional Heroes of Sports (Lincoln, Nebraska: Bison Books, 1974), 6-9.
8 Interview, Sport magazine, September 1979. Information obtained from a summary sheet created by Sport which is found in Tenace's player file at the National Baseball Hall of Fame.
9 Interview, Sport magazine, September 1979.
10 Alf Van Hoose, "Quick Bat, Shift to Backstop Propel Tenace Toward Top," The Sporting News, May 31, 1969: 41.
11 Ron Bergman, "If A's trade Catcher, It'll Probably Be Duncan," The Sporting News, November 11, 1972: 36.
12 Markusen, 162.
13 Markusen, 181.
14 Phil Collier, "Man Upstairs Gives Word to Padres: 'Yccch'," The Sporting News, July 1, 1978: 23.
15 "Cards Can Count on Husting Tenace," The Sporting News, August 9, 1982: 14.
16 Al Hirschberg, Sport, October 1973. From Sport summary sheet in Tenace Hall of Fame player file.
Born
October 10, 1946 at Russellton, PA (USA)
If you can help us improve this player's biography, contact us.
http://sabr.org/sites/default/files/GeneTenace.JPG
600
800
admin
/wp-content/uploads/2020/02/sabr_logo.png
admin
2015-09-14 00:00:31
2022-10-03 10:50:36
Gene Tenace