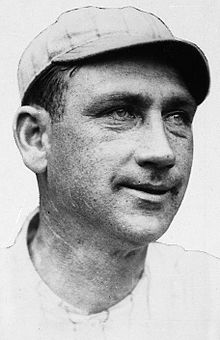 ---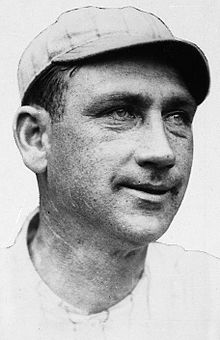 In 1907 38 year-old Hughie Jennings became the sixth manager in seven years of the downtrodden Detroit Tigers. Aided by a young phenom named Ty Cobb, Jennings proceeded to lead the Tigers to three consecutive pennants in his first three seasons with the club. Though he never won another pennant after 1909, Jennings continued to manage the Tigers through the 1920 season, accumulating a .538 winning percentage and guiding the club to 10 first division finishes in 14 seasons. Even though he had to deal with the temperamental Cobb during his entire tenure with Detroit, Jennings was the most colorful, animated and cheerful manager in the game. He sported a boyish, infectious smile on his freckled, red-headed Irish face. Umpire Tim Hurst called it "the grin that echoed." During the game he was constant motion, continually hollering his signature "Ee-yah!" and "Attaboy" from his third base coaching box while plucking the grass bare. Perhaps not surprisingly, given his gift of gab, in the off-season Jennings was a highly-regarded trial lawyer in his hometown of Scranton, Pennsylvania. He achieved all this success despite a string of freak accidents — including three separate serious head injuries — unparalleled in the history of the sport.
Hugh Ambrose Jennings was born on April 2, 1869 in Pittston, Pennsylvania, the ninth of twelve children of a miner's family. He grew up in Moosic, near Scranton, and near the mouths of the anthracite coal pits of the region. As a youngster he dropped out of school at about age 12 and became a breaker boy in the mines, picking slate from coal for 90 cents a day, but he played baseball whenever he could. Young Hughie was soon the 90-pound catcher for the Anthracites, representing "the Patch" (after Stark's Patch, the section of Moosic his family lived in). Jennings also played for town teams in Minooka, Avoca, and Pittston. Against his father's wishes, in 1889 Hughie signed for $5 a game with a semi-pro team in Lehighton, Pa., leaving the mines behind. He performed so well that the club agreed to pay him $50 a month for the 1890 season.
In June he signed his first professional contract, with Allentown (Pennsylvania) of the Eastern Interstate League. In his first three professional games he played right field, shortstop and catcher, respectively. He even pitched and lost against Altoona 6-3 on July 1. In his first game as a catcher, Jennings attempted to show off his rocket arm, throwing from behind the plate to try to catch a runner stealing second base. Unfortunately, the throw nailed the batter in the back of the head and knocked him cold. The club folded on July 5 and Hughie soon found himself back with Lehighton, where he began the 1891 season. After distinguishing himself early in the year, Jennings was signed by the Louisville Colonels of the American Association as a fill-in for injured first baseman Harry Taylor. Unfortunately, the club did not have a uniform that even remotely fit the slight Jennings. The one they gave him was so large it seemed he was encased in about three large pillowcases. Sam Crane, the sportswriter for the New York Journal, wrote that Hughie's red head stuck up through his uniform "like a red peony in a field of chrysanthemums."
After Taylor returned from injury, Jennings began to play shortstop, and finished the season as the regular, playing 70 games there. He batted a very respectable .293 in 361 at bats as a 22-year old rookie. The following year, 1892, Jennings played shortstop all year for the Colonels, who were absorbed into the National League when the American Association folded. Hughie slumped to .224 and committed 90 errors for an above-average .907 fielding percentage in 152 games at shortstop for the ninth-place Colonels.
Following an even slower start in 1893, Jennings was dealt with Harry Taylor to the Baltimore Orioles for another shortstop, the highly regarded Voiceless Tim O'Rourke. Jennings broke through in 1894, taking over at shortstop and batting a lusty .335 as a key element in the first of three straight National League pennants by the Orioles juggernaut put together by manager Ned Hanlon. Jennings flourished under Hanlon, taking to Ned's brainy, do-anything-to-win style. Under Hanlon, Jennings learned "scientific baseball," the bunt, the hit-and-run, and the stolen base. As one of the Orioles' famous "Little Big Four" (along with John McGraw, Willie Keeler, and Joe Kelley), he also learned about intimidating opponents, baiting umpires, and even cheating, if that's what it took to win.
With the Orioles, Jennings became the top shortstop in baseball, both offensively and defensively. He hit .386 in 1895 and an amazing .401 in 1896 to finish second in the league. Jennings would do anything to get on base and in 1896 was hit by pitches 51 times, a major league record that still stands. In 1897 Hughie was in the midst of another fine year when fastballer Amos Rusie quick-pitched him — faking a throw to first and throwing an in-shoot home — striking Jennings near the temple and laying him out flat at the plate. His skull was reportedly fractured and, according to one account, he was unconscious for four days. Even after that life-threatening beaning, Jennings continued to crowd the plate and was hit by pitches 46 times in 1898, leading the league in hit pitched for the fourth consecutive year. For his career, Hughie was plunked by pitches a major league record 287 times (including a record three in one game on three different occasions).
In 1899 Jennings ended up with Brooklyn when Ned Hanlon and Baltimore owner Harry Von der Horst purchased controlling interest in that club while retaining their stock in the Orioles. Hanlon became Brooklyn's manager and transferred the core of the Orioles to Brooklyn, including Jennings. After eleven games at shortstop, however, Hughie blew out his arm and could no longer play the position. The ever conniving Hanlon tried to trade Jennings to Pittsburgh but Hughie was an honest man and wrote the Pirates that he was damaged goods. Hanlon then tried to return Jennings to the Orioles but after only two games Hughie was back with Brooklyn. As a part-time first baseman, Jennings contributed to two consecutive pennants for the Superbas. He adapted to his new position quite well; by July 1900 Sporting Life was calling him "the best fielding first baseman ever." Nonetheless, Jennings was on the downside of his playing career. After a midseason 1901 squabble in which four different teams in two leagues claimed rights to his services, the Philadelphia Phillies prevailed, purchasing Jennings to play first base and provide leadership. Although there was scuttlebutt that Jennings would take over as manager for Billy Shettsline, it did not happen. Hughie played for the Phillies in 1901 and 1902, after which he was essentially finished as a major league player at the age of 33.
During the autumn of 1899, Hughie began attending the Cornell Law School in the off-season, still intent on improving his education. Law school was a high enough priority that Jennings refused to report to the Superbas in 1901 until June so that he could complete the spring term at Cornell, thus hastening his sale to the Phillies. He coached the Cornell baseball team as well, in exchange for his tuition. One winter evening in 1904, Jennings decided to take a swim in Cornell's darkened indoor pool. Unaware that maintenance had drained the pool, he dove in, seriously injuring himself with a lacerated scalp, two badly sprained wrists and many abrasions. Fortunately, Jennings completely recovered, but after he became a manager he was frequently reminded of his ill-fated dive. When he would fuss at a player for a bonehead play, the player would often reply, "At least I never dived into an empty pool."
Although Jennings fell two semesters short of graduating from Cornell, he passed enough classes to take the bar exam. He was admitted to practice in Maryland in 1905 and in Pennsylvania in 1907, when Jennings moved to Scranton and began practicing law with his brother, W. A. Jennings. Hughie became a very accomplished and respected trial lawyer, defending accused murderers on several occasions.
After two seasons with the Phillies, Jennings rejoined Brooklyn in 1903, but only stayed with the team for six games. Hanlon, who still controlled both Brooklyn and the now minor league Baltimore Orioles of the Eastern League, sent Hughie to take over as manager for his old Oriole teammate Wilbert Robinson. He stayed on as the Orioles manager for four years, leading them to a fourth place finish, followed by two seconds and a third in 1906. Hughie still played shortstop or second base when his health allowed and hit .328 in limited action in 1903 and .292 in 332 at bats in 1904. He was still plagued by more than his fair share of injuries. For example, in 1905 he was hit by a pitch that broke his arm. After returning to action several weeks later, he broke it again in a base path collision.
After the 1906 season, Detroit Tigers' secretary Frank Navin wanted to purchase Jennings to manage his team. Hanlon demanded $5,000 for Jennings, a considerable sum in those days. Navin declined to pay that much and then, under the rules in force, simply drafted Jennings as a player from the Orioles for $1,000. Hughie inherited a sixth-place club led by the veteran Wahoo Sam Crawford, a promising pitching staff, and a 20-year-old firebrand outfielder named Ty Cobb. Cobb was in so many scrapes with teammates during spring training that Jennings almost traded him. He did not pull the string, however, and, instead, gave Cobb more freedom at the plate and the green light to steal. Young Tyrus responded by becoming a full-fledged star, winning his first batting title by hitting .350, and leading the league in hits, RBI, slugging percentage and stolen bases.
The Tigers responded as well. Led by 25 wins apiece from Wild Bill Donovan and Ed Killian and 20 from George Mullin, Detroit won its first pennant by a game and a half over the Philadelphia Athletics with virtually the same team that had finished deep in the second division the year before. The Tigers also won pennants the following two years, giving Jennings a record three pennants in his first three years as manager. He also lost three straight World Series, however, coming up short against the Chicago Cubs in 1907 and 1908, and the Pittsburgh Pirates in 1909.
Although generally cheerful and enthusiastic, Jennings as manager would do anything to win, a definite carryover from his playing days with the Orioles. He baited umpires and opposing players and even resorted to buying rubber snakes and jack-in-the boxes when A's man-child Rube Waddell pitched against the Tigers. Since Rube was a southpaw, Hughie would station himself in the first base coaching box with the toys and yell, "Hey, Rube, look at this" while he popped the jack-in-the-box or wiggled the rubber snake. On another occasion when Waddell was pitching for the St. Louis Browns, Jennings and his players brought several dogs into their dugout to distract Rube, who loved animals. Jennings even took a dog out to his third base coaching box. (It did not work — Waddell defeated the Tigers 7-1.)
Jennings' famed, piercing "Ee-yah" yell could be heard all over the ballpark. His characteristic pose from his coaching box was with arms spread, hands balled in fists and right leg hoisted high like some type of Native American rain dance. His shrill yell became one of baseball's historic trademarks and, in modified form, even became a rallying cry of the U.S. Marines in World War I, who often went into battle shouting "Ee-yah-yip!" Hughie claimed to have contributed "Att-a-boy" to the language as well, a contraction of "That's the boy," as a way to applaud a good play.
There are two stories for the origin of "Ee-yah." One is that it came originally from Johnny Williams, a pitcher from Hawaii, who used it. Jennings was enamored with the yell and learned from Williams that it was Hawaiian for "Look out." The fact that Williams was not with the Tigers until 1914 casts some doubt on that version. The other, more likely story is simply that it was a perversion of "That's the way," which evolved to "Way-yah" and then to its final "Ee-yah."
Jennings constantly picked blades of grass and chewed on them until the area around the coaching box was bare. His signs were just simple words like "bunt" or "steal" mixed into his chatter. With his constant motion, characteristic poses and grass plucking, the opposition never caught on. He also perfected a shrill whistle by putting his two middle fingers in his mouth, which annoyed opposing teams throughout the league.
It is not surprising, given his background with the old Orioles, that Jennings favored smart, aggressive ballplayers. Jennings did not suffer fools lightly and could be quite acerbic and sarcastic with his own players, particularly in his later years as manager. He once said about one of his players, "If that guy's brains were made of nitroglycerin and they exploded, the bust wouldn't muss his hair. Give me a man who can think and with arms and legs, and I'll make a ballplayer of him."
Even though Cobb continued to flourish under Jennings, winning 12 batting titles in 13 years and setting stolen base records, the Tigers never again won a pennant for "old Ee-yah" after 1909. In fact, although they finished second twice, the only years they came close were 1915 when they finished in second, 2½ games behind Babe Ruth's Boston Red Sox and 1916 when they finished third, 4 games behind the same Red Sox. Jennings's favoritism toward Cobb, whom he generally let set his own rules, was a frequent cause of discord on the club, and his handling of pitchers sometimes drew criticism. Still he enjoyed a deserved reputation as one of the best managers in the game and it turns out he was an innovator as well. Bill James identifies Jennings as one of the very first to platoon players, beginning with his catchers in the 1907 World Series. In 1911 he platooned left-handed hitting Davy Jones with right-handed hitting Delos Drake in left field for most of the season.
Off the field, Jennings invested wisely in stocks and real estate and, with his off-season law practice, became quite comfortable financially. He was so well thought of that he became a director of several banks. Nonetheless, he never lost touch with his breaker boy beginnings. During the off-season he would sometimes visit the mines near where he grew up and offer the miners rides home or groceries for their families. He also married a girl from his hometown, Elizabeth Dixon, in 1897 but she died of complications from childbirth after only 13 months of marriage, leaving him with a young daughter.
Jennings remarried after the 1911 season. Shortly after this marriage to Nora O'Boyle, his proclivity for accidents returned. On December 1, he was seriously injured while driving an automobile that veered off a slick bridge, fell ten feet and pinned Jennings in the current of the Lehigh River, rendering him unconscious and injuring his three passengers. After narrowly escaping drowning, Jennings was able to recover from two broken legs, a broken arm, and yet another head injury, which doctors described as a "concussion of the brain."
Jennings continued to manage the Tigers through the second decade of the century but, either through bad luck, bad judgment, or a combination of both, failed to develop or secure top-flight pitching. In 1920 the club lost its first 13 games and limped home in seventh place, 37 games behind Tris Speaker's pennant-winning Cleveland Indians. Although Frank Navin was reluctant to replace Jennings after 14 years at the helm, Jennings had become increasingly unpopular with the players. After the season Jennings resigned by mutual consent and shortly thereafter Navin named Cobb manager.
Jennings was not at all bitter over his departure from Detroit and was ready to turn to his burgeoning Scranton law practice full-time. Old pal John McGraw quickly called, however, and asked Hughie to join him in New York as his number one coach with the Giants. Jennings accepted and coached for the Giants during their run of four consecutive pennants from 1921 to 1924, often taking over as manager during McGraw's frequent absences due to his persistent sinusitis and other maladies. In 76 games as Giants manager, Jennings posted a remarkable .697 winning percentage, nearly 150 points higher than McGraw's during those seasons.
McGraw's sinuses were particularly bad in 1925 and Jennings managed the club for large chunks of the season. Although armed with seven future Hall-of-Famers, the Giants finished second, 8½ games behind the Pittsburgh Pirates. The grueling season took a real toll on Jennings and he became moody, distracted and easily upset as the season wore on. That winter he entered Winyah Sanitarium in Asheville, North Carolina, where he was diagnosed with tuberculosis. He was unable to rejoin the Giants for the 1926 season.
Over the next two years, Jennings's health continued to deteriorate. In the winter of 1927-28, Jennings contracted meningitis and died at his Scranton home on February 1, 1928 and was buried in St. Catherine's Cemetery in nearby Moscow. Jennings was posthumously elected to the Hall of Fame in 1945.
A version of this biography originally appeared in SABR's "Deadball Stars of the American League" (Potomac Books, 2006), edited by David Jones.
Sources
For this biography, the author used a number of contemporary sources, especially those found in the subject's file at the National Baseball Hall of Fame Library.
Born
April 2, 1869 at Pittston, PA (USA)
Died
February 1, 1928 at Scranton, PA (USA)
If you can help us improve this player's biography, contact us.
https://sabr.org/wp-content/uploads/2012/01/Hughie-Jennings.jpeg
600
800
admin
/wp-content/uploads/2020/02/sabr_logo.png
admin
2012-01-04 20:41:52
2022-10-21 18:51:42
Hughie Jennings