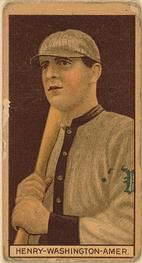 ---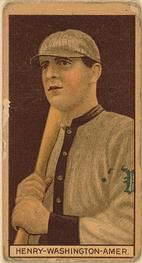 John Park Henry, nicknamed "Bull," was a catcher for the Washington Nationals from 1910–1917. The team was often called the Senators prior to, during, and after Henry's career. Henry was recognized for his excellent fielding, throwing arm, and ability to call a game, eventually becoming Walter Johnson's preferred catcher. The weakest part of Henry's game was hitting, as evidenced by his .207 career batting average.
Henry's major-league playing career continued with the Boston Braves in 1918 and ended in 1919 with the Boston Red Sox, for whom he never played any games. Thereafter, he played minor-league baseball with several teams through 1923. Unfortunately, John's recurring injuries were a constant issue for much of his career. During his career, the Amherst College graduate also became a leader in baseball labor issues, earning respect throughout the American League during constant tensions.
On December 26, 1889, John Park Henry was born in Amherst, Massachusetts (although several official documents list his year of birth as 1888). The Henry family resided in their home at 45 Pleasant Street in Amherst, Massachusetts.1 John's father, George L. Henry, was born in New Hampshire of Scotch-Irish and Canadian origins. George's career employment was as a livestock dealer. In time, John, like his father becomes a Mason in Amherst's Pacific Lodge.2 Henry's mother, Abbie Whipple Henry, was born in Massachusetts of English heritage. She was a member of the Daughters of the American Revolution (DAR)3 and was likely a Mayflower descendent?4 John had an older sister, Gertrude M. Henry, born in 1878, an older brother, Park Whipple Henry, who died in 1884, and a sister, Ruth Whipple Henry, born in 1886.
John attended public high school in Amherst, where his athletic prowess received wide publicity. Amherst had two higher education institutions for him to consider. Amherst College [1821] or Amherst Agricultural College [1866], a land-grant institution, referred to as "Aggie" by many (now the University of Massachusetts Amherst). Rather than following his father's career footsteps in the agricultural field, he attended Amherst, a liberal arts institution with a stellar reputation. John entered Amherst College in the fall of 1906 and, as noted in its 1910 The OLIO yearbook,5 graduated on June 29, 1910, receiving a BA degree.
John played varsity baseball from 1907–1910, except for the 1908 season when he sustained a knee injury in the one year he played varsity football. The damaged knee plagued him for much of his major-league career.
There were 12 players on the 1910 team and three played professional baseball. Albert Jube, an outfielder and team captain during the 1909 and 1910 seasons, played several minor-league seasons with the New York Highlanders organization. The team's star pitcher, Larry McClure, and catcher John Henry played major-league baseball. McClure, among his other Amherst achievements, pitched four no-hitters in 1910. Both McClure and Henry went directly from college to the majors, debuting during the same month of July 1910, Henry signing with the Washington Nationals. McClure's major-league career began and ended on the same day, with a brief appearance in one game.
It was uncommon for players to never play in the minors nor to go directly from college to the majors. Seven Deadball Era players [1900–1920] never played in the minors; four were inducted into the Hall of Fame.6 Henry is not on the list because he played minor-league baseball after his major-league career ended.
Detailed Amherst statistics for John's final season in 1910 are limited. According to a Boston Globe article written in June 1910, the right-hander "weighs 180 pounds and is 21 years old. Last season he batted for .206 and fielded for .952." Also, "he has caught every game . . . [and] played a star game with Pennsylvania, permitting no stolen bases"; plus, during the 10-game regular season, he committed only one error.7
Soon after the end of John's final college baseball season, Amherst awarded him a $500 Hitchcock Fellowship with the primary role to teach Amherst students how to swim or at least be drowning-proof. It was a graduation requirement for all students, a win-win for John, the college, and those needing to meet the graduation requirement. Prior to his graduation, Jimmy McAleer, Washington's manager, signed Henry; fortunately, McAlear allowed Henry to report to the team early in July.8
On April 14, 1910, the Washington Nationals season-opening game began with a first: President William Howard Taft threw out the opening pitch, starting a tradition that continues to this day.9 About two months later on July 8, 1910, John Henry made his major-league debut, grounding out as a pinch-hitter and then catching Walter Johnson in the final innings of a 21–3 victory over St. Louis. On July 15, in his first big-league start, Henry got three hits in a Washington 7–3 win over Detroit.
At twenty-one with no minor-league experience, it was slow going for the rookie. Gabby Street was ensconced as Walter Johnson's primary catcher, with Eddie Ainsmith and Heinie Beckendorf as backups.
In March 1911, McAleer called Street the number-one catcher but wanted Henry to play first base when possible. As the season continued with John's situational use, he earned the respect of his teammates. He was intelligent, soft-spoken, and level-headed, a utility role player who added significant value to the team. John appeared in 85 games (55 catching and 30 at first base), and his batting average improved to .203. After Street was traded in February 1912, Henry rarely played first base again.
The 1912 season would be pivotal for Henry. Clark Griffith replaced McAleer as the Nationals' manager. Even with Walter Johnson, baseball's premier pitcher, the club was perennially toward the bottom in the American League standings. No one expected Griffith to be a miracle worker, but now was the time for optimism. And by the season's end, there was good news for fans and the team: the Nationals finished in second place in a tight pennant race with a 91–61–2 record.
During the 1912 season, platooning with Ainsmith and Rip Williams, Henry played in 66 games and posted a .194 batting average. Eddie Ainsmith and Rip Williams platooned with Henry as catchers. What gave Henry an edge was Clark Griffith's positive reviews.
Even Philadelphia A's manager Connie Mack was complimentary saying, "John was ordinary for a time, but he had the makings, and became a star almost overnight. Now he is the best catcher in the American League." He praised Henry's quick feet, ability to block pitches, strong throwing arm, and his handling of pitchers.10 Ironically, he was injured at the time of the newspaper article. The one caveat was ongoing concerns with Henry's bum knee. Henry's cartilage jumped out of place: "it was like the injury sustained on the gridiron in college." It was reported that Henry would be out of the game for a month.11
Also, during the 1912 season, on September 6, 1912, a new players union, the National and American League Baseball Players' Fraternity had been formed with David Fultz as president. Labor issues had plagued the game ever since organized professional baseball began during the 1870s. The Fraternity's first organizational step was the selection of player representatives from each team. They ranged from stars like Ty Cobb and Christy Mathewson to lesser players, like John Henry, who represented the Washington club12 and was also one of the Fraternity's directors.
By the end of October, due to Henry's efforts, the Washington Post reported that "every member of the Washington baseball club who figured as a regular player this past season is listed on the roster of the new Baseball Players' Fraternity,"13 20 players in total.
During the 1913 spring training, Henry's knee once again became a concern due to an injury making a throw to second base. Rest was prescribed.14 Once the regular season began, he did not resume playing on a steady basis until May.15
In 1913, the Federal League, an independent minor league with six teams was formed.16 When this circuit morphed to a third major league in 1914, the Federal League became a threat to the major-league establishment. The new league folded after 1915, lasting two seasons. But there were always labor issues to be argued and negotiated with the dictatorial American League President Ban Johnson, known for ruling with an iron fist.
On the field, the Nationals fared well, ending the 1913 season in second place with 90–64–1
record. Manager Griffith's first two seasons at the helm brought the Nationals closer to a realistic chance to finish in first place. John Henry shared the new optimism because he had his best season. He played in 97 games, catching in all but one. His batting average rose to .223, and his .982 fielding percentage was solid.
Eddie Ainsmith saw plenty of action as a catcher, as John continued to need rest for his sore knee. Ainsmith gave Henry needed days off and served as his replacement late in games. Unfortunately, during the off-season, Henry's knee still bothered him. An examination "disclosed that he suffered from a dislocated cartilage that must be removed."17 The goal was an operation with ample time for John to recover before 1914 spring training.
By the end of the 1913 season, the Baseball Players' Fraternity reached full-speed-ahead mode. One issue was vexing, and John Henry would become the American League's point person to challenge it. Henry was one of five players working with Fultz on a board to study proposed alterations to the existing uniform American League contract.18 This brought Henry into direct contact with the hard-nosed AL president Johnson.
Back on the diamond, the 1914 Washington season ended with an 81–73–4 record, a solid season, but a step backward for the Nationals.
Henry was the catcher in 92 games, with Ainsmith and Rip Williams his backups. Henry's batting average dropped to .169, but he maintained his first-string catcher status.
As labor problems continued, Henry's words often articulated the Fraternity's positions. The National Commission represented the owners and management of Organized Baseball.19 In 1914, a galvanizing issue was the uniform contract clause excluding salaries for injuries occurring on the field for minor leaguers and even former major-league players when they are in the minors.
In 1914, Henry also married for the first time. He and Dorothy L. Perry were issued a marriage license on October 13, 1914, and married the next day. Soon after his marriage, the organizers of the tour by the Western States and Pacific All-American League and the All-National League chose John as a player. The tour is not to be confused with the 1913–1914 New York Giants-Chicago White Sox tour, more prominent and extended.20
Wives often traveled with touring teams, and Dorothy may have attended with him. When the tour began, trains stopped in western states and games were played in front of fans who likely had never seen a major-league game. A goal was to broaden interest in baseball, especially in Hawaii, and to make money both for its organizer and the players, who received a portion of the gate receipts.
When the teams arrived in California, they played several games, including some against Pacific Coast League players. They then traveled by steamer to Honolulu, where the real fun and good times began: "There was great rejoicing when landing in Honolulu with banquets, speakers and automobile tours."21 John was the catcher for the All-American team, and one of his teammates was the ill-fated infielder, Ray Chapman. During the tour, they became close friends.
The Nationals ended the 1915 season in fourth place with an 86–68–2 record. Henry played in 95 games, all but one as a catcher, with a .220 batting average. Once again, nagging injuries mounted, requiring Henry's rest.
The following season ended with the Nationals falling to seventh place with a 76–77–6 record. The prospect for a pennant win vanished, but Henry had a career-best batting average of .249, playing in 117 games, one as a pinch-hitter, and catching in 116, the most in his career.
In 1917, labor issues heated up, this time when the Baseball Players' Fraternity chose John Henry (American League) and (Walter) Chick Keating (National League) to challenge a contract clause, an issue not resolved by the 1914 agreement with the National Commission. The National Commission was formed in 1903 to deal with baseball disputes arising in both the major and minor leagues. The clause in question could be detrimental to minor-league players because a player's salary could be withheld while he recovered from injuries suffered during play.
The contracts of both "'Ray Keating, of New York, and John Henry, of Washington, . . . had clauses exempting the club from paying the player's salary in the event of injury met while playing ball,' Fultz declared."22
The American and National League commissioners were the top organizational figures and ran the commission, looking out for the interest of the baseball owners. The commission was often referred to as "Organized Baseball," and when issues involved the minor leagues, the term "minor league commission" was sometimes used. During John Henry's baseball career, Ban Johnson was the American League commissioner.
The choice of Keating was interesting because he was the type of marginal major-league player that the clause could hurt. Keating began his minor league career in 1910 at the age of eighteen. He played in 1,612 minor league games with a total of 1,642 when including his brief major-league career. He retired from baseball at the age of 38.
In 1917, Henry was twenty-seven, a time when many players were in their most productive years, but it was John's last year with Washington. It wasn't only John's performance and the toll that catching took on his body that prompted Henry's off-season move to the Boston Braves. It was also because Henry's engagement with Ban Johnson on labor issues had reached a boiling point.
During the 1917 season, Eddie Ainsmith played 119 games as a catcher. Rip Williams was no longer with the team, adding to Ainsmith's playing time. Henry played in 65 games, 59 as a catcher. The Nationals ended the season in fifth place with a 74–79–4 record.
On the labor front, Henry's unbending stance on the uniform contract clause antagonized Johnson, causing him to exclaim, "Henry was one of the undesirables in our league."23 But Nationals' club boss Griffith was sympathetic, stating, "I am with Henry hook, line and sinker. I believe he thinks he is fighting for what he looks upon as right, and he must be given some credit for that."24
Ban Johnson alleged that Henry communicated with all the players orally, in letters and via telegrams, urging them not to sign their contracts, a rules violation. Henry denied it, saying he only spoke with his Nationals' teammates.25 A frustrated Johnson repeatedly threatened to expel Henry from baseball, saying that he had crossed lines, justifying his banishment;26 however, that never happened.
By the middle of February 1918, Griffith concluded that both Washington and Henry would be better off if he could sell John's contract to the Boston Braves, a National League team beyond Johnson's reach.27 Washington sent him to the Boston Braves on February 14, 1918, for an undisclosed sum.28
When the United States entered World War I on April 6, 1917, the issue of the draft status of major league players surfaced. Under the subsequently adopted "work or fight rule," players were subject to conscription unless granted exemption from service. Players were eligible for such an exemption if they were either employed in essential nonmilitary work in shipyards and steel mills or engaged in farming.
Henry challenged his 1-A status, arguing that war-related jobs did not pay enough to support his wife, child, and elderly parents. With Henry's daughter, Catherine, born in Washington D.C. in August 1917, his family relocated to the Amherst family home at season's end. Henry lost his exemption case, requiring him to report to his local Amherst draft board for further action.
Henry passed his entrance physical with high marks. The war ended on November 11, 1918, saving him from active service.
With catcher Hank Gowdy in the military—he was the first major-leaguer to enlist in World War I—the Boston Braves needed Henry as a backup catcher. His catching role was limited to 38 games (he played in 43 games overall) with a batting average of .206 for the season. Henry became expendable once Gowdy returned to the Braves.
After one year with the Braves, the club sold John's contract to the American League Boston Red Sox. The Sox gave John his unconditional release without any game appearances.29
In nine major-league seasons, Henry appeared in 687 games, batting .207, with two home runs. His career fielding average was a respectable .978.
Henry was not ready to give up on baseball. In 1919, he signed a minor-league contract with the Class AA Minneapolis Millers club. As a backup catcher, during the 1919 season, John played in 68 games, batting .241, with a .981 fielding percentage.
In 1920, Henry was listed as a member of two different households. Ohio census data showed John as the head of the household, with Dorothy Henry, his spouse, and listed his occupation as a real estate salesman. The residence listed on the census was a boardinghouse with several dozen boarders listed by name—neither Dorothy nor their three-year-old daughter, were on the border list. The 1920 Massachusetts census data showed Henry's father, George, as the head of the household, Abbie, his spouse, and John and his sister as household members.30
In January 1920, John Henry was named Cornell University's baseball coach. Hughie Jennings, the Detroit Tigers manager and a Cornell graduate, served as university baseball coach from 1900–1904, and had post-retirement ties to the school. With Jennings' support, John was hired.31 That spring, Cornell's conference record was seven wins and 11 losses. On June 13, 1920, the college, in a brief announcement, said it would not renew Henry's one-year contract, giving no reasons for the decision.32
August 17, 1920, is a memorable date in baseball history. Cleveland's beloved shortstop Ray Chapman died from a fractured skull caused by a pitch thrown by the Yankees' Carl Mays. In The Pitch That Killed, Mike Sowell writes that John Henry was "one of Chapman's best friends. Henry had come down from his house in Boston to watch the game that day, and after the beaning rushed to the clubhouse to see his friend. When the ambulance finally arrived, it was Henry who climbed into the back with Chapman. He held an ice pack to Ray's head on the drive to the hospital." In the hospital elevator, Chapman said, "John, for God's sake, don't call Kate [Katherine, Ray's wife], But if you do. Tell her I'm all right." Sowell writes further, "Those were the last words Chapman spoke [ever to John] before he lapsed into unconsciousness."33
The issue of Chapman's own blame for the beaning death was tense; that delayed a response from Kate and the Chapman family. Additionally, Kate was Catholic, and Chapman and his family were Protestants, so which church and burial grounds would be used also had to be resolved.
Tris Speaker, the Cleveland player-manager and one of Ray's closest friends, spoke for the club. However, Speaker was so distraught that he literally went missing for two days, and during that time, Henry became the de facto spokesman.
Ultimately, the official report cleared Mays of responsibility for Chapman's death.34 Chapman's body was ready to go to Cleveland for services and burial (he was buried in the Catholic cemetery). At Grand Central Terminal, "The casket was enclosed in a white pine box on the top of flowers bearing a white card that read: For the one we both loved, John and Dorothy Henry."35
In September, after Henry's contract with Cornell had ended, he briefly resumed his minor-league career. He was still under contract with the Minneapolis Millers, playing in at least one game as reported by the Minneapolis Star Tribune on September 20, 1920. The Millers sold Henry's contract to the Columbus Senators' team. Between the two teams, Henry played in 18 games in 1920.
On October 6, 1920, Henry applied for a U.S. passport.36 He listed his occupation as a professional baseball player and the purpose of his trip as a "baseball tour" for four months, leaving on November 5, 1920, for a barnstorming tour of the orient. The countries to be toured included Japan, China, and Australia. It was the first of several Pacific tours, the others in 1922, 1927 (Negro League), 1931, and the famed 1934 event with Babe Ruth, Lou Gehrig, and a host of other famous players.
From 1921 through the 1923 season, Henry resumed his minor-league career with the Shreveport Gassers and the San Antonio Bears, both Class A teams in the Texas League. Henry completed his minor-league career at age 33 with the Mobile Bears, a Class A team in the Southern Association.
John never worked his way back to the major leagues. His minor-league totals for his class A career are 328 games, in which he batted .258 (237-for-917) and posted a .977 fielding percentage.
Census data for 1930 places John Park Henry, age about 41, living in Houston, Texas, working as an oil company clerk, and married to Gladys Whitehead. They wed on November 16, 1928.37 In 1930, his first wife, Dorothy, was living in Springfield, Massachusetts with her high-school-age daughter, Catherine. It is not known when his marriage to Dorothy Perry ended.
Census data for 1940 lists "John P Henry" working as a camp manager and living in Bisbee, Cochise, Arizona with his third wife, Blanche Robinson Hopson Henry, and her two children, ages 11 and 14, from a prior marriage.38 They married on August 22, 1938. At the time, John was the Texas League's chief umpire.39
John Park Henry died on November 24, 1941, in Fort Huachuca, Cochise, Arizona. His death certificate gave coronary thrombosis as the cause. Blanche Henry, John's spouse, signed the death certificate. Blanche Henry and his daughter Catherine Henry Bennett were his survivors.40 His burial took place in Bisbee, Arizona.41
Acknowledgements
This biography was reviewed by Bill Lamb and Howard Rosenberg and fact-checked by Russ Walsh.
Sources
Unless otherwise noted, all major- and minor-league statistics are from Baseball-Reference.com and retrosheet.org.
Online

Newspapers and Periodicals
New York Times (Archives)
The Sporting News
Sporting Life
Washington Post (ProQuest Historical Newspapers)
Additional Source
The National Baseball Hall of Fame and Museum Giamatti Research Center, Cooperstown, New York, John P. Henry player file
Notes
1 In 1880 when the Henry ancestral home was built, Amherst was still rural with large families and homes on lots with significant acreage for farming or agricultural uses. George Henry died in 1927 and in 1930 his wife no longer lived in the family residence.
2 George L. Henry in the 1890 United States Federal Census, ancestry.com; George L. Henry in the 1900 United States Federal Census; George L. Henry and John Park Henry in the Massachusetts, United States Mason Membership Cards, 1733-1990, ancestry.com.
3 Henry's mother, Abbie Howard Whipple Henry, and grandmother, Hannah Nutting Whipple, were descendants of John Nutting, killed in Groton by Native Americans in 1673. And Abbie was a descendant of John Nutting (1762-1834), who fought at Ticonderoga. John Nutting enlisted at seventeen in Captain Israel Chapin's Hampshire County regiment. Abbie was also a descendant of Lieutenant Thomas Hastings (1721-1787), who served in 1776 in the Amherst Company commanded by Captain Eli Parker. "Mrs. H. N. Whipple Dead," Boston Daily Globe, March 28, 1915: 15; Abbie H. Whipple (Henry) in the North American, Family Histories; Daughters of the American Revolution Lineage Books (152 volumes), DAR ID Number 34695.
4 John Henry's only child, Catherine Henry Bennett's obituary reads in part: "Her father played baseball for the Washington Senators. Her family was a descendant of the Mayflower," Boston Globe, September 4, 2005: 38. Nutting and Hastings Massachusetts family names are listed in Familysearch.org, Community Trees-Mayflower Pilgrim Genealogies.
5 The OLIO Amherst College yearbook for 1910 can be viewed at e-yearbook.com.
6 Jack Barry, Holly Cross, Philadelphia Athletics; Jack Coombs, 1906, Colby College, Philadelphia Athletics; Frank Frisch, 1908, Fordham University, HoF; Eddie Plank, 1901 Gettysburg College, Philadelphia Athletics, HoF; Eppa Rixey, 1912, Philadelphia Phillies, HoF; George Sisler, 1915, University of Michigan, HoF; Tom Zachary, 1918, Washington Nationals, Guilford College; Ted DiTullio, "They Never Played in the Minors," SABR, accessed January 23, 2022, https://sabr.org/journal/article/they-never-played-in-the-minors/. Note: George Sisler is not on the article's list because he played in the minors in 1931 and 1932 — after his major-league career had ended.
7 "Signed by Washington, John P Henry, Amherst College Catcher Has Good Record as Amateur," Boston Globe, June 3, 1910: 6.
8 John P Henry player file, Baseball Hall of Fame, Cooperstown, New York, no title, newspaper name, date, or page provided.
9 To view a two-minute, 21-second video "Ceremonial First Pitch" thrown by President William Howard Taft, go to https://www.mlb.com/video/president-taft-s-first-pitch-c28462653, accessed August 4, 2022.
10 Joe S. Jackson, "'Connie Mack' Says Henry Is World's Best Backstop,' Washington Post, July 30, 1912: 8.
11 "Henry May Be Absent from Game for Month," Washington Post, July 13, 1912: 8.
12 "Ball Players Incorporate: Protective Assoc," Washington Post, September 6, 1912: 4.
13 "Nationals' in Player Union: Every Regular Player Member of Team is Enrolled—Fraternity Will Not be Radical," Washington Post, October 22, 1912: 8.
14 "Catcher Henry's Knee Gives Way in Practice: Twists Injured Member While Throwing to Second, and Is Put to Rest, Washington Post, March 21, 1913: 8.
15 https://www.baseball-reference.com/players/gl.fcgi?id=henryjo02&t=b&year=1913.
16 http://research.sabr.org/journals/federal-league-a-major-league.
17 "Henry, the Nationals' Star Catcher, Will Arrive in Washington About New Year's Day to Undergo an Operation for Floating Cartilage of His Injured Knee," Baltimore Sun, December 29, 1913: 13.
18 "Will Serve on Players Board; Nationals Catcher on January 6 Proposed Alterations in Present Form of Content Will be Discussed," Washington Post, December 27, 1913: 8.
19 https://www.baseball-reference.com/bullpen/Organized_Baseball.
20 Joseph Reeves and Bob Fitts, December 31, 2010, Japanese Baseball Timeline, SABR Asian Baseball Committee, accessed February 5, 2022, research.sabr.org/asianbb/japanese/timeline.
21 "Baseball Tour Ends: Major Leaguers Found Honolulu a Hotbed of Fame: Trip a Success," New York Times, December 28, 1914: 7.
22 "Fultz Says Owners Must Grant Players' Requests," Boston Globe, November 24, 1916: 6.
23 Stanley T Milliken, "Griffith Not Disturbed by Fraternity's Action," Washington Post, January 14, 1917: 1.
24 "Ban Goes After Henry: Johnson Says Catcher is Undesirable in American League," Baltimore Sun, February 10, 1917: 7.
25 "Johnson May Harm Baseball by His Stand Against Henry," Washington Post, February 13, 1917:7; It could be that Johnson is engaging in revisionist back-peddling to improve his reputation. If the connotation of Ban Johnson's attitude is that Henry is a troublemaker warranting banishment from the game, one statistic should be considered: John was thrown out of games twice in his nine-year major-league career. "John Henry," Retrosheet, accessed August 7, 2022, https://www.retrosheet.org/boxesetc/H/Phenrj101.htm.
26 "Johnson Misquoted in Regard to Henry: Declares He Never Made Threat to Drive Nationals' Catcher from the Game," Washington Post, February 15, 1917: 8.
27 J. V. Fitz Gerald, "Henry Makes Move to Secure a Transfer; Griffith is on Hunt for an Infielder," Washington Post, February 13, 1918: 8.
28 "Henry is Sold to Braves, Amount Not Made Public," Washington Post, February 15, 1918: 8.
29 "John Henry Released," Washington Post, June 6, 1919: 8.
30 In the 1920 United States Federal Census (per ancestry.com), John Henry, age 31, lived at 107 Street (a boardinghouse), Cleveland Ward, 19 Cuyahoga, Ohio, and was employed as a real estate salesman. His spouse was listed as Dorothy Henry, but she and their daughter, Catherine Henry, were not listed in the boardinghouse roster. John Henry was listed as the son of George Henry, head of the family, who was living on Pleasant Street, Amherst, Massachusetts, with John's mother, Abbie Henry, and his sister Ruth, 33.
31 "Hugh Jennings Got Job as Coach for Henry," Dayton Daily News, January 18, 1920: 58.
32 "John P Henry Will Not Be Re-engaged to Coach Cornell After Meeting of the Alumni Baseball Association," Dayton Daily News, June 23, 1920: 9.
33 "Mike Sowell, The Pitch That Killed: The Story of Carl Mays, Ray Chapman, and the Pennant Race of 1920, (New York: Macmillan, 1989), 178, 190.
34 Mrs. Chapman Not Allowed to Speak on Player Death," San Antonio Evening News, August 18, 1920: 8; "Mays Exonerated by the New York Authorities." Lancaster Eagle Gazette (PA), August 18, 1920: 1.
35 "For Ray's wife and daughter, the tragedy did not end with his burial. Kate and Ray were happily expecting their first child and Ray's anticipated retirement at the end of the season. Kate's father was a wealthy business owner who wanted Ray to join the business as the vice president. Kate married a distant cousin two years after Ray death, but she never recovered from the loss of her husband. Tragically, she committed suicide, and the year after Kate's death, her daughter Rae died at the age of eight of measles complications."
36 In 1920, Henry applied for a passport for a baseball tour. "John P Henry" in the U.S., Passport Applications, 1895-1925, Certificate Number 97800, ancestry.com.
37 1930, John Park Henry, age 31, lived in a rented house at 2504 Smith Street, Houston, Texas, employed as an oil company clerk. John Henry was in the 1930 United States Federal Census, ancestry.com.
38 In 1940, John Henry, age 49, lived at an owned residence at 14 Mansfield Avenue, Bisbee, Cochise, Arizona, employed as a camp manager. John resided with his wife, Blanche Henry, and her two sons, William Hopson, 14, and Robert Hopson, 11; John Henry is in the 1940 United States Federal Census, ancestry.com.
39 John Park Henry and Blanche Robinson Hopson (Henry) married on August 22, 1838, in Bisbee, Cochise, Arizona. Blanche Robinson Hopson is in the U.S. Newspaper.com Marriage Index, 1800s-current, ancestry.com.
40 Certificate, "John F (sic) Henry" in the Arizona, U.S. Death Records, 1887-1960, Fort Huachuca, Cochise, Arizona, ancestry.com. The certificate lists Blanche Henry as his spouse and his employment as at a garbage disposal plant, ancestry.com.
41 "John Park 'Bull' Henry," accessed February 11, 2022, https://www.findagrave.com/memorial/53172398/john-park-henry.
Born
December 26, 1889 at Amherst, MA (USA)
Died
November 24, 1941 at Fort Huachuca, AZ (USA)
If you can help us improve this player's biography, contact us.
https://sabr.org/wp-content/uploads/2012/01/HenryJohn.jpg
263
142
admin
/wp-content/uploads/2020/02/sabr_logo.png
admin
2022-08-11 15:36:25
2022-08-12 15:38:23
John Henry