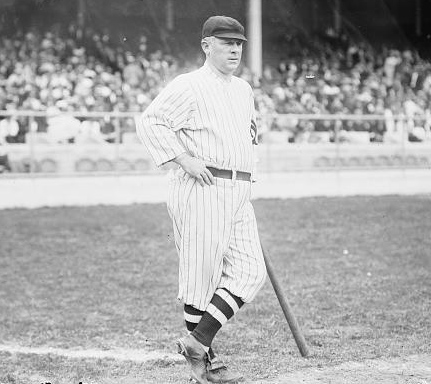 ---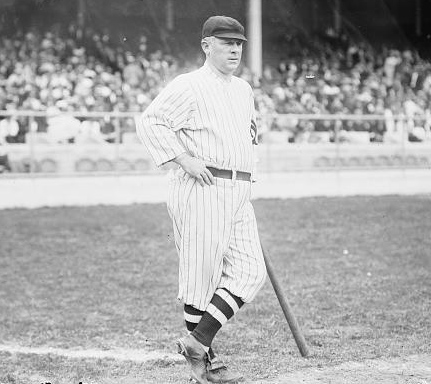 John McGraw was perhaps the National League's most influential figure in the Deadball Era. From 1902 to 1932 he led the New York Giants to 10 National League pennants, three World Series championships, and 21 first- or second-place finishes in 29 full seasons at their helm. His 2,763 managerial victories were second only to Connie Mack's 3,731 for the rest of the 20th century, but in 1927 Mack himself proclaimed, "There has been only one manager — and his name is McGraw."1
The pugnacious McGraw's impact on the game, moreover, was even greater than his record suggests. As a player he helped develop "inside baseball," which put a premium on strategy and guile, and later managed the way he'd played, seeking out every advantage for his Giants. Known as Mugsy (a nickname he detested) and Little Napoleon (for his dictatorial methods), McGraw administered harsh tongue-lashings to his players and frequently fought with umpires; he was ejected from 118 contests during his career, far more than any other manager until Bobby Cox surpassed him in 2007. "McGraw eats gunpowder every morning for breakfast and washes it down with warm blood," said Giants coach Arlie Latham.2
The oldest of eight children of Ellen (Comerfert) and John McGraw, an Irish immigrant who fought in the Civil War and later worked in railroad maintenance, John Joseph McGraw was born in working-class poverty on April 7, 1873, in the village of Truxton, New York, about 25 miles south of Syracuse. During the winter of 1884-85 a diphtheria epidemic claimed Ellen and three of her children, leaving John Sr., a heavy drinker, alone to raise Johnny and the other four survivors. One night in the fall of 1885, 12-year-old Johnny received such a severe beating from his father that he moved across the street to the Truxton House Inn, where a kindly widow named Mary Goddard took him in and raised him along with her own two sons. Besides attending school, Johnny performed chores around the hotel, delivered newspapers, and peddled candy, fruit, and magazines out of a basket on the train from Cortland to Elmira. He used the money to buy new baseballs and the annual Spalding guide, parts of which he memorized.3
At 16 years old, Johnny McGraw stood barely 5-feet-7 and weighed little more than 100 pounds, but that didn't stop him from becoming the star pitcher for the local Truxton Grays. When Truxton's manager, Bert Kenney, became part owner and player-manager of the Olean franchise in the New York-Penn League in 1890, Johnny begged for and received a place on the team. In his first game on May 18, McGraw played third base and made eight errors in 10 chances. He was released after six games but caught on with Wellsville of the Western New York League, batting .364 in 24 games.4
One of his teammates was a former National Leaguer named Al Lawson, who was organizing a winter tour of Cuba. McGraw went along and played shortstop for the "American All-Stars." On the way home, Lawson's team stopped in Gainesville, Florida, to play a spring-training exhibition against the NL's Cleveland Spiders. McGraw collected three doubles in five at-bats, receiving national publicity when the game story appeared in The Sporting News. From among the resulting offers he received for the coming season, he chose Cedar Rapids of the Illinois-Iowa League and batted .276 in 85 games as the club's regular shortstop.5
That August McGraw made his major-league debut with the Baltimore Orioles of the American Association, filling in at various positions and hitting .270 in 33 games. In 1892 the AA disbanded and Baltimore was absorbed into the 12-team National League. McGraw started the season as utilityman but took over as the regular third baseman after Ned Hanlon was appointed manager in midseason. Under Hanlon's tutelage, McGraw became the NL's best leadoff hitter, batting over .320 for nine straight years, twice leading the league in runs and walks, and stealing 436 bases; his career on-base percentage of .466 ranks behind only those of Ted Williams and Babe Ruth. McGraw choked up on the bat and swung with a short, chopping motion that diminished his power, but he could place the ball virtually anywhere he wanted. He also wasn't above cheating. "McGraw uses every low and contemptible method that his erratic brain can conceive to win a play by a dirty trick," wrote one reporter.6
With players like Willie Keeler, Joe Kelley, Hughie Jennings, Wilbert Robinson, Steve Brodie, Sadie McMahon, and Dan Brouthers, most of whom remained associated with and often employed by McGraw in later years, Hanlon's Orioles won three consecutive pennants in 1894-96 and finished second in 1897-98. Concerned about slumping attendance in Baltimore, Orioles owner Henry Von der Horst tried to transfer most of his key personnel to Brooklyn in 1899, but McGraw and his friend Robinson refused to report, claiming business interests that demanded their attention in Baltimore. Von der Horst reluctantly let them stay, and the 26-year-old McGraw managed the Orioles to an 86-62 record and a surprising fourth-place finish, 15 games behind Hanlon's first-place Brooklyn Superbas.7
Baltimore might have done even better had not another tragedy befallen its manager. In late August McGraw's wife, Mary (Minnie), died from a ruptured appendix; a grieving John missed much of September. The Orioles disbanded when the NL contracted to eight teams in 1900 and, after again refusing to report to Brooklyn, McGraw was sold to the St. Louis Cardinals along with Robinson. Agreeing to go only when the reserve clause was removed from his contract, he signed for a salary of $10,000 — the highest in baseball history — and hit .344 in 99 games.8
In 1901 McGraw returned to Baltimore as manager and part owner of that city's franchise in Ban Johnson's new American League. Throughout that season and the next, he and Johnson quarreled constantly — the latter habitually supported his umpires in their frequent disputes with McGraw, and tension also existed over McGraw's interest in the team's ownership. Johnson finally suspended McGraw indefinitely in July 1902, and at that point the temperamental manager jumped back to the NL as player-manager of the New York Giants, even though he'd recently married a Baltimore woman, Blanche Sindall. One of his first acts New York was to release nine players, despite the protests of Giants owner Andrew Freedman. McGraw also brought six key players with him, including pitcher Joe McGinnity, catcher Roger Bresnahan, and first baseman Dan McGann. The Giants finished last that season but rose to second in 1903, even though McGraw's much-injured knee finally gave out for good during spring training that year, effectively ending his career as a player.9
In 1904 the Giants became NL champions, finishing with a won-lost record of 106-47, 13 games ahead of the Chicago Cubs. McGraw and new Giants owner John T. Brush so detested Ban Johnson and his league that they refused to play the Boston Americans in what would've been the second World Series. After winning again in 1905, however, they agreed to play the AL-champion Philadelphia Athletics. New York triumphed in four out of the five games, three of them shutouts by Christy Mathewson. McGraw led the Giants to pennants again in 1911, 1912, 1913, and 1917, but lost the World Series each year. His regular-season success was due to his knack for evaluating and acquiring players who fit into his system, which stressed good pitching, sound defense, and aggressive baserunning. McGraw bought, sold, and traded players more than his counterparts, grooming prospects for years before letting them play regularly. He also was an innovator, using pinch-runners, pinch-hitters and relief pitchers more than other managers.10
Many commentators believed that McGraw's lack of World Series success was due to his strong preference for players who fit his system. The Giants were generally considered less talented than other top teams — they were a second-class team with a first-class manager, claimed the Cubs' Johnny Evers. Until left fielder Ross Youngs entered the league in 1917, catcher Roger Bresnahan was McGraw's only Deadball Era position player who eventually made the Hall of Fame. McGraw's teams also had trouble reacting to events on the field. They sometimes made mental errors in big games, as though they didn't know what to do or were paralyzed at the thought of how the Old Man might react if they lost. After New York's 1913 World Series defeat by the Athletics, even the usually loyal Mathewson blamed McGraw for the team's setbacks in an article ghostwritten under his name in Everybody's Magazine. The Giants, said the article, were a "team of puppets being manipulated from the bench on a string."11
McGraw's fiery personality made him fascinating to contemporaries outside sports. Gamblers, show-business people, and politicians were drawn to him. As his celebrity grew, McGraw became increasingly involved in various, sometimes questionable off-field activities. He ventured into vaudeville for 15 weeks in 1912, appearing with such acts as "Odiva the Goldfish Lady." For a while McGraw owned a poolroom in Manhattan with gambler Arnold Rothstein, who later became the principal financial backer of the 1919 World Series fix, and he sometimes spent winters in Cuba, where he and Giants owner Charles Stoneham owned a share of a racetrack and casino. When Stoneham bought the Giants in 1919, McGraw became vice president of the club and minority owner. Between 1912 and 1923 he helped resolve various ownership crises of the Boston Braves — which usually paid off in trades that helped New York more than Boston. Fatefully, McGraw also was instrumental in Col. Jacob Ruppert's purchase of the Yankees and the decision to allow that team to share the Polo Grounds when the Giants were on the road.12
In 1920 Babe Ruth arrived to play for the lowly Yankees. The team's attendance soared as Ruth began hitting home runs out of the Polo Grounds, prompting an enraged McGraw to instruct Stoneham to evict their upstart tenants. In what was widely viewed as a battle between Inside Baseball and the new Power Game, McGraw had the consolation of beating the Yankees in the World Series of 1921-22 ("I signaled for every ball that was pitched to Ruth during the last World's Series," he gloated). The tide turned for good in 1923, however, when the Yankees crushed the Giants, four games to two, for their first world championship, with Ruth clouting three home runs. In 1924 the Giants won a record fourth consecutive NL pennant but lost another World Series, this time to the Washington Nationals. As the years passed, McGraw evolved with the game. Early in his career his teams emphasized the stolen base, but as the long ball began to dominate baseball, McGraw — despite his personal dislike of the home run — adapted to the change. For the rest of the decade and the early 1930s, the Giants fielded some fine teams but were never good enough to win. Plagued by health problems, McGraw resigned on June 3, 1932.13
McGraw made his last major public appearance at Comiskey Park in July 1933, managing the National League against Connie Mack's American Leaguers in baseball's first All-Star Game. He was 60 years old when he died at his home in New Rochelle, New York, on February 25, 1934, of prostate cancer and uremia — but mostly, according to one reporter, because he was no longer top dog. He was buried in New Cathedral Cemetery in Baltimore, near several of his old Orioles teammates, as well as his first wife, Mary. McGraw was inducted into the National Baseball Hall of Fame in 1937. Blanche McGraw inherited her husband's stock in the Giants and carried on his memory, frequently attending games with Mathewson's widow. Her most tragic time, at least according to the New York newspapers, was on that September day in 1957 when the Giants played their final game at the Polo Grounds before departing for San Francisco. She said the move would've broken John's heart. Nonetheless, she was present at Seals Stadium in April 1958 at the team's first game on the West Coast, and again when Candlestick Park opened two years later. Blanche McGraw died on November 5, 1962, only a few weeks after attending the New York games of the Giants-Yankees World Series.14
An earlier version of this biography was published in "Deadball Stars of the National League" (Potomac Books, 2004), edited by Tom Simon. It also appeared in "From Spring Training to Screen Test: Baseball Players Turned Actors" (SABR, 2018), edited by Rob Edelman and Bill Nowlin.
Sources
Articles
Lamb, Bill. "A History of the New York Giants Franchise," Outside the Lines, SABR Business of Baseball Committee, Vol. 22, No. 2, Fall 2016.
Lamb, Bill. "Manhattan Field," SABR BioProject.
Mathewson, Christy. "Why We Lost Three World's Championships," Everybody's Magazine, vol. XXXI, July-December 1914: 537-547.
Books
Graham, Frank. The New York Giants: An Informal History of a Great Baseball Club (Carbondale: Southern Illinois Press, 2002).
Glueckstein, Fred. The '27 Yankees (Xlibris Corporation, July 26, 2005).
Greenberg, Eric Rolfe. The Celebrant (Lincoln and London: University of Nebraska Press, 1983).
Hynd, Noel. The Giants of the Polo Grounds: The Glorious Times of Baseball's New York Giants (Dallas: Taylor Publishing, 1995).
Klein, Maury. Stealing Games: How John McGraw Transformed baseball With the 1911 New York Giants (New York: Bloomsbury Press, 2016).
Mansch, Larry D. Rube Marquard: The Life and Times of a Baseball Hall of Famer (Jefferson, North Carolina: McFarland & Co., 1998).
Mathewson, Christy. (Introduction by Eric Rolfe Greenberg). Pitching in a Pinch or Baseball From the Inside (Lincoln: University of Nebraska Press 1994).
McGraw, John J. My Thirty Years in Baseball (Lincoln and London: University of Nebraska Press (reprint of book published in 1923).
Robinson, Ray. Matty: An American Hero (New York: Oxford University Press, 1993).
Seymour, Harold. Baseball: The Golden Age (New York: Oxford University Press, 1971).
Smith, Robert. Baseball: The Game, the Men Who Have Played It, and its Place in American Life (New York: Simon and Schuster, 1947).
Stark, Benton. The Year They Called Off the World Series: A True Story (Garden City, New York: Avery Publishing Group, 1991).
Newspapers and Magazines
Baseball Magazine, New York Herald, New York Times, Sporting Life, The Sporting News.
Notes
Born
April 7, 1873 at Truxton, NY (USA)
Died
February 25, 1934 at New Rochelle, NY (USA)
If you can help us improve this player's biography, contact us.
http://sabr.org/sites/default/files/images/McGrawJohn-LOC-Bain-11245r_0.jpg
600
800
admin
/wp-content/uploads/2020/02/sabr_logo.png
admin
2012-01-04 20:50:23
2022-04-18 05:18:45
John McGraw