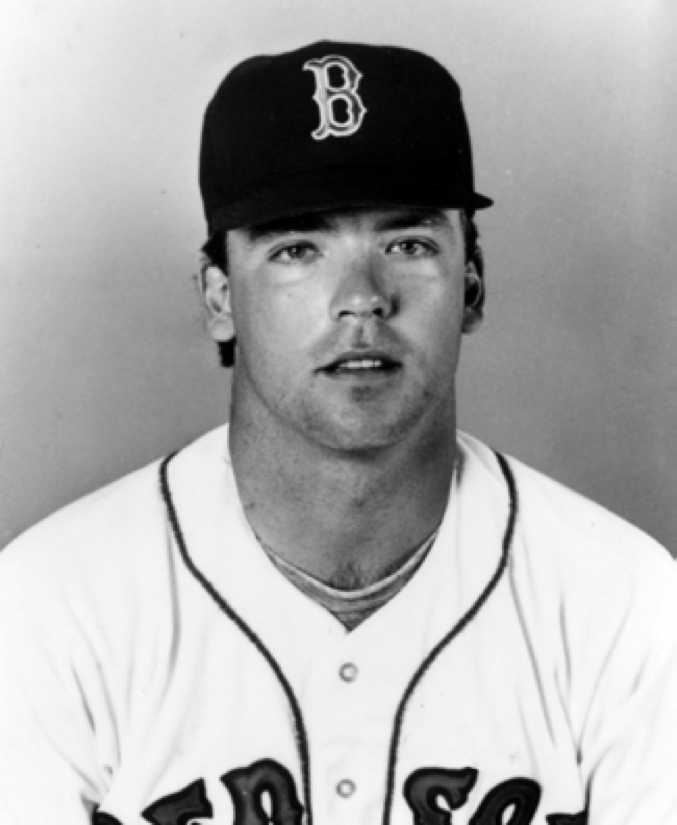 ---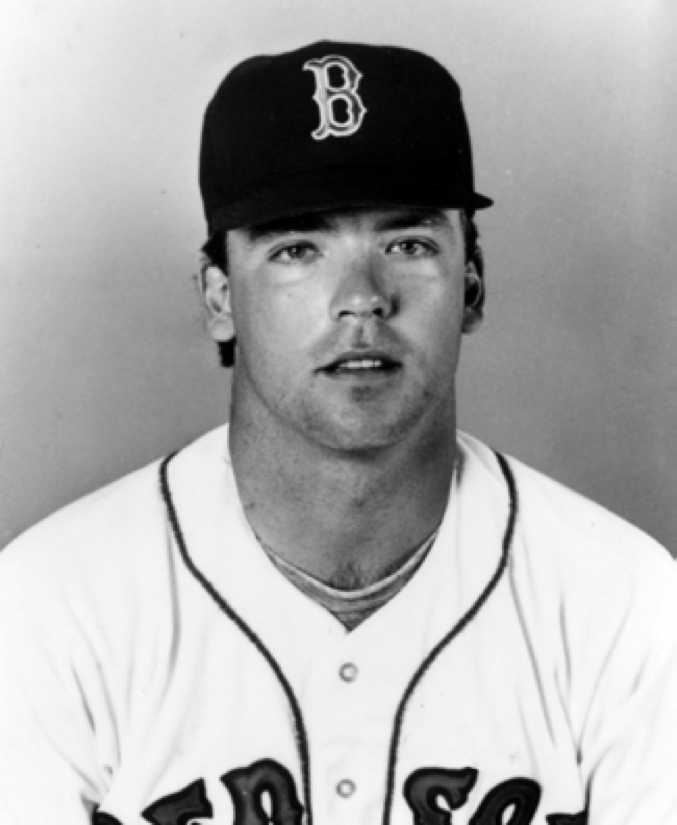 Although he was never provided the steady playing time he felt he needed to establish himself as a regular outfielder, Kevin Romine forged a career as a utility outfielder for the Boston Red Sox for six seasons. However, Romine's lasting legacy in professional baseball may not be as a player, but as a father; both of his sons have played major-league baseball.
Kevin Romine was born on May 23, 1961, in Exeter, New Hampshire. The Romines moved to California early in Kevin's childhood when his father, Willis, an airline pilot, changed his base to the West Coast.1
Romine was raised in the Huntington Beach area, south of Los Angeles, and attended Fountain Valley High School, where he was an accomplished baseball player, track and field athlete, and football running back.2 In December 1978 Romine led Fountain Valley to the California Interscholastic Section Big Five Championship, rushing rushed for 218 yards and a touchdown in the title game.3
Romine received Division I football scholarship offers from Cal State Fullerton and Long Beach State.4 He chose to play baseball at Orange Coast College. In 1980 Romine hit .389 and helped Orange Coast College win the California community college championship.5 He was selected in the third round of the 1980 draft by the California Angels, but decided to transfer to Arizona State University instead of signing.
Romine hit .406 with 12 home runs and 28 stolen bases in the regular season and helped lead Arizona State to a 26-4 record in the Pac-10 Conference and a spot in the 1981 College World Series.6 In the double-elimination tournament, Arizona State lost to Oklahoma State in 13 innings, then defeated South Carolina, Texas, and Oklahoma State to win the tournament. The American Baseball Coaches Association named him an All-American.
In his senior season, Romine hit over .400 and stole 60 bases.7 He was a third-team All-American in 1982 and was scouted heavily in advance of the draft.8 The Red Sox selected Romine 29th overall with a supplemental second-round selection.
Breaking in with the Winter Haven Red Sox in the Class-A Florida State League, Romine hit .254 with four doubles, four triples, and three homers in 55 games. The next season, with the New Britain Red Sox in the Double-A Eastern League. Romine hit .261, led the team with 26 doubles, and was second with 11 home runs.
In 1984 Romine was promoted to Triple-A Pawtucket, where he batted .253 but had 12 home runs and identical .396 on-base and slugging percentages. A nagging injury caused when he was hit by a pitch in July affected his production. At the time of his injury, Romine was hitting .280 and was second in the International League with 59 RBIs. Although he returned from injury after a few weeks, he needed several cortisone shots to get through the season.
As a result of his injury, Romine didn't engage in strenuous offseason training. "I didn't do anything over the winter," he said. "The first time I picked up a bat was in spring training."9 Likely because of the lack of winter conditioning, Romine started slowly at Pawtucket in 1985 and finished with a .243 batting average with only 5 home runs. He stole 19 bases, and might have stolen more, but hadn't been allowed to steal as often as he liked because Pawtucket fell behind early in the game so often.10
Romine's .300-plus batting average in the second half of the season caught the attention of the Red Sox and he was called up in September when rosters expanded. He made his major-league debut on September 5 in the first game of a doubleheader against the Cleveland Indians. With the Red Sox leading 12-4 in the bottom of the eighth, Romine pinch-hit for Tony Armas. Facing Ramon Rómero, Romine hit a run-scoring single. In the second game of the doubleheader, Romine made his first major-league start, in right field. Batting leadoff, he doubled in the bottom of the first inning, off Jamie Easterly, and hit a single later in the game. By season's end he was 6-for-28 with a pair of doubles.
The following season Romine failed to break camp with the Red Sox. At Pawtucket he batted .292 and was recalled to Boston in late June. For the rest of the season he was mostly a defensive replacement, and accumulated only 35 at-bats. Although his infrequent playing time was a source of frustration, Romine enjoyed life in the major leagues. He reflected, "The meal money is better, the travel is better, you get first-class accommodations. Anything you need, they get for you."11
Given his lack of playing time in 1986, it was no surprise that Romine began 1987 with Pawtucket. It was perhaps his best season for the PawSox, as he played in 129 games and batted .267 with 24 doubles, 11 homers, 21 stolen bases, and 52 RBIs. In nine games with the Red Sox in September and October, he hit .292. On September 18 he had one of the best games of his career against the Baltimore Orioles in the second game of a doubleheader. Romine had three hits, including two doubles, and scored two runs to lead Boston to victory.
Romine did well in 1988 spring training. Asked about the possibility of returning to the International League again, he said, "You get stagnant playing in the minors. It's hard to perform there year after year. …"12 The infrequent playing time he was provided in the majors was also a source of frustration, as he felt he couldn't get into a routine. He made the Opening Day roster, but he was demoted to Pawtucket in early April. Leading the International League in batting with a .358 average, Romine was called up by the Red Sox on June 4.13 Romine got only 70 at-bats the rest of the season and hit just .192, but had several of his best games as a major leaguer this season and also hit his first major-league home run. On July 16 Romine was hitting .154 and wasn't in Boston's starting lineup for the nationally televised game at Fenway Park.14 The Red Sox trailed the Kansas City Royals, 6-0, in the bottom of the sixth inning.
Romine pinch-ran for Mike Greenwell in the sixth inning and scored a run as the Red Sox scored four runs. He stayed in the game and the Red Sox tied the score in the eighth. Romine led off the bottom of the ninth inning with a walk-off home run to left field on a Steve Farr slider. Romine explained he just wanted to reach base for the hitters behind him. The comeback victory was part of a stretch during which the Red Sox won 19 of 20 games.
Romine generally saw more playing time down the stretch after Joe Morgan replaced John McNamara as the Red Sox manager. He explained, "Mac used to put me in for defense. Joe's getting me in a little earlier, so I can get that one at-bat per game."15
On July 27, against the Texas Rangers, Romine's single in the top of the eighth inning of a tie game drove in the go-ahead run in a 10-7 Red Sox victory.16 On September 20 against Toronto he reached base four times in five plate appearances with two singles and a pair of walks. He scored twice and stole a base.
Romine got off to a bad start in 1989 when he reported to spring training overweight. In 1990 spring training he told a reporter that essentially the weight had snuck up on him without his noticing. "It's hard to explain what happened," Romine said. "There had been times when I'd done even less in the offseason and not put on weight, but your body when you're 22 isn't like your body when you're 28."17
The weight gain appeared to lead to the impression that the outfielder was lazy and wasn't dedicated enough to make it to the major leagues as an everyday player.18 Romine defended himself: "I've worked hard to get here."19 He saw it as an attack on his reserved nature, telling a sportswriter, "I'm just quiet and people can misinterpret that. I don't say much. I don't jump up and down and rah-rah all over the place. I'm quiet, but I'm intense on the field. Off the field I'm quiet and people interpret that and say that I'm lazy, that I don't want to be here. They get the impression that I don't care. That certainly isn't the case."20
Assigned to Pawtucket at the end of spring training, Romine batted .300 in 27 games and soon rejoined the Red Sox. He was given regular starts against left-handers as the right fielder or designated hitter.21 Regular playing time helped Romine find offensive stability and he had the only five-hit game of his career on July 2 to lead the Red Sox to a 4-1 victory over Toronto. After 44 at-bats, Romine was hitting .364 and said that with regular playing time, he was more relaxed at the plate.22
Romine's five-hit performance started a stretch of 14 games where he went a combined 22-for-55 and reached base in every game but one. Filling in for the injured Ellis Burks, Romine had the best fortnight of his career and he reflected on the opportunity. "A week from now, two weeks from now, when guys start coming back, I might not have a place to play. But at least I know I got the chance and I showed them I can play.  … I always thought I was capable of playing in the big leagues. It was just a matter of getting a chance to play every day. If you don't get a chance, it's hard to show what you can do."23
Kevin also credited his wife, June, who had given birth to the couple's third child that offseason, for helping him keep his career in perspective. He said, "The biggest thing I figured out, with the help of my family, is there are other things in life. It's not going to hurt me when I leave. At least when I walk away, I'll know I did the best I could."24 He added, "[My family] gave me a strong foundation and a perspective on what really matters in the overall picture. They grounded me and provided incentive to succeed."25
On July 27, 1989, Romine went 2-for-4 with a double, a home run, a walk, and two runs scored. At the end of the game Romine had a .339 batting average, having hit safely in 19 of his first 21 starts.26 However, his playing time was reduced after Burks returned.
Romine had a pair of three-hit performances on September 10 and 28 and he batted .274, finishing 1989 with 75 hits, more than twice as many as he had in any other season. Romine was quick to credit hitting coach Richie Hebner for his success. "Richie has really helped me a lot this year," he said. "I was much more upright at the plate before, and he has coached me to get lower.27
Offseason conditioning was a much higher priority for Romine in the offseason and he reported to spring training in 1990 weighing 22 pounds less than the previous spring training. During spring training Dwight Evans was injured and Romine went north with the Red Sox as the starting right fielder. He helped his case by leading the team in runs batted in during spring training and hitting a grand slam on April 1, in one of the final exhibition games.
On April 9 Romine got his only Opening Day start, batting ninth. Romine doubled off Detroit's Jack Morris in his first two at-bats as the Red Sox won 5-2. However, once Evans returned from the disabled list, Romine played far less often, and almost exclusively as a defensive replacement. He had a few memorable games during the season, including reaching base five times in a doubleheader, including a double and a home run.
Another career highlight came on July 2, with the Red Sox trailing Nolan Ryan and the Texas Rangers 2-1 in the bottom of the seventh. Romine singled and scored on a double by Billy Jo Robidoux. In the bottom of the ninth off Kenny Rogers, Romine drove a pitch to deep left field for his second career walk-off homer.
That season Romine was hampered by shoulder problems and made only 39 starts.28 He hit .272 with seven doubles and a pair of home runs.
Romine worked intensely over the offseason to rehabilitate his shoulder, but it did not fully heal. While he looked to have secured his status on the club as a utility outfielder for the 1991 season, the prospects of Romine, who turned 30 in May, becoming an everyday player looked slim.
Despite spending the entire season with the Red Sox, Romine was seldom used in what was to be his last season in the major leagues. His last major-league homer was a two-out grand slam on May 5 against Alex Fernandez of the Chicago White Sox. Any thoughts that this would lead to a bigger role on the club were extinguished when manager Morgan answered a question about whether Romine would get a start in the team's next game by simply replying, "He'll sit. That's his job."29
On July 29 Romine entered a game against the Texas Rangers in the first inning, replacing Greenwell in left field. He went 1-for-4, with a single off José Guzmán. This was his last major-league hit. His last major-league appearance came on August 4 at Fenway Park against the Blue Jays, when he played as a defensive replacement for Tom Brunansky. Romine made only nine starts and played a full game only six times. With such infrequent playing time and an ongoing shoulder issue, it wasn't a surprise he struggled and hit only .164.
Romine retired after the season, citing nagging shoulder and knee problems.30 He commented, "My knee was blown out at the time. … I wish I had played longer, but things happen. You deal with injuries and it gets time to move on."31 He also felt the pull of his young family, as Kevin and June had an 8-year-old daughter, Janelle, and two sons, Andrew, 5, and Austin, 2. Eight year later, the Romines had a second daughter, Rebecca.
Romine was grateful for the perspective his wife and children always provided "when I would come out of the locker room after a game and my wife and kids would be there to meet me with a smile on their faces. … It didn't matter whether or not we won or lost or if I had a good or bad day. There they were (with) unconditional love."32
The Romines raised their children in Lake Forest, California, After retirement, Romine went into law enforcement and eventually was a detective in the Los Angeles Police Department.33 June worked as a special-education teacher. Kevin also played the role of devoted baseball father and built a batting cage with a pitching machine and 40-foot net. Of his sons, Andrew and Austin, Kevin recalled, "They were baseball rats even very young. Andrew would hide in my locker while Austin was hanging on my leg."34
As Austin and Andrew pursued the sport more seriously, Kevin helped each of them find a position where they excelled. At the age of 7, both were pitchers because they threw hard, but Andrew primarily played infield and Austin was a catcher.35 Kevin coached his sons through childhood, beginning with tee-ball. He was careful never to push them into baseball or suggest they needed to play the game for his approval; he simply encouraged their love of the sport.
After the Philadelphia Phillies selected Andrew in the 36th round of the 2004 draft, Andrew chose to attend his father's alma matter, Arizona State University. He became the starting shortstop for the Sun Devils as a freshman, replacing Dustin Pedroia.36 Austin signed a letter of intent to Arizona State, but he chose not to attend and was drafted by the Yankees in the second round of the 2007 draft. In the same draft, the Angels selected Andrew in the fifth round.
Andrew made his major-league debut on September 24, 2010. Austin made his on September 11, 2011. With Austin's debut, the Romines became the 14th family to have a father and two sons in the major leagues, joining such families as the Stottlemyres, the Alomars, and the Boones.
When Austin made his major-league debut, June wore an Angels jersey and a Yankees cap to the game, as a tribute to both of her sons. However, when it came to divided loyalties, Kevin chose differently and didn't wear any paraphernalia to the game. He said that he didn't have any issue with Austin playing for the Yankees, but added, "I do miss my Sox fans though. I am still a little Red, though."37 The career Red Sox noted that he still can't bring himself to put on a Yankees or Angels cap.38
Notes
1 Jon Goode, "Romine protects and serves," Boston.com, May 10, 2005, boston.com/sports/baseball/redsox/articles/2005/05/10/romine_protects_and_serves, accessed: August 15, 2015.
2 George Kimball, "Romine aims to stick around," Boston Herald, April 2, 1990: 78.
3 Mike DiGiovanna, "Romine Enjoys Life in Big Leagues," Los Angeles Times, July 26, 1986, articles.latimes.com/1986-07-26/sports/sp-208_1_minor-leagues, accessed August 1, 2015.
4 Earl Bloom, "Second time for third Romine," Orange County Register, June 19, 2013, http://www.ocregister.com/articles/romine-513583-high-third.html, accessed August 1, 2015.
5 DiGiovanna, "Romine Enjoys Life in Big Leagues."
7 Chaz Scoggins, "Around the Bases: Little things make Romine impressive," New England Newsclip (Lowell, Massachusetts), September 10, 1985: 17.
8 Goode, "Romine protects and serves."
9 Scoggins, "Around the Bases: Little things make Romine impressive," 18.
11 DiGiovanna, "Romine Enjoys Life in Big Leagues."
12 Joe Giuliotti, "Romine could miss salad days." Boston Herald, March 22, 1988.
13 Marvin Pave, "He's on the move," Boston Globe, June 6, 1988.
14 David Cataneo, "Romine's busy day sparks Fenway hope," Boston Herald, DATE: 11.
15 Stephen Harris, "Swinging the pine, not just riding it," Boston Herald, July 28, 1988: 87.
16 Harris, "Swinging the pine, not just riding it."
17 Kimball, "Romine aims to stick around."
18 Mike Shalin, "Romine stands critics, delivers," Boston Herald, July 19, 1989: 92.
19 Shalin, "Romine stands critics, delivers."
20 Joe Giuliotti, " 'Lazy' Isn't Word to Describe Romine," August 7, 1989.
21 Mike Shalin, "Romine's big day deserves high-five," Boston Herald, July 3, 1989: 59.
22 Shalin, "Romine's big day deserves high-five."
23 Giuliotti, " 'Lazy' Isn't Word to Describe Romine."
24 Shalin, "Romine stands critics, delivers."
25 Sarah Thomas, "Family Affair: Bees infielder Andrew Romine, brother Austin have followed in their father's footsteps," Deseret News (Salt Lake City), July 8, 2013, deseretnews.com/article/865582812/Family-affair-Bees-infielder-Andrew-Romine-brother-Austin-have-followed-in-their-fathers.html?pg=all accessed July 30, 2015.
26 Shalin, "Romine stands critics, delivers."
27 Mark Murphy, "Romine's been oh so fine," Boston Herald, July 28, 1989: 92.
28 Seth Livingstone, "Romine has Sox home," Patriot Ledger (Quincy, Massachusetts), March 13, 1991: 27.
29 Mel Antonen, "Red Sox's Romine: Ready and waiting," USA Today, May 8, 1991.
30 Jack Curry, "Family, Angels with Austin Romine on special day," My YES Network, September 15, 2011, myyesnetwork.com/16197/blog/2011/09/15/family,_angels_with_austin_romine_on_a_special_day, accessed August 15, 2015.
31 Goode, "Romine protects and serves."
33 Anthony McCarron, "Family Guy: Yanks' Romine trying to follow in father's (and brother's) footsteps", New York Daily News, December 11, 2010, nydailynews.com/sports/baseball/yankees/new-york-yankees-prospect-austin-romine-follow-father-brother-footsteps-article-1.472806, accessed July 30, 2015.
36 Goode, "Romine protects and serves."
Born
May 23, 1961 at Exeter, NH (USA)
If you can help us improve this player's biography, contact us.
http://sabr.org/sites/default/files/Kevin%20Romline.png
600
800
admin
/wp-content/uploads/2020/02/sabr_logo.png
admin
2012-01-04 20:20:01
2021-02-04 10:52:29
Kevin Romine