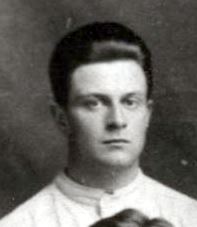 ---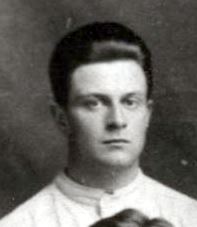 This little pitcher from Amherst College – 5-feet-6 and 130 pounds – appeared in just one game in left field for the New York Highlanders in July 1910. Larry McClure's career is quite similar to that of Tom Burr, a pitcher from archrival Williams College who played one inning in center field for the Yankees in April 1914. Neither man handled a chance – in fact, McClure was in for just one batter, though he did at least get to come to the plate once.
McClure threw four no-hitters during his time at Amherst. Burr was a prep-school star at Choate, though he turned pro before he ever pitched college ball. Both men played just a single year in the minors. Burr got into a mere handful of other games; available evidence shows only one more professional mound appearance for McClure, plus indications that he played in the field for about a month at the Class D level. Burr suffered from wildness and McClure from a sore arm, leading them to go back to school. The similarity ends thereafter, though, because Burr died at the age of 24 in World War I and McClure went on to become a successful attorney.
Lawrence Ledwith McClure was born on October 8, 1884, in Wayne, West Virginia. His father, Taylor Bascom McClure, earned a reputation as "the most influential educator in southwestern West Virginia." Among other things, Professor McClure founded (and was principal and master of) a school in Wayne called Oakview Academy.[1] The professor was born nearby in Lawrence County, Kentucky. He married Martha Alice Burgess, who came from the town of Catlettsville, Kentucky, about 20 miles northwest of Wayne at the confluence of the Big Sandy and Ohio Rivers. Alice, as she was known, had three other children: Two sons, Paul and Max, died in their youth; a daughter, Lucretia, survived.[2]
Taylor McClure named Lawrence for his friend, the Rev. William Lawrence Ledwith, a classmate at West Virginia University.[3] Young Larry went to Oakview and then to Worcester Academy, a boarding school in Worcester, Massachusetts. He was clearly bright, for in 1905 the West Virginia School Journal noted that he was teaching in the Charleston high school, adding, "He is perhaps the youngest high school teacher in the state."[4]
It wasn't far from Worcester to Amherst, which is also in central Massachusetts. The Amherst baseball program has sent 14 men to the majors over the years, starting with Pete Allen in 1893; the last as of 2016 was John Cerutti, who pitched in seven seasons from 1985 to 1991. McClure played baseball all four years he was at Amherst. He also ran track, as The Scroll of Phi Delta Theta fraternity noted in 1907.
He emerged as a star in 1909. An Amherst-based reader of Sporting Life sent in the following letter that June: "Undoubtedly the most remarkable record of the 1909 season among college pitchers is that of pitcher McClure, of Amherst. On Saturday, April 1 [it was actually April 3], he pitched a no-hit game against Annapolis, winning 4 to 0; on Wednesday, May 19, he held Yale down to one hit, winning 4 to 0. On Wednesday, May 26, he duplicated his no-hit performance against Williams, the final score being 2 to 0. On Saturday, June 5, he added West Point to the list of no-hit games, Amherst winning 3 to 0. McClure is of slight stature and weighs but 126 pounds."[5] The same day that letter was published, McClure added another one-hitter, shutting out Trinity.
After the Navy game the New York Times wrote, "A terrific blow in the stomach from a pitched ball which Pitcher McClure of Amherst got in the first inning apparently only spurred him to greater efforts."[6] McClure also showed his concentration during his no-hitter against Williams. That game, at Pratt Field in Amherst, featured a special appearance by an Amherst icon: the 350-pound bronze statue called Sabrina. She was brought onto the field in a motorcar that circled the bases in the middle of the game, causing a delay, but again, McClure wasn't fazed.[7]
McClure added another no-hitter over Williams during his senior year, 1910. On May 19, again at Amherst, he faced only 28 men, and only two runners reached first base in the 2-0 win. On June 11, 1910, Sporting Life included him when noting, "The Eastern colleges have some pumpkins of twirlers this race."[8]
Even so, another article on the very next page of that same issue said – with regard to the Washington Senators' interest – "It has been decided that pitcher McClure, of Amherst, is too light."[9] Later it emerged that scout Mike Kahoe was sent to Amherst "expressly to secure pitcher McClure and he passed up McClure and picked Henry on his own judgment."[10] That was McClure's catcher, John "Bull" Henry, who played in 687 games in the majors from 1910 through 1918, mainly with Washington.
Despite Washington's doubts, "President Frank Farrell of the New York Club, on the 24th inst, announced the signing of McClure and [Albert] Jube, two Amherst graduates. McClure has been for two years one of the best pitchers in the colleges and many clubs were after him. Jube is an outfielder. They will join the Highlanders on July 5."[11] Jube played from 1910 through 1912 in the minors, but only in Class A and Class B.
It's likely (although direct evidence has not surfaced) that Charles "Doc" Barrett was the scout who signed McClure and Jube. Barrett, the trainer at Williams, scouted for the Highlanders/Yankees from 1907 to 1914 and doubled as their trainer starting in 1910. He brought them a number of Northeastern collegians, including Tom Burr and George "Iron" Davis from Williams.
Sporting Life showed that McClure's first stop as a pro was Toronto in the International League. On July 9 against Rochester, he pitched seven innings in long relief after the starter got shelled. He allowed two runs "and looked to have the necessary qualifications of a good twirler."[12]
This is at odds with a Sporting Life dispatch dated July 15 (and issued on July 23), which said, "There is no truth in the report that the Toronto Club will secure McClure, the Amherst pitcher, from the New York American Club, for the simple reason that Manager [Ed] Barrow [then of Buffalo] got in ahead of Manager [Joe] Kelley."[13] That same issue of Sporting Life, however, contained the news that McClure had joined the Highlanders.[14] To make things even hazier, yet another story in that issue noted that McClure had been dealing with injury.[15] On August 13 this callous blurb appeared: "Manager Joe Kelley, of Toronto, has returned McClure, the Amherst twirler, to the New York Americans. McClure was having trouble with his arm and Kelley decided he had enough cripples without the youngster."[16]
Nonetheless, the big club did summon McClure, albeit very briefly. His one appearance with the Highlanders came at Hilltop Park on July 26. Wild Bill Donovan of the Detroit Tigers beat Jack Warhop, 1-0, as Ty Cobb hit an inside-the-park homer with two outs in the first inning. The New York papers painted a vivid picture. The Times wrote, "Tyrus rocked against the ball with savage force, and it went sailing fast and furious on a line to right field. Harry Wolter, ever alert for such bangs, raced after it. The ball hit his hand and was going at such a terrific clip that it broke one of his fingers and sailed on to the fence."[17] The Tribune said, "The injury was so painful that he stopped in his tracks, and while [Birdie] Cree chased the ball to the fence Cobb raced around the bases."
Manager George Stallings then put McClure in left field – where he had also played while at Amherst. He stayed in "until Charlie Hemphill, who was in the clubhouse, could get on his togs and take Wolter's place in right field."[18] Bert Daniels moved temporarily from left to center and Cree from center to right. One may speculate as to why Hemphill was not immediately available, but it's possible that he was hung over – he was known for dissipation. It took him long enough to dress that McClure, who'd taken the second spot in the order for Wolter, went to bat. In his lone big-league plate appearance, he became one of Donovan's four strikeout victims that day.
After the game, as the Baltimore Sun reported, "Lawrence McClure, the former Amherst College twirler, was at the same time turned over to Jersey City."[19] It does not appear that McClure ever appeared for the Skeeters. His arm was still bothering him; as the Washington Times wrote that October, "the pitcher never was able to show what he could do in fast company, having a sore arm all the time he was on the Hillltop."[20]
Nonetheless, the Highlanders kept McClure on their reserve list and gave him another shot in 1911. That March he went to spring training in Athens, Georgia, with other recruits.[21] He must have shown coach Duke Farrell and player-manager Hal Chase something, for on April 8 Sporting Life carried a report about the Huntington (West Virginia) Blue Sox of the Mountain States League (Class D), saying, "McClure, the speedy little infielder, goes back to the New York Americans."[22] The following issue showed him as part of the New York pitching staff for 1911.[23] One may speculate that ongoing arm problems were the reason he never appeared, though. Neither was McClure in the list of statistics that the Mountain States League provided for players who appeared in ten or more games that year.[24]
The sore arm may have given McClure extra incentive to return to school – he got his law degree from West Virginia University in 1911. He also coached the WVU baseball team that year, leading it to a record of 17-5. William E. Akin's West Virginia Baseball states that McClure was an occasional player for the Mountaineers as well, but gives the year as 1910, which is clearly out of line with other evidence. Akin's book adds that McClure played – and hit well – for Huntington in 1910.[25] It would have been a short window, since the Virginia Valley League (as it was known that year) ended its season on September 5. Yet it tallies best with the other accounts, though statistics are lacking.
McClure remained involved with the business affairs of the Huntington franchise. In June 1916 manager John De Armond sold his interest in the club and resigned his position. The announcement came after an informal meeting of stockholders, which was held in attorney McClure's offices.[26]
McClure's first job out of law school was with the firm of Enslow, Fitzpatrick, Alderson & Baker in Huntington.[27] He built up a lucrative private practice of his own, becoming senior member of the law firm of McClure & Winters. He also practiced in the State and Federal Supreme Courts. From 1924 to 1929 he also served as an assistant US attorney for the Southern District of West Virginia. In addition, he was secretary of the Building and Loan Association from 1929 to 1934.
On March 3, 1919, McClure married Emily Graham Dobyns of Proctorville, Ohio (just across the Ohio River from Huntington). Amherst's records show that they had no children. The McClures lived in Huntington but also operated a farm from 1932 to 1949. This was almost certainly the old Dobyns homestead, which was described in 1925 as one of the finest properties in Proctorville.[28] Larry numbered polo among his leisure pursuits, as the New York Times mentioned in October 1932.[29]
McClure continued to play baseball until at least his late thirties. He also acted as a scout. A 1923 story from the local newspaper, the Herald-Dispatch, shows that he was with the Groves-Thornton Tumblers in the Huntington City League. He recommended a young teammate, pitcher Johnson "Jay" Fry, to the Cleveland Indians that August. Later that month Fry too appeared in just one big-league game.[30]
Larry McClure died in Huntington on September 1, 1949, aged 64. According to The Baseball Necrology, the cause was cirrhosis of the liver. He is buried in Huntington's Woodmere Memorial Park.
It's too bad that the little man never took the mound in the majors – although it supports the thinking of Mike Kahoe and others that he was not built strongly enough. Yet if Harry Wolter hadn't been scheduled to bat second on July 26, 1910, McClure's cameo would have been even briefer. And if Charlie Hemphill hadn't been out of uniform to start that game (for whatever reason), McClure wouldn't have his entry in the record books at all.[31]
Updated September 16, 2016
 
Sources
www.la84foundation.org (Sporting Life online)
 
www.chroniclingamerica.loc.gov (various newspapers)
Amherst College Biographical Record, Centennial Edition (1821-1921). Available online at http://acbiorecord.yanco.com/
Amherst College Biographical Record, 1939 and 1951 editions.
West Virginia University Baseball Guide, 2011.
The Baseball Necrology online (thebbnlive.com)
---
Photo Credit
Detail of 1909 Amherst team photo. Courtesy of Amherst College Archives and Justin Long, Director of Sports Information.
Born
October 8, 1884 at Wayne, WV (USA)
Died
September 1, 1949 at Huntington, WV (USA)
If you can help us improve this player's biography, contact us.
http://bioproj.sabr.org/bp_ftp/images5/McClureLarry.JPG
600
800
admin
/wp-content/uploads/2020/02/sabr_logo.png
admin
2012-01-04 20:04:05
2022-03-03 07:47:34
Larry McClure