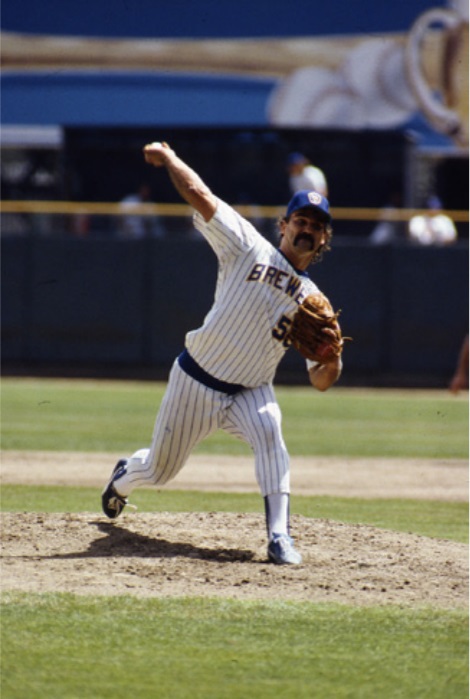 ---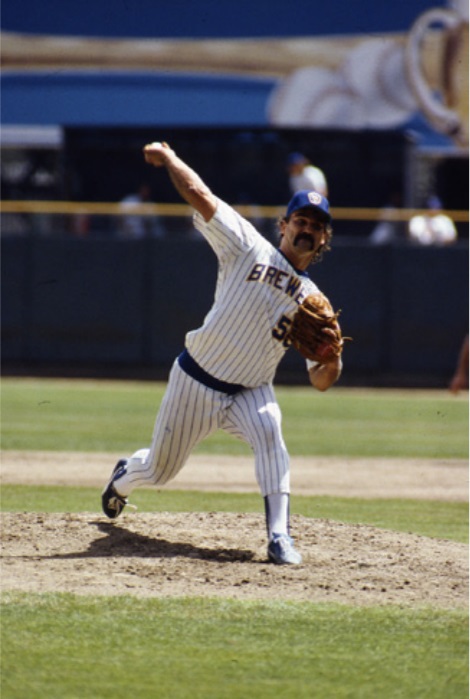 Pete Vuckovich was a menacing figure. He was big: 6-feet-4 and 220 pounds (or more). He glowered over a Fu Manchu mustache and often had a few days' growth elsewhere to go with his long, unkempt hair. While pitching, he had "a streak of calculated weirdness."1 Rasputin comparisons arose, and he encouraged them, applauding the Mad Monk's "extreme mental energy and intense concentration."2 To those who knew him, Vuckovich was funny and friendly — but his on-field demeanor was just right for his small yet memorable role as the unpleasant, tobacco-spitting "Clu Haywood" in the 1989 cult classic Major League.
As a player, the combative Vuckovich combined mound psychology with a very wide repertoire. It made the righty effective for several years in the late 1970s and early '80s. With the Milwaukee Brewers, he led the American League in winning percentage in both 1981 and 1982. He won the AL Cy Young Award in 1982, helping the Brewers to the pennant.
Arm problems then curtailed Vuckovich's career. He pitched in just three games in 1983 and missed all of '84. He retired as a player after spring training 1987. Vuckovich soon came back to baseball, though, as a color commentator for Brewers telecasts. He went on to serve the Pittsburgh Pirates, Seattle Mariners, and Arizona Diamondbacks in various capacities for more than 20 years.
Peter Dennis Vuckovich was born on October 27, 1952, in Johnstown, Pennsylvania. "Having a life at all was his biggest victory — actually a series of victories," said St. Louis sportswriter Mike Eisenbath. "He had many brushes with death. Vuke was born with the umbilical cord wrapped around his neck; he suffered undiagnosed appendicitis that led to peritonitis when he was 1½; he had a benign tumor removed from his head a year later."3
The close calls didn't end there. As a high-school sophomore, complications from his appendicitis episode led to emergency surgery. "I almost cashed it in right there," he said in 1982. At age 21, he drove over an 80-foot embankment at 105 miles per hour. The car rolled over several times, yet somehow he walked out of it. After that he was installing a 15,000-volt reactor, which shorted. "Six more inches and I'd have been fried like a piece of bacon."4
Vuckovich's parents were both of Serbian descent. His father was Lazo Vuckovich, a steel-mill worker. His mother, Bosiljka (née Gjurich), was a homemaker known for her baked goods, especially orehnjača, or Serbian nut roll. They were fondly known as "Laze" and "Bossie" or "Bosa" — but they also went by the Americanized names Louis and Betty. Pete was the only boy among five children. His sisters were named Dianne, Karyn, Melanie, and Maryann.5
Vuckovich's childhood baseball heroes were Roberto Clemente, Bob Gibson, and Juan Marichal.6 He was later compared to "The Dominican Dandy" for using varied arm angles. Pete knew he wanted to be a pitcher when he was 8 years old.7 He inherited some ability from his father, a noted pitcher in fast softball circles around Johnstown. He was largely a self-made player, though, because "Dad was too busy earning a living in the steel mills."8
At Conemaugh Valley High School in Johnstown, Vuckovich stood out in three sports, also including football (as a receiver) and basketball (as a forward).9 The school's baseball field was later named in his honor.
After graduating in 1970, Vuckovich turned down football scholarships from Navy, Pitt, Michigan State, and other major schools. Instead, he attended Clarion State College in northwestern Pennsylvania — mainly because his wife-to-be, Anna Kuzak, was going there.10
Staying in school also kept Vuckovich out of the Vietnam War. Of this, he later remarked, "I've taken a lot of guff along the way but that's politics and I don't want to get into politics."11 He aimed to become a schoolteacher.12
Though Vuckovich had mainly been a pitcher in high school, he had filled in across the infield, so he told Clarion baseball coach Joe Knowles that he could play anywhere but catcher. "Maybe I shouldn't have said that," Vuckovich recalled, "but I was cocky back then. Coach Knowles said I'd play second base — the position I had probably the least experience with." However, he proved more valuable as a pitcher.13 He was All-Conference in the Pennsylvania State Athletics Conference from 1972 through 1974 and an NAIA All-American in 1974.14
While in high school and college, Vuckovich also played with the All American Amateur Baseball Association. Johnstown has hosted the AAABA's annual tournament since 1945. Vuckovich became the first player from his hometown to appear in that tourney for four consecutive years (1969-72).
On the recommendation of scout Fred Shaffer, the Chicago White Sox selected Vuckovich in the third round of the June 1974 amateur draft.15 He split that summer between Appleton (Class-A Midwest League) and Knoxville (Double-A Southern League).
Vuckovich then jumped to Triple A in 1975. With Denver of the American Association, he went 11-4 with a 4.34 ERA in 19 games. That May he thanked White Sox pitching coach Johnny Sain, saying, "He taught me all my breaking pitches in spring training — I mean everything — curve, slider, how to make the fastball sink, how to throw a changeup."16
Vuckovich got his first call to the majors that August, appearing twice before going back to Denver as Terry Forster came off the disabled list. As he later told it, Chicago manager Chuck Tanner had scouted him, liked what he'd seen, and said, "You're coming with me." To Tanner's great surprise, Vuckovich said that he didn't want to go, but explained that he wanted to be with Denver because he thought the Bears could win the Triple-A championship. Tanner agreed to send Vuckovich back for the league playoffs, which Denver lost in six games.17 Vuckovich returned to the big club in September and got into two more games. He would not hurl again in the minors until 1986.
Also in 1975, Vuckovich married Anna. They had three sons: Lazo (like his grandfather, also known as Louis), Peter, and Damian.18 Pete Jr. was also drafted by the White Sox out of Clarion (48th round, 2004) but injury cut his career short. In 2017, he became a scout for the Brewers.19
Vuckovich pitched in Puerto Rico for the Ponce Leones during the winter of 1975-76 and "showed well."20 His manager was Ken Boyer, later his skipper with St. Louis. "Ken's the man who got me thinking like a big leaguer," Vuckovich later remarked. "He said to give it my best and not to let the little things bother me. He taught me the importance of concentration."21
For the White Sox in 1976, Vuckovich started seven times in 33 appearances, posting marks of 7-4, 4.65. He later took a swipe at manager Paul Richards (who'd succeeded Tanner) about how he was used. "I'll tell you what [Richards] knew about pitching. He made me a reliever, and he made Goose Gossage a starter."22
The AL added two new franchises — Seattle and the Toronto Blue Jays — for the 1977 season. In November 1976, the Blue Jays took Vuckovich as the 19th pick in the expansion draft. "To be truthful," he said the next year, "I didn't think that much about whether or not I would be protected. If I got drafted, I figured it was because somebody wanted me and I'd still be in the big leagues."23
Five years later, though, he thought differently. "It was a stupid decision for the White Sox to make. I had a pretty good idea even at 23, and I cared a lot. But I suppose it was all business for them. Maybe they spent $50,000 developing me, and they got $150,000 for me in the draft [actually $175,000]. So, they made $100,000 off the whole thing."24 The team did run on a shoestring budget under Bill Veeck's ownership then.
Vuckovich was the first player to report to spring training for the Blue Jays. Manager Roy Hartsfield promptly told him, "We will not have any long hair or beards. Mustaches on the upper lip are OK, but that's all." Vuckovich, who said he'd had a mustache since he was 17, was already sporting his Fu Manchu.25
Vuckovich remained a swingman for Toronto, going 7-7, starting eight times in 53 games with a team-leading 3.47 ERA. He recorded the franchise's first save (on the frigid Opening Day at Exhibition Stadium) and its first shutout (as he outdueled Jim Palmer in Baltimore on June 26). However, that was his only season with the Jays. In December, he and a player to be named later (John Scott) went to the St. Louis Cardinals for Victor Cruz and Tom Underwood. Two days later, the Cardinals dealt away another pitcher known for his Fu Manchu and ferocity: Al Hrabosky. Earlier in 1977, "The Mad Hungarian" had clashed with manager Vern Rapp and owner Gussie Busch over Rapp's ban on facial hair.
St. Louis beat writer Neal Russo called Vuckovich a good prospect after the trade.26 He was right. During his first season with the Cardinals, Vuckovich posted a 12-12 record, but his ERA was a career-best 2.54, third in the National League behind Craig Swan and Steve Rogers. He was a reliever to begin the year, but Ken Boyer — who'd replaced Rapp as manager in April — put him in the rotation in early June.
Vuckovich blossomed immediately as a starter. In late July, Cardinals pitching coach Claude Osteen — who'd helped Vuke as a teammate in 1975 — said, "He's a master at changing speeds, and he does it with total command of three or four basic pitches, with quite a few variations of each kind of pitch. He's deceptive, too."27
On August 8, after a complete-game win over the Philadelphia Phillies, Vuckovich credited much of his success to his ability to remain calm and collected under pressure. That game report noted the "sometimes strange behavior" that inspired another nickname — "Vuke the Spook" — and that he worked more quickly than most pitchers.28 A few weeks later, the great Bob Gibson — also noted for his brisk pace — said, "I've watched him on television and like his tenacity and the rapidity with which he works. He's already found that the quicker you pitch, the more your defense is likely to be on its toes to make the good plays behind you."29
Vuckovich remained a capable starter for the Cardinals in 1979-80, winning 27, losing 19, and posting a 3.50 ERA. Mike Eisenbath cited Vuckovich's variety of pitches and arm slots — and, in particular, his fiercely competitive nature. Vuke later said, "I really hate hitters. They're goofy. They're trying to get me, to ruin my career, so I hate them. That's the way it has to be — them or me. I want it to be me."30 Yet his free spirit was also visible as he belly-flopped through puddles in the outfield and hung an "out to lunch" sign over his locker.31
On December 12, 1980, St. Louis and Milwaukee — who would face each other in the 1982 World Series — swung a seven-player deal. The Cardinals traded Rollie Fingers, Ted Simmons, and Vuckovich for pitchers Dave LaPoint and Lary Sorensen, outfielder Sixto Lezcano, and another outfielder, touted prospect David Green. It started off in October with an even-up swap proposal from St. Louis: Vuckovich for Sorensen.32 But it developed into a blockbuster, with many moving parts before everything fell into place. In the final analysis, both sides benefited.33
Vuckovich could be droll. When asked why he thought Cardinals manager/general manager Whitey Herzog traded him, he replied, "Whitey wanted to build a team on speed and I never really ran that well."34
In Milwaukee, Vuckovich struggled early in 1981 but turned his season around after coach Cal McLish suggested using a no-windup delivery even with no one on base.35 Vuke went on to lead the AL with 14 wins during the strike-interrupted season; he lost just four. He came in fourth in the AL Cy Young Award voting — the winner was Fingers.
The Brewers also made it to the postseason for the first time. They faced the New York Yankees in the AL Division Series, and Vuckovich appeared in two games. He started and won Game Four, allowing one unearned run in five innings. In Game Five at Yankee Stadium, he faced the Yankees' final batter; New York eventually won the pennant.
The 1982 Brewers were called "Harvey's Wallbangers" because manager Harvey Kuenn had such a potent batting order. Yet they wouldn't have won the AL pennant without respectable pitching. The team ERA of 3.98 was sixth in the AL, but not far behind the league-best 3.80. There were no dominant starters — but they got the job done.
Vuckovich led the staff with 18 wins against 6 losses. He was in hot water often — his WHIP in 1982 was 1.5. Yet more often than not, he got himself out of the jams; his ERA was just 3.34. "He gets further behind, works deeper in counts, throws more pitches and generally contradicts more canons of pitching with more success than anybody else in baseball," said sportswriter Tom Boswell.36
Interesting observations of Vuckovich in '82 come from Daniel Okrent's book Nine Innings, which focused on a game between the Brewers and Baltimore Orioles on June 10 of that season. For example, "If considered looniness won ball games, the eccentric Vuckovich would forever be a success." Okrent also noted the hurler's habits of crossing his eyes as he stared in for the sign and (while holding runners on) "twitching his head rapidly … again and again, as if he had a violent tic." Catcher Simmons, Vuckovich's closest friend on the team, thought it helped the pitcher as much as his strange delivery did.37
Center fielder Gorman Thomas (who looked like a brother to Vuke) expanded. "You could look past the goofy hair and the growth on the face. He'd go out there and pitch with two different brands of shoes on. He'd have Puma on one foot and Adidas on the other. It was almost like he was semi-clownish. Yet he knew what he was doing and he'd get other people to focus more on his mannerisms than on what they're supposed to be doing."38
Beneath the quirky trappings, though, Vuckovich's intensity was unrivaled. Thomas added, "I don't think I ever saw anybody who would be so competitive when it was time to pitch. It's hard to stay 100 percent, 100 miles per hour, 24 hours a day. But when it was Pete's day to pitch, it was more than tunnel vision. It was straw vision. That's how finely tuned he was. He was that way every time I saw him pitch."39
Vuckovich started twice in the 1982 ALCS against the California Angels. In Game Two, he gave up four runs in an eight-inning complete game, losing to Bruce Kison, who went all the way. In Game Five, he allowed three runs in 6⅓ innings and left the game as the pitcher of record on the losing side. But the Brewers took the lead with two in the seventh and held on to win the pennant.
Vuckovich also started twice in the World Series. In Game Three, he allowed six runs (four earned) in 8⅔ innings and took the loss. In Game Seven, he took a 3-1 lead into the sixth inning but put the tying runs on base and was pulled. The bullpen couldn't hold the lead, and though Vuckovich got no decision, the Cardinals won the championship.
Vuke had been pitching while hurt.40 As Roger Angell later wrote, he was "in great pain during the final stages of the pennant race. … In late September, two days after receiving a cortisone shot in his shoulder, he somehow went 11 full innings against the Red Sox, throwing 173 pitches, and won the game."41 After his first outing against St. Louis, Vuckovich was stoic: "I get paid to take the ball when they give it to me, and I get paid to give it back when they ask for it."42 When he retired, he said that he carried on because the pennant race would have been a bad time to "walk."43
A few weeks later, the Cy Young Award was announced. Five pitchers got first-place votes, but Vuckovich got 14 of the 28 and outdistanced runner-up Jim Palmer. "I feel great about it, but I can't take full credit for it," he said. "I just happen to be lucky enough to be out there on the days the team's playing well enough to be a winner."44
Indeed, "He Doesn't Look Pretty, but He Wins," proclaimed Baseball Digest's cover story in May 1983. By the time it appeared, though, Vuckovich was on the disabled list. In March, an arthrogram revealed a tear in his rotator cuff. He put the downtime to good use, though, gaining his first experience as a cable TV commentator for the Brewers. He also filled in for Bob Uecker on the radio when Ueck was calling games for ABC-TV.45
Vuckovich started throwing gingerly on the sidelines in May.46 His progress continued, and he made it back at the end of August. He pitched well in his first two starts, going five innings in each and surprising Simmons with his velocity. In the third, however, he was hit hard and pulled a hamstring. The Brewers kept him sidelined after that for fear that he might reinjure his arm.47
Before the 1984 season, Vuckovich was cautiously optimistic after a busy offseason continuing his exercise program. However, he wasn't ready for Opening Day because of pain from a bone spur in his right shoulder.48 The resulting surgery included muscle repair as well as removal of the spur. It kept him out for the whole season. Yet again, he wasn't idle — he charted pitches, worked the radar gun, and studied hitters' tendencies. This too laid the foundation for his future career.49
Vuckovich was back in action in 1985 but was largely ineffective in 22 starts (6-10, 5.51). A shoulder strain landed him on the DL in May and June, and he underwent surgery for a large calcium deposit and another small bone spur in mid-September. That November, he became a free agent after refusing a minor-league assignment.50
Milwaukee invited Vuckovich to spring training in 1986 as a nonroster player. At the end of camp, he announced his retirement and went to work for the Brewers as a scout and minor-league instructor. In August, however, he wanted to see if he could still pitch. He joined Milwaukee's Triple-A club in Vancouver.51 He did well (2-1, 1.26 in six games) and got back to the majors in September, going 2-4, 3.06 in six starts.
Vuckovich was a nonroster invitee again in 1987, but he retired for good on April 1, saying, "I'm a realist. I have an awareness of myself."52 He finished with a lifetime record in the majors of 93-69 and an ERA of 3.66. Charlie O'Brien, who caught Vuckovich during that last spring training, summed up his career nicely. "He had a great feel for pitching. … [T]he word that comes to mind is guile. … He marched to his own drummer. … He liked a cold beer and a good time, and he liked to play baseball. He was willing to do whatever it took to win."53
Vuckovich, who then lived in the Milwaukee suburb of Hales Corners, tended bar at "Stormin' and Vuke's," the joint he co-owned with Gorman Thomas.54 He was also involved in local civic affairs. At the opening of the Samson Jewish Community Center in Whitefish Bay in September 1987, he helped teach youngsters how to play baseball along with Sal Bando and Bill Castro.55
Major League was filmed at Milwaukee's County Stadium in the summer of 1988. The project — like many Hollywood movie properties — had been in gestation for years. But when it finally got the green light, the cast included many inspired choices, and Vuckovich was one of them. Originally he was to play opposing closer Duke Simpson, but writer/director David S. Ward liked Vuckovich's look so much that he was given a slightly bigger role. Vuke then brought in his old Brewers teammate Willie Mueller to take over as Simpson.56
The new part was well suited to Vuckovich's image. In April 1989, shortly after the film was released, Sports Illustrated wrote, "Former Brewers pitcher and dirtball Pete Vuckovich plays Yankee slugger and dirtball Clu Haywood." The article quoted Bob Uecker's line as announcer Harry Doyle: "He [Haywood] leads the majors in most offensive categories, including nose hair."57 A 2016 article described the character as "awesomely gross," noting that his "favorite pastime, apart from hitting dingers, is to call rookies Hayes and Vaughn 'meat' whenever he gets the chance."58
Vuckovich made another juicy little contribution to the film. In one scene, Haywood approaches the plate and says to catcher Jake Taylor (played by Tom Berenger): 'How's your wife and my kids?' The line wasn't in Ward's script; he told Vuckovich to improvise something that major-leaguers would say. What's more, "Stormin' and Vuke's" was a regular off-hours hangout for the cast and crew while they were on location in Milwaukee.59
Vuckovich was an analyst on Brewers telecasts from 1989 through 1991. Then Ted Simmons, whom the Pirates had hired as GM in February 1992, invited his old friend and batterymate to join the Pittsburgh organization. It was ideal because no big-league franchise was closer to family in Johnstown. Vuke stayed with the Bucs for 20 seasons, through 2011. He was first a roving pitching instructor (1992-93) and then special assistant to GM Cam Bonifay (1994-95). In 1996 he was promoted to assistant GM/director of player personnel.60
Shortly after the '96 season ended, the Pirates made Vuckovich the big club's pitching coach, a longstanding goal of his. He replaced Ray Miller because "the club didn't feel Miller's methods were resulting in progress. Vuckovich will coach attitude and mental approach as much as mechanics." A subsequent report noted that he would "spend a lot of time getting to know young players, trying to determine the best way to tap their talents."61
Vuckovich held that position for four seasons (1997-2000). When the Pirates hired Lloyd McClendon as manager, he and Bonifay turned over the coaching staff.62 As a result, bullpen coach Spin Williams moved up and Vuke returned to the front office. He continued to work as special assistant to Bonifay, and later to David Littlefield, then Neal Huntington.
Vuckovich joined the Mariners as a special assistant to GM Jack Zduriencik before the 2012 season. His job included much travel, scouting amateurs and pros, as well as visiting with minor-league teams. Zduriencik, who'd been scouting director for the Pirates from 1991 through 1993, respected his old colleague's baseball mind. In November 2013, Vuckovich was a candidate for pitching coach with the Phillies, but he removed his name from consideration.63 The job went to his former Milwaukee teammate Bob McClure.
Seattle fired Zduriencik in August 2015, and that October Vuckovich was part of the ensuing organizational purge.64 A few months later, he became a roving scout for the Diamondbacks. When asked what brings a scout the most satisfaction, Vuckovich said, "Being right on a player. … That's what you strive to do."65
In late 2017, Pete and Annie Vuckovich still called Johnstown home. "It's where I grew up, and where my wife and I met. Even when I was playing, in the offseason we always came home to Johnstown," he said just before taking the Diamondbacks job. Vuckovich is a member of the Sports Halls of Fame of Cambria County, Clarion University, the AAABA, Western Pennsylvania, and Pennsylvania. He remained happy and confident at work. "Baseball has been my whole life. It's what I know, and I know it better than most."66
Last revised: March 1, 2018
This biography originally appeared in "From Spring Training to Screen Test: Baseball Players Turned Actors" (SABR, 2018), edited by Rob Edelman and Bill Nowlin. It also appeared in "Time for Expansion Baseball" (SABR, 2018), edited by Maxwell Kates and Bill Nowlin.
Sources
Internet resources
Cambria County Sports Hall of Fame (https://ccshof.org/member/pete-vuckovich/).
Official website of the AAABA Tournament (https://aaabajohnstown.org/).
Findagrave.com.
Betty Vuckovich funeral announcement (https://hindmanfuneralhomes.com/obituary/betty-bosa-j-vuckovich/).
newspapers.com.
Notes
1 Daniel Okrent, Nine Innings (Boston: Houghton Mifflin Company, 1985), 237.
2 Neal Russo, "Vuckovich: Unusual Man With Some Evil Pitches," St. Louis Post-Dispatch, July 25, 1978: 36.
3 Mike Eisenbath, The Cardinals Encyclopedia (Philadelphia: Temple University Press, 1999), 300.
4 Bob Verdi, "Close Calls All Go Vuckovich's Way," Chicago Tribune, March 18, 1982. Tom Boswell, "Brewers' Vuckovich Becomes Off-the-Wall Force on the Mound," Washington Post, October 13, 1982.
5 David L. Porter, editor, Biographical Dictionary of American Sports, Volume 2, Q-Z (Westport, Connecticut: Greenwood Press, 2000), 1607. The Vuckovich parents' Serbian nicknames are visible on the pictures of their shared grave marker at findagrave.com. There are various references to Lazo Vuckovich as "Louis," including his 2005 obituary in the Johnstown Tribune-Democrat. The Biographical Dictionary of Sports entry gives Bossie's Americanized name as "Betty Jane." See also Betty Vuckovich funeral announcement.
6 "Life Inside the Diamond," Clarion University website, January 4, 2016.
7 Rick Hummel, "Birds V-Sign Stands for Vuke and Victory," The Sporting News, May 3, 1980: 13.
8 Neal Russo, "'Gimme the Ball, Often,' Vuckovich Tells Cards," The Sporting News, February 25, 1978: 54.
9 "Mariners Name Pete Vuckovich Special Assistant to the General Manager," MLB.com, September 16, 2011. Football position comes from Indiana (Pennsylvania) Gazette, accessed via newspapers.com. Basketball position comes from email to Rory Costello from Mike Mastovich of the Johnstown Tribune-Democrat, October 5, 2017.
10 Bob Broeg, "McBride Deal Wins Belated OK," St. Louis Post-Dispatch, September 3, 1978: 76.
11 Hummel, "Birds V-Sign Stands for Vuke and Victory."
12 Verdi, "Close Calls All Go Vuckovich's Way."
13 "Life Inside the Diamond."
14 "Mariners Name Pete Vuckovich Special Assistant to the General Manager."
15 Russo, "'Gimme the Ball, Often,' Vuckovich Tells Cards."
16 "Pitcher Credits Sain," The Sporting News, May 17, 1975: 38.
17 "Life Inside the Diamond."
18 Porter, op. cit., 1608. Front-office biographies, Pittsburgh Pirates, MLB.com. Date unknown, but could range from 2008 to 2011.
19 Pete Vuckovich Jr. profile on LinkedIn.com.
20 Jerome Holtzman, "Dent, Downing Only Chisox Certain of Regular Berths," The Sporting News, March 6, 1976: 11.
21 Russo, "'Gimme the Ball, Often,' Vuckovich Tells Cards."
22 Okrent, Nine Innings, 207. The original source of this quote is uncertain.
23 Neil MacCarl, "Shear Locks, Jays Order Vuckovich," The Sporting News, March 12, 1977: 43.
24 Verdi, "Close Calls All Go Vuckovich's Way."
25 MacCarl, "Shear Locks, Jays Order Vuckovich," 46.
26 Neal Russo, "Devine Gives Royal Look to New Card Hand," The Sporting News, December 24, 1977: 59.
27 Neal Russo, "Brother Vuckovich a Wheelhorse for Cards," The Sporting News, August 5, 1978: 20.
28 "Cards Spook Phillies," Pittsburgh Press, August 9, 1978: 56.
29 Broeg, "McBride Deal Wins Belated OK."
30 Eisenbath, op. cit., loc. cit. Original source of quote: "The Pete Vuckovich Story Is Filed Under 'Sci-Fi,'" St. Louis Post-Dispatch, February 8, 1983: 30.
31 Hummel, "Birds V-Sign Stands for Vuke and Victory."
32 Okrent, Nine Innings, 206.
33 Dave Anderson, "Trade That Brewed the 6-Pack Series," New York Times, October 12, 1982.
34 Boswell, "Brewers' Vuckovich Becomes Off-the-Wall Force on the Mound."
35 Tom Flaherty, "Vuckovich Brewers' Big Bargain," The Sporting News, June 27, 1981: 25.
36 Boswell, "Brewers' Vuckovich Becomes Off-the-Wall Force on the Mound."
37 Okrent, Nine Innings, 71, 237.
38 Mike Mastovich, "From AAABA to Cy Young, Vuckovich Made His Pitch," Johnstown Tribune-Democrat, August 5, 2007.
39 Mike Mastovich, "Competitiveness, Talent Took Vuckovich to the Top of Baseball," Johnstown Tribune-Democrat, October 8, 2016.
40 Tom Flaherty, "Vuke Shares Credit With Teammates," The Sporting News, November 15, 1982: 53.
41 Roger Angell, "The Arms Talks," The New Yorker, May 4, 1987.
42 Stan Hochman, "Life in the Fast Lane Doesn't Faze Vuckovich," Philadelphia Daily News, October 15, 1982.
43 Mike Mastovich, "Vuckovich Honored: Area Ex-Big-Leaguer to Take Spot With Pennsylvania's Best," Johnstown Tribune-Democrat, October 23, 2008.
44 "Vuckovich Says He's Happy," Associated Press, November 4, 1982.
45 Peter Gammons, "Brewers' First Three Rank with Best," The Sporting News, May 2, 1983: 14.
46 Tom Flaherty, "Outlook Bleak for Vuckovich," The Sporting News, March 28, 1983: 42. Flaherty, "Simmons Hits .300 Jackpot," The Sporting News, May 23, 1983: 22.
47 Tom Flaherty, "Vuckovich's Return Impresses Brewers," The Sporting News, September 19, 1983: 14; Flaherty, "Job in Jeopardy, but Kuenn's Secure," The Sporting News, October 3, 1983: 17.
48 Tom Flaherty, "Vuckovich Is Cautiously Optimistic," The Sporting News, February 27, 1984: 36. Flaherty, "Hurts Hamper Molitor, Vucko," The Sporting News, April 9, 1984: 15.
49 Mastovich, "Vuckovich honored: Area Ex-Big-Leaguer to Take Spot With Pennsylvania's Best."
50 Tom Flaherty, "As Vuckovich Exits, Porter Returns," The Sporting News, September 23, 1985: 20; Flaherty, "Yount Will Return to Center Field," The Sporting News, December 2, 1985: 48.
51 "A.L. Notebook: Brewers," The Sporting News, August 11, 1986: 17.
52 Tom Flaherty, "Facing the Inevitable," The Sporting News, April 13, 1987: 16.
53 Charlie O'Brien and Doug Wedge, The Cy Young Catcher (College Station, Texas: Texas A&M University Press: 2015), 18-19.
54 "Brewers' First Loss of Season Fails to Dampen Fan Enthusiasm," United Press International, April 22, 1987.
55 "Thousands Celebrate Opening of Sampson sic JCC," Wisconsin Jewish Chronicle, September 25, 1987: 3.
56 Jonathan Knight, The Making of "Major League," (Cleveland: Gray & Company, 2015), exact page number unavailable online.
57 Steve Wulf, "Too Bush for the Bigs," Sports Illustrated, April 17, 1989. This article spelled the character's first name as "Klu," as have other sources over the years.
58 Danny Kelly, "'Major League' Is Baseball," The Ringer, July 22, 2016.
59 Knight, op. cit. Mike Oz, "'Major League' Turns 25 — Here Are 15 Things You Didn't Know About the Movie," Yahoo! Sports, April 7, 2014. Chris Nashawaty, "A League of Its Own," Sports Illustrated, July 4, 2011.
60 "Mariners Name Pete Vuckovich Special Assistant to the General Manager." Mike Mastovich, "Johnstown native Pete Vuckovich Starts New Baseball Chapter as Diamondbacks Scout," Johnstown Tribune-Democrat, January 6, 2016.
61 John Mehno, "Pittsburgh Pirates," The Sporting News, October 21, 1996, 20. Mehno, "Pittsburgh Pirates," The Sporting News, November 11, 1996: 37.
62 John Mehno, "Pittsburgh," The Sporting News, November 6, 2000.
63 Jim Salisbury, "Phils Feel Rejection in Pitching Coach Search," NBC Sports Philadelphia, November 11, 2013.
64 "Sources: Mariners' Front Office Overhaul Begins With Four Changes," Foxsports.com, October 5, 2015.
65 Mastovich, "Johnstown Native Pete Vuckovich Starts New Baseball Chapter As Diamondbacks Scout."
66 "Life Inside the Diamond."
Born
October 27, 1952 at Johnstown, PA (USA)
If you can help us improve this player's biography, contact us.
https://sabr.org/sites/default/files/Pete%20Vuckovich.jpg
600
800
admin
/wp-content/uploads/2020/02/sabr_logo.png
admin
2012-01-04 20:49:44
2020-10-08 16:49:31
Pete Vuckovich