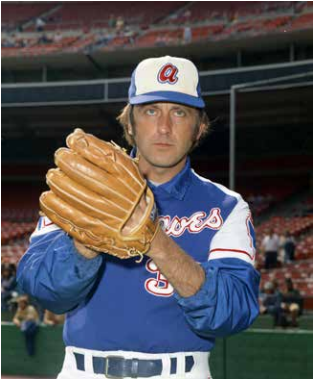 ---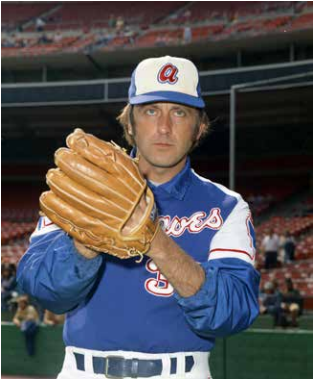 Philip Henry Niekro Jr. was born in Blaine, Ohio, on April Fools' Day — April 1, 1939. That was appropriate, for he spent much of his career fooling batters with a pitch that most other pitchers wanted no part of.
The first of the Niekro family in America were Jozef Niekra, from Slodkow, Polish Russia, who had come to the U.S. in 1901, and Magdalena "Maggie" Mieszegr, from Blinow, Polish Russia. It isn't known if the two knew each other in Europe, but they were married in Monongah, West Virginia, where Jozef worked in the local coal mines, on February 9, 1903 — only 19 days after Maggie's arrival in America.1
Two daughters, Apolonia and Anna, were born to the couple before they moved about 75 miles north, to the small town of Blaine. It was in Blaine, in early 1913, that Jozef and Maggie had their only son — Philip Henry Niekro. "Actually, our name was spelled Niekra in Poland, but here, we got the 'o' on the end," said Phil many years later.2 Life was not easy in the coal-mining community, but it was especially difficult for Philip — both of his parents died before his fifth birthday. The community saw to it that he was taken care of, and he attended elementary school and began high school before starting work in the mines at age 15. Philip married Henrietta "Ivy" Klinkoski, herself the orphaned daughter of Polish immigrants, in 1936, and they had their first child, a daughter, Phyllis, the next year. Two sons, Philip Henry Jr. and Joseph Franklin, would follow. By the early 1940s, the Niekro family had moved to nearby Lansing, Ohio, about seven miles west of Wheeling, West Virginia.
Phil Niekro Sr. played baseball on the sandlots of the coalfields, in the Mine Workers League. After arm trouble took away his fastball, a co-worker showed him the knuckleball. "A fellow named Nick McKay, who was in the minors for a while, showed me how to throw it. It was all I could throw," he told a writer.3 In Lansing Phil Sr. would play catch with his children. He taught the knuckler to his oldest son, 8-year-old Phil Jr. Phil practiced all he could, with sister Phyllis as his backyard catcher. After a while, Phil found another catcher, his boyhood pal John Havlicek. John would go on to his own Hall of Fame career with the Boston Celtics of the NBA.
At Bridgeport High School, five miles east of Lansing, Phil played varsity baseball, basketball, and football. Over his four-year high-school mound career, he posted a 17-1 record, the only blemish being a 1-0 loss to Tiltonsville in 1954, his freshman year. The lone run in that game came on a home run by Bill Mazeroski, who signed with the Pittsburgh Pirates a few weeks later.4
Phil received athletic scholarship offers from several colleges, but turned them down, hoping for a future in professional baseball. The Pittsburgh Pirates and the Cleveland Indians were the two major-league teams closest to Lansing, but they showed little interest. Phil spent the summer after his high-school graduation pitching for local teams. The next July, he attended a Milwaukee Braves tryout camp in nearby Bellaire, Ohio. A Braves scout, Bill Maughn, was impressed enough to offer Phil a contract for $275 a month. Phil related, "My dad said, 'It's nice you want my son to play professional baseball but before he does, we have to sit down here and make a little deal.' I got $500 (as a signing bonus)."5 "My greatest thrill in baseball was signing my first major-league contract in our kitchen, with my father and mother, my brother Joe, and my sister Phyllis present," Niekro said. "July 19, 1958 — I became a professional!"6
The Braves waited until the next spring to have Niekro report. He was assigned to the Braves' Class-D team in Wellsville, New York, where he got into 10 games, but his work was not impressive. One day, Phil went to the ballpark early and saw a big car parked on Main Street. "I recognized the driver from spring training in Waycross. He was a big-money guy. I thought to myself, 'Uh-oh, somebody's getting released today.'"7
In the clubhouse, manager Harry Minor called Phil into his office. "The Braves are sending us two new players," Minor said. "We're going to release you." Niekro recalled, "The first thing I thought about was that I was going to end up like my dad, in a coal mine. Or in a steel mill. I had my chance, and I screwed it up. So, I just sat there and finally said, 'I'm not going! Harry, I need to play, I just need to play!'"8
John Havlicek said, "He didn't want to go back to the mines, he didn't want to disappoint his dad. Phil says he'll shine shoes, cut grass, clean bases, anything to stay with the club. And the manager agreed to give Phil a second chance."9
The Braves sent Niekro to one of their other Class-D clubs, the McCook Braves in the short-season Nebraska State League, where he pitched in 23 games, all in relief. His work was a little better there; walked fewer batters in more innings, and his ERA was a more than respectable 3.12.
After making it through his first pro season, Niekro began climbing the ladder of the Braves system — Jacksonville, Austin, Louisville. In each city, he posted solid, but not spectacular, seasons, but he made progress at each stop.
Phil spent the 1963 season a little bit south of Louisville, at nearby Fort Knox, wearing the uniform of the US Army. "Of course, I pitched for the Fort Knox Army team and after that I pitched winter ball (in Venezuela), so it wasn't as though I sat out the whole year."10
Niekro arrived at camp in 1964 without much fanfare, but he quickly stood out and Milwaukee Braves manager Bobby Bragan decided to add him to his Opening Day staff. Niekro made his major-league debut in San Francisco, in the second game of the season. At last, the coal miner's son from Ohio could call himself a major leaguer!
NIekro saw regular work out of the bullpen for the first month of the season. On May 17, the club sent Niekro down to Triple-A Denver, with some new instructions — "be a starter." He finished the season in Denver, and his 172 innings pitched were by far the heaviest workload he had ever had.
With Warren Spahn having been sold to the Mets during the offseason, Niekro had every reason to think he might take over a starting spot in the Braves' 1965 rotation, but a strange thing happened in spring training. After succeeding as a starter the previous summer, the Braves moved him back to the bullpen.
On May 13 in Pittsburgh, Niekro was brought in to start the fifth inning and finished the game, during which the Braves rallied for a 5-4 win. Along with his first major-league victory, he also collected his first big-league hit.
Ten days later, on a United Airlines charter flight from Milwaukee to San Francisco, Niekro turned to his friend Gene Oliver and said, "I'm going to marry that girl." That girl happened to be Nancy Lee Ferrand, a stewardess from California. With more crew aboard than were needed, Nancy was told she could have the night off. She looked around and took one of the only available seats — next to Niekro. The two sat together and played gin rummy all the way to California. "One of us won two million dollars. I think it was Nancy," said Phil. Neither Phil nor Nancy remembered to get the other's address or phone number, but Nancy's mother suggested that she send Phil a letter, in care of the ballclub. She did, and they corresponded for 11 months, rarely seeing each other, until the middle of the next season.
When Phil reported to spring training in 1966, it wasn't with the Milwaukee team — the Braves had relocated to Atlanta. By Memorial Day, he had pitched only 20⅓ innings in 13 games, and in early June he was sent to the Braves' new Triple-A team in Richmond, Virginia.
Niekro appeared in 17 games for Richmond, four as a starter, and felt he was gaining even better control of his knuckler. He also accomplished something else on his agenda. When the US airlines went on strike in July, Nancy was stuck in California with no work. Phil suggested she buy a one-way train ticket and come to Richmond.
Back in Atlanta, the Braves were not showing any improvement. During the first week in August, they sent word for Niekro to rejoin the team at home. Phil made it back to Atlanta Stadium on August 8, in time to get into the last inning of a 10-9 Braves win over the Dodgers. The story in the next day's Atlanta Journal read "Niekro a Two-Timer," and said, "It's real funny the way things have been happening for me in pairs lately," grinned newlywed Niekro. "In the first place my wife and I were married twice over the weekend."11 "We were married the first time Saturday night and the minister called Sunday morning and said he'd left something out of the ceremony so he came to the house that afternoon and married us again. Then we had to drive two cars down from Richmond because I promised Dick Kelley we'd bring his car to Atlanta for him. And tonight I make just two pitches and win a ball game. … And that's a dandy wedding gift."12
It may have been a dandy wedding gift for the Niekros, but the win didn't do much for Bobby Bragan. It was the last game of Bragan's major-league managerial career. The Braves fired him the next morning, and replaced him with coach Billy Hitchcock. For Niekro, however, that was the end of his minor-league career, and he never went back.
The Braves entered 1967 with high hopes, but while the team struggled to a 77-85 record Phil found himself back in the starting rotation by the middle of June. It was a breakout season for Niekro, and he ended the season with an 11-9 won-lost record, 10 complete games, 207 innings pitched, and a league-leading 1.87 ERA.
The other big story of 1967 — especially to the Niekro family — was that of Phil's younger brother, Joe, making the Chicago Cubs Opening Day staff.  But it wouldn't be until 1973, when Joe joined Phil in Atlanta, that Joe would take up the knuckleball in earnest. 
Phil called the 1969 season "probably my best." The Braves finally got on track and won the Western Division championship by three games over the San Francisco Giants, although they were swept in the National League Championship Series by the upstart New York Mets. Niekro's 23rd victory clinched the division crown for the Braves. Phil was named to the National League All-Star team, and finished second to Tom Seaver in the Cy Young Award voting. The July 26 issue of The Sporting News that season used a new nickname for Niekro for the first time — "Knucksie."
The next decade was pretty lackluster for the Braves, with the team posting winning records in only two seasons, and only Hank Aaron's pursuit of Babe Ruth's career home-run record adding much excitement. Two events stood out in the 1973 season for Niekro, however.
Everything fell into place on Sunday, August 5, when Niekro threw a 9-0 no-hitter at home against the San Diego Padres. Two days later, the Braves picked up brother Joe on waivers from the Detroit Tigers. Phil and Joe had always dreamed of playing on the same team together, and now their chance had come.
The 1977 club was the Braves' worst team in more than 40 years. An old adage says, "A pitcher has to be pretty good to lose 20 games!" Well, Phil was pretty good, going 16-20 to lead the league in losses, but he also led the National League in innings pitched, complete games, and strikeouts. After the season, the Braves dismissed manager Dave Bristol, and, on the list of candidates to replace him, one name stood out — Phil Niekro. "They were looking for a manager. I knew the game and the players, so I threw my name in."13 Instead, they handed the reins to Yankees coach and former Braves farmhand Bobby Cox, for his first major-league managerial job.
From 1977 through 1980, Niekro led the league in games started each year, with totals of 43, 42, 44, and 38. He went 19-18 in 1978, for a club that lost 93 games, but with a 1979 team that went 66-94, he managed to go 21-20. It was Phil's second 20-loss season in three years. Brother Joe, with his rejuvenated knuckleball career in Houston, also won 21 that year, to share the league lead with Phil. Phil became the first National League pitcher since 1905 to win and lose at least 20 games in the same season. Their dad, Phil Niekro Sr., summed up his sons' seasons in one concise sentence — "I'm proud of them and glad that they don't have to work for a living."14
After a 50-56 finish in the strike-interrupted 1981 season, Cox was let go, and Knucksie again expressed his interest in the position. "By that time, Ted Turner and I had become very close friends, and he made it known to me that I would someday be managing his team."15 But it didn't happen. The job went to former Braves catcher Joe Torre, who had just been dismissed by the Mets.
The next season, 1982, was a bittersweet one. A spring-training injury caused Niekro to miss being a part of the Braves' terrific start, winning their first 13 games. He didn't make it onto the roster until game number 15. He finished the season at 17-4; his .810 winning percentage was the best in either league. The Braves passed the Dodgers during the last week of the season to capture the NL West flag. Niekro pitched two complete-game shutouts during that stretch. Knucksie's own two-run, eighth-inning home run beat the Padres on October 1. That victory put the Braves up by one game with with two games remaining in the season. The Braves clinched the division title two days later on the final day of the regular season.
Phil started Game One of the NLCS in St. Louis, and was ahead 1-0, but the game was called due to rain with two outs in the fifth inning. "We had to play it again from the beginning the next night. We ended up losing that game 7-0." Niekro then started Game Two, and led 3-2 after six innings. "I was pitching well in St. Louis. I had 'em where I wanted them, and Torre pinch-hits for me," said Niekro. The Braves ended up losing the game, 4-3, then moved back to Atlanta, where the Cardinals completed the three-game sweep. It was to be Niekro's last postseason chance with the Braves.
Niekro's record fell to 11-10 in 1983. His 201⅔ innings pitched were the fewest for a full season in his career, his walks were up and his strikeouts were down. The sentiment by many in the organization was that Phil was at the end of his career.
The headline in the Atlanta Constitution five days after the season ended screamed, "Niekro Leaving Braves." Sports editor Jesse Outlar wrote, "When Torre came back to manage the team that Niekro also would have liked to manage, there was speculation of friction. Though Niekro resented being pulled in the late innings by Torre, there was no verbal clash between them."16 The next day, Chris Mortensen wrote, "Niekro confirmed that he had been encouraged to retire. He declined and was granted a request to put him on waivers for the purpose of giving him his unconditional release. While the decision had been unanimous at a September 25 staff meeting that Niekro should retire, it was primarily the decision of Torre and Bob Gibson, his pitching coach."17
Ted Turner, a longtime booster of Niekro, responded by telling the pitcher he could return as a player. "He said, 'Just tell me you want to pitch for the Braves and you've got a job.' I can't go back to the Braves under those conditions."18 "It was a wonderful marriage for 24 years, but now we are divorced and neither one of us is unhappy. In brief, the Braves wanted me to retire, but I want to pitch another season or so."19
Braves fans were outraged. Joe Niekro, who would have welcomed Phil on his own Astros staff, was very outspoken: "It's Joe Torre," said Joe. "I think he thinks Phil is a threat to him; that's why he doesn't want Phil around anymore. He knows that if he messes things up worse than he did this year, Phil can step right in as manager."20
Knucksie may not have been the same pitcher he was a few years ago, but he was still just about the best that the Braves had.
Years later, Niekro related, "I was born a Brave, and I wanted to die a Brave. I had my mind set on that. And that was the longest damn day I had in my life. The most depressed day in my life was that day."21
Phil felt that he still had two or three years left, and that 300 victories were certainly within his reach — he already had 268.
Knucksie signed for 1984 with the New York Yankees. On August 6, an off-day for the Yankees, the Braves saluted Niekro with a 40-minute pregame ceremony, in which his uniform number 35 was retired, and he was presented with a replica of the statue of himself that the team planned to erect outside the stadium. Ted Turner gave a speech in which he called Niekro "a shining light and influence on all Americans" and "a bright example to every young person and to every person in this whole country and in this whole world of ours."22
By season's end, Phil, at the age of 45, had led the Yankee staff in innings pitched and in wins with 16. The Braves finished under .500 in 1984; their top pitcher, Pascual Perez, won only 14 games; and manager Joe Torre was shown the door at the end of the season.
In 1985, Phil set his sights on repeating his 16-win total from the previous season — that would give him 300. But it wouldn't be easy. He won his 15th game of the season and 299th of his career on September 8, and knew that he had five more scheduled starts. On September 15, the Yankees made a trade with the Houston Astros, and brother Joe joined Phil in the Bronx.
The quest went down to the last game of the season, at Toronto, and Phil took the mound in Toronto, while thinking of his father, seriously ill in a Wheeling hospital. Phil didn't know that Yankees owner George Steinbrenner had hooked up a radio play-by-play of the game on the phone to Phil's mother at the hospital.
Phil decided to do something a little different — no knuckleballs. "Come the ninth inning, we're up 8-0. I had two outs and two strikes on Jeff Burroughs. I thought, 'I can't think of a better way to win 300 than with a knuckleball, what my dad taught me.' The only one I threw the whole ballgame. Jeff struck out and I had my 300th."
"Joe's the first one out to the mound to give me a hug. He says, 'Brother, I've gotta tell you something about Dad.' I'm expecting the worst. We go sit in the dugout and Joe said, 'Dad woke up in the seventh inning, looked at Mom and said, 'Boy, he's pitching a helluva game.' We fly to Pittsburgh the next day, and drive to the hospital to see him. I put that ball in his hand, and he's grinning from ear to ear!"23
With that victory, Phil Niekro became not only the 18th 300-game winner in major-league history, but also the oldest pitcher ever to record a shutout.
After returning home, and with the Braves once again looking for a skipper, Phil fully expected to hear from Ted Turner. "Ted's pledge that I would someday manage his ball club just kept rolling around inside my head," he said.24 The Braves didn't say no; they didn't say anything. Phil never heard from the team, which chose to go with Chuck Tanner.
At this point, Phil turned his attention to working with brother Joe in passing Gaylord and Jim Perry in career victories by two brothers. Joe and Phil stood at 504, the Perrys at 529.
Although the Yankees signed Phil again for the 1986 season, and in spite of a good showing in spring training, he was released on March 28, the club citing his age as the reason.
Phil ended up signing with the Cleveland Indians, and his 11-11 record showed that he still had a little bit left. Joe picked up nine wins with the Yankees, their combined total of 524 still five short of the Perrys.
Another member of the Niekro family also joined the professional baseball family that summer, when the Indians drafted and signed left-handed pitcher Philip Dillmore, son of Phil and Joe's sister Phyllis.
June 1, 1987, turned out to be the magic date, as the Niekros finally passed the Perrys. Phil picked up a 9-6 win over Detroit, to notch victory number 530. Joe said, "I keep telling people that for us 530 wasn't just Phil and Joe, it was a Niekro record. The two of us accomplished it, but not without the strength and support of our family and people behind us."25
Finding themselves hopelessly out of the race, the Indians traded Niekro to the Toronto Blue Jays on August 9. He was back in a pennant race!
Phil knew this would most likely be his final chance to get to the World Series, but the storybook ending wasn't to be. Knucksie started three games for the Blue Jays, losing his first two starts and not making it out of the first inning in his final game. On August 31, Phil was released. "That's the third time I've been released," he said, "so it's nothing new. I just didn't do the kind of job that I'm capable of."26
Writers around the country paid tribute to Niekro, most surmising that his career was over, and lamenting that he never got a shot at the World Series. In Atlanta fans wondered if the Braves might sign Phil, giving him a chance to end his career with his original team. That was exactly the way Knucksie wanted to finish, but he was confused and a bit hurt by some of the negative reception that the idea received in the press.
Discussions with the Braves wavered back and forth for about two weeks, and on September 23 the team finally announced that it had signed Niekro to a $1 contract, and that he would start the final home game of the season.
On Sunday afternoon, September 27, 1987, the Braves unretired number 35, and Phil Niekro took the mound against the first-place San Francisco Giants. Things went well for three innings, but the top of the fourth was not kind to Phil. The Giants scored two runs and loaded the bases before manager Chuck Tanner came out to remove him. Niekro protested, to no avail, but the manager had already decided that he would not let Phil get into a position to lose the game. Tanner and Niekro walked off the field with the Braves holding a 5-2 lead.
Reliever Chuck Cary faced pinch-hitter Candy Maldonado, who homered to deep left-center field, giving the Giants a 6-5 lead. The final score was 15-6.
The next day Niekro said, "I'm not embarrassed by getting beat around. I've done that before. The most important thing was to wear the (Braves) uniform again."27
Phil and Joe finished their careers with a total of 539 wins.
In January 1993 Phil was on the Hall of Fame ballot for the first time, and his chances for election looked good. After all, every other 300-game winner had already been enshrined. When the ballots were counted, Niekro was named on 65.7 percent of the ballots, falling 40 votes short of being elected.
The baseball world was surprised in December 1993 when the Coors Brewing Company announced that it would sponsor an all-women's baseball team, the Colorado Silver Bullets, with Phil Niekro as their manager, and son John and brother Joe as coaches. "Women should have every opportunity to play competitive professional ball," he said. "I think we are going to surprise quite a few people with the ability of these athletes and the caliber of ball they can play."28 Although the team was not a success on the field, it gained respect and recognition for its pioneering achievements. The Silver Bullets played for four seasons before Coors ended its sponsorship.
Phil was finally elected to the Baseball Hall of Fame in 1997, his fifth year of eligibility. He has been one of the more active and visible Hall of Fame members since his enshrinement, serving on the Hall's Board of Directors and as a member of the Veterans Committee. He has also been an ardent participant in the shrine's Hall of Fame Classic weekend, serving as one of the team managers for several seasons.
Niekro was chosen to receive the Lou Gehrig Memorial Award in 1979, and the Roberto Clemente Award for outstanding community service in 1980. He continued to be active in charitable endeavors in the Atlanta area.
Phil and Nancy moved to their retirement home in Flowery Branch, north of Atlanta on Lake Lanier, with their three sons — Philip, John, and Michael — already grown. Phil remained active in baseball, and has become somewhat the "Godfather of the Knuckleball," mentoring such pitchers as Tim Wakefield, Steve Sparks, and R.A. Dickey. He also instructed his nephew, Lance, who gave the knuckler a trial in the minor leagues after spending parts of the 2003-07 seasons as a first baseman with the San Francisco Giants.
"I had a great connection with my family," said Niekro. "My father was a coal miner. He took me fishing and hunting. There was a lot of love in our family. We went to church every Sunday together. I went to play bingo with my mother on Fridays. We did everything as a group. They supported me every step along the way."29
After a long battle with cancer, Niekro died at the age of 81 on December 26, 2020.
Years from now, someone walking through Saint Anthony's Cemetery in Blaine, Ohio, may wonder about the tombstone for Ivy and Phil Niekro Sr., the one with a baseball on the top, inscribed with the number 539. Anyone who knows the story will understand that it was truly a family affair.
Sources

In addition to the sources cited in the Notes, the author also consulted:
Books

Atlanta Braves Media (Press) Guides 1966-2015.
Binette, Wilfrid. Knuckler — The Phil Niekro Story (Atlanta: Hallus, Inc., 1970).
Caruso, Gary. The Braves Encyclopedia (Philadelphia: Temple University Press, 1995).
Shatzkin, Mike. The Ballplayers (New York: Arbor House-William Morrow, 1990).
Thorn, John, Pete Palmer, Michael Gershman, David Pietrusza, and Dan Schlossberg. Total Braves (New York: Penguin Books, 1996).
Van Wieren, Pete, and Jack Wilkinson. Of Mikes and Men (Chicago: Triumph Books, 2010).
Periodicals
Fraley, Gerry. "Niekro Agrees to Start for Braves Against Giants," Atlanta Constitution, September 23, 1987: E-1.
Shaw, Bud. "The Most Important Thing Was to Wear the Uniform Again," Atlanta Journal-Constitution, September 28, 1987: D-1.
Smith, Claire. "Coal Miner's Gift is Treasured by Son." New York Times, January 8, 1997. https://nytimes.com/1997/01/08/sports/coal-miner-s-gift-is-treasured-by-son.html.

Online Sources
homemagazinenorthgeorgia.com (March-April 2012).
YouTube.com – Phil Niekro, during his Induction Day speech at the National Baseball Hall of Fame, Cooperstown, New York (August 3, 1997).
Archival Information
US Census Records — 1910, 1920, 1930, and 1940.
Personal Correspondence
Except where noted, all quotations are from the author's numerous conversations with Phil Niekro between 1987 and 2017.
Notes
1 Staatsarchiv Hamburg. Hamburg Passenger Lists, 1850-1934 [database online]. Provo, Utah: Ancestry.com Operations Inc, 2008.  Jozef Niekra, from Slodkow, Polish Russia, left Hamburg, Germany, bound for the United States, aboard the steamship Albano on August 28, 1901. On the ship's passenger list, Jozef's occupation was given as "arbeiter," which translates as "worker."  Slightly more than a year later, 20-year-old Magdalena "Maggie" Mieszegr left her home in Blinow, Polish Russia, to go live with her brother Michal, near Fairmont, West Virginia, traveling from Bremen, Germany on the SS Brandenberg and arriving in New York on December 21, 1902.
2 "Phil Niekro Sr. Glad He Taught Sons the Knuckler," Daytona Beach Morning Journal, June 17, 1979.
3 Ibid.
4 Ohio Valley Athletic Conference, ovac.org/HallOfFame/Details/49.
5 Bill Madden, "Niekro a Hit at Hall, No Second Banana to Dodgers' Lasorda," New York Daily News, August 4, 1997.
6 National Polish-American Sports Hall of Fame polishsportshof.com/inductees/baseball/phil-niekro/.
7 Jack Wilkinson, Game of My Life — Atlanta Braves (Champaign, Illinois: SportsPublishingLLC.com, 2007), 47.
8 Ibid.
9 Curt Smith, What Baseball Means to Me: A Celebration of Our National Pastime (New York: Grand Central Publishing, 2002), 112.
10 Bob Wolf, "Phenom Foggy on His Name — Dazzler on Hill," The Sporting News, April 25, 1964: 19.
11 Phil and Nancy's marriage license was issued and signed by Thomas Royall Miller, clerk of the Hustings Court in Richmond. Miller had been an outfielder with the 1918-19 Boston Braves.
12 Wilt Browning, "Niekro a Two-Timer," Atlanta Journal, August 9, 1966: 16.
13 Wilkinson, 48.
14 "Phil Niekro, Sr. Glad He Taught Sons the Knuckler."
15 Phil Niekro and Tom Bird, Knuckle Balls (New York: Freundlich Books, 1986), 21.
16 Jesse Outlar, "Niekro Leaving Braves," Atlanta Constitution, October 7, 1983: 12. 
17 Chris Mortensen, "Torre Ordered to Shun Niekro," Atlanta Constitution, October 8, 1983: 1-C.
18 Chris Mortensen, "Niekro Needed Gibson's Faith," Atlanta Journal-Constitution, October 8, 1983: 6-C.
19 "Torre Ordered to Shun Niekro."
20 Associated Press, "Niekro Cleaning Out Locker Today; Brother Joe Blames Joe Torre," Augusta (Georgia) Chronicle, October 7, 1983: 27.
21 Wilkinson, 52.
22 "Atlanta Braves Salute Phil Niekro, Retire Jersey," Gainesville (Florida) Sun, August 7, 1984: 3B.
23 Wilkinson, 56.
24 Niekro and Bird, 190.
25 Phil and Joe Niekro with Ken Picking, The Niekro Files (Chicago: Contemporary Books, 1988), 68.
26 "Phil Niekro Released," New York Times, September 2, 1987.
27 Dave Kindred, "One More Time Was Enough," Atlanta Journal-Constitution, September 28, 1987: D-1.
28 coloradosilverbullets.org/history.html.
29 "Hall of Fame Celebrates 75th Birthday With New Exhibits," MLB.com, June 13, 2014.
Born
April 1, 1939 at Blaine, OH (USA)
Died
December 27, 2020 at Flowery Branch, GA (USA)
If you can help us improve this player's biography, contact us.
https://sabr.org/sites/default/files/niekro.png
600
800
admin
/wp-content/uploads/2020/02/sabr_logo.png
admin
2012-01-04 20:29:40
2022-04-04 13:52:32
Phil Niekro