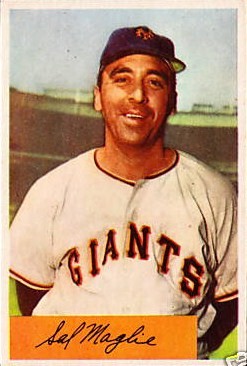 ---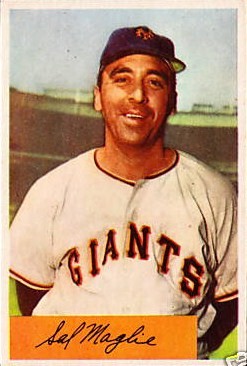 "He scares you to death. He's scowling and gnashing his teeth, and if you try to dig in on him, there goes your Adam's apple. He's gonna win if it kills you and him both." So the Cincinnati Reds' Danny Litwhiler described the unnerving experience of batting against Sal Maglie.
Between 1950 and 1956 Maglie was among the most feared hurlers in baseball. A glowering, 6-foot-2-inch, 180-pound righthander whose game-day face bristled with thick black stubble, he looked capable of killing the opposing batters, and his pitching style confirmed the fears his appearance aroused. His high hard one came in so close to batters' heads that it seemed to shave their chins, gaining him the memorable nickname "Sal the Barber." Although best remembered for his on-field ferocity, Maglie didn't come by his reputation naturally. Off the field he was a gentle, courteous, good-natured man, and it took him a long time to learn his trade.
Salvatore Anthony Maglie was born on April 26, 1917, in Niagara Falls, N.Y., his parents' third and youngest child and only son. His father, Giuseppe Maglie, came from a prosperous family in Italy and had a high school education, but in America his lack of knowledge of English meant he could only hold jobs as a common laborer. Sal's mother, Maria Bleve, was from a peasant background, and never attended a day of school. But she was a woman of determined character, striking good looks, and unusual height — qualities her son inherited. Sal's passion for baseball mystified and angered his parents, and as a child he had to sneak out of the house in order to play. In his early years he was such a poor pitcher that his sandlot teams rarely let him take the mound. Since his high school did not have a baseball team, he went out for basketball, becoming one of the team's stars. Nearby Niagara University offered him a basketball scholarship, but he turned it down, maintaining a stubborn allegiance to baseball, and to pitching in particular.
In his early 20s Sal seemed destined for a life like that of his factory worker friends. He held a job at Union Carbide, one of Niagara Falls' many chemical plants, and pitched for the company team, as well for local semipro teams. He had a tryout with the Rochester Red Wings of the International League in 1937, but after he had thrown only three pitches, whoever was in charge had seen enough. "Next!" he yelled. The following year, Sal joined the Niagara Cataracts, a local team that lasted less than one season. But there he caught the eye of Steve O'Neill, manager of the Buffalo Bisons. O'Neill, a former big-league catcher and the future manager of several major league teams, saw some promise in the young pitcher, and invited him to join his team. Sal spent almost three seasons with the Double-A Bisons, each worse than the previous one. In 1940 he asked to be sent down, so O'Neill placed Maglie with the Jamestown Falcons of the Class D Pony League. In 1941 he moved up to the Elmira Pioneers of the Class A Eastern League, and there Sal finally hit his stride, winning 20 games and achieving an excellent 2.67 ERA. The year 1941 was a busy one for Sal in his personal life as well, as he and his longtime girlfriend Kay Pileggi eloped in March. Their families hurried them into a proper Catholic church wedding two months later.
In 1942, shortly after the beginning of World War II, Maglie failed his pre-induction physical due to a chronic sinus condition. With the manpower shortage in baseball, Sal's mediocre record was sufficient for the New York Giants to snap him up for their Jersey City farm team. He resigned after the 1942 season and returned to Niagara Falls, where he spent the next two years working in a defense plant. In the spring of 1945 Sal returned to the Jersey City Giants, where he compiled another losing record, but with the continuing manpower shortage, in August he was called up to the majors. Although in his two months with the New York Giants in 1945 the 28-year-old rookie compiled a modest 5-4 record, he tossed three shutouts, and believed he might join the Giants' regular rotation in 1946. But other events intervened.
At the end of the 1945 season Giants pitching coach Dolf Luque suggested Maglie join the Cuban Winter League and pitch for Cienfuegos, the team Luque managed. The Cuban-born Luque had enjoyed a successful major league career as a righthander with a reputation as a headhunter. Sal went to Cuba, and there he began a tough, demanding apprenticeship with Luque that would transform him from a marginal wartime hurler into one of the top pitchers of his time.
As the 1946 season opened, major league clubhouses buzzed with the news that two wealthy Mexican brothers, Jorge and Bernardo Pasquel, were offering American players fabulous sums to jump their contracts and play in the Mexican League. Resentful at what he considered dismissive treatment by Giants manager Mel Ott during spring training, and already familiar with Mexican offers from contact with the Pasquels in Cuba, Maglie took the gamble. He left Organized Baseball and played for two seasons (1946 and 1947) in the Mexican League. Commissioner Happy Chandler banned all the "jumpers" from the majors for five years.
During Sal's two seasons with the Puebla Parrots, Dolf Luque was his manager, and the flinty old Cuban molded the mild-mannered Maglie into a pitcher along his own lines. As he absorbed Luque's methods and pitched under varied and often extreme conditions, a very different Sal Maglie emerged — a grim, tough, ruthless competitor unfazed by weather, taunts, or pressure, a pitcher who could bend a curve like a pretzel, or send a batter sprawling with a fastball that grazed his chin.
After 1947 Maglie did not return to the crumbling Mexican League, but he was still banned from the majors. He then joined a barnstorming squad organized by fellow jumper Max Lanier, consisting of other Mexican League refugees, and the group traveled around by bus, taking on local semipro teams. The team failed to bring in enough money to cover expenses, and disbanded in August of 1948. Maglie had no choice but to return home. Back in Niagara Falls, he used money saved from his years in Mexico to purchase a home and a gas station, and tried to resign himself to life as a gas jockey. He was miserable. Invited to pitch in the Provincial League in Quebec, Maglie put in an outstanding season in Canada in 1949, leading the Drummondville Cubs to a championship. During that season, Maglie learned that Chandler had lifted the ban on the Mexican League jumpers, and he would be allowed to return to the New York Giants.
Maglie began his 1950 season with the Giants in the bullpen, working only sporadically, and in daily dread of being sent back to the minors or released. He flubbed his first few starts. But finally, in St. Louis on July 21, Sal pitched the contest that turned his career around. He threw an 11-inning complete game, defeating the Cardinals, 5-4. For the rest of the season Sal pitched brilliantly, finishing an 18-4 record, at one point hurling four straight shutouts and 45 consecutive scoreless innings. In 1951, Maglie enjoyed his most successful year, contributing 23 wins to the Giants' pennant drive. In the famous third playoff game against the Dodgers that the Giants won on Bobby Thomson's home run, Maglie labored eight innings, leaving for a pinch hitter with his team behind 4-1, so it was Larry Jansen — who threw only four pitches in the top of the ninth — who gained the win. In the World Series against the Yankees, Maglie lost Game Four, allowing four runs in five innings, and the Giants fell to the Yankees in six games.
Although Maglie enjoyed another successful season (18-8) in 1952, he began experiencing back trouble that limited his effectiveness. In 1953 his back problems intensified, and he finished with an 8-9 record. Sal was 36, so many assumed he'd reached the end of the line. But he bounced back for another successful season (14-6) in 1954, as the Giants won the world championship, although he again failed to win his World Series start in Game One, although he pitched well, allowing just two runs in seven innings. In the top of the eighth, he allowed two base runners before being removed so that lefthander Don Liddle could face Vic Wertz. The ensuing play. Wertz's blast to deep center field hauled in by Willie Mays, is among the most famous moments in baseball history. It almost certainly saved the Giants, and Maglie, from defeat. The Giants prevailed in ten innings, but Sal did not get the win. Although he had compiled a 9-5 record by the end of July 1955, the Giants sold Maglie to the Cleveland Indians. There, Sal mostly warmed the bench, and even considered retirement, but a development in his personal life decided him against that. After almost 15 years of childless marriage, Sal and his wife had adopted a son, and the boy gave Maglie a new determination to continue his baseball career.
Early in the 1956 season, the Indians sold Sal to his erstwhile archenemies, the Brooklyn Dodgers. In what may be the greatest bargain in baseball history, the Dodgers' astute general manager Buzzie Bavasi out-bargained the Indians' Hank Greenberg and obtained Maglie for a mere $100. During his years with the Giants, Brooklyn had found Sal almost unbeatable, and on more than one occasion his pitching tactics had ignited nasty on-field brawls. Dodger fans, at first horrified to see their team's nemesis in Dodger blue, soon warmed to Sal as the aging hurler won key games that enabled the Dodgers to gain their final Brooklyn pennant. In one of those must-win late season contests Sal tossed a no-hitter; in another he won the game that clinched a tie for the pennant, and he finished with a 13-5 won-lost record. In the World Series against the Yankees, Maglie enjoyed his only Series victory, besting Whitey Ford and the Bronx Bombers, 6-3, in Game One. But in Game Five his opponent was Don Larsen, and Larsen pitched the only perfect game in World Series history. Almost forgotten in the post-game frenzy was the fine game Maglie pitched that day — in eight innings he allowed the Yankees only two runs on five hits.
That famous game proved the final highlight of Maglie's major league career. During a listless 1957 season, as the aging Dodger squad played out its final Brooklyn season before the move to Los Angeles, Maglie was sent to the Yankees, the last player to wear the uniform of all three New York teams. At age 41 he pitched well for both Brooklyn and New York, finishing 8-6, with a 2.59 ERA, and a shutout for each team. Nonetheless, in 1958 the Yankees passed him on to the St. Louis Cardinals, where Maglie stumbled to a 3-7 record in his final major league season. When spring training ended in 1959, the Cards handed Sal his unconditional release. In an effort to give Maglie ten years in the majors and make him eligible for a pension, the Cards came up with a combination minor league coaching and scouting position for him for 1959, but Sal disliked the job, and did not renew his contact for the next year.
Instead, Maglie opened a new chapter in his baseball life on October 20, 1960, when he accepted the post of pitching coach for the Boston Red Sox. The Red Sox teams of the early 1960s were poor-playing squads, and Maglie's efforts to mold a winning pitching staff mostly went to waste. But not entirely. In 1961 righthander Bill Monbouquette set a team record with 17 strikeouts in a single game, and he gave much of the credit for his achievement to Maglie. "I wasn't afraid to throw the ball inside and back you off the plate. If you didn't like it, it might be worse than backing you off," Monbo said, sounding The Barber's intimidating note. "Sal talked about stuff like 'move this guy off the plate, move his feet, move his legs,' and oh, he did preach: 'throw that ball inside!' And he didn't mean pitch to get a strike on the inside corner. He meant you've got to set that hitter up with a pitch way inside!"
In 1962, in an achievement almost unheard of for a second division squad, two Boston pitchers tossed no-hitters: Bill Monbouquette and Earl Wilson, and both credited Maglie for the marked improvement in their pitching performances. In addition, Dick Radatz emerged as the team's ace reliever. As Sal watched the jumbo-size hurler work during spring training, he noticed that Radatz was not taking full advantage of his impressive bulk to get the maximum speed on his fastball. "He taught me how to use the lower part of my body," Radatz related. "He told me, 'You know, Dick, you're a big, tall guy, and you're strong, but you're not using your legs to drive off the mound, to get more velocity on your fastball.' That probably put four or five miles an hour more on my fastball. I think he was a fine pitching coach. What he taught me helped me for the rest of my career. Without that, I don't think I'd have been the pitcher I was."
But coaching success is no guarantee of continued employment, as Maglie learned at the end of the 1962 season, when he fell victim to managerial changes. The new manager, former Sox star Johnny Pesky, wanted to name his own coaching staff, and Maglie was let go. The dismissal couldn't have come at a worse time. In early 1963 the Maglies adopted a second child. They'd scarcely settled down with their new son when a blow far worse than Sal's job loss fell on them: Kay Maglie, who had undergone cancer surgery in 1958, suffered a recurrence, and this time it was inoperable. For the next three years Sal remained at home with his ailing wife, supporting himself and his family through speaking engagements, the businesses in which he had invested in Niagara Falls, and his small pension. Although the Sox invited Maglie to rejoin their coaching staff in 1965, he couldn't, because he'd accepted a post with the New York State Athletic Commission. But the following year, with Boston's offer still open, the lure of baseball proved too strong, and he returned to the Red Sox for the 1966 season. In September of that year, the Boston front office announced the signing of Dick Williams as the team's manager for 1967.
Boston's season of "The Impossible Dream" proved a nightmare for Sal Maglie. In late February, Kay Maglie died, leaving Sal a 49-year-old widower with two young children. From the start he did not get along with Dick Williams, who had wanted to hire his own pitching coach, but couldn't, because Maglie had signed a two-year contract in 1966. As one of the most exciting seasons in Red Sox history unfolded, Maglie's unhappiness deepened. He felt slighted and ignored by Williams. The one bright spot for him was the emergence of 25-year-old righthander Jim Lonborg as the ace of the staff. Like Monbouquette, Wilson, and Radatz, Lonborg credits much of his success to Maglie's coaching. "I needed to do something that would not allow hitters to stand in and wait for certain pitches," Lonborg recalled. "That's where he taught me the importance of the brushback pitch. He said you had to be able to throw very hard inside, and create intimidation, because the more you threw inside, the farther away the outside part of the plate looked to the batter."
Despite whatever contribution Maglie made in 1967, the day after the Series ended, Dick Williams fired him. A couple of weeks later, a bitterly angry Maglie exploded to a sympathetic Boston reporter. "Dick Williams gave me the biggest disappointment I ever got in baseball," he declared, referring both to his firing and the way it was carried out. "Williams inked a three-year contract and then had me fired. … He should have done it like a man. …Williams never even had the courage or decency to tell me himself that I was fired. …I've kept quiet long enough. …I don't like being stepped on." Bobby Doerr suggested that Maglie was too independent for Williams' taste. "Williams was a real organized type," Doerr recalled. "He wanted to know exactly when guys were going to pitch; he wanted a chart of all that. Sal never gave Williams the charts. Sal knew the stuff, but he had it in his head."
Sal benefitted from league expansion in the late '60s. In 1968 he was hired as a scout and pitching coach for the Seattle Pilots, set to begin play in 1969. Maglie spent 1968 coaching for the affiliated Newark (N.Y.) Co-Pilots, and when the Seattle franchise began play in 1969, Maglie joined the team as its pitching coach. The Pilots lasted only that one season before declaring bankruptcy and being relocated to Milwaukee, where they became the Brewers. Sal subsequently struggled to figure out what to do with the rest of a life that had been devoted almost entirely to baseball. He held a variety of jobs. His last baseball-related position was in 1970, when he served as general manager of the minor league Niagara Falls Pirates. He was a salesman for a wholesale liquor distributor, and later membership coordinator for the Niagara Falls Convention Bureau, before retiring in 1979, at the age of 62.
In 1971 Sal remarried, a satisfying union shadowed only by the severe emotional problems his older son had developed in the wake of Kay Maglie's death. Sal Jr. suffered a long downward spiral into depression, drugs, and alcohol, becoming a source of deep anguish for his adoptive father. Despite that worry, Sal enjoyed a few years of leisure, playing golf and socializing with friends, as well as attending card shows and old timers games. His good health ended abruptly in 1982, when he suffered a brain aneurysm and nearly died. After making a remarkable recovery, Sal enjoyed several more good years. But then in March 1985 Sal's troubled older son died. After that, Sal's physical and mental health declined rapidly, and he was placed in a nursing home in 1987, where he survived another five years. He died on December 28, 1992, at the age of 75.
The big New York newspapers that had reported on his games decades earlier all ran lengthy obituaries, but Bill Madden, writing in the Daily News, best summed up Maglie's career. He noted that Sal would never be elected to the Hall of Fame, unless "there's a Hall of Fame just for pitchers whom you wanted to have the ball in a game you had to win."
An updated version of this biography appeared in "The Team That Time Won't Forget: The 1951 New York Giants" (SABR, 2015), edited by Bill Nowlin and C. Paul Rogers III. It originally appeared in "The 1967 Impossible Dream Red Sox: Pandemonium on the Field" (Rounder Books, 2007), edited by Bill Nowlin and Dan Desrochers.
Sources
This biography, summarized from my full-length bio (Sal Maglie. Baseball's Demon Barber, Northern Illinois University Press, 2007), is based on archival documents, books, magazine articles, newspaper reports, and interviews, as well as on recorded accounts of games and film clips of Maglie in action. I consulted archives in Italy to find information on Maglie's Italian immigrant parents. I read books about 1950s baseball, along with biographies and autobiographies of players, managers and team officials from that era, as well as articles from general sports magazines, baseball magazines, and popular periodicals of the 1950s. For reports on individual games, I consulted microfilms of the major New York and Brooklyn daily newspapers, as well as on occasion, the dailies of other cities. I interviewed members of the Maglie family, Sal's surviving friends, and many of his former teammates, as well as sportswriters and team officials from the years when Maglie was either a player or a coach. I listened to recordings of the famous games in which Maglie took part: the 1951 third playoff game, the opening game of the 1954 World Series, and Don Larsen's perfect game in the 1956 World Series. I also watched film clips of Maglie pitching, in particular a relatively long fragment of a game in 1957, when Maglie was with the Yankees.
Photo Credit
The Topps Company
Full Name
Salvatore Anthony Maglie http://dev.sabr.org/?p=61695
Born
April 26, 1917 at Niagara Falls, NY (USA)
Died
December 28, 1992 at Niagara Falls, NY (USA)
If you can help us improve this player's biography, contact us.
http://bioproj.sabr.org/bp_ftp/images2/MaglieSal.jpg
600
800
admin
/wp-content/uploads/2020/02/sabr_logo.png
admin
2012-01-04 19:49:05
2012-01-04 19:49:05
Sal Maglie