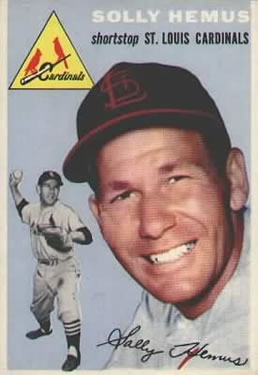 ---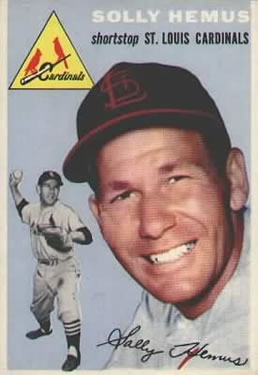 Pepper pot. Bulldog. Firebrand. Scrapper. Solly Hemus answered to all those descriptions in 11 years as a major-league player and 2½ as a manager.
Also: racist. Two future stars he disdained and disrespected, Bob Gibson and Curt Flood, branded him a bigot. "Hemus acted as if I smelled bad," Flood wrote.1
"Solly was a hell-bent-for-leather, fiery ballplayer with limited talent," said Cardinals general manager Bing Devine.2 The left-handed batting infielder's greatest skill was putting his body in the path of pitches; he led the National League three times. Noisy and combative on the field, he was personable and funny outside the lines and a prolific writer of thank-you notes. One note got him the job as Cardinals manager.
Solomon Joseph Hemus was born in Phoenix on April 17, 1923, the third of five children of Benjamin and Emilie Hemus. He said some people assumed he was Jewish because of his given name, but he was raised Catholic. One sportswriter, thinking he was talking to a fellow Jew, was shocked when Hemus mentioned his sister, the nun.3
The family moved to San Diego when Solly was a toddler. He recalled growing up in a poor neighborhood where white, black, and Mexican kids played together and fought each other.4 He played baseball at St. Augustine and San Diego high schools, but the 5-foot-9 second baseman attracted no attention from professional scouts. After graduation in 1941, he enlisted in the Navy. His mother had to go with him to the recruiting station because he was a minor.
Hemus served for four years during World War II as an aviation ordnanceman, the sailor who arms the planes on aircraft carriers. While in the service he married Marguerite Maguire. After he was discharged in November 1945, the Brooklyn Dodgers signed him, but he didn't make it out of spring training. He argued with his manager and was released. Hooking on with the Cardinals organization, he posted a .363 batting average at Class-C Pocatello, Idaho, in his first season. That won him a promotion all the way to Double-A Houston in 1947.
In three seasons in Houston, Hemus established himself as a promising prospect. When shortstop Marty Marion got hurt in August 1949, the Cardinals called up Hemus and put him at second base, with Red Schoendienst moving to short. Hemus batted .333/.450/.364 in 20 games. He stuck with the team the next spring as a backup infielder, but was sent down to Triple A on July 1.
Marion took over as manager in 1951, but the Cards' Mr. Shortstop couldn't play because of a bad knee. Hemus asked for a shot at the job and won it — by default. Marion's explanation was a backhanded compliment: "he's the best shortstop I have right now."5 Hemus's arm was weak and his range questionable. The club acquired veteran shortstop Stan Rojek, but he got hurt so Hemus started 105 games. Installed as the leadoff hitter, he turned in an outstanding rookie year at the plate, batting .281/.395/.381. St. Louis writer Bob Broeg nicknamed him "Mighty Mouse." Marion commented that Hemus had been better "than we had a right to expect."6
Despite a third-place finish, Marion was fired because of differences with owner Fred Saigh, and Hemus met his baseball soul mate in 1952. New manager Eddie Stanky was a pugnacious 5-foot-8 second baseman reviled as "the Brat." Branch Rickey famously said, "He can't run, he can't hit, and he can't throw, all he can do is beat you."7
The two overachievers became a mutual admiration society. Stanky said Hemus "plays every game like a school kid on the first day of summer vacation."8 Hemus modeled himself after the manager, heckling opponents, battling umpires, working bases on balls, and wearing a baggy uniform to make it easier to get hit by a pitch. He was hit 20 times, believed to be a National League record at the time.9 Cardinals superstar Stan Musial gave him a thin-handled bat, and he found a power stroke for 15 home runs, compared with just two the year before. Batting leadoff, he topped the league with 105 runs scored and hit .268/.392/.425 with 96 walks.
After the season Stanky acknowledged Hemus's defensive limitations. "I don't know where he'll play if he doesn't play shortstop," the manager said, "but we'll find a place for him."10 Hemus was back at short in 1953, scoring 110 runs with a .279/.382/.443 batting line. But he led the league with 27 errors.
The Cardinals rose to a tie for third place, trailing a distant 22 games behind the pennant-winning Dodgers. "You can't win pennants with Bilkos, Hemuses and Jablonskis," St. Louis Post-Dispatch sports editor J. Roy Stockton wrote, "and one must regret saying that, because there's not a better competitor in the game than little Solly Hemus."11 Steve Bilko was the strikeout-prone first baseman, Ray Jablonski the defensively suspect third baseman.
The front office agreed with Stockton. In December the club's new owner, August A. Busch Jr., paid the Cincinnati Redlegs a reported $100,000 for Alex Grammas, a highly touted Triple-A shortstop. While manager Stanky called himself a "Hemus man," he added, "[F]rom all I've heard about Alex, he's going to be hard to keep out of the lineup."12 Stanky knew better than to put up a fight for his protégé; Busch hadn't paid $100,000 for Grammas to be a benchwarmer.
Cardinals pitchers were relieved. "This is no reflection on Solly Hemus, a scrapper," said veteran Gerry Staley, "but he can't move up to big league standards at shortstop."13 For the next two years, Hemus became an infield handyman and pinch-hitter, with fewer than 300 plate appearances each season. In May 1956 St. Louis traded the 33-year-old to Philadelphia for another utility man, Bobby Morgan.
Hemus was stuck in the same role during his three seasons with the Phillies, unable to break into the everyday lineup on a losing club. He was a valuable pinch-hitter because of his ability to draw walks. He compiled a .352 on-base percentage, offsetting a .176 batting average in 205 career pinch appearances.14
Following a fifth-place finish in 1958, the Cardinals fired their latest manager, Fred Hutchinson. General manager Devine planned to promote Johnny Keane, a longtime manager in the farm system, but owner Busch had another candidate. When Hemus was traded away from St. Louis in 1956, he had written a fawning letter to Busch praising the organization and expressing his desire to return someday. "I thought maybe I could go back as a coach, maybe manage in the minor leagues, something," Hemus explained later.15 Instead, Busch offered him the big-league job as a player-manager.
Managing had long been Hemus's goal. Throughout his playing days he filled a black book with notes and peppered his managers and coaches with questions. "I have a lot of ideas about managing," he said, "and I've written them all down."16 At 35, he thought he was ready. He proved that he wasn't.
Practically everyone who crossed paths with Hemus during his 2½ years as Cardinals manager gave him a failing grade. "Solly was easily despised," pitcher Jim Brosnan said. "I thought he could have been a very good manager because of his knowledge, but he simply did not know how to handle different types of people."17 He not only criticized players in front of their teammates, he couldn't let go, continuing his harangues after the game when others were ready to move on. Stan Musial, who seldom said a bad word about anyone, thought Hemus lost respect because he tried to be Mr. Tough Guy one day and Mr. Nice Guy the next.18
It wasn't all his fault. He suffered by comparison with Hutchinson, a commanding figure. The general manager didn't want Hemus, and two of the coaches, Keane and Harry Walker, coveted his job. Devine traded Wally Moon, a fine hustling outfielder who had had an off-year because of injury, to the Dodgers for Gino Cimoli. Devine also swapped the team's best pitcher, Sam Jones, to San Francisco for Bill White, an outstanding ballplayer but the fourth left-handed first baseman on the Cardinals' roster. Since the 38-year-old Musial was playing first to save his legs, White and Joe Cunningham had to pretend to be outfielders. (The other first baseman, George Crowe, served as a pinch-hitter.)
The Cardinals lost their first three games of 1959 and settled into last place. The panicky freshman manager began shuffling the lineup, even dropping the slumping Musial from his customary third spot in the order to sixth and eventually benching the legend. When center fielder Flood started slowly, Hemus banished him to late-inning defense. Rookie right-hander Gibson was shipped back to the minors after just three ugly relief appearances.
Most damaging to Hemus's reputation in the long run, he alienated the team's black players before the season was a month old. On May 3 he put himself into the lineup and stuck his leg in front of a pitch from Pittsburgh's Bennie Daniels. As he ran to first base, he shouted at Daniels, "You black bastard." Hemus said he was trying to fire up the club. Later in the game Daniels threw another pitch close to him, and Hemus flung his bat toward the pitcher, igniting a brawl.19
"Until then, we had detested Hemus for not using his best lineup," Flood wrote in his autobiography. "Now we hated him for himself."20 Flood and Gibson, who rejoined the club in July, were young players, not yet established. "Either he disliked us deeply or he genuinely believed that the way to motivate us was with insults," Gibson said.21 Roommates and friends, they fed each other's rage. Flood batted .255 as a part-timer; Gibson was wild and got only nine starts despite a 3.33 ERA.
Gibson finally had enough and decided to quit. He was packing his gear when coach Harry Walker advised him not to worry about the manager: "He'll be gone long before you will."22
Hemus might have been gone after his first year if not for Musial. The Cardinals never reached .500 and wound up in seventh place at 71-83. Owner Busch asked Musial if the manager should be fired. Despite their differences, Musial said Hemus deserved another chance. He believed inexperience was Hemus's biggest problem.23
The club made a dramatic turnaround in 1960, even though the lineup juggling and turmoil continued. Early in the season Musial found himself consigned to the bench. "Apparently Hemus was convinced I was through," he said. He planned to announce his retirement at the All-Star break, but injuries forced Hemus to put him back into the lineup, and he delivered some key hits.24
St. Louis rode a patchwork pitching staff to a third-place finish with an 86-68 record. The Cardinals got hot in the second half after young right-hander Ernie Broglio was moved into the starting rotation. His 148 adjusted ERA was the league's best as he finished 21-9. Lindy McDaniel led a strong bullpen corps with 27 saves and 12 victories. The Cardinals spent most of August and September in second place, although they never seriously challenged the Pirates for the pennant.
Success didn't improve Hemus's relations with black players. Gibson was again demoted to the minors for a month and chalked up a 5.61 ERA. "Hemus had convinced me that I wasn't any damn good and, consequently, I wasn't," he said in his memoir.25 Flood, so demoralized he couldn't sleep, got more playing time but hit only .237.
Several years after he left the Cardinals, Hemus wrote Flood a letter: "If I ever missed on evaluating a ballplayer it was you, and I admire you for all your determination, guts and pride in your work. You are not only one of the finest outfielders I have ever seen play, but you are a gentleman, and I admire you for this." Flood hadn't forgotten or forgiven. "I don't usually save letters," he wrote, "but I could not part with that one. Every time I look at it, I get sore."26
Hemus tried to make peace with Gibson at a team reunion decades later. He insisted that he had been attempting to light a fire under the young players, but not because he was racist. "My response was, Bullshit," Gibson said.27
Hemus didn't last another year. With the club sinking in the standings in mid-1961 and fans booing the manager every time he stuck his face out of the dugout, Devine persuaded Busch to make a change. St. Louis stood at 33-41 on July 5 when Hemus was fired. "I liked Solly," Devine said. "The only thing was that Solly was his own worst enemy."28
Devine got the manager he wanted, Johnny Keane, and the Cardinals took off. Keane put Musial back in the lineup, Gibson in the starting rotation, and Flood in center field. The club rose to second place, sprinting to a 47-33 record under the new manager.
Although he was only 38, Hemus never managed in the majors again. He coached for the Mets under Casey Stengel for two years and moved on to the Indians for two more. After managing the Mets' Triple-A team at Jacksonville in 1966, he left baseball.
Hemus prospered as a Texas oil wildcatter. He became a popular figure in sports and business circles in his adopted hometown, Houston, with his big cigars and colorful blazers, and was a generous supporter of the Baseball Assistance Team, which provided financial aid to needy former players and their families.
Solly and Marguerite divorced in 1959; they had a daughter, Peggy. In 1989 he married Betty Thomas, and they became world travelers in retirement. Hemus died at 94 on October 2, 2017.
Late in his life he told author David Halberstam that he had grown up and started in baseball in an era when ethnic insults were common, and had failed to keep up with changing times. He always thought of himself as the underdog: "If you can't hit, you can't run, and you can't throw, you've got to holler at them."29
Acknowledgments
Photo credit: Topps Company. For further understanding of Hemus's relations with black players, I consulted Mark Armour's presentation, "What About Solly Hemus?" at the 2013 SABR convention: https://sabr.org/convention/sabr43-presentations. This biography was reviewed by Jan Finkel and fact-checked by David Kritzler.
Notes
1 Curt Flood with Richard Carter, The Way It Is (New York: Trident, 1971), 51.
2 Peter Golenbock, The Spirit of St. Louis (New York: Harper & Brothers, 2000), 432.
3 Jack Rice, "Hemus Slow on Field, but Thinks Fast," The Sporting News, October 1, 1958: 6.
4 David Halberstam, October 1964 (New York: Villard, 1994), 110.
5 Ray Gillespie, "Redbirds Rookies Get Their Chance to Chirp Under Marty," The Sporting News, April 25, 1951: 10.
6 Bob Broeg, "Old Master Marty Lauds Hemus for Hustle and Hitting at Short," The Sporting News, September 12, 1951: 9.
7 Lee Lowenfish, Branch Rickey (Lincoln: University of Nebraska Press, 2007), 398.
8 Broeg, "Sports Comment," St. Louis Post-Dispatch, September 28, 1958: 5-1
9 The HBP record belongs to Hughie Jennings, who was hit 51 times in 1896.
10 J. Roy Stockton, "'Somebody May Crowd Out Hemus at Shortstop, But Not Out of Game' — Stanky," Post-Dispatch, February 24, 1953: 14.
11 Stockton, "Extra Innings," Post-Dispatch, October 25, 1953: 1D.
12 Broeg, "Cardinals Buy Shortstop Alex Grammas, 'Best Since Marion,'" Post-Dispatch, December 2, 1953: 8D.
13 Broeg, "Increased Weight, Prospect of Tighter Infield Could Help Him Win 20 Games, Staley Says," Post-Dispatch, February 10, 1954: 17.
14 The outcome of three pinch-hit appearances could not be determined because play-by-play accounts were not available at Retrosheet.org. and baseball-reference.com. On those occasions Hemus entered the game as a pinch-hitter and stayed in to get additional at-bats.
15 George Vecsey, Stan Musial: An American Life (ESPN, 2011), location 4216.
16 Allen Lewis, "Hemus Nears End, Wants Managerial Position," Philadelphia Inquirer, August 18, 1957: 4S.
17 Golenbock, 423.
18 Stan Musial, as told to Bob Broeg, The Man's Own Story (Garden City, New York: Doubleday, 1964), 262.
19 Jim Brosnan, The Long Season (New York: Harper & Row, 1960), 115. Of the many accounts of this incident, Brosnan's is the most credible. He witnessed it and wrote about it contemporaneously in his diary of the 1959 season. The game was Hemus's only start of the year. He retired as an active player in June.
20 Flood, 54.
21 Bob Gibson with Lonnie Wheeler, Stranger to the Game (New York: Penguin, 1994), 52.
22 Ibid., 63.
23 Golenbock, 432.
24 Musial, 213.
25 Gibson, 53.
26 Flood, 56.
27 Gibson, 53.
28 Golenbock, 443.
29 Halberstam, 106.
Born
April 17, 1923 at Phoenix, AZ (USA)
Died
October 2, 2017 at Houston, TX (US)
If you can help us improve this player's biography, contact us.
https://sabr.org/sites/default/files/HemusSolly.jpg
600
800
admin
/wp-content/uploads/2020/02/sabr_logo.png
admin
2018-11-14 13:06:21
2020-04-09 14:38:39
Solly Hemus