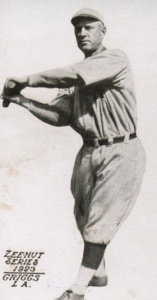 ---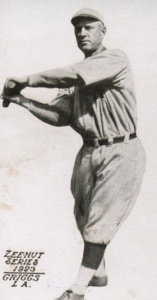 Twenty-one-year-old Mickey Mantle received the Art Griggs Memorial Award in 1953, as "the Oklahoma baseball player who has brought the state the most distinction with his past year's performance."1 Mantle may have wondered who was Art Griggs. A natural hitter, Griggs distinguished himself in the minor leagues as a slugging first baseman, and as an owner and manager. His career in professional baseball spanned more than 30 years, including parts of seven major-league seasons. He played for or managed teams in 13 states and Canada, an odyssey that began in Kansas and ended in Oklahoma.
Arthur Carle Griggs was born in Topeka on December 10, 1883, the third of four children born to Phineas Wellington Griggs and Annette (Carle) Griggs.2 P.W. Griggs was a storekeeper in Topeka who sold hardware, buggies, and wagons.3
After graduating from Topeka High School, Arthur bounced from college to college. He played baseball at the Topeka Business College and football at the University of Kansas in 1903; baseball at Washburn College in 1904; and football at Western University of Pennsylvania (now known as the University of Pittsburgh) in 1905.4 In the summers of 1904 and 1905, Griggs was a member of the Ellsworth, KS, baseball team.5 He pitched a one-hitter on August 7, 1905, in Ellsworth's 15-0 rout of Hutchinson, KS.6 His unofficial 1905 batting average was "close to the .400 mark."7
Griggs's venture into professional baseball went awry in 1906. As a pitcher, he failed to impress and lasted only two games with the Little Rock Travelers and eleven games with the Lake Charles (LA) Creoles. He finished the season with the Blue Rapids, KS, team, earning $125 per month.8 Hitting, not pitching, would be his meal ticket.
Over the next two seasons, Griggs shined in the Texas League with the Shreveport Pirates and San Antonio Bronchos. As a second baseman in 1908, he helped the Bronchos win the pennant, and his .302 batting average ranked third in the league.9 "There is not a player in Texas state baseball who can be compared with Art in all-around ability," said the San Antonio Light.10 He was drafted by the St. Louis Browns of the American League in September 1908.
At 5-feet-11 and 185 pounds, Griggs was "a big man" but quick on his feet.11 He was a right-handed batter and thrower, with a strong throwing arm. "Griggs is the most promising man I have seen in many years," said Browns manager Jimmy McAleer at spring training in 1909.12 After St. Louis veterans George Stone and Danny Hoffman were injured in May, Griggs received regular playing time and flourished.13
On July 1, Griggs went 3-for-4 with two doubles and knocked in both runs in the Browns' 2-0 triumph over the Chicago White Sox.14 Four days later, in the ninth inning against the Detroit Tigers, he made a spectacular shoestring catch of Ty Cobb's line drive in left field to preserve a 3-1 St. Louis victory.15 In the second game of a doubleheader on July 8, Griggs laced a ninth-inning, walk-off single to beat the White Sox.16 On September 12, he went 6-for-7 in a doubleheader versus the Tigers, with four runs scored and four stolen bases.17
Griggs played mostly first base and the outfield during his rookie season and batted .280. His style was graceful, athletic and nonchalant, reminding some observers of the great Nap Lajoie, while detractors felt he lacked "ginger" in his play.18 He was inherently soft-spoken and laid back.
On Opening Day, April 14, 1910, Griggs played second base against the White Sox; his "magnificent catch of [Lena] Blackburne's sizzling liner was as fine a piece of fielding as has ever been pulled off on the Chicago American League grounds."19 On May 4, with President William Howard Taft in attendance, Griggs smacked three hits off 43-year-old Cy Young of the Cleveland Naps in a 14-inning, 3-3 tie.20 Griggs made three putouts, 11 assists, and no errors at second base that day.
His sophomore season, though, was a disappointment. His batting average fell to .236 as pitchers discovered his weaknesses. The Browns traded him to Cleveland in the offseason. Capable in the infield and outfield, Griggs was earmarked as a utility man on the Naps. Tigers manager Hughie Jennings tried to acquire him. "I do not know of anyone that can hit left-handed pitchers any better than Griggs," said Jennings.21
Against the Boston Red Sox on May 9, 1911, Griggs drove a pitch from lefty Ed Karger over the head of center fielder Tris Speaker. He scored an inside-the-park home run but hurt his back on the play, an injury that bothered him for the rest of the season.22 He was used sparingly by the Naps and demoted in August to the Toledo Mud Hens of the American Association.23
With renewed health, Griggs knocked in the winning run for Toledo in the season opener against the Milwaukee Brewers on April 10, 1912. On May 9 he homered off Rube Waddell of the Minneapolis Millers.24 The Naps recalled Griggs and gave him regular playing time at first base. Shoeless Joe Jackson batted third in the Cleveland lineup; Nap Lajoie, for whom the team was nicknamed, was the cleanup hitter; and Griggs batted fifth. Their batting averages through games of August 15 were: Jackson, .387; Lajoie, .318; and Griggs, .313.25 "When a pitcher disposes of this trio he has reason to feel elated," said Sporting Life.26 Boston ace Smoky Joe Wood compiled a 34-5 record in 1912, but on August 6 Griggs went 4-for-5 against him.27
Griggs's career appeared to be back on track, but he sprained an ankle and was replaced in the lineup by rookie Doc Johnston.28 Cleveland manager Joe Birmingham was impressed with Johnston and decided that Griggs was expendable. "Johnston's aggressiveness and pepper compared with Griggs' unfortunate lack of fighting spirit was a big thing in Doc's favor," said Sporting Life.29 In the offseason the Naps sold Griggs to the Montreal Royals of the International League.30 He batted .292 as a Royal in 1913, but he fractured an ankle while sliding into third base on June 23 and missed the remainder of the season.31
In 1914 Griggs joined the Brooklyn Tip-Tops of the Federal League and was used as a pinch-hitter and first baseman. Against the Chicago Federals on July 24, he pinch-hit in the bottom of the ninth inning and drove in the winning run with a line drive off the leg of pitcher Doc Watson.32 He went 8-for-14 in three consecutive games July 29-30 against the St. Louis Terriers, and on August 3, he slugged a three-run homer ("a herculean wallop"33) off George Kaiserling of the Indianapolis Hoosiers. But Griggs suffered season-ending injuries in St. Louis on August 15, while playing first base: "[Delos] Drake, while beating out an infield hit, crashed into him, both falling. Griggs sustained a wrenched ankle and his left shoulder and elbow were dislocated."34 The next year he was given a bench role on the Tip-Tops and scant playing time.
The Federal League folded after the 1915 season. Griggs traveled to southern California, looking to continue his baseball career. On November 21, 1915, he homered for the San Bernardino Merchants in a 6-1 victory over Rube Foster's Chicago American Giants.35 Foster's team of Negro stars included future Hall of Famers Pete Hill, Pop Lloyd, and Cyclone Joe Williams. In December Griggs made 11 hits in two games for the Kleen Maid team of Los Angeles.36
Under the rules of Organized Baseball, Griggs still belonged to the Montreal Royals. Eddie Maier, owner of the Vernon Tigers of the Pacific Coast League, wanted Griggs so much that he was willing to trade six players to Montreal for him; the Royals accepted three and the deal was made.37 Griggs played right field and batted .275 for Vernon in 1916. In July 1917, he was transferred to the Portland Beavers of the PCL. Against the Salt Lake City Bees on September 8, 1917, Griggs went 3-for-6 with two home runs and seven RBIs, including a grand slam.38 His .313 batting average in 1917 ranked sixth in the league.39
The Portland franchise was moved to Sacramento after the 1917 season.40 Griggs played first base for the Sacramento Senators and led the PCL with a .378 batting average in 1918. The San Francisco Chronicle called him "the king of the league."41 After the PCL season ended, he played first base and batted .364 for the Detroit Tigers, managed by Hughie Jennings, during the final month of the 1918 major-league season. On the final day of the season, Griggs went 7-for-9 with five doubles and six RBIs in Detroit's doubleheader sweep of the White Sox. Despite the barrage, those were his last major-league games. The Tigers viewed him as a temporary fill-in while Harry Heilmann, who had become their regular first baseman, completed his military service during World War I.
In 1919 Griggs returned to the Sacramento Senators and batted .288. The St. Louis Cardinals acquired him in February 1920, and immediately traded him to the Los Angeles Angels of the PCL.42 From 1920 to 1923, he played first base and batted .317 for the Angels. The 1921 Angels won the pennant with an "old" lineup: 41-year-old Sam Crawford; 38-year-old Oscar Stanage; 37-year-old Griggs, Tom Hughes, and Bert Niehoff; and 36-year-old playing manager, Red Killefer. Griggs had seven consecutive hits in the Angels' doubleheader sweep of the Oakland Oaks on July 30, 1922.43 In May 1923, he hit five home runs in an eight-game series versus the San Francisco Seals.44
Griggs was acquired by the Omaha Buffaloes in February 1924.45 As Omaha's playing manager, he led the team to the 1924 Western League pennant. In 1925, at age 41, he slugged a career-high 28 home runs for the Buffaloes. The following season, his last as a player, he hit .346 for the Seattle Indians of the PCL.
In 1927 Griggs became co-owner and president of the Western League's Wichita KS Larks, renamed the Wichita Aviators in 1928.46 He also managed the team from 1928 to 1931. On May 2, 1930, the Des Moines Demons defeated the Aviators, 13-6, in Des Moines; it was the first night game "played under permanent lights" in professional baseball history.47 This innovation drew the crowds that minor-league teams needed to survive the Great Depression.
Under Griggs's leadership, the Aviators won the 1930 Western League pennant. His 1931 team won the first half of a split season and faced Des Moines, the winner of the second half, in a postseason series. The Demons won the series, 4 games to 2. All games of the series were played in Des Moines "because of poor attendance at Wichita home games" during the regular season.48 The poor attendance forced Griggs to move his franchise to Tulsa, Oklahoma, in 1932.
Griggs found and developed many future major leaguers. His greatest find was Arky Vaughan, whom he plucked off the sandlots of southern California. As a 19-year-old shortstop on the 1931 Aviators, Vaughan batted .338 and led the league with 145 runs scored.49 He went on to a Hall of Fame career with the Pittsburgh Pirates and Brooklyn Dodgers.
Griggs's Tulsa Oilers won the 1932 Western League pennant by a whopping 15-game margin over the second-place Denver Bears.50 The next year his team joined the Texas League, and in 1936, the Oilers won the Texas League pennant, 28 years after the San Antonio Bronchos had won the Texas League pennant with Griggs at second base.
Griggs married Marguerite Neugebauer of Kansas in 1913, and their only child, daughter Joan, was born in 1929.51 Marguerite died in 1936.52 Griggs, stricken with Hodgkin's lymphoma, a cancer of the lymph glands, died in Los Angeles on December 19, 1938, at the age of 55.53 "Scores of ballplayers" attended his funeral.54 In 1940 he was inducted into the Kansas Baseball Hall of Fame.55 The Chicago Cubs purchased his stake in the Tulsa Oilers in 1941, and the money was placed into a trust for Joan.56
The Art Griggs Memorial Award commemorated Griggs's contribution to Oklahoma baseball. Oklahomans receiving the award include Harry Brecheen (1947), Allie Reynolds (1948, 1950-1952), Dale Mitchell (1949), Mickey Mantle (1953, 1956, 1957), Warren Spahn (1954, 1955, 1964), Ralph Terry (1963), and Don Demeter (1965). The award reappeared in Kansas in 1969, when Senator Bob Dole presented it to Kansan Ken Berry of the Chicago White Sox.57 Griggs was gone but not forgotten.
Notes
Born
December 10, 1883 at Topeka, KS (USA)
Died
December 19, 1938 at Los Angeles, CA (USA)
If you can help us improve this player's biography, contact us.
http://sabr.org/sites/default/files/GriggsArt.preview.jpg
600
800
admin
/wp-content/uploads/2020/02/sabr_logo.png
admin
2012-01-04 20:00:45
2012-01-04 20:00:45
Art Griggs