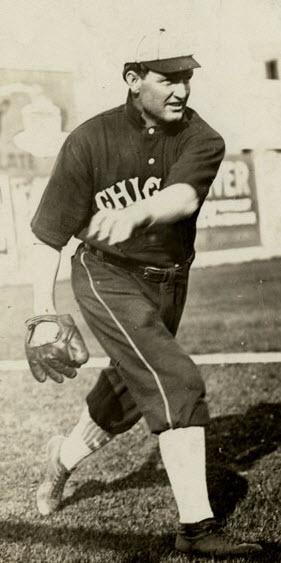 ---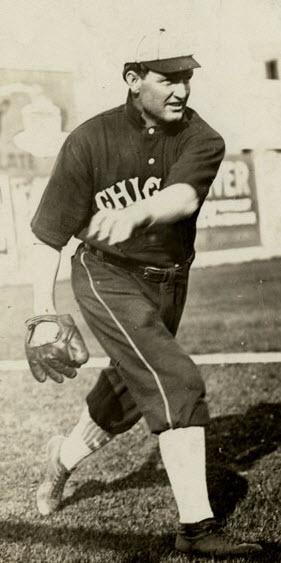 "Sleepy Bill" Burns pitched for five major-league teams in five seasons from 1908 to 1912. At his peak, he beat Walter Johnson and Christy Mathewson. The great Ty Cobb, a left-handed batter, said he would rather bat against the right-handed Johnson than face Burns, a tough lefty.1 Burns was blessed with natural ability, but he was shuttled from team to team because he was egocentric, lackadaisical, and difficult to manage.
In 1919 Burns infamously returned to the major-league scene as one of the conspirators in the Black Sox Scandal. At the criminal trial in 1921, he turned State's evidence in exchange for immunity from prosecution. His account of events has been accepted as factual, but veracity was not his strong suit.
William Thomas Burns was born on January 27, 1880, in San Saba, Texas, and grew up on a farm there. He was part of a large Catholic family. His father, James Francis Burns, was an Irish immigrant, and his mother, Anna Cecilia (Peters) Burns, was a daughter of Irish immigrants. William was the sixth of 14 children born to James and Anna. In 1896 Anna stepped on a rusty nail and died from lockjaw. James remarried in 1901 and had four more children.
James was a "successful farmer and stock-man."2 His San Saba farm was profiled in a 1911 report by the US Department of Agriculture. He grew cotton, wheat, oats, corn, and sorghum on 90 acres, and he kept 30 to 40 head of cattle, 10 to 15 hogs, and 100 to 200 chickens. He was not a rich man, but as noted in the report, "his cash income has been sufficient to meet all obligations incident to providing for and educating a family of 18 children."3
San Saba was remote; before 1911 the nearest train station was 24 miles away.4 The community, with a population of 1,200, was visited in 1896 by Texas Rangers, who were sent to stop a violent vigilante gang known as the "San Saba mob."5 It was the Wild West.
William worked on the family farm. He was a natural athlete who excelled at baseball, football, and rodeo competitions, including roping, branding, and bronco busting.6 His pitching for the "Big Orchard ranch nine" in Texas attracted the attention of the baseball coach at the New Mexico Military Institute, who offered him "an education in return for slabwork."7 After two years there, Burns ventured westward, and in 1905 he reportedly won 36 of 37 games pitching for a semipro team in Richmond, California, near San Francisco.8 He was a big man, described as husky and burly: 6-feet-2 and 195 pounds. His hairline receded in his twenties and made him look older than he was.
In 1906, Burns joined the Los Angeles Angels of the Pacific Coast League and compiled a 16-16 record. He bettered it with a 24-17 mark for the pennant-winning Angels the following year. Upon the recommendation of scout Denny Long, the Washington Senators drafted him.9 He made his major-league debut at age 28 on April 18, 1908, against the Highlanders in New York. The southpaw was "practically invincible" for the first eight innings, but the Senators lost, 6-5, in 11 innings.10 Five days later he earned his first major-league win, a 6-4 triumph over the Boston Red Sox in Washington. The losing pitcher later became one of the prime figures in the Black Sox Scandal: 23-year-old Eddie Cicotte, pitching in relief.11
---
---
In Washington on May 21, 1908, Burns hurled a two-hit shutout against the Detroit Tigers. Four days later in Washington, he twirled a three-hitter but lost to the Tigers, 1-0, his throwing error accounting for the lone run. He held 21-year-old Ty Cobb, the AL batting champion, hitless in those two games. The Washington Post called Burns "the greatest find of the season."12
Burns had an excellent fastball, curveball, and changeup, and used the same casual windup in delivering each of them so that the batter had no idea which pitch was coming.13 He pitched with a crossfire motion, in which his left arm came across his right leg, à la the great southpaw Eddie Plank. Burns was ambidextrous; though he never pitched right-handed in a game, he did in batting practice "with considerable speed."14
Burns's pickoff move was exceptional. Umpire Billy Evans said that he had never seen a more deceptive one. Batters would sometimes start their swing as Burns threw to first base.15
Runs were scarce during the Deadball Era, and in especially short supply for the Senators. In Chicago on June 5 and June 8, Burns pitched well but lost both games by identical 2-1 margins.16 He impressed White Sox owner Charles Comiskey, who made an offer to trade for him that was rejected by the Senators.17
During one of these close contests in Chicago, Burns fell asleep on the bench in the eighth inning while his teammates were batting and had to be awakened when it was time for him to return to the mound.18 He had no trouble falling asleep whenever and wherever he wanted. This trait earned him the nickname "Sleepy Bill." He could also be seen nonchalantly reading a magazine or newspaper while on the bench during a game.
In Washington on July 7, Burns lost another close one, 1-0, to the White Sox in the first game of a doubleheader, and at his request, he started the second game but lasted only four innings. His effort was applauded by Washington fans.19 Three days later, again facing the White Sox in Washington, he gamely pitched the first 13-1/3 innings of a 16-inning, 2-2 tie.20
Burns's 6-11 record in 1908 does not tell the story of his fine performance. His 1.70 ERA was sixth best in the American League, and only one AL pitcher (Cleveland's Addie Joss) walked fewer batters per nine innings. Burns's control was "remarkable, especially for a southpaw."21 He "has proved himself as good as any southpaw in the league," wrote Paul W. Eaton in Sporting Life.22 But Burns's success had given him a swelled head, said J. Ed Grillo of the Washington Post.23
Burns sustained a season-ending injury in late July of 1908, in an altercation with the Senators' "hot-tempered" captain, Bob Ganley.24 Reportedly, Ganley struck Burns with a bat, fracturing two ribs. Burns recovered and in the winter pitched for the Reach All-Americans on a tour of Japan, China, and the Philippines. Hostility between Burns and Ganley continued in the spring of 1909. Senators manager Joe Cantillon rid himself of the problem by trading Burns to the White Sox and selling Ganley to the Philadelphia Athletics.
On May 28, 1909, Burns pitched all 14 innings for the White Sox but was edged, 2-1, in Detroit. The game was "a corker," said the Chicago Inter Ocean, but "it went to waste in this minor league burg, where but a small handful of fans turned out to see the game."25 While Chicago was snooty towards Detroit, Burns had become a prima donna on the White Sox. In June he chose to stay at a different Washington hotel from the rest of the team, and throughout the season he came and went as he pleased and shirked morning practice with the team.26
In Chicago on July 11, Burns delivered a three-hit shutout against the Red Sox.27 He took "keen delight in harpooning his late associates on the Washington team."28 Three times he defeated Walter Johnson and the Senators, including two shutouts.29 But Comiskey, who had a surplus of left-handed pitchers, grew tired of Burns's attitude and sold him to the Cincinnati Reds in June of 1910.
As a member of the Reds, Burns shut out the first-place Chicago Cubs twice in 1910, with a one-hitter on June 27 and a two-hitter on July 7, and he defeated the defending world champion Pittsburgh Pirates with a four-hitter on July 2.30 Sportswriter Ring Lardner asked, "Who is he?"31 The world wanted to know.
And through the press, Burns told them in a charming Texas drawl. According to Burns, he owned nearly $250,000 worth of Texas land and was so wealthy that he did not need to play baseball, but he played the game because he loved it and could not stay away from it. He flashed an expensive diamond ring as he spoke.32 Also, he was a legendary hunter in Texas known for capturing foxes with his bare hands.33 Sportswriters reported his claims as if they were facts, apparently unaware that Texans tell tall tales. "How did you lose your hair?" someone asked the balding Burns. "Full count on the batter with the bases full," he replied with a grin.34
Sportswriter Hugh Fullerton ran a series of articles in which ballplayers told of the greatest plays they ever saw. Most described a remarkable play from a major-league game, but Burns told Fullerton of a game played in Texas in which the players wore chaps and spurs. It was a rather peaceful game, he said, with only two shootings and no one was hurt. A center fielder, who was so fast that he ran down jackrabbits to stay in shape, caught a popup in shallow center field and then rode his spurs like roller skates all the way to home plate, arriving just in time to tag the baserunner who had tagged up at third base.35
In the book Tall Tales from Texas, folklorist Mody C. Boatright examined the genre: "Sometimes the listener was informed by a sell at the end of the story that he had been taken in; more often he was made aware of the fact by the sheer heights of exaggeration to which the narrative ascended; occasionally he accepted the story in good faith and went away neither sadder nor wiser."36 The tall tale was an art form in Texas, something to master and be proud of. Burns was indeed a master and could easily fool unsuspecting greenhorns.
When Burns was not spinning tales, he might be napping. Twice in May of 1911, Reds manager Clark Griffith wanted to put Burns into a game as a relief pitcher, only to find that Burns was not warming up as instructed but was asleep on the clubhouse bench.37 This was inexcusable; Griffith suspended him and then sold him to the Philadelphia Phillies.
Awake on the Phillies, Burns shut out the Cubs twice in Chicago in 1911; the first was a four-hitter to defeat Mordecai "Three Finger" Brown on June 15, and the second was a one-hitter on September 19. And Burns beat Christy Mathewson and the New York Giants twice in Philadelphia in a span of three days, with relief help from rookie Grover Cleveland Alexander on July 3, and by going the distance in the first game of a doubleheader on July 5.38 If these four victories are excluded, however, his won-lost record for the Phillies was 2-10, including losses to both Brown and Mathewson.
Joe Cantillon, now manager of the Minneapolis Millers of the American Association, wanted Burns and worked a deal with the Phillies to acquire him in January of 1912.39 But Burns was unwilling to accept a demotion to a minor league and instead signed a contract with the Detroit Tigers. There were conflicting reports about how this was arranged; either Burns bought his own release from the Millers, which permitted him to sign with the Tigers as a free agent, or the Millers sold him to the Tigers because he refused to pitch for the Millers.
By a 12-4 margin on April 13, 1912, Burns and the Tigers trounced the Cleveland Naps in Cleveland, as Burns held slugger Shoeless Joe Jackson – the most famous of the Black Sox to be – to one single in five at-bats.40 But it was Burns's last major-league victory. Eight days later he "blew up" in the 10th inning of a 4-0 loss to the Naps in Detroit, and in his final major-league appearance, on May 23, he was batted "freely" in a 5-2 loss at Washington.41 The Tigers then sold Burns back to the Millers.
Shortly before Burns's departure, the Tigers' Ty Cobb was suspended by AL president Ban Johnson. To protest Cobb's suspension, the Tigers refused to take the field on May 18 against the Athletics in Philadelphia. Tigers manager Hughie Jennings quickly assembled a replacement team consisting of amateur and semipro players from Philadelphia, and the makeshift lineup got walloped, 24-2, by the Athletics. At the recommendation of Burns, Jennings picked a 31-year-old Philadelphian named Billy Maharg, a former lightweight boxer, to play third base on this replacement squad.42 Burns and Maharg probably became acquainted the year before, when Burns was a member of the Phillies. The pair would figure prominently in the Black Sox Scandal.
Burns pitched well for the Millers in 1912 and 1913, with a combined record of 18-11 in the two seasons, though he was sidelined for much of the 1912 season by illness and injury. In 1913 he delivered a one-hit shutout against the St. Paul Saints on May 29, and a four-hit shutout against the Toledo Mud Hens on July 13.43 In the latter contest, Toledo's Jim Baskette threw a no-hitter but lost, 1-0.
A gun-toting Texan, Burns slept at night with a firearm under his pillow.44 According to a news story from December of 1913, he was walking down a street in San Saba when he was accosted by a man wielding a long knife. Burns pulled out a gun and "dropped the stranger with a shot through the leg."45
Burns pitched for the Millers until August 1914, when he bought his release from the team and signed with the Louisville Colonels.46 In Indianapolis on September 11, 1914, he lost his temper and punched umpire Jim Johnstone, jarring loose several of the umpire's teeth. Burns was arrested for assault and battery. Johnstone, infuriated that the American Association did not suspend Burns, quit the league in protest.47
The Colonels released Burns in March 1915, and he rejoined the Los Angeles Angels. On May 5, he hurled a one-hit shutout of the Venice (California) Tigers.48 But he was now 35 years old and out of shape. On May 28 the Salt Lake City Bees took advantage of his immobility by bunting on him, which was, said the Los Angeles Times, "a mighty mean" thing to do to the "fat man."49 Two more future Black Sox took part in that game. One of the bunters was a 22-year-old pitcher, Claude "Lefty" Williams, who posted a 33-12 record for the Bees that season. The Angels second baseman that day was 23-year-old Fred McMullin.
The Angels released Burns in July 1915, and he signed with the Oakland Oaks. Against the Vernon (California) Tigers on August 5, he belted a ball that should have been a home run, but he collapsed from exhaustion when he reached third base and settled for a triple. "The game had to be interrupted for ten minutes to give Burns a chance to recuperate," said the Oakland Tribune. "Even the umpires had to stand back and laugh at Burns."50 When he returned to the mound the next inning still fatigued, the Tigers scored three runs off him, one scored by yet another future member of the Black Sox, 20-year-old Charles "Swede" Risberg.
On October 31, 1915, Burns and several of his Oakland teammates played against the Richmond Elks, the semipro champions of Northern California. Burns pitched and lost, 7-3, while his brother Charlie earned the victory for the Elks. Eight years younger than Bill, Charlie was a right-hander and said to be the star pitcher on the Richmond club.51
Bill Burns retired after the 1915 season, but the Oaks needed pitching help and persuaded him to return in June 1916.52 On October 19, 1916, he defeated the Vernon Tigers with an 11-inning shutout.53
On May 31, 1917, in Alameda, California, the 37-year-old Burns married 25-year-old Laura Patricia Carroll of Cincinnati, a daughter of Irish immigrants. Laura's older sister, Margaret, was the wife of pitcher Bobby Keefe, who had been a teammate of Burns on the Reds in the spring of 1911.54
Burns left the Oaks in June 1917, and he and his wife moved to Santa Rita, in southwest New Mexico, where he worked at an open-pit copper mine for seven dollars per day. He earned additional money by pitching for and managing the Santa Rita team in the Arizona-New Mexico Copper League, and his team won the league pennant.55
On March 24, 1918, Burns's Santa Rita squad played against a team of Army soldiers at Camp Cody near Deming, New Mexico; he and Keefe combined to pitch a six-inning shutout.56 And in early April, Burns's team won one of two exhibition games against the Chicago Cubs at Camp Cody, with thousands of soldiers in attendance.57 It is unknown whether Burns remained at Santa Rita that summer. It is possible that he went home to San Saba, where his father died on May 9.58
Burns went to spring training in 1919 with the Beaumont Oilers of the Texas League, but left the team to try his hand at making money in the Texas oil industry.59 This was a period of rampant speculation, and "swindlers, fakers, and oil stock manipulators" sought to take advantage of the nationwide interest in Texas oil.60 On July 12, 1919, Burns ran this advertisement in the Cincinnati Enquirer:
"OIL LEASES – BILL BURNS, FORMER RED PITCHER, IS IN TOWN. He wants to interest Cincinnatians in the buying of oil leases and royalties located in the TEXAS OIL FIELDS. Wonderful opportunities for those who care to invest. The leases are located in the RANGER OIL FIELDS, in the central part of Texas. Burns can be seen at Room 609, HAVLIN HOTEL. He will be in Cincinnati two weeks."
From there Burns went to Missouri and made a similar pitch to St. Louisans. He claimed that he had invested $500 in an oil lease and two weeks later sold it for $16,000, and with that money he purchased more oil leases for which he was offered $60,000.61
Burns also boasted that oil was discovered on his "farm down in Texas some time ago" and that he had enough money to "buy a major league ball club."62 It is unknown whether he was referring to his father's San Saba farm or some other farm in Texas, or whether it was fictitious.
Burns returned to Cincinnati in August, pitched batting practice to the first-place Reds,63 and no doubt pitched oil leases to them as well. In New York, he sold a San Saba oil lease for about $2,000 to a group of Chicago Cubs, including Bill Killefer, Speed Martin, Fred Merkle, Hippo Vaughn, and manager Fred Mitchell.64 In the November 1919 issue of Petroleum Age, Burns and his business partner, A.M. Baten, advertised that they "buy and sell San Saba County [oil] leases and royalties." To the greenhorn, Burns appeared to be a successful oilman. But according to the Texas Almanac, oil was not discovered in San Saba County until 1982.65
During his travels in 1919, Burns discussed more than oil. He and his pal, Billy Maharg, conspired with eight Chicago White Sox players to "fix" the 1919 World Series. In addition to those previously mentioned (Cicotte, Jackson, Williams, McMullin, and Risberg), the group included Happy Felsch, Chick Gandil, and Buck Weaver.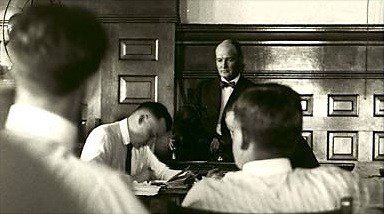 In September 1920, Maharg told the story of the fix to reporter James Isaminger of the Philadelphia North American. Burns, but not Maharg, was indicted by a grand jury in October 1920, and by a second grand jury in March 1921. Both Burns and Maharg testified for the prosecution at the criminal trial in July. As fix insiders, their testimony was crucial to the prosecution's case, but the jury acquitted the eight White Sox players. Commissioner Kenesaw Mountain Landis then banned all eight from Organized Baseball.
The Black Sox Scandal has been thoroughly studied by historians. To re-examine it here in depth is beyond the scope of this biography. That includes the extent to which gambler Abe Attell was involved; Attell was clearly a prominent figure in the fix, though a credible case can be made that he may not have been the lead figure. The putative role of Burns as liaison between the Black Sox players and the group including Attell, and the duration of Burns's involvement, are also murky issues that are explored in works devoted expressly to the scandal.
Confessions given by Cicotte, Jackson, and Williams in 1920 reveal that the 1919 World Series was indeed fixed, but the details of the fix remain sketchy and subject to debate. It is likely that not all of the participants in the fix have been identified – and to reiterate, for those who have been identified, the extent of their involvement is unclear.
It's notable that AL president Ban Johnson wanted Burns to testify in view of being an insider; Johnson went to costly lengths to find Burns in Texas. Burns and Maharg did step forward to tell their stories. They appeared trustworthy and were applauded by the press for giving credible testimony at the criminal trial. However, newspaper coverage of Burns's time on the witness stand (parts of three days) is also notable in showing that his customary charm was lacking – he spoke in a monotone and was barely audible. Only upon cross-examination did he perk up and show some wit.
Much has been written since that presumes that Burns and Maharg were telling the truth. Yet, as noted previously, Burns was known for spinning yarns – in modern parlance, he would be called a "BS artist." With the passage of time, it has become difficult if not impossible to distinguish the shades of gray in the accounts given by Burns (and Maharg).
In 1925, Burns resided in Del Rio, Texas, near the Mexican border, and an Associated Press story said that Ban Johnson was coming to Del Rio as Burns's guest and would go bear hunting with him.66 While Burns probably did hunt bears, it is unlikely that Johnson would socialize with any of the Black Sox conspirators. Burns said he had leased 100,000 acres in Mexico and was organizing a hunting club there, and he wanted Johnson to be president of the club.67
Burns and his wife separated in the 1920s, and in 1930 she was back home in Cincinnati and working as a clerk at an automotive company.68 In 1940 Burns worked in highway construction and resided in Calexico, California, near the Mexican border.69 He died of a heart attack in Ramona, California, on June 7, 1953, at the age of 73, and was buried at the Holy Cross Cemetery in San Diego. His brother, Charlie, said he lost track of Bill over the last 20 years of Bill's life.
Acknowledgments
The author thanks William F. Lamb for helpful discussions, as well as Jacob Pomrenke and Rory Costello for their input.
This biography was reviewed by Norman Macht and Rory Costello and fact-checked by Alan Cohen.
Sources
William F. Lamb, Black Sox in the Courtroom: The Grand Jury, Criminal Trial and Civil Litigation (Jefferson, North Carolina: McFarland, 2013).
Jacob Pomrenke, ed. Scandal on the South Side: The 1919 Chicago White Sox (Phoenix, Arizona: SABR, 2015).
National Baseball Hall of Fame file.
Ancestry.com.
Findagrave.com.
Notes
Born
January 27, 1880 at San Saba, TX (USA)
Died
June 7, 1953 at Ramona, CA (USA)
If you can help us improve this player's biography, contact us.
https://sabr.org/sites/default/files/BurnsBill.jpg
600
800
admin
/wp-content/uploads/2020/02/sabr_logo.png
admin
2017-12-27 16:24:27
2020-04-09 14:40:28
Bill Burns