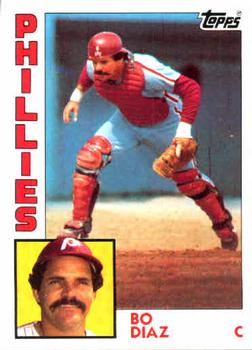 ---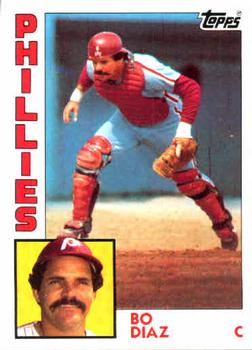 Venezuelan catcher Bo Díaz played for all or part of 13 seasons in the majors, plus 14 more in his homeland's winter league. He helped the Philadelphia Phillies win a National League pennant in 1983 and was part of six champion teams with the Caracas Leones.
Díaz made it to the majors on the strength of his defense. The Scouting Report 1985 said, "Diaz is an excellent receiver with good hands and blocks the ball well."1 Two years previously, that annual remarked, "Diaz has a fine arm and can throw runners out with good consistency."2 He was a solid, not spectacular hitter—but he had good power, hitting 87 homers in the majors and 57 more in winter ball. In the winter of 1979-80, he set a Venezuelan record with 20 round-trippers, a record that lasted until 2013.
His other signal achievement was one of baseball's rarities: an "ultimate grand slam."3 The moment is etched in the memories of Phillies fans. April 13, 1983, Veterans Stadium in Philadelphia. Bottom of the ninth, two outs, Mets leading 9-6. Ace reliever Neil Allen was facing his first batter, Díaz. Longtime Phillies broadcaster Harry Kalas was calling the game. He went from calm to delirious in three seconds.
Allen winds. The 2-1 pitch. A long drive. Deep left field . . . a grand slam! The Phillies have won the game 10-9! Unbelievable! Bo Díaz—a grand slam home run and the Phillies have won the game 10-9!
Magical. The stuff of movies and the imaginations of baseball-playing boys everywhere.
In that moment, Baudilio José Díaz Seijas4 must have felt light years away from his small hometown of Cúa, Venezuela. Born March 23, 1953, to Ángel Rosendo Díaz, a contractor, and his wife, Juana Angelina Seijas, Díaz was the fourth child of six. He grew up with four brothers (Francisco, Candelario, Ángel, and Ramón) and a sister (Ana).5 Ángel Díaz was a hard worker, but work was not always steady, money was frequently tight, and groceries were sometimes gotten on credit. They were a poor family, living in a small house, in an often violent country, and daily life could be a struggle. Lacking the money to pay for bus rides to and from school or to buy the needed clothes, young Baudilio's schooling ended after the sixth grade.
With formal education no longer available to him, he eventually went to work. However, driving a forklift in a cement plant is a completely unsuitable job for a 14-year-old boy, and he soon left Cúa to join an older brother in the capital city of Caracas, 40 miles to the north. There he worked in a car wash and later a ball-bearing factory. At 17, he was slated for military service, where he would fight the guerrillas—leftist rebels who were responsible for shootings, bombings, kidnappings, and other violent activities. It was not a prospect he relished.
Still, there was baseball. And on weekends, he continued to play just as he had since joining his first Little League team at eight years old. The games were loosely organized and mostly for fun, but it was during those games in 1969 that scout Willie Paffen spotted Díaz playing in a factory league. In November 1970, with his father's permission, he signed with the Boston Red Sox. Factory work and the specter of military service vanished.
Díaz was assigned to Class A in Winter Haven, Florida. From there he was sent to Pawtucket, Rhode Island; after playing in only one game, he moved on to Greenville, South Carolina; to Winston-Salem, North Carolina; and finally to Williamsport, Pennsylvania—five clubs in one season. He spoke almost no English and had to get by with the help of any bilingual Latino player he could find. He made $450 a month and slept on cots in the clubhouses. Homesick and in pain from a knee injury sustained in his only game for Williamsport, facing the guerrillas might have seemed preferable.
Díaz reported to spring training in 1972 with his knee still badly damaged and underwent surgery to repair the cartilage, landing on the disabled list for what would be the first of many times in his career. As a result, he played just 14 games for Winter Haven that summer. In the winter of 1972-73, he began his career in La Liga Venezolana de Béisbol Profesional. His team, Caracas, was league champion. Díaz got 40 at-bats in 17 games as he backed up Americans Joe Ferguson and Cliff Johnson. In one of his infrequent starts that winter, on January 6, 1973, Díaz caught a no-hitter by Urbano Lugo. A little over 13 years later, January 24, 1986, he was behind the plate when Lugo's son, also named Urbano, threw a no-hitter of his own for Caracas.
Díaz started the 1973 season in Elmira, New York. He graduated from clubhouse cots to a YMCA, which, he said, felt like a fine hotel. He bounced around the Red Sox minor league system for four more seasons until he was called up from Pawtucket in September 1977 and appeared in his first two major league games. After six years with Boston, he had made it. Except . . . he hadn't. A significant roadblock stood in his way: future Hall of Famer Carlton Fisk. It was never going to happen for Díaz in Boston, and everyone knew it. In March 1978, he was traded to Cleveland.
As part of the trade, the Indians sent their best pitcher, Dennis Eckersley, to Boston. The expectations for Díaz were high, and manager Jeff Torborg was thrilled to have him. His strong, accurate throwing arm had earned him the nickname "The Cannon," leading scout Jack Cassini to say that, next to Johnny Bench, Díaz had the best arm he'd ever seen on a catcher.6
In July, he had a moment in the sun: his first major league home run. Torborg noted that Díaz was a better hitter than they'd given him credit for.7 He was also, without a doubt, the best defensive catcher on the Indians roster. However, injuries still plagued him. Díaz's Achilles heel wasn't actually his heel—it was everything else: his left ankle (sprained), his right ankle (broken, ironically, when he shifted during a slide trying to protect the left one), his index finger (broken), and his thumb (sprained). He was frustrated with himself, his teammates were losing patience, and the Indians may have questioned the wisdom of the trade.
Injuries notwithstanding, Díaz continued to play winter ball every year for Caracas, where he emerged as a standout. The only season in which he did not wear the Leones uniform was 1975-76, when Caracas merged with Tiburones de La Guaira. For one season, a franchise called "Tibuleones" de Portuguesa existed. In the season prior to the Cleveland trade (1977-78), he was the Venezuelan League MVP, and Caracas became league champions again. And in the 1979-80 season, the first of three consecutive championships for Caracas, he broke the league home run record of 19, which had been set in the 1972-73 season by Bobby Darwin. Díaz's record of 20 home runs, in just 247 at-bats across 66 games, stood until first baseman Alex Cabrera broke it in 2013.
After returning to Cleveland in 1981, everything started to fall into place. Starting catcher Ron Hassey injured his knee, which meant Díaz finally got a chance to play regularly. He showed what he was capable of, hitting .356 in the first half of the season with 25 RBIs and being selected for the All-Star team. However, upon Hassey's return, Díaz resumed his reserve role—an expected move, but one that left him frustrated and, once again, on the back burner.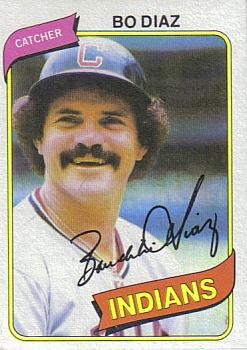 Coinciding with Díaz's part-time status in Cleveland, the Philadelphia Phillies had a problem behind the plate. As Jeré Longman of The Philadelphia Inquirer dryly put it, "Bob Boone and Keith Moreland were throwing out runners with the regularity of Halley's Comet."8 This was a team with four catchers (in addition, Don McCormack and Ozzie Virgil) that still couldn't hold down the running game. In November 1981, the Phillies and the Indians did everyone a favor by orchestrating a complex trade that sent left fielder Lonnie Smith and pitcher Scott Munninghoff to Cleveland for Díaz. (Smith was dealt to St. Louis immediately.)
Calling it a "favor" may be putting too positive a spin on the way Phillies fans felt at the time. Not renowned for their tact and good humor, they were irate over the loss of the popular Smith. Bill Conlin later wrote in The Sporting News that Díaz had been greeted by Veterans Stadium fans "with the warmth reserved for ax murderers."9
Philadelphia reporters, while not openly hostile like the fans, were on the fence. In a profile for The Philadelphia Inquirer, Dan Coughlin described him as moody, injury-prone, slow to heal, and sensitive. On the other hand, he wrote, "Díaz is your composite major league catcher. He has a strong arm. He is smooth behind the plate. He is an acceptable hitter." Speed, however, was never among Díaz's gifts. Coughlin continued, "He is as slow as the legislative process."10
If Díaz was upset by the media's assessment of him or the fans' attitude, he didn't show it. And yet, he wasn't naïve; he knew the move would present challenges. Long before the days of interleague play, he was well aware of the difficulties inherent in switching from one league to the other. Furthermore, his major concern (unfounded, as it would turn out) was how he would be received by the sometimes prickly Steve Carlton.11 (By 1980, Carlton had won three Cy Young Awards and was notoriously particular about his catchers.) Still, he was happy to be out of Cleveland and looked forward to a chance to play regularly. He also had manager Pat Corrales, a former catcher himself, firmly in his corner. Corrales, tired of seeing so many stolen bases, had long advocated for Díaz. In the 1980 season, the Phillies caught 41 of 165 base-stealers, with a third of them being picked off by the pitchers.12 In spite of the fans' misgivings, "The Cannon" was clearly needed.
In time, the sportswriters and fans came to appreciate their new catcher. When Díaz, in his typical fashion, downplayed talk of having a cannon for an arm, writer Jayson Stark begged to differ. Stark took Phillies pitching to task, but praised Díaz, saying, "On Mookie Wilson's steal in the third inning, Díaz got rid of the ball as quickly as any human could do it. And when the ball got to second, it was six inches off the ground, at the right corner of the bag. A dead solid strike."13 Later in the season when Díaz had a two-home run game, the fans, apparently having forgiven him for being part of the Smith trade, gave him a standing ovation and demanded that he appear from the dugout.14
Díaz also had an attitude that was completely focused on the good of the team. He wanted to play well, but would have gladly traded his personal success for the team's success. After a 7-4 loss to the Cardinals in April 1982, Díaz was described as "disconsolate" because his team was 3-11 and had lost three straight—disconsolate even though he'd gone 4 for 4 with two home runs, two doubles, and four RBIs.15 In September 1983, he again had two home runs plus three singles in a game that he declared his greatest day, not because of his own performance, but because his team had won and clinched the NL East in the process.16 In the World Series that followed, he was exceptional. He started all five games and finished with a .333 average. For the Phillies, however, it was a dismal Series; they won the first game, but lost the next four to the Baltimore Orioles.
Díaz played just four games for Caracas that winter. In early 1984, physical troubles had intruded once again, and he played very little in spring training because of chronic lower back pain. He rehabbed with exercise and medication and, for the first time, admitted that an occasional rest might help him.17 He did not, as feared, begin the season on the disabled list. In fact, he had one of the best starts of his career, hitting .295 with seven RBIs, which only made a torn ligament in his left knee harder to take. In late April, a home-plate collision aggravated a previous injury and landed him on the DL. In early May, he had surgery to repair the knee with a projected recovery time of up to five weeks.18 A second surgery in August on the same knee effectively ended his season.
By late 1984 and into early 1985, the Phillies had Díaz on and off the market at various times. His frequent stints on the DL and the solid play of Ozzie Virgil seemed to make him nonessential. Publicly, Díaz said he was prepared for whatever came his way, be it Atlanta, Toronto, or Seattle, all mentioned as trade possibilities. Privately, however, he was disappointed that the Phillies considered him "so expendable."19
After taking the whole winter off, by spring training 1985, he was rested and almost fully healed. He wanted to stay with the Phillies and wanted to play regularly. He was not interested in being the backup catcher and considered himself the starter. However, after capably stepping in for Díaz in 1984, Ozzie Virgil also considered himself the regular.20 If Díaz had an edge, it was that the pitching staff liked him. John Denny, Jerry Koosman, and Steve Carlton all preferred Díaz to Virgil.21 In an article for the Philadelphia Daily News, Bill Conlin described it this way:
[He] has quiet ways of finding out what they want from him in the way of pitch sequences, location signs and target placement. All are integral but unsung fine points. It's no secret that Bo Díaz is a member in good standing of Lefty's (Steve Carlton) exclusive club of preferred catchers. That gives Díaz some catching clout that Ozzie Virgil lacks.22
But when Opening Day rolled around, Virgil was the starting catcher and would be for all of April while the Phillies kept an eye on Díaz's progress. What followed was another run of bad luck. In a mid-April exhibition game, he was hit by a pitch that broke two bones in his right wrist. In May, while still on the DL for his wrist, he landed in the hospital with kidney stones.
By July, trade rumors were flying again. Pete Rose (now back in Cincinnati as a player/manager) made no secret of his goal to acquire his former teammate. Díaz—recovered, but frustrated by his lack of playing time—was ready to go, if not to the Reds, then anywhere. "I really want to get out of here, just so I can play," he said. "I know my time for retirement is coming, but I think I can help somebody for two or three years."23
On August 8, 1985, Díaz was traded to Cincinnati. Rose, Reds general manager Bill Bergesch, and his new teammates were ecstatic. "We are back in business," said shortstop (and fellow Venezuelan) Dave Concepción.24 Upon his arrival at the Cincinnati clubhouse, starting pitcher Mario Soto hugged him like a long-lost brother.25 And Bergesch, after praising Díaz and confirming his physical soundness, boiled it to down to this: "When you have a chance to get Bo Díaz, you must jump at it."26
Díaz's hitting got off to a slow start (.103 in 39 at-bats), but he adjusted well to the pitching staff. A few weeks later, in a game against the Cubs, he broke out of his slump and doubled in the game-winning run.27 That double would be the beginning of a 13-game hitting streak, the longest of his career. He would finish the season batting .261 for the Reds (.245 overall).
Still, in a team populated with good hitters, he knew his main job was to support the pitchers and to call a strong game. And, without exception, he was praised by the Reds' pitching staff. Guy Hoffman talked about a time when he faced a batter he didn't know how to pitch to. He deferred to Díaz, thinking, "Whatever you call, I'm going to throw." Hoffman, laughing, said, "Bo struck him out on four pitches. I didn't strike him out. Bo struck him out."28
Díaz—described that year as "a classic free swinger with a stance for every occasion"29—had a solid 1986 season as Cincinnati's primary catcher. He hit .272-10-56 in 134 games. He returned to the Leones that winter and got into 35 games for another championship team. In 1987, Díaz made his second appearance on the All-Star team. But as the end of the season approached, Rose considered the possibility that he should rest him more.30 As it turned out, he was right. After August 5, Díaz batted .171, and when the season was over, Rose admitted that his biggest mistake that season had been overworking him. 31 Indeed, Díaz sat out the winter season again (and the following two as well).
The 1988 season brought a new physical difficulty (tendinitis in his right shoulder) and the return of an old one. As the season drew to a close, he once again needed surgery on his troublesome left knee to repair a small ligament tear. Díaz, who batted and threw right, saw his average drop from .270 in 1987 to .219. That was probably attributable, at least in part, to the pain in his shoulder. The knee surgery was not regarded as serious, and the Reds were optimistic that he would be strong in 1989.
After unexpected visa delays for Díaz and two other players, he reported to spring training in 1989 looking fit and with only minimal lingering knee issues. However, in March he needed an emergency leave. His younger son became suddenly and seriously ill and had to have a benign tumor removed from the back of his head. Once his son was on the mend, Díaz was sent to extended spring training in Florida for a week to sharpen his skills. He didn't understand or agree with the move, which capped a very difficult spring for him.32
The season proceeded unremarkably with the exception of two events. In June, Díaz hit his first home run since the previous August and in doing so broke a 3-3 tie with the Dodgers. His reaction must have stunned and delighted his fans. "As it arced over the left-center field fence, Díaz was rounding first base, shaking both hands in the air—a most unusual display of emotion from the intense, but generally unflappable catcher."33
Then, on July 9, 1989, Díaz played what was to be his final big-league game, though he didn't know it at the time. Once again, his left knee was the culprit, and in early August, he had his third surgery to repair it. He finished the season having played in only 43 games and with a batting average of .205. He was at the end of a two-year contract with the Reds and in November was granted free agency. He had a career batting average of .255 in the majors and a fielding percentage of .986; he'd also thrown out 34% of enemy base stealers. He was 37 years old and wanted to continue playing, but he remained unsigned for the 1990 season. His longtime agents, Randal and Alan Hendricks, would later say that he was just too beaten up, particularly with a knee that would not cooperate, to play in 1990.34
In October 1990, the Cincinnati Reds found themselves in postseason play. Díaz was in Venezuela, playing once more for Caracas and hoping for a return to the majors. He told a reporter, "I played hard and gave it my best in Cincinnati, and I grew to love the people of the city because they treated me well. I'm rooting for them all the way in the playoffs and the World Series."35 As Díaz watched from 2,000 miles away, the Reds swept the Oakland Athletics in the World Series, four games to none.
Bo Díaz, born in a tiny house in Cúa, had worked his way to an upper-middle class life and a two-story home in Caracas. It was there that his tragic death took place on November 23, 1990. The day was windy, and the signal from the home's satellite dish was spotty. He went to the roof and attempted to adjust the dish, which slipped and fell on him, crushing his neck and killing him instantly. He left behind his wife of 11 years, María Carolina, and his sons, Bo Daniel, 9, and Joshua, 6.
Díaz was idolized in Venezuela, and his death was a national tragedy. News crews were on the scene immediately, and just before 2:00 in the afternoon, radio stations interrupted their regular programming to announce that he had died.36
Three days prior, he had left the Leones amid a dispute with manager Phil Regan, reportedly over Regan's use of him as a bullpen catcher.37 Nevertheless, after a major-league career that included significant tenures with Cleveland, Philadelphia, and Cincinnati, his baseball identity was most strongly tied to his native country and the Leones. His body was dressed in his Leones uniform, number 25, which the club promptly made one of its retired numbers.38 His funeral at the University of Caracas stadium was attended by 3,500 relatives, friends, fans, and politicians, including the president of Venezuela.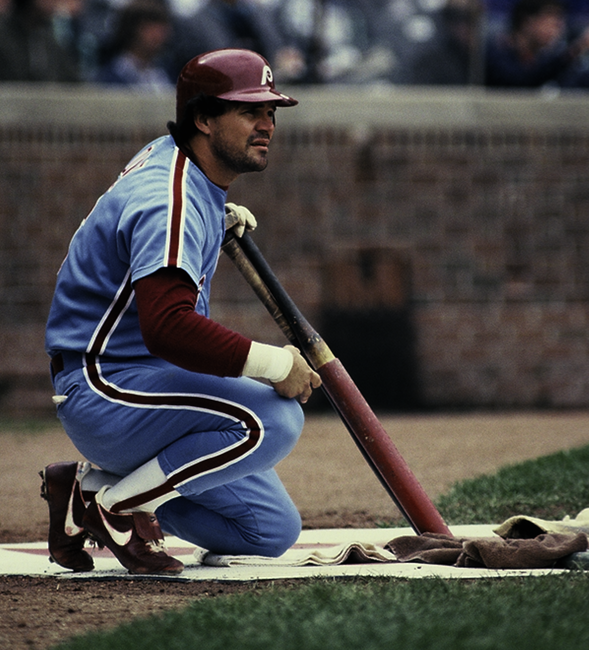 Fans and teammates throughout Venezuela and the United States grieved for the man described as tough and stoic, but with a kind heart. Paul Owens, who managed Díaz on the 1983 NL championship team, said, "Bo was as nice a fellow as you'd want to meet. He was a good family man. A fine gentleman. I always admired him."39
"He went about his job in a very businesslike fashion," said Reds teammate Eric Davis. "When Bo wasn't playing, you knew he had to be hurt because he was so tough." Barry Larkin, another teammate recalled, "We were young, and Bo showed us a lot of leadership. He was quiet, but he led by example."40
Randal and Alan Hendricks described him as a private, but very happy person. "Our best memories of him are his ever-present smile when dealing with us. He was an appreciative person, which made representing him a privilege."41
In 2006, Díaz was inducted into the Venezuelan Baseball Hall of Fame, which called him one of the bravest players to ever play the game, given the numerous injuries he sustained during his career.42 Writer John Erardi echoed this sentiment, calling Díaz "a tough customer, a gamer who played hurt and rarely complained."43
Even now, the sadness of Díaz's untimely death lingers, especially for Venezuelans. The major anniversaries of his death are marked with newspaper articles and mentions on television news broadcasts. And his country continues to find ways to honor him. In 2013, the Venezuelan government opened the first phase of a $5 million sports complex called Domo Baudilio Díaz. A second phase has been approved.44 It is unclear, however, if construction has started. (Given the current economic climate and social unrest in Venezuela, this seems doubtful.) Also in 2013, his hometown named a ballpark for him. The dedication ceremony brought together relatives, friends, and the town's mayor to celebrate "the pride of Cúa" and to unveil a specially commissioned sculpture of him. He is immortalized in bronze the way we remember him—crouched in his catcher's gear with a ball in his glove.45
In 1987, two years after Bo Díaz's arrival in Cincinnati, John Erardi profiled him for The Cincinnati Enquirer and described Díaz's quiet, introverted ways. 46 He was warm, polite, and kind, but he was simply not a big talker and never sought to draw attention to himself. Erardi described a Reds-Astros game that resumed after a two-hour, 20-minute rain delay:
When only a few hundred fans remained to watch the last two innings of the game, it was suggested to [second baseman] Ron Oester that of all the players on the field, perhaps only Díaz could have enjoyed the sparsity of the crowd, and that the only way he would have enjoyed it more is if the last 200 had had the good sense to go home, too. Oester shook his head in disagreement. "Bo wants to be appreciated," Oester said. "He might not come out and say it, but that is what he feels."
Sources
In addition to specific endnotes appearing throughout the biography, the author used clippings from Díaz's file at the National Baseball Hall of Fame Library in Cooperstown, New York. Also helpful were Retrosheet.com, BaseballProspectus.com, and especially Baseball-Almanac.com and Baseball-Reference.com. For biographical information and background on Díaz's early life and career, the author relied heavily on the article "At last Díaz finds a home," by Jeré Longman in The Philadelphia Inquirer, June 28, 1982.
Grateful acknowledgment to Díaz's agents, Randal and Alan Hendricks, with whom the author corresponded by email. Sincere appreciation to Rory Costello.
Internet resources
Diaz's statistics in Venezuelan winter ball: http://www.pelotabinaria.com.ve/beisbol/mostrar.php?ID=diazbau001
Notes
Full Name
Baudilio José Díaz Seijas
Born
March 23, 1953 at Cua, Miranda (Venezuela)
Died
November 23, 1990 at Caracas, Distrito Federal (Venezuela)
If you can help us improve this player's biography, contact us.
http://sabr.org/sites/default/files/DiazBo-1984Topps.jpg
600
800
admin
/wp-content/uploads/2020/02/sabr_logo.png
admin
2017-03-06 14:43:15
2021-08-25 15:31:38
Bo Díaz