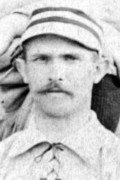 ---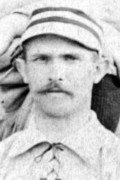 Many baseball fans know about the 1894 Philadelphia Phillies team that featured four outfielders who each batted over .400. In fact, if you look at the Phillies' lineup on Baseball-Reference, all of the starting eight batted over .300 and the team led the league, hitting .350. The lowest average for a position player with over 100 at bats belonged to 26-year-old shortstop Bob Allen at .260. Allen was a magician with his hands in the field who suffered a near-fatal, season-ending injury when, on June 15, a pitch from Cincinnati's Icebox Chamberlain hit him in the face, fracturing his cheekbone and orbital socket.
Allen, who began play with Philadelphia in 1890, sat out the next two years until he was coaxed back into playing for pennant-contending Boston. That season was followed by three years as a manager in the minors and majors. He left baseball after the 1900 season to concentrate on business and family before returning to the game in 1915 as a minor league owner. He was owner/president of the Knoxville Smokies of the Southern Association when he passed away in 1943.
Robert Gilman Allen was born in Marion, Ohio, on July 10, 1867. His grandparents had been the first settlers of Marion, constructing their home using a broad ax to hew the logs. His father, Elisha Allen, ran a bank in Marion and later in Paulding, Ohio. His mother was the former Maryanna Baker, whose father had built that first home.1
Bob Allen — often known as R. G. in his later business dealings — was the third of four children (three boys and a girl) born to Elisha and Maryanna. His education went through high school in Marion and he was working for his father in the banking business before his professional baseball career took off.
Central Ohio was a baseball hotbed with teams in almost every town. Allen's older brother Herbert played baseball and no doubt guided Bob into the sport. Marion had a town team and starting in 1885 there was also an independent team known as the Mohawks. Bob Allen, who stood 5-feet-11 and weighed 175 pounds, played second base and Herbert the outfield for the Mohawks in 1885.2
The season opened in July and ran into early October with one or two games per week. The only victory found in a search of Marion newspapers was over Galion.3 The roster changed often, and they used at least 16 different players to fill in when teammates defected to rival clubs.
In 1886 the Mohawks took the field again with better results. Allen, who threw and batted right-handed, pitched frequently. Baseball historian David Nemec reported that Allen also spent time that summer with an independent team in Shamokin, Pennsylvania.4
Allen began his professional career in 1887 with Mansfield, Ohio, in the Ohio State League. Also simply called the Ohio League, there were entries from three states. The championship went to Kalamazoo, Michigan.
Just before the season began on May 2, the Mansfield board of directors asked Allen to take over as manager. He was still short of his 20th birthday. The team opened the season with three wins, but when they faced the tougher competition it was obvious they were outclassed. On June 10 Allen submitted his resignation as manager (he continued to play shortstop) and was replaced by former league umpire Frank O'Brien.5
The team featured a teenage Ed Delahanty, who started the season at catcher, then moved to second base. Allen and Delahanty became close friends. Another noteworthy teammate was pitcher George England, a one-armed pitcher from Pittsburgh.6 Allen batted .326 but in a hitter's league that relegated him to 35th place in the hitting ranks. Delahanty hit .351. The league began to unravel in August before disbanding in September with Mansfield at the bottom of the standings.
Columbus, Ohio liked what they saw in Allen and reached an unwritten agreement for the 1888 season.7 In February they decided they no longer needed him, and Bob returned to Mansfield, which was now in the 10-team Tri-State League. One of just two returning regulars from the 1887 team, Allen played shortstop and batted lead-off to open the year. He started the campaign with a hot bat, hitting .400 (26-65) in mid-May, but the team was struggling.8
Allen's hitting cooled considerably and the "0-fers" began to appear more often. On July 4 Mansfield swept Toledo in a doubleheader, but he went just 1-for-9. The next week on Friday the 13th, he collided with Sandusky's first baseman while legging out an infield hit and fractured his left leg just above the ankle.9 He was done for the season. Despite the injury he was signed by Pittsburgh for the next season.
He fondly remembered his time in spring training with the Alleghenys. He was most impressed with veteran teammates Billy Sunday and Deacon White. Unfortunately, he struggled with an illness and never got into playing shape. Pittsburgh let him go on April 27, noting he was a good fielder but weak with the bat.10
After his release, Allen made his way west to Davenport, Iowa, where he joined the Hawkeyes of the Central Interstate League. Playing shortstop and batting clean-up much of the season, Allen impressed fans and writers with his range and hands but left a lot to be desired at bat. He hit a mere.207 with a .282 slugging percentage — hardly the ideal man for the middle of the order.
In June manager Charles Holacher resigned and Allen was appointed manager and team captain.11 The Hawkeyes season came to a bizarre ending in mid-September. Despite leading the league with 59 victories, the stockholders met and opted to disband the team. They were reacting to a conspiracy theory that an umpire named Hunt had been assigned to work their next 12 games and that he had declared they would not win a single one.12 Supposedly this would assure Quincy the pennant, which eventually went to Springfield.
Harry Wright, manager of the Philadelphia Phillies, had suffered through the latter part of 1889 with Al Myers at second base and Bill Hallman at shortstop. They both hit adequately but they piled up errors faster than anyone else in the league; Myers with 99 and Hallman 78. The astute Wright realized a slick-fielding shortstop would be the solution and signed Allen.
In Florida for spring training, the Phillies wasted little time before starting exhibition play on February 21. Allen was installed at shortstop and Myers returned to second base where he would raise his fielding percentage from .843 to .958. Any hitting Allen provided from the eighth spot in the lineup would be a luxury.
Allen could handle the bat: in an April 7 exhibition against the Philadelphia Athletics he went 3-for-4 with two walks in a 24-6 rout. In the season opener against Brooklyn, he doubled for one of just three Phillies' hits but more importantly did "phenomenal work… of the Ward–Glasscock stripe and… 'ate up about five base hits.'"13
The Phillies went into first place on May 2 and stayed there until mid-June when Wright was felled by a mysterious case of blindness. President A. J. Reach managed the team for 11 games, dropping out of first before turning the reins over to Allen. Suddenly a 22-year-old rookie was at the helm of a pennant contender.
Just two weeks into his tenure a Philadelphia paper was theorizing that he might become a "great manager."14 The team had just returned from a swing through the three "C's" — Chicago, Cleveland, and Cincinnati — with an 8-5 record. Allen's best results were still to come. The Phillies dropped the first game of a home stand to Cincinnati, then reeled off 14 straight home wins to regain first place. The Phillies' bats were on fire; they outscored their opponents by over 100 runs in that stretch. Allen's managerial record stood at 25-10 on July 23.
Most sources list Allen's record as 25-10 for the year, suggesting he did not manage beyond July 23. It should be noted that there are numerous mentions in the Philadelphia papers as late as August 8 where he is labeled as "manager Allen."15 Wright eventually returned, and the Phillies finished in third place.
Allen played in 133 games and batted .226. He hit two home runs. The first came in the morning game on the Fourth of July, a three-run blast against former Mansfield teammate Frank Foreman. The other was an August grand slam off Bob Caruthers. When future evangelist Billy Sunday joined the team in August he roomed with Allen.16
Allen's 1891-92 seasons were remarkably similar. His hitting was in the .220s with occasional power. His fielding was always held in high regard. Modern statistics show him with a range factor above that of the league each year. His fielding average dropped to .896 in 1891 but bounced back to .919 in 1892. His 945 chances accepted that season were surpassed only by Hughie Jennings.
The pitching distance was stretched to the present day setting for the 1893 season. The National League hit .245 in 1892 before batting averages soared in 1893 (.280) and again in 1894 (.309). Not surprisingly Allen's numbers look much better in 1893 than before. His stat line of .268/.369/.410 was a major improvement over his first three seasons. From 1890 through 1892 he had always finished in the bottom 10 percnt of "qualifiers" for the batting crown. (Qualifier is a twentieth century manifestation that awards the batting crown only if the player had 3.1 at-bats per team game.)17
After three seasons at the bottom of the hitting rankings, Allen found himself ranked 59 of 79 batters for average. More impressive was his slugging percentage, which placed him above the league average in 34th place and ahead of four teammates who met the qualifiers standard. Coupled with his tremendous glove work, and still just 25, the future was bright.
Arthur Irwin took the helm of the Phillies in 1894. On paper the Phillies looked to be loaded, but they were hit hard by the injury bug. Outfielders Sam Thompson and Delahanty missed time, opening the gate for Tuck Turner to get over 300 at-bats and hit a team-high .418. Catcher Jack Clements was held to just 48 games by a variety of maladies. The most serious injury was Allen's beaning on June 15. It came in the ninth inning of a 21-8 blowout of Cincinnati. Until then, he had escaped injury, starting the first 41 games
Allen was hospitalized and there were fears that he might die or be left blind. Blessedly, he pulled through and returned to his parents' home in Marion to recuperate. The injury would heal but Allen was concerned that the memory of the beaning would affect his confidence as a hitter.18 Once the headaches subsided, Allen went to work in his father's bank in Paulding, Ohio.
Allen had married Estelle Cunningham Blizard in late October 1890 in her hometown of Paulding. She was a "highly educated and accomplished young lady" from one of the "best families" in Paulding. The nuptials were held in the Presbyterian Church, after which the couple honeymooned on the East Coast.19 After the beaning there were a few reports that Mrs. Allen did not want Bob to return to the game.20 This might have been true in 1895 but as time went on it did not seem to be an issue.
Teams made offers to Allen in 1895 and 1896 but he did not accept any of them. He did however schedule a banking trip to Chicago in the fall of 1896 that coincided with the league baseball meeting. Speculation had him in the running for the Philadelphia managerial position.
In early January 1897, Allen signed at "the highest salary in the league" to manage and play shortstop for Detroit of the Western League.21 He arranged to bring the team to Marion for an exhibition on June 18 against a team of locals. Marion selected their best pitcher, Jack Harper, who was playing semipro ball and working in an oil field. The game went 13 innings with Marion winning, 5-3. Harper only allowed six hits, one of them an Allen double.22 Harper's performance brought him fame that culminated with eight seasons in the majors.
The Western League in 1897 was an example of the "haves" and the "have nots." In early July Detroit was definitely a "have not" as they were below .500 in fifth place, looking up at Milwaukee in fourth but playing over .600 ball.23 Detroit ownership kept press and fans wondering what moves might be made when suddenly Frank Graves took over as manager and Hunky Hines moved from second base to shortstop. Allen had been fired.24
Allen was unemployed for about a week until he accepted an offer from the Boston Beaneaters. Boston had started the season slowly but had taken over first in June and were in a spirted race with Baltimore for the pennant. Their shortstop, Herman Long, was nursing a hand injury and Allen was added as insurance.
Boston spent their money wisely because Long was forced to the bench with Allen taking over for 32 games at shortstop. His fielding percentage and range factor were better than Long's and he hit .319 with a career-high .409 OBP. Captain Hugh Duffy praised him: "Our pitchers put us in the race and Bob Allen kept us there."25 Boston finished in first place with a 93-39 record. Despite playing just 32 games, Allen was voted a half share of the Temple Cup money.26
Allen had negotiated a deal with Boston that did not include a reserve clause, so he was a free agent when the season ended.27 He took the position of player/manager with the Indianapolis Hoosiers (aka Reds) in the Western League. Allen assembled a strong pitching staff with holdovers Foreman and Bill Phillips joined by Ed Scott and Marvin Hawley. Indianapolis was not expected to be a contender, but a fast start and Allen's guidance kept them in the race.28
The race was a heated one with five teams holding the top spot after the fourth of July. Kansas City and Indianapolis battled it out in the final two weeks, with Kansas City winning by 6 percentage points (.633 to.627).29 In 1899 Phillips left the team and was replaced by young left-hander Doc Newton. Indianapolis played tight defense and team ball to squeeze into the title, beating out the Minneapolis Millers .615 to .603.30
Allen's efforts earned him the manager's job in Cincinnati for 1900, but his appointment was not without controversy. There were fans and sportswriters who favored shortstop Tommy Corcoran as the successor to Buck Ewing. These same individuals bristled at the thought that Allen might choose to play in the field instead of Corcoran.31
The 1899 Reds under Ewing had won 83 games but finished sixth. The lineup underwent changes under Allen, but he did not supplant Corcoran. Sam Crawford, Harry Steinfeldt, and Jimmy Barrett all gained more prominent roles. Former Hoosiers Scott and Newton joined the pitching staff.
The season started well for the Reds, who were in second place before an eight-game winless stretch in May dropped them off the pace. The team was dealt an even bigger loss on May 28 when the grandstand caught fire and was almost completely destroyed. One game was postponed before the team departed for a scheduled Eastern swing. Because of the fire they added an extra week on the road (a total of 23 games).
The Reds finally returned for a series with Boston on June 28. Fans had no roof over their heads and the field had no grass, but the Reds finished out the season without further interruptions,32 finishing seventh at 62-77.
When the season concluded, the Reds' management dragged their feet about selecting a manager for 1901. Allen's fate was sealed in late October when the Cincinnati Enquirer ran an account that reported discontent by an anonymous player as well as negative reviews from Phillips, catcher Mike Kahoe, and pitcher Noodles Hahn, who had rebelled against Bob Wood as his catcher.33 The Reds eventually hired Bid McPhee who guided the team to a last-place finish in 1901 with just 52 wins.
Allen's managerial style was more like a businessman than a friend. Some players complained that he did not pal around with them. He acted like a father or financial advisor whenever a player came to him asking for an advance or a loan. Allen was often heard to say, "How do you ever expect to save money if you spend it so recklessly?"34
Allen left the game and eventually entered the lumber business in the South which took him to Little Rock, Arkansas. The family had grown with the birth of Robert Jr. in Philadelphia in 1893 and Edgar Cunningham Allen in Paulding in 1902.
Late in 1914, Allen returned to baseball by buying the Montgomery, Alabama, franchise in the Class A Southern Association and moving the team to Little Rock.. The name Travelers, which had been used with previous franchises, was brought back. That first spring was spent looking for a manager and filling out the roster because the only regular retained from 1914 was Heinie Jantzen.
Allen opened the season as manager before turning the reins over to Charlie Starr in mid-May. Appointing Starr, the starting second baseman, was a shrewd financial move because Allen would only have to count half of Starr's salary towards the league salary limit. Allen left with the team in seventh place with a 10-18 record; they finished last at 65-87, an 11-game improvement over 1914 Montgomery.
Allen would retain the franchise through the 1930 season. He was his own general manager and his son, Robert Jr., was the secretary until 1920, when he left for a lucrative position with a cotton business on the East Coast.
The franchise's best years came from 1918 through 1922. Kid Elberfeld served as manager and ably guided the team to five consecutive winning seasons, including two second=place finishes and the championship in 1920.
The 1920 squad featured league batting champ Harry Harper and the circuit's home run leader, Bing Miller. The pitching staff was anchored by righty Chief Yellow Horse with 21 wins and lefty Hank "Rube" Robinson. who won 26. Robinson, from Floyd, Arkansas, was in the midst of a 13-year career with Little Rock.
Allen was regarded as an astute judge of talent. While in Arkansas he was able to sign many top prospects from the neighboring states. The most notable players who spent some or all of their first professional season with the Travelers were shortstop Travis Jackson, pitcher Firpo Marberry, and catcher Bill Dickey.
Allen believed in running his baseball operation like a bank. While some owners relied on giveaways and promotions to attract fans, Allen felt that the product on the field should be the main attraction.35 Little Rock was a small market compared to Nashville, Birmingham and Atlanta, yet he was able to outdraw them with a winning team.
After some initial success with finding top talent, Allen found it increasingly difficult to acquire top young players. From 1923 to 1927 the team finished last. In 1930, led by pitcher Leo Moon, the team won 81 games but still finished in fifth place.
Allen sold the Little Rock franchise and purchased the Nashville Volunteers in January 1931. He paid $50,000 for 90 percent control of the team's stock and assumed a stadium mortgage.36 Despite the addition of eventual league batting and home run champion Moose Clabaugh, the team fell into last place. In mid-June, cash-strapped Allen offered the club to local businessman Fay Murray, who agreed to the sale.37 The transfer of the team emboldened the press to critique Allen harshly. Nashville sports columnist Claude "Blinky" Horn was especially pointed, stating that "Bob Allen left baseball here prostrated."38 In another column Horn blamed low attendance on the "menace of Bob Allen."39 Oddly just month's earlier the same writer had praised Allen for the increase in turnstile use over the previous season.40
Shortly after he left Nashville,rumors circulated that Allen was after another franchise in the Southern Association. He purchased the Mobile franchise in December 1931 and shifted it permanently to Knoxville for the 1932 season.41 At his side in this venture was his younger son, Edgar, who was appointed secretary-treasurer of the team.
Edgar Allen had been a star baseball player at the University of Pennsylvania and developed a friendship with Walter O'Malley while there. He joined his father after his graduation in 1925. After working in different baseball capacities from batboy at age 12 to vendor and grounds crew, he was ready for a more important role.42 In 1943 when his father died, he took control of the team alongside his brother.
Battling the effects of the Depression in another small market, the Allens were able to bring only one winning season, 1939, to Knoxville. Good young talent was hard to afford, and the team roster listed many more players in their late thirties than early twenties. The most notable youngster he auditioned was a big slugger out of Alabama, Rudy York. After just a three-day trial, York was sent back to his home with a .100 batting average. York went on to a 13-year ML career and led the AL in home runs and RBIs in 1943.
While R.G. Allen was not prone to give-a-ways and special nights, he was a fan of the increased attendance at night games. He had introduced night baseball in Little Rock in 1930 and did the same in Nashville the following year. It seems odd then that night baseball did not come to Knoxville until after Allen's death. In the two previous cities he owned or controlled the stadiums. He did not have that luxury in Knoxville, having signed only short-term leases. He was loath to install lighting for fear of losing his investment.43
In the 1940s, Allen's health began to deteriorate. Bob Jr. left Boston and came home to assist Edgar with running the club in April 1943.44 Allen was hospitalized in Little Rock in the spring of 1943 and died there on May 14. He was buried in the Roselawn Memorial Park in Little Rock. The Park is the resting place of numerous Arkansas governors and congressmen as well as the Dickey brothers, Bill and George.
Estelle passed away in 1960 and is buried alongside her husband. Edgar stayed in baseball and was a supervisor of Dodgertown in Vero Beach, Florida, when he died in 1960. Bob Jr. resided in Boston when he died in 1975.
Allen was interviewed in the Marion newspaper in 1939. He mentioned his two injuries as being days he would always remember. He had few regrets but did mention two. The first was not doing better when managing Cincinnati. His biggest regret was turning down an offer to buy the Western League Detroit franchise in 1897 for $12,500.45 That franchise became the Detroit Tigers of the AL.
Upon his death Allen received praises for his dozen seasons as a player and 28 years as an owner in the Southern Association. Billy Evans was president of the league at the time of Allen's death and eulogized him: "Baseball loses one of the pioneers who helped make the game and the Southern League loses a man who helped greatly in the making of baseball in the South."46
Acknowledgments
This biography was reviewed by Bill Nowlin and Norman Mact. It was fact-checked by Kevin Larkin.
Sources
In addition to the items cited in the notes, minor league records from the 1900s are taken from the first edition of the Encyclopedia of Minor League Baseball. Statistics are from Baseball Reference unless otherwise noted.
Notes
1 "Death Takes "Bob" Allen Marion's No. 1 in Baseball," Marion (Ohio) Star, May 15, 1943: 1.
2 President Warren G. Harding ran a newspaper in Marion. He was reputed to have played first base for the town team. This writer did not uncover any box scores containing Harding's name. Harding did not appear in any game stories with the Mohawks suggesting he was not one of the better players in the area.
3 Marion Star, September 19, 1885: 4.
4 David Nemec, ed., Major League Baseball Profiles, 1871-1900, Volume 1 (Lincoln: University of Nebraska Press, 2011), 445.
5 "Mansfield Club Changes," Cleveland Plain Dealer, June 11, 1887: 5.
6 "Mansfield 2—Picked Nine 0," Cleveland Plain Dealer, April 27, 1887: 5.
7 East Liverpool (Ohio) Evening Review, December 3, 1887: 4.
8 Sporting Life carried the box scores for the Tri State League.
9 "Base Ball Briefs," Wheeling (West Virginia) Daily Intelligencer, July 16, 1888: 4.
10 "No Game at Pittsburg," Boston Globe, April 27, 1889: 5.
11 "Davenport Club Changes," Inter Ocean (Chicago, Illinois), June 4, 1889: 6.
12 "Out of the League," Democrat Gazette (Davenport, Iowa), September 17, 1889: 3.
13 "National League," The Times (Philadelphia), April 29, 1890: 2.
14 "Baseball Comment," Philadelphia Inquirer, July 8, 1890: 5.
15 "Will There be a Shake-up," Philadelphia Inquirer, August 8, 1890: 3. If you extend his managerial time to August 8 then his record would be 30-16.
16 Bob Allen's Career with Major Leaguers," Marion Star, October 2, 1919: 8.
17 In 1890 he was 42nd of 48, in 1891 it was 49 of 53 and in 1892 he was 62 of 69. Courtesy of Baseball-Reference.
18 "Sporting Notes," Philadelphia Inquirer, August 12, 1894: 24.
19 "R.G. Allen's Marriage," Marion Star, October 31, 1890: 3.
20 "Chat of the Diamond," Philadelphia Inquirer, June 28, 1895: 5.
21 "Will Not Sell," Detroit Free Press, July 14, 1897: 6. Terms of Allen's deal were not revealed but $2500 has been suggested. The "highest salary" comment came from his disgruntled owner so it may well have been sour grapes.
22 "Marion Beat Detroit in 13 Innings," Detroit Free Press, June 19, 1897: 6.
23 "Western League Standings," Detroit Free Press, July 4, 1897: 6.
24 "How Will it End?," Detroit Free Press, July 4, 1897: 6.
25 "The City in Brief," Marion Star, September 23, 1897: 3.
26 "Base Ball Caught on the Fly," The Sporting News, October 23, 1897: 5.
27 "Robert G. Allen," The Sporting News, May 20, 1943: 12.
28 "Was an Exciting Race," Kansas City (Missouri) Journal, September 22, 1898: 5.
29 W.C. Madden and Patrick J. Stewart, The Western League (Jefferson, North Carolina: McFarland, 2002), 50-51.
30 Madden & Stewart, The Western League.
31 "About Finished," The Sporting News, February 10, 1900: 5.
32 "Willis Too Much for Reds," Cincinnati Enquirer, June 29, 1900: 4.
33 "All Sports," Cincinnati Enquirer, October 28, 1900: 31.
34 "Notes of the Diamond," News-Journal (Mansfield, Ohio), April 11, 1903: 11.
35 "Bob Allen, Dean of Southern Club Heads, Called by Death," The Sporting News, May 20, 1943: 12.
36 "R.G.Allen Buys Nashville Club," Courier-Journal (Louisville, Kentucky), January 20, 1931: 13.
37 Blinky Horn, "From Bunker to Bleacher," Tennessean (Nashville, Tennessee), June 23, 1931: 8.
38 Blinky Horn, "From Bunker to Bleacher," Tennessean, July 8, 1931: 6.
39 Blinky Horn, "From Bunker to Bleacher," Tennessean, September 17, 1931: 13.
40 Blinky Horn, "From Bunker to Bleacher," Tennessean, May 15, 1931: 15.
41 The franchise had played in both Mobile and Knoxville in 1931. When a purchase by a Knoxville group could not be finalized, the franchise was set to return to Mobile. The team was owned by Byrd Douglas of Nashville.
42 Online Arkansas Baseball Encyclopedia, https://arkbaseball.com/tiki-index.php?page=Edgar+Allen, last accessed March 29, 2020. Also Carl T. Felker, "Front Office Families," The Sporting News, March 27, 1941: 1.
43 "Knoxville Comes Out of the Dark with Meridian's Park Lights," The Sporting News, July 29, 1943: 6.
44 Knoxville (Tennessee) News- Sentinel, April 18, 1943: 11.
45 "Death Takes "Bob" Allen Marion's No. 1 in Baseball"
46 "Evans in Tribute to R.G.Allen," Arkansas Gazette (Little Rock, Arkansas), May 17, 1943: 6.
Born
July 10, 1867 at Marion, OH (USA)
Died
May 14, 1943 at Little Rock, AR (USA)
If you can help us improve this player's biography, contact us.
https://sabr.org/sites/default/files/AllenBob.jpg
600
800
admin
/wp-content/uploads/2020/02/sabr_logo.png
admin
2020-05-04 20:03:12
2020-07-06 14:50:22
Bob Allen