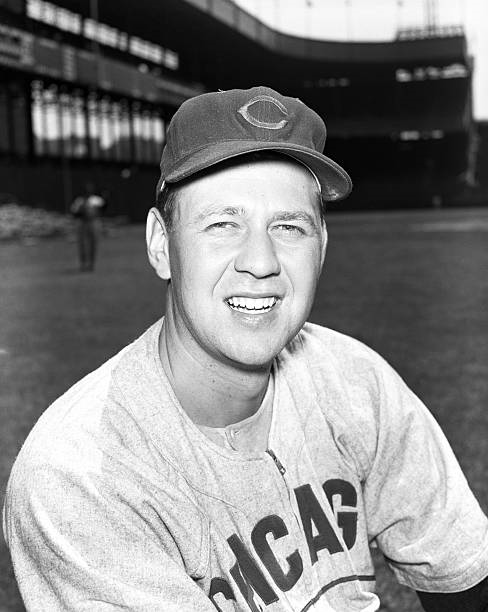 ---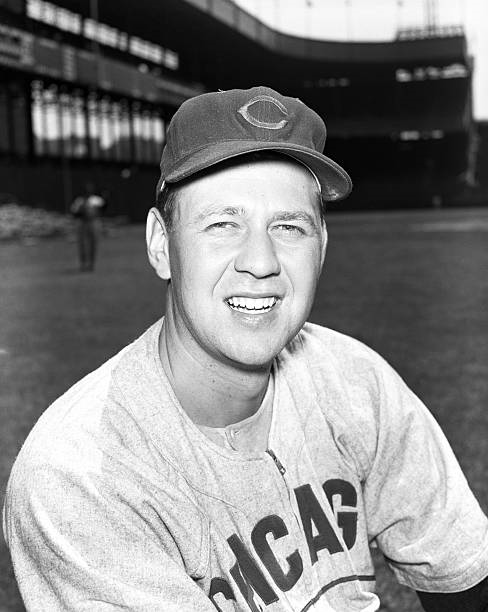 Like his Hall of Fame teammate, Ernie Banks, right-handed pitcher Bob Rush was just happy to be in the big leagues. "I never really regretted signing with the Cubs," Rush said. In his 10 campaigns with the North Siders (1948-1957), the "Lovable Losers" finished in the second division every season and never had a winning record. "With the Cubs I was able to step right in and pitch and be a part of the rotation," added the eternally optimistic yet shy Rush, who debuted as a 22-year-old after splitting his only season in the minors in Class A and Double A. Rush emerged as the Cubs' workhorse, earned two All-Star berths, and regularly logged 200-plus innings, yet was 30 games under .500 (110-140) during his decade with the team.1 Had he played with perennial or even occasional contenders, Rush would probably be counted among the best pitchers of the 1950s. Traded to the Milwaukee Braves prior to the 1958 season, Rush earned a semblance of poetic justice, twice experiencing the thrill of a pennant race and once a World Series as a productive spot starter and reliever.
Robert Ranson Rush was born on December 21, 1925, in Battle Creek, Michigan, the only child of Harry and Kathryn Rush. "By the time I could walk I had a glove in my hand," he said.2 It's no wonder – the elder Rush was an accomplished pitcher who had a short stint in Organized Baseball with the Marshalltown (Iowa) Ansons in the Class D Central Association in 1917, before moving into semipro circles where he could earn more money. He had pitched and managed the Kellogg's cereal company team in Battle Creek, and then two years after his son's birth moved the family to South Bend, Indiana, where he was employed by the Bendix factory that supplied parts to the local Studebaker automotive plant, and also piloted and hurled for their company team. According to Bob, he learned everything from his father. "First it was just throwing – how to get my body into the pitch and the follow-through. He always stressed three main points: control, keep the ball low, and don't get rattled."3 Rush attended the Studebaker school and then was a standout basketball and baseball player at Riley High School, where he threw three no-hitters, two in succession. Tall and lanky, the 6-foot-4, 180-pound Rush was mentally tough, forged by his father's discipline. In additional to playing American Legion Ball in the summer, Rush played for the Knights of Pythias semipro club after graduating from high school in 1944.
Rush attracted a few big-league scouts in high school. The Cleveland Indians attempted to sign him after his junior year, in 1943, but Rush's father was adamant that his son finish school.4 A big break came when Pop Frankel, the Pythian skipper, contacted Chicago Cubs farm director Jack Sheehan that things got rolling the following summer. Scout Joe Kernan was dispatched to track the youngster and was immediately impressed. When the Cubs were in South Bend to play an exhibition game against an Army team, Sheehan invited Rush to the game for a look-see and to pitch BP. "He's faster than anyone in our league right now," gushed Cubs coach Roy Johnson.5 The next day, Rush and his folks were at Wrigley Field, and the 18-year-old signed a contract for a reported $3,000 bonus.
Scheduled to report to Nashville in the Class-A1 Southern Association in the spring, Rush had to put his professional baseball career on hold when Uncle Sam called. He was inducted into the US Army in October and completed 16 weeks of basic training at Camp Croft in Spartanburg, South Carolina.6 Subsequently assigned to the 4th Armored Division in General George C. Patton's 3rd Army, Rush was a machine gunner in a Jeep reconnaissance patrol and saw action on the front lines in Germany. He remained with the occupation forces in Europe after Germany surrendered and was later assigned to the 1st Infantry Division, for whom he had the chance to play some baseball.
Discharged in July 1946, Rush returned to South Bend and got into baseball shape by resuming his semipro career. The following spring, he was assigned to the Des Moines Bruins, where he tore up the Class-A Western League (6-1, 1.61 ERA), earning a midseason promotion to the Nashville Volunteers, now classified Double A. Arch Ward of the Chicago Tribune whetted the appetite of Cubs fans by reporting that Rush was considered "one of the fastest young pitchers to appear in the [Southern Association] in 20 years."7 Rush overcame a rough start by winning his final six regular-season games and three more in the playoffs before losing the final of the league championship series to the Mobile Bears on two days' rest. The Cubs added Rush with his "syrup-smooth delivery" and his combined 15-8 regular-season slate to their 40-man roster in the offseason.8
In 1948 Rush reported to the Cubs' spring training facility on Catalina Island, the picturesque yet remote camp off the Southern California coast near Los Angeles. With just 183 innings pitched under his belt, Rush was not expected to make the club; however, skipper Charlie Grimm was desperate to find some arms in order to improve the Cubs' sixth-place finish from the previous season. Rush had a strong spring and hurled "steady as an old-timer" in his debut on April 22 against the Pittsburgh Pirates at Forbes Field, declared sportswriter Irving Vaughan in the Tribune, yielding two runs in seven innings, but the Cubs were shut out.9 In a frustrating and inconsistent season, Rush was in and out of the rotation. He picked up his first big-league win, tossing 2⅔ innings of scoreless relief against the Bucs in the first game of a doubleheader on May 31 in the Windy City. In his best performance of the season, he came up empty, settling for a no-decision after a 13-inning "brilliant" complete game (yielding a sole unearned run on 11 hits) in the second contest of a twin bill against the Boston Braves on July 15 that was called because of darkness.10 As Rush's first big-league season entered its last month, he was immortalized, along with skipper Grimm, in Norman Rockwell's painting The Dugout, which graced the cover of the Saturday Evening Post on its September 4 issue.11 The rookie's trial by fire ended with a 5-11 record and 3.92 ERA in 133⅓ innings for the Cubs, who finished in last place for the first time since 1925.
Rush's most important victory of the year took place on November 20, 1948, when he married Alberta Jane Addison. Together they welcomed four children into the world, Cindy, Rojane, Ransom, and Reid. South Bend remained the family's home until the mid-1950s. Rush held a number of offseason jobs, including selling real estate and working in the Bendix factory and in general retail stores. He also completed a few college classes at Indiana University.
Rush's 10 seasons with the Cubs are characterized two consistencies: He developed into a dependable workhorse and one of the most underrated pitchers in the league, averaging 222 innings and 12 wins per season after his rookie campaign. And the Cubs were unfailingly woeful, finishing without a winning record and in the second division all 10 of those seasons, contributing to Rush's 110-140 career slate with the North Siders.
The Cubs were counting on the 23-year-old Rush to take a big leap forward in 1949 to form a potent one-two punch with southpaw Johnny Schmitz, coming off 18 victories and an All-Star berth. Rush concluded spring training by shutting out the St. Louis Cardinals in an exhibition game in Houston, then upped the ante by blanking the Pirates on three hits at Wrigley Field in his first start of the regular season. Five dreadful starts followed, all losses in which he yielded 23 runs in 27 innings, but Grimm (who'd be fired later that season) stuck with him as the Cubs were thin on pitching, and it paid off. Relying essentially on his fastball, Rush strutted his stuff over a two-month stretch (May 25-July 24), posting a robust 2.84 ERA in 98⅓ innings and winning seven of 13 decisions. "His fastball is enough because you can't get set for it, even when you know it's coming," said his batterymate Mickey Owen.12 Just when Rush found his groove, he hurt his shoulder on August 3. He struggled thereafter, split his time as a starter and reliever, and limped to the finish line as the cellar-dwelling Cubs (61-93) had the NL's worst offense (outscored by 177 runs) and posted their worst record since 1901, when they were known as the Orphans. Rush (10-18, 4.07 ERA) logged 201 innings, the first of eight times in the next nine seasons he'd exceed the 200-inning mark.
Bursting out of the gate in 1950, Rush blanked the Cardinals on four hits in his first start, won his first five decisions, and by the end of May was one of the hottest pitchers in baseball (6-1, 2.66 ERA) while the Cubs were playing .500 ball for Frankie Frisch, in his first full season as the team's skipper. "He had the tools," quipped catcher Owen about Rush's maturity. "Now he has learned how to use them. He is consistent, poised and in command."13 A low-ball pitcher, Rush tossed out of a stance and with a release described by Cubs beat reporter Edgar Munzel as "somewhere between Warren Spahn's up-and-down overhand toss and Ewell Blackwell's three-quarter motion."14 Rush himself described his motion as beginning with a high leg kick; then he generated power by leaning back in his delivery and pushing hard off the rubber with his arm swinging around like a whip.15 His deliberate windup and slow delivery were offset by the speed of his heater and the explosiveness of his pitches; however, runners took advantage of his slow delivery and Rush never developed an effective throw to first to keep men on first base from taking big leads. It appeared as though Rush had come into his own. At the end of June, his nine wins were one off the league lead and helped him earn a berth on the All-Star team. (He did not pitch.) Then the bottom fell out. From July 4 to September 4 Rush lost 12 of 13 decisions, including eight in a row, with a dismal 5.28 ERA, while the Cubs dropped from .500 to 20 games under .500. Rush was described by sportswriter Edward Burns of the Tribune as a "weak and wobbly pitcher, totally without competitive fire and skill" during the slump. His only victory, a complete-game 10-hitter against the Pirates, 7-2, was punctuated by his first of four career round-trippers.16 Rush rediscovered his early-season form, going the distance in his last five starts to finish the season with 13 wins and a 3.71 ERA, and set career bests in innings (254⅔), starts (34), and complete games (19), while yielding the fewest home runs per nine innings in the NL (0.4). The Cubs escaped the cellar, yet still lost 89 times to finish in seventh place and were once again the league's lowest-scoring team, a factor in Rush's 20 losses, which tied him with the Philadelphia Athletics Alex Kellner for the most in the big leagues.
"[Rush] could be one of the best," opined the Tribune's Edward Burns, then added in his typically acerbic style, "but makes about every mechanical mistake imaginable, including turning to the wrong base to throw a ball."17 The South Bend skyscraper, as the Windy City sportswriter liked to called him, did his best to prove Burns's preseason comments prescient by pitching poorly in the first three months of 1952; in six of his first 16 starts he failed to reach the fifth inning and his ERA hovered around 5.00. Rush chafed under the volatile Fordham Flash and was relieved when Frisch was replaced after 80 games. "Frisch had us all jittery with the way he ranted and raved at us," said Rush.18 Cubs institution Phil Cavaretta, the backup first sacker, with the team since 1934, inherited a bad club, which got worse under his direction (27-47) to reclaim its position in the cellar. However, Rush prospered under the hands-off approach of "Philibuck," posting a robust 2.88 ERA in 97 innings in the last two months of the season, highlighted by three four-hitters and a 14-inning outing with 10 punchouts but a no-decision.
The Cubs, admitting that Rush "wasn't ready for the majors" as a rookie and that his frustrating inconsistencies over the last few years were part of his learning curve, anticipated a breakout season from the 26-year-old speedballer in 1952.19 Sportswriters, however, expected little from the Cubs, whose staff produced the second worst team ERA in the NL the previous season, and there was no reason to think it would be better in 1952. After an unimpressive April, Rush kicked off the best stretch of his life with a distance-going 10-inning victory over the Dodgers, 3-2, on May 3 at Wrigley Field. In rapid succession, Rush pitched a four-hitter and five-hitter, then tossed three consecutive shutouts as part of a career-best streak of 32 consecutive scoreless innings. The third of those gems took place against the Cincinnati Reds in the second game of a doubleheader on May 30 at Wrigley Field. Rush set down the first 20 batters he faced, settling for a two-hitter with 10 strikeouts and no walks. Rush attributed his success to better control of his sinking fastball, whose late breaking movement made it one of the best in the majors. Cubs catcher El Tappe once described Rush's heater as a "heavy ball that would tear you up. You can catch him every day and your hand would tell you. Bob's [fastball] felt like a shotput, a heavy ball just digs and grinds into a catcher's glove, and that's what Bob threw."20 Dizzy Dean, former Cardinals star pitcher of the 1930s and then a nationally renowned baseball announcer, considered Rush the "fastest pitcher in the league."21
Rush was on a roll. His six-hitter against the New York Giants on June 4 was his seventh consecutive complete-game victory, during which he yielded only five earned runs in 64 innings (0.70 ERA) and just 35 hits. Two starts later (June 13) he blanked the Boston Braves on three hits and fanned a career-high 11 to push the Cubs (33-19) into second place, tied with the Giants, 3½ games behind the Dodgers [officially the Cubs were .011 percentage points behind the Giants given their unbalanced schedule]. The Cubs hadn't been in second place this late into the season since their last pennant, in 1945. Dean, who had also hurled for the Cubs, noted that Rush was no longer the "herky-jerky" pitcher from a year ago and had found a natural rhythm. "He tried to put a lot of extra stuff on the ball with just his arm," said Dizzy. "Now he's smooth. He has stopped trying to throw to spots."22 The Cubs went into a tailspin soon thereafter and had dropped to .500 in late July while Rush went six weeks in search of his 10th victory. The highlight in that drought was Rush's second and final appearance in the All-Star Game. In a rain-shortened contest at Shibe Park in Philadelphia, Rush relieved the Phillies' Curt Simmons to start the fourth and was clobbered for two runs on three hits and a walk. Rush was rescued by teammate Hank Sauer, whose two-run round-tripper in the bottom of the fourth gave the NL a 3-2 lead. Rush pitched a scoreless fifth and was declared the victor when the game was called a half-frame later. Avoiding the prolonged slumps that had hitherto characterized his career, Rush finished what proved to be his most successful season, posting a career-best 17 victories and 2.70 ERA. He finished second in the NL in punchouts (157) and fourth in innings pitched (250⅓) while the Cubs finished at .500 (77-77), marking the only time from 1947-1962 that they did not have a losing season, though they still finished in the second division. The pitching staff, led by Rush, 27-year-old Warren Hacker (15-9, 2.58), and Paul Minner (14-9. 3.74) gave the Cubs reason to look forward to the next season. A lifetime .173 hitter, Rush also had his most successful season with the bludgeon, producing career-bests with 28 hits and a .292 average, as well as 15 RBIs.
Though few expected the Cubs to challenge for the pennant in 1953, the club had enough hitting and pitching to vie for a first-division finish. That is, until everything fell apart. It began with Hank Sauer, the reigning National League MVP (37-121-.270), who broke his finger in spring training and saw his numbers halved. The pitching collapsed, with the team's ERA rising over a run per game to 4.79 (better only than the 104-loss Pirates). Hacker slumped (12-19, 4.38), as did Minner (12-15, 4.21). Rush tossed a complete game to beat the Reds, 3-2, on Opening Day, but came down with a bum shoulder in May, pitched through the pain, then was sidelined in early June for two weeks. Forced initially to pitch with a side-arm delivery upon his return, Rush (9-14) was out of whack and plodded through a lackluster campaign. Robbed of his heater, his strikeout rate dropped while his walk and hit rates per nine innings increased and his ERA ballooned to 4.54 in 166⅔ innings. The Cubs (65-89) finished in seventh place, and rode out the decade and most of the next with few expectations of fielding a competitive, let alone winning team.
Rush was no longer touted as the next 20-game winner after his injury-plagued season and did not develop into the national star his '52 campaign might have suggested. However, he was a steady, if not sometimes spectacular pitcher, who toiled in relative obscurity with a moribund club. From 1954 to 1956, Rush produced three almost identical seasons, winning 13 each campaign, logging between 234 and 239⅔ innings with a cumulative 3.49 ERA while the Cubs finished in seventh, sixth, and last place, averaging 88 losses per season. By one modern advanced metric (WAR, Wins Above Replacement), which attempts to quantify a player's contribution to his team, Rush was the NL's third most valuable pitcher in 1954 (5.2 WAR) and second in 1955 (a career-high 5.5 WAR). [For some context, a player with a WAR of 5-6, according to the sabermetric-oriented publication FanGraphs, is a star.]23 Rush also began to wear glasses to pitch in the 1954 season because of astigmatism. There were annual rumors of his imminent departure to teams like the Dodgers or Cardinals, but the Cubs never pulled the trigger to deal their staff's unequivocal ace.
In 1957, the 31-year-old Rush was the Cubs' Opening Day starter for the third consecutive season. And for the third straight time, he was hit hard (a combined 26 hits and 13 runs in 16 innings) and was collared with the loss for the second time. Rush piled them up in his 10th season, losing 12 of his first 13 decisions through July 31, by which time the Cubs had the worst record in the majors (33-65) for new skipper Bob Scheffing, who had replaced Stan Hack after three years. Two of Rush's outings captured in microcosm his career and the frustration of pitching for a poor team. In the first game of a twin bill in Philadelphia's Shibe Park on July 11, Rush flirted with a no-hitter, holding the Phillies hitless for seven innings before yielding a leadoff single to Chico Fernandez in the eighth. Rush was working on a two-hitter through 10 frames, then surrendered consecutive singles to start the 11th. He was replaced by reliever Turk Lown, who yielded a game-winning single to the first batter he faced, Granny Hamner, collaring Rush with the 1-0 loss. On August 23, Rush battled the Giants to a 2-2 tie in the Polo Grounds for 15 innings. With one out in the 16th, he gave up a single to Willie Mays, who scored the winning-run on Ray Jablonski's double. The tough-luck loss in a career filled with them marked the 14th and final time Rush pitched 10 or more innings in a game; he also fanned 10, the sixth and final time he reached double digits in strikeouts in a game. Following Rush's worst season (6-16, 4.38), the season-long rumors of his trade were realized. On December 5 he was shipped along with utilityman Eddie Haas and pitcher Don Kaiser to the Milwaukee Brewers for pitcher Taylor Phillips and catcher Sammy Taylor.
"Going from the Cubs to the Braves was like a dream come true," Rush said.24 Skipper Fred Haney's Milwaukee club was coming off an exciting World Series championship over the New York Yankees in seven games. The team's acquisition of Rush bolstered an already strong staff led by the "Big Three" who had combined for a 56-27 record and logged in excess of 740 innings in '57: Warren Spahn, Bob Buhl, and Lew Burdette, the hero of the fall classic with three victories, including a shutout in the deciding game. In Rush's first appearance with the Braves, he was tagged for three hits and a run in two innings of relief and was collared with the loss against the Phillies in Philadelphia on April 20. Five days later he atoned for that loss, which dropped his career record against them to 7-25, by tossing a masterful three-hit shutout in a rematch in the bitter cold of County Stadium. "You have a feeling of confidence with a team like the Braves in back of you," said Rush, who also expressed his genuine pride about his first start for the Braves. "I want to prove to myself and to everyone else – yes, including the Cubs – that I can pitch for a championship club."25 Effective in May, Rush struggled in June, and then lost his spot in the rotation. In the role of swingman, Rush proved valuable down the stretch, winning four of his final five decisions, including a shutout against the Giants in San Francisco on August 28, and a distance-going outing against the Cardinals in the Gateway City on September 18.
The Braves (92-62) cruised to another pennant, led by Spahn (22-11, 3.07) and Burdette (20-10, 2.91), while the pitching staff produced the lowest ERA in the majors (3.21). They overcame injuries to Buhl (5-2) and Gene Conley (0-6) with solid contributions from Rush (10-6, 3.42 ERA in 147⅓ innings) and a trio of unproven hurlers, rookie Carl Willey (9-7, 2.70), Juan Pizarro (6-4, 2.70), and Joey Jay (7-5, 2.14).
After the Braves won the first two games in front of their home fans in County Stadium, the World Series moved to Yankee Stadium. Fulfilling a lifelong dream, Rush was named the starter for Game Three, on a rainy Saturday afternoon, October 4, but his start was "clouded in doubt."26 Skipper Haney admitted after the game that had it been postponed, he would have skipped Rush and called on Spahn, who had started Game One. But the rain held off and Rush breezed through four innings yielding just a single and walk. He came undone in the fifth, loading the bases on three walks, the second intentional and third a cardinal sin, to pitcher Don Larsen. Hank Bauer followed with a bloop that landed just in front of right fielder Hank Aaron, driving in the first two runs of the game. Rush, lifted for pinch-hitter Harry Hanebrink in the seventh, yielded only three scratch hits but walked five in six innings and was charged with the 4-0 loss in what proved the only postseason game of his career. "I was just missing the plate," said Rush dejectedly, but he also found a silver lining. "I got into the World Series. I never expected to make it while I was with the Cubs."27 Spahn blanked the Yankees in Game Four to put the Braves on the brink of their second consecutive championship, but the Bombers roared back to win the final three, the latter two in Milwaukee, to claim their 18th title.
Making just nine starts among his 31 appearances in 1959, Rush (5-6) finished with a career-low ERA (2.40) in 101⅓ innings as the Braves (86-68) finished the regular season tied for first place with the Los Angeles Dodgers, setting up an exciting best-of-three tiebreaker series. After the Braves lost the first game, 3-2, in Milwaukee, the teams flew across the country to play the next day at the Los Angeles Coliseum. The Braves blew a 5-2 lead in the bottom of the ninth. With the bases loaded and two outs in the 11th, Rush entered and extinguished the fire by retiring Charlie Neal on a grounder. In the 12th inning, he quickly retired the first two hitters he faced and then walked Gil Hodges, who moved to second on Joe Pignatano's single. Carl Furillo hit a high bounder to shortstop Felix Mantilla, who fielded the ball in back of second. According to Braves beat reporter Red Thisted, Mantilla "never should have thrown the ball."28 His off-balance throw hit the Dodgers first-base coach, enabling Hodges to race home with the pennant-clinching run. Rush, who must have felt the only luck he had was bad, picked up the loss.
Rush came full circle in 1960. A seldom-used reliever for the Braves, he ended his career in the city where it started, albeit on the South Side and not on the North Side, making his final nine appearances (all in relief) for the White Sox, who purchased his contract in June. He was released in the offseason, bringing his 13-year major-league career to an end. He produced a 127-152 record, started in 321 of his 417 appearances, completing 118 with 16 shutouts, with a 3.65 ERA over 2,410⅔ innings.
After his playing career, Rush settled with his family in the Mesa, Arizona, area. The Cubs had moved their spring-training facility there from Catalina Island in 1952, and Rush had relocated to the desert city from South Bend while still with the team. The transition to life after baseball wasn't easy, Rush admitted in an interview with SABR member Rick Bradley.29 He missed the excitement and prestige of playing ball, and those feelings intensified in the spring. For about the next 30 years Rush worked as a salesman for various retail businesses, notably a pool company. He remained close to baseball, though not in any formal capacity. He regularly participated in players golf tournaments and old-timer's games throughout baseball. In 2003 Rush's old high school renamed its baseball field in his honor. Five years later, Rush was elected to the Indiana Sports Hall of Fame.
Bob Rush died at the age of 85 on March 19, 2011, in Mesa. He was preceded in death by his wife (1994) and survived by his four children, five grandchildren, and 11 great-grandchildren. He is buried at the Memorial Cemetery of Arizona.
Acknowledgments
This biography was edited by Len Levin and fact-checked by Kevin Larkin.
Sources
In addition to the sources noted in this biography, the author also accessed Rush's player file and player questionnaire from the National Baseball Hall of Fame, the Encyclopedia of Minor League Baseball, Retrosheet.org, Baseball-Reference.com, the SABR Minor Leagues Database, accessed online at Baseball-Reference.com, The Sporting News archive via Paper of Record, SABR.org, the archives of the Chicago Tribune, Milwaukee Journal, and Milwaukee Sentinel, and Ancestry.com
Notes
1 Rick Van Blair, "Bob Rush Lived His Boyhood Fantasy," Sports Collectors Digest, November 5, 1993: 191.
2 Edgar Munzel, "Modern Gold Rush." [Undocumented article, player's Hall of Fame file].
3 Munzel.
4 Bob Rush interview with Rick Bradley, March 23, 1984. SABR Oral History Committee, SABR.org.
5 Edgar Munzel, "Modern Gold Rush."
6 Ibid.
7 Arch Ward, "In the Wake of the News," Chicago Tribune, August 4, 1947: 31.
8 Bill Bryson, "Rush Still One Year Away From Majors," Des Moines Tribune, November 28, 1947: 14.
9 Irving Vaughan, "Cubs Lose, 3-0; at Home to Cards Today," Chicago Tribune, April 23, 1948: 29.
10 Edward Burns, "Cubs Tie Braves, 1-1, in 13 After 2-1 Loss,' Chicago Tribune, July 6, 1948: III, 2.
11 For a replica of The Dugout, see Paul Post, "Edgerton shares Norman Rockwell memories," Sports Collectors Digest, Oct 12, 2016. sportscollectorsdigest.com/norman-rockwell-baseball-memories/.
12 Edgar Munzel, "Modern Gold Rush."
13 Edgar Munzel," Big Bob of Bruins Comes With a Rush," The Sporting News, May 31, 1950: 5.
14 Edgar Munzel, "Modern Gold Rush."
15 Bob Rush interview with Rick Bradley.
16 Edward Burns, "Rush Whips Pirates, 7-2, for His No. 10," Chicago Tribune, August 13, 1950: 37.
17 Ed Burns, "Cubs Mistakes to be Corrected at Camp Kindergarten Clinics," The Sporting News, December 27, 1951: 14.
18 Edgar Munzel, "Bruins' Pitching Braces on Phil's Rotation System," The Sporting News, August 15, 1952:10.
19 Edgar Munzel, "Hats Off …! Bob Rush," The Sporting News, June 11, 1952: 19.
20 Van Blair.
21 Charles Chamberlain (Associated Press), "Bob Rush and Phantom Pitch Burn Up National League Sluggers," Mt. Vernon (Illinois) Register-News, June 5, 1952:10.
22 Edgar Munzel, "Hats Off …! Bob Rush."
23 Ben Harris, "A Sabermetric Primer: Understanding Advanced Baseball Metrics," The Athletic, February 28, 2018. theathletic.com/255898/2018/02/28/a-sabermetric-primer-understanding-advanced-baseball-metrics/.
24 Ibid.
25 Cleon Walfoort, "Rush, Refugee From the Cubs, Had Reason to Be Proud," Milwaukee Journal, April 26, 1958: 12.
26 Associated Press, "Rush Goes Wild – By Inches," Milwaukee Sentinel, October 5, 1958: 8-C.
27 Ibid.
28 Red Thisted, "Bad Throw Ends Reign of Braves," Milwaukee Sentinel, September 30, 1959: 1.
29 Bob Rush interview with Rick Bradley.
Born
December 21, 1925 at Battle Creek, MI (USA)
Died
March 19, 2011 at Mesa, AZ (USA)
If you can help us improve this player's biography, contact us.
https://sabr.org/sites/default/files/RushBob.png
600
800
admin
/wp-content/uploads/2020/02/sabr_logo.png
admin
2018-04-05 14:11:30
2021-10-06 19:49:10
Bob Rush