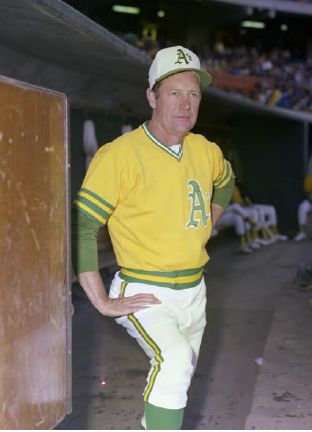 ---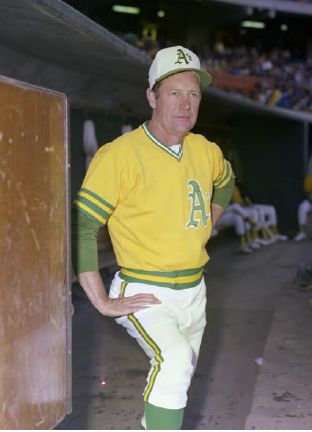 We've all had job evaluations, those nerve-racking meetings with the boss where he tells you how well, or poorly, you have done and what to work on to reach the next level. Bobby Winkles found out where he stood one day in 1958 from Walker Cooper, his manager with the Indianapolis Indians of the Triple-A American Association.
"There's just one thing that's keeping you out of the major leagues," said Cooper. "Ability."1
Not surprisingly, this rather blunt assessment soon brought the playing career of minor leaguer Bobby Winkles to a rather inglorious end. But it also led to a life in baseball that lasted more than 40 years and included stints as head coach of the powerful Arizona State University Sun Devils (1959-1971) and manager of the California Angels (1973-74), coach with the Oakland Athletics (1974-75), coach with the San Francisco Giants (1976-77), manager of the Athletics (parts of 1977 and 1978), coach and front-office executive with the Chicago White Sox (1979-85), and coach and executive with the Montreal Expos (1986-88).
Bobby Brooks Winkles was born on March 11, 1930, in Tuckerman, Arkansas, to Clifford and Devona (Brooks) Winkles. His family moved to Swifton, Arkansas, when Bobby was 9 years old and he went through school there while living on the family's 80-acre farm. While in school he had a seventh-grade teacher who had a significant impact on his baseball career — future Hall of Fame infielder and Swifton native George Kell. Kell taught Winkles the importance of concentration and practice, and even guided him on which position to play.
"George suggested that I become an infielder, and quickly second base became my favorite position," said Winkles.2
After graduating from Swifton High School, Winkles went on to Illinois Wesleyan University and graduated with a degree in philosophy in 1952. The White Sox signed him in 1951 while he was still a student and thought enough of his potential to give him a $10,000 bonus. They sent him to their Colorado Springs affiliate in the Class A Western League. Winkles missed the entire 1953 season, spending the year in the US Army infantry. He married Ellie Hoeman that same year; they had two daughters, Kelly and Kristi.
It seems Winkles enjoyed playing in Colorado Springs because he kept returning there. He played 81 games there in 1954, plus another 52 games with the Memphis Chickasaws of the Southern Association. In 1955 he divided his time between the Sky Sox (108 games) and the Charleston Senators of the Triple-A American Association (44 games). He was back in Colorado Springs for 131 games in 1956, while also playing six games for the Tulsa Oilers of the Double-A Texas League. Maybe Winkles got the hint about his future as a player before he heard Cooper's appraisal, because he wisely used some of his time in Colorado Springs to earn a master's degree in physical education from the University of Colorado.
Overall, Winkles played seven seasons in the minors, and while he batted a respectable .270, he hit only 12 home runs. His defense at shortstop wasn't exceptional, either. In 1957 he committed 42 errors at the position with Tulsa. He wasn't going to replace White Sox shortstop Luis Aparicio, a future Hall of Famer, with those numbers.
It's almost tempting to liken Winkles to Moses because it was at this point that he started performing miracles and leading the children of Arizona State University through the desert.
Soon after the 1958 season ended, Winkles received a telephone call from Clyde Smith, Arizona State's athletic director. After a conversation that lasted 20 minutes or so, Winkles was the school's new baseball coach. The interview didn't take long because Smith had already done his homework.
"There was an important factor that made us decide in favor of Bob Winkles," said Smith. "While he was taking his master's at Colorado, he coached an American Legion team, and I received a letter from a parent whose son played for him. He told of the guidance Bob had given his son in many areas, not just in how to play baseball. We thought he was the kind of coach we wanted. …"3
They also obviously wanted a coach who liked a challenge. Winkles took over a program that just two years before had been put on the budget chopping block by school administrators. They allocated the team so little money that it couldn't buy uniforms or equipment, nor could it offer any scholarships. The program survived because of Winkles' predecessor, Mel Erickson, and some spunky students.
"The players formed an 'unofficial' team, appeared in ragtag uniforms, wheedled equipment, playing fields and a schedule and made a good showing," wrote Frank Gianelli. "Press and public sentiment embarrassed A-State into action, and after a conflict of temperaments was settled with some new assignments, the Sun Devils got behind baseball."4
At a time when even a field was a dream, the 1959 Sun Devils baseball team would have been a success even if it won only one game. However, the team went 27-18 under Winkles' guidance, and gradually improved until it won the NCAA title for the first time in 1965 with a phenomenal 54-8 record. The Sun Devils won the championship again in 1967 and 1969. The '69 team won 56 games, which at the time was an NCAA record, with 11 losses.5
Winkles had a 524-173 won-lost record over his 13-year career at Arizona State, a .752 winning percentage. He sent a number of players on to the major leagues, including Gary Gentry, Sal Bando, Reggie Jackson, and the first-ever pick in the inaugural baseball amateur draft in 1965, Rick Monday.
Winkles remained the Arizona State baseball coach until after the 1971 season, when California Angels general manager Harry Dalton invited him to join the Angels under their new manager, Del Rice. Forsaking the job security he had coaching the Sun Devils, Winkles took the plunge into the major leagues. He also made it clear that the hiring of Rice influenced his decision to accept the offer. "I would not have worked for just any major-league manager," Winkles said. "I've known Del for 10 or 12 years and I have always respected him as a fine coach, manager, and a gentleman."6
The changes at the managerial and coaching levels resulted after the Angels went 76-86 in 1971. Hiring Winkles away from college baseball attracted considerable interest from the press, especially because he was not hired as a manager. The decision to go this route was simply a pragmatic one. As one sportswriter put it, "General manager Harry Dalton was seriously debating giving the (manager's) job to Bobby Winkles … (but) eventually concluded that the unprecedented leap from campus to majors would be too great a gamble."7
Hiring Rice, who had never managed in the majors before, was a gamble that didn't work out. Though his teams always finished above .500 in his four seasons managing in the Angels' minor-league system, Rice's one year as a major-league manager was unsuccessful. The 1972 Angels finished fifth in the American League West with a 75-80 record (a players strike delayed the start of the season and the team's first seven games were never made up), and team owner Gene Autry wasn't exactly singing at the result. Dalton fired Rice after the season and named Winkles the manager for 1973.
Winkles was not the first college coach to manage in the majors. In fact, two great major-league field bosses had prior experience coaching in the hallowed halls of academia. Hughie Jennings, who managed the Detroit Tigers from 1907 through 1920, had coached at St. Bonaventure University from 1894 through 1897. And no less a sage than the Old Perfessor himself, Casey Stengel, coached at the University of Mississippi in 1914 before going on to a Hall of Fame career managing in the big leagues.
Dalton wasn't the only person who thought that Winkles was the right man for the job. In his preseason prognostications for 1973, United Press International sports editor Milton Richman picked California to win the American League West title, and included Winkles' hiring in his reasoning. "I think their new manager, Bobby Winkles, has a way of getting the most out of the people who work for him," wrote Richman.8
Another reason for Richman's optimism was a preseason trade that brought Frank Robinson to the Angels from the Los Angeles Dodgers, where he had had a mediocre season in 1972, with only 19 home runs, 59 RBIs, and a .251 batting average in 103 games. The Dodgers may have regretted the trade right from Opening Day, when Robinson hit the first pitch he saw as an Angel for a home run to help Winkles win his first game as a major-league manager, 2-1 over the Kansas City Royals. President Richard Nixon attended the game and told Winkles that he liked what he saw.
"'He said he was glad to see the team run to and from their positions,' added Winkles, who makes his club hustle all the time when it's on the field."9
That hustle helped the team get off to a very good start, and the Angels were in first place as late as June 27 in a hotly contested division; on that date the fifth-place Minnesota Twins were only two games out. But a horrendous 10-19 record in July ended any chance the Angels had of winning the division, and they finished the season in fourth place in the division with a 79-83 record.
Unlike Rice, Winkles got a second shot and was retained for the 1974 season, which in hindsight might not have been the best move. Winkles and Robinson feuded from the beginning of the season, in part because Winkles had recommended that Robinson be traded. They even argued in the locker room and on the bench, and that may have contributed to the team's 30-44 record when Winkles was fired. What caused the feud depends on what newspaper article you read. An Associated Press piece in June said Winkles may have "resented the fact that some Angel players seem to have more respect for Robinson than Winkles."10 After Winkles was fired on June 27, the Baltimore Afro-American had a different take on the situation: "Winkles admitted resentment of Frank's criticism of players on the team, asserting that Robbie was overstepping the bounds of an ordinary player, and hinting that his behavior was encroachment on his (the manager's) domain."11
The bickering would probably have been tolerated if the team had a better record, but the numbers didn't lie. Winkles was let go after the Angels lost, 5-0, at Oakland and was replaced by Dick Williams, who immediately named Robinson team captain.
Winkles barely had time to fill out his unemployment insurance forms when he was hired by the A's as third-base coach on July 9, reuniting him with former Sun Devils Sal Bando and Reggie Jackson. It's not normal for a team to hire a third-base coach in the middle of a season, especially when it is leading its division by 4½ games. But then, this was the A's under owner Charlie Finley, a club that was many things, but normal was not one of them. Not only did the players fight with each other and Finley, but Finley kept a circus atmosphere in the clubhouse with himself as ringmaster.
Before the 1974 season, Alvin Dark, who had replaced the departed Dick Williams as A's manager, had asked Finley for the right to hire his own coaches. Finley turned down the request, but suddenly changed his mind on July 8. With his newfound authority, Dark fired third-base coach Irv Noren and bullpen coach Vern Hoscheit the next day, and replaced them with Winkles and Bobby Hoffman.
The move wasn't popular with the players at the time, but they obviously adjusted because the A's went on to win their third consecutive World Series, in five games over the Los Angeles Dodgers. Winkles was voted a half-share of the winners' share of $22,219.09 per man by the A's players.
Winkles' joy at winning the World Series was tempered on January 26, 1975, when his daughter Kristi, 11 years old, died of a blocked vein in the brain. Despite the tragedy, Winkles continued coaching with the A's in 1975. The team won the West Division again with a 98-64 record, but lost the American League Championship Series in three straight games to the Red Sox.
Winkles didn't return to the A's for 1976. An article in The Sporting News said that he was going to operate the restaurant and lounge at the San Clemente Municipal Golf Course.12 Winkles was a good golfer, and perhaps he was considering that job, but he instead remained in baseball, signing on as a coach just across the Bay with the Giants under manager Bill Rigney. He stayed with the Giants for all of 1976 and part of 1977 when an interesting offer came his way.
Jack McKeon was managing the Oakland A's when the 1977 season began. These were not the dynasty A's of the early 1970s. Bando, Rudi, Tenace, Jackson, Hunter, and the other members of those great teams were long gone. The team's leading hitter for the year was a rookie, Mitchell Page, who batted .307. With a team of has-beens, yet-to-be's, and never-would-be's, McKeon had a 26-27 record after 53 games, six games out of first place. Nonetheless, after Oakland defeated Cleveland 3-2 on June 8, Finley kicked McKeon upstairs to an executive position, "(a)mid talk of weak team discipline and lack of organization…"13 Winkles returned to Oakland to take over as manager.
The results were not good. The A's went 37-71 the rest of the season, good enough for last place in the American League West. They even finished a half-game behind the expansion Seattle Mariners. The losing, of course, spawned griping from unhappy players. Earl Williams, among others, said that the team's rookies weren't getting any coaching. "The coaching here is nonexistent," Williams said.14
Winkles must have been doing something right because the 1978 A's got off to a hot start. After splitting a doubleheader with the White Sox on May 21, the A's were 24-15 and had a two-game lead in the American League West. Then Winkles upped and quit and was replaced by McKeon. Winkles just couldn't take Finley's constant interference any longer.
"Bobby Winkles, withstanding pleas of his coaches not to quit as A's manager told them, 'I've had enough,' " wrote Dick Young in The Sporting News. "I hear that phone ringing in the middle of the night even when it's not ringing."15
It's a credit to Winkles' reputation that whenever he was out of work, it wasn't long before opportunity knocked on his door. After the 1978 season, it came via the White Sox. Owner Bill Veeck had hired Don Kessinger as player-manager, and he hired Winkles as a coach. Kessinger never really wanted the job, and wasn't terribly good at it, as he quit after 106 games with the team holding a 46-60 record. Tony La Russa took his place, thus beginning his stellar managing career, with Winkles continuing as a coach into the 1981 season.
Besides being a year of the baseball strike, 1981 was also the year in which Jerry Reinsdorf bought the White Sox from Veeck. In a meeting with general manager Roland Hemond, Reinsdorf said he wanted to build from within by teaching young players and not pay for free agents. Hemond knew they had a good teacher in Winkles and so the team named him director of player personnel. Winkles was responsible for nurturing young stars like Ron Kittle and Richard Dotson for the team that won the American League West in 1983 with a 99-63 record.
After several years in the front office, Winkles decided to get back onto the field in 1986, and moved north of the 49th Parallel to become batting coach with the Montreal Expos. His tutelage contributed to an unexpectedly good Expos team in 1987. That squad finished first in the National League in doubles (310) and third in batting average (.265), and third baseman Tim Wallach was second in the league in RBIs with 123. A team that many expected to finish last ended with a 91-71 record, four games out of first.
Winkles stayed in that post for two years, then became the Expos' first-base coach for 1988. Winkles hung up the spikes after that season, but kept involved in the game for several years as a part-time broadcaster for the Expos from 1989 through 1993. After that he retired to California.
Winkles received a number of honors in retirement. In 2001 the baseball field at Arizona State University was named after him. (The facility is called Winkles Field-Packard Stadium at Brock Ballpark.) In 2006 Winkles was one of the inaugural inductees into the College Baseball Hall of Fame.
In reflecting on his career, Winkles was happiest that he never had to look for a job; an offer always came to him.
"I never applied for a job in 43 years," said Winkles. "Somebody always came to me. And that's what I feel proud about."16
He died at the age of 90 on April 17, 2020, in Indian Wells, California.
An earlier version of this article appeared in "Mustaches and Mayhem: Charlie O's Three Time Champions: The Oakland Athletics: 1972-74″ (SABR, 2015), edited by Chip Greene.
Sources
baseball-reference.com
books.google.ca/books
paperofrecord.hypernet.ca
beachwoodreporter.com/sports
google.com/newspapers
sportsillustrated.cnn.com/vault
web.collegebaseballhall.org
olemisssports.com
web.sbu.edu
Notes
1 Roger Wallenstein, "Reminiscing With Bobby Winkles," Beachwood Reporter, February 26, 2013.
2 James Enright, "Banks Super-Salesman for Cactus Camp Sites," The Sporting News, March 29, 1969.
3 Jack Mann, "Red-Hot Baseball in the Valley of the Sun," Sports Illustrated, May 24, 1965.
4 Frank Gianelli, "Two Crowns Spotlight Arizona As Capital of College Baseball," The Sporting News, July 3, 1965.
5 It is difficult to determine the current NCAA record for victories because there is no consistency in the number of games teams play each season. For example, Wichita State won 68 of 84 games in 1989, but the 1990 champion Georgia Bulldogs won 52 of 71 games (source: ncaa.com/history/baseball/d1).
6 United Press International, "Angels Sign Arizona State Coach," Palm Beach Post (West Palm Beach, Florida), December 9, 1971.
7 Dick Young, "Young Ideas," The Sporting News, January 1, 1972.
8 Milton Richman, "California, Houston, St. Louis Named Possible Pennant Winners This Season," Times Union (Warsaw, Indiana), March 30, 1973.
9 United Press International, "Frank Robinson Makes President Nixon Happy," Bend (Oregon) Bulletin, April 7, 1973.
10 Associated Press, "Frank Robinson Might be Traded," Meriden (Connecticut) Morning Record, June 12, 1974.
11 Sam Lacy, "Dick Williams proves he's a politician too," Baltimore Afro-American, July 6, 1974.
12 The Sporting News, November 29, 1975.
13 Tom Weir, "Disciplinary Collapse Led to McKeon's Exit," The Sporting News, June 25, 1977.
14 Tom Weir, "Winkles Batted Down Criticism by Pop-Off A's," The Sporting News, October 15, 1977.
15 Young, "Young Ideas," June 10, 1978.
16 Wallenstein, "Reminiscing With Bobby Winkles."
Born
March 11, 1930 at Tuckerman, AR (USA)
Died
April 17, 2020 at Indian Wells, CA (USA)
If you can help us improve this player's biography, contact us.
http://sabr.org/sites/default/files/BobbyWinkles.JPG
600
800
admin
/wp-content/uploads/2020/02/sabr_logo.png
admin
2012-01-04 20:45:45
2022-04-04 13:52:47
Bobby Winkles