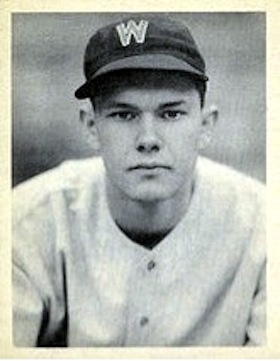 ---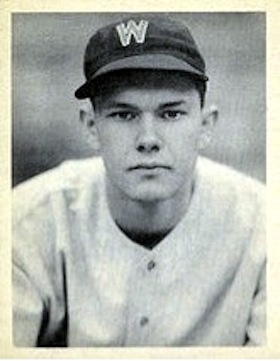 "With a fine disregard of flying regulations here came this big flying machine roaring from behind the center field fence and only a few hundred feet in the air and there were a few panicky seconds. And then George Case [who was waiting to bat] removed his cap and began to wave it violently as the plane dipped a wing sharply in salute and winged its way Westward."1
The pilot who buzzed Griffith Stadium was the Washington Senators' once and future right fielder, Lieutenant Buddy Lewis, who had visited his teammates on a day off from the Army Air Force and was heading back to his base. The ballpark stood less than two miles from the US Capitol and the White House. If Lewis pulled that stunt today, he'd be looking at a surface-to-air missile or, if he was lucky, a court martial. He got off with a reprimand. There was a war on.
Lewis missed 3½ years of baseball while serving in World War II. A speedy left-handed batter, he joined the Senators when he was 19 and spent his 11-year career with the team. He retired at 33 with a batting average just below .300. He could have played longer, but said his death-defying wartime experiences took away some of his enthusiasm for the game.
John Kelly Lewis Jr. was born on August 10, 1916, in Gaston County, North Carolina, one of eight children of John Kelly Lewis and the former Ada May Jenkins. The family lived on a farm near Gastonia, a textile-mill town just west of Charlotte. The boy was called "Buddy" from childhood and "J.K." as a teenager.2
Buddy rode his bicycle into town to play ball on a Junior American Legion team beginning when he was 12. After a year at Wake Forest College, he was the captain and star third baseman on the Post 23 team that advanced to the Legion World Series in 1934.
As the outstanding player in the series, he won a tryout with the New York Giants. He traveled with the Giants for several weeks, but manager Bill Terry wanted nothing to do with the teenager. By some accounts, Terry ordered him off the field.3 The only highlight of his stay was watching Carl Hubbell strike out five future Hall of Famers in a row in the All-Star Game at the Polo Grounds.
A spectator who saw Lewis in the Legion series recommended him to Joe Engel, owner of the Southern Association Chattanooga Lookouts, a Washington farm club. Engel paid the boy's $11 train fare to Chattanooga and signed him. He received no bonus, but Engel did buy him a new glove.
Lewis was just past his 18th birthday when Engel put him into the Lookouts' lineup at third base late in the 1934 season. He went 7-for-21 in 10 games against Class A pitching. The next spring he won a regular job, but had to be talked out of quitting because he was homesick. He hit .303 with 40 doubles, 11 triples, and 9 home runs.
The Washington club, most often called the Nats, brought Lewis up in September. In his major league debut, a month after he turned 19, he was sent up to pinch-hit against the White Sox' 43-year-old Sad Sam Jones, who had started pitching in the majors before Lewis was born. Lewis popped out to shortstop.
Most of the Nats ignored him, but a fellow Carolinian, pitcher Bobo Newsom, became his protector and tour guide to the nation's capital. Lewis appeared to be overmatched; he batted .107 with three singles in 28 plate appearances. He was awed to be on the same field with big leaguers he had only read about: "God Almighty, I couldn't believe it!"4
Despite Lewis's pitiful start, Nats owner Clark Griffith believed he could take over third base in 1936, with Cecil Travis, a 21-year-old star in the making, moving to shortstop. Also in the mix was Ossie Bluege, a premier glove man at third who had been with the Nats for 12 years. When Bluege saw Lewis, he said, "[I]n the last four years we've had a dozen third basemen trying to take my job, but they didn't have a chance. I'm through now, though."5 The veteran became Lewis's teacher and biggest booster. The rookie called him "Mr. Bluege."
Lewis won the job, but he was still a 19-year-old with only 172 professional games on his resume. Manager Bucky Harris held him out of the season's opening series against the Yankees. When Lewis went into the lineup, he hit safely in his first six games and didn't look back. He kept his batting average above .300 most of the season and finished at .291/.347/.399. It was one of the best seasons ever by a teenage player. "As long as I've been in baseball," 66-year-old Clark Griffith said, "I've never seen an infielder who looked so good in his first year as a big leaguer."6
Lewis got a little better in each of his first four seasons, giving the Nats a .303/.364/.428 batting line with around 100 runs scored and 50 extra-base hits a year. He didn't hit many home runs, but nobody in Washington did because Griffith Stadium's outfield fences were the deepest in the majors. Offensively he was probably the American League's second-best third baseman, but like the best one, the Browns' Harlond Clift, he was buried on a losing team. In addition, Lewis, 6-foot-1 and about 170 pounds, was young, handsome, and single, "a ladies day favorite."7
In 1938 Lewis made his first All-Star team and registered career highs with 12 homers and 91 RBIs. His defense was another matter; the Washington Post's Shirley Povich called him "something of a butcher."8 His range was slightly above average, but he was scatter-armed and ranked near the top of the league in errors every year. In August 1938 he was charged with 13 errors in a humiliating stretch of nine games. Four of them came in a doubleheader against the Yankees on August 16. Two days later he committed four more in another doubleheader. Lewis finished the year with a league-leading 47 errors.
He and his roommate, Cecil Travis, usually went to Washington together after New Year's to visit Griffith and sign their new contracts. By 1939 Lewis was said to be the club's highest-paid player, although he was most likely making less than $15,000. Travis, a quiet Georgia farm boy who also batted left-handed, was among the leaders in batting average but lacked Lewis's speed and extra-base power. Even in the middle of the lineup, he was not a big RBI man. He had turned into an acceptable defensive shortstop despite high error totals.
The two friends were forced to change positions in 1940 when the Nats acquired Jimmy Pofahl, a highly touted minor league shortstop. Travis moved back to third base, and Lewis had to learn to play right field. His arm proved more useful out there; he led the league's right fielders in assists four times, but still committed a lot of errors.
When Pofahl failed to hit, Travis went back to short and Lewis played a little at third as the club searched for a reliable infielder. With all the shuffling, both continued to hit at their usual level. In 1941 Travis exploded into stardom. His .359 batting average was second in the majors to Ted Williams' .406 and better than Joe DiMaggio's .357 despite DiMaggio's 56-game hitting streak.
Lewis and Travis were playing on borrowed time that summer. They had received draft notices, but since the United States was not yet at war, they were deferred until the end of the season. By the time of the attack on Pearl Harbor, Lewis had already joined the army. Travis was inducted soon afterward. Washington, losing its two best players, was hit harder by the draft than any other team in 1942. The Nats fell to seventh place.
Lewis, who had taken some flying lessons, hoped to become a fighter pilot, but at the time the army required pilots to have a college degree. He went through basic training with a tank unit. The education requirement was soon dropped, and he was transferred to the Army Air Force. Travis was put in the infantry. While the war took an emotional toll on Lewis, it damaged Travis physically and cut short his baseball career.
Rather than fighters, Lewis was assigned to the Air Transport Command. He was disappointed, but ended up flying some of the deadliest missions of the war: over the Hump.
Life magazine correspondent Theodore White wrote, "The 'Hump' is a line drawn across the eastern Himalayas and the forests of Burma by American blood and courage."9 The 500-mile route from bases in India to Burma and China passed over and through Earth's highest mountain range. Flying huge, slow C-47 transports known as Gooney Birds, the pilots delivered supplies and evacuated the wounded. Major leaguer Luke Sewell, who flew with Lewis, said, "He set that big transport down on strips that didn't look big enough for a mosquito to land on. And he did it while he was talking baseball to me."10
Lewis joined an elite unit that towed gliders carrying air commandos, who landed behind enemy lines to disrupt the Japanese plan for an invasion of India. The C-47 pilots had to retrieve the commandos when their missions were done, swooping low over makeshift jungle airstrips to snare the gliders with a skyhook and ferry them home.
Six hundred US planes were lost flying the perilous route, with 1,600 crewmen killed or missing. "Let me tell you, you didn't want to go down over those jungles," Lewis said decades later. "They gave me two pieces of advice. They said the day I crashed in Burma, if I survived, to come out of the plane with a baseball in my hand. I'm serious. They told me it might just save my life because the Japanese love baseball and they will take care of you. The other advice was that I was given a cake of cocaine to carry in my pocket. If I crashed in the jungle, and the natives found me, to give it to them and they would get me out of the jungle and to safety."11
Lewis named his plane "The Old Fox," Clark Griffith's nickname. He survived 369 missions before he was discharged as a captain, decorated with the Distinguished Flying Cross and the Air Medal with oak leaf cluster.
Released by the army at Fort Bragg, North Carolina, on July 20, 1945, Lewis hustled to Washington and reported to Griffith Stadium the next day. He was back in right field six days later, shortly before his 29th birthday.
The Nats were in a pennant race for the first time in his career. It took him a few games to find his "classic batting stroke," but then he went 7-for-13 in a series against the White Sox and took off on the run of his life. The Nats took off, too, starting a seven-game winning streak soon after Lewis returned and playing better than .600 ball the rest of the way. They fell just 1½ games short of the pennant, finishing second behind Detroit.
Lewis batted .333/.423/.465 in 69 games. He looked like the same player who had left the game four years earlier — if not better. But he wasn't the same man; the gray in his hair seemed symbolic. "I had changed so much that baseball didn't mean as much to me as it did before the war," he said years later.12
With other servicemen back in baseball flannels in 1946, Lewis turned in a typical year: .292/.359/.421. The highlight was a 17-game hitting streak. But Cecil Travis was a shell of the .359 hitter of 1941. He was said to have suffered frostbitten feet during the Battle of the Bulge. He denied that, but acknowledged that his feet swelled and became chronically sore from spending many freezing winter nights in the open. Travis hit .252 in 1946, .216 in 1947, and retired at 33.
Fans chose Lewis as the American League's starting right fielder in the 1947 All-Star Game. Sharing the outfield with Ted Williams and Joe DiMaggio, he said, "I was in high cotton, boy!"13 But he tailed off badly in the second half to finish at .261/.330/.342, bothered by a bruised hip and distracted by off-field pressures. He was part-owner of a Ford dealership in Gastonia, and the business was in trouble. After the season he bought out his partner and quit baseball to run the dealership full time. He retired at 31 with a lifetime batting average of exactly .300 and exactly 1,500 hits.
Retirement didn't stick. "I never realized how much the game was a part of me until I stayed out of it last season," Lewis said. "When I saw those lineups and scores in the papers, I felt lonesome for baseball."14 He had found a new business partner who could take care of the dealership, and returned to the Nats in 1949 with a $16,000 contract.
The comeback was not a success. A leg injury in May limited him to pinch-hitting for more than a month, and then he was in and out of the lineup. One reporter wrote, "Buddy's legs had lost some of their sprightliness."15 Lewis did go 10-for-26 as a pinch-hitter, but his .245 batting average dragged his lifetime average down to .297. When Washington manager Joe Kuhel was fired after a last-place finish, Lewis's name surfaced as a possible successor. Instead he returned home to his businesses, which included a bowling alley as well as the dealership.
Lewis had been a bachelor throughout his baseball career. On November 10, 1951, he married Frances Oates of Gastonia. They had daughters Kelly and Carol and a son, John Michael. On beach vacations the children liked to bury their dad in the sand.
While tending to his business, Lewis kept his hand in baseball as area commissioner for American Legion ball. He, Bob Feller, and the Cubs' Phil Cavaretta were the first graduates of the Legion program to make their marks in the majors. Lewis was a sponsor and assistant coach of the Gastonia Post 23 team, the same one he had played for, when it lost in the national championship game in 1954. In 1963 Lewis took over as head coach, assisted by former big leaguer Crash Davis. Gastonia was defeated in the state championship finals.
In addition to his hometown Ford dealership, Lewis owned several other dealerships in the Carolinas. Earl Tindol, who bought the Gastonia business, said Lewis talked to him less about the sale price than about the company's role in the community and how to treat employees and customers. "You put down every nice thing you can think of and you'll describe Buddy Lewis," Tindol told the Gaston Gazette.16
Lewis was elected to the North Carolina Sports Hall of Fame, and the city of Gastonia named its American Legion baseball field after him. He was 94 when he died of cancer on February 18, 2011.
The pioneer sabermetrician Bill James lists Cecil Travis and Buddy Lewis among the players who lost a shot at the Hall of Fame because of their wartime service.17 Travis was a high-average hitter, the kind of player Hall of Fame voters love, and had a chance for 3,000 hits if he had not missed almost four full seasons and come home damaged. The 3½ years Lewis missed should have been the prime of his career — ages 25 through 28. He lost at least three more seasons because of his early retirement, which was a result of the war. All this is speculation; inventing an alternative past is as futile as predicting the future.
Sources
Cunningham, Bill. "Local Boy Makes Good." Collier's, September 12, 1938.
"Flying the Hump." China-Burma-India Hump Pilots Association, 2005. http://www.cbihpa.org/history.html, accessed September 23, 2016.
Gilbert, Bill. They Also Served. New York: Crown, 1992.
"John Kelly Lewis, Jr." Charlotte Observer, February 20, 2011. GenealogyBank.com, http://genealogybank.com/doc/obituaries/obit/1358C754B066F9D8-1358C754B066F9D8, accessed September 1, 2016.
Zimmerman, Dwight Jon. "Operation Thursday and the 1st Air Commando Group." Defense Media Network, May 10, 2015. http://www.defensemedianetwork.com/stories/rise-to-the-challenge-the-1st-air-commando-group-and-operation-thursday/, accessed September 19, 2016.
Notes
Born
August 10, 1916 at Gaston County, NC (USA)
Died
February 18, 2011 at Gastonia, NC (USA)
If you can help us improve this player's biography, contact us.
http://sabr.org/sites/default/files/LewisBuddy.jpg
600
800
admin
/wp-content/uploads/2020/02/sabr_logo.png
admin
2016-11-09 23:37:54
2016-11-09 23:37:54
Buddy Lewis