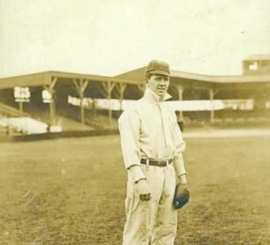 ---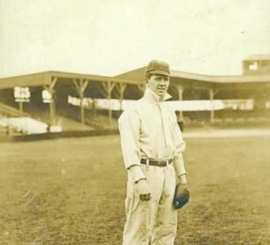 Burt Keeley started a trend in 1908. As a rookie pitcher for the Washington Senators, he became the first of four major-league pitchers to throw both complete games of a doubleheader that season.
A week after teammate Walter Johnson threw three straight shutouts in four days at New York – the off day was due to the illegality of Sunday baseball – Keeley's feat occurred at home against the Philadelphia A's on September 14. Washington won the first game, 2–1, in 10 innings. Philly's Gus Salve made his first-and-only major-league start a memorable one as he also went the distance but lost on a squeeze bunt in the bottom of the 10th inning. Jack Coombs tossed a shutout as the A's took the nightcap, 5–0, called after eight innings due to darkness. The Philadelphia Inquirer noted, "Keeley did not pitch poorly in this game, but…the little fellow…weakened under the strain of pitching two games and was hit hard in the last two innings."1
Detroit's Ed Summers, also a rookie, did one better than Keeley when he won both complete games of a doubleheader against the A's on September 25. On September 26, the Chicago Cubs' Ed Reulbach goose-egged Brooklyn twice for the only single-pitcher doubleheader shutouts in major-league history. Lastly, on September 29, Big Ed Walsh of the Chicago White Sox earned two complete-game wins against the Boston Red Sox.
"The little fellow," Keeley, threw right-handed and batted left-handed,2 stood 5'7", and weighed 140 pounds.3 His major-league career was also quite short – he played the entire 1908 season and just two games in 1909. But he also played in the minors and in independent ball for several years, and served as a manager in both the United States Baseball League and the Federal League.
Burton Elwood Keeley is the first of three major-league players born in Wilmington, Illinois (the others are George Cutshaw and Tanner Roark). He was born on November 2, 1879, the seventh of nine children of Felix Keeley (1840-1902) and Emily Keeley, née Burton, (1844-1928). Civil War veteran Felix Keeley immigrated from Ireland in 1850; Emily Burton came to America from England in 1855.
Burt Keeley played for Notre Dame University in 1900. After Boston Beaneaters outfielder Chick Stahl tutored them in the winter and early spring, the Fighting Irish compiled a 15–2 intercollegiate record.4 Keeley pitched an Opening Day 8–5 win at home on April 19 against the Columbia Giants, an all-Black professional club out of Chicago.5 Five of Keeley's Notre Dame teammates played professional baseball. Norwood Gibson, Philip "Peaches" O'Neill, and James "Red" Morgan played in the majors, and Chuck Fleming and Bobby Lynch had long minor-league careers.6
In his professional debut, Keeley threw a complete game for Bloomington, Illinois, in a 5–1 win at Rock Island, Illinois, on August 17, 1901.7 After his second game, an 8–4 win on August 20 at Rockford, Illinois, the Rockford Morning Star reported, "The visitors…quarreled with spectators, raged at the umpire, and scrapped with each other, and made themselves as obnoxious as possible."8 There was more to come.
Keeley next pitched at home against Evansville, Indiana, on August 24. With the score tied 2–2 through nine innings, he allowed five runs in the top of the tenth and lost, 7–5. "There was lots of trouble with Umpire Camp," ominously noted Evansville captain/second-baseman Sam J. Kennedy in his side-job as field reporter for the Evansville Courier and Press.9 "Umpire Camp is Assaulted," blared a sub-headline in the Rockford Republic after Keeley's next start, a 4–0 loss at Terre Haute, Indiana, on August 28. "Bloomington players did a good deal of kicking [aggressive arguing], striking Umpire Camp twice," the newspaper declared.10 Despite Keeley's late-season contributions to the hot-tempered Bloomingtons, they finished in second place behind Terre Haute.
Keeley dropped out of Organized Baseball for the next seven years. He worked at a bank in Chicago, played weekend semi-pro ball for the Gunthers of the Chicago City League, and married Erma Mae Bradley (1878-1955) on April 12, 1905. The Gunthers, founded by candy magnate Charles F. Gunther in 1899, opened a new ballpark in 1905 at the corner of Clark St. and Leland Ave., several blocks north of where Wrigley Field now stands, and won the league championship that year when they defeated the Logan Squares.
The Logan Squares, owned and operated by former Chicago White Sox player Jimmy Callahan, garnered national attention in 1906 when they defeated both the Cubs and the White Sox in post-season games after the two clubs faced each other in the World Series. In 1908, Callahan played a hand in Keeley's unlikely jump to the big leagues.
Washington signed Keeley on January 22, 1908. The Chicago Tribune reported, "[Washington Manager "Pongo" Joe Cantillon] said he'd been after Keeley for several years and that other professional clubs tried to sign him, but the player preferred to remain in Chicago for business reasons."11 The Washington Evening Star had a different take: "…The Chicago White Sox and Cubs have been trying to sign Keeley for the past two years…Jimmy Callahan was the first to notice Keeley two years ago…He was then only twenty years old. Last season Keeley['s]…work was such as to create a sensation, but being underage he was not allowed to place his name to a contract by his parents."12
Signing with Washington created contentions on a few fronts. The Boston Journal reported, "Keeley is regarded as the big find of the season and controversy between the St. Louis Sporting News and Jimmy Callahan with Joe Cantillon made Keeley one of the most talked of players in the West. The St. Louis paper is said to have charged Callahan and Cantillon with covering up Keeley."13 The South Bend (Indiana) Greens claimed to have Keeley on their reserve list for the past two years (Keeley appears among a list of players who signed contracts with South Bend in the April 11, 1903, edition of Sporting Life).14 Also, the American League took umbrage to Cantillon purchasing Keeley's contract rather than just raiding an "outlaw" team's roster.
Furthermore, the Cincinnati Post reported that Callahan and several Logan Squares players were in spring-training camp with Washington and the Minneapolis Millers (run by Cantillon's brother, Mike Cantillon) in Galveston, Texas, and that Callahan played in spring-training games and organized a players' union in the camp at a time when he was de facto suspended from Organized Baseball.15 There was no rule in place, yet, regarding the forbiddance of playing with or against suspended players. But Callahan and the brothers Cantillon forced the issue; it went into effect in May 1908.
The Post article went on to tell of Keeley writing a letter to American League President Ban Johnson asking for advice. Keeley stated that Cantillon ordered him to report to the Washington club on June 4, upon Washington's first series of the year at Chicago, and in the meantime play for the Logan Squares. The plan backfired and Keeley remained with Washington.
If Keeley had hoodwinked Cantillon regarding his age, or if Cantillon and Callahan were in cahoots merely to lure Keeley away from the Gunthers to join the Logan Squares, they were hardly alone in playing hardball. Detroit's Ty Cobb and Pittsburgh's Tommy Leach sent Callahan letters in March expressing interest in playing for the Logan Squares in 1908. Both were in contract negotiations with their respective clubs and used Callahan as leverage.
The Evening Star printed a St. Louis reporter's comments on the newcomer during spring training: "Keeley is undersized. He's short and stocky à la Wilfred [Kid] Carsey and Elmer Stricklett. Keeley…is there with the dizzy damp spitter."16
Veteran Tom Hughes (18–15 W–L, 2.21 ERA) and 20-year-old Walter Johnson (14–14, 1.65) anchored the 1908 Washington pitching staff. Charlie Smith (9–13, 2.41) was third in innings pitched, followed by two 28-year-old rookies with identical 6–11 records – Keeley and Sleepy Bill Burns of Black Sox Scandal infamy. Keeley posted a 2.98 ERA in 169 innings pitched.
Burns and Keeley made their major-league debuts on the same day, a cold and rainy April 18 at New York. Washington lost, 6–5 in 11 innings. Burns started and worked into the 11th inning, but Cantillon brought in Keeley – not warmed up from the bullpen, but rather cold from sitting on the bench – with two men on base and no outs. Jake Stahl stole third on Keeley's first pitch. Hal Chase and Charlie Hemphill then hit back-to-back RBI singles to end the game.17 Keeley picked up his first loss three days later when he allowed eight runs in four innings of relief as Washington dropped another one, 16–13, at New York.
Keeley earned his first win on April 25, a 3–1 complete-game six-hitter at home against Boston. The Evening Star heaped praise on him: "Midget Keeley…has a beautiful drop curve that is whisked over the plate with lightning speed."18 He ripped the first of his six career hits at Boston on May 29, a single off of Fred Burchell in a 7–5 win.
With Walter Johnson returning to the team in June following surgery from an infection, Cantillon needed to adjust the roster and Keeley landed on the chopping block. The manager received a petition from Keeley's hometown contingency requesting that he be given the start at Chicago on June 8. Cantillon obliged. It was a make-or-break moment for Keeley.
Prior to the game, friends from Wilmington presented him with a gift of diamond cuff buttons to the pleasure of the 15,000 fans on hand. Keeley did not disappoint his Illinois fan base, but he lost a nail-biter to the White Sox, 2–1 in 10 innings. He stayed with Washington.19
Unbelievably, Keeley lost another 10-inning, 2–1, game at Chicago on August 2. "Keeley was heartbroken," noticed the Evening Star, "He was wild to win this game before his home folks, who were out in great numbers to see him, and the continuance of his hard luck was a heavy blow."20
Keeley suffered through all eight innings of an 18–1 loss at Detroit on August 8. The Tigers banged out 22 hits, with Sam Crawford collecting four of them. (Cobb did not play. He left the Tigers without prior notice for his August 6 wedding in Georgia and returned to the lineup on August 9.)21
With Johnson's turn to pitch against St. Louis at home on August 20, Cantillon opted to save the Big Train for the next day's game against Detroit. Keeley answered opportunity's knock as he threw the only shutout of his big-league career, a 2–0 victory. Another 5'7" player, third baseman Bill "Skipper" Shipke, hit an RBI triple, an RBI double, and a single.22 Cantillon's strategy paid off as Johnson then beat Detroit, 3–1.
On September 10, Keeley happened to draw two walks while batting against Red Sox pitcher Fred Burchell. The Boston Herald chalked it up to Keeley "…being such a runt it is hard to pitch to him."23 But he only has two walks in 59 career plate appearances listed in his stats. (This writer found another walk, on July 22 against Detroit.)
The bulk of the Washington and Chicago White Sox players participated in post-season exhibition games against Callahan's Logan Squares. Among the players suspended under the new rule adopted that May regarding the prohibition of playing with or against suspended players were Johnson and Keeley. The players were fined $50 each for reinstatement. (Johnson's fine was returned to him years later in honor of his contributions to the game).24
Heading into the 1909 season, Gunthers Manager Bill Niesen told the St. Louis Post-Dispatch:
"'I paid him [Keeley] a big salary for working one day in the week but Washington didn't think about me when it signed him to a big league contract. He was my best asset as far as players are concerned and yet I had no protection for him. I have close to $100,000 invested in my plant [Gunther Park]…but must stand to one side whenever a big league club owner chooses to take away one of my players.

'Now Keeley…wants to come back to Chicago and continue his work in the bank where he was formerly employed. If he does this, he will be forced to give up his Sunday ball playing, for which he can make as much as he can make in the bank, simply because he is tied on the reserve list of the Washington club. If he comes out and plays with my club, he'll be blacklisted and my club will be set down as tainted and filled with outlaws. I don't wish to be dragged into such trouble, but if Keeley refuses to play in the big leagues and the big leagues refuse to release him, I may take him in once more.'"25
Keeley chose to honor the reserve clause of his contract for 1909. Washington, in turn, placed him on waivers on April 21, 1909, but there were no takers.
The first of Keeley's two 1909 big-league games was on April 24 at New York. With his club already trailing 4–0, Keeley replaced a struggling Johnson in the third inning with the bases loaded and no outs. Despite a rare height advantage, Keeley surrendered a run-scoring single to Birdie Cree (5' 6") and a two-run single to Wee Willie Keeler (5' 4") before retiring the side. Later, Red Kleinow banged out two hits off of Keeley in the Highlanders' seven-run, seven-hit seventh inning. Meanwhile, Joe Lake threw a five-hit shutout in the 17–0 blowout.
Keeley's height was again fodder for ridicule in his final appearance, on May 14 at St. Louis. With Washington trailing 3–1, "Midget Bert [sic] Keeley was trotted forth in the Browns' half of the [eighth] inning…," reported the Evening Star, which then referred to Keeley as "the pocket edition of Washington's pitching staff."26 Keeley got two quick outs, the first of which was St. Louis starter Rube Waddell, before he allowed a double to Roy Hartzell and a walk to Danny Hoffman; both scored on Hobe Ferris's double. Washington rallied for three runs in the bottom of the ninth but lost, 5–4.
Keeley and Shipke were shipped to the Omaha Rourkes (named for the club's owner and manager, Bill "Pa" Rourke) on May 19. Keeley threw a five-hit shutout and hit a home run on the first pitch he saw in his first game for his new team, a 2–0 win against the Denver Grizzlies at home on May 22.
By June 10, Keeley was already called "the idol of the populace" by the Omaha World-Herald.27 He won his first five starts and, at 20–13, joined Duke Hollenbeck (20–16) and Jack Lower (20–14) as a rare trio of teammate 20-game winners. Keeley pitched both complete games of a doubleheader at home against Denver on September 7, almost a year since he did it in Washington. He won the first game, 3–1, on a three-hitter and lost the second, 4–1, with two of the runs coming in the ninth inning.
Regarding the off-season, the Omaha World-Herald reported, "Burt Keeley will clip coupons off his government bonds in the back office of the First National Bank in Chicago."28 The Daily State Register of Springfield, Illinois, mentioned Keeley in a blurb on February 6, 1910, saying he had decided to forego throwing the spitball. Perhaps that explains his 16–19 record for Omaha in 1910, his last full season as a player.
On April 21, 1911, Keeley allowed one run in seven innings for the Opening Day win at home, as Omaha defeated Des Moines, 6–4.29
He did not pitch again until May 5, at home against Sioux City. With two outs in the bottom of the fourth and Omaha trailing 5–3, Keeley singled and scored on Goat Anderson's triple, a would-be inside-the-park home run. As the World-Herald described it, Anderson's foot slid across home plate "a clean foot or more" before the catcher's tag, but Umpire Kneeland called him out. "In an instant he [Kneeland] was encompassed by the entire Omaha team," the World-Herald reported.30 Omaha's Bert King and Anderson struck Kneeland in the head while Keeley argued with him. Both assailants were ejected and subsequently fined. The score remained 5–4 through six innings, but Omaha lost, 13–4. Keeley went the distance, but, according to the World-Herald, "…realizing he had no chance to win just lobbed them over the pan and was consequently knocked all over the lot, and the balance of the players deported themselves with equal indifference …"31 It took six police officers to escort Kneeland to safety after the game due to the unruly crowd.32
Kneeland umpired Keeley's next start, on May 9 at Lincoln, Nebraska, with no incidents reported. Keeley blew a 4–0 lead by allowing six runs in the eighth and lost, 6–4.
On the morning of May 29, 1911, the Omaha and Denver clubs were traveling westbound in dense fog en route to Denver on the Chicago, Burlington and Quincy Railway's Denver Limited, when the train smashed head-on with an eastbound train a half mile west of Indianola, Nebraska. The Indianola Train Wreck caused 18 deaths and 32 injuries.
Amazingly, no ball players were severely hurt. Keeley, the only Omaha player injured,33 "…had just left his berth when the collision occurred and was hurled the length of the car, sustaining what he thought was a sore right shoulder," according to Sporting Life.34 For Denver, Ed Kinsella suffered scalp lacerations and Davy Jones got a cut across the bridge of his nose, and team president James McGill broke a bone in his foot.
The very next day at Denver, Keeley pitched what an article—appearing nationwide that August—called "one of the best games of his career"35 (the writer may have been exaggerating on the pitcher's behalf as Keeley allowed three runs on 10 hits and one walk with two strikeouts). He also had two hits in three at bats. But, with Omaha trailing 3–2, he was pulled in the seventh inning due to shoulder pain. Omaha went on to win, 4–3, but Keeley was finished. He appeared in his last game as a reliever on June 1 and World-Herald sports columnist Sandy Griswold wrote on June 8, "Although Bert [sic] Keeley has gone to Chicago ostensibly to have his arm treated by a specialist, it looks very much…that the handsome little Senator is through with Omaha. We hope not, however, for Keeley was one of the most popular men who ever wore an Omaha uniform."36
Reportedly diagnosed with a small broken bone and told he would never be able to play baseball again, he filed suit against the Burlington Railroad in August to the tune of $25,000 in damages ($642,000 in 2017 dollars).
The New Orleans Item, for one, provided skepticism on the extent of Keeley's injury being caused by the train wreck, citing a similar suit filed by New York Giants pitcher Louis Drucke. A passenger involved in an October 1910 New York subway accident, Drucke sued for $25,000 in damages on May 16, 1911, claiming his pitching arm was injured beyond use. Four days later, Drucke pitched all nine innings in the Giants' 2–1 victory over the Pittsburgh Pirates.37 Drucke accepted $12,000 in an out-of-court settlement in April 1912.38 (Regardless, Drucke, once touted as the "Second [Christy] Mathewson," faded fast following the accident. He was dropped by the Giants in 1912.)
It is up to conjecture as to the nature of Keeley's health and financial situation in August 1911, but he and Chicago White Sox pitcher Jim "Death Valley" Scott invested in the Western Feature Film Company that month. The Chicago-based company produced a movie called Old Wyoming Days in 1912, filmed on location in Scott's adopted hometown of Lander, Wyoming. The film featured "…Indian and cowboy races, steer roping, war dances, fancy rope spinning and an exciting attack on a trapper's cabin," according to a publication called Motography.39
The independent United States Baseball League began play in 1912. Bill Niesen owned Chicago's entry, called the Green Sox, and Keeley served as manager. The Green Sox played their home games at Gunther Park. Chicago uncorked the season with a 15–8 loss to Cleveland on May 8, at home, with a mere 2,000 fans in attendance.40 The league lasted one month and four days before it folded. Poor weather and attendance, and scarcities of capital and bankable star players factored into its demise.41
Keeley tried again as a manager in 1913, this time for Chicago's entry in the upstart Federal League. The team is often referred to as the Chicago Keeleys for lack of a formal nickname. He joined other former big-league players as managers of Federal League clubs. Bill Phillips took the reins at Indianapolis; Jack O'Connor moved from Cleveland's U.S. League club to St. Louis; Sam Leever helmed the Covington, Kentucky, team; Deacon Phillippe continued from the U.S. League at Pittsburgh; and none other than Cy Young managed the Cleveland club.
The Chicago Keeleys played their home games at DePaul University. Young received a bouquet of roses at home plate before the game on May 28, the first time Cleveland played at Chicago. A crowd of 600 fans saw the home team win, 1–0.42 When Chicago played at Cleveland on June 10, Keeley decided to pitch. He beat Young's Green Sox, 8–1, on a five-hitter.43 Keeley must have known that changes were afoot for his club in the off-season, for he went to work on an aborted attempt to bring an expansion franchise to Omaha.44
Two announcements out of Chicago on back-to-back days heralded the Federal League's jump to major-league status. On December 28, 1913, Chicago signed Mordecai "Three Finger" Brown and Joe Tinker, the latter as player-manager, spelling the end of Keeley's managerial career. On December 29, club president Charles Weeghman announced he had purchased land – once owned by Mike and Joe Cantillon – for a new ballpark at Clark and Addison Streets on Sheffield Avenue, directly to the north of DePaul.45 With the opening of Weeghman Park (now known as Wrigley Field) the following spring, nearby Gunther Park was abandoned. The old Gunther Park site became the extant Chase Park in the 1920s, a city park named for Chief Justice Salmon P. Chase.
Keeley listed traveling salesman for A.G. Spalding and Bros. as his occupation on his World War I draft card. In the 1920s, he played cornet solos in and was president of Bill Yule's Mushroom Band, so called because it sprang to instant popularity in Chicago upon a performance on April 8, 1921.46
During World War II, Keeley worked at the U.S. Army's VI Corps area headquarters quartermaster garage in Chicago and managed women's softball teams. In 1942, his Garden City team won state and regional titles before losing the national championship to New Orleans, 4–1, in Detroit.47
In 1948, he told the Chicago Tribune of his desire to purchase an expansion franchise in the All-American Girls Professional League, which did not come to fruition. He also recalled his old Washington roommate, Walter Johnson."48 "'He made about three times as much as I did,' Keeley remember[ed], 'and used to leave a roll of bills on the dresser and tell me if I needed anything to help myself. Then he never let me pay him back.'"49
For the last few years of his life, Keeley and his wife, Mae (they did not have any children), spent the summers as guests of their niece, Helen Anderson, and her husband, William S. Anderson, at Anderson's Resort on Moose Lake near Ely, Minnesota. The Keeleys bought a house in Ely in 1951, to live there year-round. Their time together in the north woods was cut short when Burt fell outside of his home the following spring, fracturing his hip at the neck of the femur. He died from pneumonia seven days later at the Ely-Winton Hospital in Winton, Minnesota, on May 4, 1952. He was 72 years old.50
Mae lived in Ely until her death in 1955. Both Keeleys are buried at the Ely Cemetery.
A sidebar titled "Noteworthy Baseball Accomplishments By Former Notre Dame Students" appeared in the 2007 Notre Dame baseball program. Among the eight listed are Arch Ward, "Founder of the Major League All-Star Game"; Bert Donne, "Inventor of the batting tee"; Ed Walsh Jr., "Stopped Joe DiMaggio's minor-league 61-game hitting streak"; and Bert [sic] Keeley, "Defeated famous Columbia Giants in 1900, as his team's No. 2 pitcher (also pitched the first complete-game doubleheader of the 1908 season)."51
Acknowledgments
This biography was reviewed by David Lippman and checked for accuracy by the BioProject fact-checking team.
Notes
1 "Athletics Break With Nationals," Philadelphia Inquirer, September 15, 1908.
2 "Keeley, the New Recruit," Evening Star (Washington, District of Columbia), February 9, 1908. Some other sources say he batted right-handed.
3 Cromie, Robert, "Nostalgic Burt Casts Vote For Walter Johnson," Chicago Daily Tribune, December 27, 1948.
4 http://archives.nd.edu/Scholastic/VOL_0034/VOL_0034_ISSUE_0001.pdf
5 http://archives.nd.edu/Scholastic/VOL_0033/VOL_0033_ISSUE_0028.pdf
6 http://archives.nd.edu/Scholastic/VOL_0034/VOL_0034_ISSUE_0001.pdf
7 "Three I League. Rock Island Lost," Repository (Canton, Ohio), August 18, 1901.
8 Ibid. 9.
9 Kennedy, Sam J., "Won the Game in the Tenth," Evansville Courier and Press (Evansville, Indiana), August 25, 1901.
10 "Win First From the Islanders," Rockford Republic (Rockford, Illinois), August 28, 1901.
11 "Cantillon Signs Pitcher Keeley," Chicago Tribune, January 23, 1908.
12 "New Southpaw for the Nationals," Evening Star, Washington, District of Columbia), January 27, 1908.
13 "Bert [sic] Keeley Signs with the Washingtons," Boston Journal (Boston, Massachusetts), April 16, 1908.
14 "Keeley, the New Recruit," Evening Star (Washington, District of Columbia), February 9, 1908.
15 "Will Cantillon be Toasted on the Commission's Griddle?," Cincinnati Post (Cincinnati, Ohio), April 18, 1908.
16 "Another 'Boost' for Twirler Keeley," Evening Star (Washington, District of Columbia), March 24, 1908.
17 "Nationals Lose a See-Saw Game," Evening Star (Washington. District of Columbia), April 19, 1908.
18 "The Nationals Play Good Ball and Win," Evening Star (Washington, District of Columbia), April 26, 1908.
19 "Nationals Lose Again By One Run," Evening Star (Washington, District of Columbia), June 8, 1908.
20 "'Piano Mover' Smith Buffaloes One and All of the Nationals," Evening Star (Washington, District of Columbia), August 3, 1908.
21 Alexander, Charles C., Ty Cobb, Oxford University Press, USA, p. 69.
22 "Nationals Shut Out St. Louis Browns. Keeley and Shipke the Leading Stars.," Evening Star (Washington, District of Columbia), August 21, 1908.
23 "Burchell Has 'Em Going in 40 Ways," Boston Herald, September 11, 1908.
24 /bioproj/topic/logan-squares
25 "Baseball Heads See a Problem in Blacklist," St. Louis Post-Dispatch (St. Louis, Missouri), November 10, 1908.
26 "Another Defeat By Only One Run, Evening Star (Washington, District of Columbia), May 15, 1909.
27 "Small Sporting Palaver," Omaha World-Herald (Omaha, Nebraska), June 10, 1909.
28 "Where Rourkes Will Spend the Winter," Omaha World-Herald (Omaha, Nebraska), September 29, 1909.
29 Griswold, Sandy, "Rourke's Sterlings Win the Initial Game," Omaha World-Herald (Omaha, Nebraska), April 22, 1911.
30 Griswold, Sandy, "Sioux City Makes it Three Straight Here," Omaha World-Herald (Omaha, Nebraska), May 6, 1911.
31 Ibid.
32 "Kneeland's Decision Causes Riot in Rourketown," Denver Rocky Mountain News (Denver, Colorado), May 6, 1911.
33 "10,000 Fans See Denver Win and Lose," Daily News (Denver, Colorado), May 31, 1911.
34 "Seeks $25,000. Suit Started by a Disabled Ball Player Against a Railroad," Sporting Life, August 19, 1911.
35 "Seeks $25,000. Suit Started by a Disabled Ball Player Against a Railroad," Sporting Life, August 19, 1911.
36 "Sandy's Dope," Omaha World-Herald (Omaha, Nebraska), June 8, 1911.
37 "Victory Knocks Out Damage Suit," New Orleans Item (New Orleans, Louisiana), August 19, 1911.
38 "Pitcher Settles Suit For Damage," Duluth News-Tribune (Duluth, Minnesota), April 15, 1912.
39 "Ball Players Enter Film Field," Motography, Volume 5, Issue 6, p. 85, August 1911.
40 "Cleveland Wins U.S. League Opener; Young Pitcher is Star," Plain Dealer (Cleveland, Ohio), May 9, 1912.
41 Haerle, Rudolph K., The United States Baseball League of 1912: A Case Study of Organizational Failure (http://library.la84.org/SportsLibrary/NASSH_Proceedings/NP1976/NP1976zi.pdf ).
42 "Young's Federals Lose," Plain Dealer (Cleveland, Ohio), May 29, 1913.
43 "Young's Men Bow to Star Playing," Plain Dealer (Cleveland, Ohio), June 11, 1913.
44 "Sandy's Dope," Omaha World-Herald (Omaha, Nebraska), October 21, 1913.
45 "Federal Clubs Each Want 5 of Majors," Rockford Republic (Rockford, Illinois), December 30, 1913.
46 "Issues Call For Templar Booster Meet," Rockford Republic (Rockford, Illinois), August 12, 1921.
47 Cromie, Robert, "Nostalgic Burt Casts Vote For Walter Johnson," Chicago Tribune, December 27, 1948.
48 Ibid.
49 Ibid.
50 Burt Keeley obituary, Ely Miner (Ely, Minnesota), May 8, 1952.
51 http://grfx.cstv.com/photos/schools/nd/sports/m-basebl/auto_pdf/mg07-107-118p.pdf
Born
November 2, 1879 at Wilmington, IL (USA)
Died
May 4, 1952 at Winton, MN (USA)
If you can help us improve this player's biography, contact us.
/sites/default/files/KeeleyBurt.jpg
600
800
admin
/wp-content/uploads/2020/02/sabr_logo.png
admin
2017-05-15 15:54:41
2017-05-15 15:54:41
Burt Keeley