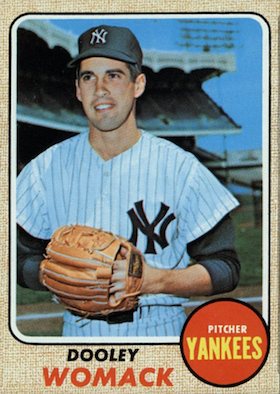 ---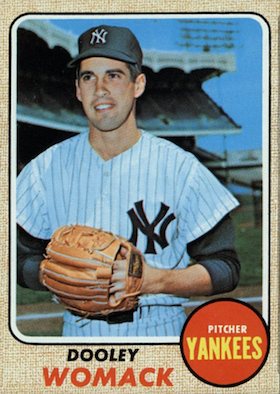 In all their history since Babe Ruth arrived, the New York Yankees have suffered through very few lean years. The most notorious were 1966 and 1967, when they finished 10th and 9th in the American League. One of the few bright spots in that period, however, was Dooley Womack. In 1966, the righty reliever made it to the majors at age 26 after eight unsung seasons in the Yankees organization. After performing well as a rookie, he had his best year in 1967, leading the team with 18 saves.1
Yet generations of fans saw Womack's name in a less favorable light after Jim Bouton lampooned him – "The Dooley Womack?" – in his famous baseball diary, Ball Four. When they were on the Yankees together, Bouton was struggling with arm problems. It was a blow to the former 20-game winner's ego when manager Ralph Houk measured him against Womack in spring training 1967. Yet Houk didn't mean it as a backhanded compliment; at that time, Womack was clearly the better pitcher.
In 2015, Womack discussed how he felt about Ball Four when it was first published and 45 years later. "When you tell the truth like that, some people get hurt," he said. But with regard to himself, he added, "I don't care. It's like I told Bouton, point blank, 'I don't give a damn what you write about me, I'm a nobody. But you don't write about Mickey Mantle, Whitey Ford, and Elston Howard like that – they're somebodies."2 Dooley Womack made and kept many friends from his playing days, but suffice it to say that Jim Bouton was not one of them.
Horace Guy Womack was born on August 25, 1939, in Columbia, South Carolina. According to New York sportswriter Maury Allen, Womack got his nickname as a youngster from a family friend who was called Dool. As Allen put it, the name Dooley Womack alone was "enough of a reason for a smile." Womack himself said, "It is easy on the ears."3
Dooley much preferred his nickname to his given name. He told Allen, "Horace was always a guy standing on a corner with a tie, a suit and a briefcase. That wasn't me. I was always with a ball and bat."4 He also joked with his mother about it. "Years later, I asked her, 'Were you still under the anesthesia after giving birth?'"5
The name choice actually honored Womack's father, William Henry Horace Womack, a shipping and receiving manager for a furniture warehouse in Columbia. His mother, Juanita (née Clark) was an inspector at a dry-cleaning facility. "She checked shirts, trousers, and dresses to see if they were pressed right. If not, she'd send them back! She was the glue in the family."6
Dooley was the middle child of three in the family. His brothers Alfred and Larry both also became professional pitchers, though they never advanced beyond the low minors. Al was in the Cleveland and Washington organizations in 1955 and 1956. Larry was a Yankees farmhand in 1968.
Womack enjoyed youth baseball. A newspaper article from August 1954, when he was still just 14, showed him in Pony League competition with Cayce-West Columbia. He started the semifinal game of the regional championship at catcher, then moved to the mound and became the winning pitcher.7
Womack went to Brookland-Cayce High School. He recalled, "In 10th grade, a number of us formed a team and we played in a city league. Then the school got a new coach and he said, 'Why don't you come on and join us?' I made the All-State team."8 He also played American Legion ball in those years.
Womack had scholarship offers from two small liberal arts schools, Newberry College in South Carolina and Brevard College in North Carolina. However, he decided to turn pro instead.9 In June 1958, Yankees scout Ted Petoskey signed him. Ironically, it came after one of Dooley's worst performances as an amateur, a 15-13 win. As Womack told Maury Allen, "I think they just wanted to see if I would hang in there when things went bad. I sure did." He got a bonus of $2,500 – five times what the great Mickey Mantle received when he joined the Yankees organization. It became a running joke between the two men.10
"Before I signed, Mantle was my hero," Womack said. "After I signed, Mantle was my hero. When I played with the Yankees, Mantle continued to be my hero. I thought the world of him."11
At his first stop, St. Petersburg in the Class D Florida State League, Womack did well: 6-3 with a 2.38 ERA in 11 games (eight starts). He was less successful in 1959 at Fargo-Moorhead (Class C Northern League). Though he was 13-9, his ERA rose to 4.50. The year's high point was a no-hitter against Minot on August 12.
"I was a starting pitcher until 1960," Womack recalled in 1967. "About that time, the touring Yankee scouts decided that I started to lose my stuff after six innings. That decided them to make me a relief pitcher."12 Previously, he had said, "I used to be a thrower, and that was foolish. I am not a big man and I don't throw real hard."13
Womack had so-so years in 1960 and '61, mostly at Greensboro of the Class B Carolina League. He first crossed paths with Jim Bouton in 1960. In fact, they and another pitcher, Jack Cullen, were roommates until Bouton's girlfriend arrived and the couple moved in together.14
During off-seasons while Womack was in the minors, his father got him a job at the furniture warehouse driving a truck. The experience reinforced his work ethic – "One day, I was the last one out, and Dad said, 'You better be the first one in.'"15
Womack then spent all of 1962 at Class A. With Augusta of the South Atlantic League, he pitched in 45 games, all of them out of the bullpen, and posted a 1.94 ERA – best in the league among those who had pitched at least 100 innings. "I was in the Marine Corps and that helped me gain confidence in baseball," he later said. "I went in in '61 and got out in April of '62. If you train as a Marine you can do anything in life."16
The Sally League moved up to the Class AA level in 1963, and Womack remained at Augusta. On the surface, his marks were less impressive (3-8, 3.75), but it was significant that he walked just 27 batters in 108 innings. Control was emerging as the hallmark of his pitching approach. It's noteworthy that the manager at Augusta that year was Rube Walker, who later became the respected pitching coach of the New York Mets. Womack also said that Walker and Wally Moses, who was a Yankees scout from 1963 to 1966, "impressed on me the necessity for a pitcher of my type to get the ball down low."17
Augusta won the league championship in 1963, but the franchise pulled out after that season because of poor attendance. In 2006, the Augusta Chronicle wrote about the '63 team, and Womack was one of the players it quoted. He described what the team called in jest its "power play." It was something out of the dead ball era, executed by leadoff man Ronnie Retton (father of Olympic gold-medal gymnast Mary Lou Retton) and number-two batter Ike Futch. If Retton got on base, he would take off for second. Futch, a bat-control artist who was exceptionally difficult to strike out, would bunt down the third baseline and Retton would keep running. Womack said that most teams would get so flustered that they'd throw the ball away at third and Retton would score easily.18 Dooley and Futch were teammates for four years in the Yankees organization. More than half a century later, they remained close friends.
In 1964, Womack played Double-A ball again. The Yankees' farm team at that level had become Columbus (Georgia) of the Southern League. He continued to benefit from playing under Rube Walker and had a much better year: 10-7, 2.32 in 50 relief appearances. "I was beginning to think I was a mediocre pitcher until 1964," he said in 1967. "Then I began to get real good control. By that I mean, I learned to make the batter hit my pitch and started to win consistently."19
Dooley, a handy man at the plate, also hit .291 in 1964. He remembered being used 20 to 25 times as a pinch-hitter that year, noting, "If you are a fair bunter and hitter, it gives you a chance to stay in the game. Me, I've always liked to grab a bat."20 Over his minor-league career, Womack hit .267 (107 for 454). In the majors, he hit .226 (7 for 31).
On November 25, 1964, Womack married Janelle Carol Whorton. That off-season was a critical juncture for the newlywed. In 1967, he recalled, "After the 1964 season when the Yankees sent out the letter saying I would be assigned to Columbus again, I thought it over and wrote them saying I had others to think about now and I would just have to get into some other line of work. . . The general manager of the Columbus team (Charlie Senger) and Johnny Johnson, the Yankee farm director, both wrote me and said I would get a chance at Triple-A if I would come back."21
Womack added, "We had moved down to Marietta, Georgia. I took a job with a financial firm as an adjustor. I was trying to make my decision on whether to keep on playing or continue with this firm. One day the boss told me that he'd noticed my work wasn't what it should have been, and I told him why. He came down on me unmercifully! He said, 'You better make a decision now!' I said, 'I'm playing ball,' and I unloaded my desk."22
Womack did in fact advance to Triple-A Toledo in 1965. At the beginning of April, he told the Toledo Blade, "I feel sure I can do the job. Let's face it, the guys who are playing in the International League are the same ones I was getting out in the Southern League." He believed that he had been overlooked because he lacked size and a blazing fastball. "I'm really not as small as I look," he argued. "I go 6-0 and 175 pounds and there are a lot of guys that size in the majors. As for speed, I admit I won't overpower anybody, but I can get the ball over and keep it down, which to me is the name of the game."23
At Toledo, Womack put up his best numbers yet. In 34 games, he was 10-4 with a 2.17 ERA. He didn't get off to a strong start, though; he remembered Wally Moses chewing him out and saying, "Why don't you pack your bags if you're not willing to work?" But Moses didn't just lecture, he offered constructive advice. According to Womack, Moses said, "I want you to throw across your body a little, let's see what the ball will do." The initial result was some more sinking action. Then Moses said, "Now that you're a little loose, throw harder." The ball sank more. Moses concluded by saying, "If you want to throw a breaking ball, you'll be smart enough to open up."24
Of interest, Womack started 13 times for Toledo, belying his prior reputation for lack of endurance by completing six games and throwing three shutouts. "When the Yanks recalled Jack Cullen," Womack later remembered, "it left a spot on the starting staff at Toledo open." Manager Frank Verdi gave Dooley a shot, saying, "Will you sleep tonight if I tell you that you're starting tomorrow?" Womack remembered, "Of course I didn't sleep!"25
The result of that start was a fair six-inning effort, but it was enough for Verdi to give him a second chance. Womack then fired a three-hitter, outdueling Atlanta's Clay Carroll, 1-0. He remained in the rotation for the rest of the year.26
Womack told author William Ryczek about his breakthrough to the majors in an interview for the book The Yankees in the Early 1960s. When Dooley heard from his father-in-law that the Yankees had added him to the 40-man major-league roster, he started running in the middle of winter – and he kept running all during spring training 1966. "I ran my way to the big leagues," he said.27
Catcher Jake Gibbs, who had handled Womack at Toledo the year before, told Womack that he could make the club but that "you have to bust your buns. It's not going to be easy." Womack's locker was right at the door of the clubhouse; he said, "All they had to do was push my bag out the door and I was gone." With hard work, effective pitching, and the incentive of a new glove from Gibbs, he stuck around. When the Yankees sent veteran Bill Stafford down, Womack was in The Show at last.28
Womack had other memories of that camp. "Jim Turner, the pitching coach, said to [manager] Johnny Keane, 'I've got a couple of guys who know how to pitch.' After the last exhibition series, at Atlanta, we were heading north. But there were problems with the plane and we had to turn around and go back. I was worried that they still might send me down!"
"Once I got to Yankee Stadium, though, I put my foot on the top step of the dugout and I looked up and saw the lights. I said to myself, 'I finally made it to The House That Ruth Built – whether it be for 30 days or years, I made it.'"29
His debut came on April 14, in the second game of a doubleheader at Yankee Stadium. He pitched three innings in a loss to the Detroit Tigers, allowing just one hit, although he was so amped up that he hit Al Kaline and Willie Horton with pitches in back-to-back at-bats. He did not allow a run until his seventh outing. When the time came in May for rosters to be trimmed down to 25, the Yankees weren't ready to give up on ailing Jim Bouton and didn't want to lose him on waivers. So they demoted seldom-used Jack Cullen – and kept Womack.
By that time, Johnny Keane had been fired. Ralph Houk, who had been the general manager, took over. Womack remembered that when the news broke, the Yankees lined up to talk to Keane. "I asked Mickey Mantle, 'What do you say in a situation like this?' He said, 'I don't know. It's never happened since I've been here.'"
"I was the last one, and I said, 'Skipper, I just want to thank you for giving me the chance.' He told me, 'Dooley, if you didn't deserve to be here…you wouldn't be here.'"30
Ryczek wrote, "Womack, the survivor, saw increasing activity as the season wore on. There was ample opportunity in the 1966 Yankee bullpen. [Pedro] Ramos was not as effective as he had been in 1965, nor was [Hal] Reniff, and [Steve] Hamilton was used mainly in long relief and against lefthanded hitters. . . By the end of the year, Womack was Houk's most reliable bullpen operative."31
Indeed, from July 24 through September 1 – a span covering 13 appearances and 26 innings – Womack did not allow a single earned run (and just one unearned run). A feature on him that September in The Sporting News discussed how efficient he was with his sinker-slider-curve repertoire and in particular his good control. Veteran catcher Elston Howard said, "This guy really can throw strikes down low." Ralph Houk said, "He's been coming into games in tight spots and getting them out."32
During the winter of 1966-67, Womack pitched for the Ponce Leones in Puerto Rico. His manager there was former Yankee reliever Luis Arroyo. Teammates included Steve Carlton and fellow Yankees Roy White and Horace Clarke.
In spring training 1967, Jim Bouton pitched very well. As he wrote in Ball Four, "Houk sat next to me in the dugout and told me, very confidentially, 'You know, you're having a heckuva spring, a better spring than Dooley Womack, and I think you're just the man we need in the bullpen." All Bouton could manage was to shake his head incredulously. But as things turned out, Bouton relieved in just seven games in the early part of the season. He was ineffective in those sporadic outings and was sent down to Triple-A.
Meanwhile, Womack got regular work and pitched scoreless ball in his first seven games. In 65 appearances that year, which tied the club mark then belonging to Arroyo and Ramos, he was 5-6 with a 2.41 ERA.
Womack's greatest thrill in the majors came on May 14, 1967. On that day, Mickey Mantle hit his 500th big-league homer, off Stu Miller of the Baltimore Orioles. Womack got the win, pitching the last 3 1/3 innings in relief of Mel Stottlemyre. He told Maury Allen, "When we got into the clubhouse Mickey just came up to me and said, 'Thanks for letting me enjoy my 500th.' If we lost it would have been awful quiet."33
That August, amid a rocky patch, Womack remarked, "I sometimes think my control is too good. The batters can stand up there and dig in on me and know the ball is going to be over the plate." He added, "The winter ball might be catching up with me now." He credited coaches Jim Turner and Jim Hegan for helping him cope well with the mental strain of the game and pitching in relief.34
In the winter of 1967-68, Womack stayed in New York, where he and Janelle saw snow for the first time. He worked for CBS (which then owned the Yankees) as a sales trainee during the day; he then made personal appearances all over the East at night. He said, "I think working like this. . .makes you appreciate being a baseball player even more. When you go out working, then you realize that playing ball isn't so tough after all, despite the odd hours and the traveling." He looked forward to the coming season, saying, "I wish it would go on all the time because that's what I enjoy."35
Womack got less work in 1968. He held out briefly in the spring, hoping for a larger contract, and then suffered soreness in his shoulder. In fact, it was a partial tear of his rotator cuff, and it came not from pitching but from his love of swinging the bat. "I was pitching against the Mets, and Ralph Houk said, 'Dooley, go take a shower.' I said, 'Skipper, let me hit.' Al Jackson, the little lefty, was on the mound. I hit left-handed, and I overextended. I sure wish I hadn't hit that day."36
That season, Womack's appearances dropped to 45 and he pitched just 61 2/3 innings. He gutted out his shoulder pain with the help of Capsolin, the fiery ointment derived from chili peppers. Although he was much better in the second half of the season, finishing with a WHIP of 1.33 and an ERA of 3.21, he got just two saves. Steve Hamilton led the club with 11 that year, and Lindy McDaniel got 10 after coming over from the San Francisco Giants in July.
In December 1968, the Yankees traded Womack. He went to the Houston Astros for well-traveled outfielder Dick Simpson (who had played with Dooley in Ponce). Wire service reports noted the deal without comment, focusing instead on Houston's other trade that day: Bob Aspromonte, the last player from any of the four new franchises in the 1961 expansion draft still with the team that selected him, went to Atlanta. In The Sporting News, however, Yankees beat writer Jim Ogle said, "The trading of Womack was more or less expected since Houk couldn't be sure that Dooley would recapture his form of the 1966 and 1967 seasons."37
Womack got into 30 games as an Astro in 1969 without posting any saves. He was the fourth man in the Houston bullpen behind Fred Gladding, who got nearly all the save opportunities, Jim Ray, and Jack Billingham. He later told author Kenneth Hogan that he fell into disfavor for joking that he'd like for the club to lose a few games so that he could get into one. "The Astros thought I was a problem after that. I went 30 days without getting on the mound at one point. But that was Harry Walker [Houston manager], I did not care for him. Once you get into a manager's doghouse, you're done."38
On August 24, 1969, the Astros traded Womack to the Seattle Pilots. In return they got none other than Jim Bouton, who had revived his career as a knuckleballer. In Ball Four, Bouton wrote, "Maybe it's me for a hundred thousand, and Dooley Womack is just a throw-in. I'd hate to think that at this stage of my career I was being traded even-up for Dooley Womack." It might have salved Bouton's self-esteem to know that actually Houston included another pitcher, Roric Harrison, in the trade. Harrison eventually won 30 games in the majors from 1972 through 1978, whereas Bouton got five more big-league wins and Womack two.
With the Pilots, Womack got into nine games, posting a 2.51 ERA. He got the win in two of those outings. His last of 19 victories in the majors came on September 22, in middle relief at Anaheim Stadium.
In the fall of 1969, the Pilots sent several players outright to Triple-A Vancouver, including Womack. At some point in the next few weeks, the Houston organization reacquired him, but he didn't remain there long. "The only thing I know," said Womack, "is that they took me off waivers and then they sent me to Cincinnati."39 It happened on December 16; the Astros traded him and pitcher Pat House to the Reds and received Jim Beauchamp in return.
Cincinnati assigned Womack to their top farm club, Indianapolis, in 1970. "I had a bad outing at the beginning of camp. They didn't hit me hard, but they hit Texas Leaguers and balls found holes. Then I pitched in the B games, and I did well. Milt Wilcox and I got another chance, and I did well again, but they sent me down."40
With Indianapolis, Womack remained sharp (6-3, 2.19 ERA, 14 saves in 47 games) but was not called up by The Big Red Machine at any point. "They kept sending guys up – Pedro Borbón and some others – but not me. I said to the manager, 'Get me out of here, I don't care how.'"41
On August 14, the Oakland Athletics purchased Womack's contract. They needed help in the bullpen because reliever Jim Roland had torn ligaments in his right knee on August 11 while trying to score against the Cleveland Indians. The next day, Womack appeared in the ninth inning with Oakland trailing the Baltimore Orioles, 4-1. He put two runners on base and then allowed a three-run homer to Merv Rettenmund that closed out the scoring.
That outing landed Womack in manager John McNamara's doghouse. He appeared in just one more game for the A's, on September 27. In the midst of the long idle stretch, at Detroit in late August, "I asked McNamara if I could throw batting practice. Reggie Jackson stepped in. He didn't get a ball out of the cage. Catfish Hunter and the guys were all watching, asking why I wasn't getting into games, and I said, 'Ask the man over there on the bench.'"42
Finally, after nearly another month had passed, McNamara called on Womack in a game against the Angels at Anaheim. The team was shorthanded; a few days before, a major fire in Oakland had caused several players to fear for their homes. Womack had amusing memories of that day. "Reggie said, 'See that little knoll out there? Well, there's a rubber on top of it, and you stand there.' Our second baseman, Dick Green, said, 'Welcome back to the ballclub.'43 I got out there, and I was showing curve, and Roger Repoz [an old teammate with the Yankees] yelled, 'Just tell us what's coming, we'll make out!"44 Dooley retired five straight batters but then gave up a single to Sandy Alomar and a homer to Tony González before getting out of the inning.
That fall, Womack was again assigned outright to Triple-A. In his last season as a pro, 1971, he got into 36 games for the Iowa Oaks, Oakland's top farm team. "Without a bad shoulder, you can go three, four, five days in a row. I needed the Capsolin even to get out there. That winter, I had the shoulder operated on, but it was not with the team, it was with an orthopedic group here in Columbia. It took eight stitches, and the doctor said, 'I'll have you out there pitching again.'"45
However, near the end of the '71 season Womack had pretty well made up his mind to retire. "I lost a couple of games after errors by our shortstop [Dwain Anderson], and I said, 'Major-league player, my ass!' Our manager, Sherm Lollar, said to knock it off, and I told him, 'Sherm, I can say what I want.'"46
Womack and Janelle had two sons, Steve and Jeff. He told Maury Allen, "I had to get a real job after that, and I got into the sale of men's clothing. I had pitched before 50,000 people and now I was trying to sell one guy a pair of pants. It was a little bit of a comedown."47
Womack then worked in real estate for a while, followed by carpet sales. According to another Yankees chronicler, Brian Jensen, Dooley walked away from these jobs because of his character – he was told that he was too honest. "I'm not a pushy salesman," he said. "I present the case and then I back off and let the person make the decision."48
Womack then got his most enduring job, as a salesman for Bonitz Flooring Group. He spent 23 years with that firm before retiring in the early 2000s. In retirement, he coached American Legion ball, played golf, and watched baseball on television. He enjoyed studying pitchers and guessing pitch sequence.49
Dooley Womack's appealing personality made an ongoing impression wherever he went. Newspaper coverage during his playing days often referred to him as friendly and popular. Maury Allen described Dooley's "high voice, serious drawl and giddy laugh."50 Bill Ryczek noted that Womack's "South Carolina humor and charm. . .and his humility made him an entertaining as well as informative subject."51
After enduring back surgery, Womack remained fit and active in his mid-seventies. "I walk three miles every morning, and then I do yard work. I'm still skinny – at my last doctor's appointment, I weighed 164. I pitched at 165!"52
Womack talked about how in his day, ballplayers made very little money. "My rookie year, I made seven grand!" Indeed, during that season it came up in conversation with Jim Bouton. "We were in our hotel room after a game in Boston – I was rooming with Bouton that night because Ducky Schofield had just been traded – and he asked me, 'Dooley, what has baseball ever done for you?'"
Dooley Womack's reply encapsulates his spirit. "I can go across the country, step into any city, and an old teammate will be there. I can call him up and he'll say, 'What are you doing? Can I come pick you up?' You can't put a dollar sign on that."53
Last revised: January 5, 2016
Acknowledgments
Grateful acknowledgment to Dooley and Janelle Womack for their help, and thanks to John-William Greenbaum for the introduction. Thanks also to Ike Futch.
Other sources
www.womacknet.com
Notes
Born
August 25, 1939 at Columbia, SC (USA)
If you can help us improve this player's biography, contact us.
http://sabr.org/sites/default/files/images/WomackDooley.jpg
600
800
admin
/wp-content/uploads/2020/02/sabr_logo.png
admin
2016-01-13 20:42:55
2021-09-28 15:40:16
Dooley Womack