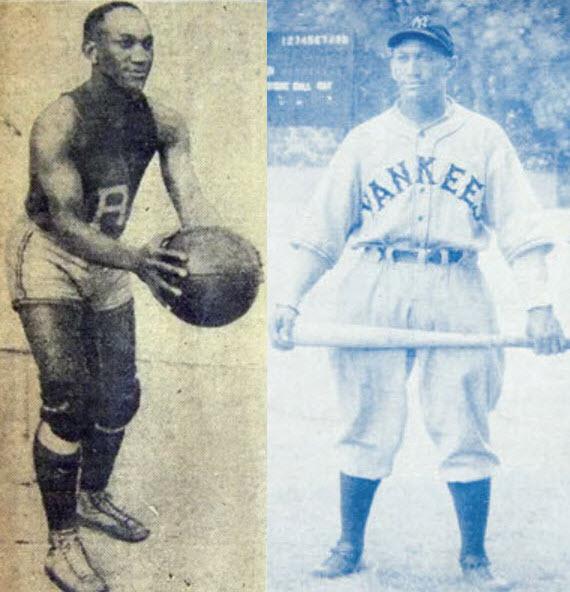 ---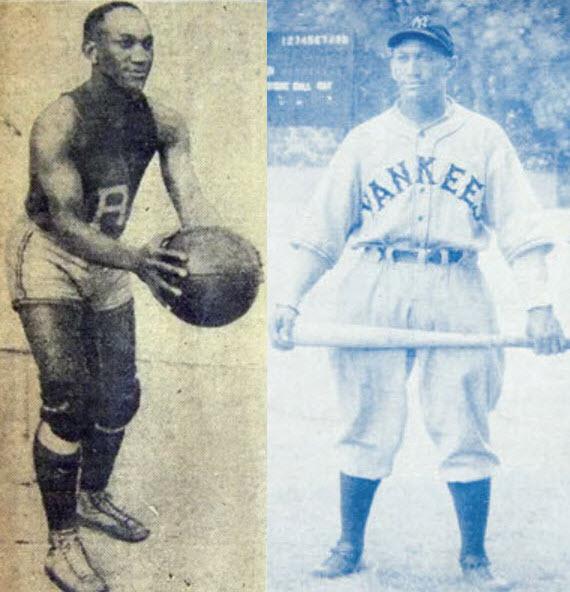 In the 1920s and 1930s, Clarence "Fats" Jenkins was an athletic wonder. A two-sport superstar, Jenkins was a dynamic leadoff hitter in the Negro Leagues and a brilliant point guard in the early days of professional basketball. An older brother was known as Big Fats, and Clarence, as a chubby youngster, was dubbed Little Fats, which was shortened to Fats. Though he was not fat as an adult, the nickname stuck.1 "Fast" would have been a fitting moniker for the speedster.
According to a 1952 poll of Negro baseball experts, Jenkins was one of the nine greatest outfielders in Negro League history.2 Data collected by Seamheads.com indicates that his career batting average was .328, the 12th highest in Negro League history among players with at least 2,000 plate appearances,3 and his .974 fielding percentage was the highest in Negro League history among left fielders who played at least 800 innings. In 2006 Jenkins was considered by the Special Committee on the Negro Leagues but was not elected to the National Baseball Hall of Fame.
In 1963 Jenkins was enshrined with his team, the New York Renaissance, in the Naismith Memorial Basketball Hall of Fame, and in 2016 he was nominated by the Early African-American Pioneers Committee for enshrinement as an individual. Among the nominees selected by this committee, Jenkins has been ranked as the most deserving by the Black Fives Foundation, an organization devoted to the pre-1950 history of African Americans in basketball.4 In 2021 he was enshrined as an individual in the Basketball Hall of Fame.
Clarence Reginald Jenkins was born in New York City on January 10, 1898. He was the youngest of eight children (six boys and two girls) born to Charles and Ellen "Nellie" Jenkins. The family resided in Harlem. Charles, a native of Massachusetts, was a longshoreman. Nellie, a Canadian, worked as a domestic. She was a niece of Sam Langford, the great boxer.5
Clarence attended Public School 89 in Harlem.6 According to census records, he worked as a salesman in 1915, and as an automobile mechanic in 1920.7 Drafted into the Army during World War I, he served at the US Military Academy as a private in the Detachment of Cavalry, a Negro unit, from November 1918 until his discharge in March 1919.
From 1916 to 1921, Jenkins played on a top amateur basketball team, the St. Christopher Athletic Club of Harlem. Clad in uniforms of red and black, the team was known as the "Red and Black Machine."8
Jenkins' World War II draft registration indicates that he was 5-feet-7½-inches tall. In 1920 he tried out for and nearly made the US Olympic boxing team as a middleweight,9 a weight class limited to 160 pounds. This is consistent with newspaper reports of his weight, about 165 pounds, during his baseball and basketball careers.10
After the Olympic trials, Jenkins started his professional baseball career with a brief stint on Harlem's Lincoln Giants in 1920. He batted leadoff and played center field for the Penn Red Caps in 1921 and 1922, and finished the 1922 season on the New York Bacharach Giants. He began his professional basketball career on the Harlem-based Commonwealth team in November 1922.
Jenkins was a left-handed batter. Historian James A. Riley said he was "a left-hander all the way," indicating that he also threw left-handed.11 But in basketball, Jenkins was adept at passing and shooting with either hand.12
In 1923 Jenkins batted leadoff and played center field for the Harrisburg (Pennsylvania) Giants. On July 27, he hit three singles and a home run in the Giants' 10-3 victory over the Washington Potomacs.13 On October 14, as a member of the Lincoln Giants, he played in both games of an afternoon doubleheader and played in a Commonwealth basketball game in the evening.14
From 1924 to 1927, the Harrisburg Giants were part of the Eastern Colored League. Jenkins, an outstanding baserunner and base stealer, was a spark plug atop the Giants' batting order and was regarded as "the fastest man in the league."15 He moved to left field to accommodate manager Oscar Charleston in center field, and with Rap Dixon in right field, the talented trio formed "the Million Dollar Outfield."16
Beginning with the 1924-25 season, Jenkins was a key member of the Renaissance professional basketball team, or Rens as they were known. Playing a position that years later would be recognized as point guard, Jenkins deftly passed the ball to his teammates and served as the "general of floor-play" who "started every play."17 The team was named for its home venue, Harlem's Renaissance Casino, a two-story building that was not a casino in the modern sense. Above the ground-floor theater was a ballroom with a high ceiling, suitable for basketball. After a Rens game, fans were invited to a dance on the ballroom floor. These games and dances were popular social events attended by African-Americans in their finest attire.
The Rens compiled a remarkable won-lost record of 333-61 (.845) from 1928-29 to 1930-31,18 and the New York Age called Jenkins "the greatest all-around player in basketball."19 On January 30, 1931, he scored 20 points in the Rens' 49-38 victory over the Philadelphia Sphas.20 This was a high-scoring contest for the era, when games were 40 minutes long with no shot clock. Fans and opponents were dazzled by the Rens' passing game. The Pittsburgh Courier remarked that one opponent, the Duquesne Lafayettes, "stood around looking on in amazement" as the Rens swiftly passed the ball around the court.21
The Harrisburg Giants folded after the 1927 season, and over the next three baseball seasons, Jenkins played for the Lincoln Giants, the Atlantic City Bacharach Giants, and the Baltimore Black Sox. On June 22, 1929, he clubbed two singles, two triples, and a home run in the Bacharach Giants' 9-8 triumph over the Cuban Stars, and the next day he went 6-for-9 in a doubleheader against the Lincoln Giants.22 In a doubleheader on July 5, 1930, he played left field for the Lincoln Giants against the Baltimore Black Sox in the first Negro League games ever played at Yankee Stadium. In the second inning of the first game, Baltimore's Ralph Burgin drove a ball to deep left field. The Pittsburgh Courier reported what happened next:
"Fats Jenkins, modern basketball's greatest star, took one look at the ball, turned his back to the diamond and started running. As he crashed into the railing he reached up and made a desperate stab as the ball started to fall into the bleachers. And, holy of holies, it stuck. Wot a catch!"23
In 1931 Jenkins joined a newly formed Harlem baseball club managed by John Henry Lloyd and owned by Bill "Bojangles" Robinson, an immensely popular entertainer. The team went through several name changes and was known at various times during the 1931 season as the New York Stars, New York All-Stars, Harlem Stars, New York Colored Yankees, and New York Black Yankees. On July 12, 1931, Jenkins stole two bases and homered as the team swept a doubleheader from the Brooklyn Royal Giants at Yankee Stadium. Robinson entertained the fans between innings with his clever dancing.24 For the next three seasons, Jenkins played for the New York Black Yankees, managed by George Scales. When the team played at Yankee Stadium, their name, "Yanks," was already on the scoreboard,25 and they wore New York Yankee uniforms with "Yankees" written across the chest, splendid hand-me-downs acquired from the major-league club.
During the Great Depression, the Rens traveled by bus on long barnstorming tours of the East and Midwest, and occasionally the South. Playing almost entirely on the road, the team compiled a 485-67 (.879) record from 1931-32 to 1934-35.26 Jenkins, the team captain, was called "the fastest man in basketball."27 On January 28, 1932, he scored 19 points in the Rens' 40-38 victory over the Rochester (New York) Centrals, including the winning basket in overtime "after taking the ball the entire length of the 96-foot court."28 During the 1932-33 season, the Rens won 88 consecutive games, an extraordinary streak made possible, Jenkins said, by the players' "unselfish cooperation which came through appreciation of teamwork."29
John Wooden was a guard on the Indianapolis Kautskys and played often against Jenkins and the Rens. On January 7, 1934, the Rens defeated the Kautskys, 34-28, as Jenkins led all scorers with 13 points and defended against Wooden. "Even Johnny Wooden's clever dribbling was lost as Captain Jenkins policed the Kautsky star throughout the contest," noted the Indianapolis News.30 In a 1979 interview for Sports Illustrated, Wooden said that Jenkins held the Rens together. "Not only did he run their offense, he was the team spokesman and had command of the club."31 The Rens' 88-game winning streak went unmatched for 41 years, until the UCLA men's basketball team, coached by Wooden, won 88 consecutive games from 1971 to 1974.
In 1935 Jenkins played for the Brooklyn Eagles, a baseball team owned by Abe and Effa Manley. On May 5, he hit two singles and three doubles in a doubleheader sweep of the Newark Dodgers. The winning pitchers that day were veteran Ted "Double Duty" Radcliffe and 18-year-old Leon Day.32 At Comiskey Park in Chicago on August 11, Jenkins played left field for the East team in the East-West All-Star Game but went hitless as the West squad prevailed, 11-8.33 He returned to the New York Black Yankees in 1936 and remained with the team until he left over a salary dispute and joined the Pittsburgh Crawfords near the end of the 1938 season.34 He smacked two hits off the great Satchel Paige on September 20, 1936, and belted two more hits off Paige on September 19, 1937; both games were played at the Polo Grounds in New York.35
Despite his advancing years and the accumulated wear and tear of playing year-round, Jenkins continued to lead the Rens to phenomenal success. The team compiled a 374-47 (.888) record from 1935-36 to 1937-38.36 On April 5, 1936, he was honored by a Fats Jenkins Night at the Renaissance Casino.37 Chester L. Washington, sports editor of the Pittsburgh Courier, said Jenkins "scoots and darts from one end of the court to the other like a wavering streak of lightning, zigzagging his way in such a deceptive manner that he completely bewilders his opponents. And Father Time has failed to slacken his pace or dull the keenness of his basketball wits."38
From Jenkins' perspective, the pinnacle of his career came in March 1939 as coach of the Rens, when his team won the first World Professional Basketball Tournament.39 It was the first time in the Rens' history that they were officially recognized as the champions of professional basketball. Jenkins resigned from the team after the season, and tributes came pouring in. Wendell Smith of the Pittsburgh Courier called him "probably the greatest Negro basketball player in history."40 And Lester Rodney of the New York Daily Worker said Jenkins was "truly one of America's sports immortals."41
But Jenkins was not done yet. At age 41, he played one more baseball season, as playing manager of the 1939 Brooklyn Royal Giants, and one more basketball season, as playing coach of the 1939-40 Chicago Crusaders. On May 21, 1939, he slugged a home run for the Royal Giants that was hit so hard it went through the tin scoreboard and into the street.42
Beginning in 1940, Jenkins was the proprietor of a Philadelphia hotel, and his wife, Agnes, was the assistant manager.43 He also had a beer distributing business, and in his spare time, he coached basketball at the local YMCA.44 He suffered from Parkinson's disease in the 1960s, and on December 4, 1968, he died of pneumonia in Philadelphia at the age of 70.45
Perhaps the greatest tribute came from Abe Saperstein, founder of the Harlem Globetrotters, who in 1962 picked Jenkins as one of 10 men on his All-Time, All-Pro basketball team, along with such greats as Elgin Baylor, Wilt Chamberlain, Bob Cousy, and George Mikan.46
Last revised: May 17, 2021 (zp)
Acknowledgments
This biography was reviewed by Len Levin and fact-checked by Chris Rainey.
Sources
Ancestry.com and Seamheads.com (both were accessed in January 2018).
Anderson, Daniel. The Culture of Sports in the Harlem Renaissance (Jefferson, North Carolina: McFarland, 2017).
Peterson, Robert W. Cages to Jumpshots: Pro Basketball's Early Years (New York: Oxford University Press, 1990).
Notes
1 Pittsburgh Courier, March 10, 1934, and January 15, 1938; Brooklyn Daily Eagle, August 9, 1935.
2 Fats Jenkins was selected to the third team in the 1952 Pittsburgh Courier poll. The first-team outfielders were Monte Irvin, Oscar Charleston, and Cristóbal Torriente; the second-team outfielders were Pete Hill, Cool Papa Bell, and Chino Smith; and the third-team outfielders were Jenkins, Rap Dixon, and Larry Doby.
3 According to Seamheads.com, the 12 highest career batting averages among Negro League players with at least 2,000 plate appearances are (1) Josh Gibson, .359; (2) Jud Wilson, .352; (3) Buck Leonard, .352; (4) Turkey Stearnes, .352; (5) Oscar Charleston, .350; (6) Dobie Moore, .346; (7) Cristóbal Torriente, .344; (8) John Henry Lloyd, .337; (9) Ben Taylor, .335; (10) Hurley McNair, .331; (11) Biz Mackey, .330; and (12) Fats Jenkins, .328.
4 Blackfives.org.
5 1900, 1910, and 1920 US Censuses; Pittsburgh Courier, January 11, 1936.
6 New York Age, March 20, 1926.
7 1915 New York State Census and 1920 US Census.
8 New York Age, January 25, 1917.
9 Brooklyn Daily Eagle, July 2, 1920.
10 Elmira (New York) Star-Gazette, January 2, 1929; Akron (Ohio) Beacon Journal, January 11, 1932.
11 James A. Riley, The Biographical Encyclopedia of the Negro Baseball Leagues (New York: Carroll & Graf, 1994), 423.
12 St. Louis Post-Dispatch, March 10, 1933.
13 Harrisburg (Pennsylvania) Telegraph, July 28, 1923.
14 New York Age, October 20, 1923.
15 Pittsburgh Courier, June 27, 1925.
16 Harrisburg Telegraph, July 22, 1927.
17 Elmira Star-Gazette, March 18, 1927.
18 Quad-City Times (Davenport, Iowa), February 2, 1936. The Rens had a record of 107-19 in 1928-29; 112-20 in 1929-30; and 114-22 in 1930-31.
19 New York Age, December 13, 1930.
20 Philadelphia Inquirer, January 31, 1931.
21 Pittsburgh Courier, March 14, 1931.
22 Pittsburgh Courier, June 29, 1929; New York Age, June 29, 1929.
23 Pittsburgh Courier, July 12, 1930.
24 New York Age, July 18, 1931.
25 Pittsburgh Courier, September 15, 1934.
26 Quad-City Times, February 2, 1936. The Rens had a record of 115-23 in 1931-32; 127-8 in 1932-33; 121-19 in 1933-34; and 122-17 in 1934-35.
27 Pittsburgh Courier, January 16, 1932.
28 Rochester (New York) Democrat and Chronicle, January 29 and 30, 1932.
29 Pittsburgh Courier, March 20, 1943.
30 Indianapolis News, January 8, 1934.
31 Bruce Newman, "The N.Y. Rens Traveled a Long Hard Road to Basketball's Hall of Fame," Sports Illustrated, October 22, 1979.
32 Brooklyn Daily Eagle, May 6, 1935.
33 Brooklyn Daily Eagle, August 12, 1935.
34 Baltimore Afro American, August 27, 1938.
35 New York Age, September 26, 1936, and September 25, 1937.
36 Louisville Courier-Journal, December 23, 1936; Lafayette (Indiana) Journal and Courier, December 22, 1937; New York Age, December 24, 1938. The Rens had a record of 121-14 in 1935-36; 122-19 in 1936-37; and 131-14 in 1937-38.
37 New York Age, April 4 and April 11, 1936.
38 Pittsburgh Courier, January 11, 1936.
39 Pittsburgh Courier, March 20, 1943.
40 Pittsburgh Courier, November 4, 1939.
41 New York Daily Worker, November 6, 1939.
42 Brooklyn Daily Eagle, May 22, 1939.
43 1940 US Census.
44 Pittsburgh Courier, March 20, 1943, and December 1, 1945.
45 Jenkins' death certificate in his file at the National Baseball Hall of Fame.
46 Warren (Pennsylvania) Times Mirror, October 16, 1962.
Full Name
Clarence Reginald Jenkins
Born
January 10, 1898 at New York, NY (US)
Died
December 4, 1968 at Philadelphia, PA (US)
If you can help us improve this player's biography, contact us.
https://sabr.org/sites/default/files/JenkinsFats.jpg
600
800
admin
/wp-content/uploads/2020/02/sabr_logo.png
admin
2018-03-14 17:05:46
2021-09-17 01:14:43
Fats Jenkins