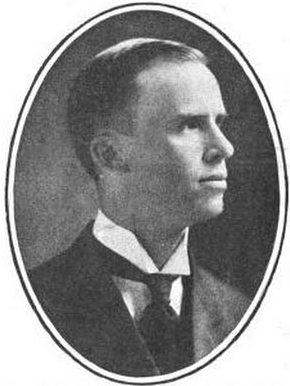 ---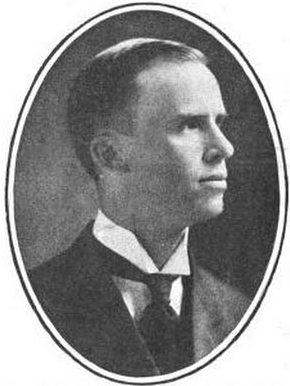 When asked in the twilight of his life to reflect on his baseball career, Gus Munch revealed why he never made it to the major leagues: His mom talked him out of it. This was perhaps a bit of a simplistic answer, as there were several instances of mutual interest expressed between Munch and major-league clubs during the left-hander's baseball career. On each occasion, however, Munch was either unwilling or unable to give up his successful business career in exchange for a major-league contract. Instead, Gus played primarily on weekends and enjoyed frequent success among the semipro teams of Chicago. Making a name for himself with impressive pitching performances in the Chicago area, Munch became a coveted commodity for established minor-league clubs wanting to beef up their rosters for a big game or series, earning impressive bounties for doing so.1
Gustave Emil "Gus" Munch was born January 20, 1876, in Afton, Minnesota, a town of 130 (1880 Census) 30 miles east of the Twin Cities of Minneapolis and St. Paul. Situated along the St. Croix River bordering Wisconsin, Afton today boasts a population near 3,000. Gus was the youngest child of four born to German-born Emil and Russian-born Bertha (Seeger) Munch. Emil Munch gained notoriety as captain of the 1st Minnesota Light Artillery, which fought in the Battle of Shiloh in the American Civil War. The group became known as "Munch's Bunch." After the war, Emil operated lumber and milling businesses in Afton. After Emil died in 1887 when Gus was just 11 years old, the family moved to St. Paul, residing first at 654 East 6th Street. By the time of the 1895 Minnesota census, Gus lived with his mother and his oldest brother Walter, along with Walter's wife and infant daughter at 1031 Sims Avenue in St. Paul. Gus's occupation was listed as a wood carver in the census, perhaps a trade learned as a result of his father's lumber business.2
It was in 1895 that Gus Munch first appeared on the baseball scene as a member of the amateur St. Paul Packers, also known as the Minnesota Packing and Provision Company team. The 19-year-old began to make a name for himself in the baseball world that summer, particularly with performances against the Rosemount (Minnesota) Clippers. Munch struck out nine men in a seven-inning rain-shortened contest in late May and followed that performance by fanning 16 Clippers in a mid-June contest. Munch spent part of the following summer with the Packers before traveling north to play with independent clubs in Fargo, North Dakota and Crookston, Minnesota.3
Munch made his pitching debut for Fargo on July 8, 1896, in an 8-7 10-inning loss against Crookston. Showing an early penchant for finding the next best pitching opportunity, by August, Munch had signed on with that same Crookston team he faced the previous month. Pitching against a club from Morris, Minnesota that had won 21 consecutive games, young Gus made an impression on the local fans. Facing the Morris squad, Munch was reported to have been "an unsolved enigma for the visitors all through the game," as he helped lead Crookston to a 13-4 win. In September, Munch had made his way back to St. Paul, signing on with a team from Waverly, Minnesota, a town 50 miles west of the Twin Cities. Pitching for Waverly against the opposing Monticello, Minnesota club, Gus struck out 18, allowing just two hits in the process. With the victory, Waverly took the Wright County championship, earning $50 and the gate receipts for the win.4
Leading up to the 1897 season, Munch was considered among the best young talent in the St. Paul area. The St. Paul Globe touted him as a "robust young fellow, with plenty of speed and good curves, and …a disposition to play ball." He began the season with the St. Paul Saints of the Western League, showing some promise in an exhibition win in mid-April. With this impressive showing, the fans were anxious to see the talented twirler make his regular season debut, which came against the Minneapolis Millers on May 16. The Millers hit starter Tony Mullane hard, touching him up for 15 runs over six innings of work. Saints manager Charlie Comiskey brought in Munch, mercifully, to relieve Mullane, and the young southpaw pitched well. He allowed just two hits and one run over two innings of work. Despite the respectable performance, the Globe was not convinced Munch was ready to compete against the talent of Western League. 5
Munch received more seasoning in the Red River Valley League, and the beneficiary was the Fargo club, known as the Divorcees. Despite some strong showings, Munch finished the 1897 season with a record of 2-7 for a woeful Fargo team that finished last in the league standings. As he had done the previous summer, Gus found an opportunity late in the season to pitch in a championship series, this time winning two games on consecutive days for a team in West Superior, Wisconsin. Defeating a team from Marquette, Michigan, the West Superior club won the interstate championship series and undoubtedly pocketed a cash prize in the process. 6
The following year Gus Munch made his way to the Chicago area and began pitching in games for the semipro Chicago Marquettes, a traveling team that played against other professional and semi-professional teams throughout the Midwest. Munch spent the next decade playing in the semipro leagues of Chicago, which were wildly popular and quite profitable in a city with such a strong baseball fever that not even two professional teams could satisfy all the fans.
The 1898 and 1899 seasons were ones of mixed results for Munch, as he didn't pitch poorly, but wasn't dominant either. The tall left-hander pitched respectably in three notable performances during those seasons against one of the best baseball teams in the country. On August 7, 1898, Munch faced off against fellow southpaw George Wilson and the all-black Page Fence Giants. Scattering six hits over nine innings of work, Gus was impressive, but Wilson was even better, allowing just five hits to the Marquettes as the Giants took a 3-0 victory. The following summer, many of the Giants' players joined on with the newly constructed Columbia Giants. Munch faced them once in June and once in July 1899 in a pair of games at the Giants' home grounds. Gus and the Marquettes lost each game by a three-run margin, 3-0 and 5-2.7
By 1900, Munch had moved to Maywood, Illinois and was secretary and treasurer for the American Development Company, a corporation in downtown Chicago specializing in street lighting. On June 7 of that year in Chicago, Munch married Lillian Hamilton, a native of Canisteo, New York. Between settling into married life and his commitment to the business world, Gus had a relatively quiet baseball summer, appearing sparingly for the Marquettes and playing a few games for an amateur team in the St. Paul area while in the city visiting family.
Munch returned to the Marquettes the next summer and had a respectable year, which included a close late-season loss in a six-inning game against a team of professionals. Munch pitched for the Marquettes as they fell 5-4 to a club that featured major-league veteran Jimmy Ryan, among other pro players. Ned Garvin, who defeated Munch and the Marquettes in the October contest, had just finished posting a 3.46 ERA and 8-20 record pitching for the American League's Milwaukee Brewers.8
The lowlight of Munch's 1901 season, and arguably the worst performance of his career, came in a start against the Columbia Giants. Pitching for the semipro Chicago White Rocks, the Giants pounded Munch to the tune of 16 hits and 15 runs in a 15-0 drubbing. Perhaps making the loss a little easier for Munch to take was the fact that the Giants had an extraordinary record of 163-14 in 1901. Munch again spent the 1902 season with the Marquettes.9
In March 1903, Gus and his wife Lillian had Virginia Dorothy, their only child. Before the summer was complete, Munch would twice achieve another notable milestone, this time on the field. With seven years of organized baseball under his belt, by now Munch had established himself in baseball circles as an immensely talented and crafty left-handed pitcher. Munch's best pitch was his curveball, and he also had a solid fastball and respectable changeup in his pitching repertoire. His deceptive sidearm delivery further fooled batters, a "peculiar motion" that prevented runners from getting big leads off first base. As he became more widely known for his pitching prowess, Gus took the liberty on several occasions to rent out his services to the highest bidder. By the end of the 1903 season, the southpaw cashed in on a very lucrative pitching opportunity.10
Over the next several years, Munch continued to play in the Chicago semipro leagues, but for the 1903 season he spent most of his time with the Aurora, Illinois team of the Interstate League. The Aurora club was excited to have "one of the headiest pitchers in the league" on their roster. After a respectable early season, Munch heated up in August, hurling a three-hit, one-run victory on the 10th, followed by another win a week later. On August 23, Munch was truly dominant, as he faced just one batter over the minimum in a no-hitter versus the semipro Chicago Gunthers. Gus walked one and struck out four in front of 1,500 fans in Aurora.11
Munch's performances caught the attention of the Davenport, Iowa club, which was searching for help in their pursuit of the Class-B Illinois-Indiana-Iowa (Three-I) League title. Gus was willing to go and it helped the price was right. It is possible he earned a staggering $100 per game for his appearances with Davenport. This was objectively an impressive sum, even for Munch who earned a healthy $30 per Saturday game and $35 per Sunday game in the Chicago semi-pro leagues. Doing all he could to earn his pay, Gus rewarded the River Rats of Davenport by pitching another no-hitter in his first appearance for the club on September 12 in a game against Rock Island, Illinois.12
Unflappable from the start, Munch impressed with his "deceptive curves," and the noise of the opposing team's fans "went about as far with him as a nickel in Bucktown."13 So dominant was Munch that at one point while at bat, Rock Island pitcher Charlie Case threw at Munch twice, a dangerous situation made more serious by the fact that Munch batted right-handed. Because of this, his golden left arm was exposed while he was at the plate, but luckily, he escaped injury. His time at bat was the only adversity Munch would face that day, as he did not allow a single hit and Davenport cruised to a 7-0 win. Remarkably, Munch was sent out for game two of the doubleheader and pitched three more hitless innings before finally allowing a run, at which point he gave way to a relief pitcher. Munch followed up his no-hitter by starting and beating Rock Island again the next day in front of a crowd of 4,500. Munch's two victories were the only times Davenport had defeated Rock Island all season.14
With his work the previous summer and fall, Munch was in high demand to begin the 1904 season. Bill Watkins, the new Minneapolis Millers manager, had attended the no-hitter the previous fall and nabbed Munch for his American Association club. After only a few unexceptional performances, however, Gus settled back into semipro baseball in Chicago. There, he found his stride, notching four shutouts and not allowing more than three hits in any one of those starts. By late August, Brooklyn Superbas manager Ned Hanlon desperately needed pitching help, so he reportedly had Munch and fellow Chicago-leaguer Joe Koukalik try out for his National League club. For unknown reasons, but likely due to his work commitments, Gus did not join the Superbas that fall, while Koukalik started one game for the Brooklyn team.15
Munch joined the Chicago West Ends for the 1905 season, leading them to the city league title. Munch struck out eight in a 3-2 win on September 10 versus the Gunthers to clinch the championship. Later that fall, the West Ends took on the 92-win Chicago Cubs in an exhibition match. Opposing Munch in that game was Carl Lundgren, who won 13 games for the Cubs that season. Lundgren was dominant, allowing just two hits to the West End lineup. Munch scattered seven hits and allowed only two runs, but Lundgren was simply better that day. Johnny Evers had two hits for the Cubs, who picked up a 2-0 win.16
Munch's sustained success in the Chicago semipro leagues was no small feat. The Chicago semipro teams were arguably just a short step below the major-league level, featuring many players who had played in, or would advance to, the big leagues. The performance of the West Ends against the Cubs the previous fall demonstrated the strength of the semipro competition. But perhaps an even stronger piece of evidence came from the 1906 season, in which the semipro Chicago Logan Squares notched wins over both the National League champion Cubs and world champion White Sox. Gus Munch had pitched well for the West Ends in several games against the Logan Squares earlier in the season, making a strong case that he was of major-league caliber. Gus ended up with a record of 2-4 in those games, facing former major leaguer Jimmy Callahan on five of those occasions. Munch surrendered an average of less than four runs over the six contests.17
In addition to this solid body of work against the Logan Squares, Munch's 1906 season also featured a one-hit shutout and a pair of two-hit shutouts. With his continued strong performances in the semipro leagues of Chicago, in the fall of 1906 Munch again toyed with the idea of playing major-league baseball. In August, in part due to high praise from Jimmy Callahan, Munch drew interest from the New York Highlanders of the American League and their manager Clark Griffith. According to the Chicago Tribune, "Munch was willing to go, but was unable to break his business ties." Though the report speculated that Gus might still end up joining the Highlanders, nothing ever materialized and Munch finished out the season in Chicago.18
Throughout the summer of 1907, the supremely talented all-black team, the Leland Giants, had dominated all competition in the Chicago area. In an attempt to give the Giants a more difficult challenge, a group of "All-Professionals" from the Chicago area was assembled by former major leaguers Mike "Turkey" Donlin and Jimmy Callahan. The select group of ballplayers played a seven-game series against the best team in the city not named the Cubs or White Sox. Negro League pioneer Rube Foster was the star of the series, which went to the Giants four games to two. Foster was on the mound for all four of his team's wins, pitching four complete games while allowing just seven runs to the All-Professionals. Though he did not face Foster head-to-head, Gus Munch pitched brilliantly in the two victories for the All-Professionals. In game two of the series, Munch scattered seven hits in a complete game win, 6-2. In that game, he picked off two runners, demonstrating another deceptive piece in his collection of pitching tricks. In game five, Munch was even more dominant, surrendering just two hits and striking out seven Giants in a 3-1 win. Despite Munch's efforts, Rube Foster's Leland Giants became the "undisputed champions of Chicago."19
Munch spent the 1908 season playing for several teams, and for the first time, came under fire for being a baseball nomad. By 1908, the Chicago semipro teams, particularly Jimmy Callahan's Logan Squares, had drawn the ire of American and National League officials in part due to teams poaching players from major-league rosters. Because of his participation amid these Chicago semipro teams, Munch was now referred to as an "outlaw" player. Perhaps due to this development, Munch likely made an August 27 appearance for the Burlington, Iowa club under the last name Donavan.20
A week later, there was no question it was Gus Munch that joined the Springfield (Illinois) Senators of the Class-B Three-I League in one last foray into the professional leagues. Local papers questioned how an outlaw player such as Munch could legally sign with a club and play in the league. The Decatur Herald, the newspaper representing the rival Decatur (Illinois) Commodores, criticized Munch's presence on the Springfield club. Remarking that Munch only pitches when he receives a "president's salary," the paper also commented that Munch didn't stay with the Springfield team, but rather came in from Chicago in a "parlor car" when it was his time to pitch. For his appearances with Springfield, Munch drew $50 per game. He went 2-1 in three appearances for the Senators, who captured the league title.21
The following summer, Munch played his final season of baseball, pitching for the semipro Chicago Artesians. Showing he still had plenty of life left in his arm, Gus gave local fans one last glimpse of his dominance, striking out 19 batters and allowing just three hits against the Auburn Parks on July 18.22
After his baseball career had ended, Gus Munch continued to be an active sportsman. He participated in golf tournaments and was also an avid outdoorsman, becoming a contributor for Outers Magazine. He also became a member, and later president, of the Glen Oak (Illinois) Country Club. His wife Lillian passed away in 1936 after a long illness. At this point, Gus seems to have thrown himself more completely into the business world, as in 1938, at the age of 62, he was granted a patent for an electric traffic light design. In the 1940 Census, Gus was listed as married to Leona Munch.
Having spent winters in Bradenton, Florida, since 1925, Munch retired in 1943 and chose to make his permanent home there. Gus's daughter Virginia and her husband Frank Mahr moved to Bradenton at the same time and lived at the same residence. Gus made his way back to Chicago in February 1944 for the 75th anniversary celebration of baseball in Chicago. He joined major-league luminaries such as Mordecai "Three Finger" Brown, Ed Walsh, Gabby Hartnett, and other old pros and semipros at the celebratory banquet.23
Nearing his 80th birthday, Gus did an interview with the Tampa Bay Times and reflected on his life and current endeavors. Munch continued to be an active fisherman in his later years, extolling the quality of bass fishing to be had in Lake Okeechobee, Florida. He even took up watercolor painting, and not surprisingly, made some money from selling his paintings, too.24
Gus Munch died on August 13, 1963, in Bradenton and was buried in Eastlawn Cemetery in Beloit, Wisconsin alongside his first wife, Lillian. He was survived by his daughter, Virginia Mahr and her husband Frank, grandson Robert Soffel, and two great-grandchildren.
Acknowledgments
This biography was reviewed by Bill Nowlin and verified for accuracy by the BioProject fact-checking team.
Sources
In addition to the sources cited in the Notes, the author also relied on material from:
Bozovsky, Jeff. Divorcees, Barmaids, and Cranks: The 1897 Red River Valley Baseball League (Amazon Digital Services, 2016).
Ancestry.com, Baseball-reference.com, and Familysearch.org, and various censuses.
City directories from Bradenton, Florida; Chicago; and St. Paul.
Bradenton Manatee County Call
The Herald (Maywood, Illinois)
Outers Recreation Magazine
Notes
1 "Gus Munch, almost 80, Is Athlete and Artist," Tampa Bay Times (St. Petersburg, Florida), January 15, 1956.
2 "A Moment in Time: Saving the Day at Shiloh," Mankato Times (Mankato, Minnesota), April 3, 2018.
3 "Amateur Base Ball," Saint Paul Globe, May 31, 1895; "Amateur Base Ball," Saint Paul Globe, June 19, 1895.
4 "Played Ten Innings," Fargo Forum and Daily Republican, July 9, 1896; Fargo Forum and Daily Republican, August 13, 1896. "Puzzled Eighteen Men," St. Paul Globe, September 21, 1896.
5 "'Commy' Has Signed Munch," St. PaulGlobe, March 28, 1897; "Tie for First Again," St. PaulGlobe, May 17, 1897.
6 "Munch Was the Twirler," St. Paul Globe, September 28, 1897
7 "Page Fence Giants, 3; Marquettes, 0," Chicago Tribune, August 8, 1898; "Columbia Giants, 3; Marquettes, 0," Chicago Tribune, June 19, 1899; "Columbia Giants Win a Game," Chicago Tribune, July 17, 1899.
8 "All-Professionals, 5; Marquettes, 4," Chicago Tribune, October 21, 1901.
9 Ironically, the contest between the all-black Columbia Giants and the White Rocks was umpired by Cap Anson, who was a pioneer against racially integrated baseball. "White Rocks Easy for Giants," Chicago Tribune, August 5, 1901; Daily Herald (Delphos, Ohio), June 14, 1902.
10 "Munch Shows Up in Great Form," Minneapolis Journal, April 13, 1904; "Millers Take Brace in Batting," Minneapolis Journal, April 14, 1904.
11 "Gossip of the Interstate League," Chicago Inter Ocean, May 3, 1903; "Aurora Beats the Gunthers," Chicago Tribune, August 24, 1903.
12 "Hoodoo Took Flight Before New Pitcher," Davenport Democrat, September 13, 1903; Salary figures from 1905 season: "Says 'Cal' Has Right Idea," Decatur Herald, January 11, 1906.
13 "Hoodoo Took Flight Before New Pitcher."
14 Ibid.
15 "Notes of the Colts' Game," Chicago Tribune, August 31, 1904.
16 "West Ends Win in Contest for Semi-Pro Championship," Chicago Tribune, September 11, 1905; "Big 'Pros' Beat 'Semis'," Chicago Tribune, October 23, 1905.
17 Ray Schmidt, "The Semi-Pro Team that Beat the Champs," Baseball in Chicago, Emil H. Rothe, ed. (Cooperstown, New York: Society for American Baseball Research, 1986), 22-23.
18 "Notes of the White Sox Game," Chicago Tribune, August 14, 1906.
19 Phil S. Dixon, Andrew "Rube" Foster: A Harvest on Freedom's Fields (Xlibris, 2010), 109, 114-116.
20 Brian McKenna, "Logan Squares," https://sabr.org/bioproj/topic/logan-squares, retrieved August 30, 2018; "Is He Gus Munch?," Courier (Waterloo, Iowa); August 29, 1908.
21 James Elfers, "Nixey Callahan," https://sabr.org/bioproj/person/ee2e44fa, accessed August 29, 2018; "Other Three-I Games," Decatur Herald, September 3, 1908; "Gus Earned Day's Pay," Decatur Herald, September 10, 1908.
22 "Gus Munch Finds 19 Victims," Chicago Tribune, July 19, 1909.
23 "Old Timers of Baseball Feast Tonight," Chicago Tribune, February 3, 1944; "Gus Munch, Almost 80, Is Athlete and Artist," Tampa Bay Times (St. Petersburg, Florida), January 15, 1956.
24 Ibid.
Born
January 20, 1876 at Afton, MN (US)
Died
August 13, 1963 at Bradenton, FL (US)
If you can help us improve this player's biography, contact us.
https://sabr.org/sites/default/files/MunchGustave-1921.png
600
800
admin
/wp-content/uploads/2020/02/sabr_logo.png
admin
2018-10-04 12:23:03
2020-04-09 14:38:41
Gus Munch