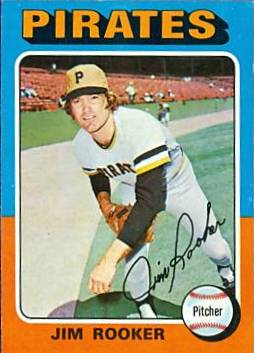 ---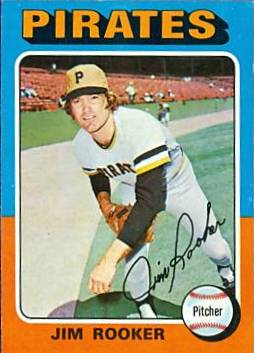 Jim Rooker's pro baseball career didn't come right out of left field. Center field is more like it. Rooker, who pitched his first two major-league games for Detroit's 1968 championship team and then never pitched for them again, was not signed as a pitcher out of high school. The Tigers signed him and prep teammate Lindy Kurt out of the same high school in Compton, California on June 21, 1960, soon after they graduated. They were scouted and signed by Jack Fournier. Detroit offered $6,000, decent signing money in those predraft days, and Rooker bought "the first real nice car I ever owned — a 1959 Chevy Impala Supersport."
Kurt and Rooker began their pro careers — Kurt as a pitcher and Rooker as the center fielder — later that summer. Rooker, who was born on September 23, 1942, in Lakeview, Oregon, switched full time to pitching in 1966 and two years later was in the big leagues playing a much smaller role as a newcomer than he felt he should have. But at least Rooker found out right off the bat how a championship team conducts itself, an experience that would help him later with the World Series-winning Pittsburgh Pirates.
"It was fantastic being around those guys," Rooker said of his pro baptism with the 1968 Tigers. "Al Kaline, a Hall of Famer; Norm Cash, one of the funniest guys you'd ever meet; Pat Dobson, Mickey Stanley, Jim Northrup. … You did feel comfortable being around them. You felt like you were one of them. They made you feel relaxed. I think it's tougher for some younger players. They weren't as helpful. It was more of holding on to your job and to heck with the other guy."
"Kaline was always nice to me. During spring training it came up there was a possibility he was going to be traded to the [Los Angeles] Dodgers. He asked me what I thought about LA and the Dodgers. I was from that area. I pretty much gave him a glowing report. There was [announcer] Vin Scully. How could you not like him? I thought it was real nice of him to come up and ask me those questions. All those guys treated me real nice. Naturally, in any clubhouse there's always going be a jerk or two. But you find on winning clubs that they all get along and everything goes well."
Rooker didn't pitch his first game in the majors until age 25 and then it was just two relief appearances, making his debut on June 30, 1968. In the two games, he pitched 4⅔ innings and allowed two runs on four hits with a walk and four strikeouts. But his time with Detroit ended before it barely began at the major-league level. He was sent to the New York Yankees as the player to be named later in a late-season deal the Tigers struck to get late-inning relief help in the form of John Wyatt. The veteran was at the end of his career, though, and not helpful enough to be included on the postseason roster. Rooker, meantime, didn't even get to wear pinstripes. He was left unprotected in the expansion draft and taken by Kansas City, where he pitched from 1969 until he was traded to the Pirates after the 1972 season.
"I guess I was surprised," Rooker said. "I was not sure what was going on at that point. To be drafted by an expansion team, it was a lucky thing for me. I got more of an opportunity to still feel my way along and get my feet wet in the big leagues. Which took a while for me to do. I was still learning at the big-league level in K.C. with an inexperienced ballclub." He was traded to Pittsburgh for pitcher Gene Garber.
"It was like walking down the street and finding money," Rooker said of his adjustment to the trade. "From the first day I was around more professional people. You could see it just by the way they went about their work. I was feeling like, 'Where has this been?' I hadn't been around that atmosphere for a long time. I was a little more established. But it was a whole new world. Being there for eight years, taking a big part of winning a World Series, that was the greatest thing that ever happened to me."
Rooker became a successful broadcaster for the Pirates after his career ended with an arm injury during the 1980 season. He worked the team's games from 1981 until he retired from that phase of his life in 1993.
From 1960 through 1964 in the minor leagues, Rooker played the outfield and tried to figure out hitting, clearly without enough success.
Gail Henley was the Lakeland manager in 1963 and his pitching coach was Stubby Overmire. Rooker credited Overmire with his conversion to pitching. Like hitting your first curveball, it was an accident, of course. "I had pitched in a couple of blowouts," he said. "They saw me in batting practice. I was throwing and they asked me to throw harder, throw harder, throw harder. So I said, 'If I throw any harder, you're not going to be able to hit it.' I cut a few loose and he couldn't get the bat on the ball. So Stubby made the comment to me that if things don't work out as an outfielder, I should consider pitching. He was pretty impressed with the velocity I was throwing with."
Trading the known for the unknown can be like deciding whether to run full speed into a brick wall or only half speed. You know it's going to hurt, the question is how much. "I worked my way up to Double A as an outfielder. I just wasn't very consistent as a hitter. After the change they sent me back down to Class A ball. But there was a period in there of about two, three years of them not knowing what they wanted me to do. … In 1966 is when they let me do nothing but pitch. Things were much more consistent after that. I got called up at the end of the year. Things turned around pretty quickly after that."
Coming up through the Detroit organization in the 1960s placed Rooker on the same fields as some of the Tigers' best players. "Pat Dobson was one. I played with him in Instructional League. I also played with Mickey Stanley, Jim Northrup, Jon Warden, Willie Horton, Denny McLain — Denny and I were roommates in Duluth in Class C ball one year [1963]. I also played with Daryl Patterson, Fred Scherman, Tommy Matchick, and Dave Campbell. The year I roomed with Denny, I was an outfielder and he was a pitcher. With the team we had, we tore up the league that year.
"I remember McLain, he was afraid of the dark. At night I always used to say I heard these noises. I didn't realize he was terrified of the dark. But at the time it was pretty funny. He used to put pots and pans by the door so they'd make noise if anybody came in. I used to say, 'Did you hear that?' Tried to scare him. I didn't realize at the time how afraid of the dark he was. As great a player as McLain was — and he's a friend of mine — he was a jerk. He's still a friend, but you have to know him and what kind of person he is. But on that '68 team, most of the guys got along real well. Some would rub you the wrong way, but in general they were good guys."
Aside from the comparatively poor playing conditions, terribly long bus rides and low wages, life in the minors is probably like walking barefoot through a room full of bear traps in the dark. The journey takes all of your attention.
Rooker didn't have a breakthrough moment, a time when he went from just trying to get by to the point where he absolutely knew for certain he was destined for the major leagues. "You weren't making any money," Rooker recalled. "You were just trying to survive. Other than Duluth, I can't remember any winning teams I played on. You were trying to survive. Lots of guys have hopes, but I can't say I was loaded with confidence. I wasn't sure what direction I was going in.
"In 1966, my first full year pitching, I was 12-6 for a team in North Carolina, Rocky Mount. That's when I got called up at the end of the year. I kind of saw what was going on. I know the times I would warm up in the bullpen, I would look at the reaction of the guys watching. You kind of had the feeling you had the ability. But mentally for me it took a little time to get my confidence, because I didn't start out as a pitcher. Then I went from Class A to Double A to Triple A and basically dominated there. There were things you'd hear from other players, coaches and managers, so in the back of your mind you start thinking, 'It's going to happen, I just don't know when.' In 1967-1968 is when I developed some of the confidence. I knew I had the ability. But it was harder to get to the big leagues then than it is now. And in Detroit they had some good players."
While not making the club out of the starting gate in 1968 was tough for Rooker to deal with, it also fueled his fire a bit. And he got pushed by his Toledo manager, former Tigers manager Jack Tighe. "He kept telling me, 'You're going to be there.' I'd go up and down, up and down. I kept getting called up every time somebody got injured or had to do [two weeks of] military service, that sort of stuff. I might have been in the category where I didn't get the opportunity."
If that sounds as if Rooker didn't care a whole lot for Mayo Smith (the Tigers skipper in '68) as a manager, he didn't. "He can't defend himself now" — Smith died in 1977 — "but I think the ability of the team overshadowed his inability as a manager. I've heard stories since. He was not a great manager, he was not the worst manager. But the one thing he did, the best thing he ever did as a manager, was when he moved Mickey [Stanley] to shortstop for the World Series. He doesn't get enough credit for that. It surprised me there wasn't more made out of it. It was probably one of the gutsiest things ever done — and of all people, him! If you ask anybody about that World Series, probably the first thing they say is, 'Lou Brock.' But I don't think he was any special strategist or anything. Let's make it clear, I didn't like the guy and I don't think I got a shot [from him]. Careerwise, it was proved out by who he kept and who he didn't keep. There are some managers who want to be liked, some want to be respected, and some who want it both ways. I'm not sure guys liked him or respected him. He was in the category of managers who just put the lineup out and stay out of their way."
There was one illustrative incident that stuck in Rooker's mind. There was a game where the pitcher of the moment was struggling, so Smith went out to the mound, probably with the intent of taking the hurler out. "This pitcher [Rooker didn't name him] told Mayo that if he didn't get off the mound, there were going to be some serious repercussions. So finally Mayo just left him in and let the guy get out of his own trouble. Pitchers told him things you really shouldn't say to a manager. But I think the players knew what was going on. Their attitude, I think, was, 'We know what we're doing, just let us do our job.'"
Rooker wasn't on the postseason roster but still retained a vested rooting interest in the team. But something had happened late in the season that would change his life. "They made a trade late in the season. They got John Wyatt from the Yankees for a player to be named later. He was a veteran relief pitcher at the end of his career. I was the player to be named later. So I went to the Yankees on paper that winter and was drafted in the expansion draft by Kansas City." There he joined former teammate Warden, who had beaten him out for a roster spot the previous spring. Another twist of fate: Warden came down with a sore arm and was never the same. Rooker went on to play many more years. Pitching for the Royals was a mixed blessing, however. On the one hand you're a regular starter in the major leagues, the envy of every kid who likes baseball and everybody pitching in the minors. On the other hand, you're playing solitaire with a 50-card deck.
"When you play for a club like that," Rooker said, "you're more playing for yourself than trying to win a ballgame for the organization. Because you know you're not going anywhere. I remember a player who refused to pinch-hit. He wanted to protect his average because he was hitting .300. I'm thinking, 'You gotta be kidding me.' We didn't know how to win, how to play winning baseball. We didn't have the type of leadership you need to teach younger players." Again, Rooker didn't name the player, but the best guess is 1969 AL Rookie of the Year Lou Piniella, who hit .282 that season and was once spotted during one game early in his career taking imaginary swings for nearly a full inning while playing left field.
The '69 Royals were managed by Joe Gordon and actually beat out the Chicago White Sox for fourth place in the AL West by one game and fellow expansionist Seattle by five. The first baseman was Mike Fiore, second baseman was Jerry Adair, and one of the two catchers was Buck Martinez. The pitching staff featured Wally Bunker and Dick Drago plus relievers Moe Drabowsky and Dave Wickersham. Rooker went 4-16 with a 3.75 ERA while logging 158⅓ innings in 28 games (22 of them starts), fifth on the team. His hitting background showed up in a July 7 loss to Jim Kaat and Minnesota. Rooker became the first Royal to hit two home runs in a game (both off Kaat).
In 1970 Rooker improved to 10-15 with a 3.55 ERA in 38 games, 29 of them starts. His innings rose to 203⅔, third on the staff. One of Rooker's losses came in a 12-inning game on June 4 in which Horace Clarke of the Yankees broke up his bid for a no-hitter with a base hit leading off the ninth. "I won 10," Rooker said, "so I started to think, 'I'm getting the hang of things.' It was hard on everybody." But he went 7-13 over the next two seasons, splitting his time between relief and starting, and was traded to Pittsburgh for the 1973 season.
Those Pirates featured Willie Stargell, Manny Sanguillen in his prime, Al Oliver, Richie Hebner, and Richie Zisk. Pitchers included Nelson Briles, Bob Moose, and Dock Ellis, with a bullpen of Dave Giusti, Bob Johnson, and Ramón Hernández. Rooker responded to his new environment by going 10-6 in 1973 and 15-11 with a 2.78 ERA in 1974, his best season, as Pittsburgh won the NL East. Rooker started the second game of the NL Championship Series against the Dodgers, giving up two runs in seven innings without a decision.
The Pirates repeated in 1975 as Rooker contributed a 13-11 record and 2.97 ERA. He pitched the second game of the NL Championship Series against Cincinnati, giving up four runs in four innings as the Cincinnati Reds won the series. Rooker was 15-8 and 14-9 the next two years as Philadelphia edged out Pittsburgh for the division title. In 1978 he dipped to 9-11 with a 4.24 ERA and in 1979 Rooker appeared in just 19 games — 17 of them starts, going 4-7.
That Pittsburgh team made the World Series and Rooker was a surprise Game Five starter in a series Baltimore led, 3 games to 1. "I wasn't scheduled to start," Rooker said. "Bruce Kison was. But he had nerve damage to his arm from the first game. It was not a good year for me during the season. But there was one thing: I was very rested for the World Series. I thought I had somewhat of an advantage. I was all charged up and ready to go. Not only was I going to have what I hoped was fun. What a challenge! We were down 3 to 1. If we stink up the joint, we were going home."
Rooker pitched the first five innings and left trailing 1-0. The Pirates rallied for seven runs in the sixth, seventh, and eighth innings to hand the win to Bert Blyleven, who worked four scoreless relief innings. "I honestly thought we had the better team," Rooker said. "The first four games our hitting was limited. But [Baltimore manager] Earl Weaver made a couple of mistakes. He decided to pitch to Bill Madlock. And then we started swinging the bats. Our pitching was pretty consistent. And from that point we took off. All of us still knew we had the ability to beat 'em because we felt we had the better team. I can't remember if it was the sixth or seventh inning [it was the sixth] but Madlock came up with a runner in scoring position and got a base hit to knock in a run or two. Once he did, the hits just kept coming, coming, coming. Once we won that, it was back to Baltimore for the sixth and seventh games. Our bats came alive from that point on." Before Madlock stepped to the plate, Stargell had scored Tim Foli on a sacrifice fly, sending Dave Parker to third base. Then Madlock got his single, scoring Parker.
That marked Rooker's career highlight because the next year, 1980, he hurt his arm throwing a slider in May to Atlanta's Dale Murphy. "At the time I didn't know how serious it was. I waited for it to heal. It never did. Doctors could not find the injury. But I knew I was not going to be able to pitch again. That winter I went on the [press] caravan. As we went to different places, I kind of became a spokesperson for the club. Some of people thought I spoke so well I ought to do more of this."
So his career ended with a 103-109 record and a 3.46 ERA for 1,810⅓ innings. Which brought the left-hander to another career turning point. What to do next? What could be better than playing baseball? Well, for Rooker and many other players, it's extending their association with the game.
"They had fired one of the guys who was going to be one of the broadcasters and I auditioned for the job. I didn't have all the ability in the world, but I think they felt I would get better. And I was terrible — until I started listening to my own tapes. I realized the things I left out. I didn't prepare myself. But I also think I could have had a little more help along the way. But it's a lot like anything else, if you want to work on it, you'll get better. I asked our radio guys to tape the innings and I'd listen to them in my car on the way home. Things got better faster after that.
"I didn't plan ahead to do that. It's different today. You have players listening to broadcasters and they'll tape them for auditions. I thought my job [as a player] was on the field. And I find players don't want to know the truth. When they screw up they don't want to hear it. Had I thought about it, I probably would have gone another route. But what listeners want to know is, 'What's the score and how many outs.' You have to be very descriptive. And that's something you have to work at, especially in radio."
Rooker became a Pittsburgh icon with his ability to combine professional skill as a broadcaster with his propensity to speak his mind and be critical in a nonthreatening manner. No doubt many young Pirates fans don't even know Rooker used to work on the mound instead of the broadcast booth, a professional compliment. His defining moment as a broadcaster came on June 8, 1989, after Pittsburgh scored 10 runs in the top of the first at Philadelphia, capped by a three-run homer by Barry Bonds. "If we lose this game," Rooker said, "I'll walk home."
Naturally, something happened. Von Hayes answered with two-run home runs in the first and third innings. Steve Jeltz hit home runs in the fourth and sixth and the Phillies found by the bottom of the sixth that they trailed only 11-10. The tying run scored in the eighth on a wild pitch, Darren Daulton hit a two-run single, and Philadelphia walked off the field with a 15-11 victory. "I always try to forget that," Rooker said. "We didn't have a good team. Whoever loses 10-0 leads? As long as I've been in baseball, that's never happened. Word spread real quick. The next morning I got a phone call from our radio station. This guy asked if I would go on at noon with him. I thought, 'What's the big deal?' But people were saying, 'Is he going to do it? Is he going to walk from Philadelphia to Pittsburgh? I said I won't do it just for the sake of doing it. Let's get some charities involved, a sponsor. Let's have some reason to do it."
It was billed as "Jim Rooker's Unintentional Walk." It took place that October after the season ended, and the proceeds were to go to Children's Hospital in both Pittsburgh and Philadelphia. "We got people together," he said. With the help of the Pirates and the Phillies, it took me 13 days. And it was hell. You don't realize what it can do to your feet. Day after day. We didn't realize how bad it was going to be. I walked with Carl Dozzi, he was one of those really over-energetic guys. After five days your feet get so bad (blisters). Once you get going for about a half an hour you kind of loosen up. Every five days we went to a half-size bigger shoe, extra socks, and another five days it was another half-size bigger. But we raised $81,000 for Children's Hospital. At least it was something you had to look forward to, a light at the end of the tunnel. There was no way in the world I was going to do it for nothing, no way in the world."
It wasn't his first stunt. During his playing days, there was a time he dived out of a second-floor window at St. Louis's Chase-Park Plaza Hotel and into the swimming pool. "We had played a day game and you get bored. I took a towel, wore it around my neck so it acted like a cape and I just dived in. We weren't even drinking. Just bored."1
There were struggles with alcohol later on, and in 1991 Rooker, "who had appeared in a nationally televised beer commercial two years ago, was given an indefinite leave of absence" from his duties as a broadcaster due to three incidents of drunken driving which saddled him with a mandatory 90-day jail term.2
Rooker retired from the broadcast booth in 1993 to spend time at home and help out with his restaurant, Just Rook's, located in a suburb about 20 minutes from Pittsburgh. "In July 2006, my wife and I moved down to Jacksonville [Florida]. My partner and I rotate being at the restaurant. Other than that, I just fish and golf."
In 1996 Rooker contemplated challenging incumbent Congressman Ron Klink (D) in that year's election for the US House of Representatives, and said that his campaign chairman would be Chuck Tanner.3 Nothing more seems to have come of this.
Later in the decade, Rooker began to write children's books. His first three titles were: Kitt The Mitt, Matt The Bat, and Paul The Ball. "I was flying back to Jacksonville from Pittsburgh one day and it really hit me how much I miss my grandchildren,"' Rooker said. "I started thinking of a way that I might be able to give something to them that would be really lasting. I don't know why exactly it popped into my head, but I thought I'd try to write a book. It's been a very rewarding experience.4
This biography appears in "When Pops Led the Family: The 1979 Pitttsburgh Pirates" (SABR, 2016), edited by Bill Nowlin and Gregory H. Wolf. An earlier version of this article appeared in "Sock It To 'Em Tigers — The Incredible Story of the 1968 Detroit Tigers" (Maple Street Press, 2008), edited by Mark Pattison and David Raglin.
Sources
For this biography, the author consulted a number of contemporary sources, including The Sporting News and clippings from Rooker's Hall of Fame file. The author also is grateful for an interview Rooker gave him on July 11, 2007. All quotations come from this interview, except as noted.
Notes
Born
September 23, 1942 at Lakeview, OR (USA)
If you can help us improve this player's biography, contact us.
http://bioproj.sabr.org/bp_ftp/images3/RookerJim.jpg
600
800
admin
/wp-content/uploads/2020/02/sabr_logo.png
admin
2012-01-04 20:19:17
2023-10-27 07:56:24
Jim Rooker