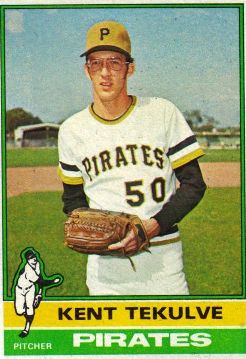 October 16, 1979: 'Candy Man,' Tekulve find World Series redemption in Game 6 shutout
---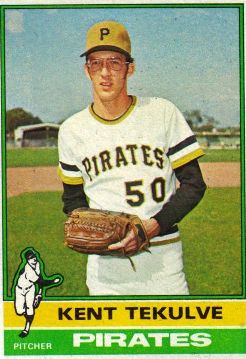 The Pirates and Orioles finally got their second travel break in World Series action on Monday, October 15, as both teams made the trip back to Baltimore for Game Six. As the media analyzed the Series, even the opinions of Yankees slugger Reggie Jackson, the hero of the previous two World Series, were solicited. Jackson believed that the Orioles would win Game Six but astutely observed, "But the pressure is really on the Orioles in the sixth game. If they don't win, then they know they can blow it all after being ahead 3-1, and they don't want that."1 The Orioles most certainly did not want that, and, with Jim Palmer taking the mound, they had reason for confidence in their ability to win the game and the Series on this Tuesday night.
Palmer had held the Pirates to two runs over seven innings in Game Two but had not factored in the decision in that contest, which the Pirates had won in the ninth inning. The Pirates countered Palmer with John "The Candy Man" Candelaria, who had not only had a disastrous start — giving up six runs (five earned) in only three innings — in the rain-delayed Game Three but was also suffering from a muscle tear in his rib cage.2 This time the Pirates' wounded hurler would contribute an even more thrilling performance than Jim Rooker had in Game Five.
As had been the case in Game Two, 53,739 fans packed Memorial Stadium, but now the weather was better and the game-time temperature was an almost spring-training-like 61 degrees. Omar Moreno, who had been derisively dubbed "Omar the Outmaker" after his ineffective 1-for-10 hitting effort in the first two games, had become one of the hottest hitters in the Series and led off the game by bouncing a single up the middle, which Tim Foli followed with a bouncing double off Doug DeCinces' glove that immediately put Pirates runners at second and third.3
When the next batter, Dave Parker, smashed a smoking grounder to third base, DeCinces evoked memories of his predecessor Brooks Robinson — the 16-time Gold Glove winner and 1970 World Series MVP — as he backhanded the ball, held Moreno at third, and fired the ball to Eddie Murray to nip Parker on a close play at first. After Palmer retired Willie Stargell on a pop foul to third and John Milner on a groundball to the pitcher unassisted to escape danger, he and Candelaria — who had escaped a two-on-with-one-out jam in the first inning — settled into a classic pitchers' duel in which they both hung up zeros for six full innings.
The Pirates finally broke the scoreless tie in the top of the seventh inning. After Lee Lacy, pinch-hitting for Candelaria, struck out to start the frame, the next three batters — Moreno, Foli, and Parker — hit consecutive singles, the latter two of which were magnified by questionable fielding by the Orioles' middle infield. Moreno broke for second as Foli hit a ball that Palmer deflected ever so slightly. The ball was still headed straight for shortstop Kiko Garcia, who was standing on second base and inexplicably stayed back only to have the ball take a bad hop and go under his glove. Second baseman Rich Dauer backed up the play deftly, but his throw to first base was not in time to retire Foli. Though the play was ruled a hit, Palmer later asserted, "I think that Kiko didn't catch it because he was trying to get two outs. He was trying to catch the ball and step on second base all at the same time. Nothing against Kiko, he's had a good year, but Mark Belanger's had more experience at shortstop."4 Garcia contradicted Palmer as he explained, "I wasn't going for a double play. I think I took my eye off it and it hit in front of me."5
Parker's base hit was a smash to the right side that Dauer tried to turn into a double play, but he too had trouble fielding the ball, and it went past him for an RBI single with Foli racing to third. Dauer said of Parker's sharp grounder, "The ball behaved like a knuckleball. I saw it in front of me and the next thing I knew, it was in right field."6 After Parker's hit knocked in Moreno for the first run of the game, Stargell hit a sacrifice fly to deep left that plated Foli and gave the Bucs a 2-0 lead.
The Pirates doubled their lead in the eighth inning through timely hitting and additional adventures in fielding on the part of the Orioles. After Ed Ott's one-out single, Phil Garner hit a line drive to deep left field that Benny Ayala misjudged. Ayala initially came in on the ball and, when he saw that the ball had been hit harder than he had thought, could not get back in time to make the catch; all he could do was watch as the ball sailed over his head and bounced over the outfield wall for a ground-rule double. Palmer, "who (…)had talked earlier in the Series about how Weaver's use of Ayala in left was a gamble because of his questionable fielding ability," was forthright, if also less than gracious, about his teammate's play when he stated, "I think most people think (Garner's double) should have been caught."7 Once again, Palmer's teammate disagreed. Ayala defended his play and said, "I thought Garner was jammed. … When a batter is jammed, it's tough for an outfielder to adjust. I don't think I wasted that much time going back on the ball. Even if I had turned around immediately, I doubt that I would have caught the ball."8 Bill Robinson hit a sacrifice fly to left, scoring Ott, and Moreno singled Garner home to extend the Bucs lead to 4-0.
Kent Tekulve had taken the mound in the bottom of the seventh inning — his first appearance since being shelled for three runs and taking the loss in Game Four — and he became the second Pirates pitcher of the night to find redemption. Tekulve held the Orioles without a run for the final three innings, thus combining with Candelaria for the first World Series shutout since Luis Tiant of the Boston Red Sox blanked the Cincinnati Reds in Game One of the 1975 Series.9
As he had done in Game Four, Orioles manager Earl Weaver sent left-handed batters to the plate to hit against Tekulve, but Weaver's strategy failed this time as Tekulve allowed only Billy Smith's single to the five lefty pinch-hitters who faced him in the seventh and eighth innings. Tekulve placed an exclamation point on the victory that drew the Bucs even in the Series by striking out two of the final three batters, including DeCinces to end the game.
The Pirates were firing on all cylinders at just the right time. Most of the Bucs had been batting well throughout the Series, but they were now stringing their hits together to score runs. Both the starting and relief pitching had been outstanding in the past two games, allowing the Orioles only one run in Game Five and shutting them out in Game Six. As the weather had improved so had their glove work and Game Six was their first errorless game of the Series. Manager Chuck Tanner said afterward, "This is the most excited I've ever seen this club since I came here three years ago"10 He also related how Dave Parker had encouraged the team as they were losing late in Game Four: "He came along and told (the dejected Bucs): 'What are you guys sitting on the bench for? Don't you know this is a seven-game World Series?'"11
The Orioles, on the other hand, appeared to be coming apart at the seams. Palmer, whose expressed disappointment in his teammates' fielding abilities was thinly disguised finger-pointing, accurately summed up the Orioles' dilemma when he said, "You can't win when we don't score."12 Weaver also understood the situation, saying, "We've got one more shot. Maybe we'll bust loose tomorrow. I really don't know what's wrong with our hitting."13 It was not a good omen for the Orioles that their manager seemingly had run out of answers.
This article appeared in "When Pops Led the Family: The 1979 Pitttsburgh Pirates" (SABR, 2016), edited by Bill Nowlin and Gregory H. Wolf. To read more game stories from this book at the SABR Games Project, click here.
Sources
https://www.baseball-reference.com/boxes/BAL/BAL197910160.shtml
http://www.retrosheet.org/boxesetc/1979/B10160BAL1979.htm

Notes
1 Dave Anderson, "Mr. October Says: Birds Win in Six," New York Times, October 16, 1979.
2 Lowell Reidenbaugh, "Candy Sweet Pitching in Pain," The Sporting News, November 3, 1979: 41.
3 Murray Chass, "Pirates Triumph, 4-0, and Tie Series," New York Times, October 17, 1979.
4 Joseph Durso, "Parker's Hit a Key Pirate Break," New York Times, October 17, 1979.
5 Chass, "Pirates Triumph, 4-0, and Tie Series."
6 Reidenbaugh, "Candy Sweet Pitching in Pain."
7 Chass, "Pirates Triumph, 4-0, and Tie Series."
8 Reidenbaugh, "Candy Sweet Pitching in Pain."
9 Ibid.
10 Durso, "Parker's Hit a Key Pirate Break."
11 Ibid.
12 Lowell Reidenbaugh, "Game 6 Sidelights," The Sporting News, November 3, 1979: 41.
13 Durso, "Parker's Hit a Key Pirate Break."
Additional Stats
Pittsburgh Pirates 4
Baltimore Orioles 0
Game 6, WS
---
Memorial Stadium
Baltimore, MD
Box Score + PBP:
Corrections? Additions?
If you can help us improve this game story, contact us.
Tags
http://bioproj.sabr.org/bp_ftp/images4/TekulveKent.jpg
600
800
admin
/wp-content/uploads/2020/02/sabr_logo.png
admin
2018-05-02 14:15:27
2020-04-17 13:34:02
October 16, 1979: 'Candy Man,' Tekulve find World Series redemption in Game 6 shutout