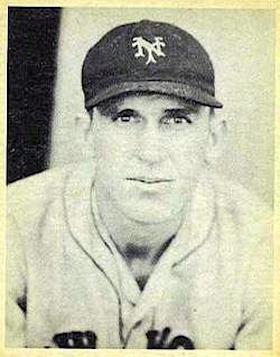 ---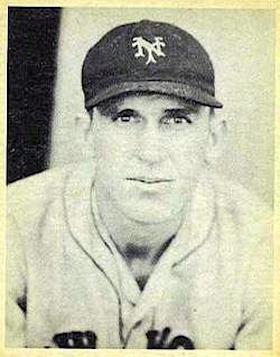 Casey Stengel, manager of the Brooklyn Dodgers from 1934 to 1936, was impressed with New York Giants left fielder Jo-Jo Moore. "Every time we play the Giants, Moore is robbing one of our hitters of an extra-base hit with a great catch," said Stengel. "Every time I look up from the bench Moore is rounding second base or throwing out a runner at third or home. He's a real Giant."1
Moore was a sparkplug on the Giants from 1932 through 1941. Known as the Thin Man, the lanky leadoff hitter helped the team win three National League pennants. He was a six-time NL All-Star, a .298 career hitter, and one of the top defensive outfielders of the era. Moore is "the greatest left fielder I ever saw," said Giants manager Bill Terry in 1934.2
Joe Gregg Moore was born on Christmas Day 1908 in Gause, Texas; the only child of Charlie and Rowena (Gregg) Moore was named Joe, not Joseph.3 Charlie was a department-store salesman in 1910, a farm foreman in 1920, and a grocery manager in 1930.4 Except for a short time in Crystal City, Texas, the family resided in Gause (pop. 1,000 in 1915), a farming community 75 miles northeast of Austin.5
After graduating from Crystal City High School in 1927, Joe attended Texas A&M, 40 miles from Gause, but left school to pursue a career in professional baseball.6 On the Coleman Bobcats of the Class D West Texas League, he batted .293 in 1928 and .352 in 1929.
In 1930 Moore hit .329 for the San Antonio Indians of the Class A Texas League and was mentored by manager George Burns, a former star outfielder for the New York Giants. League President J. Alvin Gardner said Moore looks like "the best outfield prospect in the Texas League since Tris Speaker."7 Burns recommended Moore to Giants manager John McGraw, and the Giants purchased his contract at "a record price for the Texas League."8 Moore appeared in three games for the Giants in September 1930 and got his first major-league hit, a pinch-hit single off Philadelphia's Ray Benge, on September 28. In the offseason he married Jewel Ely, his childhood sweetheart from Gause.9
Moore was a left-handed batter and right-handed thrower. He stood 5-feet-11 and weighed barely 150 pounds. He was, by all accounts, a skinny, awkward-looking kid. McGraw sent him to the minors, believing he was not major-league material. But Moore hit .335 for three minor-league teams in 1931 and 1932 and could not be ignored. After McGraw was replaced by Bill Terry as manager of the Giants in June 1932, Moore returned to the Giants. Terry saw his potential and installed him as the starting left fielder.
In 86 games for the 1932 Giants, Moore batted .305 and made only three errors in the outfield. He hit his first major-league home run off Glenn Spencer of the Pittsburgh Pirates on July 27, 1932. On September 7 he clouted his second home run and went 5-for-5 facing Red Lucas of the Cincinnati Reds.
Moore understood how fortunate he was to be paid to play baseball during the Great Depression. He hustled and gave it his all, and earned the respect of ballplayers and fans for his consistent, tenacious effort. Many years later, in an interview with Walter M. Langford, he said: "Baseball was good to me because we played in a time, at the start of my career, when times were bad. I mean, you couldn't hardly get ahold of a dollar. … In New York I saw street corner after street corner where they had soup kitchens, and the people waiting would be four abreast and the lines would run for several blocks."10
Batting mostly from the leadoff spot, Moore hit .292 in 1933. He was a contact hitter who slapped the ball to the opposite field and rarely struck out. While his hitting was good, his fielding was outstanding. On September 9 in Cincinnati, Moore "made a fine shoe-top catch" of Jim Bottomley's "wicked line drive to left," and the next day he "pulled off a couple of sensational diving catches."11 Left field was the sun field at New York's Polo Grounds, a difficult assignment for any outfielder, but Moore handled it superbly. Honus Wagner called him one of the best outfielders in the National League.12 The Associated Press agreed: "As a ball hawk Moore ranks with any man in the National loop. Old timers at the Polo Grounds are comparing him with the great George Burns. He is fast, gets away with the crack of the bat and can catch any ball he can reach. … His bullet-like pegs have gained him the sincere respect of opposing base runners. … His teammates say he can hit a dime at a hundred paces."13
The Giants won the 1933 National League pennant and defeated the Washington Senators in five games in the World Series. Moore batted .227 (5-for-22) and made the finest throw of the Series. In Game Three he caught Goose Goslin's fly ball in deep left field and fired home to catcher Gus Mancuso in time to get Earl Whitehill, who was trying to score after tagging up at third base.14 With the World Series money, Moore built a brick house in Gause, where he and his wife would reside for more than 50 years.15
Tutored by teammate Lefty O'Doul, Moore revamped his hitting approach in 1934 by adopting an open stance and learning to pull the ball with power.16 The results were dramatic. He went from no home runs and 21 extra-base hits in 1933 to 15 home runs and 56 extra-base hits in 1934. His home runs included a pinch-hit grand slam off Ray Benge on July 5, 1934; two round-trippers on July 13 against the Pirates; and a game-winning three-run homer off the Cardinals' Paul Dean on August 23. Moore was named a National League All-Star for the first time. He batted a career-high .331 in 1934 and was third in the National League MVP voting behind Dizzy Dean and Paul Waner.
Moore liked to swing at the first pitch of an at-bat. "I like to cross those fellows up who lay the first pitch in there," he said.17 Reds manager Chuck Dressen knew this and wanted his pitchers to throw the first pitch to Moore out of the strike zone, and as an added incentive, Dressen would fine them $25 if Moore got a hit on the first pitch.18 But Moore could hit pitches outside the zone, too. Against the Chicago Cubs on May 8, 1935, he reached out and smacked an eye-high, outside offering from Lon Warneke for a two-run homer.19
From May 18 to June 30, 1935, Moore hit safely in 37 of 38 games. He was again selected to the NL All-Star team, and he made a spectacular catch in center field during the All-Star Game; in the seventh inning, he raced back and snagged a 450-foot fly ball off the bat of Lou Gehrig.20 The Cincinnati Enquirer was amazed by the play Moore made against the Reds on August 19: "[Hank] Erickson … drove a low liner over the short field. It did not seem humanly possible for any defender to reach it … when Moore bobbed up out of nowhere, came in at lightning speed, took a long head-first dive, grabbed the ball three inches off the ground, somersaulted, and came up on his feet with the precious sphere clasped in his glove."21
In 1936 Moore batted .316 and had career highs in runs (110) and hits (205). His 25 outfield assists were also a career high and ranked second in the major leagues. The Giants won the 1936 pennant but lost to the New York Yankees in six games in the World Series. Moore collected only one hit in the first three games of the Series, and the Yankees' defense was to blame. In Game Two Joe DiMaggio made a remarkable shoestring catch of his line drive to center field, and in Game Three he was robbed twice, by right fielder George Selkirk and second baseman Tony Lazzeri.22 As payback to DiMaggio, Moore snared his line drive to left field in Game Three, close to "the bleacher wall near the foul line."23 Moore went 5-for-13 at the plate in Games Four through Six, with two doubles and a homer.
President Franklin D. Roosevelt threw the ceremonial first pitch toward a group of ballplayers before the 1937 All-Star Game, and the sure-handed Moore captured the prize. FDR later autographed the ball, which has been a priceless souvenir in the Moore family ever since.24
On July 13, 1937, Moore went 5-for-6 with four RBIs and knocked in the winning run in the Giants' 11-10 victory over the Phillies in Philadelphia. He had a 20-game hitting streak from September 8 to 27, and on September 23 in Chicago, he went 5-for-6 as the Giants nipped the Cubs, 8-7. He helped the Giants win the 1937 pennant, but they lost once again to the Yankees in the World Series. Moore led all players in the Series in hits, going 9-for-23 (.391), including 5-for-9 facing Yankees pitcher Lefty Gomez. Although Moore was a left-handed hitter, he was comfortable batting against southpaws.
The great Hank Aaron had the ability "to wait on the pitcher for a split second longer than most other hitters, to seemingly pluck the ball from the catcher's glove with his bat."25 Moore, too, possessed this ability. Yankees catcher Bill Dickey told him, "I've never had anybody hit the ball right out of my mitt the way you do."26
During the offseason Moore stayed fit working his 550-acre cattle ranch and farm near Gause, where he grew alfalfa, cotton, corn, and hay.27 He was well liked in the community, "an unaffected, genial Texan despite stardom in the majors."28 Gause schools and businesses closed on April 5, 1938, so that residents could see him play in an exhibition game at Texas A&M between the Giants and the Cleveland Indians.
On July 30, 1938, Moore's three-run homer off Paul Derringer gave the Giants a 3-2 triumph over the Reds in New York. The next day Moore reached base five times, on four singles and a walk, and made three diving catches in left field, yet the Reds won 7-6 in 11 innings.29 Moore batted .302 during the 1938 season, and the Giants finished in third place, five games behind the pennant-winning Cubs. Moore's only child, Joe Gregg Jr., was born in November 1938.30
Moore began the 1939 season in a prolonged slump, batting .218 through games of June 3. He broke out of it by going 7-for-14 in a three-game series against the Reds in New York June 4-6. In the third game of the series, the Giants slugged seven home runs, including two by Moore, in a 17-3 rout. Moore's homers were "well tagged into the upper deck of the right field stands."31 On August 13 he homered twice in the Giants' doubleheader sweep of the Phillies. But it was a disappointing season overall for Moore. Although he struck out only 17 times in 612 plate appearances, his .269 batting average was a career low. It was disappointing year for the Giants, too, who finished in fifth place, 18½ games behind the first-place Reds.
In 1940 Moore got off to a fast start, batting .355 through games of June 15, but his average declined to .276 by season end, as the Giants dropped to sixth place in the NL standings. The next year, his last in the majors, he batted .273.
Moore played for the Indianapolis Indians of the American Association in 1942 and 1943, and then retired from baseball at age 35 to focus on his Gause ranch. In 1948 he was described as "a wealthy Texas cattleman."32 He took time out from his ranch in 1947 to manage the Bryan (Texas) Bombers of the Class C Lone Star League.33 "I was feeding cattle when they came up and wanted me to take over the team," he said.34
In 1962 Joe Sturgis of the Hearne (Texas) Democrat wrote about Moore: "Today the former baseball great is a quiet, unassuming man still the picture of health with his athletic build. He is happy in operating his 709 acre farm out from Gause. Mr. and Mrs. Moore are active in the Gause Baptist Church where he is a deacon and superintendent of the Sunday School."35 In the 1980s Walter M. Langford interviewed Moore and described him as "a well-tanned, relaxed man in his late 70s … a friendly, down-to-earth Texan with a warm personality and a positive outlook on life," with "only good memories of his career in baseball."36
Moore was inducted into the Texas Baseball Hall of Fame in 1989. On April 1, 2001, he died in Bryan, Texas, at the age of 92. He was buried at the Gause Cemetery.
Notes
Born
December 25, 1908 at Gause, TX (USA)
Died
April 1, 2001 at Bryan, TX (USA)
If you can help us improve this player's biography, contact us.
/sites/default/files/MooreJo-Jo.jpg
600
800
admin
/wp-content/uploads/2020/02/sabr_logo.png
admin
2016-04-05 19:38:21
2021-09-24 17:12:33
Jo-Jo Moore