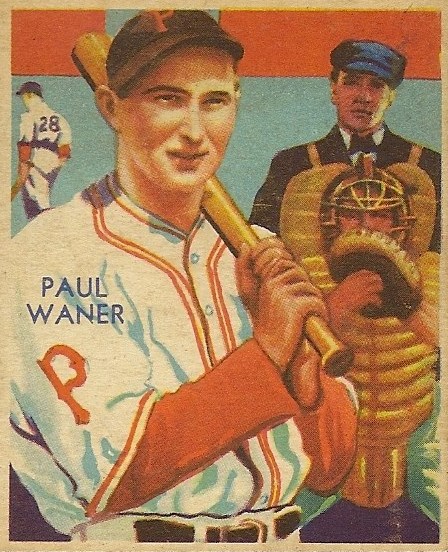 ---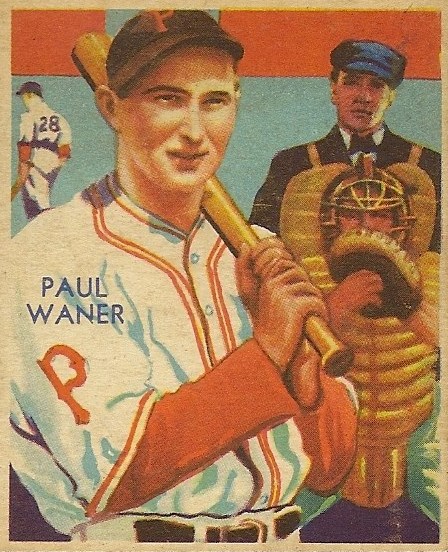 Jim Knight and his daughter were in for a surprise when they visited Pittsburgh''s PNC Park in 2005. The grandnephew of Pirates great Paul Waner asked a stadium worker, "Where can we find the Paul Waner stuff? We're relatives and we'd like to get some pictures." Knight was told that no Waner "stuff" existed. They went to the souvenir shop, looked around for banners, plaques, a statue, anything that showed a connection to Waner, and found nothing. "That's when we realized that because Paul was not part of the TV generation, his legacy was getting lost," Knight said. "We had to do something." So Knight, along with other members of Waner's family, including Waner's grandson, Paul Waner III, contacted the Pirates' front office to see what could be done to restore the memory of Big Poison for the current generations of Pirates fans.
Pirates owner Kevin McClatchy agreed with the Waner family. McClatchy announced that the organization would honor the Hall of Fame outfielder by retiring his uniform number 11 on July 21, 2007. "You look at Paul Waner's numbers and where they rank, not just with the Pirates but also with major league baseball, and it's clear he's deserving," McClatchy said. "And you could say he's one of the top three or four players to play for the Pirates." The Pirates mowed his number 11 into the grass in PNC's right field, Waner's position at Forbes Field. Before a crowd of 32,000, the Pirates organization, Pirates Hall of Famers Ralph Kiner and Bill Mazeroski, and members of Waner's family paid tribute to him as a sign carrying his number was displayed along the third base grandstand. And so, 61 years after he retired as a player and nearly 42 years after his death, Waner became the ninth Pirate to have his number retired Known to baseball historians and fans as Paul Glee Waner, he was actually born Paul John Waner on April 16, 1903, in Harrah, in the Oklahoma Territory (it was four years before Oklahoma became the 46th state). Paul was the third of five children — three sons and two daughters — born to Ora and Etta Waner. One of his brothers was Lloyd, also a Hall of Fame major leaguer. Ora was from Huntsville, Illinois, and played baseball well enough that the Chicago White Stockings offered him a contract, which he declined. Subsequently, Ora moved his family to Oklahoma and settled on a 400-acre farm in Harrah, near Oklahoma City. At the age of 6, Paul was given a shotgun by his uncle Glee. Out of respect, Paul's middle name was changed from John to Glee.
Paul initially attended Harrah High School, but graduated from Central High School in Oklahoma City. He enrolled at East Central State Teachers College (now East Central University) in Ada, Oklahoma. He pitched for the college baseball team, and in 1922, he had a won-lost record of 23-4 with an earned-run average of 1.70. His parents wanted Paul to pursue a career as a teacher, but Paul had other ideas and channeled his efforts toward a career in professional baseball. He signed a contract to play for Joplin, Missouri, of the Class A Western League. But he didn't play there, choosing to finish his college course work. Eventually, Joplin sent him to Muskogee, Oklahoma, of the Southwestern League. He never saw the diamond for Muskogee either, sensing that there were better opportunities for him beyond Joplin and Muskogee.
In 1923, Waner was sold again, this time to San Francisco of the Pacific Coast League. Still a pitcher, he developed a sore arm and Seals manager John "Dots" Miller, a veteran of the 1909 world champion Pirates, moved him to the outfield.
Before that, "I just chased balls out in the field so they would not be lost," said Waner. "They wanted to ship me back but Miller said no. Then one day they let me bat in a regular game. It was easy after that. I always could hit. No, it was not a sense of having an unusually keen eye or big shoulder muscles, but rather a matter of following the ball. Timing helps the most of all. And I learned that in my corncob days of batting." He was referring to the game of hitting corncobs that he played as a youngster on his father's farm. "We used a stick as a bat and we would break the corncobs in two," Waner said. "A corncob thrown with force will take all kinds of odd shoots and jumps and is hard to hit. I played that game by the hour. I could follow those erratic cobs along every (zigzag) of their flight. I learned timing in that barn lot as I could have learned it nowhere else in the world."
In his three years in San Francisco, Waner tore the cover off the ball, batting .369, .356, and .401, the latter average in 1925 on 280 hits in 174 games, including 75 doubles. Younger brother Lloyd, also a student at East Central State, joined Paul on the San Francisco club for the 1925 season. Instant success eluded Lloyd — he hit .250 in 44 games. But he joined Paul on the Pirates in 1927, and they were teammates for the next 14 years. Paul's minor-league hitting attracted major-league scouts. One of them, Pirates talent hunter Joe Devine, persuaded Pittsburgh owner Barney Dreyfuss to part with $100,000 for Waner and Seals shortstop Hal Rhyne.
Waner was not a very imposing individual, standing 5 feet 8 1/2 inches tall. He never weighed more than 155 pounds. A scout for the New York Giants told Giants manager John McGraw, "That little punk don't even know how to put on a uniform." After the Giants and Pirates squared off for the first time in the 1926 season, McGraw is said to have told the scout, "That little punk don't even know how to put on a uniform but he's removed three of my pitchers with line drives this week. I'm glad you did not scout Christy Mathewson."
Waner made his mark on the rest of the National League as well. Playing mostly in right field, as he would for the rest of his career, Paul finished his rookie year hitting .336 and led the league in on-base percentage (.413), and triples (22) in 144 games. The Pirates finished in third place, 41/2 games behind first-place St. Louis. Manager Bill McKechnie was fired at the end of the season despite having led the Pirates to the world championship the year before. His replacement was Donie Bush, a major-league shortstop for 16 years, mostly with Detroit.
Lloyd Waner joined his older brother in Pittsburgh for the 1927 campaign. Lloyd had had a solid year at Columbia of the South Atlantic League in 1926, hitting .345 with 28 doubles and 14 triples. Lloyd had wanted to play for the White Sox as a sort of tribute to his father, who had passed up the chance to play professional baseball in Chicago. But brother Paul persuaded Dreyfuss to acquire Lloyd to patrol center field for the Bucs.
Lloyd hit .355 for the Pirates in his rookie year, but Paul was even better, batting a league-leading .380, driving in a Pirates-record 131 runs, and smacking 237 hits, including 42 doubles and 18 triples. Paul had a 23-game hitting streak between May 27 and June 20, during which he collected two or more hits in 11 consecutive games, drove in one or more runs in 12 consecutive games, and collected at least one extra-base hit in 14 consecutive games. From June 3 to 16, he was 26-for-48, good for a .542 batting average. At the same time, teammate Clyde Barnhart was enjoying a 21-game hitting streak.
The Pirates went 22-9 in September to edge St. Louis by 1 1/2 games and win the National League pennant in 1927. In the World Series they were swept by the New York Yankees, who racked up 110 wins and outdistanced second-place Philadelphia by 19 games. It was Lloyd and Paul's only World Series. That season's Yankees, dubbed Murderers' Row, boasted a lineup including Babe Ruth, Lou Gehrig, Earle Combs, Mark Koenig, Bob Meusel, Tony Lazzeri, and Joe Dugan, and pitchers Waite Hoyt, Herb Pennock, and Urban Shocker, among others. Ruth's 60 home runs were six more than the entire Pittsburgh team swatted. (Paul Waner and Glenn Wright led the Pirates with 9 apiece.) The Yankees intimidated the Pirates during batting practice when Ruth, Gehrig, and Meusel took turns knocking the ball out of the park.
In the Series' four games, Paul had five hits (Lloyd had six). Gehrig (four hits, all for extra bases) and Ruth (six hits, including two home runs), who commented of the brothers before the Series, "Why, they're no bigger than a couple of little kids. If I was that size, I would be afraid of getting hurt."
Paul Waner was voted the National League's Most Valuable Player and was named to The Sporting News Major League All-Star Team. Paul also found time during the summer to marry his high school sweetheart, Corrine Moore, a schoolteacher, from Ada, on June 10 in Dormont, Pennsylvania, outside Pittsburgh.
Lloyd gave a very good account of himself in his rookie year, finishing with the third highest batting average (.355) in the league and second in hits (223). Manager Bush made a bold move early in the year when he made Lloyd the regular center fielder in place of future Hall of Famer Kiki Cuyler. Cuyler was traded to the Chicago Cubs after the season, and Lloyd was a mainstay for years in center field for the Pirates.
Around this time, Paul and Lloyd got the nicknames that would stick with them for the rest of their careers. The origin of the names has never been pinned down definitively, but most explanations attribute them to the distinctive pronunciation of fans in New York City. Clifton Blue Parker says in Big Poison and Little Poison that in a game at Brooklyn's Ebbets Field, a Dodgers fan described ruefully how the Pirates' "Big Person" and "Little Person" were hurting the hometown team that day. In "Brooklynese," the names came out sounding like Big Poison and Little Poison. Another version credits the operator of a newspaper kiosk, who told a newspaperman he was at Ebbets Field to watch "the Big Person and Little Person on the Pittsburghs" play, a comment that the journalist printed in the newspaper. Parker says Lloyd credited a New York sportswriter with a Brooklyn accent.
Lloyd came up with a different story in The October Heroes, an oral history by Donald Honig (Simon & Schuster, 1979; reprinted by the University of Nebraska Press, 1996): "They used to call us 'Big Poison' and 'Little Poison.' A lot of people have thought we had those nicknames because we were 'poison' to the opposing pitchers. But that isn't the way it came about. It started in 1927, in New York. We were playing the Giants in the Polo Grounds. There used to be this little Italian fellow who always sat in the center-field bleachers. He had a voice on him you could hear all over the park. When he hollered out you heard him no matter where you were.
"Well, Paul and I were hitting against the Giants. This one day we came out of the clubhouse between games of a doubleheader and this fellow started yelling at us. What it sounded like was 'Big and Little Poison,' but what he was really saying was 'Big and Little Person.' He was a real nice fellow and we would wave at him and he finally became our biggest rooter in the Polo Grounds. We got him an autographed baseball one time. But whenever we came in there he would yell that and the newspaperman finally picked it up, except they thought he was saying 'Poison' instead of 'Person.' It became a newspaper nickname, because no ball players ever called us that. And the name has stuck, right down to this day."
Paul Waner had another solid year in 1928, placing him once again on The Sporting News Major League All-Star Team. He finished second to Rogers Hornsby in batting average (.387 to .370) and on-base percentage (.498 to .446), second to Jim Bottomley in triples (20-19), and second to Freddie Lindstrom in hits (231-223). He led the National League in doubles (50) and runs scored (142). As a team, the Pirates finished nine games behind St. Louis with an 85-67 record.
As the calendar turned toward spring training in 1929, Paul and Lloyd held out for more money. During this period, Paul and Corrine's only child, Paul Jr., was born on March 5, 1929. Paul wanted $18,000 and Lloyd wanted $12,000. Paul missed most of spring training, and did not come to terms with Dreyfuss until early April. Lloyd had signed his contract a couple of weeks earlier and joined his teammates in camp at Paso Robles, California. It took Paul awhile to regain his offensive prowess, but he still hit .336 with 100 RBIs and reached his career high in home runs with 15. The Pirates finished in second place, 14 1/2 games behind the Cubs. Donie Bush was fired on August 27 after posting a 67-51 record. He was replaced by coach Jewel Ens.
The Pirates' fortunes did not improve in the '30s. Under their new skipper, the Pirates seemed to regress; they finished 26 games out of first place in 1931. But Waner's assault on opposing pitching continued. After batting .368 with a .525 slugging percentage in 1930, he was batting .358 and slugging .536 for his first five years in the majors.
During the offseason, Waner spent a fair amount of time playing golf and fishing in Sarasota, Florida, where the Waner family enjoyed the warmer climate. During the winter of 1931, Waner suffered a sting to his left ankle by an unidentified ocean prowler. The result was poison that spread through his left leg. He was forced to rest the leg as the ankle swelled and a boil appeared at the wound when he exerted himself. Waner missed some time during spring training, and his season average dipped to .322. But he led the league from his right field position with 28 assists and 8 double plays.
Jewel Ens was replaced by George Gibson, who returned to pilot the Pittsburgh club after a previous stint as the Bucs' head man from 1920 through 1922. The former Pirates catcher, who was a member of the world championship team in 1909, tried to defuse rumors that Waner was going to be traded. Dreyfuss was still unhappy with Waner for holding out in 1929, and their relationship soured a bit. But Gibson announced at the winter meetings in Chicago that little change would be made to the current roster, relying on Waner to be a regular in his outfield and to rebound from his 1931 season.
Indeed Paul did rebound, as he hit .341 and led the majors in doubles with 62, the third highest season total in major-league history. On May 20 at Sportsman's Park in St. Louis, he tied a major-league record with four two-baggers in one game.
The Pirates responded to their new dugout chief Gibson, finishing in second place behind Chicago, four games out. The Bucs could not recover from a 10-20 record in August, including 1-10 on the road.
In 1933, a sporting event was born that started out as a one-time-only event, but turned into an institution. The World's Fair had come to Chicago and Arch Ward, the sports editor of the Chicago Tribune, was asked to come up with a sporting event to coincide with the fair. Ward knew that on July 6 all the major-league teams had an off day, so he suggested an all-star game between the American and National Leagues to be held that day at Comiskey Park. A crowd of 47,000 turned out, and the game was an instant success. Paul Waner was named to the National League squad as a reserve outfielder. "They gave rings to every player," said Cubs shortstop Woody English. "They were supposed to call the guys alphabetically. The first player up there to get his ring was Paul Waner. Somebody said, 'You're a W.' Paul said, 'I wanted to get my ring before it tarnishes!'" Waner made the next two All-Star Games and again in 1937. He never got a hit and only one RBI to show in eight at-bats. Lloyd was never selected to play in the midsummer classic.
On November 7, 1933, Blue Laws were repealed in most major cities in Pennsylvania. For the Pirates, Phillies, and Athletics, this meant they could host Sunday games. In the past, these teams would be hopping on trains for other destinations after Saturday home games. Blue Laws, also known as Sabbath or morality laws, were created in many colonies in Colonial days to promote piety and virtue. But in 1933, Pittsburgh voters responded with an overwhelming vote of 26,527 to 3,346 to repeal the law. Philadelphia, Erie, Wilkes-Barre, Lancaster, and Sharon also voted to allow Sunday sports.
After leading the Pirates to consecutive second-place finishes in 1932 and 1933, manager Gibson was fired after the team went 27-24 to begin 1934. He was replaced by third sacker Harold "Pie" Traynor. Although back-to-back second-place finishes would be considered excellent seasons by many, the Pittsburgh front office believed that Gibson should have brought the pennant home instead of achieving runner-up status. The fans were in agreement, as Gibson was getting booed whenever he stepped onto the diamond.
Traynor was winding up a Hall of Fame career that spanned 17 years, all with Pittsburgh. He became the National League's sixth player-manager out of eight teams and the tenth in the major leagues. But the change in managers did little to change the Pirates' fortunes. They finished in fourth place in 1935 and 1936, third in 1937, second in 1938, and sixth in 1939, after which Traynor was fired. The '38 season was the closest Traynor's teams came to a pennant, but the Pirates were undone by Gabby Hartnett's late-season "Homer in the Gloamin'" for the Cubs.
Paul Waner loved to have to have a good time. Others would say that he was "a threat to break up a no-hitter, but never a party." Waner believed that to be successful at the plate, the batter had to be as relaxed as possible. "Here's the way it works. When you can relax at the plate, you have a terrific advantage. Your stance is easy, your arm and shoulder muscles are loose and free, your eye is clear and you can time your swing." For Waner, being relaxed at the plate meant to have a shot or two of whiskey before each at-bat. "When I walked up there (to the batter's box) with a half-pint of whiskey fresh in my gut, that ball came in looking like a basketball," he would say. "But if I hadn't downed my half-pint of 100 proof, that ball came in like an aspirin tablet."
Or as Boston Braves manager Casey Stengel put it, "He had to be a very graceful player because he could slide without breaking the bottle on his hip."
When Traynor became skipper in 1934, he is said to have pulled Waner aside in spring training and asked him to lay off the hard liquor. Traynor, the story goes, told Paul that a .400 average would be within his grasp if he gave up the "raw stuff" and stuck to a little beer every once in a while. "For you, Pie, I'll do anything," said Waner. The first time around the league, Waner was hitting an anemic .240. As the Pirates arrived for a series in New York, Traynor pulled Paul aside. "Paul, I know you kept that promise that you made to me during the training season. You've really been wonderful and I admire your determination. But I don't have to tell you that you have been terrible as a player, and almost no help at all to us. So now I want you to do me a favor. We are in a good town for having a good time and I want you to step out and have one. Knowing you, I know I don't have to tell you how to go about it. Go to it, my friend, and if you don't feel like coming home in the morning, don't come home at all."
Waner went 4-for-4 the next day and ended up leading the senior circuit with a .362 batting average. He led the league in hits (217) and runs (122), while finishing second in triples (16) and on base percentage (.429).
In 1936 Waner again led the league in hitting, this time with a .373 average. He finished second in hits (218) and third in on base percentage (.446). He showed no signs of slowing down when he hit .354 in 1937 and knocked out 219 hits. He was named for what would be the final time to The Sporting News Major League All-Star Team.
Waner, now 35 years old, had his worst offensive season to date in 1938, as his batting average dropped 74 points, to .280. At times he was removed from the lineup for a pinch-hitter or was benched by Traynor. He did get his 2,500th career hit against New York on June 3 at Forbes Field, becoming only the 30th player in major-league history to reach that plateau. Newcomer Johnny Rizzo, acquired a year earlier from St. Louis, set a new team record with 23 home runs, while knocking in 111 runs. Rizzo was the spark the club needed when Waner and first baseman Gus Suhr struggled offensively.
As the 1938 season started, the Bucs raced out of the gate to an early lead in the league standings by winning eight of their first nine games. From June 1 to July 12, the Pirates went on a 27-7 run, but they found themselves in a virtual tie with New York. Eventually, the Pirates pulled away, owning a 3 1/2-game lead over Chicago on September 18. The Bucs were on the road to play two games against cellar-dweller Philadelphia and two games against seventh-place Brooklyn. All four games were rained out because of to an East Coast storm that became a hurricane. The storm, which was nicknamed the Long Island Express, claimed the lives of between 600 and 700 people. The Pirates sat idle in their hotel, waiting for the storm to pass. When it did, so did the team's momentum. Pittsburgh lost six out of seven to close out the season. Two of the defeats were a sweep at Wrigley Field by the second-place Cubs. The second of the two was the historic "homer in the gloamin' " by Cubs catcher and manager Gabby Hartnett. That victory vaulted the Cubs over the Pirates into first place. Pittsburgh finished the season in second place, two games behind the Cubs. The four games that were washed out as a result of the storm were never rescheduled.
Waner's contract was cut by a reported $5,000 for the 1939 season but he responded with a fine .325 batting average. However, his playing time was cut to 125 games as the Pirates finished 28 1/2 games out of first place.
Traynor was replaced after the dismal 1939 campaign by Frankie Frisch. Known as the Fordham Flash for his exploits on the gridiron at Fordham University, Frisch had piloted St. Louis to the 1934 world championship. He put together a Hall of Fame career, playing second base under John McGraw in New York, and then serving as a player-manager for the Cardinals. "I believe Frank Frisch is going to be able to help the Pirates as manager," said Waner. "All the players have admired Frisch for his ability as a player, his fighting spirit, and his intelligence as a manager."
But as the 1940 season unfolded, it became apparent that Waner, now 37 years old, was not in the future plans of the Pirates. He had pulled the ligaments in his right knee when he stepped awkwardly on second base while going from first base to third on a base hit. He missed three weeks and was relegated to the bench upon his return. He appeared in only 89 games. Second-year player Bob Elliott received most of the playing time in right field. Lloyd Waner was dealt the same fate, as Vince DiMaggio took over patrolling center field and Lloyd played in only 72 games. In his substitute role, Paul hit .290 (69-for-238). He was philosophical about his reduced playing time. "When a young fellow comes along, somebody has to move over, and now it's me," he said. "I have no regrets."
That season turned out to be Paul's last in Pittsburgh. The club tendered him an outright release on December 5. "We didn't like to let him go," said Team president Bill Benswanger, "because he has been an institution in Pittsburgh. We parted friendly. We told him to try and make a deal for himself. He wasn't able to do this, so we had to give him a release."
But after his release, Paul was not without a home for long. He signed with the Brooklyn Dodgers on January 31, 1941. Manager Leo Durocher liked his crowded but talented outfield, which included Joe Medwick, Dixie Walker, Pete Reiser, Charley Gilbert, Joe Vosmik, and now Waner. Paul took the time to help younger hitters like Gilbert with their stroke, while pushing for a starting position. "Look how relaxed Paul is when he's hitting," said the Lip. "See how he holds his right arm, not stiff at all. And watch how he shifts his weight to his left foot when he swings at a ball." After Pete Reiser was struck with a pitch behind the right ear, Waner was given some playing time in right field. But in only 11 games, Big Poison hit .117 and was released on May 11.
Two weeks later Paul signed with the Boston Braves. He was reunited with Lloyd, whom the Braves had acquired via a trade with the Pirates on May 7. Boston was managed by Casey Stengel. Paul showed new life with the Braves, hitting .279 in just under 300 plate appearances. Boston finished the year 38 games behind the Dodgers.
During spring training in Sanford, Florida, Stengel had asked Waner to hit a ball out over the whiskey sign. "Which one?" Paul asked. Stengel was amazed that Waner could not see the sign in right-center field. "Here is one of the great hitters of all time and he can't read a sign like that," said Stengel. When Waner was asked if he could tell who the batter was from his position in right field, he replied that it was not clear to him and that he had a hard time reading the scoreboard in left field as well.
Paul had always been nearsighted. He had tried to wear glasses on a temporary basis in 1940, but discarded them. Stengel took him to an optician to get fitted with a new pair. Waner said that the baseball looked like a grapefruit without glasses, smaller and clearer with them on.
Personally, 1942 was a record season for Waner. On June 17, in a game against Cincinnati at Braves Field, Waner hit a sharp grounder to shortstop Eddie Joost of the Reds in the fifth inning. Joost moved toward second base, whirled, and made a backhanded stab at the ball, but was only able to knock it down. Scorekeeper Jerry Moore of the Boston Globe awarded Waner a hit, his 3,000th career hit. But Waner waved furiously at the press box to change the call to an error. "No, no. Don't give me a hit on that. I won't take it," shouted Waner. He shooed away umpire Beans Reardon and the converging players who wished to offer their congratulations. At last Moore changed his decision and charged Joost with an error.
Two days later, in a home game against Pittsburgh, Waner ripped a clean hit off Pirates pitcher Rip Sewell in the fifth inning. That hit stood as number 3,000. Waner was only the seventh player (after Ty Cobb, Tris Speaker, Honus Wagner, Eddie Collins, Nap Lajoie, and Cap Anson) to reach that milestone. "I wanted my 3,000th hit to be a clean one," said Waner.
It wasn't until almost 16 years later that another batsman joined the elite 3,000-hit club. On May 13, 1958, Stan Musial of the St. Louis Cardinals joined this select group with a pinch-hit double at Wrigley Field.
Waner collected another milestone on June 14, 1942, as the Braves hosted the Cardinals in a doubleheader. In the first game, he drew a walk off St. Louis reliever Howie Krist in the sixth inning. The free pass gave Big Poison 1,000 walks for his career.
Paul managed a .258 batting average for the woeful Braves, who finished 44 games off the pace. He was released by Boston on January 19, 1943, but signed for a second tour of duty with the Dodgers two days later. A few weeks into spring training, brother Lloyd was acquired from Philadelphia in a trade. It would have been the third time the brothers were reunited in their major-league careers. However, the reunion was put on hold when Lloyd did not report to the Dodgers. Instead he chose to be placed on the voluntarily retired list. He stayed in Oklahoma City to work in a wartime job at a warplane plant. Later, he worked in the fire department at Will Rogers Field.
Undoubtedly, as many of baseball's top players went into the armed forces, the war years lengthened Paul Waner's career. "What fans are going to see this season is Double-A ball, instead of the usual major-league brand," he said. "But because the teams in both leagues will be more evenly matched than in some time, I look for one of the best seasons the game has had in its history. You won't be able to find replacements for some of the men who have gone into the service. So the normally strong teams will suffer more than those who never had outstanding players. That will make everyone even."
Paul suffered a spike injury to his right foot in late April of 1943. He missed some time, but still hit a respectable .311 to go with 35 walks in 82 games. Durocher was thrilled at how Waner was hitting, gratified that the second go-around for Paul was much better than in 1941. "He didn't look as good (in '41) as he does this year," said Durocher. "He's in better shape and bearing down more than he did then."
In 1944, Lloyd Waner was reinstated from voluntary retirement and he joined the Dodgers. Released after playing in 15 games, he signed with Pittsburgh. Big Poison showed that though he was 41, he still could swing the lumber. He hit .287, with 14 pinch-hits. Waner was released on September 1 by the last-place Dodgers and was picked up by the New York Yankees the same day. Although he would not be eligible to make the World Series roster if the Yankees won the pennant, Yankees president Ed Barrow thought he would be a veteran bat off the bench. Paul got one hit in seven at-bats as the Yankees finished in third, six games in back of pennant winner St. Louis. In 1945, Waner pinch-hit once for the Yankees and then retired.
Waner made a visit to India as part of a USO tour to greet and entertain the servicemen. One day in a mess hall, a bat flew from the rafters. As people ducked under tables to avoid the flying varmint and attendants raced to the kitchen to fetch tennis racquets in order to dispose of the bat, Waner rolled up a newspaper, readied himself, and swung as the bat flew toward him. End of bat. When someone suggested that he could have missed the bat, staining his reputation as a great hitter, Paul shrugged and said "So what? I still would have had two strikes left."
An accomplished golfer, Waner also enjoyed fishing and hunting in his retirement days. He kept active in baseball by being a part-time hitting coach at various times with the Phillies, Cardinals, and Braves. Waner owned a batting cage in Harmarville, east of Pittsburgh, and worked there with rookie Pirates shortstop Dick Groat. Groat remembered Waner's patience and kindness as a teacher. "He was fun to be with, I really liked Paul Waner," Groat said. "He couldn't have been nicer to me in every way. He helped me build confidence, and I ended up leading the Pirates in hitting that year as a rookie. He was very patient, very understanding and had a great hitting philosophy. Even at that age, he could still hit that machine and hit that ball hard."
Waner reached the pinnacle of his career when on July 21, 1952, he was inducted into the National Baseball Hall of Fame in Cooperstown, New York. "Gee. It's what I've been looking for a long time, but I had almost given up hope of making it," he said. "In fact, I guess you can say I've achieved my life's ambition. Any baseball player's ambition. …"
Waner finished his career with a lifetime batting average of .333. He collected 3,152 hits and had a .474 slugging percentage. He batted over .300 14 times in his career, and had 200 or more eight times.
Lloyd Waner joined his brother in Cooperstown in 1967. They are the only brothers besides Harry and George Wright to be so honored. Together, they totaled 5,611 hits, the most of any brother combination in major-league history.
Paul had a series of health issues in retirement, including a heart attack and a battle with pneumonia. He died of respiratory arrest brought on by emphysema on August 29, 1965, in Sarasota, Florida. He was survived by his second wife, the former Mildred Carroll, and his son, Paul Jr.
Acknowledgments
I would like to thank Bill Francis of the Baseball Hall of Fame for his help with this project. He sent me countless files on Paul Waner from many sources that enabled me to get a clear picture of "Big Poison." His help and wonderful service were immeasurable. Also, a note of thanks to Clifton Parker, author of Big and Little Poison, Baseball Brothers. The time he took to answer my questions about the Waners was greatly appreciated.
Sources
Golenbock, Peter. Wrigleyville: A Magical History Tour of the Chicago Cubs. New York: St. Martin's Press, 1996.
Honig, Donald. The October Heroes. New York: Simon & Schuster, 1979; Lincoln: University of Nebraska Press, 1996.
Parker, Clifton Blue. Big and Little Poison, Baseball Brothers. Jefferson, NC: McFarland, 2003
Votano, Paul. Tony Lazzeri: A Baseball Biography. Jefferson, NC: McFarland, 2005.
The Sporting News, Various issues.
New York Times, Various issues.
Pittsburgh Post-Gazette, Various issues.
Altoona Mirror, November 8, 1933.
USA Today, October 3, 2007.
The National Baseball Hall of Fame, Archives Collection.
1920 United Census Bureau.
1930 United Census Bureau.
http://www.baseballlibrary.com/baseballlibrary/excerpts/red_smith10.stm
http://www.pabook.libraries.psu.edu/palitmap/bios/Waner__Paul.html
http://www.baseballlibrary.com/ballplayers/player.php?name=Paul_Waner_1903
http://www.easternoklahomacounty.com/harrah/waner.htm
http://pittsburgh.pirates.mlb.com/index.jsp?c_id=pit
http://www.retrosheet.org/
http://www.brj.sabrwebs.com/
Born
April 16, 1903 at Harrah, OK (USA)
Died
August 29, 1965 at Sarasota, FL (USA)
If you can help us improve this player's biography, contact us.
http://bioproj.sabr.org/bp_ftp/images2/WanerPaul.jpg
600
800
admin
/wp-content/uploads/2020/02/sabr_logo.png
admin
2012-01-04 20:35:30
2022-05-17 13:09:16
Paul Waner