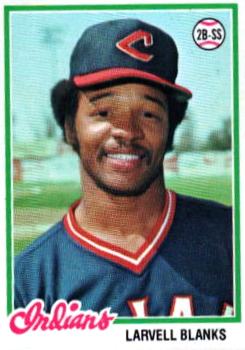 ---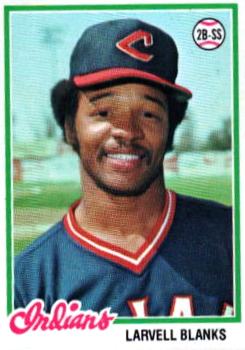 This infielder was the original "Sugar Bear" — several years ahead of Floyd Rayford, who bore the same nickname in the 1980s. With their pleasant, sleepy-eyed expressions, both men resembled the easygoing cartoon character in the ads for Post Super Sugar Crisp cereal. Yet contrary to popular belief, that is not how Blanks got his sobriquet. He told author James Skipper the story in the early 1990s.
"In the months of August and September [1969], while I was in the Arizona Instructional League, there was a hit single being played on the radio called 'Sugar, Sugar.' Ralph Garr, Darrell Evans and others started calling me 'Sugar Bear' because of my aggressiveness at the plate."1
In the low minors, Blanks showed good pop for a man of his rather small size (5'8" and 167 pounds). He then played five full seasons and parts of four others in the majors from 1972 to 1980. Sugar Bear was a regular for just one year, starting at shortstop for the Atlanta Braves in 1975. Otherwise, he was a semi-regular and backup, playing second and third base as well as short for middling to poor teams. Blanks hung on for five more summers in Mexico and then came back in the Senior Professional Baseball Association.
Blanks lived much of his life in the border town of Del Rio, Texas. He was one of eight children (five boys and three girls) born to Herbert and Hannah Mae Blanks. The family is athletic, having produced top-level pros in both football and basketball too. Larvell's uncle, Sid Blanks, was a running back in the AFL and NFL from 1964 to 1970. Sid's son Lance was a guard for three seasons in the NBA starting in 1990. Larvell himself has turned his hand to many sports.
As of 2010, just 32 men have made it to the majors after appearing in the Little League World Series. One of them is Blanks, who went in 1962 with the team representing the Val Verde County Little League. It was a multi-ethnic group of Mexican-American, Anglo, and African-American youths.2 On hand as announcers in Williamsport, Pennsylvania were the great Jackie Robinson and Ted Williams. Young Larvell may have had a chance to meet Jackie, who signed hundreds of autographs while he was there.3 The Del Rio boys lost to Pitman, New Jersey, but went on to win the consolation bracket. When they returned home, a crowd of 10,000 people lined the streets of their hometown for a parade — a crowd that was matched only by President Dwight D. Eisenhower's visit two years before. The team went to Washington to meet with Senator Ralph Yarborough of Texas and their local Congressman, O.C. Fisher.4
At San Felipe Del Rio High School, Blanks also starred in football as the quarterback. It was unusually progressive for those times to see a black QB, but Larvell wasn't the first trailblazer in the family — Uncle Sid had helped integrate Texas college football in 1960. The speedy youth also participated in track and basketball. He really stood out in baseball, though; the Del Rio News-Herald touted him as "a positive big league prospect" in April 1969. Atlanta Braves scout Al LaMacchia agreed. LaMacchia signed quite a few players out of the Southwest for the Braves in the 1960s and '70s, including Cito Gaston. Atlanta selected Blanks in the third round of the amateur draft on June 5, 1969, right after his final high school game.
The new pro's first assignment was Magic Valley in the Pioneer Rookie League. The team was based in the town of Twin Falls, Idaho, in the high desert not far north of Nevada and Utah. He drove in 60 runs in 72 games, batting .283 with 9 homers. He also got married to Rosemary Fay. Larvell and Rosemary had three children: Jeffrey (born 1970), Debra Lynn (born 1971), and Asuleyna (born 1977).
Blanks went to the Arizona Instructional League for the first time after the 1969 season. While he was there, he also studied at Mesa Community College. He moved up to Class A in 1970, playing for Greenwood, South Carolina, in the Western Carolinas League. He batted .277 with 15 homers and 69 RBIs in 116 games; the "quiet and coachable" little player was named team MVP.5 Promoted to Double-A Savannah for 1971, he followed that up with 14 more homers and 48 RBIs, though his average slipped to .222 against stronger competition.
Sugar Bear (also known as Scooter to his teammates) remained at Savannah to begin the 1972 season. His production returned to more customary levels: .284-6-34 in 83 games. In July 1972, the Braves placed Rico Carty, who was suffering from elbow tendinitis, on the 21-day disabled list. They called up Blanks, who made his big-league debut on July 19 against the Pirates at Pittsburgh's Three Rivers Stadium. He started at second base and went 1 for 3, singling in his second at-bat off Nelson Briles.
Blanks stayed with the Braves for the rest of the season, getting into 33 games overall. He hit his first big-league home run off Jack Billingham of the Reds on August 5 at Riverfront Stadium. In May 1975, after a game-winning two-run homer off Fred Norman, again at Riverfront, Blanks said, "I always have good luck against them, for some reason …they throw more strikes to me than anybody else in the league."6
During that offseason, Blanks played winter ball in the Dominican Republic with Aguilas Cibaeñas. The Braves were considering him for second base and started him there for the last seven games of the 1972 season as they mulled trading Félix Millán (who did in fact go to the Mets in November). Manager Eddie Mathews said, "I liked the way Blanks played when he was up. I thought he handled himself pretty well around the bag."7 The thought of competition among youngsters ended in late November, though, when the Braves acquired Dave Johnson from Baltimore.
Blanks made the Atlanta roster in spring training 1973 and spent most of the first two months of the year with the big club, although he started just once. In late May, the Braves sent him down to Richmond, where he played Triple-A ball for the first time. He hit .249 with 6 homers and 35 RBIs. In 1973, Larvell's cousin Wayne Benson (also a Del Rio native) was drafted in the first round, first in January by the Chicago Cubs, then in June by the New York Yankees. Wayne signed with the Yankees and made it as high as Triple A in 1976 before his pro career ended in 1977.
Sugar Bear took it hard when the Braves sent him down near the end of training camp in 1974. He went home to Del Rio for a little while.8 "After I got my thinking straight," Blanks said in 1975, "I went on to Richmond, and I found confidence there."9 He hit .268 with 13 homers and 47 RBIs, and his 29 doubles led the International League. After the IL playoffs ended, the Braves recalled Blanks, and he got into three big-league games at the tail end of the season.
In the winter of 1974-75, Blanks went to play ball in Venezuela. He had a nice season with Cardenales de Lara, playing under manager Bobby Cox. His .316 batting average led the last-place club, and he also had 2 homers and 10 RBIs in 57 games at shortstop. Behind him was local idol Luis Aparicio, who played his last 15 games in the Venezuelan League that winter.
Blanks made the majors for good in 1975. He took over as the regular shortstop from Craig Robinson, who got sick in spring training. He played in 141 games for the Braves, starting 121 of them at short. His batting line was a modest .234-3-38, and he also committed 25 errors. Near the end of the season, interim manager Connie Ryan said, "I think Blanks is a decent player but I think he's limited as a regular. I don't think that's his best role."10 He identified shortstop as a position to upgrade. Blanks disagreed with the assessment, but it would prevail for the rest of his career.
December 12, 1975 was a busy day. The Braves obtained shortstop Darrel Chaney from Cincinnati and so deemed Sugar Bear expendable. They sent him along with Ralph Garr to the Chicago White Sox for Ken Henderson, Ozzie Osborn, and Dick Ruthven. Then the White Sox moved him right on to the Cleveland Indians for Jack Brohamer. When the deals took place, Blanks was in Venezuela, again playing for Lara. This time, playing various infield positions, he didn't hit quite as well (.263-1-23 in 55 games).
After going to Cleveland, Blanks enjoyed his two most productive seasons in the majors. He was not a frontline starter, playing along with Frank Duffy at short and Duane Kuiper at second, but he viewed himself as more than a mere utility infielder. He got into 104 games in 1976 and 105 in 1977, amassing 371 and 351 at-bats. His batting lines were also very similar: .280-5-41 and .286-6-38. When Blanks signed a new contract with the Indians after the '76 season, manager Frank Robinson called him the toughest man on the club at the plate with men on.
Sugar Bear grew disenchanted in 1977, though. According to Cleveland sportswriter Terry Pluto, "Blanks thought he was a better player than Frank Duffy and should have been the regular shortstop."11 But Duffy was a reliable glove man; quite simply, Frank Robinson liked him better, calling him "maybe the most underrated shortstop in the big leagues."12 Perhaps Robby was thinking of his old Orioles teammate Mark Belanger, though Duffy was a poor man's version.
The skipper also thought that Blanks's old Braves teammate, Rico Carty, was a bad influence. "I believe that Rico poisoned his mind," said Robinson. "One day I walked in the clubhouse, and Blanks had thrown his uniform, his glove, his bats, everything in the trash because I didn't start him. I fined him. Then he was on the bench wearing a piece of tape over his mouth."13 Terry Pluto also said in his 1999 book Our Tribe that Blanks burned his uniform, though perhaps the story might have gained a little something in the telling by then.
As various observers have noted, Robinson was still making the adjustment from superstar player to manager at that time, and he was still developing his communications skills. The Indians fired him in June 1977. It may be no coincidence that Blanks soon had his two finest games as a hitter. On July 8, at Municipal Stadium, he had his only two-homer outing, connecting off Toronto's Jerry Johnson and Chuck Hartenstein. He drove in five as Cleveland won, 11-5. On August 8, Blanks went 5 for 5 with three doubles against the Orioles at Memorial Stadium. The Indians still managed to lose, 6-3.
The Indians decided to trade Frank Duffy and his weak bat to Boston near the end of spring training in 1978. (Rico Carty had been dealt a little over a week before.) Blanks had won the starting job again. His hitting declined some (.254-2-20 in 70 games), but errors – 13 in just 43 games at short – were really what kept him out of the lineup after mid-May. Cleveland turned to Tom Veryzer, a player much like Duffy who had arrived in trade from Detroit the previous December.
Just after the '78 season ended, on October 3, the Indians traded Blanks and Jim Kern to the Texas Rangers for Len Barker and Bobby Bonds. Blanks got little playing time in 1979 behind Nelson Norman and Bump Wills; he had his worst big-league season (.200-1-15 in 68 games and just 138 at-bats). In December, the Rangers sent him, Doyle Alexander, and $50,000 to the Braves for Adrian Devine and Pepe Frias.
Things didn't get much better for Blanks after he returned to Atlanta for the 1980 season (.204-2-12 in 88 games). He held the third base job for a stretch in April and May, since the Braves demoted Bob Horner to the minors after a dreadful start. Horner, who had jumped straight to the big leagues out of college, called it "incredible…beyond incredible." On April 22, in his first start at third, Blanks hit a game-winning homer to lead off the bottom of the 10th inning at Atlanta-Fulton County Stadium. As in the past, he said the farthest thing from his mind was a home run. "They always surprise me, to be honest with you. I don't try to be a long-ball hitter. I just try to hit the ball, and if it goes out, Amen."14
Bob Horner refused to report to Richmond, and it took about three weeks before his mutiny ended and he returned to the lineup. Once again, Blanks then mainly backed up a weak-hitting but good-fielding shortstop in Luis Gómez. On May 29, he was the only man to reach base as Bob Welch of the Dodgers faced the minimum 27 batters. Sugar Bear hit "a hanging hooker," as Welch described it, for a clean single to center. Chris Chambliss then hit into a double play.
Blanks made his last appearance in the majors on August 3, 1980. The following day, the Braves designated him for assignment, and Rafael Ramírez began his big-league career for the Braves at short. Blanks was released on August 8.
In January 1981, Blanks signed as a free agent with the Pittsburgh Pirates. It was a minor-league deal, and he was ticketed for Triple-A Portland. Instead, he took an offer in Mexico from the Azules (Blues) of Coatzacoalcos. This city, in the state of Veracruz, was not terribly far from Sugar Bear's Del Rio home. Blanks spent part of 1981 with the Mexico City Tigres but returned to Coatzacoalcos for all of 1982. His son Joseph was born soon after the '82 season to Lisa, the woman who would become his second wife. He split the 1983 season between the Azules and Tabasco, moved on to the Campeche Piratas for 1984, and his final summer in Mexico was divided between Campeche and Aguila-Veracruz. In 451 games across his five seasons south of the border, Blanks hit 21 homers, drove in 194, and hit .295.
After he came back home, Blanks resumed his college studies at Sul Ross State University in Alpine, Texas (where he had also gone part-time during his playing career). At the age of 37, he took up a new sport, tennis. He obtained his degree in 1990. In his leisure time, he also coached Babe Ruth ball.
Blanks stayed in the minds of fans thanks to Tom Boswell's brilliant January 1987 essay, "99 Reasons Why Baseball is Better than Football." Reason No. 6: "Baseball has Blue Moon, Catfish, Spaceman, and the Sugar Bear. Football has Lester the Molester, Too Mean, and the Assassin." Yet he wasn't quite through with baseball. When the Senior Professional Baseball Association started play in the fall of 1989, Blanks joined the West Palm Beach Tropics, but the Orlando Juice obtained his rights. In 52 games, he batted .277 with 2 homers and 28 RBIs, and was a second-team league all-star.
Blanks served as a teacher and tennis coach at Del Rio High in the late 1990s and early 2000s. His younger relative Riley Blanks (daughter of Lance) became a promising young tennis player. Riley and Larvell often practiced together. In recent years, Blanks has found a new sporting challenge: golf. He now lives between Phoenix, Arizona and Del Rio, and is currently competing on the Golf Channel Amateur Tour. His other interests include hiking, guitar, and fishing. He looks remarkably youthful and fit, weighing almost exactly the same as he did while in the majors.
Sources
www.newspaperarchive.com (in particular, the Del Rio News-Herald)
www.baseball-reference.com
www.retrosheet.org
Treto Cisneros, Pedro, Editor, Enciclopedia del Béisbol Mexicano. Mexico City, Mexico: Revistas Deportivas, S.A. de C.V., 1998.
http://planeta-beisbol.com/lvbp/ (Venezuelan statistics)
www.checkoutmycards.com
The Sporting News Official Baseball Register, various years
http://thegolfchannel.bluegolf.com/bluegolf/thegolfchannel10/profile/lblanks2/bio.htm?
Photo Credit
The Topps Company
Notes
1 Skipper, James K. Baseball Nicknames: A Dictionary of Origins and Meanings. Jefferson, North Carolina: McFarland & Co., 1992: 23.
2 Argabright, Brian. "Remembering Del Rio's run to Williamsport." Del Rio News-Herald, August 11, 2010.
3 Van Auken, Robin. The Little League Baseball World Series. Charleston, South Carolina: Arcadia Publishing, 2002: 63.
4 Argabright, op. cit.
5 "Larvell Blanks Named Most Valuable Player." Del Rio News-Herald, August 31, 1970.
6 Rappoport, Ken. "How to pitch Larvell Blanks? Very carefully." Associated Press, May 3, 1975.
7 Minshew, wayne. "Can Blanks Fill Braves' Keystone Job?" The Sporting News, November 25, 1972: 41.
8 "Atlanta reserve returns home." Associated Press, March 22, 1974.
9 "Atlanta Topples Houston Astros." Associated Press, April 17, 1975.
10 "Braves Think About Future." United Press International, September 30, 1975.
11 Pluto, Terry. The Curse of Rocky Colavito. New York, NY: Fireside, 1994: 148.
Born
January 28, 1950 at Del Rio, TX (USA)
If you can help us improve this player's biography, contact us.
http://bioproj.sabr.org/bp_ftp/images4/BlanksLarvell.jpg
600
800
admin
/wp-content/uploads/2020/02/sabr_logo.png
admin
2012-01-04 20:32:23
2012-01-04 20:32:23
Larvell Blanks