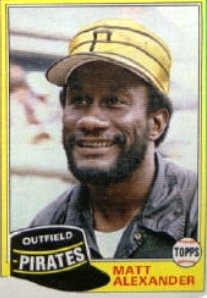 ---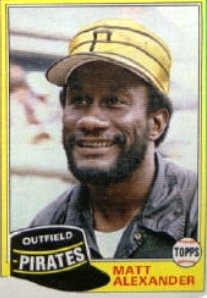 Matt "The Scat" Alexander holds an odd distinction: He is the foremost pinch-running specialist in major-league history. Over parts of nine seasons (1973-81), he played in 374 games — yet amassed only 195 plate appearances. A favorite of manager Chuck Tanner, Alexander won a World Series ring with the 1979 Pittsburgh Pirates. Along with his speed and snappy nickname, this man brought a sense of fun and enjoyment that fit right in with the "Fam-a-lee."
Matt could handle the bat and almost any position. However, he was in the field in just 138 games, while pinch-running some 271 times. In that role, he holds the major-league records not only for appearances but also for stolen bases (91) and runs scored (89). Unfortunately for him, he was pigeonholed. Pittsburgh sportswriter Phil Musick got Alexander's views on this subject in spring training 1979.
"No one's ever given me the time to show what I can do," he says, a lean, tightly-muscled sprinter's body slipping into uniform. "What people don't understand is that it's never a lack of opportunity, just time. I could hit .260 if I played every day up here. Maybe .270, .280 with a good hitting instructor. But a lot of the time, when a player's called up, it's those first few weeks that count. If you don't get in the lineup, you become an extra man the rest of your career."1
Although Alexander was an observer most of the time, he turned this position to his advantage. "It taught me a lot about the game," he said in an interview with the author in 2009. "All aspects: hitting, fielding, staying focused, paying attention. I got so I could tell when I was going to be used. A couple of times, I got caught off guard in early innings, but it would always be a situation where it was important to the game."2
Matthew Alexander Jr. was born in Shreveport, Louisiana, on January 30, 1947. He was the baby among four children. Along with his older brother, Lloyd Joiner, and sister, Barbara McMillian, he also had a half-sister, Mathis Lee Robinson. Matthew Sr. worked in construction as a cement finisher, while mother Gertrude Wooten Alexander worked in private homes.
"Sonny" came to baseball at an early age. "I always loved the game from childhood," he remembered. "I was swinging a stick or bat from the time I was 4 years old. We used to play a game called 'straight base' as kids — it was home and just one other base in a straight line. Then when I was older, in downtown Shreveport, we used to play baseball on Sundays."
"My stepdad used to take me to the Shreveport Sports games on Saturdays and Sundays. Back then, blacks had to enter at the side [at the stadium then known as Texas League Park]." In 1957, the African-American citizens of Shreveport launched a boycott against the Sports franchise and the state of Louisiana's recently imposed ban on interracial sports. In response to plunging attendance (among both black and white fans), Sports owner Bonneau Peters — who had openly stated that no black would ever play on his team3 — sold the club after that season.4 Alexander, who was then only 10, does not remember the boycott — but he does remember Peters' statement. "I had a vision that one day I'd play at that field," he said, "and I did, with Midland in 1972. It was a dream come true."
At Bethune High School, Matt made the all-city basketball team as a guard. "I was short but quick. I averaged 14 points a game and I was the captain. I played football too, I was a running back and quarterback, but I was too small." Despite his speed, Alexander never ran track except to satisfy a phys ed requirement. One surprising note is that in all his years as an athlete, nobody ever clocked him with a stopwatch.
At that time, Matt was a pitcher in baseball. "I always had a strong arm," he said. Bethune won the Louisiana State AAA championship during his senior year, and one of Matt's two playoff wins came against his future teammate with the Oakland A's, Vida Blue of DeSoto High in Mansfield. When they met again in 1975, "Vida would bring it up, but I didn't. I wasn't a guy to rub things in. I liked to stay calm and collected."
Matt earned a scholarship to Grambling State University, a historically black institution about 65 miles east of Shreveport. Although best known for its football program, Grambling has produced 12 big-league baseball players over the years. Tommie Agee and Ralph Garr were the most successful of these men; Alexander was a year behind Garr. Another big-league outfielder who played for the Tigers, fellow Shreveport native John Jeter, inspired Matt to follow him. "I had other scholarships, including Southern University, but I always wanted Grambling. It was down the road and I could come home weekends."
A profound influence on Matt and many other Grambling alumni was Ralph Waldo Emerson "Prez" Jones, who served the university for 51 years (1926-1977). Jones was Grambling's president for the last 41 years of that time; he formed the baseball and football teams and was baseball coach throughout his tenure. "I want to really thank him," Alexander said. "He was good — really good. He had his own way of teaching you about the game, and he gave me a chance to further my education."
Longtime Pirates scout Lenny Yochim, a New Orleans native who would later help save Matt's career, also tipped his cap to Jones. "I enjoyed scouting Grambling," Yochim said. "[Jones] had clout, his players were sharp, humble, courteous, attentive, well schooled in baseball and obedient to their leader. His teams conducted infield drills that would outshine major-league clubs. When they were finished a scout could leave there satisfied he saw what a player could do. Does he have arm strength, body control, agility, quick reflexes, can he come in on a slow hit ball and make the body control play, catching the ball on the run and throwing with accuracy. The coach was well respected in baseball and as a person."5
Matt, who had switched to the infield, made the Southwest Athletic Conference's all-conference team twice in three years. He hit .377 in both 1967 and 1968. "I'm glad I didn't pitch," he said in 2009. "We had guys who could really throw." One was Jophery Brown, who pitched one game for the Cubs in 1968 and then went to Hollywood as a bit-part actor and top stuntman. "We didn't realize how good we were — we just went out and played. Scouts came out, and then we'd realize. There was a lot of good raw talent. Six guys signed off the '67 team."
"I didn't know Ralph Garr before Grambling, but I got to know him real well. He was the first player I met who could talk trash and then go out and back it up on the field. He taught me a lot about confidence."
During the summer of '67, Alexander played for the Liberal (Kansas) Beejays in the Jayhawk League. This summer collegiate baseball league boasts a high caliber of play; since their inception in 1955, the BeeJays alone have sent 165 alumni to the majors, as of 2008.
On June 7, 1968, after Matt's junior year, the Chicago Cubs selected him in the second round of the amateur draft. The scout who recommended him was legendary Negro Leaguer Buck O'Neil, who found a lot of young African-American talent in the Deep South for the Cubs. "He'd call you 'lad,'" Matt remembered. "He had a really deep voice. He was the 'cleanest' man I've ever seen — he could really dress! He always looked sharp and wore nice shoes. If he wore sandals, those were some sandals."
"Buck told me, 'Keep on playing hard,' and I did. The draft, that just shocked me. I thought I'd be drafted, but low. I was parking cars in Shreveport when a friend told me I went in the second round. I quit the job right on the spot and ran home. All I could think was, 'I'm in the game. I'm going to get some money!'"
Matt signed on July 9 after some negotiating. "Ralph Rickey, the top pick, got $50,000, and I held out for $30,000. The Cubs offered $20,000 because there was a question on my arm. I'd gotten hurt and wasn't showing velocity. Buck needed to work me out again. I wouldn't sign until I got $25,000." Within the week after signing, he married Rose Marie Williams, whom he had met at Grambling, where she worked in the cafeteria. "We were engaged at that time. Once I knew I had money and could support her, we went ahead."
Alexander then reported to rookie ball with the Caldwell (Idaho) Cubs in the Pioneer League. His respectable showing (.261 average, one homer, 10 RBIs) won him a berth on the league's All-Star team at second base. Matt then had to weigh a tradeoff. "I went back to Grambling for one semester in the fall of 1968, but I never graduated. At first, I thought going back to school was a good thing, and it was, but I missed Instructional League. Another guy Buck signed kept playing and made Double-A the next spring [rising to the majors the same year]. That was Oscar Gamble."
Alexander was promoted to the Class-A Midwest League in 1969. With the Quincy Cubs, the switch-hitter hit .274 with 8 home runs and 32 RBIs and then jumped to the San Antonio Missions in the Double-A Texas League (.303-1-13).6 It appeared that he was moving briskly up the ladder with the Cubs, but then he missed two full seasons in military service.
"When I left college, my draft status changed to 1A. I was drafted in the Army, but George Freese [then a Cubs scout] knew some people in the Navy. I was told to go volunteer, then they'll work it out so I could get in Special Services and play some ball." In both 1970 and 1971, Alexander was with the Hawaii SubPac Raiders, a Navy team out of Pearl Harbor. Among other opponents, the Raiders traveled to Fairbanks to face the Alaska Goldpanners.
When asked if his time in the service threw a wrench in his pro career, he said, "It slowed me down, I was going at a good pace. But I look back and I'm glad. I matured as a man and got to travel."
After his discharge, the Cubs sent Alexander to the Arizona Instructional League in 1971 and invited him to spring training with the big club in 1972. He made it to the last round of cuts. His initial assignment was Triple-A Wichita, but before playing a game there, he went back to Double-A. He spent the entire season with the Midland Cubs (.270-5-45) and then played winter ball for the first time. He went to Ciudad Obregón, Mexico, in La Liga Mexicana del Pacífico (LMP).
The manager of the Obregón Yaquis in the winter of 1972-73 was Dave García, then a coach with the San Diego Padres. "Obregón needed speed," Alexander recalled. "Dave García looked in the Texas League stats and saw me leading the league in steals." The Yaquis were league champions that winter, led by the native-born Romo brothers, Enrique — Matt's future teammate with the '79 Pirates — and Vicente. Other big leaguers on the squad included Johnny Grubb, Derrel Thomas, and Dave Hilton from the Padres system, as well as veteran Jim Campanis. The Yaquis went on to compete in the Caribbean Series in Venezuela, but went just 1-5; Alexander collected 6 hits in 27 at-bats.
Alexander followed up with a promising season at Wichita in 1973 (.309-2-51). On August 23, he made his big-league debut at Wrigley Field. It was a sign of things to come — he pinch-ran for Ron Santo in the 10th inning and scored the tying run as the Cubs pulled out a 4-3 win.
With Ciudad Obregón once more in the winter of 1973-74 (.245-2-19), Alexander got to play in another Caribbean Series. Mexico fielded two teams in the tourney that year, as the second-place Yaquis replaced Venezuela, whose players were striking. Alexander went 7-for-27 as his team split its six games. He followed up by making the Chicago roster out of spring training in 1974. In the middle of May, after Bill Madlock had sprained an ankle, Alexander got a trial of roughly three weeks as the Cubs' starting third baseman, including several games as the leadoff man. When Madlock returned, though, Alexander (who was also slowed by a pulled leg muscle) was left with spot duty. The Cubs sent him down to Wichita in late July and outrighted him there after the season. (He recalled playing in Mexico again that winter, but there may be a gap in the records.)
On April 28, 1975, the Cubs traded Alexander to the Oakland A's for pitcher Howell "Buddy" Copeland in a minor-league deal. Oakland was about to end its experiment with track star Herb Washington as pinch-runner deluxe. Despite his world-class speed, Washington did not know or have instincts for the game, and he was simply too limited. The club needed a true ballplayer to fill the specialist role — in fact, it added two. Reggie Jackson said, "We've got these two new guys — Alexander and [Don] Hopkins — and they can do other things, plus they run the bases better than Washington." Even A's owner Charlie Finley, the original proponent of "designated runners," concurred. "We've got to have pinch-runners who can steal bases and also do other things."7
Somehow manager Alvin Dark found a way to get Hopkins into 82 games and Alexander into 63 that season. Between them, they totaled 19 plate appearances. Unfortunately, Alexander suffered a shattered eye socket in early June from a batting-practice grounder, but he won the respect of his teammates as the more complete player. "He's the best," said Gene Tenace. "Definitely. The other two can't compare with him."8
When the A's met the Red Sox in the playoffs, however, they kept both Hopkins and Alexander on the roster. Between them, Hopkins got the lone appearance that Dark found necessary; oddly enough, it was as a pinch-hitter.
Alexander also acquired his nickname — "The Scat" — courtesy of Oakland announcer Monte Moore. "At first, I didn't understand it," he remarked. "But it stuck, and I thought it was perfect."
In 1976, the A's — under new manager Chuck Tanner — stole 341 bases, a record in the post-Deadball era. They kept two specialist runners. Hopkins was sent down, though; former Expo and Cardinal Larry Lintz took his place. Alexander remained with Oakland the entire season, while Lintz played briefly at Triple A. Alexander did not lack confidence: In 1976, he once challenged Thurman Munson, "You better make a perfect throw," but the Yankees' captain gunned him down. Perhaps the missing edge was his golf spikes, which he had worn throughout 1975 and early '76, until Rangers manager Frank Lucchesi blew the whistle.
"I'd say, 'You better get ready' as a psych game with the catchers," Alexander recalled. "The best I faced was Jim Sundberg. He was quick and had a strong, accurate arm. He could throw it in a small square box over second base. Outside that box, it was going to be tight, but I'd usually win. Who was going to make a mistake? That's who'd lose." It was like a chess match. Along with Sundberg, Alexander put Steve Yeager and Gary Carter in his top three opposing catchers. "Munson had a quick release, but he would often throw sidearm, so his ball would tail."
The A's roster showed much the same pattern in 1977, although Lintz was sent down for a longer stretch in midseason. Over those two years, the two men played in vastly more games than they had plate appearances. However, one of Charlie Finley's odder experiments took place on a road trip from May 23 through June 2, 1977. Finley and new manager Jack McKeon (who would be fired on June 10) had Alexander lead off eight games and listed him as the starting shortstop. Yet each time they pulled Matt after his first at-bat for Rob Picciolo.
"Charlie Finley had some brilliant ideas," said Alexander. "He made the lineup out himself every day. Alvin Dark and them just wrote the lineup down. The idea with me was to try to produce a run in the very first inning. I would look to get on base any way I could, then play my role without wasting a player."
"There was a lot of pressure in Oakland. You [as a pinch-runner] had to go on the first or second pitch or get fined. But I'll tell you what Finley was doing, he was giving the batter more of a chance to hit."
Alexander stole a major-league career-high 26 bases in 1977, though he was caught 14 times, and also batted .238. "When I hit, Finley thought I'd put pressure on him to start! He told me not to get ideas." Alexander didn't make waves — "I'd seen him release guys on the spot. There was one guy who hurt his Achilles playing flag football, and when Finley found out, he was gone. I also remember John Jeter fell short [getting released by the Indians in 1975] because he was talking trash about not getting playing time for Frank Robinson."
Back in Mexico during the winters, Alexander was the Liga Mexicana del Pacífico's top base stealer in both 1976-77 (17 for the Guaymas Ostioneros) and 1977-78 (20 for the Hermosillo Naranjeros). In February 1978, though, he came down with a case of hepatitis in Mexico. "It wasn't the contagious kind. I was taking medications for an ailment I had, and my liver reacted badly to the chemical toxin." He never made it to spring training, and on March 31, Finley — in a move that could well have been illegal — released him.
He returned home, attended barber college "with a little money from the GI Bill," and played with a local team called the Shreveport All-Stars on Sundays. "He thought about needing just 24 more days in the major leagues to get his pension, and how there aren't any pensions for barbers."9
"The phone hadn't rung in early August, so Alexander did something uncharacteristic. He got impatient and called Pirates scout Lenny Yochim. The word got to Chuck Tanner [who had become Pittsburgh's manager in 1977]."10
Lenny Yochim expanded: "I asked him if he was in playing shape and he said yes. I asked him if he was in running shape and he said yes. I asked him to be honest with me because he would have to come off the bench running. In all probability he wouldn't be asked to pinch-hit. He assured me he was ready. Matthew was a good person and I trusted him in what he gave me.
"I told him to call Chuck Tanner. I told him that Chuck liked what he could do to help the club and that our club didn't have anyone to fill the role as an extra as well as Matt. Matthew was very instrumental in the success of the Pirates in 1979. He called Chuck and they connected. I sure was happy for Matthew."11
Alexander responded, "I'm still grateful to know Lenny." He remembered, "I got called in for a workout [at Three Rivers Stadium], and I was running from pole to pole." There wasn't going to be a spot right away, but on September 1, when the rosters expanded, the Pirates added the free agent as Tanner had promised. On September 21, Alexander showed how he could influence a game. In the top of the 14th inning against the Cubs at Wrigley Field, he stole second and scored as Dave Rader's throw went into center field and center fielder Bobby Murcer's throw hit him in the back as he took third. "'I'm still a little peaked [from the illness] but I can do the job. It's not how fast you run. It's how you do the job,' said Alexander."12
"I was just grateful for the pension time," Alexander said in 2009, "but it turned out to be so much more. Pittsburgh was the best highlight of my life and career. With the Cubs, I couldn't see the whole picture. I was lost. I think I was hid because if I was in the minors somebody else would have wanted me. With the A's, I was wanted, but there was pressure. With Pittsburgh, it was, 'We respect your talent. You're a ballplayer.' It was a joy, a relaxation. It brought the best out of me."
In 1979, Alexander spent a couple of stretches at Double-A Buffalo. The Pirates faced some temporary roster needs, and as the 25th man, he was "on the bubble." In fact, he was outrighted to Buffalo in July. He had to pass through irrevocable waivers in August before the Pirates could recall him. There was a good explanation, though. "Chuck didn't send me to the Triple-A club, which was Portland, because he didn't want to make me move my family across the country. They kept me close, they knew they were bringing me back."
Alexander occasionally spelled center fielder Omar Moreno, who was early in a streak of 503 consecutive games played, as well as Dave Parker in right. He went 7-for-13 (.538), which partly offset his 1-for-30 showing with Oakland in 1976. That fall, Time magazine described the intangible spirit Matt brought to the club:
"He developed baseball's equivalent to spiking a football: Whenever he reached home plate, he would turn around and dance across it backward.
"Each time he earned applause from his teammates and an understanding smile from Tanner. 'Just because you play baseball for a living doesn't mean it has to be a job,' he says. 'You ought to have fun playing in the big leagues just like you did when you were a little kid, because the more you enjoy it, the better you play.'"13
Everything broke right for the Pirates that year. Alexander recalled how the manager won games with some unorthodox tactical maneuvers. He pointed to a game at Three Rivers Stadium on August 5. Steve Nicosia had gone 4-for-4 that afternoon, but Tanner lifted him for pinch-hitter John Milner with the score tied 8-8, the bases loaded, and two out in the ninth inning. Phillies manager Danny Ozark then pulled righty Rawly Eastwick in favor of southpaw Tug McGraw. Even so, Tanner stuck with the lefty Milner. Chuck kept his reasons close to the vest with the newspapers, but as Alexander told it in retrospect, the skipper knew that McGraw's screwball would break away from "The Hammer." Milner then won the game with a grand slam as McGraw eschewed his out pitch for a fastball.
Alexander made one appearance in the National League Championship Series against the Reds. Running for Tim Foli in Game One, he scored the go-ahead run in the 11th inning as the Pirates won, 5-2. An Associated Press photo shows him leaping with joy as Willie "Pops" Stargell's three-run homer off Tom Hume left Riverfront Stadium.
Rain postponed the start of the 1979 World Series, but Alexander put the skills he'd learned the previous year to use. "Matt Alexander, the Pirates' running specialist, was . . . engrossed in his role as resident barber, cutting the hair and trimming the beards of Dave Parker, John Milner, Bill Madlock, Manny Sanguillén, and Mike Easler."14 A UPI photo captured Alexander wielding his electric clipper as Parker relaxed with a cloth around his neck.
Alexander also appeared just once in the World Series; Orioles catcher Rick Dempsey caught him stealing in the ninth inning of Game Two. The Pittsburgh Post-Gazette noted, "You could almost hear Matt Alexander turn feverish for another chance to try. . . . 'Dempsey was the first catcher to throw me out this year. I was going against the elements. It was raining and the basepaths were wet. I do respect Dempsey, but it will only be after this Series that I can say whether he's good, average, or great.'"15 Alexander stayed in to play left field for the remaining half-inning of the game but saw no further action after that.
In 2004, Chuck Tanner looked back on his champion club after a quarter-century. He said, "We had 25 MVPs on the team because everyone contributed to the cause."16 There were many different sides to that team, and one of them was spiritual. Catcher Manny Sanguillén said, "I think our club has the most Christians." Alexander added, "We act like fools but we worship together and play ball together."17
Alexander, who attends the club's reunions every five years, emphasized the family atmosphere as he reminisced 30 years later. "It was guys who hung out together, guys that could communicate together. It was wild and crazy, like a zoo. You had to be there. But when it was time to go play, it was serious business. And when we won, it was such a release of pressure."
He also provided insight on the leadership of captain Willie Stargell — "a great person," said Alexander, and it's not a word he throws around lightly. "I caught him on the downside, he had bad knees and couldn't run so good. I helped him stretch his hamstrings and back, I used to sit on his back. But his presence made you feel good. He could talk to you and you would listen. He was funny. He showed us what it was like to play hurt. And he could still hit. The sound of the ball off his bat, it was like a shotgun."
"Pops" would also award stars to deserving players to affix to the old-timey pillbox caps the team wore in those days. "You'd be looking forward to getting a star. You had to earn it, do something real good. I got a few, for stealing 'the money base.'" That wasn't the only reward Alexander got from Stargell. "One time in L.A., we went to this little town, and there was a tailor shop. He told me to pick out a suit, any fabric. It was a $600 suit back then. I still got it!"
Alexander was with another Liga Mexicana del Pacífico champion in the winter of 1979-80, Hermosillo. He played only 15 games that winter, though, as he injured a hamstring. He remained with the Pirates throughout the 1980 season, maintaining both his specialty roles: pinch-runner and clubhouse barber. "Alexander charges $5, $10, and $15 for haircuts. 'The price depends on the size of the head and how much hair the player has.'"18 At the end of the year, Pittsburgh sent him to Triple-A Portland, which he accepted, although he had a right to refuse the assignment.
In 1979, he had stated, "Young guys coming up need to play. I wouldn't want to block a young guy's chance to get to the major leagues."19 Two years later, though, it was different. "Being a champion and having a ring," said Alexander in 2009, "it was taking a step back. But I knew I was a professional, I knew I needed to make a living. I got my pension time and I got my ring, and I wasn't playing a major role." Alexander got into 27 games at Portland, which also used mainly veterans such as Rusty Torres and Dave Augustine. He returned to Pittsburgh for part of May and September 1981.
That winter he played ball in a new nation: Venezuela. In 31 games with Navegantes del Magallanes, he stole 15 bases while batting .230 with one home run and 9 RBIs. "It was tough," he said, "a better league than Mexico, a higher level of competition. I didn't play well, and they released me. They are serious there. But I'm still glad I went."
At the end of spring training in 1982, on March 29, the Pirates sold Alexander's contract to the Mexico City Tigres. He remained there for the next two seasons, setting a league record in steals with 73 in 1983 (since surpassed) while batting .312. "Mexico City also had a nice park, like the big leagues, and drew well," he says. Even so, he wound up leaving after the '83 season, for a most unusual reason.
"We made the playoffs, but the owner's son, who ran the club, got killed in a helicopter crash. The owner [Alejo Peralta] was superstitious and thought all the Americans his son [Eduardo] had brought in were bad luck. He got rid of the imports."
Alexander split 1984 between Veracruz and Toluca and then retired before the 1985 season. "I was kind of burned out," he said in 2009. "I was trying to pay on both ends, home and Mexico, and the money's not that great. I was 38, it's hot, and I like to play hard. And even though we had a custom bus with six or seven beds, there was the travel. It took a toll. I had an offer with the Mexico City Reds, but I turned it down."
In 1986, he noted some other pros and cons of playing in Mexico. Positive memories included "breaking the record, learning Spanish and learning to live in another culture." On the flip side, he observed, "Make sure you get everything in your contract, and be sure the contract terms are understood by everyone."20
Alexander "was offered a coaching position in Mexico, but turned it down in order to continue his search for a position as an instructor, coach, or minor-league manager with a major-league organization."21 He had shown initiative in this area with the A's, helping Vida Blue with his pickoff motion and Mitchell Page with stealing bases. "I never got one [a coaching spot]," he said. "I think I went the wrong way — I tried the front door. I sent a résumé to all the organizations and thought I'd get a bite. But I never heard anything. In baseball, it's who you know."
After retiring from baseball, Alexander returned to Shreveport. In 1989, at age 42, he came back for one appearance with the Winter Haven Super Sox of the short-lived Senior Professional Baseball Association. True to form, he scored as a pinch-runner. "The Senior League was amazing because guys could still play!" He recalled. "I worked out at second base, but turning a double play in practice, I came down wrong and pulled a calf muscle. It never got right. I went home for a month and then they called me back, but I hurt it again. So I never got a chance to do much."
"I worked odds and ends for several years, and then I got a job at Libbey Glass in Shreveport in 1992. I stayed there 15 years and then retired. In 2008, I got a job driving a van for the handicapped, dropping them off to medical appointments and things like that. I'll have to quit that when I start drawing Social Security, though."
Matt and Rose Marie were divorced around 1990; they had two children, Yolanda and Matthew III. Matt married Andrea Faultry in 2002 and has two stepsons named Kiera and Cameron.
Alexander remained involved with baseball in Shreveport after his playing days ended. In recent years, he served as an assistant coach at Huntington High, where Albert Belle starred in the 1980s. He has also been coaching American Legion ball in his local district. When asked about the declining trend among African-Americans in baseball, he offered a varied analysis.
"It's a combination. There are so many other avenues, basketball and football. And computers — the kids are getting soft. They don't want to go out when it's hot and play hard, which is what I did when there weren't as many things to do. The kids who do play, they're not getting good instruction in the fundamentals. Now colleges are looking for five-star players who can do everything already, not kids who have to learn — and who have fear." Finally, he noted, "There's no more sandlot ball on Sundays, like blacks used to play."
In 1995, the Southwest Athletic Conference inducted Matt Alexander into its Hall of Fame. It didn't work out that way in the majors, but this good-humored man said he believes that life unfolds as it does for a reason. He summed up his career this way: "I scuffled for it, but I wound up in the right place at the right time. In baseball, somebody's got to like you. Another thing: You got to produce."
Last revised: July 24, 2015
This biography appears in "When Pops Led the Family: The 1979 Pitttsburgh Pirates" (SABR, 2016), edited by Bill Nowlin and Gregory H. Wolf.
Acknowledgments
Grateful acknowledgment to Matt Alexander for his memories (telephone interviews, June 28 and July 19, 2009). Thanks also to SABR members Lenny Yochim; Cliff Blau, whose research provided additional information (notably from the National Baseball Hall of Fame's clippings file); and Alfonso Tusa (Venezuelan winter statistics). Further thanks to Alfonso Araujo (Mexican winter statistics).
Sources
Blau, Clifford. "Leg Men." Baseball Research Journal, Society for American Baseball Research, 2009.
http://www.retrosheet.org
Professional Baseball Players Database V6.0
Treto Cisneros, Pedro, Editor, Enciclopedia del Béisbol Mexicano. Mexico City, Mexico: Revistas Deportivas, S.A. de C.V., 1998.
Araujo Bojórquez, Alfonso. Series del Caribe: Narraciones y estadísticas, 1949-2001. Colegio de Bachilleres del Estado de Sinaloa, 2002.
http://www.paperofrecord.com (various pieces of information from The Sporting News)
Notes
Born
January 30, 1947 at Shreveport, LA (USA)
If you can help us improve this player's biography, contact us.
http://bioproj.sabr.org/bp_ftp/images3/AlexanderMatt.jpg
600
800
admin
/wp-content/uploads/2020/02/sabr_logo.png
admin
2012-01-04 20:39:35
2021-04-11 05:18:29
Matt Alexander