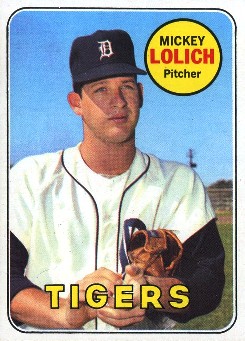 ---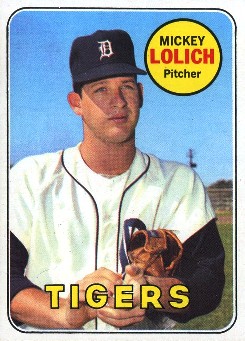 Mickey Lolich described himself as "the beer-drinker's idol." With his portly physique and likable disposition, the pitcher was popular with Tiger fans during his 13 seasons in their uniform. His talented left arm didn't hurt his cause either.
Of Yugoslav descent, Lolich was born in Portland, Oregon, September 12, 1940, the same day that Schoolboy Rowe defeated the Yankees to keep the Tigers a half-game ahead of the Indians in the American League pennant race. Lolich's father was a parks director, which kept him outside, and his kids near the parks and play equipment. Consequently, Mickey (born Michael Stephen Lolich) developed into an outdoorsman and an athlete. Lolich said that as a kid he threw rocks at "birds, squirrels, and anything else that moved."
As a result, he built a strong arm. But Lolich was initially right-handed. As a toddler, he was favoring his right arm, until one day he tipped over a motorcycle onto himself. The bike landed on his left side, damaging his left arm and shoulder. That summer he wore a cast on his arm. When the cast came off he performed exercises to strengthen the torn muscles and Lolich became a southpaw.
As a youth in Oregon, Lolich played lots of baseball, though there wasn't a major league team to follow. "The only games we would get were national broadcasts of the Yankees," Mickey said, "so I grew up idolizing Mickey Mantle and Whitey Ford in the 1950s." Later, Lolich and Ford would pitch against each other in the big leagues.
Young Mickey served as visiting batboy for the Portland Beavers of the Pacific Coast League, where he met several baseball legends, including Lefty O'Doul. Lolich also met an umpire named Emmett Ashford, who later became the first African American umpire in the major leagues.
As a teenager, Lolich pitched brilliantly for local Babe Ruth and American Legion teams, setting Oregon records for strikeouts that still stand. Lolich's 1955 Babe Ruth team played in the Babe Ruth League World Series in Austin, Texas, in 1955 and his American Legion team was in the American Legion World Series in Billings, Montana, in 1957. One pitcher who Lolich battled in amateur tournaments was Al Downing,also a left-hander, who was later signed by the Yankees.
Lolich posted a 19–5 record at Lincoln High School in Portland and signed on the dotted line June 30, 1958, for $30,000 with Tigers scout Bernie deViveiros.
In his first season in the minor leagues, playing under Johnny Pesky with Knoxville in the Sally League, Mickey weighed 160 pounds, and as he said, "was nothing but skin and bones." Displaying an independent attitude that was his trademark, one year Lolich reported late to spring training because he took the civil service exam in Portland. With his eye on a job as a letter carrier should his arm ever fail him, Mickey was making sure he had a backup plan in place. During a stop in Triple A Denver he was struck by a line drive below his right eye. Lolich was gun-shy afterward, and his pitching suffered badly.
Lolich's refusal to take a demotion inadvertently led to him learning a pitching style that in turn led to his later success in the big leagues. After three seasons of bouncing on both sides of the Double A divide, Tigers General Manager Jim Campbell asked Lolich to report to the A-ball Knoxville Smokies again in 1962. Lolich, who didn't like Smokies manager Frank Carswell, balked and instead flew home to Portland, telling the Tigers he was done. Shortly after, he toed the rubber for a semi-pro team, fanning 16 batters in relief and catching the attention of the Portland Beavers. Campbell arranged a deal to loan Lolich to Portland for the season. Pitching at home, the 21-year-old Lolich won 10 games and received pivotal advice from pitching coach Gerry Staley. A former big-league hurler, Staley advised Lolich to stop trying to fire the ball hard all the time, and to focus on throwing strikes.
Lolich pitched brilliantly in spring training in 1963 but failed to make the Tigers' roster. After a brief spell with Triple A Syracuse, Lolich was called up to Detroit in May, initially working out of the bullpen. Ironically, it may not have been his considerable fastball that enabled him to beat out other more highly touted lefties for the open spot on the roster. "That young Lolich is all business out there," Detroit vice president Rick Ferrell observed. "I like his breaking stuff." Staley's advice had paid off. Lolich was evolving from a thrower into a pitcher.
Lolich's big-league debut came May 12, 1963, in a 9–3 Detroit loss to the Cleveland Indians. He struck out the first two batters he faced, Max Alvis and Sam McDowell. Later inserted into the rotation by manager Bob Scheffing, Mickey earned his first win May 28 in Los Angeles against the Angels, going the distance. Complete games became a Lolich trademark. Later in 1963, he pitched a one-hitter for eight innings against the Baltimore Orioles only to surrender a two-run homer with two outs in the bottom of the ninth, losing 2-1 to veteran Robin Roberts. "I guess you can't beat an old pro," Mickey said philosophically.
In his first full season in the Detroit rotation in 1964, helped by a tip from new Tigers skipper Charlie Dressen (who had replaced Bob Scheffing in June of the previous season), Lolich won 18 games with a 3.26 ERA and 192 strikeouts in 44 games, 33 of them starts. As a scout with the Dodgers the previous season, Dressen had noticed that Lolich was tipping his pitches and helped the left-hander fix the flaw. In his windup, Lolich had been raising his arms higher when he threw his fastball and lower for breaking pitches. Mickey adopted a new windup and continued to show that he was more than just a fastball pitcher.
"Lolich's fastball is so good that he can get away with a mistake once in a while," Dressen said. "But the big difference is that he comes in with the curve when he's behind the hitter."
On April 24, 1964, Lolich fired a 5–0 shutout against the Twins in Minnesota, his first shutout in the big leagues. On September 9, he fulfilled a dream when he shut out the Yankees and his idol Whitey Ford, 4–0, at Tiger Stadium. American League batters began to take notice of the 23-year-old. "Lolich throws so easy," Yankees slugger Mickey Mantle observed. "He keeps the ball down," said Leon Wagner of the Cleveland Indians, "that's why he's so good." Over a stretch in September, Mickey pitched 30.2 consecutive scoreless innings.
During the season, Lolich met Joyce Feenor, an airline stewardess from Hollywood, Florida, and the two were married on November 21. Mickey credited Joyce with his breakout season. "I called her each night before I pitched, and I called her after every game."
The following year, Lolich's 15 wins were surpassed by only three other AL lefties—Jim Kaat, McDowell, and Ford. His 226 whiffs ranked second in the league—the fist of four times he would be runner-up in that category (he led the league once). "I know I have some good years ahead in Detroit," Lolich said after the 1965 campaign. "I don't want to be an average pitcher. I want to be among the best." On May 29, Lolich twirled a 10-inning complete game two-hitter to defeat the Indians 1–0 at Tiger Stadium.
In 1966, Lolich struggled to get into a groove, battling inconsistency all season as he posted a 14–14 mark and saw his ERA inflate to 4.77. However, he did become the first Tigers pitcher since Hal Newhouser to win opening day starts in back-to-back seasons.
By the end of the 1967 season, which saw Detroit battle for the pennant until the final day of the campaign, Lolich was establishing himself as one of the finer hurlers in the league. He finished the season with 28.2 scoreless innings. "That's the best left-hander I've seen all year," Boston slugger George Scott said after Mickey fanned 13 Red Sox batters late in the season at Tiger Stadium. Even curmudgeon Eddie Stanky, the White Sox manager who once tagged Lolich as a "second-line pitcher," compared the southpaw to Hall of Famer Lefty Grove.
A member of the Michigan Air National Guard, Lolich missed 15 days due to military service in 1967, seeing action during the riots in Detroit that served to fuel racial tensions in the city. After suffering a 10-game losing skid in the middle of the season—his 5.09 ERA during this stretch was one cause, but his teammates scored just 18 runs—Lolich roared through his last 11 starts, going 9–1 in the process. He threw 87.2 innings in those 11 starts, allowing only 50 hits and 18 walks while striking out 81 and posting a 1.33 ERA. Lolich credited pitching coach Johnny Sain, who became a good friend of his, with helping him become a complete major league pitcher. Sain's laid-back approach and his reluctance to run his pitchers appealed to Mickey.
Gradually filling out his frame, Lolich accumulated a noticeable belly, which some observers called flabby, but which he insisted, half-serious, was "all muscle." Tigers manager Mayo Smith called him "my sway-backed left-hander."
"I do have a big tummy, I'll admit," Lolich once said. "There's nothing I can do about it. It's my posture. When I'm going good, nobody says anything about it. If I lose a few games they start saying I'm out of shape."
In 1968, the Tigers had the best team in the American League, coming from behind to win several games on the way to the pennant. Teammate Denny McLain won 31 games that year, overshadowing another fine season by Mickey (17–9, 3.19 ERA, 197 Ks), who actually had been pulled from the rotation in early August for poor performance. He had six appearances out of the pen before returning to the rotation. But after going 10–2 to close the season, Lolich took center stage in the World Series.
The Tigers squared off against the St. Louis Cardinals, the defending world champions. After McLain lost Game 1 to Cardinal ace Bob Gibson, Lolich righted the ship by winning Game 2, 8–1 on a six-hitter. In that game, Lolich hit a home run off Nelson Briles in his first at-bat—amazing considering he was a career .110 hitter with no regular season homeruns. "I wish I could pitch against hitters like me all the time," Lolich once quipped about his lack of offensive prowess.
In Game 5, with Detroit trailing three games to one in the Series, Lolich outdueled Briles again, winning 5–3 in his second complete game. Cardinals speedster Lou Brock admitted that Lolich was tough, saying it was hard to pick up the delivery until the ball was almost on top of the plate.
Detroit won the next game in a rout to set up a seventh game match between Gibson and Lolich, both of whom had two wins in the fall classic. Detroit erupted for three runs in the seventh inning and Mickey went the distance to win, 4–1, on just two days' rest. In the game, Lolich picked off two runners—Brock and Curt Flood—in the bottom of the sixth inning as he stymied the favored Redbirds. The southpaw had become the 12th pitcher to win three games in a World Series, and the last (as of 2014) to win three complete-game Series contests in one year.
"I didn't know how long I could go," Lolich recalled. "After the fifth inning, Mayo looked at me every inning and I would tell him I was okay. Then, when [they] got me some runs in the seventh, I told Mayo I would finish it."
As MVP of the World Series, Lolich earned a new sports car. "I hope it has a stick shift," said Lolich, a car and motorcycle lover known for his fondness for going fast. In fact, during most of his career in Detroit, Lolich traveled the 33 miles from his suburban home to Tiger Stadium on his motorbike on the days he pitched. Another perk for the Series hero: Vice President Hubert Humphrey invited Mickey and Joyce Lolich to watch the liftoff of Apollo 8, the first mission to the moon. Lolich was already a space buff; he arranged annual tours of the space center at Cape Kennedy for Tigers players and their wives during spring training.
His performance in the 1968 Series seemed to buoy Lolich. In 1969 he won 19 games and earned his first All-Star selection. His 271 strikeouts were the third-highest total in Detroit history, trailing only Denny McLain's 280 in 1968 and Hal Newhouser's 275 in 1946. Twice in '69, Lolich fanned 16 batters in a game, his career high.
In 1971 Lolich shattered that team mark for Ks as he racked up 25 victories and finished second in Cy Young Award voting to Vida Blue. His 308 strikeouts paced the league, he started 45 games and completed 29, and he logged an incredible 376 innings pitched. "I don't like to hold back," Lolich said of his stamina. "I have a God-given good arm."
Lolich credited part of his success in 1971 to the addition of the cut fastball, a pitch that Sain had been trying to teach him for years. Warming up one day in spring training, Lolich noticed his fastball dipping and moving in unusual ways and realized he had finally gotten what Sain had been preaching. Armed with his new pitch (which some batters mistakenly assumed was a slider because it moved down and away so much), from 1971 through 1974, Lolich reached the 300-inning mark every season. The lefty used an unusual method to keep his arm fresh in order to rack up all those innings.
"I never used ice. I would stand in the shower after a game and soak my pitching arm under hot water for 30 minutes," Mickey explained. "The water was scalding hot. After 30 minutes [my arm] would be red, but it would feel fine and I'd be throwing on the sidelines in two days. I never had a sore arm."
Lolich was nearly as effective in 1972, winning 22 games as he helped lead the Tigers back to the postseason. In his final start of the regular season, the lefty dominated the Red Sox at Tiger Stadium, fanning 15 batters to vault Detroit ahead of Boston by a half-game. As usual, Mickey was a workhorse, pitching 41 games, completing 23, and hurling more than 300 innings. He finished third in Cy Young voting behind Gaylord Perry and Wilbur Wood. In the playoffs against the A's, Mickey pitched brilliantly, posting a 1.42 ERA in two starts, but he lost one game and got a no-decision in the other as the Tigers took Oakland to the limit before losing the decisive Game 5.
Through most of his career, Lolich was a two-pitch pitcher. He threw his fastball in the low to mid-90s and relied on a curveball to set it up. In 1971, he added the cut fastball which he could throw in a few different ways to have it dip or move in or out. Regardless of what pitches he used, Mickey's philosophy was simple: stay ahead of the hitters and let them get themselves out.
"I tried to throw two of my first three pitches to a batter for strikes," Lolich said. "I was like, 'Here, hit it.'"
But his fastball was hard to hit, and Lolich went on to fan more batters (2,679) than any other lefty in American League history, a record that still stood in 2007, more than three decades after he tossed his last pitch in the league.
"I can't throw as hard as Sam McDowell and a lot of guys," Lolich said early in 1966. "Dave Wickersham showed me something two years ago. He doesn't throw hard at all. [He's] got control and he makes the hitter go after his pitch. That's what I have to do."
Lolich captured 16 victories in both 1973 and 1974, and on May 25, 1975, he defeated the White Sox, 4–1, in a rain-shortened seven-inning game at Comiskey Park for his 200th career victory. But the season was one of frustration for the veteran left-hander.
Mickey suffered one of the worst stretches of offensive support in baseball history in the second-half of 1975. While the Tigers were on their way to their most dismal season in more than two decades, Lolich pitched effectively but had little help. Over the course of 14 starts from July 11 through September 13, Mickey received a total of 14 runs from his offense! Not surprisingly, Lolich's record was 1–13 during the stretch, which included a 19-game losing streak by the Tigers. When Mickey toed the rubber on July 11, he was 10–5 with a 3.31 ERA. When he lost the last of the 13 games during the 14-game stretch, his ERA was just 3.88, but his record had sagged to 11–18. He won his next start September 20—his teammates scored five runs for him—but it was his final game in a Detroit uniform.
After the season, Lolich was dealt to the New York Mets for Rusty Staub in a trade that was unpopular with Tigers fans. Mickey never took to the Big Apple and never moved his family there. During his one season as a Met, he battled with the trainer and pitching coach, who wanted him to run and treat his arm with ice. Lolich balked at the advice. He managed a decent 3.22 ERA for the Mets, posting an 8–13 record in 1976. His biggest highlight in a Mets uniform came July 18, 1976, when he fired a two-hit shutout over the Braves at Shea Stadium in which he fanned four and did not walk a batter.
At the end of the 1976 season, fed up with New York, Lolich retired in order to get out of the last year of his two-year contract. After sitting out a year, Mickey signed with the San Diego Padres, who pursued him and gave him a two-year deal. While playing with the Mets, Lolich had enjoyed visiting San Diego and felt it would be a wonderful place to finish his career. With a young Padres club he performed well in 1978 out of the bullpen, going 2–1 with a 1.56 ERA in 20 games. The following season, Lolich introduced a new weapon to his pitching arsenal: the knuckleball. After an inconsistent 1979 season, Lolich retired and returned to his home in Michigan.
For several years, Lolich ran a doughnut shop in the Detroit suburbs of Rochester and Lake Orion before selling the business and retiring to his homes in Oregon and Michigan with his wife, Joyce. In retirement, Lolich remained active in charitable work and served as a coach at the Tiger Fantasy Camp in Lakeland, Florida, nearly every year. His hobbies included biking, shooting, archery, and ham radios, and briefly during his playing career he took pilot lessons, played the banjo, and sang on stage in Las Vegas.
In 2003, Lolich was one of 26 players selected to the final ballot by the Hall of Fame's Veterans Committee. He received 13 votes, placing him far below the 75 percent required for election. Again in 2005 and 2007, Lolich was one of the few players to appear on the Hall's Veterans ballot, but he fell far shy of enshrinement.
Lolich won 217 games in his 16-year career, fanning 2,832 batters in 3,638.1 innings. He was named to the All-Star team three times, and earned the 1968 World Series Most Valuable Player Award for his historic performance and three victories over the Cardinals. He completed nearly 40 percent of his starts, and hurled 41 shutouts.
Sources
Detroit Tigers Yearbooks, 1961–1975.
Harrigan, Patrick. The Detroit Tigers: Club and Community, 1945–1995. Toronto: University of Toronto Press. 1997.
The Sporting News: September 5, 1956, p. 17; September 18, 1957, pp. 18–19, 22; June 24, 1959, p. 36; December 20, 1961, p. 41; May 16, 1962, pp. 27, 36; August 11, 1962, p. 40; April 25, 1964, p. 41; September 19, 1964, p. 11; November 14, 1964, p. 5; May 8, 1965, p. 15; January 15, 1966, p. 12; January 22, 1966, p. 12; October 7, 1967, p. 22; December 30, 1967, p. 31; May 18, 1968, p. 3; October 19, 1968, p. 7; October 26, 1968, pp. 8, 12; June 7, 1969, p. 13; May 2, 1970, p. 13; April 3, 1971, p. 27; June 12, 1971, p. 21; May 22, 1971, p. 9; November 13, 1971, p. 40; November 18, 1972, p. 51; June 23, 1973, p. 11; February 23, 1974, p. 32; February 15, 1975, p. 38; May 3, 1975, p. 13; August 2, 1975, p. 15; September 27, 1975, p. 16; October 25, 1975, p. 26; December 27, 1975, p. 53; January 17, 1976, p. 36; March 6, 1976, p. 50; May 22, 1976, p. 3; August 19, 1978, p. 13; April 14, 1979, p. 48; May 17, 1980, p. 19; July 26, 1980, pp. 9, 20; October 31, 1981, p. 19; December 31, 1984, p. 11
Mickey Lolich player file; National Baseball Library (various clippings)
Holmes, Dan. Interview with Mickey Lolich; January 2004, Lakeland, Florida.
Holmes, Dan. Telephone interviews with Mickey Lolich; September 2006 and May 2007.
www.retrosheet.org
Note
This article originally appeared in the book Sock It To 'Em Tigers–The Incredible Story of the 1968 Detroit Tigers, published by Maple Street Press in 2008.
Photo Credit
The Topps Company
Born
September 12, 1940 at Portland, OR (USA)
If you can help us improve this player's biography, contact us.
http://bioproj.sabr.org/bp_ftp/images3/LolichMickey.jpg
600
800
admin
/wp-content/uploads/2020/02/sabr_logo.png
admin
2012-01-04 19:49:39
2012-01-04 19:49:39
Mickey Lolich