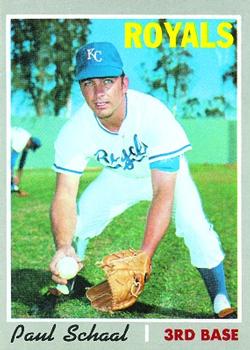 ---
When George Brett incurred some nuisance back problems in the late stages of his career with the [Kansas City] Royals, he sought relief from a chiropractor in Overland Park[, Kansas]. On one of his first visits, perhaps the first, Brett lay face down on the table — vulnerable, as he recalls — waiting for treatment, when he remembers hearing something like this:
"George Brett, I don't like you. I'd still be playing if not for you. I wouldn't be a chiropractor if it wasn't for this (jerk)."
The culprit, Paul Schaal, laughs as he remembers making it sound more threatening:
"You took my job from me at third base, remember that? [Now] . . . I'm going to . . . get even."1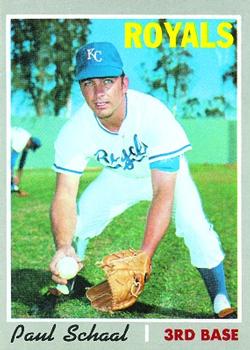 The potentially apocryphal tale above stems from the Royals trade of Schaal to the California Angels on April 30, 1974 to make room for their future Hall of Famer third baseman. Four months later the Angels optioned Schaal to the Triple-A Omaha Royals before unceremoniously releasing him in October, thereby ending his 11-year major league career. "I know how fast it can go," an ever-stoic Schaal remarked two years earlier. "One day you're on top of it and the next day its gone . . . I can handle it."2
Paul Schaal (pronounced SHAWL) was born on March 3, 1943, the eldest of two sons of Paul Carl and Madeline J. (Morgenstern) Schaal in Pittsburgh, PA.3 In the mid- to late-1940s Paul's father, the son of German-Austrian immigrants, moved the family to Compton, CA, 15 miles south of Los Angeles. Paul and his brother attended Compton High School which boasts several famous alums including Hall of Famer Duke Snider. Schaal constructed a brilliant prep school athletic resume including all-Southern California honors as a third baseman while helping lead the Compton Tarbabes to a state championship. Shortly after his high school graduation in 1962 Schaal bicycled to the Sawtelle section of Los Angeles to tryout with the Angels. Nicknamed "Rag Doll" by the scouts because of his slovenly appearance after an approximate 18-mile ride, Schaal's dress was quickly eclipsed by the athletic skills he displayed. Signed by scout John H. "Pete" Peterson to a $4,000 bonus negotiated by his father, Schaal set out for Davenport, Iowa to play Class-D ball with the Quad City Angels in the Midwest League.4
His impact was immediate when, in route to a circuit leading .928 fielding percentage for third basemen, Schaal established a Midwest League record 28 straight games without an error to start a season. "When it comes to fielding, Schaal might be another Brooks Robinson," an Angels executive later opined.5 But the 19-year-old did not limit himself to his fielding expertise alone. He placed among the league leaders in at-bats (453), hits (126), total bases (189) and RBIs (73) while pacing the circuit in runs (109) and doubles (34). Advanced to the Class-A San Jose Bees in 1963, Schaal's .328 batting average in just 381 at-bats earned selection to the California League's All-Star team as a third baseman (he also played 14 games at second base) despite missing nearly a quarter of the season (presumably due to injury).
But success proved far more fleeting for Schaal in 1964 when, following a promotion to the Triple-A Hawaii Islanders in the Pacific Coast League, the right-handed hitter batted just .239 through the three-quarter mark of the season. The slump was likely due to Schaal adjusting to second base—the only time in his career in which third base was not his primary position. He rebounded to finish with a 49-for-144 surge that earned him a September call-up to the Angels.
On September 3, 1964, Schaal made his major league debut at Dodger Stadium, the Angels' temporary venue. Batting first in the lineup Schaal, in his first at-bat, sent a delivery from New York Yankees rookie righthander Mel Stottlemyre to the deepest regions of right field before it was hauled in by right fielder Roger Maris. Schaal came to the plate three more times throughout the game, once against reliever Pete Mikkelsen, but was unable to get the ball out of the infield as he took the collar in a 4-2 Angels win. The next day Schaal got his first major league hit, a single against future Hall of Famer Robin Roberts, during a three-run uprising that helped the Angels to coast to a 7-1 win over the Baltimore Orioles. Though he finished with just three hits in his next 26 at-bats, Schaal impressed Angels management with his work in the field as a starter and reserve at second and third base. "He's got great hands and a strong arm," Angels manager Bill Rigney observed. "[He'll] warrant a long look next spring."6
A long look did not translate into simply handing the starting third base job over to Schaal. When he reported to the Angels 1965 spring training Schaal was one of nine players competing for the job at the hot corner. Having spent a portion of the 1964-65 offseason in the Arizona Instructional League, Schaal's winter work paid off when he batted .351 in Cactus League play to capture the starting job. During the offseason Schaal, at the club's request, had added 10 pounds to his thin frame as the Angels attempted to convert the 5'11", 165-pound contact hitter into a 20-homer per year pull-hitter. The strategy worked through the first seven weeks of the regular season as Schaal led his team with eight home runs and 20 RBIs. This was before big-league pitchers discovered that he was trying to pull pitches on the outside of the plate. Unable to adjust to a steady diet of outside pitches thereafter, Schaal got just one homer and 25 RBIs throughout the remainder of the season. In October, he was selected as the third baseman on the Topps Chewing Gum's annual Rookie All Star team despite a disappointing season ending .224/.310/.313 batting line in 483 at-bats. A month later the Angels, unsure whether Schaal would be able to hit major league pitching on a consistent basis, signed veteran third baseman Frank Malzone to a free agent contract. Concurrent with the signing was the end of the one-year experiment to convert Schaal into a pull-hitter.
Throughout winter ball in Puerto Rico and again in the Angels 1966 spring training—the latter under the watchful eye of the club's hitting instructor Joe Gordon—Schaal returned to the spray hitting techniques that had served him well in the past. He is our "most improved player . . . [in] spring training," Rigney exclaimed.7 Though the long ball was no longer his primary focus, Schaal got the first home run in newly opened Anaheim Stadium during an April 10 exhibition against the San Francisco Giants.8 A month into the regular season Schaal appeared poised to expunge concerns about his consist hitting when he sported a .302 average in his first 43 at-bats. But far less success ensued over the next three months as a prolonged slump, combined with a hand injury suffered around midseason, eventually relegated Schaal to a utility role. It took the advice of veteran first baseman Joe Adcock, who advised Schaal to change his batting grip, before the slump was finally broken. Moved into the leadoff spot following a 14-for-39 surge at the end of August, Schaal responded with an even stronger surge in September to finish the season with a modest .244/.362/.365 line in 386 at-bats.
The Angels had remained in pennant contention through much of the first half of the 1966 season and the club tried to ready itself for another run after a busy 1966-67 offseason. Rigney envisioned Schaal playing a significant role atop the expected explosive offense as the club's leadoff man. "We're going to ask a lot of Paul this year," the skipper said in February 1967. "[A]nd from what I saw during the last month of last season, I'm convinced he's ready to produce for us."9 Though the 1967 Angels would finish closer to first place than at any time in their first 17 years of existence, Schaal would play no significant role in this achievement as he struggled to maintain a batting average above the Mendoza Line. Once again relegated to a utility role, Schaal got just 10 at-bats over a three-week span ending August 7 before he was optioned to the Class-AA El Paso Sun Kings in the Texas League. Returning to the Angels when roster expanded in September, Schaal made only five appearances, including his first major league start at shortstop, before the season came to a merciful close.
Convinced that he would be traded to another team during the offseason, Schaal travelled to Caracas, Venezuela to resurrect his career in winter ball. Reporting to the Angels 1968 spring training with renewed confidence after a strong Venezuelan League season, he reclaimed the club's starting third base job after rookie Aurelio Rodriguez, Schaal's presumed replacement, struggled in Cactus League play. Only in the context of a league average .230 during The Year of the Pitcher that Schaal's .231 through April appears reasonable. Far less reasonable was the downward spiral that began in May, a plunge that included an 0-for-21 run through early June. Schaal was finally beginning to show signs of coming out of the slump when his season essentially ended on June 13 when, in the fourth inning of a game against the Red Sox in Boston's Fenway Park, he was struck above the left ear by a pitch from righthander Jose Santiago. Carried from the field on a stretcher, Schaal was rushed to a hospital where examinations revealed a punctured eardrum and a one-inch fracture of the skull. Released from the hospital on June 24 despite some hearing loss (some of which proved permanent), Schaal was ordered by the physicians to avoid play for at least one month. He was reinstated with the team on July 29 and made two pinch-hit appearances in August before dizziness from the head injury sidelined him for the rest of the season. On October 15, Schaal, who was left unprotected by the Angels in the MLB expansion draft, was selected by the Royals in the 27th round. "[I] thought something like this (being drafted) would happen," Schaal said. "I've had four bad years at the plate with the Angels . . . and I guess they'd seen enough of me."10
Reunited with Joe Gordon, now the Royals manager, Schaal was tried at third and second base during the club's inaugural spring training before being assigned to the Triple-A Omaha Royals in the American Association. Attracting attention from the parent club after opening the 1969 season with a lofty .415 average on the strength of a 14-game hitting streak, Schaal was recalled by the Royals in May as an emergency fill-in when second baseman Jerry Adair was briefly sidelined. Returned to Omaha after Adair resumed play, Schaal continued hitting American Association pitching at a blistering pace—something he credited to a wider batting stance. The Royals again recalled him to the parent club after Schaal captured the honors as the best minor league third baseman in June (as determined by the Topps Chewing Gum Company). Throughout the remainder of the season Schaal earned the bulk of play at third base for the Royals while the former incumbent, Joe Foy, became the club's super-sub, playing every position except pitcher and catcher. A four-game hitting streak in May stretched into a career-best 12-game run through July 12 as Schaal paced the Royals with a .326 average in his first 89 at-bats following his return. Though far less success ensued over the last two months of the season, an issue of greater concern arose when the generally surehanded third baseman struggled in the field—especially with pop flies. "[I] looked like . . . some kind of clown routine," Schaal cracked years later.11 A problem attributed to dizziness from the beaning of the previous season, he spent a portion of the offseason in the Arizona Instructional League to correct the matter. Around this same time Schaal's strongest proponent, manager Joe Gordon, was dismissed, replaced by Charlie Metro.
Despite a strong 1970 spring training, Schaal was relegated to a reserve role with the Royals after Metro moved slugger Bob Oliver, who had lost his job to newly acquired centerfielder Amos Otis, to third base to try to improve the Royals feeble offense (last in runs in the AL during the previous season). Schaal got only 24 starts (12 at second base or shortstop) before the Oliver-as-third-baseman experiment ended shortly after Bob Lemon took over for Metro in June. Installed as the Royals primary third baseman throughout the remainder of the season, Schaal finished with several career highlights: on August 13, he got his first career four-hit game, followed 11 days later by his first 4-RBI game. In between, his fifth inning triple on August 17 was the only hit that stood between Washington Senators hurler Jim Hannan and a no-hitter. The triple marked the first of 29 hits in 100 at-bats that helped lift Schaal to a then-career high .268 average in 380 at-bats.
In February 1971, Schaal reported early to the Royals spring training to launch what would prove to be his finest season in the majors. Situated among the league leaders with a .301 average through May 19, the self-described "singles and doubles hitter" would also place among the triples leaders through mid-June.12 Moreover, Schaal appeared to reserve his best outings at Boston's Fenway Park, the location of his near career-ending beaning three years earlier. He batted .375 with one homer and seven RBIs in 24 at-bats to help the Royals sweep all six games in the friendly confines, the first time the Red Sox were swept at home in 16 years. When Royals GM Cedric Tallis discovered that Schaal's name had been left off the AL All Star ballot, he asked, "What makes an All Star? . . . "An excellent all-around player, right? Well . . . Schaal ha[s] been just that for us."13 On September 16, for the second straight season, Schaal played the spoiler again when he lined a seventh inning double to right field to deprive Angels southpaw Clyde Wright of a no-hit bid. A .323/.412/.525 batting line in September earned Schaal the Royals Player of the Month award and he finished the season with career-high marks in nearly every offensive category, including a club record 103 walks. Moreover, he joined Angels infielder Sandy Alomar as the only AL players to participate every one of their team's games throughout the season. The only downside for Schaal was an inexplicably league leading 28 errors, the first of two seasons in which he led the circuit in this ignoble category.
In March 1972, Schaal negotiated a hefty raise from the Royals as he prepared for another productive season. On June 4, he got his only career grand slam—the last in the 49-year history of Kansas City's Municipal Stadium—during a 7-5 win against (who else?) the Red Sox. Two weeks later Schaal established a franchise record 213 consecutive games played before a leg injury placed him on the bench. And on August 13, Schaal was credited with two of the three putouts during the Royals first triple play in franchise history. Unfortunately, these events proved to be three of the few highlights Schaal experienced during an injury-marred season that held him to a meager .228 average in 435 at-bats.
During the offseason the Royals, unsure of their future with Schaal, pursued Cleveland Indians third baseman Graig Nettles before settling on separate trades for Kurt Bevacqua and Hal McRae—the pair having played just 21 major league games between them at the hot corner through 1972. The matter proved to be irrelevant after Schaal fended off all newcomers with a strong 1973 spring training. He played through another season of nagging injuries, this time to his legs and wrist, to finish the season with a respectable .288/.389/.399 line in 396 at-bats. Despite this rebound Schaal's days in Kansas City appeared numbered when George Brett made his major league debut on August 2.
While Schaal was undergoing ankle surgery during the winter of 1973-74, rumors were rampant that the Royals would trade him to clear space for Brett. The non-trade proved to be prescient when the future Hall of Famer was sent to Omaha in April after struggling through Cactus League play. When the regular season began Schaal, who along with pitcher Al Fitzmorris were the only expansion draftees to serve continuous with the Royals into 1974 season, appeared ready to make Brett's recall a moot point with two doubles, a homer and three singles in his first 19 at-bats. Unfortunately, this was followed by an 0-for-15 drop that, combined with a flu that sidelined him for six games, relegated Schaal to the bench. On April 30 the Royals traded him to the Angels for reserve outfielder Richie Scheinblum.
Since slugger Ken McMullen's departure after the 1972 season the Angels had used no fewer than nine players at third base. When Schaal arrived in Anaheim he was immediately asked to stabilize the hot corner. He held down the position until July when the Angels, under the direction of newly installed skipper Dick Williams, moved incumbent shortstop Dave Chalk to third base after prospect Orlando Ramirez was called up from the minors. Schaal made just eight appearances (five starts) over a three-week span ending July 17. The next day, in what proved to be his last major league appearance, Schaal entered the seventh inning of a game against the Baltimore Orioles as a pinch-hitter and drove in the tying run. He remained in the game and, in his last at-bat, struck out against reliver Don Hood. Shortly after, the Angels attempted to option Schaal to the Triple-A Salt Lake City Angels in the PCL. When he balked at the assignment, the Angels worked out an arrangement with the Royals to allow Schaal to finish the season in Omaha. After the Angels released him in October, he retired with a .244/.341/.344 line in 3,555 major-league at-bats.
One of the reasons Schaal had requested a move to Omaha was to be closer to Kansas City where he had established strong roots. After several failed unions he married Independence, Missouri native Monica L. Hendrix.14 During his playing career Schaal had dabbled in the air conditioning business and real estate and automobile sales with little success. With reference to the latter, Schaal cracked years later that he had "sold four [cars] in three months '[a]nd three of them were to relatives."15 In 1974, at the urging of Kansas City native and former Angels teammate Bill Kelso, Schaal opened a pizza parlor in Overland Park. Several years later, after talking with a student from a local chiropractic college, Schaal enrolled at the same college. Four years later, with a degree in-hand, he opened the Schaal Health and Wellness Center. He maintained the practice until 2010 when he and Monica abruptly moved to Hawaii. Schaal opened another smaller practice in Waikoloa, Hawaii until his passing in 2017.16
On September 1, 2017, Schaal died "after a lengthy battle with cancer . . . He was 74."17 He was survived by his wife Monica, a daughter from his first wife, and his brother. Schaal was cremated.
Sources
In addition to the sources cited in the Notes, the author consulted Ancestry.com and Baseball-Reference.com. The author wishes to thank SABR Scouts Committee Chair Rod Nelson member Bill Mortell for research assistance, and Tom Schott for review and edit. The biography was fact-checked by Stephen Glotfelty.
Notes
1 Vahe Gregorian, "Meet Paul Schaal, the third baseman George Brett replaced," The Kansas City Star, July 31, 2013. http://bit.ly/2r1bJoS. Accessed January 13, 2018.
2 Rosemarie Ross, "Tough Going? Paul Schaal Knows How to Handle That," The Sporting News, April 22, 1972: 15.
3 The ballplayer appears to have had several half-siblings from marriages that both preceded and followed Paul and Madeline's union.
4 A second source incorrectly identified Rosey Gilhousen as the scout.
5 Ross Newhan, "Angels Seek Deal to End Power Shortage at Third," The Sporting News, November 28, 1964: 21.
6 Ibid., "Bashful Bo Hot Swap-Shot Item; Angels Listening," ibid., October 24, 1964: 13.
7 Ibid., "Angels' Schaal Curbs the Urge to Go for HRs," ibid., May 7, 1966: 11.
8 Schaal is also credited with the first inside-the-park homer in the stadium on August 2, 1966.
9 Ross Newhan, "Schaal Wins a Promotion; He's Angel Leadoff Batter," The Sporting News, February 18, 1967: 34.
10 John Wiebusch, "Mincher Excited, Dismayed on Leaving Angels for Pilots," ibid., November 2, 1968: 30.
11 Vahe Gregorian, "Meet Paul Schaal, the third baseman George Brett replaced," The Kansas City Star, July 31, 2013. http://bit.ly/2r1bJoS. Accessed January 13, 2018.
12 "Classy Kaycee Combo," The Sporting News, May 22, 1971: 29.
13 Joe McGuff, "Royals Turn Purple Over Rojas' All-Star Snub," ibid., June 12, 1971: 13.
14 Though reports indicate that Ms. Hendrix was Schaal's ninth wife, SABR researcher Bill Mortell could only verify three prior marriages.
15 Vahe Gregorian, "Meet Paul Schaal, the third baseman George Brett replaced," The Kansas City Star, July 31, 2013. http://bit.ly/2r1bJoS. Accessed January 13, 2018.
16 "Practitioners: Paul Schaal," Quantum-Touch. http://bit.ly/2F3NWGO. Accessed January 22, 2018.
17 Rustin Dodd, "Former Royal Paul Schaal, the man who George Brett replaced, dies at 74," The Kansas City Star, September 2, 2017. http://bit.ly/2Dt4KYp Accessed January 13, 2018.
Born
March 3, 1943 at Pittsburgh, PA (USA)
Died
September 1, 2017 at Waikoloa, HI (US)
If you can help us improve this player's biography, contact us.
https://sabr.org/sites/default/files/SchaalPaul.jpg
600
800
admin
/wp-content/uploads/2020/02/sabr_logo.png
admin
2018-02-06 14:28:55
2020-04-09 14:40:24
Paul Schaal