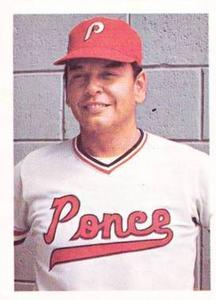 ---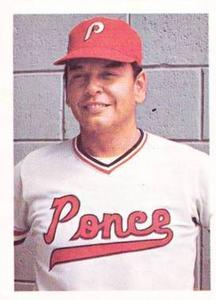 Ramón "Wito" Conde spent just over a month in the majors, in July and August 1962. At age 27, he got into 14 games for the Chicago White Sox and went hitless in 19 plate appearances. Conde had earned but did not get a big-league trial before that, and he was never called up again, even though he remained deserving for his skills with both the bat and glove.
Yet the Puerto Rican's brief stay with the White Sox was just one facet of a long career in baseball. He played 17 seasons in the minor leagues and 20 in winter ball in his native land, amassing 3,025 hits as a professional.1 Conde's primary position was third base, but he played all the other infield spots and the outfield as well. After his playing days ended in the winter of 1971-72, he became a coach, manager, scout, and executive. The Sports Hall of Fame of Puerto Rico inducted him in 2009.2
Ramón Luis Conde Román was born in Juana Díaz, Puerto Rico, on December 29, 1934. His nickname, Wito, is a diminutive of his middle name, Luis. (An alternate spelling, Güito, is not what the man himself used.)
Conde's father, Ceferino "Cefo" Conde, played in the Puerto Rican Winter League (PRWL) for 14 seasons, from the league's inception in 1938-39 through 1952-53. Along with his pitching, Cefo is remembered for a baseball aphorism: "Lo importante es llegar a primera" — "What's important is to get on first."3
The 1940 census shows that Cefo and his wife, Rosa Román, had five children, of whom Ramón was the fourth. The others were daughters: Luz Aurelia, Rosa María, María Ramona, and Minerva.4 However, other siblings may have been born after 1940, and it may also have been a blended family (Rosa was several years older than Cefo).
The Condes are kin to one of Puerto Rico's best-known baseball families, the Alomars. Cefo's cousin, Rosa Conde, married Demetrio Alomar, and they had four sons who played pro ball. One of them, Sandy Alomar Sr., made it to the majors, as did his sons, Sandy Jr. and Roberto.
It's no surprise that Conde's first contact with baseball came as he accompanied his father to games.5 At age 14, he began to play in Puerto Rico's Double A classification, the top local amateur level. However, he had to go to Coama, a town to the east. He asked rhetorically, "Where was I going to play in Juana Díaz?" His hometown boasted one of the strongest teams on the island, Los Poetas (Juana Díaz is known as "The City of Kings and Poets").6 Cefo Conde had starred for this club before the PRWL was launched.
Conde remembered going with his father to the first Caribbean Series in Havana in 1949.7 Cefo was then pitching for the Mayagüez Indios, who were the PRWL's champions that season and thus represented Puerto Rico in the tournament against the region's other winter-ball champs.
In 1951, Conde became part of the Puerto Rican team that won the gold medal in the Amateur World Series, held that year in Mexico City.8 He made his debut in the PRWL during the winter of 1952-53. He joined the Ponce Leones, with whom he spent the first six-plus seasons of his career at home. It's not surprising that Ponce became his first pro team, because Juana Díaz is a very short way east. In fact, young Ramón had been a Leones batboy.9 However, it could well have been Mayagüez, his father's team for many years, or the Caguas Criollos, for whom Cefo was still pitching that year.
When fully grown, Conde stood 5-feet-8 and weighed around 170 pounds. At the age of 18 in 1953, he signed with the White Sox, but it was the first time he'd been away from his parents. He missed them and came home rapidly, before the season started.10 The following year, though, he took an offer from the New York Giants for a bonus of $1,500. The scout was Pedrín Zorrilla, owner of the Santurce Cangrejeros (Crabbers).11 Zorrilla, one of the most important figures in Puerto Rican baseball history, was a friend of Giants owner Horace Stoneham and brought the team many local players over the years.
The Giants assigned Conde to Sioux City in the Western League (Class A). His first roommate was future All-Star first baseman and National League president Bill White. In his 2011 memoir, Uppity, White noted tension between the African-American and Hispanic players and recalled that Conde quickly asked for another roommate. As White remarked, it was a function of "the complicated racial atmosphere of the time" in the United States.12
Conde's original position in the minors was shortstop. "Sioux City's Puerto Rican pepper pot" was good enough there to be named to the Western League's All-Star team at the end of the 1954 season, ahead of Maury Wills (then a Pueblo Dodger).13 However, he seldom played short after 1955, and remained stuck at Class A for most of the next three seasons (he was promoted to the Class AA Texas League for part of 1955). He hit for good averages and showed some extra-base pop, though he did not hit many homers and stole very few bases. Slowness afoot was later cited as a main reason Conde did not get a thorough test in the majors.14
In either 1956 or 1957, Conde joined Orlando Cepeda, Felipe Alou, and José Pagán in spring training, and that became one of his favorite memories. The Giants were early to recognize the mother lode of talent in Latin America; as Conde told it, Juan Marichal was there, too.15 However, Marichal first signed with the Giants in September 1957 and did not play in the U.S. until 1958, by which time Conde was out of the organization. On December 2, 1957, the Kansas City Athletics selected him from the Giants in the minor league draft. He never played a game in the A's organization; in April 1958, Kansas City's affiliate in Buffalo optioned him to Tulsa, a farm club of the Philadelphia Phillies.16
The 1958 season marked Conde's return to Class AA, but he wasn't in the Phillies chain long either. The Los Angeles Dodgers bought his contract that August. Conde played the remainder of that summer and the next for Victoria in the Texas League. His fielding percentage at third base won him the Rawlings Silver Glove Award in 1959.17 Conde clearly had good hands and an accurate arm, but his range was likely not tremendous. Yet he appears to have had quick reflexes, like Brooks Robinson.
Ponce traded Conde to Caguas during the 1958-59 winter season, during which he hit only .188. He then joined Mayagüez in the winter of 1959-60, and in a dramatic turnaround, enjoyed by far his best season at home. He was the PRWL's Most Valuable Player, batting .336 (second only to Vic Power) and leading the league with 58 RBIs in just 63 games. Roberto Clemente, whom Conde thought was the most complete player he ever saw, also had a fine year, yet he was the runner-up in the MVP balloting.18 Conde remained with the Indios for more than eight seasons, until returning to Ponce partway through the winter of 1967-68.
Conde then stepped up to Triple-A, playing the next two summers (1960 and 1961) for Spokane, the Dodgers' affiliate in the Pacific Coast League. He remained very steady at third base, winning his second and third Silver Gloves. His capable hitting also continued, with batting averages of .325 and .289 and slugging percentages of .435 and .404.
Nonetheless, Los Angeles did not give Conde the big-league trial that he deserved. Jim Gilliam remained the regular at third base in 1960, and Gilliam shared that duty with Daryl Spencer and Tommy Davis in 1961. One insight into the Dodgers' thinking came during spring training in 1961. An Associated Press report described Conde accordingly: "He is regarded as a borderline case, good enough to play in the big leagues but just not good enough to make the Dodgers." Nonetheless, the team's chief scout, Andy High, noted Conde's good arm and said, "He should be playing in the big leagues somewhere."19
That article echoed what Dodgers coach Pete Reiser had said a few months earlier: that Conde was "the best defensive third baseman in baseball and could play on a dozen major league clubs." Many, including Los Angeles general manager Buzzie Bavasi, were surprised that no club had selected him in November 1960's major league draft. However, the GM admitted that he had bamboozled other teams by exposing Conde. "If you're willing to give up a player," said the sly Bavasi, "the other clubs think that there's something wrong with him."20
Conversely, Conde was not on the list of eligible players for the National League's expansion draft in October 1961.21 He just couldn't catch a break. A player the Dodgers did make available, Bob Aspromonte, became the regular third baseman for the next six years for one of the new clubs, the Houston Colt .45s. Felix Mantilla, a fellow Puerto Rican five months older than Conde, escaped a logjam in Milwaukee and got a chance to play regularly at third for the other expansion team, the New York Mets.
Conde took part in regional competition in February 1962: the Inter-American Series, which replaced the Caribbean Series for four years after the latter tourney went on hiatus following the 1960 edition. Santurce won the PRWL championship that winter, featuring Bob Gibson, whom Conde rated as the toughest pitcher he ever faced.22 However, the 1962 Inter-American Series featured two Puerto Rican teams because it was held in San Juan. Mayagüez, the other playoff finalist, was the second local entry.23 Thus, Conde was on the field in the last pro baseball games played at charming little Sixto Escobar Stadium.
As High and Reiser had suggested, Conde's big-league opportunity came with a change of scenery. He went to the White Sox organization in March 1962 along with Jim Koranda in exchange for Andy Carey. Carey had previously been traded to the Phillies, but he and his wife decided that he would play only for either of the Los Angeles teams, the Dodgers or Angels. A three-way deal was struck, with Cal McLish going from Chicago to Philadelphia.24
Conde started the 1962 season with Triple-A Indianapolis, There he supplemented his fine fielding with the best hitting of his career. In his first 83 games, he hit .350, leading the American Association; he had 12 homers and 75 RBIs. Conde earned his promotion to the majors, effective July 12. The White Sox sent down third baseman Charley Smith to replace him.25 It was ironic because they'd been teammates at Spokane in 1960, and Smith had gotten shots with the Dodgers in both 1960 and '61. Indeed, in December 1960, The Sporting News observed, "Smith is the boy the Dodgers hope can make it at third base in 1961," also noting that L.A.'s scouting director, Al Campanis, had Conde playing second base in Puerto Rico.26
Conde made his big-league debut on July 17 in the first game of a doubleheader at old Comiskey Park. He started at third base against the Washington Senators; on the mound was fellow Puerto Rican Juan Pizarro. Although Conde went 0-for-3, in the fourth inning he made "a dazzling stab of a sizzling low liner by Chuck Hinton that spun him halfway around."27
Conde started just one other game (12 days later at Yankee Stadium). He appeared in five other games in the field, substituting for Al Smith and Sammy Esposito. Otherwise, he pinch-hit eight times, drawing three walks and driving in one run with a groundout. His last game in the majors was at Cleveland on August 14; he played the last inning at third in a 9-0 White Sox rout.
Shortly thereafter, Chicago released him outright to Indianapolis. White Sox beat writer Edgar Munzel called it "one of the most heartbreaking experiences a rookie ever suffered."28 Looking back in 1966, Conde said, "It rained the first five days after I went up and we didn't even get batting practice. When I finally started a game, my timing was off." The righty swinger also noted his lack of opportunity against lefty pitchers.29
Conde offered a different recollection in 2012: "I sent myself down." White Sox manager Al Lopez had told Conde that he'd stay in Chicago but not play, so he decided to go. His relationship with the skipper wasn't good. Conde said he got caught up in problems between his roommate, Luis Aparicio, and Lopez.30 When the White Sox traded Aparicio away less than five months later, Edgar Munzel said that the shortstop had lost his hunger for the game and landed in Lopez's doghouse.31 Al Smith, part of the same deal, accused Lopez of fostering dissension on the club.32
After returning to Indianapolis, Conde still had a chance to qualify for the American Association batting title.33 An injury prevented that, but he still finished with a .353 mark for the A.A. pennant-winners.34
Conde was part of his first Puerto Rican champion team in the winter of 1962-63. It was his first of two titles with Mayagüez (the other came in 1965-66). Thus, he got into the Inter-American Series again. On February 8, 1963, against Venezuela, Conde helped preserve Juan Pizarro's no-hitter, the only one in the tournament's history. On a hit-and-run play in the first inning, Elio Chacón (who had walked) took off for second. Ángel Scull hit a line drive toward the spot that Conde, who was covering, had vacated. But Conde reached back and made a one-handed stab. He also starred at bat, with three hits in four trips.35
Conde also joined the San Juan Senadores for the Inter-American Series of 1964. San Juan, which featured Clemente, reinforced its squad with three other Puerto Rican stars: Cepeda, Pagán, and Pizarro. The series was held in Managua, Nicaragua, and "as far as the Nicaraguan fans, writers and players were concerned, the San Juan team was invincible. But Nicaragua's Cinco Estrellas club won five of their six games to claim the title."36
In the U.S., Conde remained at Indianapolis from 1963 through mid-1967. He hit .304 over this span while playing second base, left field, and first base as well as third. Injuries restricted him to just 77 games in 1964; he suffered a broken nose from a two-hop smash on May 10, and on May 27, he tore a muscle in his right shoulder when he tumbled after making a beautiful play on a bunt.37 Al Lopez managed the White Sox through 1965, possibly hindering Conde's bid to return to the majors. Even so, his play in 1963, '65, and '66 was worthy of another shot, despite not having a settled position. Conde also showed his ability to endure injuries in 1966. Because of a bad shoulder, he played mostly at first base that summer despite his lack of height.38
The Indianapolis Star provided a glimpse of the Conde family in July 1966. Conde's wife Ana (whose name was Anglicized as "Ann") found little trouble moving between Puerto Rico and Indianapolis. She and Ramón then had four children. The oldest, ten-year-old Ramón Jr., was making his father proud as star pitcher and batter of his Little League team.39
The following month, Dave Overpeck of the Indianapolis Star wrote a feature on Conde (by then 31) and his lack of opportunity at the top level. "You'd think a man who has hit .312 through six seasons of Triple-A baseball would get more than a 14-game shot at the major leagues. So does Ramón Conde, but. . .time is against him now. Conde hasn't given up hope. . .but can't understand why he hasn't had a good shot at a major league job. 'I don't know,' he says in a soft, Spanish-accented voice, 'they tell me I don't have the speed. My wife and I sit down and look at all the players I have played with that have already gone up. They didn't hit as well as I did then and they aren't hitting that well now. It is hard to understand,' he says wistfully, not bitterly."40
Indianapolis manager Les Moss said that Conde's best bet would be some team that needed a right-handed pinch-hitter and utilityman. Overpeck concluded, "That's what Ramón is playing for — one more shot. He thinks some place in the majors there is a team that he can do some good. And there must be a lot of people who have seen him perform with the Indians these last five seasons who agree with him. Unfortunately no one in the majors seems to go along. The odds are against it and deep down Ramón knows it, but maybe Conde's break will yet come. I hope so. He deserves it."41
The White Sox optioned Conde to Syracuse in the International League, then a New York Yankees farm team, in July 1967.42 After returning to the Chicago organization in 1968, Conde was assigned to Evansville in the Southern League. That marked his first step back to Double-A ball since 1959. He was released on May 15, but just five days later, the Cincinnati Reds signed him. Indianapolis had become a Reds affiliate that year, so he returned to the Indians.43
Ponce won back-to-back PRWL championships in 1968-69 and 1969-70. The veteran Conde contributed off the bench, especially in 1969-70, when he got 22 hits in 57 at-bats (.386). He served mainly as manager Jim Fregosi's pinch-hitter deluxe. As the historian of Puerto Rican baseball Thomas Van Hyning wrote, "Ponce fans still talk about Conde's base hit off Santurce's Fred Beene to give them a dramatic win in Game Six of the [1970] finals and the championship." The single came with the bases loaded in the bottom of the 12th inning (Beene went the distance for Santurce), and the final score was 3-2.44 The Leones therefore represented Puerto Rico in the Caribbean Series, which was revived that year.45
Conde also aided Ponce's success in 1969-70 by landing Indianapolis teammates Bernie Carbo and Wayne Simpson. Carbo led the PRWL in RBIs, while Simpson won the Triple Crown of pitching. Conde told Van Hyning, "Owner Yuyo González told me Caguas was after Carbo and Simpson. I talked with Bernie and Wayne about playing for Ponce. They decided to join after the minor league season."46
Conde brought character to the squad, too. As Ponce sportswriter Pedro Carlos Lugo put it, "He was there when we needed him and set an example for everyone."47 In 2018, Wayne Simpson added, "Wito was such a quiet leader who loved the game, both in Indy and Ponce. He was a coach on the field. He would tirelessly work with the players. He was always sweating! Working with the fungo bat hitting ground balls to the infielders."48
The 1970 season was Conde's last in the U.S. minors. As of late March, he was "in Puerto Rico waiting for the telephone to ring" after the Cincinnati organization had released him.49 As a result, he played in the Mexican League for the only time, going 20-for-77 (.260) in 21 games with the Saltillo Saraperos. Yet by mid-May, he was back in Indianapolis once more, working out with the Indians and proclaiming, "I'm in good shape."50 After appearing in 14 games, mainly as a pinch-hitter, he stepped down to Asheville in the Southern League in July, serving the Tourists as a player-coach.51
Conde's last action as a player, three at-bats, came with Ponce during the PRWL's 1971-72 season. The Leones became league champions for the third time in four years. Conde stands eighth in the league's lifetime ranking for hits (960) and seventh in at-bats (3,636). He drove in 400 runs and hit 21 homers to go with his .264 average.
After retiring as a player, Conde's love for baseball cooled for a while. He worked as a supervisor of sports in the southern part of Puerto Rico. The job offer came from the territory's governor from 1969 through 1973, Luis A. Ferré, who was a good friend of Cefo Conde's. Around 1974 or 1975, Conde got married for the second time, to Evelyn Montero. All told, he became the father of nine children.52
Conde's baseball career was by no means finished, however — especially in Puerto Rico. As a scout, he covered the island for the Reds in the 1970s, signing at least one major-leaguer in Rafael Santo Domingo.53 He also assessed local talent for the Minnesota Twins (in the late 1980s), the Cleveland Indians (1990 through 1994), and the Milwaukee Brewers (1996 through 1998).54 In addition, his grassroots activity was visible as he managed Poetas de Juana Díaz to a national championship in 1978.55 That team included Ramón Conde Jr. (a.k.a. "Witty"), who went on to be a manager in Puerto Rican Double-A ball himself.
Conde was a coach in the PRWL with Mayagüez and Ponce in the 1980s and 1990s, but was never given the opportunity to manage.56 Outside of Puerto Rico, he was a skipper in Mexico for parts of two seasons: 1981 with the Tabasco Plataneros and 1986 with the Unión Laguna Algodoneros. In between those stints, he also managed briefly in the U.S. minors. With the Chicago Cubs organization, in 1985 he led Wytheville, their rookie-ball team in the Appalachian League.
Of particular note, Conde became an executive in the PRWL. He was Ponce's general manager starting in 1997, also serving as club president in 2008.57 The Leones won two league titles during this period, in 2003-04 and 2008-09. He enjoyed those championships greatly, calling them a tremendous experience.58
Conde was Ponce's GM through the 2009-10 season. After one more winter in that organization (in a different role), he became GM in Mayagüez for the 2011-12 season.59 In November 2011, the New York Daily News quoted him about the possibility that 49-year-old Roger Clemens might come back to pro ball with the Indios (the Rocket's son Koby had signed with Mayagüez as a first baseman). Conde said, "We have a beautiful stadium by the ocean that seats 15,000. Clemens would put a few thousand people in the seats. The door is open."60 It didn't happen, in part because Koby Clemens left the team soon thereafter.
Mayagüez became league champions in 2011-12, yet just 18 months later the Indios completely turned over their front office. Conde was replaced as GM by Frankie Thon (brother of Dickie Thon) but remained with the club as a talent evaluator.61 He was supposed to return as Ponce's GM for the 2014-15 season, but unfortunately, the club withdrew from the league for economic reasons. The loss of one of the original franchises was quite a blow to local fans. Conde said, "Ponce is definitely lamenting. I can't go to the shopping center or anywhere because the people won't leave me in peace about baseball matters."62
The devastating Hurricane Maria, which struck Puerto Rico in September 2017, had a profound impact on the lives of the island's people. Nonetheless, Conde was still doing well in his eighties and was active on social media such as Facebook. Previously, he attributed his long life and good health to not drinking or smoking, being a homebody, and staying active in baseball. He expressed his gratitude simply: "Everything that I have, I owe to baseball. I've had a beautiful career. I love this game."63
Ramón Conde died from a heart attack on February 23, 2020. He was in West Palm Beach, Florida. True to form, he was visiting to enjoy exhibition season baseball.
Last revised: February 24, 2020
Acknowledgments
Thanks to Jorge Colón Delgado, who interviewed Sr. Conde on April 4, 2017, and to Luis Rodríguez Mayoral. Continued thanks to Wayne Simpson.
This biography was reviewed by Jan Finkel and fact-checked by Chris Rainey.
Sources

Other interviews
Frank Otto interviewed Ramón Conde on August 7, 1992. The Spanish-language audio file is in the archive of SABR's Oral History Committee.
Books
José A. Crescioni Benítez, El Béisbol Profesional Boricua, San Juan, Puerto Rico: Aurora Comunicación Integral, Inc., 1997. Ramón Conde's complete PRWL record is not visible in this book, just select numbers, but Sr. Crescioni's database survives. Jorge Colón Delgado provided Conde's year-by-year statistics.
Pedro Treto Cisneros, editor, Enciclopedia del Béisbol Mexicano, Mexico City: Revistas Deportivas, S.A. de C.V.: 11th edition, 2011.
Notes
1 The breakdown: 2,045 in the U.S. minors, 960 in the Puerto Rican Winter League, and 20 in the Mexican League.
2 "Entre los inmortales del deporte nacional," La Perla del Sur (Ponce, Puerto Rico), October 20, 2009.
3 Enos Slaughter gave an almost identical quote, but Cefo Conde's probably came first.
4 1940 census record, accessed via ancestry.com.
5 "Entre los inmortales del deporte nacional."
6 Ibid.
7 "Matrimonio Feliz," El Nuevo Día (San Juan, Puerto Rico), January 22, 2012.
8 "Entre los inmortales del deporte nacional."
9 "Holland a Prospect," Des Moines Register, September 8, 1954, 14. This article also mentioned that during his first pro season, Conde immediately recognized one of the opposing managers in the Western League, Les Peden of Des Moines, because Peden had played for Ponce.
10 "Matrimonio Feliz."
11 Frank Otto, personal interview with Ramón Conde, August 7, 1992.
12 Bill White with Gordon Dillow, Uppity, New York: Grand Central Publishing, 2011.
13 "Bush, McQuillen and Linden Named to WL Second Team," Lincoln (Nebraska) Journal and Star, September 12, 1954, 14.
14 Max Greenwald, "Conde's Return Is Good News for Tribe Hopes," Indianapolis Star, April 4, 1967, 27.
15 "Matrimonio Feliz." Alou signed with the Giants in late 1955.
16 "Deals of the Week," The Sporting News, April 23, 1958, 26.
17 Clifford Kachline, "McCord Repeater on Minors' Glove All-Stars," The Sporting News, December 23, 1959, 19.
18 "Matrimonio Feliz." Thomas Van Hyning, Puerto Rico's Winter League, Jefferson, North Carolina: McFarland & Company, 1995: 62.
19 "Draft Surprise," Associated Press, March 8, 1961.
20 Hank Hollingsworth, "Sports Merry-Go-Round," Long Beach Independent, November 29, 1960, 16.
21 Stephen D. Boren and Eric Thompson, "The Colt .45s and the 1961 Expansion Draft," The National Pastime, Society for American Baseball Research, 2014.
22 "Matrimonio Feliz."
23 "San Juan Host to Second Inter-American Tourney," The Sporting News, February 7, 1962, 35.
24 Bob Hunter, "Dodgers' Blue-Chip Flag Stock Skyrockets in Swap for Carey," The Sporting News, April 4, 1962, 22.
25 "Smith for Conde," Indianapolis Star, July 13, 1962, 21.
26 Bob Hunter, "Top Rookie Howard Old Pro Performer as Gateway Flasher," The Sporting News, December 7, 1950, 28.
27 Edgar Munzel, "Hitting Letdown Ruins Pickup in Chisox Pitching," The Sporting News, July 28, 1962, 15.
28 "Conde Hitless in 17 sic Trips," Sent Back to Indianapolis," The Sporting News, September 1, 1962, 11.
29 Dave Overpeck, "Once Over Lightly," Indianapolis Star, August 15, 1966. The Chicago Tribune's weather forecasts and reports for those days do jibe with Conde's memory to an extent, showing some shower activity. However, the White Sox still played home games on each day from July 12 through July 15; after an off-day on Monday, July 16, the twi-night doubleheader the next day was scheduled, not the result of a rainout.
30 "Matrimonio Feliz."
31 Edgar Munzel, "Luis Lost Zest, Earned Berth in Lopez Doghouse," The Sporting News, January 26, 1963, 19.
32 Wes Singletary, Al Lopez: The Life of Baseball's El Señor, Jefferson, North Carolina: McFarland & Company, 1999: 209.
33 "Tight Squeeze for Conde," The Sporting News, September 1, 1962, 32.
34 Les Koelling, "Injuns Streak to Repeat Pennant on Late-Inning Lightning Bolts," The Sporting News, September 15, 1962.
35 "Pizarro Hurls No-Hitter," The Sporting News, February 23, 1963, 43.
36 Van Hyning, Puerto Rico's Winter League, 66.
37 "Coast Clippings," The Sporting News, May 23, 1964, 42. "More Misfortune for Conde," The Sporting News, June 13, 1964, 46.
38 Van Hyning, Puerto Rico's Winter League, 127.
39 "Wives of Indians Become Baseball Fans or Else," Indianapolis Star, July 24, 1966, 84.
40 Overpeck, "Once Over Lightly."
41 Ibid.
42 "Deals of the Week," The Sporting News, August 12, 1967, 42.
43 "Conde Rejoins Indy," The Sporting News, June 8, 1968, 38.
44 Miguel Frau, "Ponce Prevails in Puerto Rican League Playoffs," The Sporting News, February 14, 1970, 47.
45 Van Hyning, Puerto Rico's Winter League, 128.
46 Van Hyning, Puerto Rico's Winter League, 127.
47 Van Hyning, Puerto Rico's Winter League, 216.
48 E-mail from Wayne Simpson to Rory Costello, February 16, 2018.
49 "Tribe Sweeps 1st Test, 1-0", Indianapolis Star, March 30, 1970, 27.
50 Max Greenwald, "Tribe Rallies in 9th Again, Wins, 3-1, on Plummer's Rap," Indianapolis Star, May 14, 1970, 68.
51 "Southern League," The Sporting News, July 25, 1970, 41.
52 "Matrimonio Feliz."
53 Santo Domingo's minor-league career started in 1974, and Conde scouted for the Reds at least in 1975 too. Mark Armour, editor, The Great Eight, Lincoln, Nebraska: University of Nebraska Press, 2014.
54 The citation for the Twins comes from "Matrimonio Feliz." His tenure with the Indians comes from Russell Schneider, The Cleveland Indians Encyclopedia, Champaign, Illinois: Sports Publishing LLC, 2004. His tenure with the Brewers is visible in The Sporting News Baseball Guides for 1996 and 1998 and Baseball America's directory for 1997.
55 "Entre los inmortales del deporte nacional."
56 "Matrimonio Feliz."
57 "Matrimonio Feliz." Baseball America directory, 2008. Note that the PRWL did not operate in the 2007-08 season for financial reasons.
58 "Matrimonio Feliz."
59 Ibid.
60 Christian Red, "Former Yankees star Roger Clemens continues to throw bullpen sessions in Puerto Rico," New York Daily News, November 5, 2011.
61 "Frankie Thon se une a los Indios," El Nuevo Día, August 19, 2013.
62 "Un receso que duele," El Nuevo Día, September 19, 2014
63 "Matrimonio Feliz."
Born
December 29, 1934 at Juana Diaz, (P.R.)
Died
February 23, 2020 at West Palm Beach, FL (USA)
If you can help us improve this player's biography, contact us.
https://sabr.org/sites/default/files/CondeRamon.jpg
600
800
admin
/wp-content/uploads/2020/02/sabr_logo.png
admin
2018-05-10 13:33:43
2022-04-04 13:52:10
Ramón Conde