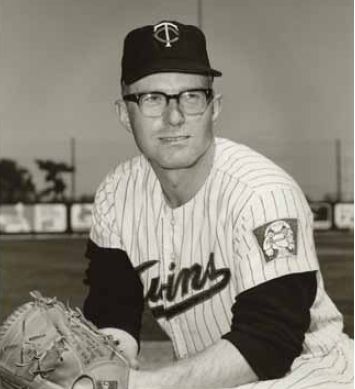 ---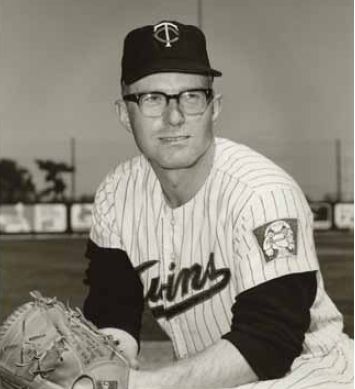 Rich Rollins' 10-year career in the major leagues included two All-Star Game appearances and playing in the 1965 World Series with the Minnesota Twins.
Richard John Rollins was born on April 16, 1938, in Mount Pleasant, Pennsylvania, near Pittsburgh. His father, a welder, was ambidextrous, and played baseball in coal mining leagues. The family later moved to the Cleveland area, where Rich played second base, third base and catcher for his Parma High School team, and playing second base for an American Legion team. He also sold popcorn at Cleveland Indians games. Commenting on his athletic ability, Rollins thought, "I knew I had to do something about my strength because I wasn't a natural. I wasn't a natural at all. We had a high school graduating class of 500 kids and I was the smallest kid in the class."1
After high school, Rollins enrolled to attend Ohio University, but then was offered a baseball scholarship to Kent State University. I had already enrolled at Ohio University when Matt Resnick, baseball coach at Kent, offered me the scholarship, even though he hadn't seen me play," Rollins once said. "I was recommended to him by Nobby Lewandowski, a pitcher in the Twins farm system who was attending Kent. Resnick and Moose Paskert, the frosh coach, helped me so much I could never repay them. They kept me going and told me I had a chance, in spite of scouting reports that I was too small (5-feet-10), couldn't hit the curveball, couldn't make the double play, and had a weak arm."2
At Kent State, Rollins was a three-time selection for the All-Mid-American Conference team at second base, and his career .383 batting average as of 2014 was bested only by Thurman Munson. Playing alongside Rollins at shortstop on the Kent State team was future major leaguer Gene Michael. After graduation Rollins planned to return to Parma High School to teach health and physical education, but things changed quickly.
There wasn't any amateur baseball draft at the time, and Rollins hadn't drawn any attention from any scout except Washington Senators scout Floyd Baker, who invited him to a tryout at Griffith Stadium in June 1960. Baker was impressed with Rollins, telling a sportswriter, "I liked his attitude. I knew he was willing to pay the price, to work hard."3 Senators owner Calvin Griffith and his scouts offered Rollins an opportunity to play for the Senators' Class D team in Fort Walton Beach, Florida. Rollins, believing that at 22 he was too old to begin in Class D, wouldn't sign unless they sent him to Class B Wilson (North Carolina).4 The scouts refused, so Rollins flew home. When he got home, a phone message from the Senators informed him that a plane would be leaving for North Carolina that evening, and he would receive a $6,000 bonus.
Rollins played under manager Jack McKeon and batted .341 in 62 games at second base for the Wilson Tobs. "And McKeon gave me a break." Rollins said. "When I reported, we had 30 players. Jack juggled the lineup by putting about 10 on the inactive list every night but kept me in there. He got a telegram telling him to send me to Fort Walton Beach but he did not want to let me go."5
Rollins spent the offseason serving six months in the Army, and his weight ballooned to almost 200 pounds. After beginning the 1961 season with Syracuse (International League) and after pinch-hitting once in three weeks, he was sent to Class A Charlotte (Sally League). Manager Ellis Clary got Rollins back in shape and improved his defense by hitting him 100 grounders a day for a week. Rollins batted .270, playing four games in the outfield before shifting to third base for the next 32 games.
The Twins called Rollins up, and he made his major-league debut on June 16, 1961, against the Chicago White Sox at Comiskey Park. In the second inning, facing Don Larsen, he flied out to right field. In the eighth inning he stroked his first major-league hit, a single off Early Wynn. Rollins got only 13 more at-bats the rest of the season, the highlight being a three-run double off the Angels' Ron Kline on July 6.  "I sat on the bench most of the time, but it was a good experience because I got to learn the ropes and what these guys were going through," he said.6.
Rollins' first season with the Twins was the final season for Twins infielder Billy Martin. Martin constantly criticized Rollins, telling him he couldn't go to his left and didn't belong on the field. Rollins said he was so incensed at Martin's comments that he was ready to punch him in the nose. "I got into more arguments with Billy Martin than anyone I ever met on the face of the earth, before or since, but the thing about Billy was the next day it was forgotten," he said.7 Martin later told Rollins' father that he rode Rollins because he knew Rollins had the talent to play in the major leagues.
During spring training in 1962, three Twins shortstops were hampered by injuries, so manager Sam Mele inserted Rollins at shortstop. He made the most of the opportunity, leading the Twins with a .400 average. When the regular shortstop, Zoilo Versalles, returned to the lineup, Rollins was moved over to third base.
Rollins had a great season in 1962 for the Twins. He batted .298 with 96 RBIs, 23 doubles, and 16 home runs, and finished eighth in the American League MVP voting. He started at third base for the American League in both All-Star Games, receiving more votes than any other player. In the first game, played at D.C. Stadium on July 10, Rollins went 1-for-2, scored a run, and was hit by a pitch. In the second game, in Chicago's Wrigley Field on July 30, Rollins went 1-for-3. In a vote by his teammates, Rollins was voted the Twins' Most Valuable Player for the season.
The 1962 season was also memorable for Rollins outside of baseball. "I was rooming in Minneapolis in '62. One o'clock at night, I get this knock on the door. I'm up reading a book; I'm the only one in the apartment and this gal is at the door, in tears, and her father had just been killed in an automobile accident. She just needed someone to talk to. She knocked on the door, and we went out for coffee. We got back at 3 o'clock in the morning, and that was the first time I met her."8 On February 9, 1963, Rollins and former United Airlines stewardess Lynn Maher of Newport Beach, California, were married. They had three sons and three daughters, who presented them with 11 grandchildren.
Expectations were high for Rollins for the 1963 season. Twins president Calvin Griffith predicted, "I think he'll have a better year in 1963 because he's intelligent and calm in every situation. He's not a flash in the pan."9 Rollins had a setback before the season started when he was hit in the jaw by a pitch from the Tigers' Paul Foytack in an exhibition game in Knoxville, Tennessee. He was unable to eat solid food for a time, and didn't make his first start in a regular-season game until April 20 against the Chicago White Sox. Despite the injury he played flawlessly in the infield through the end of the month. Because of his broken jaw, the Twins trainer, George Lentz, sat next to Rollins during team flights with wire cutters, to open Rollins' jaw if he became airsick.
Despite all the issues, Rollins finished the 1963 season with a .307 average, good for third place in the AL behind Carl Yastrzemski and Al Kaline. Before the 1964 season began, he went to the Mayo Clinic in Rochester, Minnesota, to get treated for a calcium deposit on his hip that had been bothering him. Rollins' batting average dropped to .270 in 1964, but he posted a .319 average with runners in scoring position and he led the AL in triples with 10. Rollins played in 140 games for the American League champion Twins in 1965, posting a .249 batting average. He lost his job A prized possession that Rollins took home was his champagne-drenched, ripped uniform from the pennant-winning game. In the World Series, Rollins was limited to three pinch-hitting appearances.
Harmon Killebrew started the 1966 season as the Twins' third baseman, and Rollins didn't see much action the first month of the season, batting only twice. He managed to break into the lineup in May, but slumped as a result of a virus. However, when he returned to the lineup in June, Rollins' play was so impressive that Killebrew was moved to left field. Rollins remarked, "I'm swinging as well as I ever have in my life, every time I go to the plate, I have that feeling I'm going to hit the ball hard," he said.10 On June 9 Rollins, Zoilo Versalles, Don Mincher, Killebrew, and Tony Oliva made baseball history as each hit a home run in the seventh inning against the Kansas City Athletics. Rollins slumped in July, and finished the season appearing in just 90 games, batting .245.
During the offseason, Rollins and former teammate Bernie Allen, who were already partners in the insurance business, expanded their careers by going into the snowmobile business. Although Allen had been dealt to the Washington Senators, they maintained their friendship and their business endeavors.
With Don Mincher being traded and Harmon Killebrew being moved back to first base, Rollins had a chance to win back his starting job at third base in 1967. Overcoming an infected hand that sidelined him for a week of spring training, and a badly bruised knee and bruised foot, Rollins batted .333 with six homers and 12 RBIs in 17 games, and won the third-base job. But he suffered a knee injury in April that sidelined him for three weeks, and an arthritic hip condition forced him to play in great pain. Ron Clark and César Tovar filled in at third base, but Rollins still had some big moments that season. On July 16 in the second game of a doubleheader against the California Angels, he blasted a game-winning home run in the ninth to give the Twins a 7-6 victory. He hit an eighth-inning home run to give the Twins a 3-2 victory over Washington on August 8, and he drove in all three runs in a 3-2 victory over the White Sox on August 13. Rollins played in 109 games, batting .245 in 339 at-bats.
The knee problems really frustrated Rollins. "Sometimes the pain was so bad it just didn't seem worth it to go out to the ballpark," he said.11 After the season the injury led Rollins to inform Calvin Griffith that he was going to retire. Griffith talked him into going to the Mayo Clinic, where surgeons removed lateral cartilage from his right knee, and noticed that he had an earlier torn ligament that had repaired itself. After a period of rehab, he decided not to retire.
The starting third baseman's job in 1968 was between Rollins, Ron Clark, Graig Nettles and César Tovar. Rollins had a setback during spring training when he experienced a sleepless night due to knee pain. He went to the Twins trainer Doc Lentz, and had the knee aspirated to remove fluid from it. Rollins also had a bout with intestinal flu at the conclusion of the spring.
Rollins experienced more physical setbacks during the 1968 season. On June 2, while entering Comiskey Park, a vendor's 10-gallon coffee urn overturned, scalding Rollins' right leg. On June 4 a hard-hit, bad-hop grounder off the bat of the Yankees' Andy Kosco left Rollins with a 1½-inch wound that required four stitches. In 93 games, many of them off the bench, Rollins hit only.241.
On October 15, 1968, Rollins was selected by the Seattle Pilots in the American League expansion draft. Two days later, he sold his Savage, Minnesota, home and was hopeful about getting a fresh start in Seattle. "History shows that many players have benefited from a change. I'm sure I will," he said. "I've been in Minnesota more than seven years and sank some good roots, but anytime someone invests $175,000 in you, it has to give you confidence, and confidence is something I lacked there. I welcome a change, for I am only 30, and there doesn't seem to be room for me (on the Twins)."12 Rollins, along with Chico Salmon and Don Mincher, helped promote their new team by participating in a goodwill tour caravan in the Pacific Northwest.
Rollins competed with former Yankee Mike Ferraro for the Pilots' third-base spot. He had a good spring training (9-for-10 in one three-game stretch) and started at third base in the Pilots' first ever game on April 8, 1969, against the Angels in Anaheim.
Despite the promising start, injuries plagued Rollins throughout the season. In May he had a bad back, and his knee problems persisted so frequently that he was sent home from a road trip. Rollins had surgery in July and was placed on the 60-day disabled list, effectively ending his season. He batted .225 in 187 at-bats, with 4 homers.
The Pilots moved to Milwaukee at the beginning of the 1970 season. Rollins played sparingly. After the Brewers moved Tommy Harper to third base and placed John Kennedy at second, Rollins was released on May 13. A week later the Indians signed Rollins with plans to use him as a pinch-hitter and a starter against left-handers. As it turned out, Rollins started only three games and batted .233 in 43 at-bats overall. He made his last major-league plate appearance on September 26, when he flied out against the Orioles' Pete Richert. He also helped out coaching the younger players.
The Indians released Rollins after the season. "I am not surprised to be released, but I am disappointed because I thought I would be offered another job in the organization," he said.13 The Indians said they had no jobs available for Rollins at the time.14
Rollins stayed involved with baseball by running camps, and in 1972 by pitching batting practice along with Rocky Colavito for the Indians. Later in the season the Indians hired him as a minor league instructor and scout. At the end of the season Rollins resigned to return to his sales position with the Andrews, Bartlett & Associates, a Cleveland-based company that helped stage trade shows and conventions.
In 1973 Rollins opened a baseball school for boys aged 8 to 19 at the Minnesota Bible College located in Rochester, Minnesota. His staff included former major-league first baseman Dick Siebert, who was the baseball coach at the University of Minnesota. At the beginning of the 1974 season the Indians hired Rollins as an associate scout for the northeastern Ohio area, and at the end of the season, after growing tired of the constant travel and being away from his family, he took a job directing the Indians' group ticket sales. In 1976 he was inducted into the Pennsylvania Sports Hall of Fame along with George Blanda and Arnold Palmer. He later joined the Cleveland Cavaliers of the NBA in an administrative role.
The Twins invited Rollins to Target Field for the 2014 All-Star Game and festivities. He said "I was shocked" when he saw a poster of his 1965 Topps baseball card on display outside Target Field for the festivities.15
Notes
1 Seth Boster, "Rich Rollins :Minnesota Twins' Least Likely (and most grateful) All-Star." twincities.com/sports/ci_26102931/rich rollins  July 10, 2014.
2 Arno Goethel, "Rollins Off and Rolling as Rookie Rage," The Sporting News, May 2, 1962.
3 Ibid.
4 The Sporting News, May 2, 1962.
5 Ibid.                                                                              
6 Rich Rollins interview, twinstrivia.com/interview-archives rich rollins.
7 Jim Thielman, Cool of the Evening  (Minneapolis.: Kirk House Publishing, 2005),  20.
8 Boster.
9 Arno Goethel, "Griffith Sees Even Richer Year for Kid Whiz Rollins," The Sporting News, February 16, 1963.
10 Max Nichols, "Twins Get Rich Dividends From Ever-Ready Rollins," The Sporting News, July 2, 1966.
11 Arno Goethel, "Twins' Rich Rarin' to Go; Knee Fine," The Sporting News, February 24, 1968.
12 Hy Zimmerman, "Draftees' Optimism Buoys Pilots' Hopes," The Sporting News, November 9, 1968.
13 Russell Schneider, "Hawk's Exit Likely With Chambliss' Arrival," The Sporting News, November 7, 1970.
14 Ibid.
15 Boster
Born
April 16, 1938 at Mount Pleasant, PA (USA)
If you can help us improve this player's biography, contact us.
http://sabr.org/sites/default/files/RichRollins.JPG
600
800
admin
/wp-content/uploads/2020/02/sabr_logo.png
admin
2012-01-04 20:46:39
2021-09-03 12:42:56
Rich Rollins