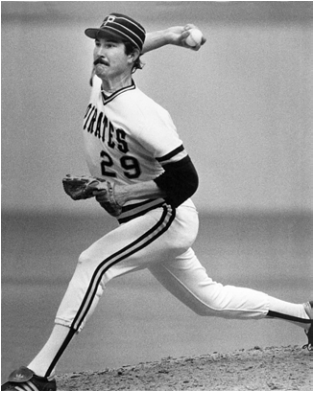 ---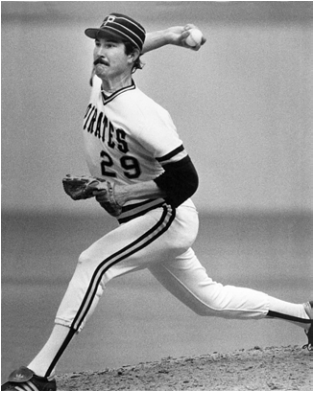 When the topic of discussion turns to great two-sport athletes who played major-league baseball during the last quarter of the 20th century, names like Bo Jackson, Deion Sanders, Brian Jordan, and Danny Ainge often come to mind. However, despite enjoying success in both baseball and golf, Rick Rhoden is often overlooked as two-sport standout. Rhoden is one of those rare two-sport athletes who excelled at an extremely high level on both on the pitcher's mound and the golf course. A scratch golfer during his baseball playing days, Rhoden pursued a professional golf career after a 16-year major-league career that saw him win 151 games for the Los Angeles Dodgers, Pittsburgh Pirates, New York Yankees, and Houston Astros.
Richard Alan Rhoden was born on May 16, 1953, in Boynton Beach, Florida. He was the younger of the two sons of Lloyd (Tom) Jefferson Rhoden Jr. and Ernestine Mathis Rhoden. Tom was one of the first firefighters for the City of Boynton Beach and an avid outdoorsman who loved hunting, a passion he passed down to both of his sons. Ernestine was a homemaker. 
At the age of 8, Rhoden injured his right knee and an infection developed into osteomyelitis, a bone infection usually caused by infection in one part of the body that is transported through the bloodstream to a bone in a distant location. Among children and adolescents, the long bones of the legs and arms are most frequently affected.1 In Rhoden's case, the ailment required him to have surgery to remove part of his knee and wear a leg brace until the age of 12.2 But by the age of 14, Rhoden was beginning to show great promise as a baseball player. At Atlantic High School in Delray Beach, he struck out 20 batters in an eight-inning game and 19 in a seven-inning contest. On the American Legion sandlots he struck out 77 batters in 36 innings.3
After graduating from high school in 1971, Rhoden was selected by the Los Angeles Dodgers in the first round of the amateur draft, and signed with the Dodgers rather than attend college. The 6-3, 190-pound right-hander was touted to have a fastball that was to make Dodger fans "forget Sandy Koufax."4 He was assigned to the Daytona Beach Dodgers of the Class A Florida State League. In an abbreviated season, the 18-year-old Rhoden made 11 starts and posted a 4-6 record with a 3.98 ERA, five complete games and one shutout, a solid start for an 18-year-old fresh out of high school.
Climbing the ladder quickly, Rhoden followed his inaugural season with a combined 13-5 record at El Paso of the Double-A Texas League and Albuquerque of the Triple-A Pacific Coast League in 1972. He spent the entire 1973 season with Albuquerque and experienced a slight setback in his climb toward the majors. In 20 appearances, 19 as a starter, Rhoden was a modest 4-9 with a 4.50 ERA before arm miseries landed him on the shelf for the remainder of the season. He returned to Albuquerque in 1974 for what would be his final full season in the minors. Rhoden made 26 starts for the Dukes and finished the season with a 9-10 mark and 4.40 ERA before a midseason call-up to the Dodgers.
Rhoden made his major-league debut in Montreal on July 5, 1974, in the first game of a doubleheader. Coming on in relief with one out and runners on first and second in the bottom of the fourth inning, Rhoden gave up a two-run single to Bob Bailey before retiring the side. He was sent back to Albuquerque and was recalled by the eventual NL champion Dodgers in September. He made three more appearances for the Dodgers, including one on September 22 in which he earned his first major-league victory when he scattered three hits and yielded just one run in six innings of relief against the San Diego Padres. 
The Dodgers broke spring training in 1975 with the 21-year-old Rhoden on the roster. He was used sparingly and pitched in only 26 games, 11 as a starter. On September 11 he tossed his first complete game, besting the Cincinnati Reds 5-2 at Dodger Stadium. He finished the year 3-3 with a 3.08 ERA in 99⅓ innings pitched.
Rhoden moved into the Dodgers starting rotation in 1976 and had a breakout season. He started 26 games and made it to the All-Star break with a perfect 8-0 record, and was named to the National League All-Star team. Rhoden didn't drop his first game of the year until August 6 and finished the season 12-3 with 10 complete games, three shutouts, and a 2.98 ERA. He pitched a scoreless eighth inning in the National League All-Stars' 4-1 victory in Philadelphia. (Rhoden was named to the NL All-Star team again in 1986, but did not pitch in the game.)
In 1977 Rhoden teamed up with Tommy John, Don Sutton, Burt Hooton, and Doug Rau to form one of the most formidable pitching rotations of the late 1970s. The five pitchers started 158 of the Dodgers' 162 games and accounted for nearly 78 percent of the National League champions' regular-season victories. The Dodgers and Rhoden got out of the gate quickly. On June 20 Rhoden became the National League's first 10-game winner. Relishing the outpouring of offensive support he received, Rhoden said after the June 20 game, "If they keep scoring like that for me, I ought to win 25 games."5 In fact, he won only six more games. For the year, he made 31 starts and finished 16-10 with a 3.74 ERA. The Dodgers cruised to the NL West title by a wide margin, and faced the Philadelphia Phillies in the best-of-five League Championship Series.
Against the NL champion East Philadelphia Phillies, Rhoden came on in the bottom of the second inning of Game Three in relief of Hooton, who had surrendered three runs to put the Phillies up 3-2 and left the bases loaded. Rhoden retired Mike Schmidt on a foul popup and went on to pitch another four scoreless innings before leaving for a pinch-hitter. The Dodgers scored three runs in the ninth to win the game, 6-5, to go up two games to one in the series, and eventually advanced to the World Series against the New York Yankees. 
Rhoden pitched twice in the World Series. In Game One he came on to start the 12th inning of a 3-3 game at Yankee Stadium. Willie Randolph greeted him with a double to deep left. The Dodgers intentionally walked Thurman Munson, then Paul Blair hit a walk-off single to left, tagging Rhoden with the loss. In Game Four at Dodger Stadium, he came on in relief of Doug Rau, who failed to retire a batter in the second. With one run already in and runners on second and third, Rhoden retired Graig Nettles on a run-scoring groundout before yielding a RBI single to Bucky Dent. Ron Guidry sacrificed, then Rhoden struck out Mickey Rivers to end the inning. 
Rhoden helped his own cause when he ignited a third-inning rally with a ground-rule double to deep left off Guidry. Davey Lopes followed with a two-run home run to center to trim the Yankees' lead to 3-2. Rhoden held the Yankees in check until Reggie Jackson added an insurance run with a home run to left-center in the top of the sixth inning. Rhoden pitched seven innings of two-hit baseball while striking out five in the final World Series appearance of his career. The Yankees won the Series in six games.
Rhoden returned to the Dodgers rotation in 1978. However, after an up-and-down four months to start the season and the emergence of 21-year-old rookie Bob Welch, Rhoden was sent to the bullpen for six weeks in August and September. For the year, he appeared in 30 games, starting 23, and finished 10-8 with a 3.66 ERA.  
The Dodgers won the NL Western Division title again and met the Phillies again in the NLCS. Rhoden's lone postseason appearance came in Game Four when he replaced Rau in the sixth inning with the score 2-2 and the Dodgers needing one more victory to win the pennant. Rhoden pitched well, going four innings and surrendering a single run on a seventh-inning home run by Bake McBride before being lifted for a pinch-hitter in the bottom of the ninth inning. The Dodgers pushed across the winning run in the bottom of the 10th and advanced to the World Series against the Yankees for the second consecutive year. Rhoden did not pitch in the Series.
With the emergence of Welch, Rhoden became expendable as the Dodgers sought to add the final pieces of the puzzle to win the World Series. Similarly, the Pittsburgh Pirates were looking to solidify the starting rotation of a star-studded club that was challenging the Phillies for supremacy in the NL East. On April 7, 1979, Rhoden was traded to the Pirates for left-handed pitcher Jerry Reuss. The Pirates were aware Rhoden was experiencing some arm troubles when they made the deal; in fact, he was not as healthy as the club thought. On May 8 Rhoden made his Pirates debut, starting against the Atlanta Braves. He yielded four runs in five innings, and after the game he was placed on the disabled list. The May 8 outing was Rhoden's only appearance for the 1979 World Champion Pirates. On June 28 he had season-ending shoulder surgery.
Still recovering from the shoulder surgery, Rhoden started the 1980 season with Portland of the Triple-A Pacific Coast League. He made 10 starts for the Beavers, going 6-3 with a 2.93 ERA. He showed that he was returning to his old form when he pitched an abbreviated seven-inning no-hitter on April 23. The Pirates recalled him in June and though he went 1-1 with an ERA of 6.00 in his first five starts, he finished strong, going 6-4 with a 3.17 ERA over his last 14 starts. All signs pointed to Rhoden being healthy and looking forward to a big year in 1981. 
A traditionally fast starter, Rhoden won his first six decisions and finished the first half of the strike-shortened season of 1981 at 6-1. Notwithstanding his fast start, he was left off the NL All-Star team and when the regular season resumed he failed to recapture his early-season form. However, he did establish himself as an integral part of the rotation, leading the pitching staff in wins, starts, innings, complete games, and strikeouts during their 102-game year. He also cemented his reputation for giving his team a chance to win when he took the mound. Teammate Bill Madlock said, "When Rick Rhoden pitches, you know you are always in the game. He keeps you within striking distance. He does it better than anyone we have on our team."6 Yankees third baseman Mike Pagliarulo echoed this sentiment six years later, saying, "(Rhoden) puts us in a position to win every time he goes out there."7
Rhoden entered 1982 with a career 13-0 record in the month of April. This year would be different. On April 15 Rhoden's older brother, Bill, 33 years old, was killed in a car accident in Charlotte, North Carolina. Despite learning of the tragedy hours before his scheduled start against the Montreal Expos that day, Rhoden took the mound and yielded only two earned runs in six innings. The 28-year-old Rhoden said, "It's the most difficult thing I've experienced in my life. It puts things in a different perspective. A lot of things you think are important, then something like this happens and suddenly they're not so important anymore."8 Rhoden went on to have an inconsistent season. He didn't win his first game until May 5 and didn't get his ERA below 5.00 until July 28. While he pitched better toward the end of the season, he finished with an 11-14 record and a 4.14 ERA despite leading the team again in starts and innings pitched and tying Don Robinson for the team lead with six complete games.
The 1983 season was an amazingly consistent one for Rhoden, who improved on his 1982 ERA by more than a run. He recorded the only save of his major-league career on April 17, pitching three scoreless innings of one-hit ball against the Chicago Cubs as he combined with John Candelaria for a three-hit shutout. Rhoden finished with a 13-13 record and a 3.09 ERA. Again he led the Pirates in innings pitched, while his 35 starts tied Larry McWilliams for tops on the staff.  
While the fortunes of the club went south and the Pirates fell into last place in the six-team NL East during the next three years, Rhoden remained an effective starter despite his requests to be traded after the 1985 season. From 1984 to 1986 he won 14, 10, and 15 games respectively and finished with a 2.72 ERA in 1984 and 2.84 and 1986. His 253⅔ innings pitched in 1986 were the most thrown by a Pirate in the decade and his 15 wins were the second highest victory total by a Bucs pitcher during the 1980s and Rhoden's most wins since 1977.
Rhoden entered the majors as a power pitcher, but after his shoulder troubles in 1979 he began to rely heavily on finesse and guile. He became a control pitcher who had great command of the ball and used craftiness and deception to work out of trouble. Consequently, he was often accused of scuffing the baseball during the latter part of his career. In 1987 American League President Bobby Brown said, "We think he's scuffing some balls but we have no proof because we haven't caught him in the act.9 According to the BaseballPage.com website, former Dodgers teammate Don Sutton took credit for teaching Rhoden how to scuff the ball.10 Rhoden, for his part, never confirmed or denied doctoring the baseball.
The accusation that Rhoden doctored the ball led to a bench-clearing brawl between the New York Mets and the Pirates in 1986. The incident occurred during the first game of a June 6 doubleheader between the two NL East foes in Pittsburgh. A fight broke out between Rhoden and former Pirates teammate Bill Robinson, the Mets' first-base coach, in the middle of the fifth inning with the Pirates leading, 2-1.11 The Mets accused Rhoden of doctoring the baseball. Robinson kept telling the Mets hitters to ask home-plate umpire Billy Williams to check the ball.12 In the top of the fifth, Gary Carter got into a long argument with Williams, and both managers showed up: Davey Johnson of the Mets to demand action and Jim Leyland of the Pirates to protect his pitcher.
Williams went to the mound to inspect Rhoden and found nothing. The alleged scuffed ball was tossed out of the game, but the Mets were not particularly pacified when Rhoden caught Carter looking on a breaking ball for strike three. Suddenly, as the Pirates were leaving the field, Rhoden began trading remarks with Robinson before the two exchanged blows as both benches and bullpens emptied to join the fray. Reflecting on the incident, Rhoden recalled it in a matter-of-fact manner, "He said something to me, and I said something back. I played with Bill. We've known each other for years, and things like that just happen in baseball."13
The Pirates finished in last place in the NL East in 1986 with a 64-98 record. While the team appeared headed in the right direction with an infusion of young talent, Rhoden continued to request a trade to a contending team. The request, according to his agent, was based largely on his desire to play in front of larger crowds and move beyond his recent divorce. On November 26, 1986, in an all-pitchers swap, the Pirates traded Rhoden, Pat Clements, and Cecilio Guante to the Yankees for Doug Drabek, Brian Fisher, and Logan Easley. Rhoden, as allowed because he was a 10-year major leaguer with five consecutive years with the Pirates, agreed to the trade only after the Yankees agreed to restructure his contract, guaranteeing the right hander $1.35 million.14 Rhoden's 79 wins during the 1980s were 25 more than any other Pirate earned during the decade.15 
In trading for Rhoden, the Yankees hoped they were acquiring a solid veteran who would fill a major hole in the rotation and help return the club to the top of the American League's Eastern Division. Despite having more than a decade of major-league experience under his belt, the 34-year-old Rhoden remained a student of the game and continued to use this to his advantage. Yankees catcher Rick Cerone tabbed Rhoden as "the most well prepared pitcher I've been around. He's observant. He asks questions. He studies the reports."16
Rhoden relished playing for a contender once again and raced out of the gate and notched 14 victories by early August. However, the Yankees' rotation had more holes than originally thought — Tommy John was 44 years old, Joe Niekro was 42, and 36-year-old Ron Guidry was winding down his career — and when Rhoden cooled off during the final seven weeks of the season, the Yankees slipped in the standings from leading their division to a fourth-place finish. Rhoden made 29 starts for the Yankees in 1987 and finished at 16-10 with a 3.86 ERA and a team-leading 107 strikeouts. 
In his second season with the Yankees, Rhoden pitched an Opening Day three-hit shutout over the defending World Series champion Minnesota Twins. It was the 17th and final shutout of his career. Rhoden started 30 games that season and finished 12-12 with a 4.29 ERA. His 197 innings pitched led the Yankees.   
Always a decent hitter, Rhoden made baseball history on June 11, 1988, when he became the first pitcher to start a game as a designated hitter since the inception of the designated-hitter rule in 1973.17 (Pitchers Fergie Jenkins, Ken Holtzman, and Ken Brett had batted in lieu of a designated hitter, but did not start as DH's.) Rhoden made two plate appearances that day, less than 24 hours after dropping a 5-3 decision to the Orioles the evening before. He grounded out to third to lead off the bottom of the third and hit a sacrifice fly in the fourth. With the Yankees leading 8-3 in the fifth, Yankees manager Billy Martin lifted Rhoden in favor of pinch-hitter José Cruz.
After the season the Yankees traded Rhoden to the Houston Astros for minor-league pitchers Pedro DeLeon and Mike Hook and outfielder John Fishel. The Astros hoped Rhoden would fill the void created by the free-agency departure of Nolan Ryan. Rhoden started seven of the Astros' first 27 games in 1989, going 0-2 with a 4.08 ERA. On May 4 he was put on the disabled list after being diagnosed with bursitis in his rib cage.18 After a rehab stint with Class A Osceola, he returned to the Astros' active roster on July 25. In the final 13 appearances of his career, Rhoden tossed only 61⅓ innings, finishing the season at 2-6 with a 4.28 ERA. After the season the Astros released him.
A three-time Silver Slugger award winner (1984-86), Rhoden hit .308 in 1976, .375 in 1980, and .333 in 1984 and at one point during the summer of 1984 he hit safely in 11 straight games, the sixth-longest hitting streak by pitcher since 1920.19 During the streak he got 16 hits in 32 at-bats. For his career he hit .238 with 9 home runs and 75 RBIs in 761 at-bats. The lanky right-hander was no less skillful with the glove. Eight times he either led or tied for the league lead in fielding with a 1.000 percentage and, at the time of his retirement, his career .989 fielding percentage ranked third among pitchers who tossed 1,500 or more innings. It has been suggested that if not for his childhood battle with osteomyelitis, which hampered his running even as an adult, he might have made the majors as a position player.
Rhoden didn't really embrace the game of golf until he became a major league. While he was with the Pirates he became an avid golfer, often playing with team equipment manager Kent Biggerstaff and team physician Jack Failia. He began to take the game more seriously after retiring in 1989. After his 41st-place finish in the 2006 US Senior Open, Rhoden said, "I never thought about professional golf [most of my life]. I stumbled into that celebrity tour when it was starting up right when I got out of baseball. I had never played in a golf tournament before those."20
A dominant player on the Celebrity Players Tour, Rhoden was a perennial tournament favorite at the American Century Championship in Lake Tahoe. He won the American Century Championship a record eight times (including back-to-back titles in 2008 and 2009), finished second five times, and third three times. He had 18 top-five finishes, and 22 top-10 finishes in the tournament and won more than 50 Celebrity Players Tour events.21 As of 2016 he was celebrity golf's all-time winner and money leader, earning more than $1 million in his career.22 Rhoden also played in 34 tournaments on the PGA Champions (seniors) Tour and qualified for the US Senior Open. In 34 starts on the Champions Tour between 2002 and 2009, he made the cut 30 times and had three top-10 finishes with career earnings of $342,428.23 As of 2016 Rhoden was active in the athlete and celebrity marketing industry, making guest appearances and endorsements.  
Despite being little more than a footnote to the 1979 Pittsburgh Pirates world championship season, Rhoden was one of the primary figures who bridged the Pirates of the 1970s with the Pittsburgh teams of the early 1990s. A top-of-the-rotation performer for the Pirates of the early to mid-1980s, Rhoden was also one of the most accomplished two-sport athletes in recent decades. 
Notes
1 webmd.com/a-to-z-guides/osteomyelitis-10585.
2 thebaseballpage.com/players/rhoderi01/bio.
3 Ron Rapoport, "Rhoden's Blazer Cuts Path to Dodgers," The Sporting News, December 15, 1973.
4 Ibid.
5 Dodgers' Rhoden Roughs Up Cards," Southeast Missourian, June 21, 1977.
6 Ron Cook, "Pirates' Rick Rhoden Just Keeps Hanging in There," Beaver County Times, June 9, 1981.
7 Bill Utterback, "Rhoden Has Ball Playing on Winner," Pittsburgh Press, August 7. 1987.
8 "Rhoden Hurls Despite Death of His Brother," Gettysburg (Pennsylvania) Times, April 16, 1982.
9 David Fink, "Rhoden Ready to Be a Star in Yankees' Constellation," Pittsburgh Post-Gazette, July 6, 1987.
10 thebaseballpage.com/players/rhoderi01/bio.
11 Joseph Durso, "Brawl Mars Split by Mets," New York Times, June 7, 1986.
12 Remembering Mets History (1986): The Bill Robinson — Rick Rhoden Brawl, centerfieldmaz.com/2014/06/remembering-mets-history-1986-bill.html.
13 Durso.
14 Murray Chass, "Yanks Get Rhoden for $1.35 Million," New York Times, November 27, 1986.  nytimes.com/1986/11/27/sports/yanks-get-rhoden-for-1.35-million.html.
15 thebaseballpage.com/players/rhoderi01/bio.
16 Utterback.
17 Joe Sexton, "Baseball; Rhoden Pitches In: A Designated Hitter," New York Times, June 12, 1988.  nytimes.com/1988/06/12/sports/baseball-rhoden-pitches-in-a-designated-hitter.html.
18 Allen Wilson, "Rhoden Struggles in Osceola for Return to Houston," Orlando Sentinel, July 20, 1989.  articles.orlandosentinel.com/1989-07-20/news/8907203346_1_rhoden-astros-boynton-beach.
19 Best Hitting Streaks by Pitchers Since 1920, baseball-reference.com/blog/archives/9814.
20 Shelly Anderson. "Rhoden Too Good for Celebrity Tour," Pittsburgh Post-Gazette, July 13, 2006.
21 tahoecelebritygolf.com/player_bios/Rhoden-Rick.html.
22 Scott Sonner, "Rhoden Wins Record 8th Celebrity Title," Arizona Republic, July 19, 2009. archive.azcentral.com/arizonarepublic/sports/articles/2009/07/19/20090719spt-tahoecelbs.html.
Born
May 16, 1953 at Boynton Beach, FL (USA)
If you can help us improve this player's biography, contact us.
https://sabr.org/sites/default/files/Screen%20Shot%202017-09-08%20at%201.50.13%20PM.png
600
800
admin
/wp-content/uploads/2020/02/sabr_logo.png
admin
2012-01-04 20:09:13
2021-06-01 17:13:27
Rick Rhoden