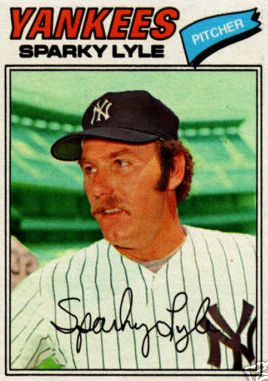 ---
"Why pitch nine innings when you can get just as famous pitching two?" — Sparky Lyle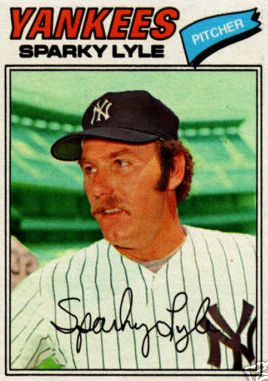 He did just that. Albert Walter "Sparky" Lyle never started a game in his 16-year major league career, has 238 career saves, and was the first American League relief pitcher to win a Cy Young Award (1977).
"I wonder what Ben Shingledecker thinks of my winning the Cy Young," says Lyle.
Born in DuBois, Pennsylvania on July 22, 1944, Lyle tried out for the hometown teener league team at the age of 13, and was told by Shingledecker, "You can't throw hard enough to be a pitcher." Feeling crushed by this Sparky played only pickup baseball around his neighborhood for the next few years.
In the small coal mining town of Reynoldsville, PA, 100 miles northeast of Pittsburgh, Albert "Sparky" Lyle was known as the Reynoldsville High School football and basketball star, named as an All-Conference end in football and recognized with an honorable mention on Pennsylvania's All-State basketball team. In the spring of his junior year in high school, he started pitching for the DuBois team of the Legion league because Reynoldsville did not have a Legion team.
When pitching for DuBois, it seemed he was always striking out 16 or 17 batters. This accomplishment made local headlines and in one game during that summer, he struck out 31 batters. He threw mostly fastballs and curve balls and ended up walking 8 or 9 batters. It was a 17-inning game, yet Lyle only pitched 14 of those 17 innings; he handled first base duties for three innings in the middle of the game. That caught the attention of Baltimore Orioles' scout George "Stopper" Staller and earned him the contract.
"Stopper" Staller had just one year of major league experience under his belt, playing outfield for the Philadelphia Athletics during the wartime 1943 season. Twenty-one years later, he signed the man who became one of the most dominant left-handed relief pitchers in all of baseball to a Baltimore Orioles contract on June 17, 1964. He did not receive any sign up bonus and earned only $400 per month.
Lyle was assigned to Bluefield in the Appalachian League and threw 33 innings there in 1964 (3-2, 4.36 ERA) before he was moved to Appleton, Wisconsin, where he finished the season for Fox Cities, the championship team in the Midwest League. There he posted an excellent 2.31 ERA, with a 3-1 record in 35 more innings of work, with a strikeout to walks ratio of nearly 3 to 1.
On November 30, 1964 the Red Sox drafted Lyle from Baltimore, to their major league roster. In 1965 the Red Sox sent him back down to the minor league. He started his second year of pro ball at Winston-Salem, North Carolina at the Double-A level. It was his toughest year in baseball, pitching only in relief, and his control was ghastly — walking in runs and having difficulty getting anyone out. Working extremely hard on his control and getting 87 innings of work (5-5, 4.24 ERA), with 79 strikeouts, and got a promotion to Boston's Eastern League farm club at Pittsfield.
After having a 5-5 season with Winston-Salem, Lyle was sent to Ocala, Florida for spring training where he met Ted Williams. After watching him pitch one afternoon, Williams asked Sparky what he thought was the best pitch in baseball. Not knowing the answer, Williams told him it was the slider, because it was the only pitch he couldn't hit consistently even when he knew it was coming. He went on to explain to Sparky how the pitch broke and what the ball was supposed to do. Adding how the ball should come in at a right-handed batter and drop down. In spite of this, he did not tell him how to accomplish this, but this gave Sparky the determination to work hard and figure that out for himself. Lyle said this meeting changed his life and he worked exhaustively on making the ball spin the right way and break. The spin wasn't as much of the challenge as the break was. Needless to say, he perfected his slider, and it remained his signature pitch for most of his career.
His manager at Pittsfield in 1966 was Eddie Popowski, who saw Sparky strike out 72 men in 74 innings and record a 3.65 ERA (4-2).
Lyle began the 1967 season with Boston's Triple A club in Toronto, but when the Red Sox sold Dennis Bennett to the New York Mets (receiving Al Yates along with cash), on June 24, 1967, they called up Lyle. With their top farm club, Lyle had an ERA of 1.71. Popowski's praise no doubt factored into the promotion as well, since Eddie was now the Red Sox third base coach.
Breaking into the major leagues on July 4, 1967, in the seventh inning at Anaheim Stadium. Al "Sparky" Lyle made his big debut just 18 days before his 23rd birthday, facing the California Angels. After Russ Gibson batted for Sox pitcher Darrell Brandon in the top of the seventh, Lyle came in to pitch in the bottom of the inning with the Red Sox down, 4-1. He gave up a base hit to Jimmie Hall, but then struck out Rick Reichardt, got Buck Rodgers on a ground out (catcher to first), and struck out Tom Satriano. In the eighth inning, he walked a batter and threw a wild pitch but escaped other damage. Ken Poulsen batted for Lyle in the ninth, but the Red Sox lost the game, 4-3. In the two innings he pitched, Lyle gave up one hit, walked one, allowed no runs, and struck out three. From then until season's end, he pitched 43 1/3 innings, gave up 33 hits and struck out 42, and had a 1-2 won-lost record. He did not appear in the World Series due to a sore arm.
In 1968, Lyle was 6-1 with 11 saves, settling in to a role as the team's primary left-handed reliever. The following season, he pitched 102 2/3 innings, chalked up 17 saves and had 93 strikeouts, along with his 8-3 record. This season made him one of the best relief pitchers in baseball. In the next two seasons he logged 36 more saves, leading the team in that category three straight seasons. His future looked bright.
Lyle became one of the game's dominant relievers of the 1970's, but it most of his best seasons came with the team's hated rivals. In what many Red Sox fans consider the team's worst trade of the past 50 years, Lyle was traded during spring training in 1972, to the New York Yankees for first baseman Danny Cater and a player to be named later (Mario Guerrero). Cater batted an abysmal .237 in his first year with the Red Sox, although he rebounded in 1973, hitting .313 in 63 games. Meanwhile, the Dominican shortstop Guerrero struggled with a .233 batting average in 1973.
From 1972 through 1978, Lyle established himself as the Yankees' bullpen ace. He helped lead the Yankees to three straight pennants from 1976-1978 and World Series titles in 1977 and 1978. Saving 35 games in 1972, he set a major league record for left-handed relievers. (Just the next year, John Hiller of the Detroit Tigers surpassed Lyle's total, recording 38 saves.) In 1972, Lyle had become the first lefty to compile 100 saves in the American League, helping him earn the 1972 Fireman of the Year award from The Sporting News.
Leading the league again in 1976 with 23 saves, he broke future Hall of Fame pitcher Hoyt Wilhelm's American League record of 154 career saves, and proceeded to break Ron Perranoski's major league record for left handers of 179 career saves. By 1977, Lyle had collected 201 career saves and was fast closing in on Wilhelm's career record of 227. Lyle did briefly hold the record when he tied Wilhelm on May 26th at 227. That record was itself equaled by Rollie Fingers of the San Diego Padres a few days later on May 31. Lyle went to 228 on June 4; Fingers tied him June 7. Lyle then went up by two with saves on June 13 and again on June 16. Fingers tied him at 230 on June 25, but Fingers then went ahead for good June 1.
In 1973, he was named to his first of three American League All-Star teams. He pitched one full inning, giving up one hit and striking out one. He was again named to the AL All-Star teams in both 1976 and 1977; he didn't appear in the 1976 game and pitched two innings in the 1977 game.
Sparky Lyle's contributions to the New York Yankees from 1972 through 1977 were so paramount to their success that the team played "Pomp and Circumstance" as theme music at Yankee Stadium each time he entered from the bullpen. Primarily using his superb slider, which became his signature pitch, he also had a great fastball and a very impressive curve ball in his arsenal. His career year, 1977, produced a 13-5 record, a 2.17 ERA, 26 saves and the first American League Cy Young Award for a relief pitcher. Lyle worked 137 innings in 72 appearances.
After the season, Lyle and Yankees owner George Steinbrenner were unable to reach easy agreement on a new contract. The controversial Yankees owner was reluctant to give Sparky what he wanted, because Lyle would be 35 years old in the third year of a three-year deal. The Boss thought that was too old to be paying a person over $100,000 to pitch.
But one early morning in Tampa, the phone rang. Sparky had no idea who was on the other end when the voice asked, "What do you want?" Once Lyle finally figured out who was calling, he and Steinbrenner came to an agreement on roughly $425,000 for three years.
In late 1977, George Steinbrenner decided to take out his checkbook and sign Rich "Goose" Gossage and Rawly Eastwick, despite Lyle's established presence in the Yankees bullpen. While Lyle stewed all season, Gossage became the new Yankee closer, and on November 10, Lyle was part of a 10-player deal with the Texas Rangers.
Now in his mid-30's, Lyle was unable to attain the level of success he achieved in previous years. During his first year with the Rangers, 1979, he threw 95 innings, posting a 3.13 ERA, credited with five wins and eight losses. Texas finished five games out of first in the AL West. In 1980, Kansas City tore up the West, and Texas finished 20 1/2 games out of first. Sparky had a 3-2 record in 80 2/3 innings of relief, with a 4.69 ERA, the first time his ERA had exceeded 4.00.
In 1980, Rollie Fingers broke Lyle's AL record for career saves, and in 1991 Dave Righetti (who had come to the Yankees from Texas in that 10-player deal) passed him at the top of the list of career saves by a left hander.
Late in the season, on September 13, he was once again involved in a trade for a player to be named later (Kevin Saucier), ending up with the Philadelphia Phillies. Lyle threw just 14 innings but with a good 1.93 ERA and helped the Phillies reach the post-season. Though the Phillies went on to win their first World Series title that year, Lyle was not eligible to pitch in the post-season.
Sparky put in a full season with the Phillies in 1981, appearing in 48 games and throwing 75 innings. He posted a 9-6 record, with an ERA of 4.44. His last year pitching in the major leagues was 1982. With Philadelphia, he was 3-3 in 36 2/3 innings of work, and a disappointing ERA of 5.15. The Phillies felt he was finished, and sold his contract to the White Sox on August 21. Lyle closed out his career appearing in 10 more American League games, with an even 3.00 ERA (no decisions in 12 full innings of work.) On September 27 he played his last major league game.
He was released on October 12, 1982, finishing his 16-year career with 238 saves, a 2.88 ERA, and a win/loss record of 99-76 in 899 games pitched — every one of them in relief.
After the Yankees signed Gossage, Sparky's workload dropped, affording him the opportunity to take a closer look at what was happening around him. He proved to be a much more astute observer than anyone could have predicted. The 1978 season was a roller coaster of a season for the Yankees, with any number of dramatic dimensions, and proved one of their most sensational and controversial ever. Working with author Peter Golenbock, Lyle wrote a best-selling, highly acclaimed book cleverly titled The Bronx Zoo, published in 1979. This hilarious, scathing tell-all baseball book was an insider's view. In 1990, he wrote another humorous tale The Year I Owned the Yankees: A Baseball Fantasy. This is a fictitious account of a year in which he ran the Yankees organization as it spoofs the first 15 years of the Steinbrenner era.
After his unconditional release from the Chicago White Sox in 1982, Sparky Lyle once again found himself in an important role. He is the manager of an independent league baseball team in Bridgewater, New Jersey, the Somerset Patriots. It was a role he fell into pretty much by accident. One day he was looking to buy a new truck and his good friend, former major leaguer John Vukovich, took him to one of John's friends, Steven Kalafer, the owner of the Flemington Car and Truck Country Family of Automotive Dealerships. Lyle was looking for a good deal and Kalafer gave him one. In the six weeks it took for the new truck to arrive, Kalafer happened to buy a new baseball team in the Atlantic League of Professional Baseball and told Vukovich that he was looking for a Yankee to manage his new team. He wanted "somebody with a name," so Sparky Lyle's name came up. On the day Sparky and his wife went to pick up the new F-150, he not only got his new truck, but a job offer to manage the Somerset Patriots.
Lyle has been manager of the Somerset Patriots since the team started in 1998. He boasts a very impressive managerial record, leading his Patriots to three League Championship titles — a league record — seven Half Championships, and six South Division Championships.
In 2003, Lyle led the Patriots to the team's second Atlantic League Championship. They started out the first half of the season at the bottom of the South Division standings. Under Lyle's leadership, the team made a remarkable comeback to win the Second Half Championship and move into the post-season. Shutting out the Camden Riversharks in back-to-back games, the Patriots then defeated the Nashua Pride for the Atlantic League championship. Lyle was named Manager of the Year, the second time that honor was bestowed on him. (The first time was in 1999.)
In 2005, Sparky Lyle earned his 500th win as the Somerset Patriots manager and to this day is the winningest manager in the league. In 2006 he signed a contract extension keeping him with the team through the 2007 season.
In the winter, Sparky spends his spare time listening to The Eagles while shooting pool, golfing, cooking, and just hanging around the house. He says: "I think I've actually been on one vacation in my whole life. I went to Sedona, Arizona, for ten days, and I was back in four. I couldn't take it anymore. I saw enough of them (freaking) red rocks." (Laughs)
Last revised: September 1, 2008
This biography originally appeared in SABR's "The 1967 Impossible Dream Red Sox: Pandemonium On The Field", (Rounder Books, 2007), edited by Bill Nowlin and Dan Desrochers.
Sources
www.Baseball-Almanac.com
www.Baseballlibrary.com
www.Thebaseballpage.com
www.Baseball-Reference.com
"A Sit Down With Manager Sparky Lyle," Mike Ashmont interview, July 4, 2004, available at http://www.patriotsbaseball.com/news/other/lyle.htm
Joseph Durso, "Yanks Trade Cater for Lyle, Star Red Sox Relief Pitcher," New York Times, March 23, 1972
www.Retrosheet.org
Rob Neyer. Rob Neyer's Big Book of Baseball Blunders. Fireside, 2006.
www.SABR.org
www.SomersetPatriots.com
www.Wikipedia.com
Sparky Lyle and Peter Golenbock. The Bronx Zoo. Crown, 1979.
Photo Credit
The Topps Company
Born
July 22, 1944 at Du Bois, PA (USA)
If you can help us improve this player's biography, contact us.
http://bioproj.sabr.org/bp_ftp/images2/LyleSparky.jpg
600
800
admin
/wp-content/uploads/2020/02/sabr_logo.png
admin
2012-01-04 20:41:24
2012-01-04 20:41:24
Sparky Lyle