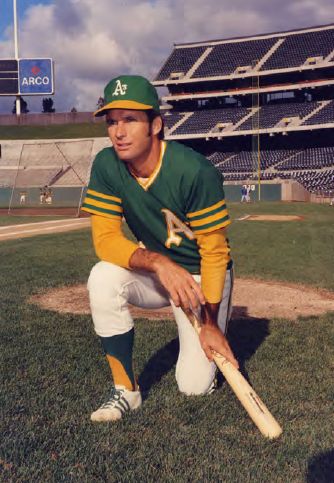 ---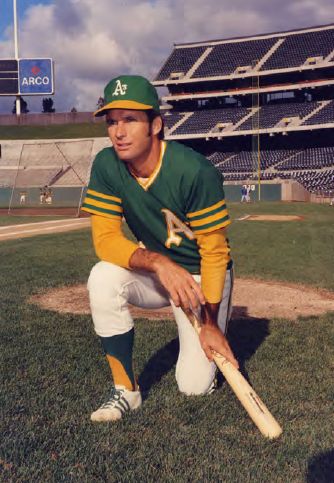 San Francisco Bay Area native Tim Cullen signed with the A's during spring training in 1972, returning to the region where he had been a two-sport star in high school and helped Santa Clara University become the nation's top-ranked college baseball team. He did not play in the 1972 World Series and retired after the season, but he helped the A's through a rough stretch in midseason after two of their second basemen suffered long-term injuries.
Timothy Leo Cullen was born in San Francisco on February 16, 1942, the third of four children (all sons) born to Joseph Murtha and Catherine (O'Leary) Cullen. Joseph Cullen worked for the Internal Revenue Service, and he was transferred to Reno, Nevada, in 1954. That's where Tim started playing Little League baseball, which had not yet come to where the Cullens had lived in the Bay Area. When the family returned to the Bay Area the next year Tim stayed in Reno for another year because he wanted to keep playing baseball. He lived with another family through a Knights of Columbus program.
When Joseph Cullen returned to the Bay Area it was as district director in charge of the IRS's San Francisco office. The family lived first in Palo Alto and then in Burlingame, a community near San Francisco International Airport. Tim was educated in Catholic schools and attended Junipero Serra High School in San Mateo, where he was a star athlete, earning all-Catholic Athletic League honors twice in baseball and once in basketball before graduating in 1960.1 Future major-league star Jim Fregosi played shortstop while Cullen played third base; after Fregosi graduated in 1959, Cullen moved to short as a senior. Serra's left fielder was Fregosi's classmate Gary Hughes, who went on to have a long career as a scout and executive for several major-league teams (as this was written he was still employed as a scout for the Red Sox). Serra is best known for having produced all-time home-run leader Barry Bonds and three-time Super Bowl-winning quarterback Tom Brady.
Cullen also played football until his father persuaded him to give up the sport as a senior. "He said, 'Tim, I don't know if I'm going to be able to afford to put you through college. You've got a chance to get a scholarship, but it ain't going to be in football,'" Tim recalled. "He wanted me to concentrate on my other sports, and he also wanted me to spend football season working on my grade average."
Joseph Cullen's advice paid off, as Tim improved his grades enough to get college scholarship offers. Loyola (now Loyola Marymount) University of Los Angeles offered a full basketball scholarship (basketball was the sport Tim said he preferred at the time), but Cullen accepted a combined basketball-baseball scholarship from Santa Clara, not far from his Burlingame home. He had the opportunity to follow his high-school teammate Jim Fregosi's path and go into pro baseball, but on his father's advice he chose college instead.
"The Giants wanted to sign me," Cullen said. "Before they offered me a contract they asked if I wanted to work in their clubhouse. The deal was I would go to the ballpark and work out with them, put on a uniform and shag flies and take batting practice and take groundballs before the game like one of the players, and then when the game started I'd clean up the clubhouse, then go out and sit on the end of the bench. And I got paid for it. But when they offered me a contract, I already had the scholarship offer from Santa Clara, and my dad wouldn't let me sign. He said, 'You could be out of baseball in two, three years with no education.' And I agreed with him 100 percent. So I told the Giants I was going to Santa Clara, and they've never talked to me since. They didn't even offer me a contract when I got out of college. I think I ticked them off."
Before heading to Santa Clara Cullen played in the Hearst Sandlot Classic on August 18, 1960, at Yankee Stadium. Cullen started at third base and batted third for the United States All-Stars, who defeated the New York Journal-American Stars, 6-5. Future major leaguers Bill Freehan, Mike Ryan, and Mike Marshall were among Cullen's teammates.2
At Santa Clara Cullen joined a baseball team that already had two other stars from Bay Area Catholic schools, both of whom also went on to play in the majors: Ernie Fazio, who had gone to St. Elizabeth High School in Oakland, and John Boccabella, who attended Marin Catholic High School in Kentfield. Cullen's freshman-year roommate (and baseball and basketball teammate) was Bob Garibaldi, who signed a big bonus contract with the Giants after the 1962 College World Series and went directly to the majors. Garibaldi's older brother, Dick, was Santa Clara's freshman baseball and basketball coach.
Cullen was the second leading scorer on the freshman basketball team (behind Garibaldi) and tied for the lead on the freshman baseball team in home runs (freshmen were not allowed to play varsity sports at that time under NCAA rules). As a sophomore in 1961-62, the 6-foot-1 Cullen was a key reserve guard on the Bronco basketball team that posted a 19-6 record. And then came a baseball season that was even better.
Santa Clara had tied for last in the California Intercollegiate Baseball Association in 1961, despite excellent seasons from Fazio and Boccabella. But with Cullen and Garibaldi joining the varsity in 1962, the Broncos took off, winning the conference title and taking the number-one national ranking into the College World Series. Santa Clara reached the championship game before losing a 15-inning epic to the University of Michigan.
Cullen had two hits and drove in three of Santa Clara's four runs in the title game to cap an excellent season. His .365 batting average in conference play led the CIBA — a league that included Southern California, Stanford, UCLA, and Cal Berkeley — and he led the Broncos in triples. He was named to both the all-CIBA and all-NCAA District 8 (Pacific Coast) teams.
Cullen's sophomore year was notable aside from sports as well. He met Lindy Frisbie, a freshman from Seattle who was part of the first class of female students at the previously all-male Santa Clara. Tim and Lindy were still together as this was written more than 50 years later.
As a junior Cullen averaged 10 points a game as a starting guard for the basketball team. The Broncos went into the final game of the season March 9, 1963, at the University of San Francisco tied with USF for the West Coast Athletic Conference lead. With the conference championship and an NCAA tournament berth on the line, Santa Clara lost by one point. The next afternoon Cullen was back at USF — this time with the baseball team for a game against the Dons.
Cullen played in summer baseball leagues after each of his first three seasons at Santa Clara, thanks to Broncos coach John "Paddy" Cottrell, who used connections he had made as a scout prior to coaching at Santa Clara. In 1961 Cullen, along with Fazio and Boccabella, played for the Saskatoon Commodores, champion of the Western Canada League; all three were named to the league all-star team.3 On July 26, in a tournament game at Lacombe, Alberta, Cullen hit grand slams in consecutive innings.4 In 1962 he played for a team in Everett, Washington, along with future major-league pitchers Jim Lonborg and Wally Bunker.5 In 1963 Cullen returned to the Western Canada League, this time with the Calgary Giants, and led the loop in batting average (.365), home runs (19), RBIs (62), and doubles (19) in a 70-game season.6
In his senior year Cullen stopped playing basketball. Dick Garibaldi had taken over as the varsity head coach the year before, when Bob Feerick left Santa Clara to coach the NBA's San Francisco Warriors. "We didn't get along very well," Cullen said with a chuckle, talking about Garibaldi. "He had too much information about what I used to do in my off time from when I roomed with his brother." Able to be with the baseball team from the start of the season for the first time, Cullen was named second-team All-America at third base by the American Association of College Baseball Coaches. After he received his degree in business he signed with the Boston Red Sox and scouts Bobby Doerr and Glenn Wright for a $15,000 bonus. "First thing I did was buy a car," Cullen said, shaking his head. "Stupid."
He continued: "Almost every club in the big leagues came through my house. My dad was kind of my agent, and we just set up shop at home in Burlingame. Houston came in late and offered me double the money, but that wasn't the biggest concern. I decided I wanted to start at Triple-A; I didn't want to go to the lower minors and get lost. Boston was the only team that would agree to that. People thought I signed with Boston because their Triple-A team was in Seattle and that was where my girlfriend was from, but that wasn't it. I just wanted to start at Triple-A, anywhere.
"I flew to Seattle and went right to the ballpark to join the team. Wilbur Wood came over and said, 'Hey, rookie, how ya doin', shook my hand and he had a big wad of tobacco in it."
Cullen finished the season as the Rainiers' third baseman, batting .254. His former summer-league teammate Jim Lonborg (who had been a college opponent at Stanford) was also with the Rainiers, and they roomed together at a downtown hotel. After the season Cullen married Lindy in Seattle, on September 19, with Lonborg as one of the groomsmen.
Under the rules of the time, first-year professional players had to be protected on the major-league team's 40-man roster or else be made available to the other teams in the majors for just $8,000. The Red Sox didn't protect Cullen, and the Washington Senators snapped him up in the first-year-player draft.
"I was unhappy, but Lindy was ecstatic, because their Triple-A team was in Hawaii and that's where I was going to go," Cullen said. "We would go to the beach every day. I'd be exhausted when I got to the ballpark and I hit .221."
Cullen was the everyday shortstop at Hawaii in 1965, and when he returned there the next year his batting average perked up to .295. He also picked up a nickname, "The Worm," which he said he earned when he dirtied a new uniform while groveling in the dirt for a groundball.7
The call to the big leagues came in August 1966, and Cullen made his debut with the Senators on August 8, striking out as a pinch-hitter against Detroit veteran Johnny Podres. His first start came on August 14, at third base, and his first hit came two days later off Cleveland's Gary Bell. Then on September 4, he made his first appearance at second base, a position he had never played in high school, college, or the minors.
"Gil Hodges was the manager. When I joined the team he called me into his office and said, 'You ever played second base?' Of course I said, 'Heck, yeah, all my life!' I wound up playing most of my career at second base, but I learned in the big leagues."
The highlight of Cullen's 1966 season came on September 25, when he got four hits and scored four runs in a doubleheader sweep of the White Sox on the same day his first child, daughter Anna, was born.8 He also played the night his second child, Tim, was born, September 3, 1968, after staying up until 3:30 a.m. for the delivery. He got a pinch-hit two-run single to give the Senators a 2-1 win over the White Sox.9 (No paternity leave for ballplayers in those days.)
Cullen was named to the Topps All-Star Rookie Team in 1967 as a shortstop. He started 64 games there, plus 34 at second base and 12 at third, and batted .236 (exactly the league average). But in February 1968 he was traded to the White Sox as part of a package for shortstop Ron Hansen. Hansen was expendable because the White Sox had just acquired Luis Aparicio to play shortstop, and Cullen was expected to take over at second. Cullen was excited about the prospect of going to a team that had been in the pennant race until the final days of the 1967 season.
The White Sox were managed by Eddie Stanky, a former major-league second baseman to whom Cullen had been compared as a player by Washington Post writer George Minot Jr.10 "Eddie Stanky really liked me," Cullen remembered. "I was a spark-plug type of guy. But it just didn't work out. We lost the first ten games and Stanky got fired just before the All-Star break."
Cullen made history of a sort on May 26, 1968, when he started at second base and batted ninth in a game at Yankee Stadium. Stanky put pitcher Gary Peters in the sixth spot in the lineup in an effort to shake up the White Sox offense. It didn't work, as Chicago lost 5-1, but Cullen was the last nonpitcher to be in the lineup batting ninth in an American League game prior to the adoption of the designated hitter.
The White Sox wound up trading Cullen back to Washington on August 2 — for Hansen, neither player having had a very good season with his new team (Cullen was batting .200 at that point, Hansen .185). Al López had succeeded Stanky as Chicago manager, and Hansen had been his shortstop from 1963-65 when he previously managed the Sox.
Cullen recounted the day of the trade: "The White Sox were playing the Senators that night, in Milwaukee [where the Sox hosted a number of games during the 1968 and 1969 seasons]. Ed Short, the Sox general manager, called me at home in the morning and told me I'd been traded back to Washington. I was happy about that, and we chatted for a while, then I asked him, 'How am I getting to Milwaukee?' He said, 'I didn't think about that.'
"He called me back and said, 'We're not going to announce this trade until before the game, so don't say anything.' So I rode up to Milwaukee on the bus with the White Sox! I used to like to have a little fun, so I made sure I sat next to Tommy John, who was starting that game, and I said to him, 'Let's go through the hitters. How are you going to pitch this guy, and that guy, and Frank Howard. …' We did that all the time anyway." Cullen took the results of his interrogation to his new team, and the Senators knocked John out of the box in the fourth inning en route to an 11-6 victory, Cullen delivering a single as the last batter to face John. Cullen got three hits that night and Hansen two.
"When the bus got to County Stadium, I started heading to the first-base clubhouse and I see this guy walking toward me, and it's Ron Hansen. He's got his equipment bag, I've got my equipment bag. I said, 'What do you think about this?' He said, 'I'm happy.' I said, 'So am I!' So we shook hands and said best of luck."
Cullen played at least 119 games for the Senators each season from 1969 through 1971, despite never having a batting average higher than .214 in any of them. But he did a fine job in the field and in 1970 he led American League second basemen with a .994 fielding percentage, making just three errors in 112 games. His fielding percentage was just two-tenths of a point below the then-major-league season record for second basemen, set by Jerry Adair in 1964 (the mark has been topped many times since).11 In 1971 Cullen started a career high 123 games, 69 at second base, at 54 at shortstop.
After the 1971 season the Senators moved to Texas, and Cullen wore a Texas Rangers uniform … but not in Texas. He was released on March 1, with the Rangers at spring training in Florida. "Cullen is a hell of a fielder," Senators manager Ted Williams told reporters, "but we have to make room for the kids in our organization."12 Cullen said he thought the release might have been related to his status as the team's union representative; many teams' player reps were traded or released in that era, including Cullen's two predecessors with the Senators, Jim French and Jim Hannan.13 (His successor, Don Mincher, was traded to Oakland before the season was over.)
Cullen did not have a telephone where he was staying during spring training, so when he learned of his release he went to teammate Paul Lindblad's hotel room to use the phone to start looking for another team to sign with.14 Lindblad, a former member of the A's, gave Cullen the phone number of A's owner Charles Finley. "Finley was the only guy who would talk to me," Cullen said. "That's one of the reasons he was an outcast, because he was the only guy who would break the unwritten rule about signing player reps. He talked to Dick Williams at their training camp in Arizona and called me back the next day and said, 'There's a plane ticket waiting for you at the Miami airport. You've got an opportunity with us, come on out.'
"Lindy's with me, and our two little kids, we'd driven all the way to Florida, now I've got to tell her I'm getting on a plane and she's got to pack up everything and drive to Arizona. Then when she got there, she went to the ballpark and they told her I was in the hospital with pneumonia. When she found me I thought she was going to punch me, and I wouldn't have blamed her; she had two kids, no place to live, and I'm in the hospital."
Cullen finally made his first appearance in an A's uniform on March 14. He made the Opening Day roster (an Opening Day that was delayed by a brief players' strike, the first ever to affect regular season play), but two days after the season started the A's acquired pitcher Joe Horlen on waivers, and when Horlen was activated two days later on April 19 the Cullen family was on the move again. "Dick Williams told me they were sending me to Des Moines, Iowa [where the A's had their Triple-A affiliate], and I thought Lindy's going to punch me this time for sure." But Lindy and the kids went to Des Moines with him and the family got an apartment there.
Playing in the minors for the first time in six years, Cullen played shortstop and hit .266 for the Iowa Oaks. "I learned to hit in those few months in the minors," Cullen said. "I concentrated out of terror, and it made me a better hitter."15
Dick Green opened the season as the A's second baseman but lasted only a week before a herniated disc that required surgery sent him to the disabled list. Larry Brown moved into the lineup in Green's place, until a similar back injury put him out of action for the rest of the season on June 18. The call went to Cullen, who learned he was heading back to the big leagues with the Oaks on a road trip. "I had mixed emotions," Cullen recalled. "I'm in Indianapolis, Lindy's in Des Moines, and I'm not going back there, I've got to call and tell her she's got a find a way to Oakland."
Cullen rejoined the A's on June 20 and moved right into the lineup, starting 27 of the next 29 games until he too went down with an injury, a pulled hamstring, on July 18. "I took myself out of the game right away and went to the trainer's room. Finley called to ask how I was. I said, 'Charlie, I'll be fine after a couple of days. Don't make a deal, because I'll be back out there real quick.' He said, 'Good, that's the attitude I like. I won't do anything.' Later that night he traded for Ted Kubiak. That really disheartened me."
Cullen was back in the starting lineup for 11 straight games from August 5-14 until Green returned to action, then Cullen started just five more games the rest of the season. He saw frequent action, though, as manager Williams regularly pinch-hit for his second basemen, with Green, Kubiak, and Dal Maxvill also part of the rotation. Two hits in his final game of the season lifted Cullen's batting average to a career-high .261.
During the 1972 American League Championship Series, Cullen came off the bench to make brief appearances in the two games the A's lost to Detroit, both times playing shortstop as Bert Campaneris had been suspended for throwing his bat at Tigers pitcher Lerrin LaGrow in Game Two. Cullen was one of two A's, along with Maxvill, who was eligible but did not play in the World Series against Cincinnati.
Cullen received $15,528.76 as his share of the A's postseason pot, a three-quarters share reflecting the fact that he had not been with the team all season.16 That check helped him make the decision to walk away from the game at age 30. He had begun laying the groundwork for his career after baseball soon after he got out of college, working in the offseason learning how to trade stocks for the Walston & Co. brokerage company in San Francisco. While playing for the Senators he trained at Walston's New York office and became a licensed stockbroker.
"I had a meeting with Finley and I said, 'I've had a pretty rough year. I'd like to settle down somewhere, this is my home town. What are your plans?' He told me he was working on a trade that I might be part of. I had my broker's license, I was working in San Francisco trading stocks on a part-time basis, I had a job there if I wanted it, I had a check in my hand that would allow me to put down a down payment on a house, and I just thought I couldn't put Lindy through this anymore. I loved the game and I wish I could have played longer, but I just couldn't do it with the family. I had a pretty good career in the securities industry for years, ended up at Morgan Stanley in San Francisco."
Cullen did get back into baseball as part of a group that owned minor-league teams in the 1990s. He ran the team in Greensboro, North Carolina, in 1993 (a team that featured Derek Jeter and Mariano Rivera), then went to Madison, Wisconsin, in 1994 before deciding to return to California. Later he was vice president of a group that bought the Tucson franchise in the Pacific Coast League, moved it to Fresno in 1998, and built a ballpark there, but after a few years in Fresno Cullen retired and moved back to the Bay Area. As of 2014, he and Lindy lived in Benicia, about 40 miles northeast of San Francisco, and he kept active by playing golf several times a week. His two children also were in the Bay Area, and his grandson was a freshman in high school who "loves baseball," according to his grandfather.
Tim Cullen finished his major-league career with a .220 batting average and 9 home runs in 700 games, a World Series ring, and many friends. "The Worm had next to no tools," his Senators teammate Frank Howard said. "But everybody admired him."17
Sources
Unless otherwise indicated, quotes from Tim Cullen are taken from an in-person interview December 31, 2013, in Benicia, California. Thanks to Joey Karp, associate director of media relations for the Santa Clara University athletics department, for providing team media guides from when Tim Cullen was on campus there. Thanks to Erin Louthen, Santa Clara University archivist, for directing me to where the school's yearbooks are available online (scholarcommons.scu.edu/handle/11123/178). Some information about Cullen's college experience came from the Official Collegiate Baseball and Basketball Guides of 1962-65 published by the National Collegiate Athletic Bureau.
Notes
1 serrahs.com/page.cfm?p=2542.
2 Morrey Rokeach, "Lefty Howie Kitt Sets Whiff Mark in Hearst Classic," The Sporting News, August 31, 1960, 26.
3 attheplate.com/wcbl/1961_1.html.
4 "Playoffs Are All-WCBL Affair," Medicine Hat (Alberta) News, July 27, 1961.
5 attheplate.com/wcbl/1962_1g3.html.
6 attheplate.com/wcbl/1963_2.html.
7 George Minot, Jr., "Cullen Makes Hit With Nats," Washington Post, May 21, 1967, D4.
8 Bob Addie, "Nats, Balancing Books for '66, Find Heavy List on Debit Side," The Sporting News, October 25, 1966, 19.
9 Merrell Whittlesey, "Lemon Promises New Nat Twist," The Sporting News, September 21, 1968, 12.
10 George Minot, Jr., "Cullen Makes Hit With Nats."
11 baseball-reference.com/leaders/fielding_perc_2b_season.shtml.
12 George Minot, Jr., "'Worm' Won't Be Used as Trade Bait," Washington Post, March 2, 1972, H3.
13 Ibid.
14 Ron Bergman, "Ranger Cast-Off Cullen Plugs A's Keystone Gap," The Sporting News, July 29, 1972.
15 Thomas Boswell, How Life Imitates The World Series (New York: Penguin, 1982), 111.
16 "Rich Gravy for A's and Reds in Record Series Pot," The Sporting News, November 25, 1972, 45.
17 Thomas Boswell, How Life Imitates The World Series.
Born
February 16, 1942 at San Francisco, CA (USA)
If you can help us improve this player's biography, contact us.
http://sabr.org/sites/default/files/TimCullen.JPG
600
800
admin
/wp-content/uploads/2020/02/sabr_logo.png
admin
2012-01-04 20:24:51
2020-10-15 14:46:45
Tim Cullen