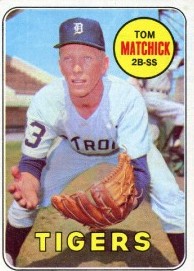 ---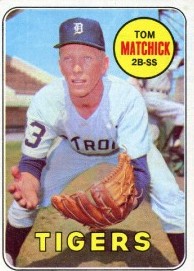 Before the term "walk-off" homer became a cliché, a Huck Finn–like figure from Pennsylvania coal country, Tom Matchick, hit a dramatic two-run homer off Moe Drabowsky in the ninth inning with two out to beat the Baltimore Orioles, 5–4 on July 19, 1968. Many longtime Detroit Tigers fans have claimed they were at that game, or at least heard the game on radio while at home or in their automobiles. There were 53,208 fans in attendance on that glorious Friday night, which was the Tigers' largest crowd in seven years. An estimated 5,000 fans were turned away.
Earlier in the game, Baltimore starting pitcher Wally Bunker held the Tigers hitless until the sixth inning, when Dick McAuliffe hit a two-run homer to cut the Orioles' lead to 4–2. In the bottom of the ninth, the Tigers staged another of their trademark rallies of 1968. Detroit was able to get runners, prompting new Baltimore manager Earl Weaver to call his crafty bullpen veteran, Drabowsky, into the game to face Bill Freehan. Freehan reached base on a fielder's choice, scoring one Tigers run. This set the table for the left-handed-hitting, freckle-faced Matchick, who had played for Weaver when Matchick was loaned to Elmira during its Eastern League pennant run of 1964. Drabowsky had given up only one home run during the season and squared off against the rookie infielder.
"I usually did not get concerned with who was pitching," Matchick said. "I was just looking to make contact and I hit a 3–2 slider." Matchick's disciplined contact approach caused the ball to arc high into the upper-deck overhang of Tiger Stadium's right-field porch. Tom hit three home runs in 1968; this was obviously the biggest of his career. This was a key victory as it pushed the charging O's to 8½ games behind Detroit. Al Kaline jokingly referred to the victory as routine. But, this game was one of many the Tigers won in their last at-bat, and this day's hero was Matchick. It was yet another example of a Tigers player who contributed to the team's success during the fabulous summer of 1968.
John Thomas Matchick was born September 7, 1943, in Hazleton, Pennsylvania, to John Wesley and Anna Matchick. He was sandwiched between older sister Mary Ann and younger sister Anna Mae. He obtained his love of baseball from his father, who was a good catcher during his youth. His father admired Yogi Berra and the New York Yankees. Of course, Tom followed in his father's footsteps and admired the Yankees as well. Tom's favorite player as a boy was Yankees shortstop Tony Kubek.
Matchick enjoyed playing baseball, and his father did his part by helping his son practice. "My dad was a crane operator at Bethlehem Steel and would drive 60 miles each way to work," Matchick said. "He would come home at 6:30 p.m. and would practice different baseball drills with me." As a young boy, Tom would play baseball with other boys in the neighborhood. They would place electrical tape around the balls and put nails in the bats in order to keep them in use. The boys would play games of three-against-three and would make up their own rules.
Matchick played organized ball as well by playing Little League, Babe Ruth, and American Legion baseball, and usually played shortstop. His Babe Ruth team went to the World Series in Stockton, California, and, was the national runner-up. During the summer of 1960, Tom's father managed the Jeddo Stars, the premier amateur baseball team in the area. Tom attended Hazleton-Freeland High School and in addition to playing baseball, he was the star guard on the school basketball team. A 24-point and 12-assist average caused Stetson University to offer Matchick a basketball scholarship. But Matchick had other aspirations; baseball was his true love.
Prior to the 1962 season, St. Louis Cardinals scout Ollie Vanek signed Matchick to his first professional baseball contract, which included a $17,000 bonus. This began a 15-year journey in professional baseball. Matchick started his first pro season playing for Brunswick and hit .311 while playing in 71 games and smacked three homers in 264 at-bats. He remarked that the bus trips in Georgia and Florida were awfully long and hot. But the heat would not be a concern later in the season as the Cardinals moved Matchick to the cold weather in Winnipeg and he hit .227 in 176 at-bats.
At the conclusion of the 1962 season, major league baseball revised its first-year player rule and permitted the drafting of all rookies in the minor leagues. On November 26, 1962, major league teams raided the rosters of other teams for prices of $8,000 and $12,000. The Tigers drafted Matchick from the Cardinals for $12,000, which is ironic, as he would later appear for the Tigers in the 1968 World Series against his former organization.
Tom made his Tigers organizational debut for the Class A Lakeland team in the Florida State League in 1963. Later in the season, the Tigers promoted Matchick to Class AA Knoxville and Tom got the opportunity to play with future Tigers Willie Horton and Jim Northrup. After playing in the Florida Instructional League in the late fall of 1963, the Tigers thought about moving Matchick to their Triple A club in Syracuse, but eventually the Tigers decided that future shortstop Ray Oyler should play there.
Matchick played for Knoxville in early 1964 before the Tigers loaned him in July to the Elmira Pioneers, who played in the Eastern League. Weaver managed Elmira during the season and Matchick contributed to the Pioneers winning the league championship. Late in the 1964 season, Oyler had his Triple A all-star season come to a halt due to an ulcer, and Matchick was summoned to Syracuse to play for the Chiefs. Matchick nearly obtained a second title with Syracuse, but the Chiefs fell short in the quest for the Governor's Cup and lost the International League championship to the Rochester Red Wings.
Matchick spent the 1965 and 1966 seasons playing for Syracuse. During the 1965 campaign, he played with future Tigers center fielder Mickey Stanley and participated in a triple play. The Tigers invited Matchick to spring training in Lakeland along with future managers Jim Leyland and Gene Lamont in 1966. During the 1966 season in Syracuse, Matchick played in 145 games and hit .250 to go along with 12 homers and 54 RBI. After the conclusion of the 1966 season, the Tigers regarded Matchick as the best young infielder in the system and sent him to the Florida Instructional league to try him at second base.
The Tigers summoned Matchick to spring training in 1967 and hitting coach Wally Moses convinced Matchick to choke up on the bat and use a heavier 34-inch, 34-ounce bat instead of his typical 33-inch, 31-ounce bat. "I do not think that the Tigers wanted me to think about pulling the ball to the short right field at Tiger Stadium," Matchick said. According to Matchick, manager Mayo Smith told him that Tom would get a lot of playing time, but after a spectacular spring training that had Matchick going 15-for-31 and hitting .467, the Tigers sent Matchick to Triple A and kept Oyler on the roster. Smith thought his best position would be second base, and was open to the idea of moving Dick McAuliffe back to shortstop if Matchick performed well in Toledo.
The Tigers and Yankees switched Triple A affiliates prior to the 1967 season, the Yankees taking Syracuse and the Tigers claiming Toledo. Although Matchick did not want to go to Toledo, he did receive a blessing as he met his future bride that April. When he told Linda that he played for the Mud Hens, she asked Matchick what a Mud Hen was. This employment inquiry was understandable as Toledo had no minor league team from 1956 through 1964. Despite Linda not knowing much about the Mud Hens at first, the two got married after the season ended.
From a baseball standpoint, Matchick had a bad start to the 1967 season. The Tigers sent hitting coach Wally Moses to Toledo in order to help Matchick regain his hitting stroke. Tom eventually regained his stroke and raised his average to .290. Mud Hens skipper Jack Tighe proclaimed that Matchick was the best lefty hitter in the league against left-handed pitching. Tom became an all-star on the Toledo team and hit .289 with 11 homers along with 55 RBI. Matchick led the league in putouts, assists, and double plays, which helped earn him a Silver Glove—sporting goods manufacturer Rawlings' minor league equivalent to the Gold Glove—for his fielding. Toledo won the Governor's Cup championship, but Matchick did not play in the playoffs because the Tigers promoted Tom to the majors as part of the September roster expansion.
Matchick made his Tigers debut September 2 against the Minnesota Twins in front of 29,155 fans at Metropolitan Stadium in Bloomington, pinch-hitting for Ray Oyler in the eighth inning against Dave Boswell. "I went up to the plate and I was weak in the knees," Matchick exclaimed. "I probably took a swing at the first pitch that was near my shoulders." Tom popped out to César Tovar at third base. Matchick came into the game at shortstop and made a putout in the bottom of the eighth inning.
On September 6, Matchick pinch-hit for Fred Gladding in the seventh inning and stroked a single off future Hall of Fame pitcher Catfish Hunter of the Kansas City Athletics at Tiger Stadium for his first major league hit. The Tigers eventually scored four runs in the inning and beat the A's, which kept the Tigers in a first-place tie with Boston, with Chicago and Minnesota breathing down their necks. Eventually, the Tigers fell short by one game to Boston. Matchick pinch-hit for Hank Aguirre in the fifth inning of the nightcap of a doubleheader against the California Angels in the last game of the season and struck out. Tom was 1-for-6 during his September call-up. Matchick was able to experience a successful pennant race after the season ended, however, as he helped lead Dunedin to the Florida Instructional League Championship and led the team with 29 RBI.
"I could tell that the 1967 team had a taste of winning the pennant and really was focused on winning the championship," recalled Matchick. Even though Tom did not have a spectacular 1968 spring training with a .191 batting average, he won a job and obtained uniform No. 2. Some of Tom's biggest games during 1968 were against the Orioles. In addition to his July 19 heroics, Matchick participated in a rare triple play September 1 against the Orioles in Detroit. Eventual 31-game winner Denny McLain caught a line drive and threw the ball to Matchick, who tagged second and threw to first base to complete the trifecta. Matchick pinch-hit for Mickey Lolich in the top of the ninth inning on May 7 in Baltimore and hit a clutch two-run double to help break the Orioles' eight-game winning streak.
"I thought that Mickey Lolich was a much underrated pitcher. He had an excellent sinking fastball and slider and did not get much run support," said Matchick. "He really challenged the hitters. If I was not playing and Lolich was pitching, both Gates Brown and Dick Tracewski would disappear when Bill Freehan was putting on his catching gear. I would often get stuck warming up Lolich and it was a tough job," joked Matchick. The Brown-Tracewski disappearing act notwithstanding, "we had a 25-man team and we played for the purpose of winning," Matchick said. "Everyone got along on that team and you couldn't find nicer people.
Tom's first career homer came on July 2 against Larry Sherry and the California Angels at Tiger Stadium. In addition to Matchick's iconic July 19 homer, Matchick's third and final homer of the season came against the Orioles on July 21 against Jim Hardin. Tom started every game but one July 16–25 and played well. Then, Matchick served in the Army National Guard and missed about 20 games. During the regular season, Tom hit .203 in 227 at-bats—weak, but better than his shortstop counterparts Tracewski (.156) and Oyler (.135).
Matchick has great memories of the 1968 season and remembers the sweet smell of Tiger Stadium. "Norm Cash was the leader off the field and kept us loose with his practical jokes. On one occasion he invited us for a boat trip in Chicago, but no boat arrived," said Matchick. Tom also remembers laughing September 19 when McLain was on his way to his 31st victory and grooved a fastball to Mickey Mantle, then knocked Joe Pepitone to the dirt when Pepitone requested a similar pitch. "But, when we needed a spark, Dick McAuliffe set the tempo on the field and would get the team going on the field and he never avoided a confrontation like when Tommy John hit him with a pitch," explained Matchick.
Matchick cherishes the 1968 World Series championship and had the opportunity to pinch-hit in three different games, but went 0 for 3. Matchick and Gates Brown are the only batters who did not strike out against Bob Gibson during his 17-strikeout performance in Game One. When the Tigers were down three games to one, Matchick indicated that the clubhouse seemed like they were up three games to one instead. He said, "Placing Mickey Stanley at shortstop was a great move by Mayo. Stanley could play anywhere and we needed to get Kaline in the lineup."
Matchick returned to the Tigers in 1969 and it looked like he would compete for the shortstop job. But Mickey Stanley played mostly shortstop for the Tigers early in the season after his successful World Series play until the Tigers traded for Tom Tresh from the Yankees. Matchick proceeded to lead the American League in pinch-hitting, going 8-for-16. When Matchick started, he played mostly at second and third base during the season, and started at second base while McAuliffe recovered from knee surgery. He hit .242 for the season and had 298 at-bats. At the end of the 1969 season, Matchick had a meeting to negotiate a contract with Jim Campbell for the 1970 season and Matchick thought he would continue with the Tigers.
The Tigers traded Matchick to the Boston Red Sox, however, in return for Dalton Jones. The Red Sox doubled his salary and looked for Matchick to contribute with the glove and back up infielders Rico Petrocelli and Mike Andrews. Also, Tom had a better batting average than longtime Bosox utility player Jones in 1969—although Jones had better power numbers. But Matchick did not get much playing time and only had one hit in 14 at-bats. On May 28, 1970, the Red Sox traded Matchick to the Kansas City Royals for Mike Fiore. Unfortunately, in a pre-game drill on May 29 he was struck by a liner and cracked his right thumb and could not make his first appearance until June 21. No injury is timely, but this time, more than the thumb hurt. The Royals acquired veteran second basemen Cookie Rojas from the Phillies on June 13, which greatly diminished Matchick's future playing time. Tom did get 158 at-bats for Kansas City and finished with a .196 average.
Matchick started the 1971 season with the Royals' farm club in Omaha, with Jack McKeon the skipper. The Royals traded Tom to Milwaukee May 11, 1971, for Ted Savage. Matchick played for Evansville and became an American Association all-star as a utility man. Matchick hit .304 for the Triplets and won a promotion to Milwaukee, playing his first game in a Brewers uniform July 30. Tom was hitting .300 on September 7, but faded during the month and finished with .219 in 114 at-bats for the Brewers. At the end of the 1971 campaign, on October 22, the Brewers traded Matchick to the Orioles.
Tom played for Rochester during the 1972 campaign and made the International League all-star team. Matchick led the league in putouts, assists, and double plays, which helped earn him another Silver Glove. He had 11 homers and 58 RBI to go along with his .252 average and earned a call-up to the Orioles in September. Ultimately, Tom played in the last three games of his major league career and went 2 for 9. Matchick looked forward to playing for the Orioles in 1973 and was due to back up Bobby Grich at second. Matchick was told that he made the Orioles team in 1973 by Weaver, but Tom was traded on April 5 to the New York Yankees for Frank Baker.
Refusing to retire, Matchick spent the next four seasons playing in the minor leagues. He played for the Syracuse Chiefs in 1973 and hit .271, but he missed seven weeks due to a hernia operation. His 1974 season was spent playing for the Charleston Charlies and he hit .228 while playing alongside future manager Tony La Russa. In 1975, Matchick played again for the Toledo Mud Hens, by this time a Phillies affiliate, during spring training. The Phils allowed Matchick to sign a contract with the Rochester Red Wings. Matchick played for Joe Altobelli and helped mentor the Orioles' infield prospects. Dennis Martínez served as Matchick's roommate; other teammates included pitchers Mike Flanagan and Scott McGregor. Tom hit .274 for the Red Wings. Matchick was 50 days away from his four-year major league baseball pension and tried to get back to the Orioles, but fell short of a promotion.
Matchick started the 1976 season with the Red Wings, but Rochester released him July 7 in order to make room for Rich Dauer and Bob Bailor. The Yankees' Triple A farm team, the Syracuse Chiefs, signed Matchick, and Bobby Cox was the manager. He batted .299 for the Chiefs in 1976 in addition to pitching a scoreless inning. After the 1976 season, Matchick was told that he was sent an offer to be a player-coach. However, he never received the letter. "I was a student of the game and I thought I had good instincts and could judge baseball talent," Matchick said. "It would have been interesting to see what would have happened."
During Matchick's career, he played all four infield positions. "I have the utmost respect for utility players because it is tough to adjust and play many positions," said Matchick. "They are underappreciated." Tom would have liked the opportunity to get 400 at-bats during a major league season to see how he might have performed as a full-time player. Matchick, however, was a successful professional player for 15 seasons and he was named the top all-star in the International League on four occasions.
Over the course of Matchick's career, he had the fortune of playing for managers like Mayo Smith, Bobby Cox, Earl Weaver, Jack McKeon, and Joe Altobelli. He also played with Tony La Russa, Jim Leyland, and Gene Lamont. "Mayo was one of the mellowest managers that I played for during my career and he made the players feel comfortable," Matchick said. Also, Tom really enjoyed playing under Weaver and Cox.
After Matchick's playing days ended, he went into the sporting goods business as a manager. Subsequently, Matchick became involved in the photography business. In 2007, 40 years after his big-league debut, he was a vice-president of Great Lakes Aerocam, which does aerial photography. In his spare time, Tom likes to hunt for deer and turkey and play golf. Tom and his wife, Linda, have three children, Brian, Heather, and Amanda, and four grandchildren. Matchick is a member of the Hazeltine, Pennsylvania, Hall of Fame.
It has been 40 years since that magical midsummer night of July 19, 1968, but that memory will never be forgotten by Tom Matchick and the Detroit Tigers fans who witnessed it. And Matchick will never forget a very long and distinguished career as a professional baseball player.
Sources
Green, Jerry. Year of the Tiger. New York: Coward-McCann. 1969.
O'Brien, John, and Jerry DeBruin with John Husman. Mud Hen Memories. Perrysburg, Ohio: BWD Publishing. 2001.
www.baseball-almanac.com
www.baseball-reference.com
www.minorleaguebaseball.com
www.retrosheet.org
Lassman, Mike. Telephone interviews with Tom Matchick, July 16 and August 9, 2007.
Lassman, Mike. Interviews with Tom Matchick, August 18 and 19, 2007.
Note
This article originally appeared in the book Sock It To 'Em Tigers–The Incredible Story of the 1968 Detroit Tigers, published by Maple Street Press in 2008.
Photo Credit
The Topps Company
Born
September 7, 1943 at Hazleton, PA (USA)
If you can help us improve this player's biography, contact us.
http://bioproj.sabr.org/bp_ftp/images3/MatchickTom.jpg
600
800
admin
/wp-content/uploads/2020/02/sabr_logo.png
admin
2012-01-04 20:09:07
2022-01-05 11:34:57
Tommy Matchick