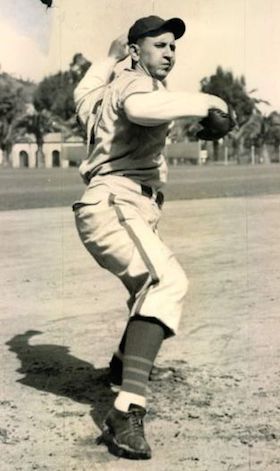 ---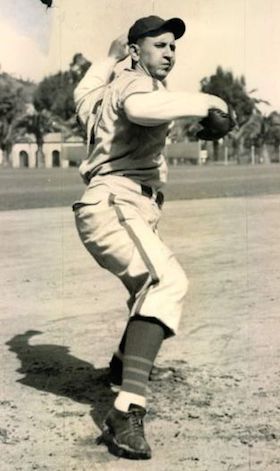 Debuting as a September call-up for the Chicago Cubs in 1939, 22-year-old southpaw Vern Olsen tossed four shutouts in a span of eight starts in 1940 en route to leading all NL rookies with 13 victories. A dependable starter and reliever on weak Cubs teams, Olsen averaged 10 wins and 166 innings per season (1940-1942) before enlisting in the US Navy in World War II. He served in the Pacific Theater, but the three-year hiatus from Organized Baseball proved too much to overcome. Plagued by injuries for most of the 1946 season, Olsen retired in 1947 after an abbreviated comeback attempt with the New York Giants.
Vern Jarl Olsen was born on March 16, 1918, in Hillsboro, Oregon, then a town of 2,500 people located 28 miles west of Portland. His parents were Henry Theodore Olsen, a native of Norway who immigrated to the US at the age of 18, and Agnes Marie Olsen, originally from Minnesota. They married in 1908 and raised four boys (John, Herman, Henry, and Vern) in the Mount Tabor neighborhood on the east side Portland. The elder Olsen worked as a longshoreman. Vern, whose name was given as Laverne on US Census reports, attended Hosford Elementary and Franklin High School, where he starred on the baseball, basketball, and football teams. The Olsen boys were an athletic group; according to one report, Vern's three brothers became professional wrestlers.1 Vern earned his reputation as a hard-throwing portsider on local semipro teams. A longtime epicenter of baseball in the Pacific Northwest, Portland was a charter member of the Pacific Coast League in 1903. With big-league scouts combing the area, Olsen worked out for a number of teams before signing with the Chicago Cubs' affiliate, the Los Angeles Angels, in 1936. Jack Lelivelt, LA's manager from 1929 to 1936, was also one of Chicago's scouts on the West Coast.
Olsen inaugurated his career in Organized Baseball by participating in spring training with Los Angeles and its new skipper, Truck Hannah, in 1937. Subsequently farmed out to the Ponca City (Oklahoma) Angels of the Class C Western League, the teenager racked up 23 wins and just 10 losses for a fifth-place club in a six-team circuit. An iron man of sorts, Olsen started both games of a doubleheader against Joplin on August 25 en route to topping all hurlers with 295 innings pitched.2
Olsen spent the 1938 and 1939 seasons pitching for the Tulsa Oilers in the Class A1 Texas League. [In 1936, the Class A Southern League and Western League were elevated to A1 status, one step below the three Double-A leagues]. Considered along with Beaumont's Dizzy Trout (22-6) and San Antonio's Jack Kramer (20-11) the Texas League's best young prospect, Olsen won 19 games and sported a 3.05 ERA in 245 innings in his first year in Oklahoma. Praised by Bicknell Eubanks of the United Press the following season as "probably the outstanding southpaw of the minor leagues,"3 Olsen overcame a slow start in '39 to chalk up an 18-11 record and log 250 innings with a 3.10 ERA; he was also a member of the league's all-star team. Olsen learned to harness his control, decreasing his walks per nine innings for the third straight season, from 4.0 to 2.7.
The Chicago Cubs purchased Olsen's contact in late July 1939 for a reported $10,000.4 According to multiple sources, Olsen had been scouted by Dutch Ruether, an ex-big-league hurler who had compiled a 137-95 record in an 11-year career (1917-1927).5 Coming off their fourth pennant in 10 seasons, the Cubs struggled for much of the 1939 campaign to remain a few games above .500. The pitching corps, which had led the NL in team ERA (3.37) the previous season, had pitched inconsistently. Staff ace Bill Lee (19-11) enjoyed another All-Star season, southpaw Larry French (10-19) rebounded to have a strong campaign as a part-time starter (15-8), and early-season acquisition Claude Passeau (13-9) proved to be a reliable workhorse; however, Clay Bryant, winner of 19 games in 1938, missed most of the '39 season and Dizzy Dean made only 13 starts, forcing player-manager Gabby Hartnett to rely a pair of 40-year-olds, Charlie Root and Earl Whitehill, as swingmen. The 6-foot, 175-pound Olsen made his major-league debut on September 8, hurling a scoreless inning of relief in a 10-3 blowout loss to the St. Louis Cardinals. In the final game of the season, Olsen pitched a scoreless ninth against St. Louis at Wrigley Field and earned the victory when Bill Nicholson lined a walk-off single. The fourth-place Cubs (84-70) recorded their (as of 2015) franchise-best 14th-consecutive winning season (1926-1939).
"[P]itching threatens to be a weakness," warned Chicago sportswriter Irving Vaughan well before the Cubs arrived in Catalina Island to begin spring training in 1940.6 Hurlers Lee, French, and Passeau still anchored the staff, but each was at least 30 years old, and the North Siders needed some youngsters to rejuvenate the corps. Consequently, at least 17 of the 38 players in camp were pitchers, including rookie southpaws Olsen and offseason acquisition Ken Raffensberger. Charles Drake, assistant to team president Philip K. Wrigley, claimed to have the best crop of rookies in Cubs' history.7 "Doped to stick," wrote Edward Burns of Olsen, whose productive spring training earned him a spot in skipper Hartnett's bullpen to start the season.8 After proving his mettle in relief (three runs in 17 innings), Olsen was clobbered in his first start, surrendering 10 hits and all six runs in six innings against the New York Giants at the Polo Grounds on May 18. With the Cubs struggling to play .500 ball in midseason, the 22-year-old southpaw surrendered five hits and overcame seven walks to blank the Boston Braves on July 12 at Wrigley Field to record his first shutout. Four days later he tossed a six-hitter and issued five walks to shut out the Giants in Chicago. "I don't think I ever saw a lefty throw a natural sinker like Olsen does," said teammate Larry French, adding that the young hurler had ice water in his veins.9 The following month Olsen spun two more shutouts, giving him four in eight starts. In the last of those, Olsen, whose delivery the Associated Press called "puzzling," held Brooklyn hitless until the seventh inning, when the Dodgers collected their only two safeties.10 "It was pathetic the way Olsen pushed [the Dodgers] around," wrote Edward Burns with his usual alacrity.11 Olsen won all four of his decisions in September, including a career-best 11-inning complete game with a personal-best nine punchouts against St. Louis at Wrigley Field. "[He's] the best rookie pitcher I've seen this year," said Philadelphia Phillies skipper Doc Prothro of Olsen, who finished with a 13-9 record and robust 2.97 ERA in 172⅔ innings for the fifth-place North Siders.12 Only Washington's Sid Hudson (17-16) won more games than Olsen among rookie hurlers.
The Cubs' first losing season (75-79) since before the days of skipper Joe McCarthy led to the firing of fan favorite and local legend Gabby Hartnett, who was replaced by Jimmie Wilson for 1941. Though Edward Burns pronounced ominously that the Cubs' "most uncertain department is pitching," he sarcastically claimed that the club would win the pennant. "We don't know how," said the rotund scribe, "but we are sure they will," pointing to the Cubs' tradition of capturing the pennant every three years since 1929.13 Olsen was clobbered for five runs while retiring just two batters in his season debut on April 17, and was shunted to the bullpen. Earning his second start three weeks later, Olsen gave up only two hits to defeat the Phillies, 5-1, in the City of Brotherly Love. Olsen supplied three of those runs on his only major-league home run. [Adept with the bludgeon, Olsen hit .231 with 39 hits in his career.] Two days later, Olsen married Chicago native Elaine H. Schall. Though married life must have agreed with the hurler (the couple was married 48 years), it did not initially help his pitching. He yielded 28 baserunners and 16 runs (8 earned) in 15⅔ innings in his next four appearances. The newlywed regained his energy and stamina to toss consecutive shutouts, blanking New York and Philadelphia in mid-July, as part of a stretch of 30⅓ scoreless innings. Later, Olsen was sidelined for almost four weeks with "acute inflammation of the gall bladder" (according to the Chicago Tribune).14 Ineffective in his return for the last two weeks of the season, Olsen compiled a 10-8 record, and sported a team-best 3.15 ERA in 185⅔ innings. Only Clyde Passeau won more games (14) or logged more innings (231) on the team. The Cubs' sixth-place finish was their worst since 1925.
It was a tumultuous offseason for baseball and the United States. Following the Japanese attack on Pearl Harbor on December 7, 1941, many wondered how war and especially the draft would affect the coming baseball season. Five weeks later, President Roosevelt sent Commissioner Kenesaw M. Landis what has become known as the "green light letter," in which he argued that baseball must continue. Military service had already claimed two of the game's biggest stars (Hank Greenberg and Bob Feller, who enlisted shortly after Pearl Harbor). Many young players like Olsen, who was married but had no children, were forced to reckon with military service over the next four years.
Olsen's stomach ailments returned in 1942, landing him in the Illinois Masonic Hospital in Chicago in February.15 After arriving at the Cubs spring training late, Olsen suffered a debilitating injury when a line drive by Myril Hoag broke two fingers on his left hand in an exhibition game against the Chicago White Sox in Los Angeles.16 On the shelf for about six weeks, Olsen was limited to two relief outings before making his first start, on May 26, a tough-luck, complete-game 10-inning 3-1 loss to St. Louis. A streaky hurler, Olsen lost his first four decisions, then won five straight starts. He ran his winning streak to six games on July 14 by tossing the last of his seven big-league shutouts. According to Edward Burns, Olsen "teased" the Giants with 11 hits and three bases on balls, but nonetheless triumphed, 3-0, at Wrigley Field.17 It proved to be his final victory in the big leagues. As the Cubs labored through their third consecutive losing season for the first time since 1915-1917, Olsen lost his final five decisions and his spot in the starting rotation. With a 6-9 record and an unsightly 4.49 ERA (well above the 3.31 league average) in 140⅓ innings, Olsen's once promising future seemed less likely.
"I'm pitching for Uncle Sam for the duration," announced Olsen in the Chicago Tribune upon enlisting in the Navy in late November 1942.18 He joined other Cubs players already in the military, among them pitchers Johnny Schmitz, Russ Meyer, and Emil Kush. He was initially stationed in the Great Lakes Training Base in suburban Chicago, where he pitched on the legendary Blue Jackets baseball team managed by former Philadelphia and Detroit catcher Mickey Cochrane. Drawing crowds of 10,000 sailors, the Blue Jackets, with their roster laden with former big leaguers, played exhibition games against major-league, college, and semipro teams. Olsen was subsequently stationed at the Bainbridge Naval Training Center in Maryland, before spending most of the war in the Pacific Theater. Rising to the rank of chief petty officer, Olsen regularly pitched on Navy base teams in Hawaii in 1944 and 1945, and was a member of the 1944 Central Pacific Navy All-Star team.
Discharged from the Navy in late 1945, Olsen reported to the Cubs' spring training in Catalina Island in '46. The transition proved to be difficult for the 28-year-old hurler. The Chicago Tribune reported that Olsen was hobbled by swelling in his legs.19 Rarely able to pitch, Olsen subsequently admitted that he was out of shape after a three-year absence from the big leagues.20 Bothered by a strained elbow the entire season, Olsen made only five mostly ineffective relief appearances, yielding 19 baserunners and three runs in 9⅔ innings. The Cubs released him outright to the Los Angeles Angels in the offseason.
The New York Giants invited Olsen as a nonroster player to their spring training in Phoenix in 1947. Giants scout Dutch Ruether, who had previously scouted for the Cubs, still believed the 29-year-old southpaw could be an effective major leaguer. "A fellow who has a sore arm doesn't throw that free and easy," said Ruether after one of Olsen's successful bullpen sessions in March. "Everything points to him really helping the Giants."21 Unfortunately, Olsen's arm woes returned, and the hurler was sent back to Chicago. Olsen's career with the Cubs came full circle when he made two brief relief appearances for Tulsa before retiring.
In parts of five big-league seasons, Olsen compiled a 30-26 record, completed 23 of 60 starts among his 112 appearances, and had a 3.40 ERA in 516 innings. He went 60-30 and hurled 794 innings in four seasons in the minors.
Out of Organized Baseball before he turned 30, Olsen settled with his wife, Elaine, in the western suburbs of Chicago. For many years he pitched for the Berwyn Bendas in the Greater Chicago Semipro League.22 He also sold automobiles, most notably at Horn Motor Sales in Oak Park, for more than three decades before retiring in 1979.
Olsen died at the age of 71 on July 13, 1989, at Loyola Medical Center in Maywood, Illinois. Services were held at the Conboy-Westchester Funeral Home, and Olsen was buried at Arlington cemetery in Elmhurst.
Sources
In addition to the sources noted in this biography, the author also accessed Olsen's player file and player questionnaire from the National Baseball Hall of Fame, the Encyclopedia of Minor League Baseball, Retrosheet.org, Baseball-Reference.com, Bill Lee's The Baseball Necrology, the SABR Minor Leagues Database, accessed online at Baseball-Reference.com, The Sporting News archive via Paper of Record, and Ancestry.com.
Notes
Born
March 16, 1918 at Hillsboro, OR (USA)
Died
July 13, 1989 at Maywood, IL (USA)
If you can help us improve this player's biography, contact us.
http://sabr.org/sites/default/files/OlsenVern.jpeg
600
800
admin
/wp-content/uploads/2020/02/sabr_logo.png
admin
2016-02-09 14:13:41
2016-02-09 14:13:41
Vern Olsen