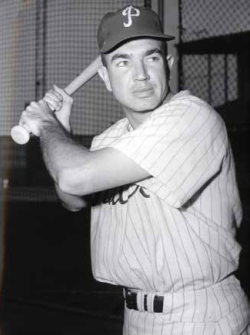 ---
"Oh, Puddin' Head Jones was fat and funny
Dumber than sticks and stones.
Now that is just why the kids all called him,
Wooden head, puddin' head Jones."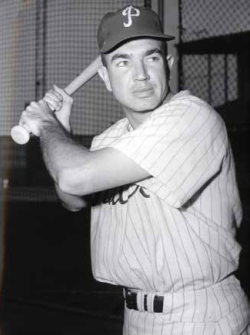 Rudy Vallee and his Connecticut Yankees sang these words in 1933. Legend has it that Willie Edward Jones's nickname came from the song. Wherever it came from, Philadelphia Phillies fans were able to sing his praises between 1947 and 1959.
Jones was a typical Southern boy with a drawl as slow as molasses. His feet always seemed to hurt. (That might explain why they were the only things slower than his mouth.) On the baseball diamond he was considered quick, strong, and aggressive. Jones had fast hands, and possessed great range with a cannon of an arm.
Before Mike Schmidt's arrival, Jones had been considered the best third baseman in Phillies history. He impressed Pie Traynor, the Hall of Fame third baseman and an authority on the hot corner. When asked how he himself compared to Puddin' Head, Traynor replied: "He's better than I was."1  Jones led National League third basemen in fielding average from 1952 through 1956 and in 1958.
Willie Edward Jones was born on August 16, 1925, in Dillon, South Carolina. His father, William H. Jones, was a master mechanic. When Willie was 4 years old, the family moved to Laurel Hill, North Carolina. Willie Jr. had a younger sister and a brother, J.W., who was four years younger. J.W. was a catcher who played 10 years in the minors between 1950 and 1959 with a lifetime average of .264.
Willie "Puddin' Head" Jones was athletic; he played center on his high-school basketball team and first base for its baseball team. He graduated from high school in 1943 and enlisted in the Navy. He played baseball while in the service.
When Jones was discharged in May of 1946, he began playing shortstop and third base with the Bennettsville (South Carolina) Red Sox in the semipro Palmetto League. He caught the eye of Johnny Nee, a Phillies executive who had been dispatched to see if Jones had a future in Philadelphia.
It was around this time that Jones met his future wife, Carolyn Goodson. Another scout, Claude Dietrich, representing the Atlanta Crackers of the Southern Association, brought him to a hotel in Bennettsville. When Dietrich excused himself to go to his room, Willie began talking with the woman behind the front desk. Later he recalled, "I took one look at her, and I said, 'I'm going to marry you!"2
Four months later they were married.
The Phillies' Johnny Nee later said, "I followed him for three weeks. They had some smart pitchers in that league; old timers from the Southern Association. They were good, but Jones could hit them."3 
Nee was not the only scout interested in Jones, and he signed him quickly. Jones was assigned to Terre Haute of the Three-I League (Class B) in 1947. He performed well, batting .307 with 10 home runs and 107 RBIs, and was called up to the Phillies late in the season. He made his debut on September 10 with a pinch-hit appearance, and then played third base in 17 more games before the month was out. Jones collected his first major-league hit in the second game of a September 12 doubleheader in Chicago, with a 2-for-4 game in which he drove in two runs. The Cubs won, 7-5. His best game was two days later, in Pittsburgh, again 2-for-4 with three RBIs as the Phillies beat the Pirates, 9-7. He had an RBI triple in the first and a two-run single in the sixth. In 69 plate appearances in September, he hit .226 with a .304 on-base percentage. At third base he made six errors in 66 chances, a .909 fielding percentage.
In 1948 Jones was assigned to Utica of the Eastern League (Class A) and was quickly promoted to Toronto of the International League (Triple-A). Jones was elated about the promotion but Mrs. Jones was not. She was pregnant and had a major concern about her husband playing in another country. "You can't go, Willie," she told him. "If our boy is born in Canada, he can't ever be the president."4 Mrs. Jones was quickly assured that arrangements would be made for her to return to the United States if the baby were to arrive. The possible future President Willie Jones, Jr. was born in South Carolina.
In his first game with Toronto, Jones was hit in the head by a Montreal pitcher. He was taken to a hospital, but went back to the park the next day. He begged manager Eddie Sawyer to let him play. Sawyer like Jones's spunk and put him in. The first time Willie came to bat, the opposing pitcher threw one close to his head. Jones fired his bat at the pitcher and a riot broke out. Three players ended up going to jail, but not Jones.
Jones was called up again to the Phillies in September, and was in the majors to stay. He played in 17 games that month and batted .333 with two home runs, the second being a three-run homer in a six-run inning that fueled a 6-3 win over the New York Giants at the Polo Grounds on September 28.
Jones went to spring training in 1949 and went north as a member of the Phillies. He hit safely in his 10 of his first 16 games to start the season. The Phillies finished with a record of 81-73, good enough for third place in the National League. Jones batted only .244 but showed some power with 19 home runs and 77 RBIs.
On April 20, 1949, Jones tied a record with four doubles in a game against the Boston Braves. On June 2, 1949, he helped the team become a part of National League history as the first National League team to hit five home runs in one inning. They bombarded three Cincinnati pitchers during the bottom of the eighth inning. Andy Seminick had two, and Del Ennis, Jones, and Schoolboy Rowe hit the others; the Phillies won, 12-3. Jones also had a triple, just missing another home run.
Jones's fielding was less than desirable at third. He had a fielding average of .948 that year and committed 27 errors. Late in the season a writer remarked about Jones's errors (27 for the season) to coach Cy Perkins. Perkins responded, "Is that so?  I've never even noticed it. I haven't seen a third baseman like that in a long time."5 After that first full season, coach Dusty Cooke helped Jones improve defensively by hitting groundballs to him for 20 to 30 minutes a day. Cooke hit the meanest, trickiest grounders he could and eventually Willie fielded them routinely. His fielding percentage improved each year over the next four seasons, and he ended his major-league career with a. 963 career fielding percentage.
In 1950 the Phillies were known as the Whiz Kids; the average age on the team was slightly over 26 years old. It turned out to be a magical season. The last time a Phillies team had appeared in a World Series was 1915. Many of Jones's 25 home runs during the season were important; several either tied or won games. On April 26 he hit a three-run homer to tie a game with the Brooklyn Dodgers, only to see the Phillies lose 5-4 in the bottom of the 10th. The next day, Jones smacked a grand slam off Preacher Roe in the first inning. The Phillies went on to win, 9-2, over Brooklyn. On May 3 he hit two homers to beat the Cubs, and on May 11 he hit one out against Pittsburgh for a 3-2 win.
Jones made the NL All-Star team in 1950 in his second full season in the majors. The game was held on July 11 at Comiskey Park, the home of the Chicago White Sox, and Jones was joined by teammates Jim Konstanty, Robin Roberts, and Dick Sisler. The game went 14 innings and Jones set a record for plate appearances in an All-Star Game with seven. (He was 1-for-7 as the NL squad won, 4-3 in 14 innings.)
The Phillies led the league by 7½ games on September 20 but went into a slump and the pennant was decided by the last game of the year against the Brooklyn Dodgers. The game pitted each team's aces — Don Newcombe for Brooklyn and Robin Roberts for Philadelphia. The Phillies won the pennant on a three-run homer by Dick Sisler in the top of the 10th. Jones batted .267 with 25 home runs and 88 RBIs for the season.
The Whiz Kids were swept by the New York Yankees in the World Series. Each of the first three games was decided by one run: 1-0, 2-1 in 10 innings, and 3-2. The Yankees won the deciding game 5-2. Jones was 4-for-14 (.286), scored a run, and hit a double.
From 1949 through 1953 Jones never drove in fewer than 70 runs or hit fewer than 18 home runs. He made the All-Star team in both 1950 and 1951. His stats regressed in 1952. After that season the Phillies worried about Jones's batting average; it had dropped by 35 points (from .285 to .250), and he hit four fewer home runs, and drove in nine fewer runs than the season before. The front office thought his slump might have had something to do with his eyesight. Jones went through rigorous testing, but it was determined that his eyes were not to blame.
Then Jones had another subpar season in 1953, batting .225, with 19 home runs and 70 RBIs. The following four seasons did not distinguish his career. After the 1957 season the Phillies wanted to cut his pay. Owner Bob Carpenter said, "Jones comes right to the door of stardom but never touches the knob." 6
Although Jones spent the first four weeks of the 1958 season on the Phillies' bench, it eventually became a "bounceback" season. He returned to the lineup when the Phillies moved Granny Hammer from third base to second and returned Jones to third. The infield change firmed up the defense and shored up the team's offensive punch. On May 13 Jones hit his first home run of the season, off longtime Phils nemesis Bob Buhl as the Phillies beat Milwaukee, 5-2.
On August 20, 1958, Jones tied a Phillies record with eight RBIs in a game. He went 4-for-5. He hit a three-run homer in the first inning, another in the third, a single in the seventh, and a two-run double in the ninth.
Jones played for three teams in 1959. On June 6 the Phillies traded him to the Cleveland Indians for outfielder Jim Bolger and cash. Three weeks later the Indians sold him to the Cincinnati Reds. For the season he batted .255 with 14 home runs and 56 RBIs. He played in 79 games in 1960 for the Reds batting .268, and hitting three homers. After playing in nine games in 1961 without a hit, Jones retired on May 7.
Jones played for the Phillies in 13 of his 15 major-league seasons. He hit 190 home runs and had 812 RBIs. Jones had a .963 career fielding percentage, and led NL third basemen in percentage five times, in putouts seven times, and in assists and double plays twice. He never won a Gold Glove award, which was not presented until 1957; had it begun earlier, he might have own a few times.
Hall of Fame pitcher Robin Roberts rated his Phillies teammate as the second-best third basement he ever saw, behind Brooks Robinson.
This biography appears in "The Whiz Kids Take the Pennant: The 1950 Philadelphia Phillies" (SABR, 2018), edited by C. Paul Rogers III and Bill Nowlin.
Sources
Matthews, Gary, and Phil Pepe, Few and Chosen: Defining Phillies Greatness Across Eras (Chicago: Triumph, 2012).
Paxton, Harry T., The Whiz Kids: The Stories of the Fightin' Philles (New York: David McKay Company Inc., 1950).
The Sporting News
Westcott, Rich, and Frank Wilovsky, The New Phillies Encyclopedia (Philadelphia: Temple University Press, 1993).
Notes
1 Rich Westcott and Frank Wilovsky, The New Phillies Encyclopedia, 263.
2 Harry T. Paxton, The Whiz Kids: The Stories of the Fightin' Phillies, 72.
3 Paxton, 70.
4 J.G. Taylor Spink, "Corn-Pone Kid Now Feasting on Pitchers," The Sporting News, May 17, 1950, 6.
5 Paxton, 65.
6 "Phillies Boss to Jolt Jones with Pay Cut," The Sporting News, December 16, 1957, 16.
Born
August 16, 1925 at Dillon, SC (USA)
Died
October 18, 1983 at Cincinnati, OH (USA)
If you can help us improve this player's biography, contact us.
https://sabr.org/sites/default/files/pudding.png
600
800
admin
/wp-content/uploads/2020/02/sabr_logo.png
admin
2012-01-04 20:00:34
2021-09-21 07:17:12
Willie Jones