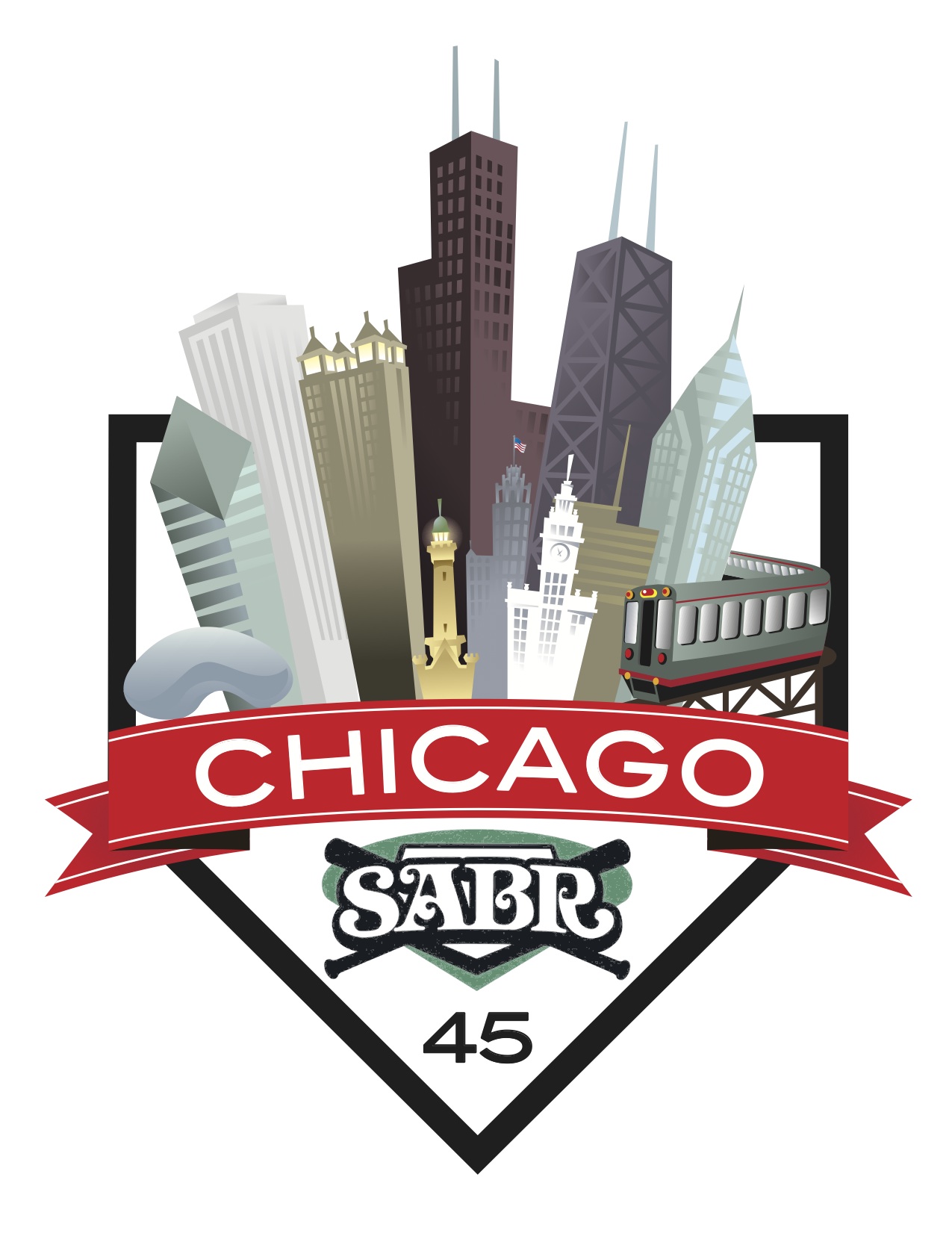 Here are the speakers for our featured panels at the SABR 45 national convention, June 24-28, 2015, at the Palmer House Hilton in Chicago.
For more coverage of SABR 45, visit SABR.org/convention.
Broadcasters Panel: Baseball announcers from the Chicago Cubs discussed their careers and experiences in the game. 8:30 a.m., Thursday, June 25.
Ron Coomer, Broadcaster, Chicago Cubs: A former American League All-Star, Ron is in his second season as a radio analyst with the Cubs. Previously, he spent two years as an analyst for Fox Sports North and KTWN radio in Minneapolis. From 1995-2003, he played for parts of nine seasons in the major leagues with the Twins, Cubs, Yankees, and Dodgers. He was selected to the 1999 AL All-Star team as a member of the Twins and appeared in the postseason with the Yankees in 2002.
Jim Deshaies, Broadcaster, Chicago Cubs: Jim is in his third season as a TV analyst with the Cubs after spending 16 seasons in the same role with the Houston Astros. He pitched for 12 years in the major leagues, appearing in 257 games from 1984-95 with the Yankees, Astros, Padres, Twins, Giants, and Phillies. He set an Astros rookie record with 12 wins in 1986 and helped the club win the NL West Division championship. Also that year, he set a modern-day MLB record by striking out the first eight batters in a September 23 start against the Dodgers.
Len Kasper, Broadcaster, Chicago Cubs: Len is in his eighth season as the Cubs TV play-by-play voice after working with the Florida Marlins for three years at Fox Sports Net. Prior to joining the Marlins, Len did play-by-play for select Milwaukee Brewers games from 1999-2001. Kasper's broadcast career also included a stint as the morning sports anchor at WTMJ in Milwaukee. He hosted pregame and halftime shows for the Green Bay Packers radio network and co-hosted a hot stove league show on the Brewers radio network. He spent nearly eight years working for WTMJ. Kasper graduated summa cum laude from Marquette University in 1993 with a degree in public relations.
Moderator: Curt Smith, author and historian: Curt is a longtime SABR member and prolific author whose books include A Talk in the Park: Nine Decades of Baseball Tales from the Broadcast Booth (2011), Pull Up a Chair: The Vin Scully Story (2010), Voices of Summer: Ranking Baseball's 101 All-Time Best Announcers (2009), The Storytellers: From Mel Allen to Bob Costas : Sixty Years of Baseball Tales from the Broadcast Booth (1995), and Voices of the Game: The Acclaimed Chronicle of Baseball Radio and Television Broadcasting — from 1921 to the Present (1992). He also has contributed to SABR publications with biographies on broadcasters Russ Hodges, Dick Stockton, Bill Campbell, and others. He wrote more speeches than anyone for former President George H.W. Bush. He has also hosted National Public Radio's affiliate "Perspectives," is a GateHouse Media columnist, and teaches English at the University of Rochester. Famed pollster John Zogby terms him "the pre-eminent baseball raconteur in the country."
Curveballs: Pitching Prodigies, Real and Imagined: This fun and fanciful panel featured two of the most colorful characters in baseball during the 1980s. One was a first-round draft pick who starred for the Cubs and White Sox in real life; the other "pitching phenom" played a key role in one of baseball's enduring legends. 9:00 a.m., Friday, June 26.
Joe Berton:

Joe is a retired middle-school teacher from Oak Park, Illinois, who had a hand in one of the most famous baseball hoaxes of all-time. He played the role of the mysterious rookie phenom Sidd Finch — a former Tibetan monk who could throw a baseball 168 mph — in

Sports Illustrated's

"The Curious Case of Sidd Finch" on April Fool's Day of 1985. As part of the hoax, he was invited to the New York Mets spring training camp in Florida and photographed throwing a fastball into the ocean. Now 30 years later, he continues to receive calls and interview requests for Sidd Finch every spring, blurring the lines between legend and reality.

 
Steve Trout: Steve spent 12 seasons as a major-league pitcher from 1978-89, including five years apiece with the Chicago Cubs and the White Sox. He won 13 games for the Cubs to help lead them to the 1984 NL East Division championship and was the winning pitcher in Game Two of the NLCS against the Padres. The son of pitcher Dizzy Trout, Steve was a first-round draft pick by the White Sox in 1976. He won 37 games on the South Side before he was traded across town in 1983. He finished his career with the Yankees and Mariners. He is the author of Home Plate: The Journey of the Most Flamboyant Father and Son Pitching Combination in Major League History.     
Moderator: Barry M. Bloom: Barry has been a national reporter for MLB.com since 2002 and has more than 35 years of experience covering sports. He covered baseball and hockey for five years at Bloomberg News and also spent 16 years as a writer at the San Diego Union-Tribune.
ESPN presents "1927: The Diary of Myles Thomas": Starting in the spring of 2016, ESPN will relive the epic season of the 1927 New York Yankees through a work of historical fiction in the form of a diary of one of the '27 Yankees, and letters by a Yankee beat writer. This is a special preview of that project. 10:00 a.m., Friday, June 26.
SABR member Steve Wulf is a senior writer for ESPN.com and ESPN The Magazine. In a career that pre-dates the designated hitter, he has also written for Time, Life, Sports Illustrated, the Fort Lauderdale News and the Norwich (New York) Evening Sun. He and his wife, Jane Bachman Wulf, live in Larchmont, New York, where they raised four wonderful pitchers. If you walk a certain way, their home is 2,130 steps away from where Eleanor and Lou Gehrig lived.
John Thorn is the Official Historian of Major League Baseball. The longtime SABR member is often visible on TV and the web as a sports authority and commentator: John was also a major on-screen presence in and chief consultant to Ken Burns' PBS film, Baseball, and is reprising that role for Burns' Race Man: The Life and Times of Jackie Robinson (PBS, 2016). Along with co-creating Total Baseball with Pete Palmer, John is the co-author of The Hidden Game of Baseball (which established alternative statistics later recognized and adopted as official by Major League Baseball, notably OPS), among other books, and countless articles for national newspapers. Much more about John can be found at ourgame.mlblogs.com.
SABR member Douglas Alden is the Myles Thomas project's creator, head writer, and executive producer. He began his media career as an intern for Dick Schaap at Sport Magazine. Since then he's been a multiple Emmy Award-winning writer/producer/director, covering both sports and politics at ABC News, ABC Sports, NBC Sports & Olympics and ESPN. Douglas was a founding member of Classic Sports Network (now ESPN Classic), where he oversaw the network's programing and production, the co-founder of one of the first online video sharing companies (now a part of HP) and a contributing feature writer at Fortune Magazine, writing about media and social trends. Much of his past can been seen, read, and heard at TheAldenCurve.com.
SABR Awards Banquet: Ernie Banks/Minnie Minoso Tribute, presented by Phil Rogers: The SABR 45 Awards Banquet included a special tribute to Chicago baseball icons Ernie Banks and Minnie Minoso, presented by MLB.com national columnist Phil Rogers. Awards presented or announced at the SABR convention luncheon include the Roland Hemond Award, the SABR Baseball Research Awards, the McFarland-SABR Baseball Research Awards, and the Henry Chadwick Awards. The Awards portion of the luncheon concludes with the awarding of the Bob Davids Award, SABR's highest honor. 12:00 p.m., Friday, June 26.
Phil Rogers: Phil is a national columnist for MLB.com. He has covered baseball for more than three decades, including as a reporter and columnist for the Chicago Tribune from 1997 to 2013. He has written three books on baseball, Ernie Banks: Mr. Cub and the Summer of '69

(2011),

Say It's So: The Chicago White Sox's Magical Season

(2006), and

The Impossible Takes a Little Longer: The Texas Rangers From Pretenders to Contenders

(1990). He spent 13 years as a reporter for his hometown

Dallas Times Herald

and

Dallas Morning News

. Previously, he worked for the

Shreveport Journal

,

Albuquerque Journal

, and

Florida Times-Union

.
Women in Baseball Panel: Women have played our national pastime as children and adults probably as long as their male counterparts. The development of softball has largely obscured the rich history and current involvement of women in the hardball world. This discussion brings into focus the role of women in baseball, past and present, through the real life, and varied experiences of our panel members. 2:15 p.m., Friday, June 26.
Martha Jo Black: Martha Jo has been working for the Chicago White Sox in the area of Fan Experiences since 2004. She also worked for the White Sox from 1993-2000 and then left for a four-year stint with Winston and Strawn LLP. Her first baseball job was with the Arizona Fall League in 1992. She is the co-author of a biography/memoir about her father and former major-league pitcher, Joe Black: More than a Dodger, which was released in February 2015. She has made appearances on MLB Network, WGN-TV, and WCIU promoting the book.
John Kovach: John is the former chair of SABR's Women in Baseball Committee and he has authored numerous articles about the history of girls and women in baseball. He also curated the "Diamond Dreams" exhibit that was launched in 2007 and is the only traveling exhibit on the history of girls and women playing baseball. He was honored by the National Women's Baseball Hall of Fame as Manager of the Year in 2002. He is an archivist at Saint Mary's College and lives in LaPorte, Indiana.
Caroline Phillips: Caroline joined the Chicago Cubs front office in 2014 as Manager, Premier Services. Her role was created in anticipation of the the long-awaited $375 million restoration and expansion of Wrigley Field which includes the building of four new premier club areas as well as a major renovation in the suite level. The project will propel the Cubs Premier Club seat inventory from 70 to 1,300. Caroline will be responsible for delivering the service component (including staffing, amenities, events, and the touchpoint program) for each of the four new club spaces as well as all leased suites. Prior to joining the Cubs, Caroline was the Supervisor, Premium Services for the Los Angeles Dodgers where she oversaw all servicing for the Lexus Dugout Club, Ketel One Baseline Box Clubs, and the Club Suites. She graduated from Miami University in 2009 with a degree in Communications and a minor in Marketing.
Christie Spisak: Christie is a player for the South Bend Blue Sox, the oldest women's baseball program in the Midwest. She is a junior at the University of Pittsburgh and has played baseball all her life, including Little League and for the Chicago Pioneers. She also serves as an umpire for youth baseball during the summer. She is from Berwyn, Illinois.
Moderator: Leslie Heaphy: Leslie has been a member of SABR since 1989 and chair of the Women in Baseball Committee since 1995. She was elected to the SABR Board of Directors in 2010 and serves as the Board liaison to research committee chairs. She is an Associate Professor of History at Kent State University at Stark and publishes in the area of the Negro Leagues and women's baseball. In 2008, she became the founding editor of the journal Black Ball, published by McFarland.
White Sox Players Panel: Our panel of former Chicago White Sox players discussed their careers and experiences in baseball. 9:30 a.m., Saturday, June 27.
Mike Huff: Mike played parts of seven seasons as an outfielder in the major leagues from 1989-96, and spent three years with the Chicago White Sox, including on their 1993 AL West Division championship team. The Los Angeles Dodgers selected him out of Northwestern University in the 16th round of the 1985 amateur draft and he singled in his first major-league at-bat off Hall of Famer Tom Glavine in 1989. He was primarily an outfielder with the Dodgers, White Sox, Cleveland Indians, and Toronto Blue Jays. In 1994, he hit a career-high .304 with 15 doubles and 25 RBI with the Blue Jays. He occasionally calls games as a broadcaster for the Chicago White Sox.
Ron Kittle: Ron was a White Sox fan favorite who hit 176 home runs in a 10-year major-league career. A native of nearby Gary, Indiana, he overcame a spinal injury in the minors to become the American League's Rookie of the Year in 1983, when the White Sox won the AL West. He hit 35 home runs and was named to the AL All-Star team. Later, he played for the Yankees, Indians, and Orioles, before finishing his career on the South Side in 1991. No minor leaguer has hit 50 home runs in a season since Kittle hit exactly that number in his 1982 MVP season in the Pacific Coast League. He is the co-author with Bob Logan of Tales from the Chicago White Sox Dugout: A Collection of the Greatest White Sox Stories Ever Told (2013).
Carlos May: Carlos is a former two-time American League All-Star outfielder who played parts of 10 seasons in the major leagues from 1968-77 with the White Sox, Yankees, and Angels, then spent four more years playing ball in Japan. He was the White Sox's first-round draft pick in 1966 and made his major-league debut two years later. In 1969, he finished third in Rookie of the Year voting at age 21 and was named to the AL All-Star team. He was an All-Star again in 1972, when he hit a career-high .308. He was traded to the Yankees in 1976 and appeared in the World Series that year. His brother, Lee May, also had a long and successful major-league career. In recent years, Carlos has worked in the White Sox front office as a community relations representative.  
Moderator: Dan Migala: Dan is the founding partner of Property Consulting Group, a Chicago-based team marketing advisory firm and publisher of The Migala Report, a sports business monthly periodical. He has helped design some of baseball's most innovative revenue-generating concepts, including serving as a senior advisor to MiLB's "Project Brand" intiative. He is a co-owner with Mike Veeck of the Class A Fort Myers Miracle and author of three sports marketing texts.
Negro Leagues Panel: Our panel of former Negro League players discussed their careers and experiences in black baseball. 1:30 p.m., Saturday, June 27.
Al Spearman: Al was a top pitcher in the final years of the Negro Leagues, playing for the Chicago American Giants and Kansas City Monarchs from 1949-51. In 1952, the 20-year-old was signed by the Chicago White Sox and played in the minor leagues and Japan until retiring in 1959. He went 60-34 with a 2.84 ERA in six minor-league seasons, advancing as far as the Triple-A level. He later became a salesman with 7-Up.
Ernie Westfield: Ernie "turned off the lights" on the Negro Leagues, pitching for the Birmingham Black Barons from 1959 to 1965. He was the starting pitcher for the East in the final East-West All-Star Game at Comiskey Park in 1960. In recent years, he has dedicated his life to studying and speaking about the Negro Leagues. He is the CEO of ELW Enterprises, which sells Negro Leagues memorabilia.
Moderator: Larry Lester, author and historian: Larry is the co-chair of SABR's Negro Leagues Research Committee and one of the founders of the Negro Leagues Baseball Museum in Kansas City. With Leslie Heaphy, he organizes the annual Jerry Malloy Negro League Conference, the only symposium dedicated exclusively to the examination and promotion of black baseball history. In 2006, he served on the Special Negro Leagues Committee that inducted 17 Negro League players, executives, and managers to the Baseball Hall of Fame. He is the author of several books, including Rube Foster In His Time (2012), Baseball's First Colored World Series (2006), and The Negro Leagues Book (1994), and has contributed to hundreds of publications, programs, and documentaries on the Negro Leagues.
Visit SABR.org/convention for complete coverage of SABR 45.