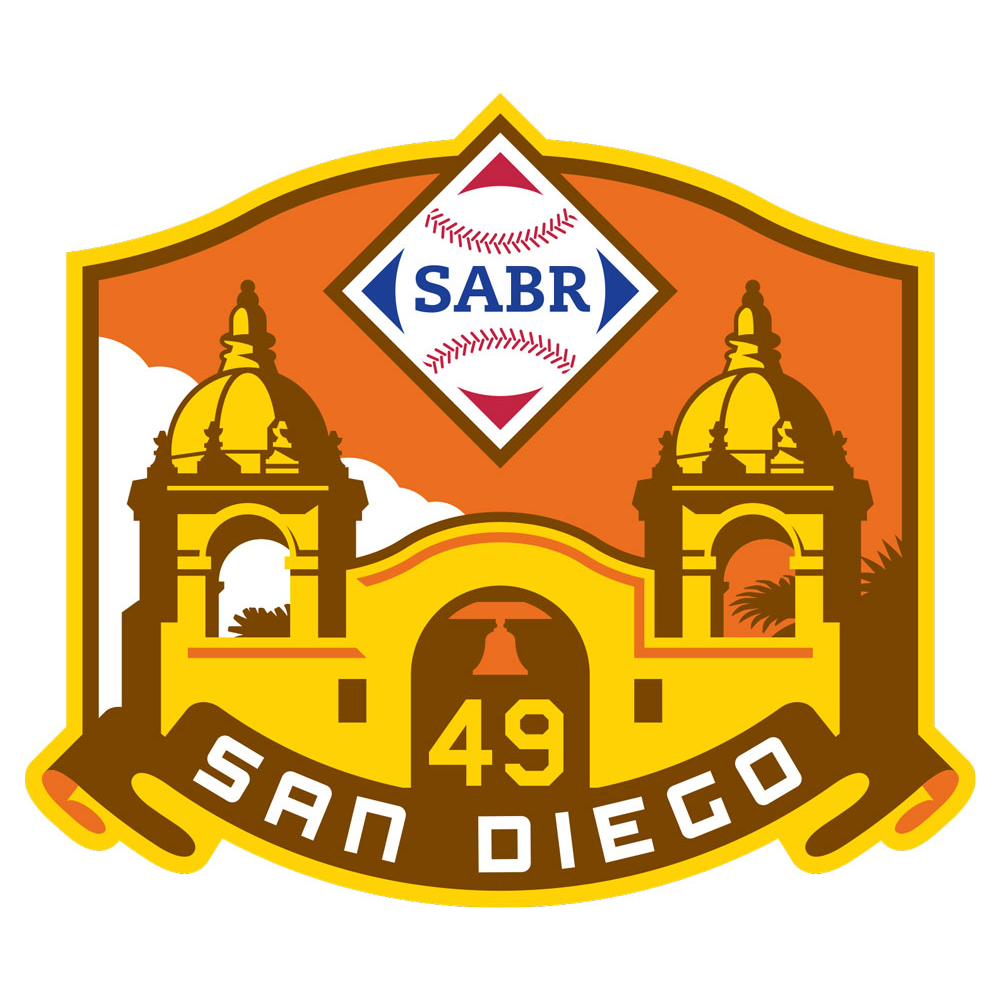 SABR 49
June 26-30, 2019
Manchester Grand Hyatt
1 Market Place
San Diego, CA 92101
Phone: (619) 232-1234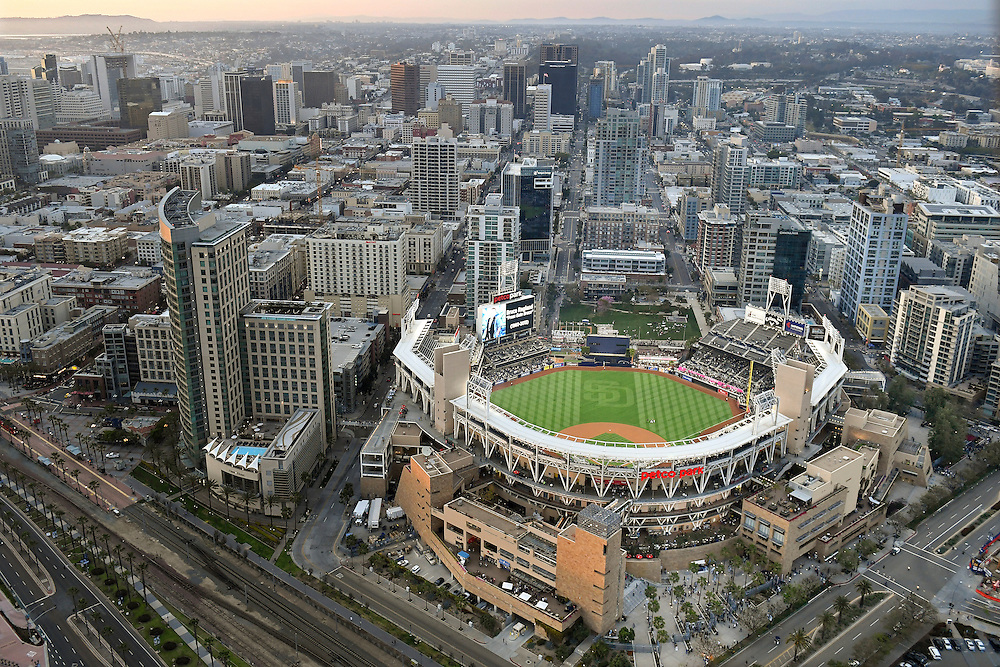 Couldn't make it to San Diego for SABR 49? Check out more coverage of our 2019 national convention online.
The Society for American Baseball Research held its 49th annual national convention on June 26-30, 2019, at the Manchester Grand Hyatt in downtown San Diego. Check out stories, photos, and multimedia clips from the SABR 49 convention in San Diego below.
The annual SABR convention, which is open to all baseball fans, includes top featured speakers from around the baseball world — front office executives, players, managers, scouts, journalists, historians, and analysts — innovative panel discussions, groundbreaking research presentations, ballgames, the SABR Trivia Contest, the Awards Luncheon, and most of all, the opportunity to make and renew baseball friendships over the course of this exciting and memorable event.
Click on a link below for more information about SABR 49:
Featured speakers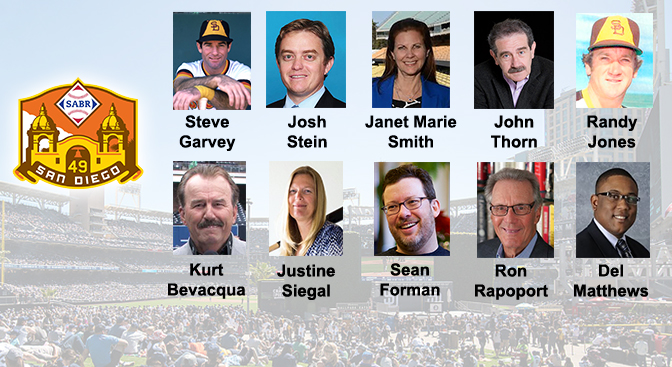 Click here to learn more about our featured speakers and panelists at SABR 49!
SABR 49 Welcoming Remarks
Josh Stein, San Diego Padres Assistant General Manager

Oral History Q&A: Steve Garvey
Steve Garvey, who hit arguably the most iconic home run in San Diego Padres history and was a fan favorite in the National League during his 19-season career 
Padres Player Panel
Randy Jones, 1976 National League Cy Young Award winner, charter member of Padres Hall of Fame, and owner of Randy Jones BBQ at Petco Park
Mark Sweeney, who played 14 seasons in the major leagues as a outfielder, first baseman, and pinch-hitter extraordinaire from 1995 to 2008; now a TV analyst on Fox Sports San Diego
Moderator: Rob Neyer, award-winning author and host of the weekly baseball podcast, SABRcast with Rob Neyer
1984 San Diego Padres Panel
Kurt Bevacqua, San Diego Padres infielder and 1984 World Series hero
Ron Rapoport, sports columnist and author
Ballard Smith, President of the San Diego Padres from 1979 to 1987
Bill Center, San Diego Union-Tribune sports columnist
Moderator: Bob Chandler, San Diego Padres broadcaster, 1970-2003
MLB Umpires Panel
Gerry Davis, MLB umpire since 1984, crew chief for three World Series, who has called more postseason games than any umpire in baseball history
Mike Port, Major League Baseball's Vice President of Umpiring from 2005 to 2011
Moderator: Fred Rodgers, SABR Ted Williams Chapter
The Baseball Encyclopedia 50th Anniversary Panel
Sean Forman, founder of Baseball-Reference.com and president of Sports Reference, LLC
David S. Neft, the driving force behind The Baseball Encyclopedia in 1969
David W. Smith, president and founder of Retrosheet.org
Moderator: John Thorn, Major League Baseball's Official Historian
Women in Baseball Panel
Ila Borders, who broke barriers and became a role model to millions in 1997 when she became the first woman to pitch in baseball's minor leagues with the Northern League's St. Paul Saints 
Perry Barber, professional baseball umpire for more than 30 years and 2018 recipient of SABR's Dorothy Seymour Mills Lifetime Achievement Award
Jewel Greenberg, producer of Girls of Summer: Big Diamond Dreams, a documentary film about the girls and women who play baseball throughout the world
Justine Siegal, founder of Baseball For All and the first female coach in Major League Baseball
Janet Marie Smith, Senior Vice President of Planning and Development for the Los Angeles Dodgers, who oversaw construction and renovations to Oriole Park at Camden Yards, Fenway Park, Turner Field, and Dodger Stadium
Kelsie Whitmore, US National Women's Baseball Team player and pitcher/outfielder with the Sonoma Stompers from 2016-18
Moderator: Jean Ardell, author of Breaking into Baseball: Women and the National Pastime and co-author with Ila Borders of Making My Pitch: A Woman's Baseball Odyssey
Increasing Diversity in Youth Participation
Del Matthews, Vice President of Baseball Development at Major League Baseball
Early California Baseball History Panel
Carlos Bauer, a prolific baseball historian whose specialities include early California baseball and the minor leagues
Angus Macfarlane, a San Francisco-based "baseball treasure hunter" who focuses on baseball's pre-history in the Bay Area
Moderator: Bill Swank, author of numerous books and articles on San Diego baseball history
Special film screening of Moe Berg documentary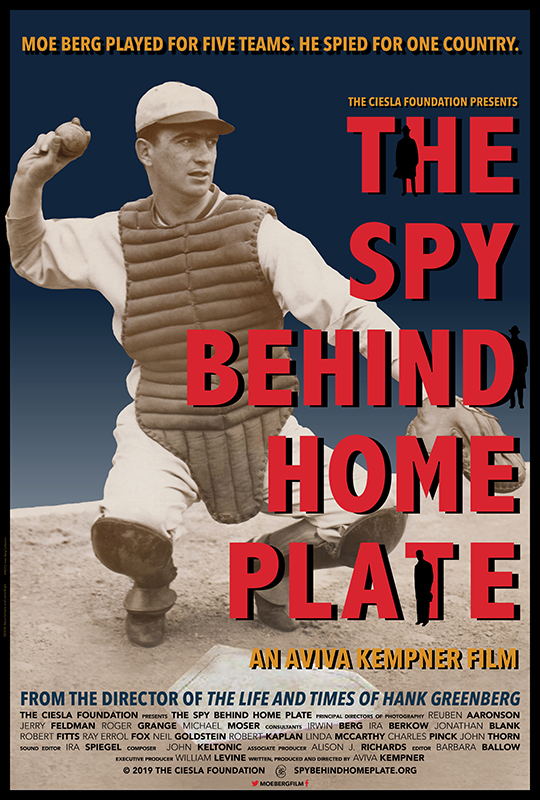 We were pleased to host a special screening of the new documentary film, Moe Berg: The Spy Behind Home Plate, at SABR 49 in San Diego with filmmaker Aviva Kempner.
The film was screened on the evening of Thursday, June 27 at the San Diego Central Library. The event was open to all SABR convention attendees. Click here to learn more.
Before the film screening, convention attendees visited the library's Sullivan Family Baseball Research Center, home of the SABR Collection, housed on the 8th floor there. Members of the local SABR Ted Williams Chapter were on hand to meet, greet, and guide visitors around the BRC and its featured highlights.
In this first ever feature-length documentary about the enigmatic Berg, Kempner focuses her camera on a little-known Jewish hero. Learn more about the film or to view a trailer, visit spybehindhomeplate.org.
Get your copy of The National Pastime convention journal

All SABR 49 attendees received a souvenir print edition of The National Pastime, our annual convention journal, focusing on baseball teams, players, and events in the San Diego and Mexicali area. All SABR members, whether you attend the convention or not, will receive the e-book edition of The National Pastime in their inboxes later this summer.
New SABR book commemorates the Padres' 50th anniversary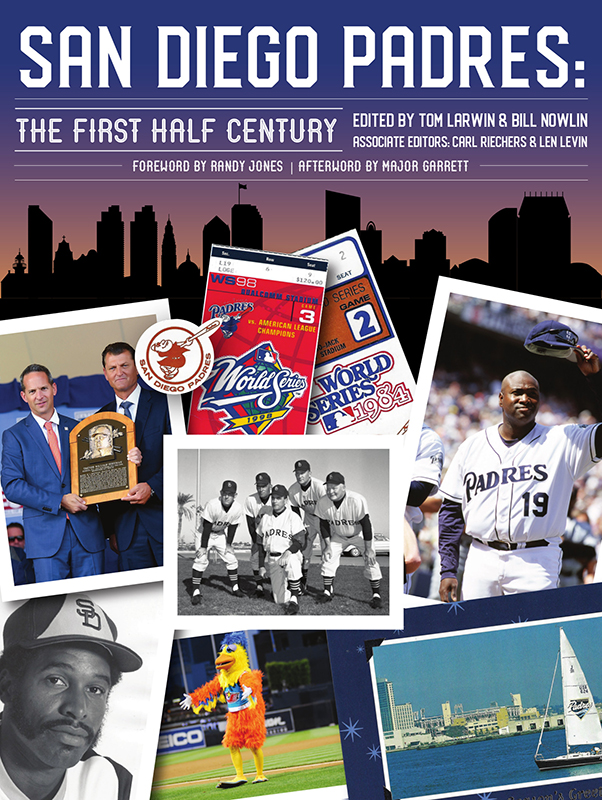 Take in some memorable moments from the Old Mission with our newest book from the SABR Digital Library.
San Diego Padres: The First Half Century captures some of the great players to wear a Padres uniform and takes baseball fans through some of the more memorable dates in Padres history — not just dates that we always read about but the ones that truly tell the story of the franchise. If you're a longtime Padres fan or baseball fan, you'll enjoy the wonderful stories put together by SABR on the first 50 years of the Padres franchise. Includes a foreword by Padres Hall of Famer Randy Jones and an afterword by Major Garrett of CBS News.
SABR members can download all of our e-books for free and get a 50% discount off the paperback editions. Click here to get your copy of San Diego Padres: The First Half Century.
Win cool prizes in the SABR 49 Raffle


Attendees at this summer's SABR 49 convention in San Diego had a chance to enter the SABR 49 Raffle for a chance to win a 1953 Topps Mickey Mantle card and other cool prizes.
Other raffle items include a 1953 Topps Yogi Berra card, vintage Hall of Fame inductee postcards, Negro Leagues Centennial Team Bobbleheads, a Ty Cobb commemorative plate, vintage team mini-pennants, and much more. Raffle winners were announced on Saturday, June 29 at the Manchester Grand Hyatt.
Raffle tickets were $20 each or six for $100, and could be purchased at the Friends of SABR table near the SABR registration area at the Grand Hyatt during the convention.
---
Related links: