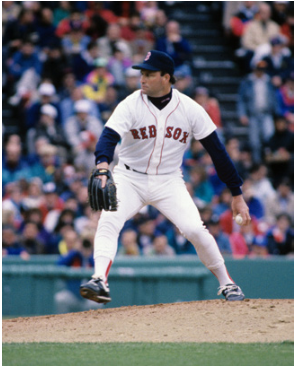 April 12, 1992: Boston's Matt Young loses the game but throws a no-hitter against Indians
---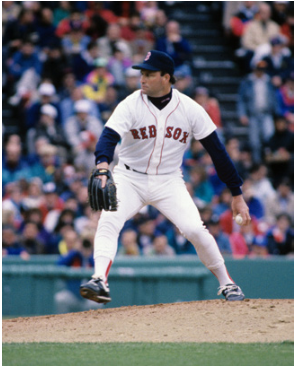 Sunday, April 12, 1992, was a windy, 41-degree day in Cleveland as the Boston Red Sox faced the Indians in a doubleheader at the old Cleveland (Municipal) Stadium, often referred to as "The Mistake by the Lake." The more than 20,000 in attendance that day were about to witness something that had occurred only twice before — a complete-game no-hitter in a losing effort. Matt Young, who the following season would be pitching for the Indians, was the losing pitcher for Boston that day. Young did not allow a hit and struck out six in his eight innings. He was wild, however, walking seven batters, two of whom scored to give Cleveland a 2-1 triumph.
Twenty-eight years earlier, on April 23, 1964, Ken Johnson of the Houston Colt .45s pitched a nine-inning complete-game no-hitter at home against Cincinnati but lost 1-0. On July 1, 1990, Andy Hawkins of the visiting New York Yankees held the Chicago White Sox hitless over eight innings but lost 4-0 when four unearned runs scored on two outfield errors.
Before the 1992 season, apparently motivated by the Hawkins feat, the major leagues' committee for statistical accuracy, chaired by then-Commissioner Fay Vincent, changed the rules to, among other things, not recognize complete games of less than nine innings as no-hitters. Fifty no-hitters were demoted to "notable achievements" in the official record book. Young's game, coming after the committee's ruling, never achieved no-hit status.
The April 12 doubleheader was significant for another reason. Young's gem was the first game. In the second game, Roger Clemens pitched a two-hit shutout as Boston won 3-0. The combined total of two hits allowed by Red Sox pitchers set a record that still stood as of 2016 for the fewest hits allowed by a team in a doubleheader.
The 1992 Boston Red Sox were hoping to win the World Series for the first time since 1918. In 1990, under manager Joe Morgan, they had won the AL East, only to lose in the ALCS. In 1991 the Red Sox paid over $31 million to sign four free agents, including Young. Young had a disappointing 1991 campaign as the Red Sox finished second. As the 1992 season began, the Red Sox had a new manager, Butch Hobson, and, as Young made his first start of the season on April 12, optimism was in the air.
Boston came into the game 1-2, having lost two to the Yankees in their season-opening series before beating Cleveland, 7-5, on Saturday, in a 19-inning marathon. Young was a big, hard-throwing left-hander (6-foot-3, 205 pounds) who often struggled with his control. Lack of control got him into trouble in the bottom of the first, when he walked the Indians' speedy leadoff hitter, Kenny Lofton. Lofton stole second and third and then scored on Carlos Baerga's one out grounder to give Cleveland a 1-0 lead.
Young's lack of control got him into trouble again in the third, as he walked the first two batters. After a force out and a steal of second, another groundball by Baerga made it 2-0. Boston got one run back in the fourth on a pop-fly single by Luis Rivera off the Indians starter, Charles Nagy. That was the last run scored in the game.
While Young held the Indians hitless the rest of the way, it was not without difficulty. In the fifth Lofton walked for the third time and again stole second and third before Young got the final out. Cleveland's Mark Whiten drew yet another walk in the sixth but was caught stealing (1-3-6-3). In the seventh the Indians almost got a hit when third baseman Wade Boggs robbed Brook Jacoby with a diving stop of a sharp grounder. The next two batters walked before Young got out of the inning.
The Red Sox had their chances but could not tie it, loading the bases in the sixth and having the first two batters reach base in the ninth before Indians reliever Derek Lilliquist snuffed out the rally. Young had held the Indians hitless but the Red Sox had lost. Boston left 11 men on base and that, along with the two runners who walked and scored for Cleveland, was the story of the game.
Boston's rookie catcher John Flaherty was playing his first major-league game and got a hit in his first at-bat. Flaherty went on to play in the major leagues for 14 seasons. After Young's game Flaherty displayed the sense of humor that would serve him well as a Yankees broadcaster after his playing career, remarking "[J]ust another day, caught a no-hitter, got my first major-league hit."1
As the Boston Globe reported, Young "had the Indians fooled with a tricky change up" but was done in by the walks and steals.2 The rap on Young over the years was that "he'll usually beat himself."3 The Globe's Dan Shaughnessy wrote, "[o]nce again, Young pitched well enough to lose."4 Said Young, "I look at seven walks and I don't feel I pitched that well."5
Young's game, even though it was considered not to be a no-hitter according to the recently revised baseball rules, was the first time a Red Sox pitcher had held an opponent hitless since September 16, 1965, when Dave Morehead pitched a 2-0 no-hitter against the Indians at Fenway Park. Commenting on having pitched a no-hitter that wasn't, Young said, "Sure … they didn't get any hits. The game's over. People can make rules all they want. It doesn't matter to me."6 Young told the Globe that "pitching a no-hitter that is not recognized is like being in purgatory."7 And when asked what he would say "if he called home," Young — who clearly had a good sense of humor about the whole thing — replied, "I'd say I've got some good news and some bad news."8 Young did not bother to keep the game ball. "I don't think it's really hit me yet," he said after the game. "I'm kind of upset about losing the game. A loss is a loss."9
Roger Clemens was surprised to hear that it was not a no-hitter.10 "I didn't know that (until later). I congratulated him and everything," Clemens said.11 Young's sense of humor was intact here as well. After Clemens' 3-0 win in the second game, he commented, "Some guys get all the runs."12
Writing in the New York Times, Murray Chass noted that Young was philosophical about his no- hitter not being recognized as such.13 Chass wrote, "Young shrugged off the bureaucratic trashing of his feat by saying a no-hitter is supposed to be when the pitcher strikes out the last batter, the catcher runs to the mound and everyone jumps around."14 None of that happened, of course, on April 12, 1992.
Chass noted, "Until 1990, no pitcher had ever experienced the kind of game Young pitched," that is until Andy Hawkins did it in July of that year.15 "Now two pitchers have been snubbed by the Committee for Statistical Accuracy, which sounds like something left over from the old Soviet Union."16 Chass's advice to Young: "Matt Young shouldn't' let anyone tell him that he didn't pitch a no-hitter. …"17
The day after the no-hitter that wasn't was Opening Day at Fenway Park. Young was warmly received by the crowd.18 Fay Vincent was in attendance and heard shouts of "It's a no-hitter, Fay!"19 Vincent defended the rule change, stating, "Look, it wasn't just I. It was a committee that looked at it very carefully. I think we're correct. A no-hitter has to be, in effect, a victory. It's got to go nine innings. … It's not that Matt Young and Andy Hawkins didn't do something significant. … Eight innings is not a complete game if you're pitching a no-hitter, because you're losing."20
Young said he didn't have a chance to talk to Vincent about the no-hitter rule, but still felt he pitched one.21 Vincent was unmoved. "Matt Young said it very well. In a no-hitter, the catcher runs out, jumps in your arms to celebrate a victory. Matt and I agree. … It's the asterisk no-hitter — a distinguished achievement in a game in which there was no hit."22
The Globe's Shaughnessy remarked that "years from now it will probably be forgotten that Roger Clemens rescued the Sox with a two-hit shutout in Game 2."23 In fact, as of the end of 2016 — nearly 25 years after that doubleheader — both games are remembered for the records (or non-records) that were set. As Shaughnessy wrote: "And so April 12, 1992, goes down in Red Sox history. It was the day Matt Young threw a no-hitter. Not."24
This article was published in SABR's "No-Hitters" (2017), edited by Bill Nowlin.

Sources
Retrosheet.org and Baseball Reference.com were the source of play-by-play information.
Notes
1 Mike Shalin, "First Day, Big Day, Sox' Flaherty Makes Historic Debut," Boston Herald, April 13, 1992.
2 Dan Shaughnessy, "Leave It to Red Sox, And Young, to Lose a No-Hitter," Boston Globe, April 13, 1992.              
3 Ibid.
4 Ibid.    
5 Ibid.
6 Ibid.    
7 Ibid. See also "Rules Deprive Matt Young of a No-Hitter: Baseball: Red Sox Pitcher Doesn't Go the Required Nine Innings in 2-1 Loss to Indians. In Second Game, Cleveland Gets Two Hits and Loses," Los Angeles Times, April 13, 1992.
8 Shaughnessy.
9 Ibid.
10 Mike Shalin, "Roger's Few Runs Look Big to Young," Boston Herald, April 13, 1992.
11 Ibid.
12 Ibid.
13 Murray Chass, "What Is a No-Hitter? Matt Young Knows," New York Times, April 17, 1992.
14 Ibid.
15 Ibid.
16 Ibid.
17 Ibid.
18 Nick Cafardo," Red Sox Notebook: Fenway Opener/Red Sox-Orioles," Boston Globe, April 14, 1992. Young received the longest ovation during introductions.
19 Ibid.
20 Ibid.
21 Ibid.
22 Ibid.
23 Shaughnessy.
24 Ibid.
Additional Stats
Cleveland Indians 2
Boston Red Sox 1
Game 1, DH
---
Cleveland Stadium
Cleveland, OH
Box Score + PBP:
Corrections? Additions?
If you can help us improve this game story, contact us.
Tags
https://sabr.org/sites/default/files/YoungMatt.PNG
600
800
admin
/wp-content/uploads/2020/02/sabr_logo.png
admin
2018-10-23 12:57:32
2021-04-12 02:16:36
April 12, 1992: Boston's Matt Young loses the game but throws a no-hitter against Indians