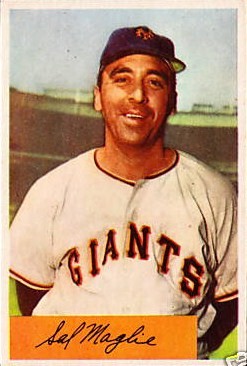 April 18, 1950: Sal Maglie returns to Giants after four-season suspension hiatus
---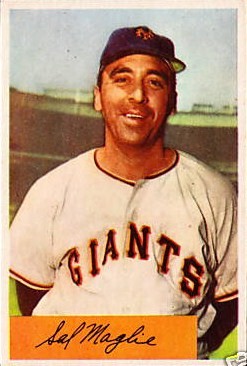 When Sal Maglie reached the major leagues on August 9, 1945, he was a 28-year-old rookie dismissed as "a nobody, another dreary journeyman pitcher coughed up by the minors in the final days of wartime baseball."1 Manager Mel Ott used him for a mere two-thirds of the fourth inning that day and 4⅓ innings in relief the next day.
Along the way to a 5-4 record in 84⅓ innings in 1945, Maglie picked up the August 23 Sporting News "Player of the Week" award, aided by guidance from Giants pitching coach Dolf Luque.2 Maglie then followed Luque, a fixture in Cuban baseball, to the island for more tutoring that winter. Pitching in Cuba, Maglie encountered Mexican baseball magnate Bernardo Pasquel.3
Pasquel tried to entice Maglie to pitch in Mexico in 1946 for $7,500 although the right-hander had already signed a Giants contract for the same amount. "The bonus wasn't large enough to make me throw over the big leagues and play ball under conditions I knew nothing about," Maglie remembered.4
When Maglie reported to 1946 Giants spring training, Ott greeted him enthusiastically, "then forgot about him."5 Meanwhile, Pasquel and his brother Jorge continued to doggedly pursue Maglie. Frustrated by the dismissive treatment he received in spring training, Maglie ultimately signed a lucrative contract with the Pasquels to play in Mexico.6 But he had cast a significant lot — as one of 13 major-league "jumpers" to Mexico, Maglie was banned from Organized Baseball for five years.7
Maglie pitched under Luque's useful tutelage in Mexico for the 1946 and 1947 seasons and emerged "a grim, tough, ruthless competitor unfazed by weather, taunts, or pressure."8 From Luque, Maglie learned to rely on his devastating curveball, mixing in pedestrian fastballs, many of them high and tight, to intimidate hitters. Those fastballs, often "so close to batters' heads that it seemed to shave their chins, [ultimately] gain[ed] him the memorable nickname 'Sal the Barber.'"9 Disenchanted with Mexico after 194710 but still banned, he played with a barnstorming team assembled by fellow jumper Max Lanier until the autumn of 1948 and in 1949 with the Drummondville (Quebec) Cubs in the Canadian Provincial League. There, he had a "sensational season," leading the team to a first-place finish in the league's regular season and the league championship in two rounds of playoffs.11
Lawsuits challenging the Mexican ban motivated Organized Baseball give the banned players early amnesty for the 1950 season.12 Under the reserve clause, Maglie was still obligated to play for the Giants or nowhere else in Organized Baseball. "Sal's departure from the Giants had caused only a small stir, and his return caused even less."13 Maglie signed a 1950 contract for a reported $10,000 and encountered a new manager, Leo Durocher. Although Durocher greeted Maglie cordially in spring training and complimented him on his physical condition, "I had the feeling they weren't counting on me. They were taking a look just because they owned me," was Maglie's assessment.14 But, "I'll pitch my arm off just to show the Giants how glad I am to be back. If Leo has four good starters and I can help him in relief, that'll be fine."15
On the Giants' arrival at camp in Phoenix in late February 1950, the local paper reported that Durocher was "proud of his pitchers," but listed Maglie as the sixth of six "other possibilities" for the fifth spot in the rotation.16 By mid-April, though, he was assured of at least a bullpen role. Durocher told writers, "Maglie has good control, especially of his breaking stuff."17 Two days later Durocher was calling Maglie his "No. 1 relief pitcher."18
More than four years after he had thrown his last major-league pitch, on September 30, 1945, Sal Maglie was back in the majors. He was now 33 years old but had learned a lot about the vicissitudes of life — and pitching — in the interim.
The Giants opened their schedule at the Polo Grounds against the Boston Braves on Tuesday afternoon, April 18. The Braves were two years removed from a World Series loss. They were coming off a fourth-place finish in 1949 and still had their formidable lefty-righty starting pitching duo of Warren Spahn and Johnny Sain, bolstered by Vern Bickford.19 Spahn got the Opening Day start against the Giants' ace, Larry Jansen. A festive Opening Day crowd of 32,441 saw Manhattan Borough President Robert F. Wagner Jr. toss the ceremonial first pitch. "Hordes of distinguished people [were] in the box seats, but none [brought] more hallowed memories than loyal regulars Mrs. John McGraw and Mrs. Christy Mathewson." Actress Laraine Day, Durocher's wife, was also on hand "as regular telecaster with a pregame feature over WPIX."20
Jansen breezed through the Braves in the top of the first, including a strikeout of the Braves' "$150,000 rookie wonder," Sam Jethroe.21 The Giants got Jansen a run in their first — Eddie Stanky walked, Whitey Lockman flied out, Bobby Thomson singled in front of the plate as Stanky moved to second base, and Don Mueller singled to right-center to bring Stanky home.22
The Braves went down in order in their second as Jansen recorded two more strikeouts. But he quickly lost his slim lead in the third. Del Crandall greeted him with a popfly single, the Braves' first hit. Former Giant Buddy Kerr tripled him home to tie the game; Spahn helped his own cause with a groundout to the right side that scored Kerr. The Braves now led, 2-1.
New York got a leadoff home run from Hank Thompson in the fourth inning to forge a 2-2 tie. Jansen, though, imploded in the fifth. He allowed a single, a walk, and a run-scoring single, then a fly out that plated another run. His day was finished by Bob Elliott's two-run homer. The Boston lead had bloomed to 6-2.
Maglie's formal return to Organized Baseball began when Durocher summoned him in relief. Jansen had managed one out. Four runs were already in, but the bases were clear. Maglie had predictable jitters and walked Sid Gordon on four pitches, then yielded consecutive singles to Earl Torgeson and Crandall, bringing home the fifth run of the inning. He did, though, get Kerr to hit into an around-the-horn double play to end the carnage.
With the Giants now trailing, 7-2, Stanky drew another walk leading off the sixth inning. Lockman followed with a home run to reduce the deficit to three runs. Maglie took the mound needing a shutdown inning. He didn't get it — Spahn led off with a single before Connie Ryan, next up, drilled a home run to restore Boston's five-run margin at 9-4. Maglie negotiated the rest of the half-inning without further damage. His lineup spot was due up forth as the Giants batted. The first two batters reached safely, but rookie first baseman Jack Harshman bounced into a double play and Jack Maguire, pinch-hitting for Maglie with a runner on third base, flied out.
Maglie's post-ban debut was in the books — an ugly line of three earned runs yielded over 1⅔ innings on four hits and two walks. His earned-run average was 16.20. "Maglie discovered quickly that he was not pitching in the Mexican League anymore."23
Boston added two more runs off Kirby Higbe in the eighth to coast to an 11-4 win for Spahn.
Although "slouching in the bullpen"24 after his inauspicious return, Maglie picked up a relief win on May 6. He had nicely whittled his ERA to 3.27 by June 25, when Durocher entrusted him with a start against Cincinnati. He went six innings in a 6-4 loss and was back in the bullpen until July 21. Durocher started him against the Cardinals in St. Louis, and Maglie responded with a gutty seven-hitter as the Giants won, 5-4, in 11 innings.
That effort turned Maglie's 1950 season around and prompted the Cardinals' Stan Musial to ask, "Where have you been keeping that guy? He's got the best curveball I've ever seen."25 After July 21 through the end of the season Maglie started 15 more games, completed 12, and went 13-1 with a 2.51 ERA. The string included five shutouts, four of them in succession between August 26 and September 9.26 Those dominant starts helped Maglie finish the season at 18-4. His .818 winning percentage, 2.71 ERA, and five shutouts led all National League pitchers.
Maglie's return season had started with the shakiest of outings. But by September 17, a crowd of 21,892 celebrated Sal Maglie Day at the Polo Grounds before a game against the Cardinals.27 He was indeed back.
Acknowledgments
As the Notes throughout this account indicate, Judith Testa's meticulously researched 2007 biography of Sal Maglie was especially helpful. Her work aided me greatly in distilling Maglie's decision to forgo Organized Baseball for Mexico in 1947, the impact of Dolf Luque on his career, Maglie's restorative 1949 season in Canada, and the details of his re-signing and spring training with the 1950 Giants.
Sources
In addition to the sources cited in the Notes, the author consulted Baseball-Reference.com, Retrosheet.org, and the Baseball Cube.com website. My SABR colleague Carl Riechers helped confirm details of the 1933 National League consecutive scoreless innings streak Sal Maglie threatened 17 years later.
Notes
1 Judith Testa, Sal Maglie: Baseball's Demon Barber (De Kalb, Illinois: Northern Illinois University Press, 2007), 37.
2 Testa, 39. See: "Player of the Week — Sal Maglie," The Sporting News, August 23, 1950: 15.
3 Testa, 49.
4 Testa, 49.
5 Testa, 51.
6 Judith Testa's efforts to definitively determine the contract terms rely primarily on Maglie's recollections in the early 1950s. The best reconstruction is that the contract that resulted in Maglie's leaving the Giants in 1946 was for a $5,000 bonus, a salary of $15,000 for the season, a "fashionable fully-furnished apartment," and $1,000 in travel expenses to be shared with fellow Giants signees George Hausmann and Roy Zimmerman. Testa, 55-59, 61.
7 "13 Jumping Beans Placed On O.B. Ineligible List," The Sporting News, May 16, 1946: 5. Five players from the minor leagues were also banned for playing in Mexico in 1946. See: July 10, 2004 SABR-L post by Merritt Clifton.
8 Testa, 80.
9 Judith Testa, "Sal Maglie," SABR Baseball Biography Project, sabr.org, accessed April 22, 2020. The nickname may well have been introduced to the public by sportswriter Jim McCulley in July 1950. "Sal, or the Barber, as his intimates call him," he wrote in a story about the start in St. Louis that turned Maglie's season around. Jim McCulley, "Jinxed Maglie Tackles Cardinals as Starter," New York Daily News, July 22, 1950: 29. By August McCulley was routinely referring to Maglie as "the Barber" in game stories. The nickname caught on with other writers. See: Bob Wilson, "Sport Talk," Knoxville (Tennessee) News-Sentinel, May 20, 1952: 16.
10 Just as he had in the 1945-46 Organized Baseball offseason, Maglie pitched in Cuba in the winters of 1946-47 and 1947-48 before pitching in Mexico in the summer. The Mexican League folded in September 1948. But "before the [winter, 1947-48] Cuban season ended, Sal knew he would not return to Mexico." Testa, 82-83.
11 Testa, 90.
12 Dan Daniel, "Last of Legal Threats to Game Cleared Away," The Sporting News, October 19, 1949: 2.
13 Testa, 105.
14 Testa, 106.
15 Testa, 107-108.
16 Arnott Duncan, "Tight Defense May Help Loss of Homer Clan," Arizona Republic (Phoenix), February 28, 1950: 21.
17 Jim McCulley, "Jansen to Hurl Opener for Giants vs. Braves," New York Daily News, April 15, 1950: 65.
18 Jim McCulley, "Tribe Beats Giants, 2-1," New York Daily News, April 17, 1950: 76.
19 Between them, Spahn (39), Sain (37), and Bickford (39) started 115 of Boston's 154 games in 1950, and accounted for 77 complete games.
20 Hy Turkin, "Giants Not Same (to Durocher)," New York Daily News, April 19, 1950: 97.
21 Turkin. Jackie Robinson had integrated the major leagues in 1947 while Maglie was playing in Mexico. Jethroe, 31, was originally signed by the Dodgers from the Negro American League Cleveland Buckeyes in July 1948. He played for Brooklyn's top-level Montreal farm club in 1948 and 1949. The Braves acquired Jethroe's rights for "a large undisclosed sum" and three players on October 4, 1949. United Press, "Dodgers Get Three for Jethroe Deal," Brooklyn Eagle, October 5, 1949: 26. He was 33 and the first to cross the color line with a Boston team when he debuted with the Braves in this game. See also: Bill Nowlin, "How Sam Jethroe Was Received in Boston," National Pastime Museum, March 24, 2016, accessed April 19, 2020, thenationalpastimemuseum.com/article/how-sam-jethroe-was-received-boston.
22 Second baseman Stanky and his double-play partner Alvin Dark were brand-new Giants. New York acquired them from Boston for four players on December 14, 1949. They helped make the 1950 Giants what Durocher called "my kind of team." Turkin.
23 Testa, 108, quoting sportswriter Jim McCulley of the New York Daily News.
24 Testa, 108.
25 Testa, 115, quoting Russ Hodges and Al Hirshberg in My Giants (Garden City, New York: Doubleday and Co., 1963), 84. Musial could afford to be magnanimous; he was hitting .348 going into the game and had three of the Cardinals' seven hits.
26 Maglie pitched 45 consecutive scoreless innings. It started with a relief appearance on August 23 and ended on September 13 when Gus Bell of the Pirates hit a 257-foot home run off the right-field foul pole at the Polo Grounds in the seventh inning. Testa, 120. At the time, Maglie was four outs from tying Giants legend Carl Hubbell's National League record set in 1933 for 46⅓ consecutive scoreless innings and was one inning short of Doc White's 1904 major-league record of five consecutive shutouts. Joseph M. Sheehan, "Maglie's Scoreless String Ended," New York Times, September 14, 1950: 42. (Hubbell's streak included partial innings in the first and last games, which covered July 13 through August 1, 1933, as well as an 8⅓-inning relief appearance on July 19. Some reference sources state Hubbell's consecutive scoreless innings streak to be 45⅓ innings. The partial-inning outs from the first and last games total another full inning and make Hubbell's accurate consecutive innings streak 46⅓ innings.)
27 Jim McCulley, "Giants Rally in Ninth to Shade Cards, 7-6," New York Daily News, September 18, 1950: 59. Judith Testa records in Maglie's biography that "more than 1,000 residents of Niagara Falls [Maglie's home town] came to the Polo Grounds," and "the pitcher received a new car, a $2,500 war bond and a variety of other gifts from his friends and neighbors, a radio from his teammates, and a wristwatch from fans in the Polo Grounds bleachers." Testa, 122.
Additional Stats
Boston Braves 11
New York Giants 4
---
Polo Grounds
New York, NY
Box Score + PBP:
Corrections? Additions?
If you can help us improve this game story, contact us.
Tags
http://bioproj.sabr.org/bp_ftp/images2/MaglieSal.jpg
600
800
sabr
/wp-content/uploads/2020/02/sabr_logo.png
sabr
2020-08-24 13:40:56
2020-08-24 13:40:56
April 18, 1950: Sal Maglie returns to Giants after four-season suspension hiatus