April 25, 1967: Robin Roberts launches bid to return to majors with Reading Phillies 
---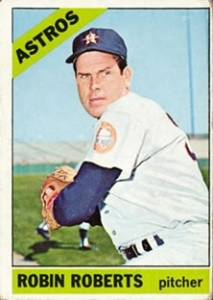 It's a storyline practically as old as baseball itself: An aging veteran goes back down to the minor leagues to prove himself, convinced against the evidence that his bat, arm, glove, and legs still have enough left to help a big-league team.
In the spring of 1967, it was a future Hall of Famer's turn to take that ride. After 19 major-league seasons and 286 wins, 40-year-old right-hander Robin Roberts received no offers of big-league employment. So he signed with the Reading (Pennsylvania) Phillies of the Double-A Eastern League in a last attempt to show he had something left. It was Roberts' first experience in the minors since 1948, when he'd gone 9-1 in 11 games with Class B Wilmington to earn a ticket to the Philadelphia Phillies and stardom.
Roberts, who'd once pitched in a World Series game before a crowd of more than 68,000,1 made his minor-league return in front of 391 fans on the cold night of April 25 in Williamsport, Pennsylvania. His experience that night encapsulated his entire comeback bid: Roberts was good, but not quite good enough.
The Eastern League season was just starting on April 25. The Reading Phillies and Williamsport Mets – both affiliated with the major-league teams their names would suggest – had each won their first two games and were tied for first place in the league's Western Division.2
Phillies manager Frank Lucchesi was beginning his 17th season as a minor-league manager and his first in Reading. He'd been well-liked in Williamsport as manager of Class A teams there in 1959, 1960, and 1962, winning pennants the latter two years.3 After two more years in the minors, Lucchesi reached the big leagues as manager of the Philadelphia Phillies in 1970.
Williamsport was managed by former All-Star first baseman and outfielder Roy Sievers, in his first season as a minor-league skipper.4 Sievers, who led the American League with 42 home runs in 1957, had been an active big leaguer as recently as May 1965 and served as a Cincinnati Reds coach in 1966. He managed for four seasons in the minors but did not return to the majors as a manager or coach.
Sixteen members of the 1967 Reading team appeared in the major leagues at some point. Besides Roberts, four of them started on April 25 – right fielder Leroy Reams, center fielder Nelson Mathews, first baseman Jim Campbell, and second baseman Charlie Shoemaker. Left fielder James Perkins never reached the majors but was a key contributor that season, leading Reading in stolen bases, on-base percentage, and slugging percentage.
Seventeen Williamsport players that season also reached the majors, including a few – Gary Gentry, Jim McAndrew, Rod Gaspar and Duffy Dyer – who later contributed to the "Miracle Mets" World Series championship team of 1969. Only three of the past or future big-leaguers started against Reading. They were right fielder Bernie Smith, left fielder Al Yates, and pitcher Jerry Johnson. (Dyer had been injured a few nights earlier when a backswing hit him in the head.5)
Johnson, a 23-year-old righty, was four years old when Roberts made his big-league debut in June 1948. He'd signed with the Mets as an undrafted free-agent third baseman before the 1962 season, then was converted to a pitcher the following year.6 In 1967 he went 10-13 with a 2.78 ERA in 26 starts with Williamsport. This performance drew notice from the Phillies, who claimed him from the Mets in the November 1967 minor-league draft. Johnson made his big-league debut with the Phillies in July 1968 and went on to appear in 10 major-league seasons.
Still, the game's biggest attraction was Roberts, a six-time 20-game winner and former The Sporting News Major League Player of the Year and National League Pitcher of the Year.7 He'd divided the 1966 season between the Houston Astros and Chicago Cubs, getting hit hard and, eventually, released at both stops.8 Roberts closed the season with a combined 5-8 record and 4.82 ERA in 24 games, including 21 starts. He'd had arm surgery in October 1965 and felt weak the following season, but was convinced his arm had fully rebounded.9
Roberts had an insurance agency in Norristown, Pennsylvania, to fall back on, but wasn't ready to retire. He was only 14 major-league wins shy of 300, at that time an automatic ticket to the Hall of Fame. Roberts wrote letters to seven big-league teams, receiving no response. Finally, a spring-training meeting with Phillies President Bob Carpenter led to a last-chance contract with Reading.10 "In respect for what he has done for the Phillies in particular and baseball in general, it is only fair that we give him every opportunity to pitch again," Carpenter said. "If he can win at Reading, we or some other major league club will give him a chance to pitch in the majors again."11
Reading looked poised to give its famous pitcher a lead in the first inning, as a single and the first of Johnson's six walks put two runners aboard with one out. Johnson retired the next two Phillies on groundballs to end the threat. News accounts said Roberts outpitched Johnson in the early innings, not yielding any walks. The veteran ended the game with only one base on balls – given in the eighth inning – against nine strikeouts.12 
The game remained scoreless until the bottom of the fifth, when it tipped in Williamsport's direction. Catcher Dick Howard, a .166 hitter over the full season, began the inning by lining a single into center field. Howard stayed at first as Roberts struck out second baseman Sherwin Minster and Johnson. Smith beat out an infield single as Howard moved to third, narrowly beating a throw there – a decision that brought Lucchesi out to complain.
The call was a big break for the Mets, and shortstop John "Chico" Gonsalves took advantage of it. He lined a ball off Roberts' foot that went for a single, scoring Howard.13 It was one of just 18 RBIs that season for Gonsalves, who closed the season hitting .204.
Roberts showed good form in working a 117-pitch14 complete game, scattering eight singles – half of them infield hits, according to one account. Catcher Joe Cherry said Roberts relied on fastballs and curves, and his fastball "had a good tail on it."15 News stories give no indication that he was in any other serious jams. Roberts said he was "satisfied," while manager Lucchesi said he "pitched a major-league game."16
But his counterpart for Williamsport was even better, throwing a six-hit shutout. Johnson gave up two singles in the eighth inning, putting the tying run on third base with one out, but his defense bailed him out with a double play. In its last turn at bat, Reading again put two runners on with one out. Johnson retired the next two hitters to seal the shutout and outdo his legendary opponent.17 "His ball moved well, especially in the late innings," Sievers said.18
The victorious Mets praised Roberts' effort. Left fielder Yates said Roberts "put every ball just where he wanted it." He added that Roberts, unlike other older pitchers, didn't rely on trick pitches or "wet stuff." Right fielder Smith noted Roberts' ability to hit the corners of the plate, saying, "I didn't see one strike down the middle." And catcher Howard, who scored the game's only run, called Roberts "my old idol," adding, "I was a little awed, the first time up, just looking at him."19
Roberts had decided to wait until mid-June for a big-league offer. In early June, the Phillies told him they had no openings for him but would support him by sending a letter to other major-league teams promoting his availability. The letter stirred up no interest.20 News stories in early June indicated that Roberts had abandoned his fastball and was relying on breaking balls,21 and also reported that he had pulled a leg muscle in one of his last starts.22
Roberts pitched his final game for Reading on June 17, working the first seven innings of a tie game that Reading eventually won, 5-4, over Williamsport. Then he left the team, wrapping up his comeback attempt with a 5-3 record and a 2.48 ERA in 11 starts, including seven complete games and two shutouts.23 He ended his professional career with 300 wins – 286 in the majors, nine in the minors in 1948, and five with Reading. He was elected to the Hall of Fame in 1976.
Acknowledgments
This story was fact-checked by Gary Belleville and copy-edited by Len Levin.
Sources and photo credit
In addition to the specific sources cited in the Notes, the author consulted Baseball-Reference.com and Retrosheet.org for general player, team, and season data.
Neither Baseball-Reference nor Retrosheet provides box scores of minor-league games, but the April 26, 1967, edition of the Reading (Pennsylvania) Eagle published a box score.
Image of 1966 Topps card #530 downloaded from the Trading Card Database.
Notes
1 Roberts pitched the Phillies' final inning of the 1950 World Series, mopping up in the eighth inning of Game Four as the New York Yankees rolled to a Series-clinching 5-2 win. The listed crowd at Yankee Stadium was 68,098.
2 Eastern League standings as printed in the Williamsport (Pennsylvania) Sun-Gazette, April 25, 1967: 10.
3 Lucchesi's popularity from "New Life at 40 …," Williamsport Sun-Gazette, April 25, 1967: 10. Pennants from "Robin Roberts to Face Mets Tonight," Williamsport Sun-Gazette, April 25, 1967: 10. The Williamsport teams Lucchesi managed were affiliated with the Phillies. After the Phillies moved out of Williamsport following the 1962 season, the city went without a team for a year before the Mets brought their Double-A affiliate to town in 1964.
4 Sievers and Roberts narrowly missed becoming teammates with the Philadelphia Phillies. In October 1961 the Phillies sold Roberts to the New York Yankees; one month later, the Phils acquired Sievers in a trade with the Chicago White Sox.
5 "Robin Roberts to Face Mets Tonight."
6 Johnson's Baseball-Reference page says he signed with the Mets as an undrafted free agent before the 1963 season, but also lists him as having played 32 games in 1962 with the Mets' Class D farm team in Salisbury, North Carolina. Johnson appeared exclusively at third base for the 1962 Salisbury team. One news story that confirms Johnson's presence in Salisbury in 1962 is "Barrier Halts Salisbury, 6-4," Statesville (North Carolina) Record and Landmark, July 28, 1962: 9.
7 Roberts won both honors in 1952, when he went 28-7 with a 2.59 ERA and completed 30 of his 37 starts.
8 He surrendered 141 hits in 112 innings.
9 Roger O'Gara, "The Roberts Experiment," Berkshire Eagle (Pittsfield, Massachusetts), June 7, 1967: 32.
10 Al Cartwright, "Roberts Rates Loss a Winning Effort," Wilmington (Delaware) Evening Journal, April 26, 1967: 44.
11 "New Life at 40 …"
12 "Jerry Johnson Ruins Roberts' EL Debut," Williamsport Sun-Gazette, April 26, 1967: 40.
13 "Jerry Johnson Ruins Roberts' EL Debut." Also, "Robbie Hurls Major League Game but Bows," Reading Eagle, April 26, 1967: 52. Several news accounts say the Mets picked up a fourth single in the inning, but do not provide details. The hit did not score a run.
14 "… Almost Overlooked as Fans Concentrate on Robby," Williamsport Sun-Gazette, April 26, 1967: 40. The Wilmington Evening Journal reported Roberts' pitch count as 123.
15 Cartwright.
16 "Robbie Hurls Major League Game but Bows."
17 "Jerry Johnson Ruins Roberts' EL Debut."
18 "… Almost Overlooked as Fans Concentrate on Robby."
19 Cartwright.
20 O'Gara, "The Roberts Experiment."
21 Roger O'Gara, "Sox Lose 2 of 3 to Reading; Hoban Faces Harrell in Finale," Berkshire Eagle, June 5, 1967: 21.
22 United Press International, "Roberts Hurt," Berkshire Eagle, June 8, 1967: 22.
23 Associated Press, "Robin's Last No Decision," Binghamton (New York) Press and Sun-Bulletin, June 18, 1967: 4C. Also, "Swan Song for Robin," Elmira (New York) Sun-Gazette, June 18, 1967: 1D. This item incorrectly gave Roberts' Eastern League record as 5-2.
Additional Stats
Williamsport Mets 1
Reading Phillies 0
---
Bowman Field
Williamsport, PA
Corrections? Additions?
If you can help us improve this game story, contact us.
Tags
https://sabr.org/wp-content/uploads/2022/05/Robin-Roberts.jpg
600
800
Russ Walsh
/wp-content/uploads/2020/02/sabr_logo.png
Russ Walsh
2022-05-09 06:52:45
2022-05-09 15:14:38
April 25, 1967: Robin Roberts launches bid to return to majors with Reading Phillies