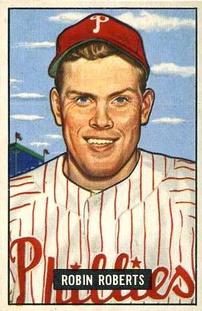 ---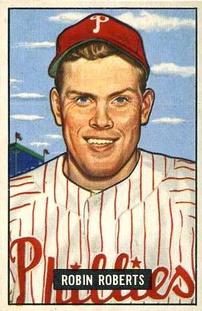 From 1950 to 1955, Robin Roberts was the top right-hander in the National League while pitching for the Philadelphia Phillies. For most of the remainder of his 18-year career, he was a crafty veteran who had a remarkable resurgence with the Baltimore Orioles. Either way, he would go out, take his turn on the mound without saying a word, and throw strikes. The standing joke was that Andy Seminick and Stan Lopata, who caught Roberts with the Phillies, always took their rocking chairs with them when Roberts was pitching, in testament to his outstanding control.
Robin Roberts was one of the last of a breed of pitchers who completed ballgames. In fact, he led the league in compete games five times and recorded 305 complete games in his career. From July of 1952 until June 1953 he completed a remarkable 28 games in a row. He also led the league in innings pitched five times, led by 346⅔ innings in 1953. From 1950 through 1955 Roberts averaged 323 innings pitched and 27 complete games while winning 20 or more games each year.
Roberts did not try to finesse the hitters; he dared them to hit the ball. When there were men on base, he reached back and burned the corners for strikes.1 Roberts' slow, deliberate windup and delivery was so fluid that hitters could not wait for the pitch to come. It looked so easy; then the ball would explode over the plate, astonishing the hitters. "He's so close, you gotta watch him like an eagle," said umpire Jocko Conlan.2 Hall of Famer Red Schoendienst once remarked that Roberts' fastball "seemed to skid across the strike zone as though it were on a sheet of ice."3 Ralph Kiner, another Hall of Famer, said, "Probably the best fastball I ever saw was Robin Roberts'. His ball would rise around six or eight inches, and with plenty on it. And he had great control, which made him very difficult to hit."4 Ernie Banks thought that Roberts in his prime was faster than Bob Gibson and the fastest pitcher he faced from 1953 to 1957.5
Robin Evan Roberts was born in Springfield, Illinois, on September 30, 1926, to Tom Roberts, a Welsh coal miner, and Sarah Roberts of England. His parents had two children when they immigrated to the United States in 1921.
Tom Roberts served in the British Army during World War I, and fought in the ferocious Gallipoli campaign in Turkey. After the war, he returned to the coal mines of Bolton in Lancashire, but was put out of work by a strike in 1921. A friend in Bolton informed Tom that he could find steady employment in American soft-coal fields around Springfield, Illinois.
But when Tom and his family reached Illinois, they found little prosperity – at one point the mines in Springfield operated only one day a week. The family lived in a two-room farmhouse that Tom gradually expanded as the family grew. In 1929, Tom left coal mining and farming and found a job with the Sangamo Electric Company as foreman in the plant's maintenance department.
Robin, known as Evan while growing up, was the fifth of six children, following Tom Jr., Nora, Joan, and John. After Robin came a younger brother, George. Tom Jr. was killed in a submarine accident in 1942, at the age of 21.
As a boy growing up on a family farm, Sarah Roberts remembered, Robin "never had a ball out of his hand." He hated farm work. When Robin deliberately broke one of his father's hoes to avoid farm chores, Tom Roberts paddled his son with a fly swatter, saying, "It doesn't hurt your hand and it don't mark the kid." But Robin went on playing, talking his three brothers into playing catch, using an old mattress propped against the garage door, hurling the ball into a hole in the middle for hours.6
Robin had his first exposure to organized sports when he entered the fifth grade in a two-room schoolhouse at East Pleasant Hill. C.B. Lindsay, a new teacher, had arrived at the school, and made learning fun with his energetic manner and enthusiasm. He encouraged his students to participate in sports, put on plays, and enter county competition in such areas as math, public speaking, and dramatic and humorous sayings. Lindsay's energy motivated Robin, who won blue ribbons in all those areas.
Robin and his brother George became avid Cubs fans. With the radio on an open window sill, they would go outside the house, imitating the ballplayers during the play-by-play. His mother would also listen to the Cubs games. In fact, she became so excited when Gabby Hartnett hit his famous "Homer in the Gloamin'" near the end of the 1938 season to catapult the Cubs into first place that she dropped a dish of potatoes while serving the family dinner. By the age of 12, Robin was playing baseball in a league the neighborhood kids organized. He was consumed by sports, particularly baseball. The local Springfield Browns played in the Class-B Three-I League and he went to the games whenever he could. Lou Novikoff of the rival Moline Plow Boys and Lou Gehrig became his first heroes. Later his favorites were Bill Nicholson of the wartime Cubs, later his teammate, and Otto Graham, the All-American quarterback at Northwestern, who also played in the band.
When Robin was in the eighth grade, Lindsay held a sports banquet and invited Hall of Fame pitcher Grover Cleveland Alexander to speak at the dinner. Alexander, an alcoholic who was living in a hotel in Springfield, gave a short, terse, speech: "Boys, I hope you enjoy sports, they are a wonderful thing. But I warn you about one thing: don't take to drink, because look what it has done to me." Then he sat down.7
Alexander's appearance foreshadowed a unique connection with Roberts. In 1950, Roberts became the first 20-game winner for the Phillies since Alexander won 30 games for the club in 1917. In 1958, Roberts won his 191st game for the Phillies, breaking the club record held by Alexander. And in 1976 Roberts became the first Phillies player elected to the Hall of Fame since Alexander.
Roberts began high school at Springfield High and went out for the varsity football team his sophomore year. He weighed about 125 pounds and was practice fodder, never getting to dress for a game. His mother wanted him to quit because he wasn't getting to play and had to take a crosstown bus home after practice, which meant not getting home until about 7:30. But he stuck it out all season, watching his team play from the stands after practicing all week.
Roberts also went out for basketball and was cut after the second practice. Instead, he played for an intramural team that got to the finals of the school tournament. The championship game was played before a varsity game and Robin led his team to victory, scoring 22 points. After the game, the varsity basketball coach asked him why he hadn't come out for the varsity. Robin said, "I did. You cut me on the second day."8
The school board changed the district boundaries after that year and Roberts transferred to Lanphier High, which was much closer to his home. He played varsity baseball, football, and basketball for Lanphier. Known for crying over losses but refusing to do chores, he told his mother, "Naw, Mom, I'm a ballplayer. You just wait until I get into the major leagues. Then I'll build you a house." Tom Roberts was impressed by his son's determination. In 1956, he said, "You just had to go along. He wouldn't do nuthin' else."9
World War II was going at full tilt when Roberts graduated from high school in 1944, so he enrolled in the Reserve Air Corps program, hoping to become a fighter pilot. The army sent him to Michigan State University, where he attended regular university classes and received initial military training. He was able to play a lot of pickup basketball and soon was asked to join the Spartan varsity for the winter quarter.10 When the war ended, Roberts re-enrolled at Michigan State, eventually earning a Bachelor's degree in physical education with a minor in history.
Roberts was a fine basketball player for the Spartans. In 1946-1947 he captained the team and was its leading scorer. He was even named the Michigan Collegiate Player of the Year for 1947 by the Detroit Free Press, a signal honor considering about a dozen Michigan colleges fielded basketball teams.
In the spring of 1946, after his first basketball season at Michigan State, Roberts decided to try out for the baseball team. He showed up at practice unannounced. John Kobs, the baseball coach, who knew him only as a basketball player, asked him what position he played.
Roberts said, "What do you need?"
Kobs said, "I need pitching."
Although Roberts considered himself an everyday player, he said, "Well, I can pitch." Two years later, in 1948, Roberts would be pitching in the major leagues for the Philadelphia Phillies. He ended his first season with the Spartans with a 4-2 record, highlighted by a no-hitter against the Great Lakes Naval Training Station. It was the first no-hitter in Michigan State history. He lost the last game of the season, 2-0, to the University of Michigan, which was coached by former big-league pitcher Ray Fisher, who had toiled for the undistinguished New York Yankees from 1910 to 1917 and then for the world champion Cincinnati Reds in 1919.11 Fisher was impressed with Roberts' raw talent and after the game invited him to join the summer semipro team he coached in Montpelier, Vermont, the Twin City Trojans in the Northern League. Thus in both 1946 and 1947, Roberts spent summers pitching in Montpelier for Fisher's Trojans.12
His first summer he compiled an 11-8 record and pitched a no-hitter against the Keene, New Hampshire, Yankees but lost 1-0 in a game that cost the Trojans the pennant.13 In the summer of 1947, after winning 6 and losing 4 for Michigan State (including two wins against Fisher's University of Michigan squad), Roberts came into his own, amassing an 18-3 mark with a 2.33 earned-run average for the Trojans. He won 17 straight games and led his team to the Northern League title.
Based on that performance, Roberts started attracting major-league scouts. At least five teams pursued him, including the Boston Braves, the Phillies, the Red Sox, the Tigers, and the Yankees.
Phillies scout Chuck Ward had first noticed Roberts and followed him for over a year. Ward said, "To get one player like Roberts you look at 1,000 kids and sometimes it seems like 10,000."14 Ward later told Roberts that he had been most impressed with him on a day in Vermont when Roberts did not have his best stuff and was being hit around a little. A runner on first tried to steal second and Roberts turned around after delivering the pitch to watch the play at second. The throw from the catcher, George Harms, hit Roberts squarely in the back of the head and knocked him out cold. When he came around he insisted on staying in the game and retired 12 in a row to win the game.15
After Roberts came home to Springfield from Vermont in 1947, the Phillies had him come to Wrigley Field in Chicago to work out. Babe Alexander, the Phillies traveling secretary, offered him a $10,000 bonus after the first day. He hesitated because he intended to return to Michigan State and play his final season of basketball and finish his degree. The following day the Phillies upped the ante to $15,000 and then after another workout the third day offered $25,000. Roberts said, "That would buy a pretty nice house, wouldn't it?" When Alexander said it would, he signed, knowing he could keep his promise to his mother.16 Roberts later said, "When they got up to $25,000, I knew I was going to be able to buy a pretty good house for Mom, so I said yes. She really got a belt out of that house."17
And Roberts did just that, purchasing a $19,000 home for his mother and father, keeping his childhood promise. Robbie also bought a car and some new clothes with the remainder. At the time, Roberts was not aware of the income taxes on his earnings and wound up owing the Internal Revenue Service. His father loaned him the amount he needed. Roberts was finally able to pay back his father after he received his World Series check in 1950.18
Roberts also maintained his relationship with Fisher for many years. In 1955, for example, he stopped off after season's end in Ann Arbor and asked Fisher's permission to work out with the University of Michigan pitchers. Fisher granted permission, and watched Roberts uncork a few pitches. Right away Fisher saw that Roberts had replaced his three-quarters motion with a side-arm delivery, to favor a sore arm. "Robby, you've changed your delivery, haven't you?" Fisher asked. Roberts smiled in relief, saying, "That's what I wanted to know. You know, in Philadelphia, I'm Robin Roberts, and they won't tell me anything."19
In 1948, Roberts was invited to the Phillies spring training camp but reported late so that he could finish the winter quarter at Michigan State and complete his degree. After he arrived he immediately began having leg problems running on the soft, sandy turf while working out. After several days of dealing with muscle strains, Roberts happened to walk behind Phillies owner Bob Carpenter, unbeknownst to him. He overheard Carpenter say, "Well, it looks like I blew another $25,000." At that juncture Roberts hadn't even thrown a pitch.
Afterward, Roberts was down in the dumps in the locker room when veteran Phillies coach Cy Perkins came up to him and said, "They're on your ass, aren't they, kid?"
Roberts said, "Yes sir, they are all over me."
Perkins said, "Wait till they see you pitch. They won't be on your ass anymore." Perkins had been at Roberts' workouts in Wrigley Field the previous year. Roberts remembered someone saying, "Don't let that kid get out of the park." He now realized it was Perkins.
That began an important relationship that would last throughout Roberts' 18-year major-league career. Perkins, who had been a longtime catcher with Connie Mack's Philadelphia Athletics, had great confidence in Roberts and always knew when to say just the right thing to give him a boost. He never tried to tell Roberts how to pitch, simply saying, "Do it your way kid." In spring training in 1950 Perkins told Roberts, "I've been in baseball 35 years and the best five pitchers I've ever seen are Walter Johnson, Lefty Grove, Herb Pennock, Grover Cleveland Alexander, and you." At that time Roberts' big-league record was 22 wins and 24 losses. He went on, "I'm not kidding you. You've got the best delivery I've ever seen. You're our next 300-game winner."
Rarely did Perkins say anything to Roberts after a win. But he was always there after a loss, telling Roberts to remember that the guys on the other team were getting paid too, or, if Roberts had a particularly tough outing, recalling the time Lefty Grove got knocked out in the first inning.
After the Phillies let Perkins go after the 1954 season, saying he was too old, Roberts was so upset that he offered to pay Perkins' salary, to no avail.
When Roberts finally did pitch in his first spring-training game in 1948, he threw three scoreless innings against the St. Louis Cardinals B team, struck out four, and hit a triple. Afterward Roberts was sitting in front of his locker when he felt a tap on his arm. Roberts looked around and saw Perkins, who just gave him a wink and walked on by.20
After spring training, the Phillies sent Roberts to their Class-B farm club in Wilmington, Delaware, in the Eastern League. He did not linger long at Wilmington, compiling a 9-1 record in 11 starts. In his professional debut, on April 29, he struck out eight of the first 10 batters and finished with 17 strikeouts in a 19-1 victory over Harrisburg. He then struck out 14, 12, and 12 in his next three starts, all complete-game victories. On May 18, his fifth start, he pitched all 15 innings of a game that was called a 2-2 tie because of the league curfew, striking out 16. On June 5 he struck out 18 to tie the league record in a 4-1 win over Trenton. By the time he was called up by the Phillies on June 17, 1948, Roberts had recorded 121 strikeouts in 96 innings and compiled a 2.06 earned-run average.21
Roberts arrived at the Phillies clubhouse about 6:00 P.M. with about four hours of sleep on the day of his call-up and Phillies manager Ben Chapman asked how he felt. When Roberts said he felt fine, Chapman said, "You'll be pitching tonight." Two hours later he was on the mound against the Pittsburgh Pirates. Roberts was so nervous that he remembered walking leadoff hitter Stan Rojek on four pitches. Then he went to a deep count on Frankie Gustine before striking him out on a bad pitch. That ended his mound nervousness – for all time. He ended up allowing five hits in eight innings, but lost 2-0 to a five-hit shutout by Elmer Riddle.22
Roberts gained his first major-league victory in his very next start, on June 23, beating the Cincinnati Reds, 3-2 in a complete-game seven-hitter. He won his next two starts, throwing complete games against the Chicago Cubs and the Boston Braves before getting shelled by the same Braves on July 9.
Roberts quickly established a reputation for working quickly, peering in immediately for the sign after receiving the ball back from the catcher, trying to establish a rhythm. But the Phillies thought he was pitching too quickly, so coach Benny Bengough suggested a routine that Roberts followed for the rest of his career – hitch his pants, adjust the legs of his trousers, tug on the bill of his cap, wipe his brow, and then look in for the sign. He still was one of the quickest pitchers in baseball.23
Roberts pitched solidly if not spectacularly his first season, going 7-9. He pitched 146⅔ innings, gave up 148 hits, walked 61, and struck out 84, with a solid 3.19 earned-run average. He also took naturally to the intense and competitive environment of major-league baseball: Like his teammates, he was morose and silent after defeats, stared blankly out of bus and train windows, and killed time on road trips going to every movie in town. "I don't care what's playing. I like them all," he said.24 While in Philadelphia Roberts, along with Richie Ashburn, Curt Simmons and Charlie Bicknell, stayed at a family-style boarding house run by Ashburn's parents.25
When Roberts came home after his rookie season, he asked his sister Nora if she knew any girls he might date. Through a mutual friend, Nora set him up with Mary Ann Kalnes, a grade-school teacher who had just graduated from the University of Wisconsin and had taken a job in Springfield because of her admiration of Abraham Lincoln. Roberts was immediately smitten and never went out with another girl. The running joke was that Roberts evidently had not made a very good first impression. Mary had attended a Michigan State-Wisconsin basketball game when Robin played for the Spartans, but didn't remember him.26 They were married in December 1949 and would raise four boys.
Roberts finished with a 15-15 record in 1949, hurling 226⅔ innings, giving up 229 hits, walking 75, and striking out 95, with a 3.69 ERA. He started 31 games and completed 11 with three shutouts. Manager Eddie Sawyer even used him in relief 12 times and he had four saves.
After the season and their wedding, the Roberts family moved to Philadelphia's suburb of Meadowbrook, on Robinhood Road no less, right next door to teammate Curt Simmons and his family.27
The Phillies finished third in 1949, their best finish in many years. They finished with 19 wins in their last 30 games and were a young team coming together under Eddie Sawyer. Early in the 1950 season, Harry Grayson, sports editor of the Newspaper Enterprise Association, christened the young and talented Phillies the Whiz Kids.28
The Phils began the season with high hopes. On May 16 Roberts defeated Ewell Blackwell of the Cincinnati Reds 1-0 with a two-hit gem. The Phillies got only three hits and scored the only run of the game in the first on two infield singles, a walk, and a double-play grounder. The game was pivotal to Roberts and signaled to him that, by beating one of the top pitchers in the league in such a close game, the Phillies were for real.29 They took over first place for good in July as they won 13 of 18 during one stretch. In late July and early August Roberts contributed mightily by throwing three consecutive shutouts and 32⅔ consecutive scoreless innings.
In mid-September the Phillies held a 7½-game lead over the Dodgers, but things began to sour when Curt Simmons's National Guard unit was called to active duty because of the Korean War. The team also lost starting pitchers Bubba Church and Bob Miller to injuries and veteran reserve Bill Nicholson to illness. Down the stretch the club lost 9 of 12, including five in a row, to see their lead shrink to one game with one game left in the season.30
That game was on October 1 against the second-place Brooklyn Dodgers at Ebbets Field. The Dodgers would force a three-game playoff for the pennant if they won.
Eddie Sawyer selected Roberts to start against Don Newcombe of the Dodgers, in a clash of aces. Roberts had won 19 games but was making his third start in five days and his sixth attempt to win number 20. Newcombe was also after his 20th win.31 Newcombe and Roberts started by pitching scoreless ball for five innings before the Phillies managed to get a run in the top of the sixth inning on singles by Dick Sisler, Del Ennis, and Puddin' Head Jones. In the bottom of the sixth, Roberts disposed of the first two Dodgers batters before Pee Wee Reese hit a fly that stuck on a ledge in right field, only 297 feet from the plate, for a game-tying homer.
The score was still tied at 1-1 when Cal Abrams led off the bottom of the ninth for the Dodgers by drawing a walk. After two failed bunt attempts, Reese lined a single to left field, moving the winning run to second with no one out and Duke Snider coming up. Ace reliever Jim Konstanty was warming up in the bullpen, but manager Eddie Sawyer stayed with Roberts.
Roberts and others figured that Snider, a powerful hitter, would attempt to bunt to get both runners in scoring position. But Snider crossed everyone up by lining the first pitch into center field. Richie Ashburn thought there was no way that Snider would bunt, and had moved in a couple of steps to be in better position to throw to the plate.32 Ashburn fielded Snider's hit on the first bounce and came up throwing. He was reputed to have a weak throwing arm, and Dodgers third-base coach Milt Stock decided to test it by sending Abrams home. Ashburn's throw was strong and on the money, a one-hopper to catcher Stan Lopata, who tagged out Abrams 15 feet up the third-base line.
There was still only one out with men on second and third, and two dangerous batters coming up. Eddie Sawyer told Roberts to walk Jackie Robinson to set up a force at every base. The clutch-hitting Carl Furillo was the next hitter, but Roberts got him on a pop foul to first baseman Eddie Waitkus. Another slugger, Gil Hodges, was next and lifted a fly ball to Ennis in right field, the sun field at Ebbets Field. Ennis, battling it all the way, finally caught the ball by trapping it against his chest. After the game, Ennis showed where the seams of the ball had made an imprint on his chest.
The game went into the 10th inning and Sawyer let Roberts bat leadoff. He promptly bounced a single up the middle. Then Waitkus looped a single to center field, and the Phils had two men on base and no outs. Ashburn laid down a bunt, but Newcombe made a fine play, throwing out Roberts at third base. Sisler came to bat and found himself quickly in a hole, as Newcombe got ahead of him 0-and-2. Sisler battled, fouling off several pitches. He then timed a high fastball and ripped a low line drive to the opposite field in left that carried over the fence some 350 feet away to put the Phillies in the lead, 4-1, as his teammates surged out of the dugout to celebrate their sudden three-run lead.
Roberts quickly set down the Dodgers in order in the bottom of the 10th to clinch the Phillies' first pennant in 35 years (since 1915 when Grover Cleveland Alexander was their ace).33 In leading the Whiz Kids to the pennant, Roberts went 20-11 with an ERA of 3.02 in 304⅓ innings
After Roberts' pitching career was over, he was amazed at the number of Brooklyn fans who would tell him how unhappy they were about the 1950 pennant race and Roberts' many confrontations with the Dodgers. Actors Danny Kaye and Eli Wallach seriously bemoaned the loss of the 1950 pennant to Roberts and the Phils. Historian Doris Kearns Goodwin wrote in her book Wait Till Next Year that as a little girl rooting for the Brooklyn Dodgers she was hoping that something would happen to Roberts so he would not be able to pitch against her beloved Bums.34
The Phillies then faced Casey Stengel's mighty New York Yankees in the World Series. The Yankees, whose lineup included Joe DiMaggio, Whitey Ford, Allie Reynolds, Yogi Berra, Bobby Brown, and MVP Phil Rizzuto, were prohibitive favorites to take the Series.
Ace reliever Konstanty started the first game against the Yanks, hurling a masterful game, giving up only four hits and one run. But Vic Raschi was better, and the Yankees won 1-0. Roberts started the second game for the Phillies against Allie Reynolds. In the second inning, Roberts gave up a run to the New Yorkers on a walk and two singles. The Phillies finally broke through to score their first run of the Series in the fifth, knotting the score at 1-1. The Phillies then wasted opportunities in the seventh, eighth, and ninth innings as Reynolds kept them at bay.
Roberts went to the mound with the score tied 1-1 in the 10th inning. The first batter was DiMaggio, the Yankee Clipper. Four straight times Roberts had forced Joe to pop up. This time Roberts got behind in the count and threw DiMaggio a pitch his mentor Ray Fisher had told him he could hit, a high fastball out over the plate. DiMaggio lifted it onto the second deck of the left-field stands in Shibe Park, putting the Yankees up 2-1.
The Phillies threatened in the bottom of the 10th, on a walk to Jackie Mayo and a sacrifice bunt, but Reynolds then retired Ashburn and Sisler, putting the Phillies down 2-0 in the Series.
The New Yorkers then wrapped up the Series with two straight wins, winning Game Three 3-2 and Game Four 5-2. The Phillies pitching was good, but their bats were silent, scoring only a total of five runs and batting only .203 in the four-game series. For their part, the Yankees hit only .222 as a team, but had a team earned-run average of just 0.73.
Spring training in 1951 found most Phillies fans expecting another run at the pennant. But it was not to be as the team floundered early and finished in fifth place, eight games under .500. Roberts was a workhorse, winning 21 while losing 15. He hurled 315 innings, walking only 64 while striking out 127, with an ERA of 3.03.
In 1952, Roberts had his best year, going 28-7, winning 20 of his last 22 starts and 17 of his last 18.35 He also saved two games. His ironman ability allowed him to pitch 330 innings (the most innings any National League pitcher had thrown in 25 years), while allowing only 45 walks and striking out 148 to go with a 2.59 ERA. In a memorable game on September 6 against the Boston Braves, he pitched all 17 innings of a 7-6 win, shutting the Braves out the last nine innings. His 28 wins were 10 more than those of Sal Maglie, his closest competitor. Not surprisingly, The Sporting News voted him Major League Player of the Year and National League Pitcher of the Year. It seemed logical that Roberts would be voted the National League's Most Valuable Player, but Hank Sauer of the Chicago Cubs received that honor.36
A couple of years later Commissioner Ford Frick told Roberts at a dinner that he was going to create an award just for pitchers, since he did not think that pitchers got enough recognition.37 Thus, in 1956, major-league baseball inaugurated the Cy Young Award, in large part because Roberts was snubbed for the MVP after his remarkable 1952 season.
For the next three years, Roberts was the picture of consistency. In 1953, he was 23-16, working 346⅔ innings, walking 61, and striking out 198, with an ERA of 2.75 for a third-place team. Roberts finished 23-15 in 1954, hurling 336⅔ innings while issuing 56 passes, striking out 185, and posting a 2.97 ERA as the Phillies finished in fourth place. In 1955, he recorded a 23-14 mark with a 3.28 ERA over 305 innings, and was rewarded with a second Sporting News Pitcher of the Year Award. For six consecutive years Roberts had pitched 300 innings or more while winning 20 games or more. His durability prompted Curt Simmons to observe, "He was like a diesel engine. The more you used him, the better he ran. I don't think you could wear him out."38
Roberts never pitched a no-hitter in the big leagues, but he came close several times. On April 29, 1954, he pitched a one-hitter to beat Warren Spahn and the Milwaukee Braves, allowing only a double to Del Crandall in the third inning. Two weeks later, pitching against Cincinnati at Connie Mack Stadium (Shibe Park having been renamed), Roberts gave up a leadoff homer to Bobby Adams and then proceeded to set down the next 27 batters in a row.
On Opening Day in 1955, Roberts took a no-hitter into the ninth inning, but with one out Alvin Dark singled to break it up.
In the midst of all this first-rate pitching, Roberts was gradually but steadily becoming involved in the economic, business, and political side of the game.
Between the 1951 and 1952 seasons Granny Hamner stepped down as the Phillies' player representative. His teammates elected Roberts to succeed him. Manager Eddie Sawyer advised him not to take the position because he thought it would interfere with Roberts' pitching. But Roberts believed that since his teammates had voted for him, he was obligated to represent them.
The first meeting Roberts attended as player representative for the Phillies, at the Broadmoor Hotel in Colorado Springs, was a lesson in baseball's labor relations. Walker Cooper, Terry Moore, and Ralph Kiner were among those in attendance. The player representatives' focus was to increase the value of their pension plan from distribution of the rapidly increasing television revenue. This resulted in plans for a meeting between American League player representative Reynolds, National League player representative Kiner, and Commissioner Ford Frick in Atlanta.
In Atlanta, the Players Association wanted attorney J. Norman Lewis to help them in their negotiations, but Frick vetoed the idea of having a lawyer present. Roberts argued that the players should go ahead with the meeting with the lawyer staying outside the room, making him available for consultation by the players. However, Roberts' position was voted down, and the meeting never took place.
Roberts learned from this experience that his assumption that the commissioner worked only in the best interests of baseball and the players were wrong. At the time of the aborted meeting, Roberts was unaware that the owners had not renewed Happy Chandler's contract as commissioner because of his pro-labor view of the players and their needs.39
After the events in Atlanta, Reynolds and Kiner hired Lewis to work with Hank Greenberg and John Kenneth Galbraith, who represented the owners, to hammer out a compromise deal. It was agreed that 60 percent or $1.8 million of the new TV revenue would go to the Players Association Pension Fund. Roberts now knew that a controversy would occur every time a new TV contract was written.
After the 1954 season, Kiner was traded to the Cleveland Indians of the American League and Roberts was elected to replace him as the National League's player representative.
Roberts resigned as the National League representative after the 1959 season, believing that his involvement was hurting his pitching. He also felt inadequate to accomplish what he believed needed to be done and advised the group to consider hiring an executive director to represent them.40
In the fall of 1964, with the World Series fast approaching, Roberts was aware that a new television contract was about to be agreed upon and a battle of how much revenue would go to the Players Association Pension Fund would ensue. With the consent of Bob Friend, by then the player representative for the National League, he spoke at a meeting of the Players Association and convinced them that they needed to hire a full-time executive director. Roberts later acknowledged that he was unaware at the time he advanced the idea of an executive director that it would result in radical changes with free agency and the reserve clause. All he wanted was for an executive director to ensure that the Players Pension Fund would be dealt with fairly and that the players' licensing rights would be protected.41
Backed by the players, Roberts and Jim Bunning (another Phillies pitching ace and Hall of Famer, and later a Republican senator from Kentucky) approached a veteran steel union economist and negotiator, Marvin Miller, and asked the longtime Brooklyn Dodgers fan to become executive director of the Players Association. At the time, its only asset to date was a single, battered filing cabinet. Miller said yes, provided the membership ratified his appointment.
Miller visited all the spring-training camps, and although opposed by the owners, was elected by the players as executive director in a 489-to-136 vote. Within 12 months, Miller had forced owners to raise the minimum major-league salary from $7,000 to $10,000 and make greater contributions to the pension fund. Doubtless Roberts' endorsement of Miller helped get him elected.
Roberts was very upset when Miller led the players out on their first strike in 1972. During their first interview before Miller was hired, he had said in response to a question from Roberts that he had no intention of ever engaging in a work stoppage with the players. In that first strike the issues were the players' benefits package including health insurance and the pension fund. When Roberts called Miller to remind him of his promise, Miller said, "Robin, I've been expecting your call."42
In 1956, Roberts' earnings from baseball peaked as he made $60,000 from the Phillies and various endorsements. But on the field he struggled much of the year. All the innings were starting to catch up to him and he had trouble extending his arm all the way. As a result, he lost some pop on his fastball. But heading into his last start, he still stood 19-17 and had a chance for his seventh straight 20-win season. It occurred on September 30, his 30th birthday, against the Giants in Connie Mack Stadium. He lost 8-3 to end his run, as the Phillies finished fifth with a 71-83 record.43 Although he led the league with 22 complete games and allowed only 40 walks in 297⅓ innings, his earned-run average rose to an ominous 4.45.
Late in the 1956 season the Phillies and Cardinals talked seriously about a Robin Roberts-for-Stan Musial trade. It, of course, did not happen.
The next year, Roberts fell to 10-22 on a team that finished at .500, although his ERA fell slightly to 4.07. He rebounded in 1958, with a 17-14 record for a last-place team that finished 16 games under .500. In 1959, Roberts was 15-17 as the Phillies again finished in the basement with a 64-90 record. In 1960, he dropped to 12-16 with a team that was 59-95. On July 21, however, he pitched a memorable 3-0 victory against the San Francisco Giants at Candlestick Park, allowing only a very questionable hit in the fifth inning to Felipe Alou on a hard groundball right to the third baseman.44
But Roberts was having trouble shifting from pitching with power to pitching with finesse. The bottom fell out for both Roberts and the Phillies in 1961. The team lost 107 games, winning only 47. Roberts contributed to this ghastly record with a 1-10 season and an ERA of 5.85. Manager Gene Mauch criticized Roberts publicly on more than one occasion and the Phillies, figuring they could finish last without him, sold him to the Yankees on October 16, 1961.45
Thus in 1962, Roberts joined the reigning world champions. The Yankees figured that Roberts' experience would help, particularly with starters Ralph Terry and Bill Stafford vulnerable to military call-up. He went north with the team from spring training, but rain and offdays prevented him from making a regular-season appearance with the Yankees. Neither Stafford nor Terry was drafted, and Rollie Sheldon and rookie Jim Bouton emerged as solid starters. Manager Ralph Houk didn't need a 35-year-old finesse relief pitcher, so Roberts was released on April 25.
At this point, Roberts was prepared to quit baseball. He received a call from his friend Cy Perkins, who was always there when Roberts needed a lift. Perkins told Roberts not to quit, that he would be throwing shutouts at 40.46 Shortly after his talk with Perkins, Roberts received a call from the Tokyo Giants asking him to play in Japan. But Roberts did not want to uproot his family and turned down their offer.
Roberts called Freddie Hutchinson, manager of the Cincinnati Reds, and arranged to work out with the team. Hutchinson liked what he saw and promised him 10 straight starts. But Roberts balked at the offered salary of $15,000 and said he would sign only if they matched his last salary of $35,000. The negotiations then fell apart, since no Reds player was making more than $30,000. Roberts then called Lee MacPhail of the Baltimore Orioles, who, after a workout, signed Roberts for his requested $35,000. Robbie was particularly happy about playing with the Orioles because Baltimore was close to Philadelphia and he could visit his family often.47
Roberts started his first game for the Orioles on May 27, 1962, against the Boston Red
Sox. He pitched well, leaving after 7⅔ innings with a 2-2 tie. After that he was in the starting rotation. Roberts went 10-9 for the Orioles in 1962, throwing 191⅓ innings and posting a 2.78 ERA, second lowest in the American League. Moreover, in recognition of his career and life off the diamond, the Phi Delta Theta fraternity honored him with its Lou Gehrig Award.
In 1963 with the Orioles Roberts was 14-13 with a 3.33 ERA, starting 35 games and pitching over 250 innings. The next year he posted a 13-7 mark with a 2.91 ERA and four shutouts as the Orioles finished in third place with a 97-65 record, only two games behind the pennant-winning Yankees. Roberts was 38 years old as the 1965 season began and out of the rotation as the Orioles had a great young staff with the likes of Steve Barber, Dave McNally, Wally Bunker, and Milt Pappas.
They also had the 19-year-old bonus baby and future Hall of Famer Jim Palmer, who was just breaking in. The club asked Roberts to room on the road with Palmer, who was literally half his age. Late one night after a game in Los Angeles as they were trying to go to sleep, Palmer asked Roberts, "Old man, why don't you tell me about pitching?"
Roberts said, "Throw the hell out of the ball and go to sleep." Palmer later said that was some of the best advice he'd ever received.48
In May Roberts moved into the rotation to replace a sore-armed Pappas and threw four straight complete-game wins. He then did not win another game until July 5, going 1-7 with a 3.87 earned-run average over that span, leading the Orioles to release him on July 31. The Houston Astros, however, signed him five days later and Roberts broke in with a bang in the new Astrodome, hurling shutouts in his first two starts. He finished the season 5-2 for the Astros with a sparkling 1.89 earned-run average in 10 starts. His overall record for the year was 10-9 with a 2.78 ERA in 190⅔ innings.
After the season Roberts had elbow surgery to remove bone chips that had been bothering him for some time. He started on Opening Day for the 13th time in his career, replacing scheduled starter Dick Farrell, who came down with a sore arm. His elbow wasn't right and after mixed results, the Astros released him on Fourth of July. He was 3-5 with a shutout and a 3.82 ERA in 12 starts.
While Roberts was packing the station wagon to take his family home to Philadelphia, he got a call from the Chicago Cubs, who wanted him to replace pitching coach Fred Fitzsimmons, who had taken ill, as well as continue to serve on the active roster under manager Leo Durocher.49 He signed and reeled off three quality starts for the Cubs before again running into problems to finish 2-3 with the Cubs in 11 appearances. Along the way he defeated the Atlanta Braves in relief for his 286th and last major-league win. In doing so he set a record, becoming the only pitcher in history with wins over the Boston Braves, the Milwaukee Braves, and the Atlanta Braves.
While with the Cubs, Roberts mentored another rookie pitcher who would become a Hall of Famer, Ferguson Jenkins, who always called Roberts his "idol."
The Cubs asked Roberts to come back in 1967 strictly as the pitching coach. Roberts, however, wasn't convinced that he was finished as a pitcher and didn't want all the travel away from his family if he were just coaching. As a result, he was released by the Cubs on October 4, 1966.
Instead, he worked out an arrangement with Bob Carpenter, owner of the Phillies, to pitch for Reading in the Double-A Eastern League to begin 1967. Reading was only an hour-plus commute for Roberts from his home in the Philadelphia suburbs. He wanted to pitch until mid-June for Reading; then, if no major-league club signed him, he would retire. He pitched well for Reading, winning five against three losses, tossing two shutouts and compiling a 2.48 earned-run average. His last game in Reading was on June 17 against Williamsport. He pitched seven innings, received a no-decision and an ovation from a crowd of about 3,000 fans, and said farewell to manager Frank Lucchesi. Since no organization had called, he headed home, his 20-year career in professional baseball over.
With his fluid, easy motion, Roberts had hoped to be able to pitch until he was 45, but it was not to be. On the drive home that evening, he thought of Cy Perkins, who had died in 1963. After the Yankees had released him in 1962, Perkins had told him he'd be throwing shutouts when he was 40. "Yes," Roberts thought, "but you didn't tell me it would be in York (Pennsylvania)."
Then Roberts recalled how Perkins had told him early in his career that he would be the next 300-game winner. He thought how Perkins had been correct about that one, too. He'd won nine games with Wilmington in 1948, 286 in the big leagues, and five with Reading in 1967 for exactly 300 victories. But he knew that wasn't exactly what Perkins had had in mind.50
For three months Roberts pondered what to do with the rest of his life. His main concern was how he was going to support his wife and four boys in private school. He believed he needed $40,000 a year to take care of his family properly.
He finally received a call from a friend, Jim Castle, who ran a small investment firm. When Castle offered Roberts a job with a salary of $25,000, he accepted. He was also offered a job with radio station WPEN in Philadelphia to do an early-morning sports show for $15,000 a year, so he had his $40,000. He would arrive at the radio station at 6:30, do three sports shows and then head to the investment job. He worked in the investment business for 10 years, doing well enough not to need the sports show, but he missed baseball and hoped to get back in the game in some capacity.51
In 1972, Ruly Carpenter, the son of Bob Carpenter, succeeded his father as the Phillies president. As a youngster Ruly had always hung around the clubhouse and had become a close friend of Roberts. Roberts called Ruly to congratulate him. Roberts also told him that he would like to be considered for the Phillies' general-manager position, which was open. Ruly said he would talk to his father. At first Bob agreed but he later canceled the meeting.
Roberts later heard that Wister Randolph, the vice president of the Phils, had asked if there was a position for Roberts with the Phils. Bob Carpenter replied, "Who's going to take care of me when I'm old?" Roberts felt the remark was uncalled for and never again broached Carpenter about working for the Phillies.
It turned out, Roberts later learned, that Carpenter resented that he had been so deeply involved in the Players Association and the subsequent hiring of Marvin Miller as executive director.52
A few years later Ruly Carpenter did interview Roberts for the job of manager of the Phils, along with Andy Seminick, Richie Ashburn, Jim Bunning, and the man who got the job – Danny Ozark, then a coach with the Los Angeles Dodgers.53
In the early '70s Roberts, with his eldest son, Robbie, ran the Philadelphia Firebirds, a minor-league hockey team. Roberts then returned to the investment business, this time with Lehman Brothers, where he worked as a broker in the money-management division. The new job required his traveling to New York City three days a week. Though he did well financially, he still wanted to return to baseball.
He had kept his hand in baseball by coaching his sons Robbie and Danny in American Legion ball for two years and then for four years as volunteer baseball coach at Germantown Academy, where he coached sons Danny and Ricky.
In the fall of 1976, Roberts received a call from Dick Bowers, the athletic director at the University of South Florida in Tampa, about the baseball coaching position.54 Roberts accepted the job and the family pulled up stakes and headed for Tampa with their youngest son, Jimmy. Roberts was elated about getting the coaching job at South Florida. Even though he would have a recruiting budget of only $5,000 a year, Roberts plowed ahead and coached for eight enjoyable years at South Florida.55
In 1982, Roberts coached his best club as South Florida went 45-13, won the Sun Belt Conference championship and went to the NCAA Regionals in Miami. There they defeated the University of Florida but lost to Miami and Stetson. Roberts' youngest son, Jim, was the first baseman on that South Florida team and made the all-conference team.
During his time there, USF developed a real rivalry against conference foe South Alabama, which was coached by his former big-league rival Eddie Stanky, who was known as "The Brat" in his playing days. The two teams often battled down to the wire for the conference title. Once when the two teams were playing in Mobile, Stanky became unhappy with the home-plate umpire's call of balls and strikes and yelled to him, "Just because he's in the Hall of Fame, you don't have to give him every pitch."56
When he coached, Roberts always said that he was a collector of ballplayers, not a teacher. Among other good ballplayers, he "collected" four players at South Florida who played in the big leagues.57 They were Scott Hemond, a catcher and a first-round draft choice; infielder Tim Hulett; and southpaw pitchers Chris Welsh and Tony Fossas, who pitched in the big leagues past his 41st birthday.
In 1986, after eight years at USF, Roberts retired from coaching to relax and play more golf. Late in his playing career he had invested with old teammate Curt Simmons in the Limekiln Golf Course in suburban Philadelphia. With Simmons managing the course, it was now producing a nice income for both.
In his sixth year of eligibility, the Baseball Writers Association of America elected Roberts to the Baseball Hall of Fame in 1976 with 86.9 percent of the vote. During his induction speech, he promised to come back every year to the Hall of Fame weekend.58 He fulfilled that promise, attending 35 induction ceremonies in a row. He also served several terms on the Hall's Board of Directors.
For his career, Roberts led the National League five times in complete games and 14 times made more than 30 starts in a season, once starting 41 games. Roberts was named The Sporting News Major League Pitcher of the Year four times and named to the All-Star Team seven times, starting for the National League five times. His career totals are 286 wins, 245 losses, a 3.41 ERA, 4,688⅔ innings pitched, 902 walks, 2,357 strikeouts, and 25 saves, with a winning percentage of .539.
Some have suggested that Roberts would have won far more games had he played for better teams, but Roberts himself scoffed at that notion. He pointed out that in his heyday in the early to mid-'50s, the Phillies were usually a first-division club and that his performance declined along with the team when it bottomed out in the late '50s and early '60s. He also noted that if he had pitched for the Yankees, for example, a club that had wanted to sign him, he might not have had the opportunity to pitch so much because their staff was so strong.59
Roberts was a two-pitch pitcher, fastball and curve, and mostly threw his fastball, delivering it with a pop of his wrist.60 Cy Perkins always said that he threw faster easier than anyone he'd ever seen.61 He had great control and his fastball had hop to it, creating a lot of fly balls. As he acknowledged, however, sometimes the fly balls had a little too much carry and ended up over the fence. In fact, he gave up 505 home runs during his career, the major-league record until it was broken by Jamie Moyer in 2010. But many of the home runs hit against him were solo shots with the game well in hand.62
Roberts' great control, especially for one who threw so hard and relied so heavily on his fastball, was also a key to his success. He was able to throw down and away and up and in and "paint the black." He rarely walked anyone, forcing the opposition to swing the bat. For example, in 1952 he walked only 45 batters in 330 innings.
Roberts was frequently criticized for not pitching inside and knocking hitters down, a common practice at the time.63 In fact, some called him "the pitcher who was too polite."64 Dizzy Dean, who broadcast television's Game of the Week during the 1950s, would often urge Roberts to brush hitters back. Even his pitching coach in the mid-'50s, Whitlow Wyatt, publicly criticized him for not throwing inside.65 But it was just not in Roberts' nature to do so. He could remember intentionally throwing at a hitter only twice in his long career.66
Roberts was also criticized for refusing to learn another pitch when he lost something off his fastball and for not throwing a changeup or changing speeds. Cy Perkins had told him early in his career that throwing changeups interfered with a fastball pitcher's rhythm and since rhythm was very important to his success, he always resisted developing one, even late in his career.67 He admitted to being stubborn about changing his way of pitching, but knew that if he hit his spots he would be successful, even after he didn't throw as hard as in his prime.68 After his career was over, however, Roberts acknowledged that he wasn't sure if his stubbornness was responsible for his success or had perhaps led him to not take care of his arm as well as he might have.69
Roberts always took his losses very hard. If he lost at home, he knew he wasn't going to be very good company, so he would lie in his hammock in his back yard, sip a six-pack of beer, and watch the sun come up while brooding about the game.70 On the road, he would walk back to the hotel and replay the game in his head over and over, focusing on what he'd done wrong. Maje McDonnell, the Phillies batting practice pitcher who became a coach, would often go with him. Once after a tough loss in Milwaukee in 1955, they walked back to the team hotel from County Stadium, a distance of seven miles.71
Jackie Robinson among others thought Roberts in his heyday was the best pitcher he'd ever seen.72 Robinson said, "You can't hit him when it counts. There isn't a tougher competitor in the business." 73
Stan Musial noted that with Roberts "there was no pretense, no trickery. He was going to come after you with that fastball of his that rose, hopped or slid. I never saw another fastball pitcher with such good control." Musial also marveled at how competitive Roberts was. "He enjoyed those tight spots, and had a unique ability to find something extra with the game on the line."74
When he pitched, Roberts had almost a unique ability to concentrate. He was able to focus intently on just the catcher and was totally oblivious to the crowed or any potential distractions. Once after a big game against the Dodgers he asked his wife, Mary, "Was there a big crowd tonight?" Mary responded that the stadium was jammed with more than 30,000 people. But not once warming up or during the game had Roberts even glanced into the stands.75
Hall of Fame umpire Al Barlick, who was from Roberts' hometown, once said that Roberts was so impassive on the mound that "he had the outward disposition of an oyster."76
Roberts used his strong legs to push off when he pitched, sometimes called a drop-and-drive delivery. He virtually dragged his right knee on the ground while finishing his delivery.77 The delivery was very similar to the one Tom Seaver adopted. Also emulating the drop-and-drive delivery was Japanese pitcher Masaichi Kaneda, who as a 17-year-old saw Roberts pitch during a tour of Japan with the Eddie Lopat All-Stars. Kaneda became Japan's greatest pitcher with 400 victories.78
Noted author James Michener, a lifetime Phillies fan, was particularly fond of Roberts. They had become friends in the process of Michener's writing a book titled Sports in America in which Michener described the major role sports played in American society. Roberts was among the three people to whom he dedicated the book.79
Kaneda also became a successful manager in Japan after his playing career and invited Roberts and Mary to Japan in 1990 for his Lotte Orions spring training.80
Mary and Robin Roberts raised a family of four boys who collectively gave them seven grandchildren. The Roberts's oldest son, Robbie, became the general manager of the Limekiln Golf Course north of Philadelphia. Danny, the second oldest son, was baseball coach of the United States Military Academy at West Point for 17 years, and later coached in the Phillies' minor-league system. Third son Ricky entered the restaurant business in Atlanta while Jimmy, the youngest, went into banking in Tampa.
Roberts' wife, Mary, died in Temple Terrace, Florida, on June 23, 2005, at the age of 77. Robin Roberts passed away almost five years later, on May 6, 2010, also in Temple Terrace. He was 83 years old.
Indulging in a bit of understatement, Tom Roberts, who had fought at Gallipoli and labored in the coal mines of Lancashire, Wales, and Illinois, summed up his talented son in 1956: "Ah, well, he could have done a lot worse."81
An updated version of this biography is included in "20-Game Losers" (SABR, 2017), edited by Bill Nowlin and Emmet R. Nowlin. It is also included in "The Whiz Kids Take the Pennant: The 1950 Philadelphia Phillies" (SABR, 2018), edited by C. Paul Rogers III and Bill Nowlin.

Last revised: September 10, 2023 (zp)
Sources
In addition to the sources cited in the Notes, the author also consulted:
The National Baseball Library Archives, Cooperstown, New York.
Baumgartner, Stan, and Harry T. Paxton. "He Pitched the Phillies to the Pennant, Saturday Evening Post, January 13, 1951.
Brown, Hugh. "Did They Overwork Roberts?" Sport, February 1954.
_______. "Roberts Pitches to Win," Baseball Yearbook, 1953.
Clayton, Skip, and Jeff Moeller. 50 Phabulous Phillies (Champaign, Illinois: Sports Publishing, 2000).
Fraley, Oscar. "Can Robin Roberts Win 300?" Inside Sports, March 1953.
Gordon, Robert. Legends of the Philadelphia Phillies (Champaign, Ilinois: Sports Publishing, 2005).
Hochman, Stan. "Robin Roberts Remembers the Whiz Kids," Baseball Digest, July 1972.
Honig, Donald. A Donald Honig Reader (New York: Simon & Schuster, 1988).
"How Roberts Does It." Sport, September, 1953.
Kelly, Gene. "Robin Roberts: The Pitcher Who Couldn't Pitch!" Baseball Life Stories – 1952.
Lieb, Frederick G. "Best Since Matty: Robin Roberts," Baseball Magazine, September 1949.
Marazzi, Rich. "Robin Roberts," Sports Collectors Digest, October 20, 2000.
Newcombe, Jack. "Roberts Is the Phillies' Stopper," Sport, June 1952.
Orodenker, Richard, ed. The Phillies Reader (Philadelphia: Temple University Press, 1996).
Paxton, Harry. The Whiz Kids – The Story of the Fightin' Phils (New York: David McKay Company, Inc., 1950).
Peary, Danny, ed. We Played the Game – 65 Players Remember Baseball's Greatest Era, 1947-1964 (New York: Hyperion, 1994).
"The Phillies Pitching Pals," Sport, October 1953.
Reising, Robert, and C. Paul Rogers III. "Remembering Springfield's Hall of Fame Pitcher – Robin Evan Roberts," Springfield Scene Magazine, July/August 2016.
Roberts, Robin. "Pitching for Tomorrow," Guideposts, August 1956.
Ryczek, William J. The Yankees in the Early 1960s (Jefferson, North Carolina: McFarland, 2008).
Westcott, Rich. A Century of Philadelphia Sports (Philadelphia: Temple University Press, 2001).
Westcott, Rich, and Frank Bilovsky. The New Phillies Encyclopedia (Philadelphia: Temple University Press, 1993).
Williams, Edgar. "How Robin Roberts Wrestled His Way to a Comeback," Baseball Digest, December/January 1959.
_______ . "Has Roberts Lost His Fastball?," Baseball Digest, January/February 1957.
_______. "His Control's Built In!," Baseball Digest, August 1953.
Yeutter, Frank. "Tale of Two Pitchers," Complete Baseball, February 1953.
Notes
Born
September 30, 1926 at Springfield, IL (USA)
Died
May 6, 2010 at Temple Terrace, FL (USA)
If you can help us improve this player's biography, contact us.
https://sabr.org/sites/default/files/RobertsRobin-1951.jpg
600
800
admin
/wp-content/uploads/2020/02/sabr_logo.png
admin
2012-01-04 20:04:08
2023-09-10 07:20:24
Robin Roberts