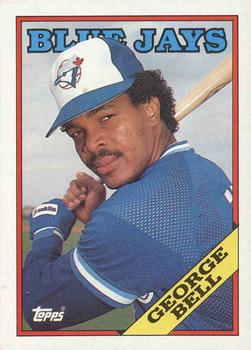 April 4, 1988: Angry George Bell hits unprecedented three home runs on Opening Day
---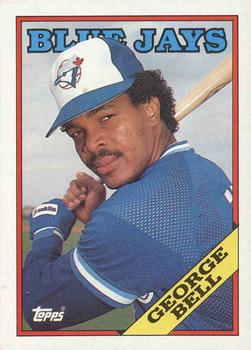 One player on the Royals Stadium field didn't share in the usual happiness associated with Opening Day. Toronto's George Bell stepped into the batter's box for his first plate appearance of 1988 in the second inning still angry at manager Jimy Williams and the Blue Jays' front office over their insistence that Bell should be the team's full-time designated hitter after three seasons as starting left fielder. Bell stared out at Kansas City right-hander Bret Saberhagen, awaiting the first pitch.
The very bitter public battle between club and player hung like a dark cloud over an offseason that should have been a celebration of his 1987 American League MVP Award.1
However, at the start of spring training, Williams announced that Toronto would move Bell from left field to DH and veteran center fielder Lloyd Moseby to left field, and rotate prospects Sil Campusano and Rob Ducey in center field. Williams believed these moves would improve team defense and speed, reduce scheduled days off for Bell, resulting in more at-bats, and prolong Bell's career by decreasing the pounding his shoulder and knees had absorbed playing on the hard artificial surface in Toronto.
Even before arriving in Florida, Bell balked: "If they want to win, they'll play me in the outfield. If they want to lose, they'll play me at DH. They'd better leave me alone. They know where I want to play — in the outfield."2 In response, Williams was firm: "This is the way it's going to be. … It was not a spur of the moment decision."3
Bell insisted it was his understanding that the club wanted him to DH only 15 to 20 games per season. Williams insisted he had clearly told Bell he would play left field only 15 to 20 games per season.
"George better stick to playing baseball and not worry about a lot of other things. … I don't think anyone wants to go out there (on the field) and make an ass of himself. … As far as I was concerned, there was no misunderstanding," general manager Pat Gillick said after Bell arrived in camp.4
The standoff boiled over during a home spring-training game against Boston on March 17. Bell told batting coach Cito Gaston he did not want to DH that day, then without taking off his warm-up jacket, lay on the grass by the bullpen when the game started. Bell didn't budge when he was announced as the DH for his first scheduled plate appearance. An incensed Williams sent Willie Upshaw into the game as a pinch-hitter, then ran to the bullpen and ordered Bell into the clubhouse. After a meeting involving Williams, Gillick, and team vice president Paul Beeston, the Blue Jays disciplined Bell.
"I'm the manager and I'm going to get my way. There's no chance of changing (the management decision to DH Bell)," vowed Williams.5 "He said he didn't want to be a designated hitter. I told him: 'You've backed me into a corner, George. I have no alternative but to fine you and suspend you."6
Four days later, Bell's agent, Randy Hendricks, brokered a meeting between Bell, Williams, Gillick, and Beeston, ironing out their respective differences. Bell, still unhappy, agreed to DH to start the season.
So on Opening Day, after Saberhagen retired Toronto in order in the first inning, Bell watched from the bench as Moseby trotted to left field and Campusano — playing his first major-league game — went to center field. Left-hander Jimmy Key, making his second consecutive Opening Day start for Toronto, gave up an infield single and stolen base to Kevin Seitzer. The 12-time All-Star George Brett then turned on a flat breaking ball from Key, lofting it into the Kansas City bullpen for a home run to stake the Royals to a 2-0 lead.
In the top of the second, Bell led off against Saberhagen. The Kansas City ace was still one week shy of his 24th birthday but had already won a Cy Young Award, World Series MVP, and made his first All-Star team the previous season, earning a spot in the AL starting lineup along with Bell.
Saberhagen tried a first-pitch, belt-high fastball and Bell unloaded, launching a high drive toward the left-field seats. Bo Jackson leaped onto the chain-link fence and hung on the top rail for a few seconds, watching as the ball cleared the wall easily for a home run.7
The game remained 2-1 in favor of the Royals when Moseby led off the fourth and reached first when a bouncing ball went off the glove of first baseman Steve Balboni for an error. One out later, Bell came up for the second time and worked the count to 2-and-2. Saberhagen threw a breaking ball that fooled Bell, who lunged at it with enough bat speed to send the ball deep to left-center field. Kansas City center fielder Willie Wilson watched helplessly as the ball landed on the berm well beyond the fence. Bell's second home run in as many at-bats gave the Blue Jays a 3-2 lead. Former Royal Rance Mulliniks followed with a shallow bloop double down the left-field line and moved to third when Ernie Whitt lined a single up the middle. Jesse Barfield drove home Mulliniks with a fly out to center.
Saberhagen recovered in the next three frames, retiring nine of Toronto's 11 batters from the fifth inning through the seventh. After the seventh-inning stretch, left-hander David Wells came on to relieve Key, who had injured his left ankle fielding a bunt in the fifth inning. Wells gave up a leadoff triple to Wilson, and Seitzer, who scored the season's first run, lined out to center, bringing in Wilson to trim Toronto's lead to 4-3. Brett lined a single to left, ending Wells' appearance as Williams summoned side-arming right-hander Mark Eichhorn with two right-handed batters due up. On a full count, Danny Tartabull hit a ball to the opposite field and hustled to just beat the throw from Barfield to second base for a double, sending Brett to third. But Eichhorn wriggled out of the jam and preserved the lead by getting Frank White to pop up and pinch-hitter Scotti Madison to ground out.
In the eighth Saberhagen retired Toronto's first two batters, Moseby and Tony Fernandez, bringing Bell back to the plate. On a 2-and-0 count, the Blue Jays' cleanup hitter popped up a low fastball into foul territory. The follow-through of Bell's swing struck catcher Mike Macfarlane on the left shoulder and as he winced in pain, Saberhagen ran and tried to catch the ball in front of his own dugout but it dropped to the turf, allowing Bell to continue. On the next pitch, Saberhagen tried to come inside with another fastball but Bell turned on it quickly and lined his third home run of the afternoon, over the left-field wall.
After all the disorderliness of spring training, it was astonishing. Bell had channeled his anger at the baseball and was still in MVP form. It was Bell's first career three-home-run game and the first time in the major leagues that a batter had slugged three home runs on Opening Day.
Toronto closer Tom Henke pitched the final two innings, capping his save of the Blue Jays' 5-3 victory with a 10-pitch, game-ending battle with Brett, who ended up fouling out to the third baseman.
"He's amazing. He had some kind of day," said Williams about Bell's record-setting Opening Day. "We'll probably try it again on Wednesday (Bell as DH)."8
Royals skipper John Wathan was equally complimentary. "If you take away those three pitches, it's a different game. I guess the story of the game was the George Bell show. He hit three good pitches. He's just a tremendous hitter. I have to take my hat off to him."9
Macfarlane noted that Bell hit the ball hard irrespective of pitch or location: "He hit two fastballs and a curve. The first one was a fastball up and in and he tomahawked it. The second one was a breaking ball down and away, and he golfed it with one arm. The third one was a fastball in, and he turned on it. He's one of the strongest hitters and he has one of the quickest bats I've ever seen."10
"I had a great day today but who knows what's going to happen the next day? I just go one day at a time," Bell concluded, in the visitors clubhouse.11
The reluctant DH, true to form, went 5-for-5 in the second game of the season — playing in left field.12
Sources
In addition to the sources cited in the Notes, the author consulted Baseball-Reference.com and Retrosheet.org.
https://www.baseball-reference.com/boxes/KCA/KCA198804040.shtml
https://www.retrosheet.org/boxesetc/1988/B04040KCA1988.htm
Notes
1 Bell had hit 47 homers for the Blue Jays in 1987 and driven in a league-leading 134 runs. His 369 total bases led the majors.
2 Neil MacCarl, "Jays Say They'll Make Bell DH in '88," Toronto Star, February 23, 1988: B1.
3 Dave Perkins, "It's a Go! Moseby Will Be in Left," Toronto Star, February 27, 1988: B1.
4 Larry Millson, "Gillick Warns: Tone Down, Bell," Globe and Mail, March 3, 1988: A20.
5 Allan Ryan, "Bell Defies Jays," Toronto Star, March 18, 1988: D1.
6 John Robertson, "Bye Bye Bell! Jays Better Without You," Toronto Star, March 18, 1988: D1.
7 Jackson was barely three months removed from remarkable 1987 seasons in both baseball and football. As a Kansas City rookie, he hit 22 home runs in only 396 at-bats. In the autumn, despite playing only seven games for the Los Angeles Raiders, he earned NFL All-Rookie Team honors. In front of a national audience on Monday Night Football on his 25th birthday at the end of November, he rushed for 221 yards, including an NFL season-high 91-yard touchdown followed by a memorable 2-yard score where he pushed tough-talking Seattle linebacker Brian Bosworth into the end zone.
8 Neil MacCarl, "Ding … Ding … Ding! Bell Rings in Season with Record 3 Homers in Jays Win," Toronto Star, April 5, 1988: D1.
9 Larry Millson, "Bell Anticipating Boos from the Blue Jay Fans," Globe and Mail, April 5, 1988: A21.
10 MacCarl, "Ding … Ding … Ding! Bell Rings in Season with Record 3 Homers in Jays Win."
11 "Jays' Bell Rings in New Season with Three Home Runs," Globe and Mail, April 5, 1988: A1.
12 Bell played 149 games in left field during the 1988 season and only seven more as DH. His 1987 season had been the peak of his career. He hit 24 home runs in 1988 and drove in 97 runs. Twice more (1991 and 1992) he hit 25 homers and twice more (1989 and 1992) he drove in more than 100 runs.
Additional Stats
Toronto Blue Jays 5
Kansas City Royals 3
---
Royals Stadium
Kansas City, MO
Box Score + PBP:
Corrections? Additions?
If you can help us improve this game story, contact us.
Tags
https://sabr.org/sites/default/files/Bell-George-1988.jpg
600
800
admin
/wp-content/uploads/2020/02/sabr_logo.png
admin
2020-04-04 10:22:27
2020-06-22 16:27:20
April 4, 1988: Angry George Bell hits unprecedented three home runs on Opening Day