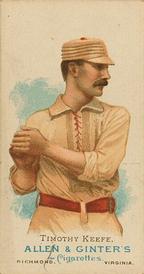 August 10, 1888: Tim Keefe outduels rookie Harry Staley for 19th consecutive victory
---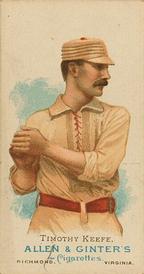 In 1888 Tim Keefe of the New York Giants was recognized as one of the greatest pitchers in baseball. The right-hander "had similar speed and the curveball of other pitchers, but deception set him apart from the other top pitchers of the era."1 His change of pace was his most deceptive pitch. Years later, Cy Young would say how he wished he could deliver "the slow ball that Tim Keefe used to hand up to the batters."2
After beginning the 1888 season with an 8-6 record, Keefe reeled off 18 straight victories. The Giants were in first place in the eight-team National League as he sought his 19th consecutive victory on Friday, August 10, 1888, at the Polo Grounds in New York. The opponents that day were the sixth-place Pittsburgh Alleghenys. The "Allies" featured two 21-year-old rookies in their lineup: Harry Staley, a right-handed pitcher, and Jake Beckley, a slugging first baseman. The pair had been acquired in June from the St. Louis Whites of the Western Association.
It was a clear day with the temperature in the low 80s. Attendance was reported to be 3,664. The Giants wore white jerseys with black caps and black trousers, while the visitors donned white uniforms with blue stockings.3 Each of the Alleghenys wore a cap of a different color, e.g., Fred Dunlap, the team captain and second baseman, wore a white cap, Staley a salmon cap, and Beckley a gray one.4
The Giants batted first and went out in order. Pittsburgh's Billy Sunday led off the bottom of the first inning with a single to left field. As Keefe pitched to George Miller, Sunday took off for second base. Danny Richardson, the Giants second baseman, "ran for the bag to take the throw down, but Miller hit the ball sharply and it shot over the spot where Richardson had been standing."5 Sunday kept going and made it to third base, and Miller advanced to second base as the ball was thrown in toward third base. After John Coleman struck out, third baseman Arthur Whitney made "a beautiful stop" of Beckley's grounder and threw him out at first as Sunday came home with a Pittsburgh run.6 Keefe then fanned Dunlap, leaving Miller stranded at third base.
Leading off the top of the second, Roger Connor drove "a tremendous liner to left centre and ran all the way to third, to the accompaniment of a storm of plaudits" from the New York fans.7 But Staley, with help from his defense, survived the leadoff triple without giving up a run. Connor remained on third base as Jim O'Rourke grounded out, and then Connor headed for home on Whitney's grounder to shortstop Pop Smith and was thrown out at the plate.
John Montgomery Ward, the Giants shortstop, got aboard in the third inning when Pittsburgh third baseman Bill Kuehne "fumbled" his grounder, but when Ward attempted to steal second base, "Dunlap took Richardson's liner and Ward was 'doubled up' at first."8
Keefe got help from his defense, too. In the fifth inning, Smith singled and stole second base, but he subsequently was picked off by a quick throw from catcher Big Bill Brown to Ward. Brown was filling in for the Giants star catcher, Buck Ewing, who was "taking a much-needed rest."9 "Brown did good work, but there were many foul tips that Ewing would have got that Brown didn't get."10
Staley lost his control in the sixth inning, and it was costly. After retiring the first two batters, he walked Mike Tiernan, and the speedster stole second base. Connor also drew a walk, and Staley's last pitch to him was so wild that Connor reached second base and Tiernan moved to third. Then, with two strikes on O'Rourke, Staley sent a pitch "flying over [catcher] Miller's head and both Tiernan and Connor scored amid a regular pandemonium of enthusiasm."11
But Staley steadied, and he and Keefe were locked in a pitchers' duel for the remainder of the game, aided by more fielding gems. After Beckley reached on an infield single in the seventh, first baseman Connor caught Dunlap's line smash and stepped on the bag to double up Beckley; the unassisted double play was "the leading feature of the game," according to the New York Sun.12 And in the eighth, Ward popped out to Pittsburgh's shortstop Smith, who "took it after a long backward run."13
The final score was New York 2, Pittsburgh 1. Both pitchers allowed four hits. The duel was remarkable in that there were no outfield putouts.
Keefe fanned 12 batters in earning his 19th consecutive victory. He lost his next game, against the Chicago White Stockings on August 14, but his 19-game winning streak established a single-season major-league record that has been tied (by Rube Marquard in 1912) but never broken through 2018.
Sources
Game coverage in the August 11, 1888, issues of the New York Herald, New York Sun, New York Times, New York Tribune, Pittsburgh Commercial Gazette, Pittsburgh Post, and Pittsburgh Press. Several of the game stories included box scores.
Photo credit: Cigarette card produced by Allen & Ginter in 1888.
Notes
1 Charlie Bevis, "Tim Keefe," SABR BioProject, sabr.org/bioproj/person/6f1dd1b1.
2 "Modesty of Cy Young Is One Reason Why He Is Baseball Hero," Montgomery (Alabama) Advertiser, February 28, 1909: 16.
3 "Pittsburgh Beaten," New York Evening World, August 9, 1888: 1.
4 "Will Wear Mascot Caps," Pittsburgh Press, August 8, 1888: 1. The cap colors of the other Alleghenys were Billy Sunday, pearl gray; George Miller, old gold; John Coleman, light brown; Abner Dalrymple, brown; Bill Kuehne, green; and Pop Smith, maroon.
5 New York Herald, August 11, 1888: 8.
6 New York Times, August 11, 1888: 2.
7 New York Herald, August 11, 1888: 8.
8 Ibid.
9 Pittsburgh Commercial Gazette, August 11, 1888: 5.
10 New York Sun, August 11, 1888: 3.
11 New York Herald, August 11, 1888: 8.
12 New York Sun, August 11, 1888: 3.
13 New York Herald, August 11, 1888: 8.
Additional Stats
New York Giants 2
Pittsburgh Alleghenys 1
---
Polo Grounds
New York, NY
Corrections? Additions?
If you can help us improve this game story, contact us.
Tags
https://sabr.org/sites/default/files/KeefeTim-1887.jpg
600
800
admin
/wp-content/uploads/2020/02/sabr_logo.png
admin
2019-09-23 13:28:14
2020-04-17 10:22:32
August 10, 1888: Tim Keefe outduels rookie Harry Staley for 19th consecutive victory