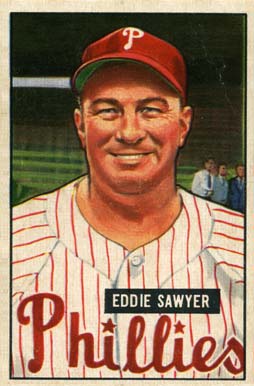 July 25, 1950: Whiz Kids blank the Cubs in doubleheader sweep; Phillies take over first place for good
---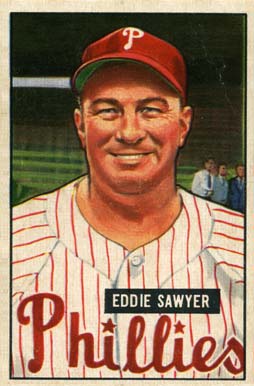 "Don't say I am predicting a pennant," said Philadelphia Phillies skipper Eddie Sawyer after his club blanked the Chicago Cubs in both games of a doubleheader on July 25, 1950 to reclaim first place. "Just say my dreams come true."1 Sawyer might not have been a fortune teller, but his dreams did come true as the "Whiz Kids" remained in sole possession first place for the rest of the season to capture the Phillies' first pennant since 1915. The victories were the "turning point of our season" said staff ace Robin Roberts who followed Bubba Church's three-hitter with his own six-hit masterpiece.2
The Phillies were glad to be back in the City of Brotherly Love as they headed to Shibe Park on Tuesday, July 25. The day before Sawyer's group lost a six-inning, rain-shortened contest to the Pittsburgh Pirates at Forbes Field, 2-1, to conclude a season-long 19-game road trip with a 9-10 record. More importantly, the loss dropped the upstart "Whiz Kids" into a tie for first place with a record of 51-38, just percentage points behind the St. Louis Cardinals. Philadelphia hoped to regain momentum on its 16-game home stand that began with a doubleheader as part of a four-game set against the Chicago Cubs. Skipper Frankie Frisch, in his first full season with the North Siders, had just concluded a disappointing 18-game home stand with a 7-11 record to fall to 39-44, tied for fifth place with the New York Giants. The series with the Phillies kicked off a grueling 22-game road trip.
Game One
The first game of the twin bill featured two rookie right-handers. Philadelphia's Emory "Bubba" Church, described by the United Press as "little regarded and virtually unknown," was a 25-year-old Alabaman, who had compiled a record of 41-26 in three years in the minors.3 He began the season in the Phillies' bullpen, but had tossed complete games in his last two outings to notch his second and third big-league victories. "I gave Church a chance to look around the league before starting him regularly," said Sawyer who had managed the pitcher in 1948 with the Toronto Maple Leafs of the International League.4 Andy Seminick, the Phillies' backstop, had high hopes for Church. "[His] good control lets him keep most of his stuff low," said the 1949 All-Star catcher. "He keeps his fast ball below the batter's waste and inside, where it can do the least damage. He does the same thing with his curve. He doesn't seem to be putting much on the ball, yet every pitch does something."5 On the mound for the Cubs was hard-throwing, 22-year-old Johnny Klippstein, who had begun his professional career as a 16-year-old in 1944. Plagued by wildness throughout his career, Klippstein was acquired by the Cubs in the Rule 5 draft in the offseason after posting a 15-8 record yet walking 121 in 195 innings with the Mobile Bears of the Class-AA Southern Association in 1949. In his previous outing, on July 19, he recorded his first big-league victory by going the distance against the Boston Braves.
An impressive crowd of 32,726 came out for a twilight doubleheader at Shibe Park, which was baseball's first steel and concrete stadium when it opened in 1909. The Phillies faithful did not have to wait long to cheer. After Church set down the Cubs in order to start the game, Eddie Waitkus led off the bottom of the first with a walk and moved to second on Richie Ashburn's single. Dick Sisler, who entered the game batting a team-high .329 and was fresh off the first and only All-Star appearance in his eight-year career, stroked a double to right field to drive in both runners. Three batters latter, Granville "Granny" Hamner lined a single to center to drive in Sisler. But the Cubs' shoddy defense (they paced the majors with 201 errors in 1950), led to another run on the play. As reported by Edward Burns of the Chicago Tribune, first baseman Hank Sauer cut off center-fielder Andy Pafko's relay throw and then fired wildly to second base.6 The ball flew into right field allowing Hamner to circle the bases and score, giving the Phillies a four-run lead. After walking Seminick, Klippstein finally ended the inning by retiring Mike Goliat.
After his rough first inning, Klippstein looked like he might be headed for the showers in the third inning. Sisler led off the frame with a double and scored to give the Phillies a 5-0 lead when hot-hitting Del Ennis (16-for-46 and slugging .630 in his last 11 games) singled to center field. All-Star Willie "Puddin' Head" Jones followed with a single and Hamner loaded the bases when he reached on another Cubs miscue. Officially scored a fielder's choice, Hamner bunted to advance the runners; Cubs catcher Mickey Owen broke late to the ball and fired to second, but not in time to erase Jones. Klippstein avoided another big inning when third baseman Bill Serena fielded Seminick's shot to third and fired to home to cut down a charging Ennis with Owen then throwing to first to complete the twin-killing. Not yet out of trouble, Klippstein intentionally walked Goliat to fill the bases and then punched out Church to end the inning.
In the fourth inning, Philadelphia tacked on its final two runs when, with two outs and Waitkus on first via a single, Ennis connected for his 18th home run. Thereafter Klippstein retired 11 consecutive batters until catcher Stan Lopata, who relieved Seminick to start the sixth, singled in the eighth followed by Goliat's double. Klippstein escaped the jam by retiring Church and Waitkus.
While Klippstein struggled in the first half of game, Church was dominant throughout in just his sixth big-league start. Relying primarily on fastballs and curves Church yielded only three singles (one in the second, third, and seventh innings), did not issue a walk, and did not allow a Cubs runner to reach second base. He struck out two and needed only 88 pitches and one hour and 41 minutes to record his first of seven career shutouts in a six-year career (1950-1955) Described as an "ace in the hole," Church's emergence as bona fide starter came at the most opportune time as 21-year-old right-hander Curt Simmons, arguably the team's hottest hurler with a record of 13-5, was scheduled to report that weekend to the 28th Division Artillery in the Pennsylvania National Guard.7 "You can see how he has pitched," said an ecstatic Sawyer after Church's performance, which improved his record to 4-0 and dropped his ERA to 2.11 in 72 2/3 innings. "He is ready to pick up a part of the load when Curt Simmons leaves."8Continuing his success over the next seven weeks, Church was 8-4 with 2.18 ERA in 136 2/3 innings when he was hit in the face by a line drive off the bat of Cincinnati's Ted Kluszewski on September 15. Thereafter he logged only 5 2/3 innings, yielding 12 runs (10 earned). Church's injury came only six days after Simmons hurled his last game for the Phillies before he was lost for the season when his National Guard unit was activated in light of the escalating conflict on the Korean Peninsula.
Game Two
Whereas the first game of the doubleheader pitted two inexperienced hurlers, the second game featured two members of the 1950 NL All-Star pitching staff. Right-hander Robin Roberts, the Phillies' 23-year-old workhorse en route to his first of six consecutive seasons of at least 20 victories and 300 innings, had hurled a convincing four-hit shutout just three days earlier against the Cincinnati Reds at Crosley Field to improve his record to 11-5 and lower his ERA to 3.27. "I was mainly a one-pitch pitcher," said the 6-foot, 190-pound Roberts in his autobiography My Life in Baseball with Paul Rogers, "[A]lthough sometimes I mixed in a curveball when I was ahead in the count. I could put my fastball where I wanted it, but I was sometimes criticized for not pitching inside more and not knocking hitters down."9 On the mound for the Cubs was burly Bob Rush, a 6-foot-4, 205-pound hard-throwing right-hander and mainstay of the Cubs staff throughout the 1950s. "Bob doesn't go in for fancy deliveries such as the sinker, slider and any trick stuff," reported Baseball Magazine. "[H]e rears back and lets go a fastball that has the admirations of every scout that sees it."10 After a strong start to the season (9-6), Rush had been clobbered in his last five starts (42 hits, 16 walks, and 18 runs in 30 1/3 innings) to fall to 9-10 en route to tying Alex Kellner of the Philadelphia Athletics for the major-league lead in losses with 20.
"We hooked up in a memorable pitching duel," said Roberts who yielded only a single and a walk in the first five innings.11 Not quite as sharp as his counterpart, Rush surrendered a hit in each of the first four innings, but no runs. Rush escaped a jam in the second, when Hamner was involved in another poorly executed fielder's choice. With "Puddin Head" Jones on first, Hamner hit the ball back to the Rush who was unable to execute the throw to second to erase Jones while Hamner reached first safely. Rush set down the next three batters (two by strikeout) to end the frame.
"We had wasted several golden scoring opportunities," reminisced Roberts about the game.12 Roberts, who batted just .118 (12-for-102) in 1950, led off the fifth with a single and moved to third on Waitkus's double. After Ashburn popped up to third sacker Bill Serena, Rush intentionally walked Sisler to load the bases with cleanup hitter Del Ennis due up. In his fifth season, Ennis had 102 career homers, but was in search of his first grand slam. The wait continued as he hit into a 6-4-3 double play; however, the draught would soon be over. Two days later on July 27 he blasted a grand slam and knocked in seven against the Cubs, and then added another slam on July 30 against the Pirates.
In a scoreless game, the Phillies threatened again in the seventh when Roberts lined a one-out single. Waitkus followed with another single and both runners advanced on right-fielder Ron Northey's poor throw back to the infield, though he was not charged with an error. In a good defensive play, second baseman and former Phillie Emil Verban fielded Ashburn's chopper and fired a strike to catcher Rube Walker to cut down Roberts at the plate. With runners on the corners, Rush punched out Dick Sisler. Another defensive gem by the Cubs in the eighth saved another potential run. After Hamner tripled to deep center with two outs, Seminick hit a screecher to at third. "Serena made a great backhand stop," reminisced Roberts, and fired a bullet to first to end the ending.13
The Cubs' luck was wearing thin. In the eighth inning, they finally landed a man on third base when Carmen Mauro's two-out single advanced Rube Walker. Undeterred, Roberts induced Roy Smalley to ground out to shortstop Hamner to end the inning.
Notwithstanding Andy Pakfo's one-out single, Roberts concluded the ninth inning by extending his scoreless inning streak to 19 innings, and began the Phillies' rally in the bottom of the inning by drawing a one-out walk. He was replaced by pinch-runner Putsy Caballero, a 22-year-old utilityman who played his first big-league game in 1944 as a 16-year-old war-time player for the Phillies. After Caballero moved to second on Waitkus's grounder to first, Ashburn collected his third hit of the game, a walk-off single to centerfield easily driving in Caballero and giving the Phillies a dramatic victory, 1-0.
"We have a hustling ball club and will be in the thick of the fight right to the end," said an ecstatic Sawyer after the game which was completed in exactly two hours.14 In recording his second consecutive shutout, Roberts whiffed four and walked two. He blanked the Pirates in his next outing, on July 30, and extended his career-long scoreless inning streak to 33 2/3 innings in a victory over the Cardinals on August 4. Tough-luck loser Rush dropped his fifth straight decision; his complete-game victory over the Pirates on August 12 ended the dubious streak at eight games.
After the second game Bubba Church walked up to Roberts in the clubhouse and said, "I can't believe you did that to me."
Roberts said, "What do you mean, Bubba?"
Church said with a laugh, "I pitch a three-hit shutout and I can already see the headlines tomorrow and then you come along and pitch another shutout and win the second game 1-0. I don't think that is fair."15
The doubleheader sweep improved the Phillies' record to 53-38 and moved them back into sole possession of first place, a half-game in front of the Cardinals. Said Sawyer about the tight pennant race in which a mere 2 1/2 games separated the Phillies, Cardinals, the surprising Boston Braves, and the reigning NL pennant-winning Brooklyn Dodgers: "Maybe [it is] not the closest but surely the screwiest."16 The Cubs, on the other hand, suffered their third consecutive shutout and fourth in five games to fall 11 games off the pace. The lowest scoring team in the NL (643 runs), the Cubs were shut out 14 times and scored just one run in another 21 games in 1950.
Sawyer was guardedly optimistic after the sweep. "Remember we are a young ball club," he told reporters, "and nothing counts better than experience in the stretch drive."17 With the average age of 26.5, the Phillies had the youngest team in the NL. Four of the eight starting position players were 25 or younger; Eddie Waitkus was the oldest (30). Their top five starting pitchers, Roberts, Simmons, Church, Bob Miller and Russ Meyer, were all 26 or younger. Super fireman and eventual NL MVP Jim Konstanty was a graybeard at 33. "We were a cocky bunch," said Roberts, "and we played good and we had good pitchers."18 Under the calm leadership of Sawyer, the Whiz Kids' doubleheader victory commenced a stretch of 35 victories in the next 50 games to extend their lead to 7 1/2 games (86-53) on September 15. The last 15 games of the season would test their collective mettle.
This article appears in "The Whiz Kids Take the Pennant: The 1950 Philadelphia Phillies" (SABR, 2018), edited by C. Paul Rogers III and Bill Nowlin. Click here to read more stories from this book at the SABR Games Project.
Sources
In addition to the sources in the notes, the author consulted Baseball-Reference.com, Retrosheet.org, and SABR.org.
Notes
1 Orlo Robertson, AP, "Phillies Still Young, But Promise Battle," Terre Haute (Indiana) Tribune, July 26, 1950: 7.
2 Robin Roberts and C. Paul Rogers III, The Whiz Kids and the 1950 Pennant (Philadelphia: Temple University Press, 2000), 236.
3 UP, "Church Great as Phils Blank Cubs Twice," Delaware County (Pennsylvania) Daily Times, July 26, 1950: 23.
4 Robertson.
5 Bill James and Rob Neyer, Neyer/James Guide To Pitchers (New York: Fireside, 2004), 163.
6 Edward Burns, "Cubs Lose, 7-0, 1-0; 32,726 See Phillies Blank Cubs Twice, Chicago Tribune, July 26, 1950: B1.
7 UP, "Church Great as Phils Blank Cubs Twice."
8 Robertson.
9 Robin Roberts and C. Paul Rogers III, My Life in Baseball (Chicago: Triumph Books, 2003), 263.
10 James and Neyer, 368.
11 Roberts and Rogers, Whiz Kids, 236.
12 Ibid.
13 Ibid.
14 Robertson.
15 Roberts and Rogers, Whiz Kids, 237.
16 UP, "Church Great as Phils Blank Cubs Twice."
17 Robertson.
18 Martin Frank, "Whiz Kids pitcher recalls last Phils-Yanks series," USA Today, October 27, 2009.
Additional Stats
Philadelphia Phillies 7
Chicago Cubs 0
Philadelphia Phillies 1
Chicago Cubs 0
---
Shibe Park
Philadelphia, PA
Box Score + PBP:
Game 1:
Game 2:
Corrections? Additions?
If you can help us improve this game story, contact us.
Tags
http://bioproj.sabr.org/bp_ftp/images4/SawyerEddie.jpg
600
800
admin
/wp-content/uploads/2020/02/sabr_logo.png
admin
2018-11-28 12:33:37
2020-04-17 10:23:44
July 25, 1950: Whiz Kids blank the Cubs in doubleheader sweep; Phillies take over first place for good