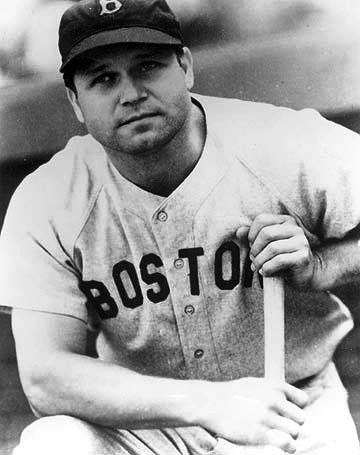 June 9, 1939: Jimmie Foxx, Ted Williams homer for Red Sox in 18-7 win over Browns
---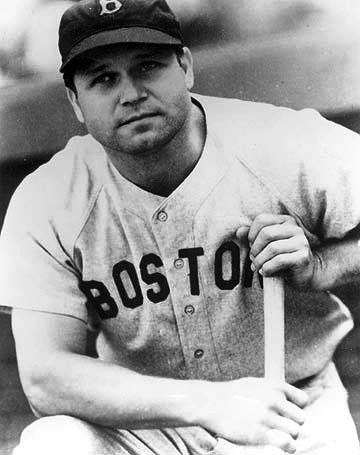 Future Hall of Famers Jimmie Foxx and Ted Williams both homered in the Boston Red Sox' 18-7 win over the St. Louis Browns in the second game of a doubleheader at Sportsman's Park on June 9, 1939. It was one of 111 losses that year for the inept Browns, who finished an American League-record 64½ games out of first place.
It was a damp day in St. Louis with a high temperature of 84 degrees.1 Only 876 fans witnessed the Browns' lopsided loss, a crowd the St. Louis Star and Times described as "a handful of spectators."2 While 876 was listed as the "(o)fficial paid attendance," 377 additional youngsters arrived via complimentary vouchers, bringing the actual crowd to 1,253.3
Poor turnout was a season-long problem for the Browns. They drew only 109,159 fans, the lowest total in the major leagues. The St. Louis Cardinals, who played at the same ballpark as the Browns, drew 400,245. The Philadelphia Phillies had the second-lowest attendance in the majors that season and still more than doubled the Browns' total, pulling in 277,973 fans.
The doubleheader was a result of a rainout in St. Louis on May 8. The Red Sox won the first game, 4-3, and struck early in the second game, scoring six runs in an 11-batter top of the first on four walks and four singles, chasing the Browns 21-year-old rookie starter Jack Kramer before making their second out of the game.
Online play-by-play summaries list an unimaginable catch that reportedly took place in the bottom of the first inning. The summaries claim Boston center fielder Doc Cramer caught a fly ball in foul territory. A search for clarification in contemporary newspapers showed it was actually left fielder Joe Vosmik who caught the ball in foul ground. "The prize catch of the day was Joe Vosmik's grab of Mel Almada's foul after a gallop of more than 125 feet at the start of the second game," the Boston Globe reported.4
Williams and Red Sox catcher Johnny Peacock both doubled in a three-run second inning to put Boston ahead 9-0. It was the first of three hits in the game for the rookie Williams, who was playing in the 41st game of his legendary career.
Williams's second hit was a two-run homer in a three-run top of the third, "a smash that landed on the roof of the right field pavilion," pushing Boston's early lead to 12-0.5
The Browns' three-run rally in the bottom of the third began with George McQuinn's single. McQuinn went 2-for-4, moving his average to an American League-best .362.6 Eventual 1939 AL batting champion Joe DiMaggio missed most of May, so he didn't have enough plate appearances to qualify on June 9. McQuinn didn't lead the league in batting average that year, he did lead the Browns in batting average (.316), hits (195), doubles (37), triples (13), home runs (20), and RBIs (94), and attained the first of his six career All-Star selections. 
The Red Sox added three runs in the fourth and one each in the fifth and sixth, as they scored in each of their first six innings. The sixth-inning tally came on a 420-foot home run to center field by Foxx, one of his major-league-leading 35 homers that year.7 Four months later, Foxx finished second to DiMaggio in the American League MVP voting. 
St. Louis brought in a run in the sixth and three more in the seventh, but it wasn't enough to seriously threaten the Red Sox, who added a final run in the ninth and won 18-7. All nine Red Sox starting players had at least one hit. Williams went 3-for-5 with three extra-base hits and six RBIs. Cramer went 2-for-5 to advance to 21-for-41 on Boston's road trip.
Despite walking 10 batters, Jack Wilson was the winning pitcher for Boston. Walks were a recurring problem for Wilson; he walked more batters (601) than he struck out (590) in his career. Kramer allowed six earned runs in one-third of an inning and took the loss for St. Louis, a decision that was declared a day later in a blunt St. Louis Globe-Democrat subheadline that read "KRAMER FLATTENED."8 Browns reliever Bill Trotter pitched the final six innings.
While the major leagues didn't adopt the save rule until 1969, Monte Weaver was retroactively given a save for pitching the final two innings of Boston's win. Weaver's two innings with a 10-run lead wouldn't earn him a save in 2020, but websites and encyclopedias credit a pitcher with a backdated save in games played from 1920 to 1949 if he "finished a game his team won, but did not get the win himself."9
Even though the teams combined for 27 hits and 18 walks, the time of game was a reasonable 2 hours and 35 minutes.
The 18 runs matched a season high for the Red Sox, who had two other 18-run outbursts in 1939. The 18 runs were also the most runs allowed in a game by the Browns pitching staff that season, a year that they led the major leagues in hits allowed and runs allowed. They also walked 137 more batters than any other major-league team. The Browns' team ERA was 6.01, well above the league average of 4.20. Roxie Lawson's 5.32 ERA was the team's best among qualifying pitchers.
All 10 St. Louis hits were singles and rookie Johnny Berardino had three of them. While Berardino spent 11 seasons in the big leagues, he later became better known as an actor. He notched 113 television acting credits and appeared in more than 25 movies.10 Berardino's enduring role was as Dr. Steve Hardy on General Hospital from 1963 to 1996. 
The 18-7 loss was the Browns' 15th in their last 17 games and came in a stretch of 24 losses in 28 games. The Browns had 14 more losses than any other AL team in 1939 and they went 18-59 at home. They didn't win three straight games at any point all year.
And it wasn't just 1939. That year wrapped up a woeful decade for the Browns, who never finished better than fifth in the 1930s and didn't have any winning seasons from 1930 to 1941.
The Red Sox' doubleheader sweep gained them ground in the standings, moving them to eight games behind the idle New York Yankees, whose game in Chicago against the White Sox was rained out. The Red Sox ended up with an 89-62 record in 1939 and finished second to the Yankees, but it wasn't a close race. New York won the pennant by 17 games and swept Cincinnati in the World Series for their fourth consecutive championship.
It was a tough first season for Browns manager Fred Haney. When he took the reins he became the Browns' fifth manager in three years. His stint lasted until the middle of the 1941 season, when the club demoted him to manage their minor-league affiliate in Toledo after the Browns' 15-29 start. Haney later broadcast for Pacific Coast League teams in Hollywood and Los Angeles, managed the Milwaukee Braves to the 1957 World Series title, and became the expansion Los Angeles Angels' first general manager in 1960.
Boston's skipper was Joe Cronin, who was in the middle of his 13-year run as the Red Sox' manager. Cronin led the Red Sox to the American League pennant in 1946.
The 18-7 blowout mirrored how the two franchises were performing at that time. The Red Sox' top sluggers led them to a dominant victory, while, as the St. Louis Globe-Democrat put it, "the Browns collapsed completely."11
Sources
In addition to the sources cited in the Notes, the author used Baseball-Reference.com and Retrosheet.org.
baseball-reference.com/boxes/SLA/SLA193906092.shtml
retrosheet.org/boxesetc/1939/B06092SLA1939.htm
Notes
1 AccuWeather, email correspondence with senior meteorologist Tom Kines, August 30, 2020.
2 "Yankees to Open Three-Game Series Here with Browns," St. Louis Star and Times, June 10, 1939: 6.
3 Robert Burnes, "Red Sox Shade Browns, 4-3, Then Coast to 18-7 Triumph," St. Louis Globe-Democrat, June 10, 1939: 3B.
4 Melville Webb, "Sox Clip Browns Twice, Gain Game on Idle Yanks," Boston Globe, June 10, 1939: 6.
5 Webb.
6 "McQuinn Regains Lead in American," Moberly (Missouri) Monitor-Index, June 10, 1939: 5.
7 Webb.
8 Burnes. In November 1947 Kramer joined the Red Sox as part of a seven-player trade.
9 Neil Paine, "Pre-1975 Save Statistics," Baseball-Reference, July 15, 2010.
10 Alan Cohen, "Johnny Berardino," SABR BioProject, https://sabr.org/bioproj/person/johnny-berardino/.
11 Burnes.
Additional Stats
Boston Red Sox 18
St. Louis Browns 7
---
Sportsman's Park
St. Louis, MO
Box Score + PBP:
Corrections? Additions?
If you can help us improve this game story, contact us.
Tags
http://bioproj.sabr.org/bp_ftp/images3/FoxxJimmie.jpg
600
800
admin
/wp-content/uploads/2020/02/sabr_logo.png
admin
2020-10-29 15:56:42
2020-10-29 18:56:51
June 9, 1939: Jimmie Foxx, Ted Williams homer for Red Sox in 18-7 win over Browns