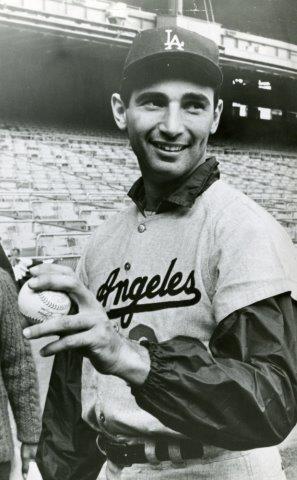 May 11, 1963: Sandy Koufax throws second no-hitter to beat Marichal, Giants
---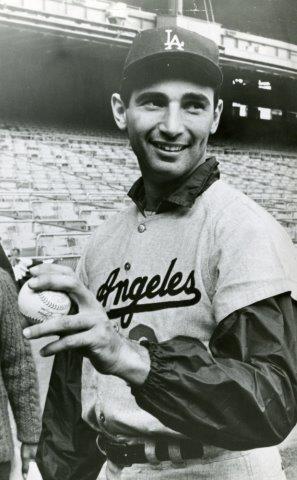 It was a great pitching matchup as the fifth-place Los Angeles Dodgers hosted the National League-leading San Francisco Giants on May 11, 1963: Juan Marichal (4-2) of the Giants took on Sandy Koufax (3-1) of the Dodgers.
Koufax had missed two weeks at the end of April into May with stiffness in his shoulder. A couple of weeks later, he said, "Guess I'm getting old. I'm just falling apart, piece by piece."1
In Koufax's first no-hitter, the season before, the Dodgers supported him with four runs in the first inning. Koufax had not had great control, going to full counts on nine New York Mets batters and walking five while striking out 13.
This game was a much different story. Going to the bottom of the sixth inning, the score was 1-0 in favor of the Dodgers. The lone run was produced by a Wally Moon fly-ball home run down the right-field line. Koufax had not yet walked a batter. He only had one three-ball count — in the first inning to Willie Mays, who then flied out to center. Koufax was perfect through six. The only close play came in the fifth when Orlando Cepeda hit a slow roller that shortstop Dick Tracewski barehanded to throw out Cepeda at first.
In the bottom of the sixth, Junior Gilliam lined a single to right to open the inning. Ron Fairly tried to advance Gilliam with a bunt but popped it to first base for the first out. Tommy Davis singled to right and then Wally Moon lined a run-scoring single to right and advanced to second on the throw from the outfield. With runners on second and third and one out, Frank Howard was intentionally walked. John Roseboro, with a career average under .200 against Marichal, lined a single to center, scoring Davis and Moon. After an infield hit by Tracewski loaded the bases, Marichal was replaced by John Pregenzer, who struck out Koufax and got Willie Davis on a groundball.
At the start of the seventh, Nate Oliver went in to play second base. Second baseman Gilliam moved to third and Tommy Davis switched from third base to left field, replacing Wally Moon, who came out of the game.
This turned out to be a key move. Koufax ran into lady luck in the seventh inning when Harvey Kuenn smashed a liner to right, but squarely into the mitt of Frank Howard. Felipe Alou, the league's leading hitter, then sent a high, hard shot to left. Tommy Davis took it about two feet short of the stands. Next, Willie Mays cracked a blistering liner that Gilliam stabbed behind the third base bag."2 When Davis caught Alou's ball, the bullpen kept yelling, "You got room, you got room."3
Don Larsen, the last man to pitch a perfect game, was watching from the San Francisco bullpen.4None of the players on the bench said anything about the possible no-hitter but Koufax was aware all the time and knew he was close to a perfect game.5
Leading off the eighth, Orlando Cepeda hit a hot shot off Koufax's glove to second baseman Nate Oliver, who threw out Cepeda by a step.6 The next man up was catcher Ed Bailey. Bailey had not much success previously against Koufax. Bailey took three balls, then two hard, straight fastballs for strikes before fouling one off. The pressure was agonizing.7 "Finally, he threw one I couldn't reach," Bailey said later, "and he walked me."8 Koufax, aware of the no-hitter all the way, kicked the mound and thumped his glove as the perfect game got away.9 Then Bailey was taken off the basepaths as Jim Davenport grounded into a double play.
It was Ladies' Night at Dodger Stadium. The crowd of 55,350 (49,807 paid) was the largest of the season thus far in the major leagues.10 From the sixth inning on, fans were aware of the no-hitter and a possible perfect game. They applauded every time Koufax retired a batter.11
In the bottom of the eighth with one out, Roseboro and Tracewski singled. As Koufax approached the plate he received a standing ovation from the crowd.12 He drew a walk and scored the sixth run of the game on a double by Ron Fairly.
In the ninth Joe Amalfitano popped out to first baseman Fairly. Jose Pagan flied out to Willie Davis in deep center. Willie McCovey pinch-hit for Pregenzer and walked on four pitches. Koufax got one strike on Kuenn, who hit a bouncer right back to him. Koufax carefully lobbed the ball over to Fairly after running almost to first for the putout.
Koufax was mobbed by his teammates as the crowd roared and sent a shower of seat cushions onto the field.13 Koufax could be seen anxiously looking for his parents, who had recently relocated to the West Coast, but they were not to be seen as Koufax had forgotten to leave them tickets.14
Koufax believed that in his first no-hitter he had exceptional stuff, but did not think he had overpowering stuff this night. It was good but not great. Strikeouts tell the story. In his first no-hitter he had 13, but against the Giants only four, and none after the sixth inning.15 He threw 111 pitches, relying more on breaking balls.16
When it was all over, Koufax had become the only active pitcher other than Warren Spahn with two no-hitters. He also joined Carl Erskine as the second pitcher in Dodgers history to pitch two no-hitters. It was the third no-hitter pitched at Dodger Stadium.17
Notably, Koufax had not yet allowed a run at Dodger Stadium in 1963 after having pitched 24⅔ innings.
The victory was the second and final time Koufax beat Marichal.
This article was published in SABR's "No-Hitters" (2017), edited by Bill Nowlin. To read more Games Project stories from this book, click here.
Notes
1 Bob Hunter, "Koufax' No-Hit Voodoo Kayoes Injury Hex," Los Angeles Herald-Examiner, May 25, 1963.
2 Frank Finch, "Dodger Lefty Retires First 22 Batters in 8-0 L.A. Win," Los Angeles Times, May 12, 1963.
3 United Press International, "Koufax Triumphs on No-Hitter, 8-0," New York Times, May 12, 1963.
4 Melvin Durslag, "Perfecto Larsen Viewed Sandy's Classic Curving," Los Angeles Herald-Examiner, May 25, 1963. Larsen was a relief pitcher for the Giants in 1963.
5 "Koufax Rates 2nd No-Hitter First," New York Times, May 13, 1963.
6 Joe McDonnell, "Dodger Stadium's Most Memorable Moments … Koufax's Three No-Hitters," 1987 Dodger Scorebook; Durslag.
7 Durslag.
8 Jane Leavy, Sandy Koufax, A Lefty's Legacy (New York: HarperCollins, 2002), 123.
9 Hunter.
10 Finch.
11 "Koufax Rates 2nd No-Hitter First."
12 Finch.
13 Ibid.
14 Leavy, 122.
15 Sandy Koufax with Ed Linn, Koufax (New York: Viking Press, 1966), 181-183.
16 "Koufax Rates 2nd No-Hitter First."
17 Bo Belinsky pitched a no-hitter for the Los Angeles Angels in Dodger Stadium on May 5, 1962.
Additional Stats
Los Angeles Dodgers 8
San Francisco Giants 0
---
Dodger Stadium
Los Angeles, CA
Box Score + PBP:
Corrections? Additions?
If you can help us improve this game story, contact us.
Tags
https://sabr.org/sites/default/files/images/Koufax-Sandy-NBHOF.jpg
600
800
admin
/wp-content/uploads/2020/02/sabr_logo.png
admin
2018-10-17 12:38:44
2020-04-17 10:23:52
May 11, 1963: Sandy Koufax throws second no-hitter to beat Marichal, Giants